Best Thanksgiving Stuffing Recipe
As an Amazon Associate, I earn from qualifying purchases. Please read my disclosure policy.
The Best Thanksgiving Stuffing recipe, that's a big claim, I know! Let me tell you why! A delicious, savory sausage, apple, walnut stuffing, fragrant fresh herbs; made with fresh pumpernickel, sourdough and brown bread, making a crispy rich buttery crust on top, that's why!
Whether you stuff your Thanksgiving or Christmas turkey, make it as a side dish, or a bit of a both; this will become your new favorite stuffing or dressing.
While we are talking Thanksgiving and Christmas recipes, you may want to check out our other family favorites: Praline Sweet Potatoes, Instant Pot or Stovetop Mashed Potatoes, Giblet Gravy and let's not forget the bird itself! Two options: roasted herb butter turkey and this smaller Instant Pot Turkey Breast.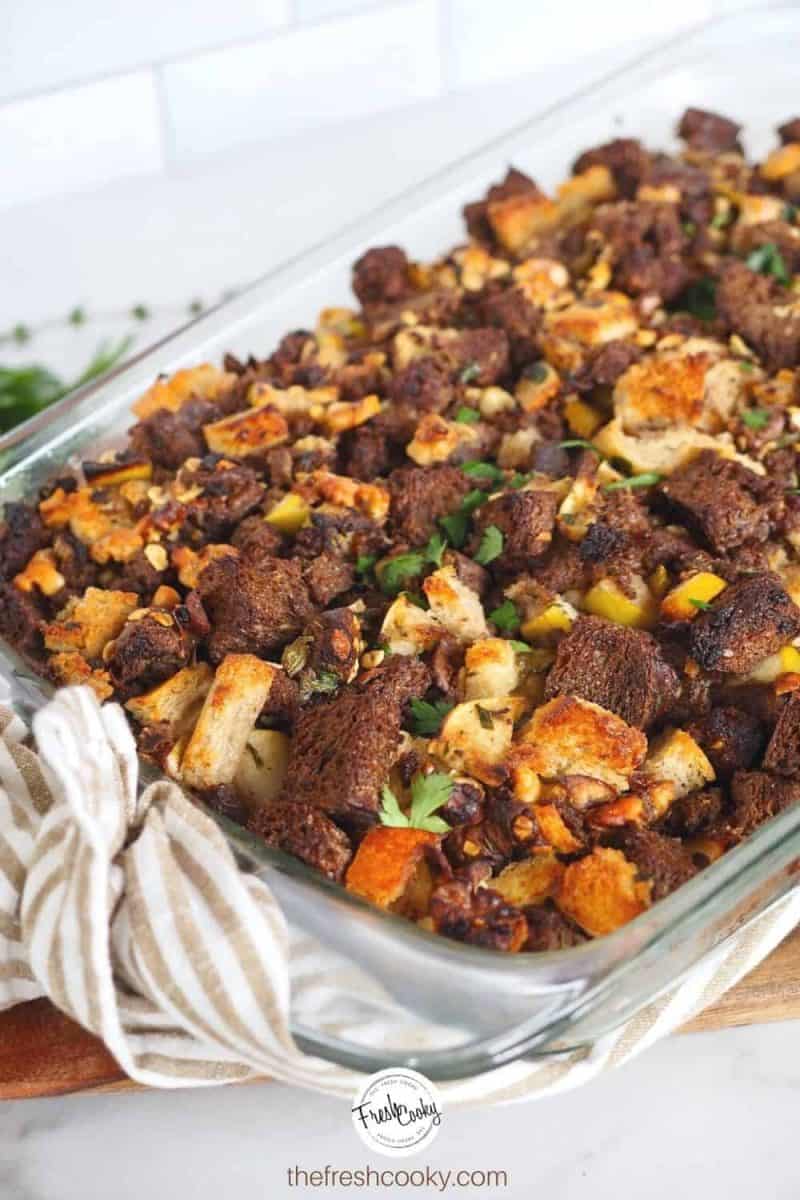 What's the Difference Between Stuffing and Dressing?
It's really quite simple, a stuffing get's STUFFED into the cavity of a turkey or chicken and a DRESSING is made as a side dish!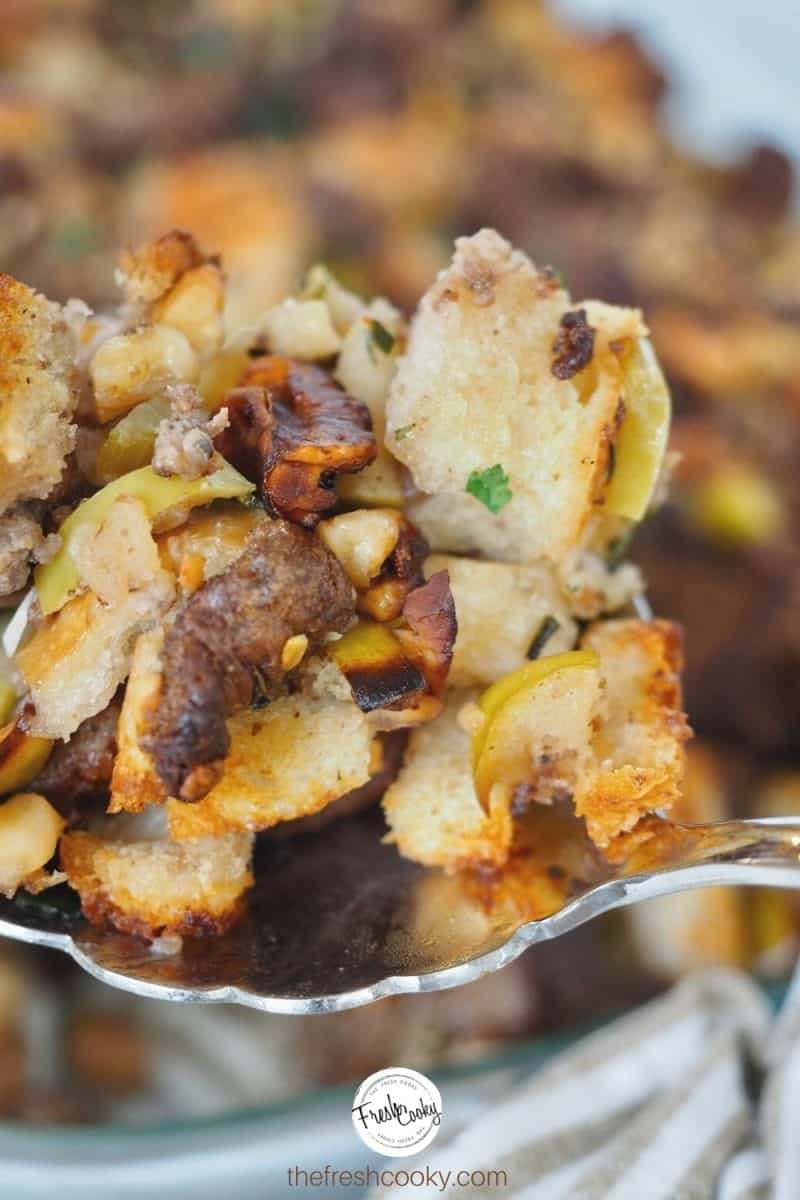 5 SECRETS TO THE BEST STUFFING RECIPE
Butter, the real thing, no blends or margarine!
Simple bulk breakfast sausage is an extreme flavor enhancer!
Fresh herbs rock the best stuffing, you can use dried, but for this, the flavors will shine through with fresh.
The only veggies you need are onions and celery (and maybe a touch of garlic).
A combination of bread is best! I used pumpernickel, sourdough and sweet brown bread.
WHAT KIND OF BREAD IS BEST FOR DRESSING?
I love using a variety of breads, it's like a trip around the bread world in every bite!
Sturdier, porous breads will work the best.
Pumpernickel, Sourdough, Challah, Country White, Sweet Brown Breads are all delicious!
DO YOU NEED TO LEAVE THE BREAD OUT FOR STUFFING?
I have done it both ways, but what I do suggest is tear or cut your bread up first, tossing onto a large cookie sheet, spread out to allow the bread cubes to do a little drying while you assemble the rest of the stuffing.
HOW DOES IT TASTE?
It tastes like Thanksgiving or Christmas itself, filling your home with the smells of the holidays! This stuffing (err dressing) has a crispy rich buttery crust on top, tossed with fragrant fresh herbs, sausage, apples shining through.
TRADITIONAL SAUSAGE STUFFING INGREDIENTS
Breakfast sausage, bulk (I used a mild all natural pork sausage)
Sweet onion
Granny Smith apples
Celery
Garlic cloves
Walnuts, toasted
Fresh parsley (I used Italian flat leaf)
Rosemary, fresh
Thyme, fresh
Sage, fresh (optional)
Ground pepper
Assorted bread cubes
Turkey or chicken broth
Butter
HOW TO MAKE SAUSAGE DRESSING
Cube or tear bread into smaller pieces, set aside on a cookie sheet to dry out a bit while you assemble the rest of the stuffing and if desired toast the walnuts (325 degrees F for 10 minutes)
Sauté sausage and onion in a large skillet (my most favorite skillet!) over medium heat, until sausage is no longer pink, about 5-6 minutes.
Toss in apples, celery and garlic, sauté another 5 minutes until apples are tender.
Stir in walnuts, fresh parsley, fresh rosemary, fresh thyme leaves, salt and pepper. Transfer to a bowl and allow to cool 10 minutes.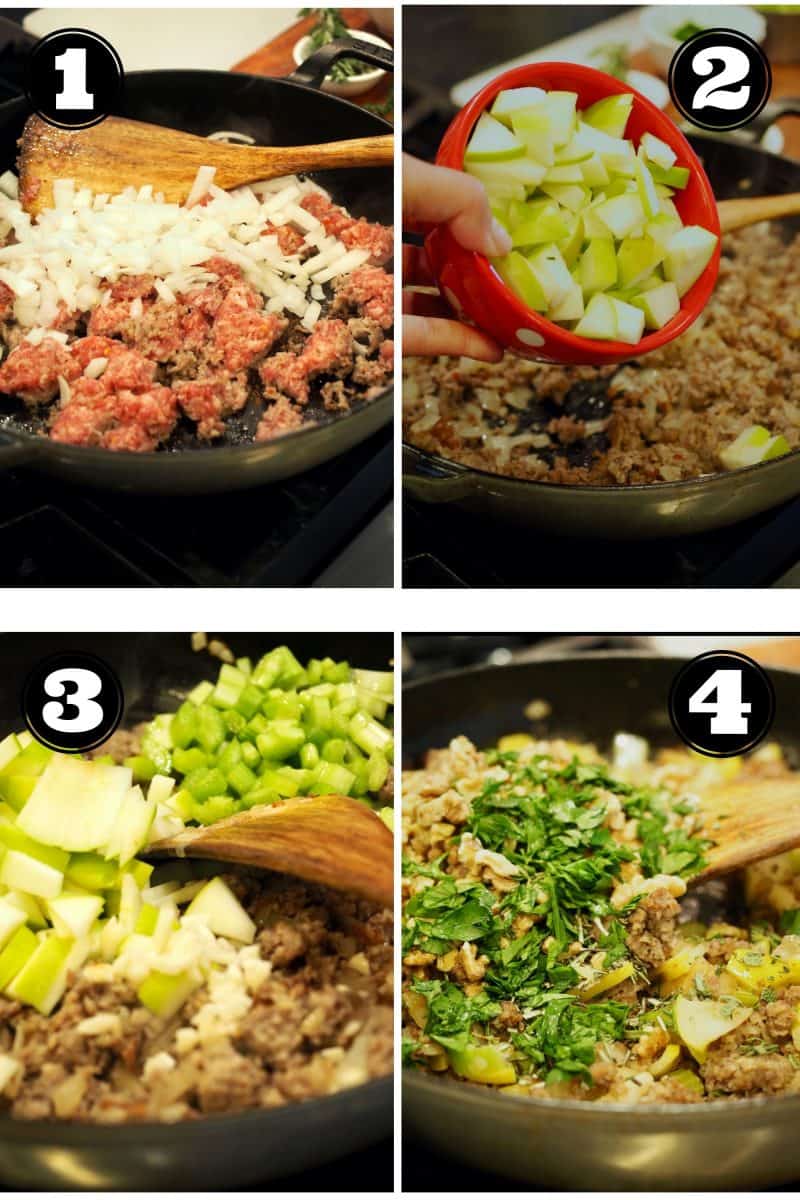 Place bread cubes in a large bowl (I have this gigantic one) and add sausage and veggie mixture, folding together. Pour chicken stock and continue to fold until well blended.
Spoon into well buttered 3 quart or 9×13 inch baking dish (these clean up so easily!).
Brush the top with melted butter, generously.
Bake at 350 degrees F for 45-50 minutes or until top is brown and crusty. Garnish with a little fresh parsley if desired.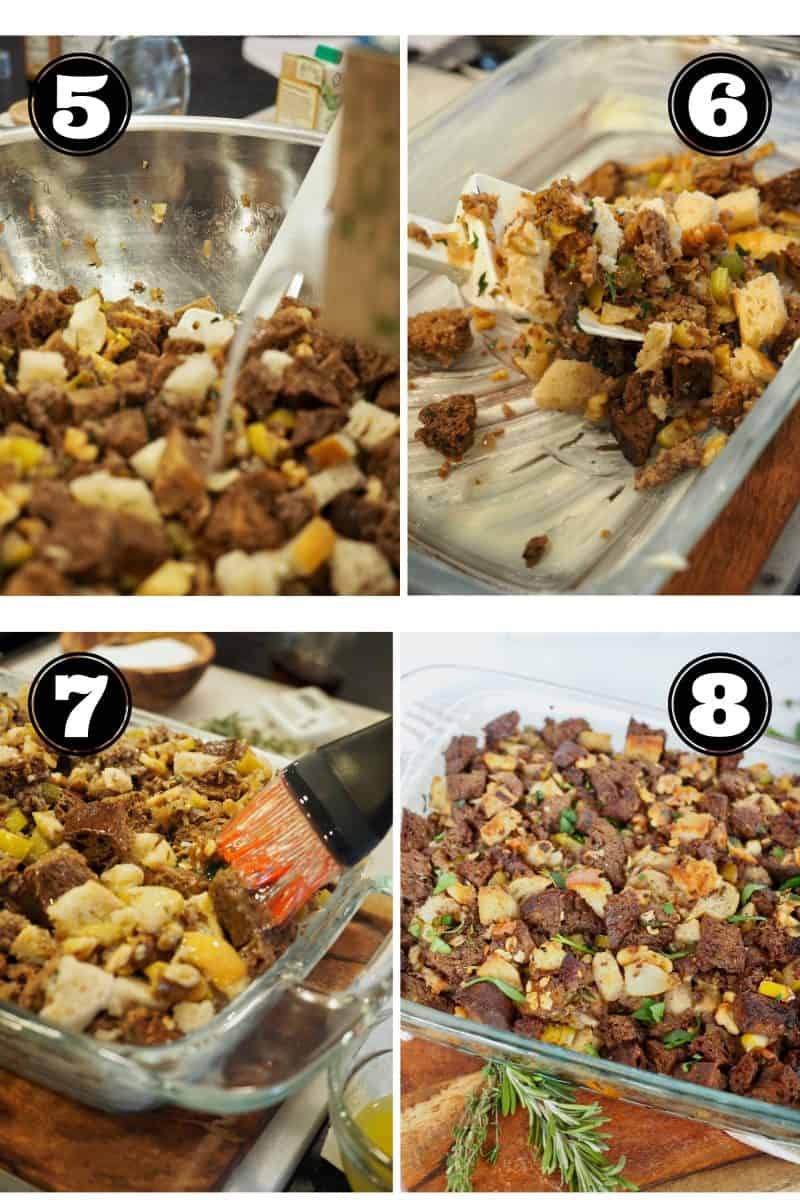 MAKE AHEAD & FREEZING STUFFING INSTRUCTIONS
You have a couple of options to make this dressing ahead of time.
Cook your sausage, onions, celery, apples and all of the herbs ahead of time and place in fridge overnight, assembling the next day.
Assemble the entire stuffing and bake it, cooling completely. Store in fridge up to 3 days covered, when ready to reheat, place in 325 degree oven covered for about 15-20 minutes, removing the foil the last few minutes.
Assemble the entire stuffing, cool and freeze in smaller portions (especially if you are going to stuff your turkey with it). Allow enough time for the stuffing to come to room temperature before stuffing a turkey or placing in casserole dish.
You can actually freeze baked stuffing! YES! Make it a few weeks ahead, wrap well with buttered foil and freeze (once completely cooled). To reheat place in 325 degree F oven covered for 15-20 minutes, removing the foil the last 5 minutes.
SUBSTITUTIONS & TIPS
Instead of breakfast sausage, swap out with chorizo, Italian sausage or turkey or chicken sausage.
Omit or replace the walnuts with pecans, hazelnuts or even chestnuts
Use different fresh herbs, I am not a huge sage fan, so I left that out, but add it in if you'd like (1-2 tablespoons chopped)
GLUTEN FREE? I think so! Swap out equal amounts of cubed gluten free bread
Add a splash of maple syrup to the sausage mixture just before tossing, maybe 2 tablespoons
Pair this fabulous stuffing with this simple Cheesy Asparagus Bake and Wild Rice Bake.
Happy Thanksgiving or Christmas prep to you! I hope you enjoy this amazing recipe, you may want to peruse all of these Thanksgiving Sides, most of them make ahead-able!
Monday Holiday Side Dish Recipes:
PIN TO YOUR FAVORITE HOLIDAY SIDES BOARD!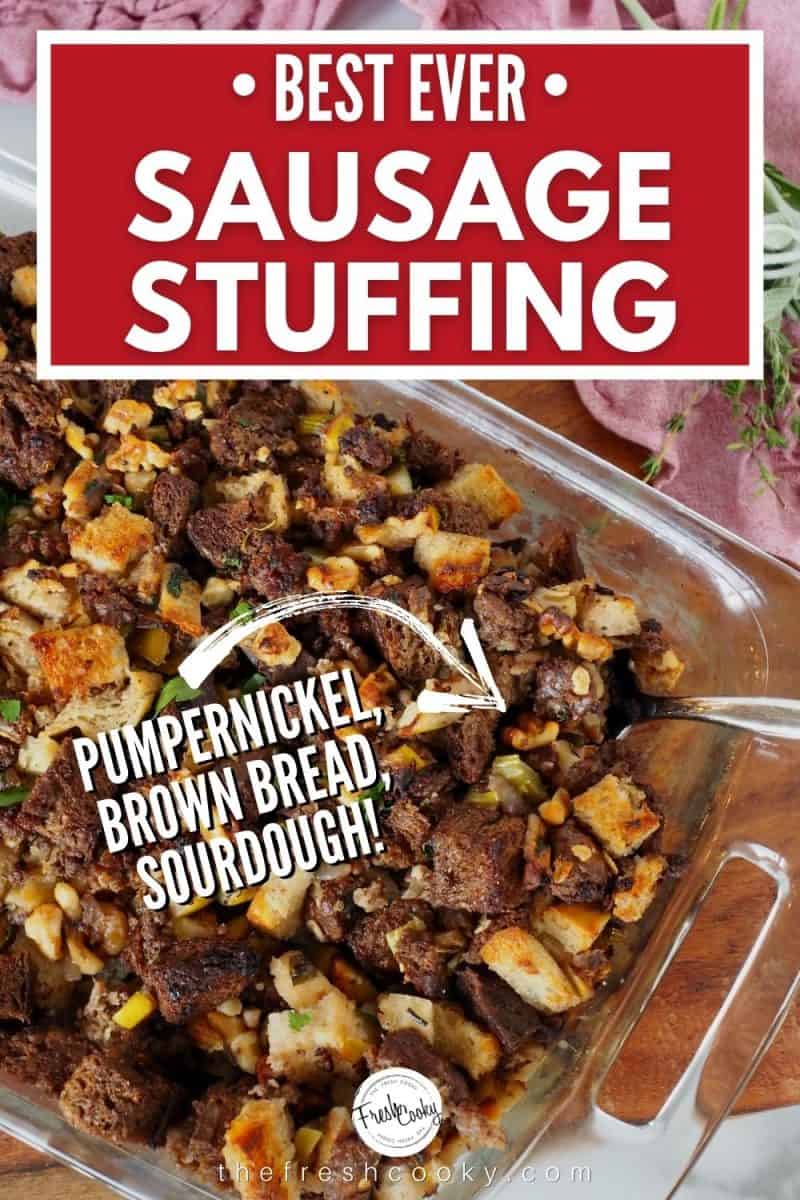 Like this recipe?
Don't forget to give it a ⭐️⭐️⭐️⭐️⭐️ star rating and comment below the recipe!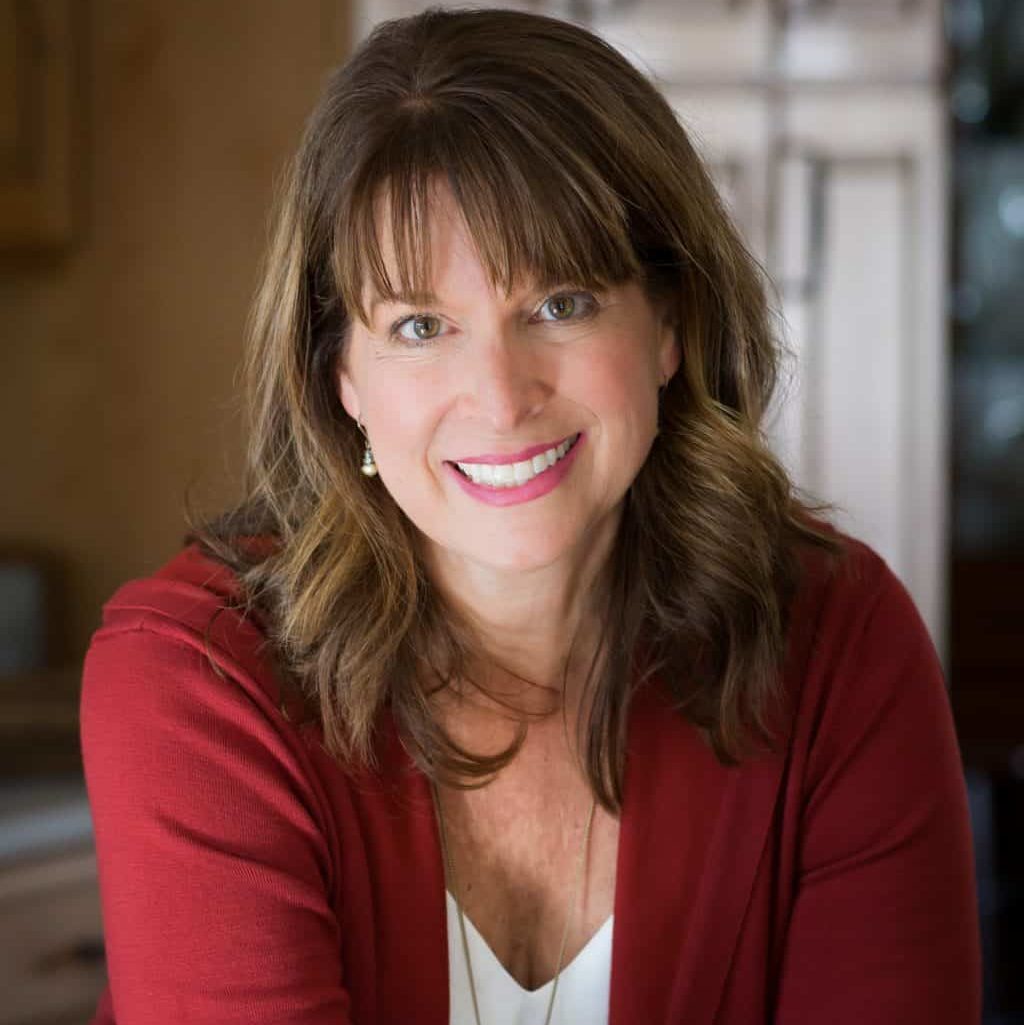 About Kathleen Pope
Recipe Innovator | Food Photographer | Food Writer
Hi, I'm Kathleen Pope. Here at The Fresh Cooky you will find easy, mostly from-scratch, trusted recipes for all occasions. From speedy dinners to tasty desserts, with easy step-by-step instructions. I am here to help teach you how to make mouthwatering recipes without spending hours in the kitchen. Read more about Kathleen here.