Holiday Praline Yams (Sweet Potatoes)
As an Amazon Associate, I earn from qualifying purchases. Please read my disclosure policy.
Light, creamy, and complex; this recipe for Holiday Praline Yams (or sweet potatoes) with notes of orange and cinnamon, touched with a hint of whiskey, not to mention the sweet pecan praline topping. Not a marshmallow in site!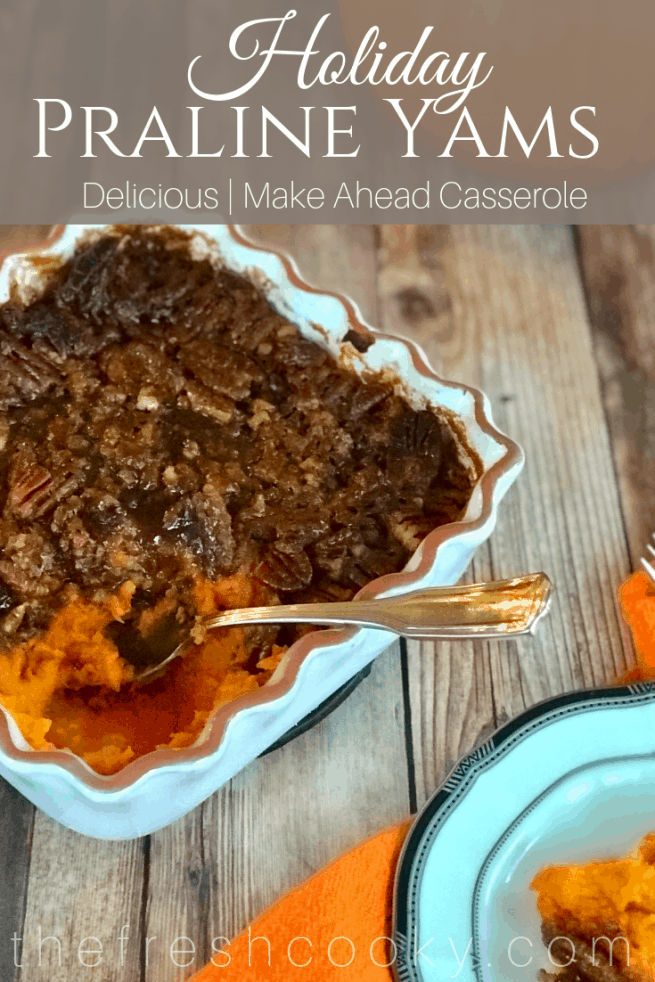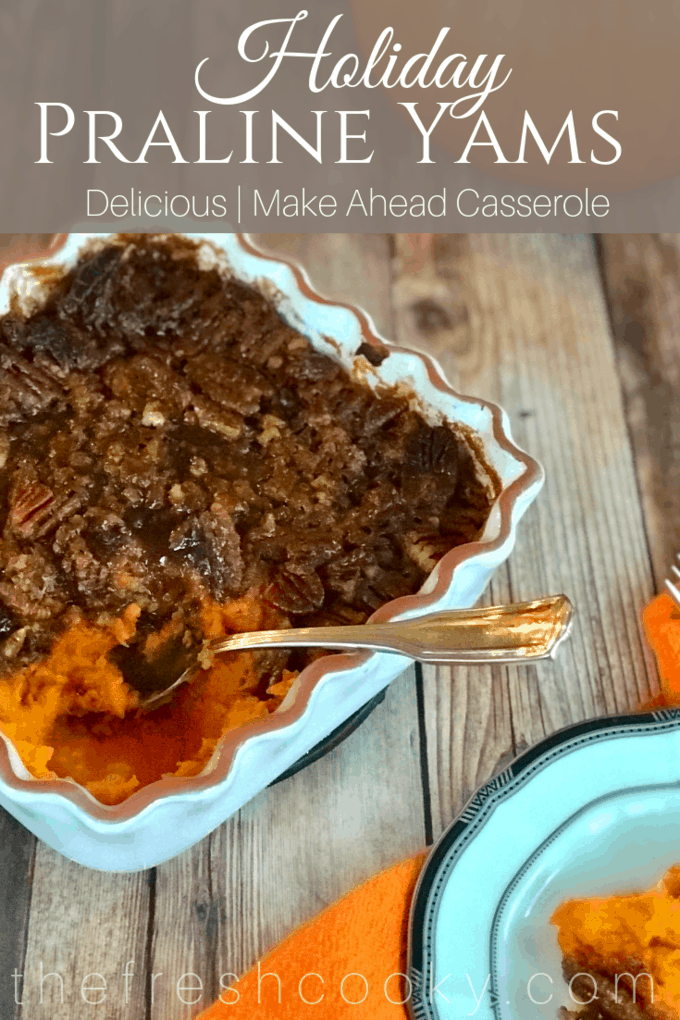 A Sweet Potato or Yam Dish that Everyone Loves
If you do not like sweet potatoes these are a must try, everyone who tries them, loves them!
I found this recipe many years ago (at least 25!) probably in a magazine, because the internet wasn't really around then, or Pinterest or food blogs?
All I know is that I've made this dish for a couple of decades…and these yams aren't just for Thanksgiving, make them for Christmas or other special occasions too!
Can I Make Holiday Praline Yams Ahead of Time
YES! In fact, I encourage it. Another reason to love this dish is you can make it ahead and place it in the refrigerator or even freeze it, so it's done long before the holiday crunch!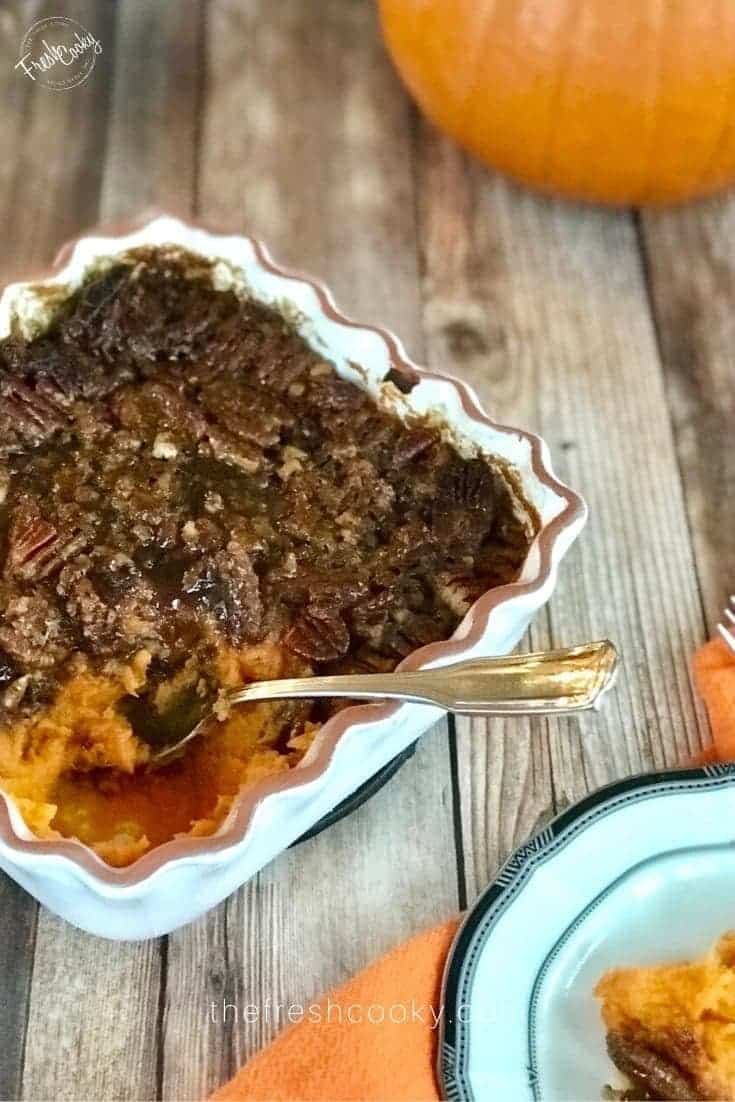 The original recipe called for two 2 ½ lb cans of yams or 4 lbs of fresh yams, I've always opted for fresh, they don't take long and it's so much, well fresher to use fresh! By the way, sweet potatoes are yams and yams are sweet potatoes, at least the red ones we all know and love, we can use them interchangeably!
I love this little scale, it has a "tare" function, meaning you can place anything on top, hit the on/tare button and it will zero out the weight of object on top so you can get an exact weight of the item you are placing in said bowl or dish; liquid, large items or small pieces such as chocolate chips, cranberries or marshmallows (but not for this recipe!)
A large yam is about a pound, but I had a couple of small ones as well. It ended up being a couple of ounces over 4 lbs, it doesn't need to be exact.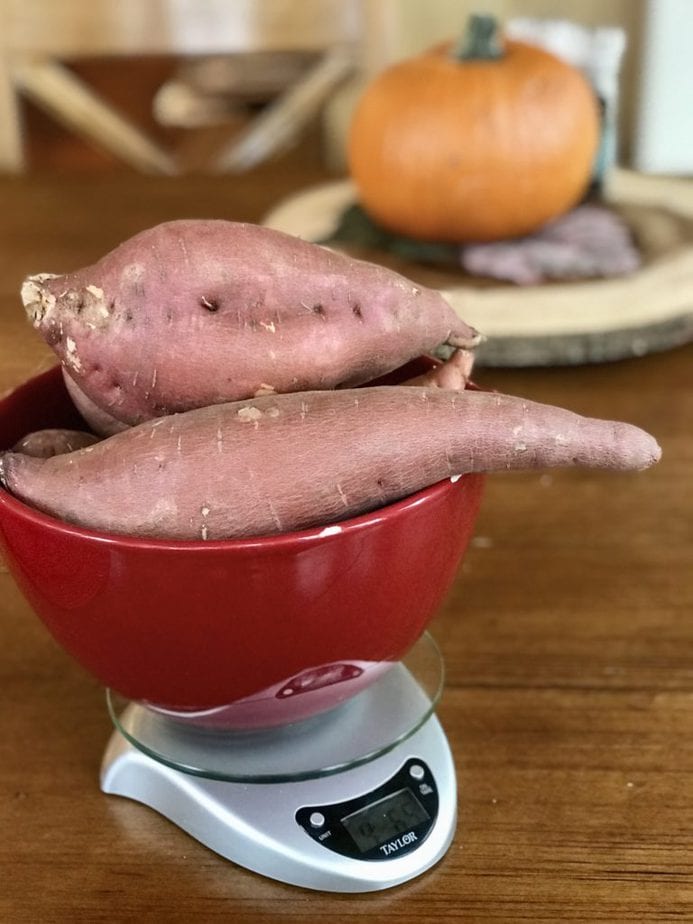 Wash them well, then cut them into thirds or fourths depending on how big the yam is. Cut off the nubby ends.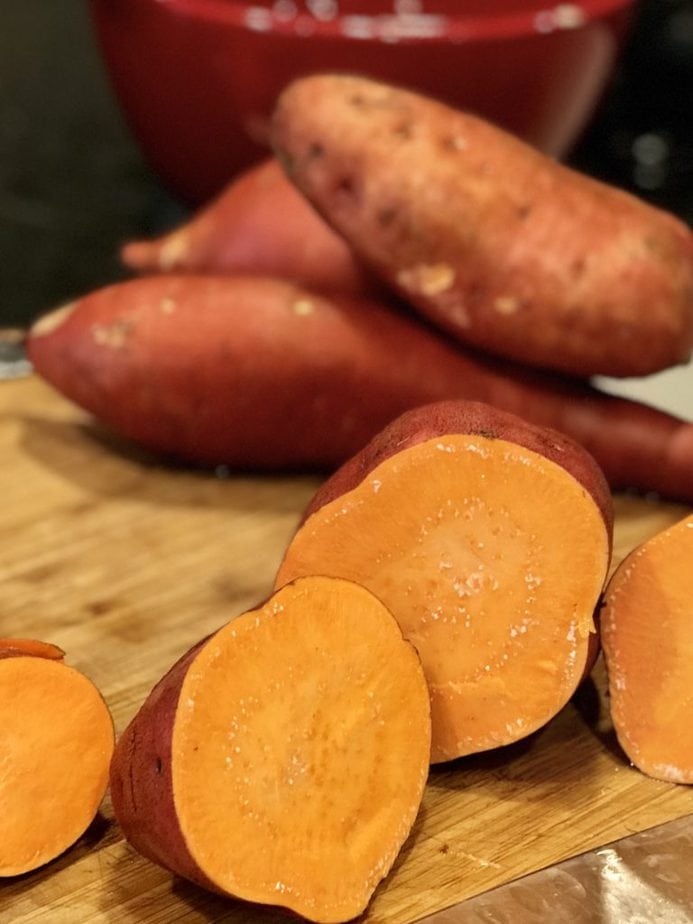 Toss them into a large pot of cold water and bring to a boil (skip below to prep the rest of the ingredients so they are ready to throw in once the yams have cooked).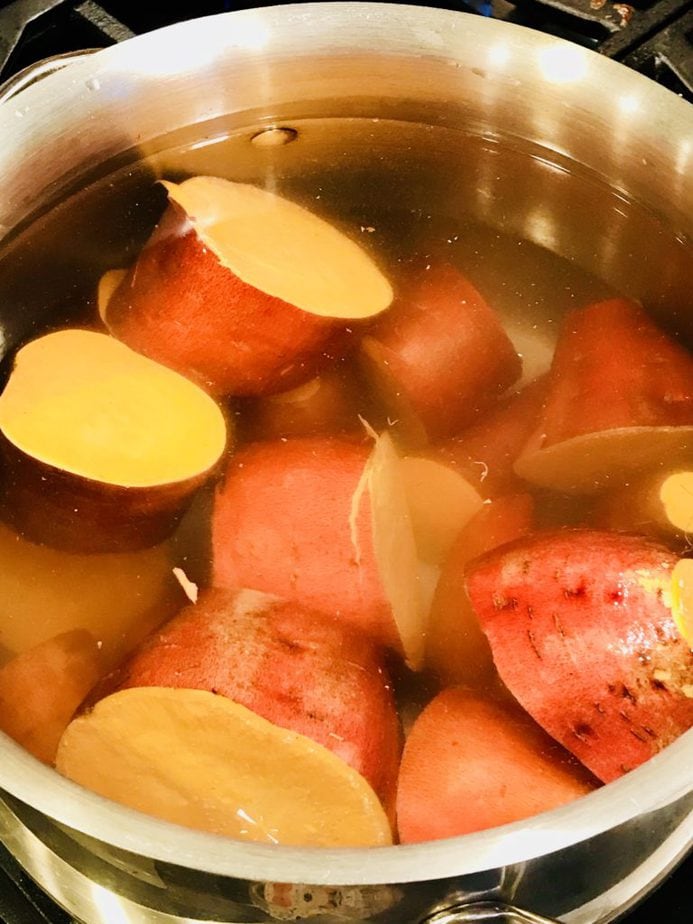 Boil until soft, a fork should go right through them – it'll take about 35-40 minutes depending on how small you cut them. Start checking at about 20 minutes.
Once soft, drain and allow to cool for about 10 minutes so you can handle them to remove their skins.
Slice through the skin with a knife and gently peel back the skins, discarding them (or save them and give to your dog for dinner! She'll thank you!)
Toss the peeled yams back into the empty, rinsed out pot.
Now let's get the rest of the ingredients going, start by zesting your orange, always easier to do this prior to cutting it in half. Do you have one of these for zesting? I promise you will zest everything once you have one!
Juice your orange(s), one medium orange yields about ⅓ of a cup, you'll need ⅔ of a cup, so either juice another orange, or make up the difference with pure orange juice (no concentrate or fake stuff here).
Mash and whir up the yams with a stand or hand mixer.
Measure orange juice and whiskey or you may substitute brandy if preferred.
TIP: The whiskey or brandy is completely optional, if you prefer to leave it out, leave it out and replace with 2.5 Tablespoons of fresh orange juice.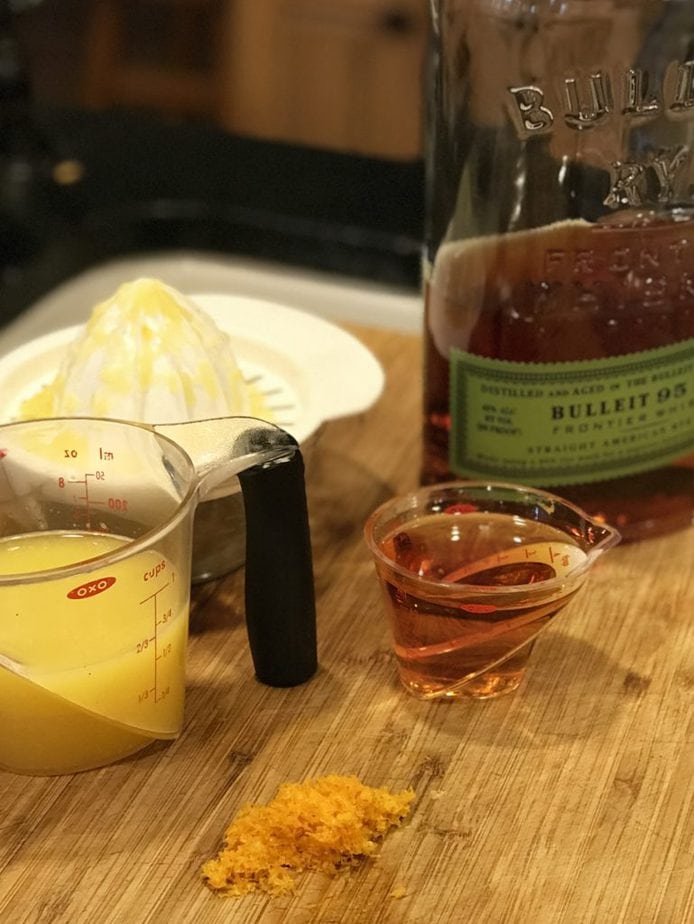 Pour in orange juice, then slosh in your whiskey or brandy (no nipping or you really will be sloshing!) or if you opted to not put in brandy or whiskey, pour in your additional juice here.
Toss in orange zest. Things are looking mighty orange around here!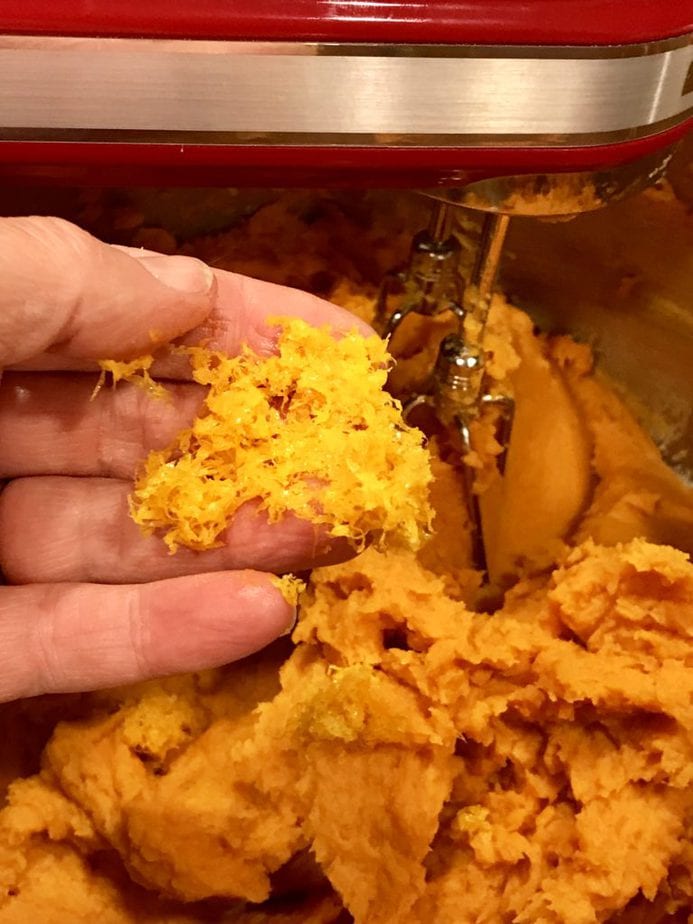 Add spices; salt, pepper, and ginger and your brown sugar…
and your melted butter (no substitutes please)…
and finally, 3 egg yolks.
Mix well with a hand mixer until smooth, creamy and fluffy, about 4 minutes.
Butter a 2 quart casserole dish (or split into too smaller oven proof dishes) and yes, use butter for this, we only have these holidays once a year! I put a couple of tablespoons of soft butter in the dish, then use a paper towel to spread it around.
Spoon the yam mixture into the casserole dish and smooth the top. I made two, one for a Friendsgiving dinner and froze the other for Thanksgiving!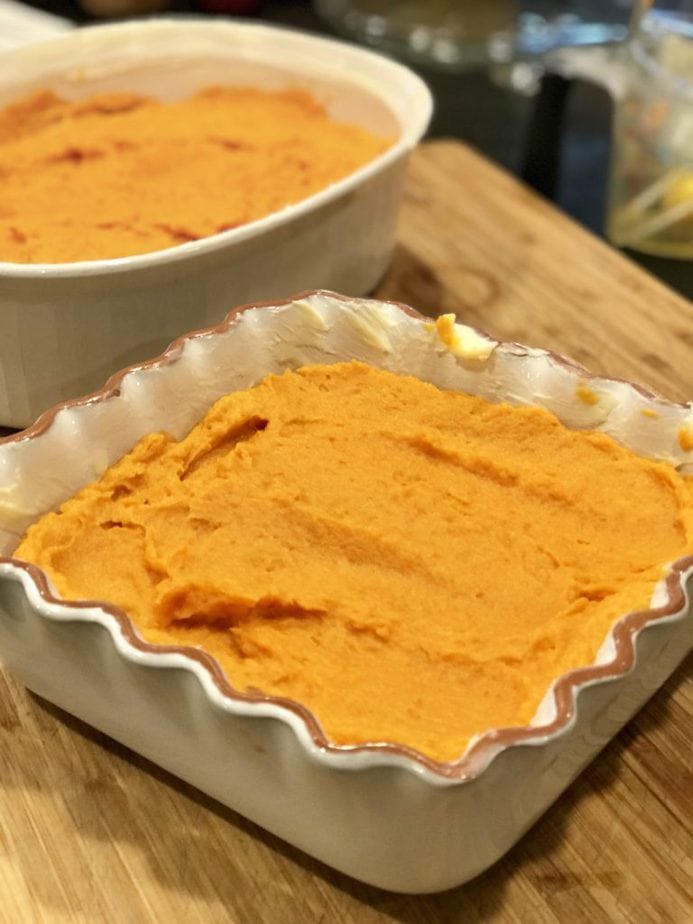 Now for the praline topping…melt ½ cup (full stick) butter in a small saucepan. Real butter, if it's soft out of the fridge, it's not real butter.
Once melted, stir in the brown sugar until smooth. Remove from heat.
Add cinnamon and stir well. Rough chop your pecans. If desired, line some around the edge of the dish, all perty like. Add your rough chopped pecans to the butter and brown sugar, stir to combine.
Add a pinch of sea salt. Spoon evenly over the top of the mashed yams.
You can either bake immediately, or refrigerate/freeze until ready to bake. If refrigerating or freezing allow to sit at room temperature for a couple of hours prior to cooking.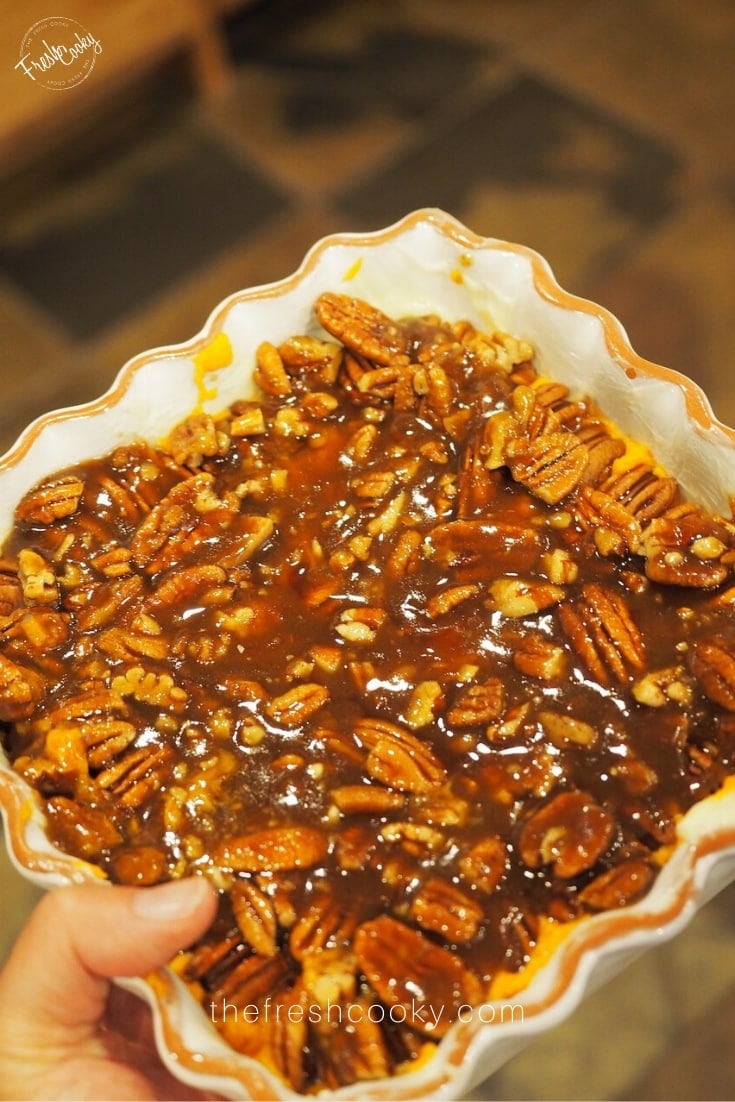 Bake at 350° for 40-45 minutes until bubbly, let stand for 10 minutes before serving. If needed, cover the top with foil if the top is getting too brown before its hot all the way through.
You can easily cut this recipe in half or as I said earlier, split it into two casserole dishes and double the toppings since you'll have more surface area.
Looking for more make-ahead holiday side dishes?
Sharing on my favorite link parties Meal Plan Monday | Weekend Potluck
Like this recipe?
Don't forget to give it a ⭐️⭐️⭐️⭐️⭐️ star rating and comment below the recipe!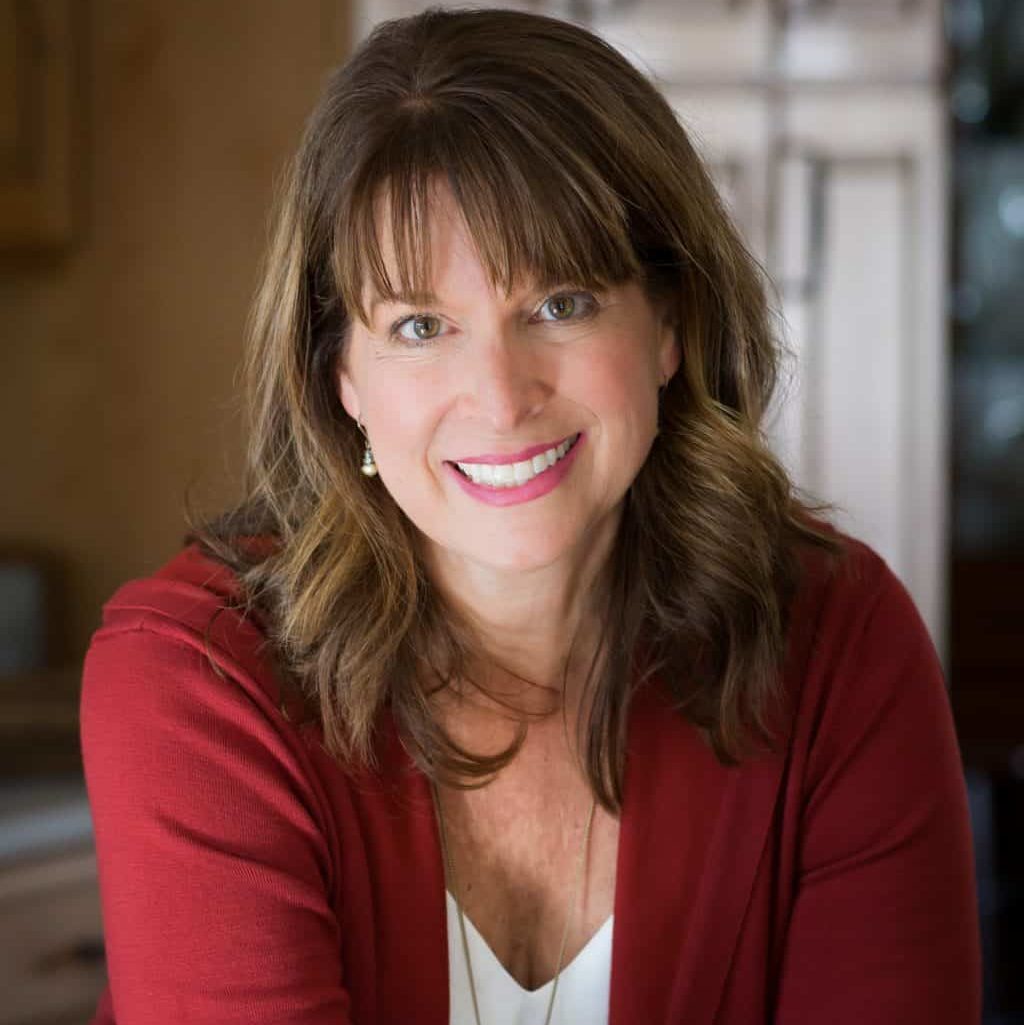 About Kathleen Pope
Recipe Innovator | Food Photographer | Food Writer
Hi, I'm Kathleen Pope. Here at The Fresh Cooky you will find easy, mostly from-scratch, trusted recipes for all occasions. From speedy dinners to tasty desserts, with easy step-by-step instructions. I am here to help teach you how to make mouthwatering recipes without spending hours in the kitchen. Read more about Kathleen here.