Disclosure I am a participant in the Amazon Services LLC Associates Program, an affiliate advertising program designed to provide a means for us to earn fees by linking to Amazon.com and affiliated sites, this post may contain links. At no cost to you!
Cranberry relish; super simple, 4-ingredients, tasty, tart, sweet and tummy soothing!
This is probably my most favorite part of the holiday meal. As long as I can remember, my mom made this side dish for our holiday gatherings. I'm pretty sure I didn't like it as a kid, but over the years as my tastes have developed, I've grown to love this dish. Plus, it adds rich, vibrant color to an oftentimes bland and colorless looking plate of holiday foods.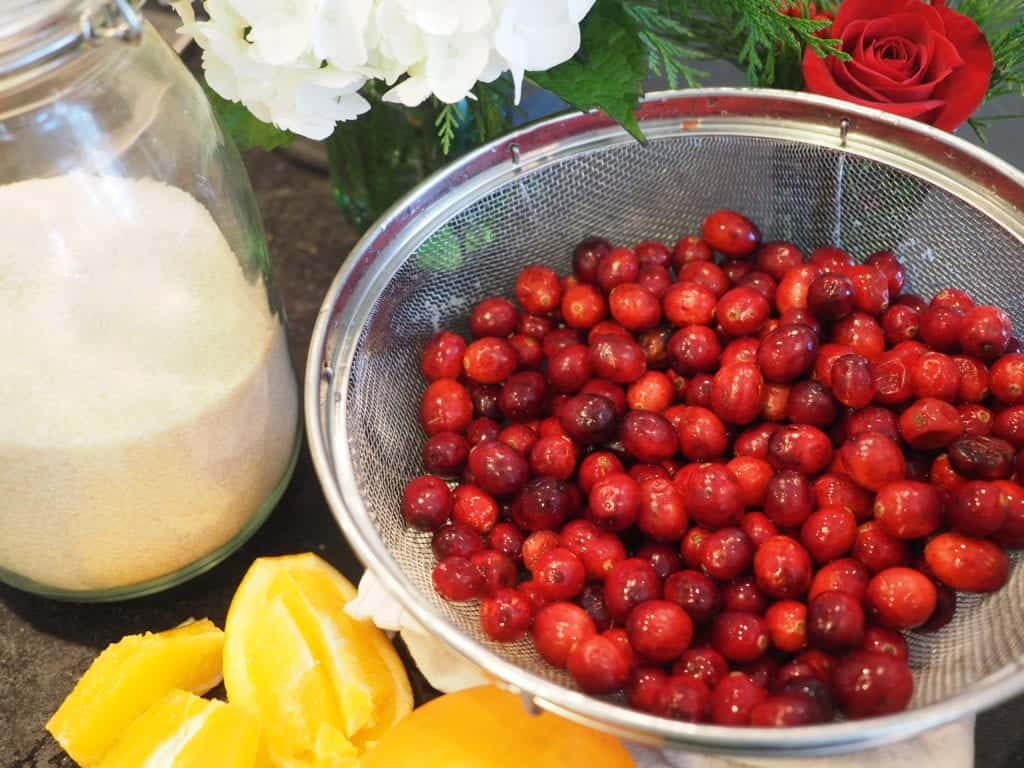 Additionally, we know cranberries to be a super food! Check out this info below:
Cranberries are a healthful food, due to their high nutrient and antioxidant content. They are often referred to as a "super food." Half a cup of cranberries contains only 25 calories.The nutrients in cranberries have been linked to a lower risk of urinary tract infections, prevention of certain types of cancer, improved immune function, and decreased blood pressure.
Just like you would use a sorbet to cleanse your pallet, cranberry relish does the same; it settles the stomach and aides in digestion. But most of all it's delicious! And make a little extra, because it's the bomb on your leftover sandwich!
It's super simple, only 4-5 ingredients. I made a small batch but this easily doubles and triples!
Gather your cranberries (wash them and pick through them discarding the mushy ones), pomegranate arils if desired, a naval orange and I just so happened to have a couple of sweet cuties hanging around, so I used one of them and your sugar.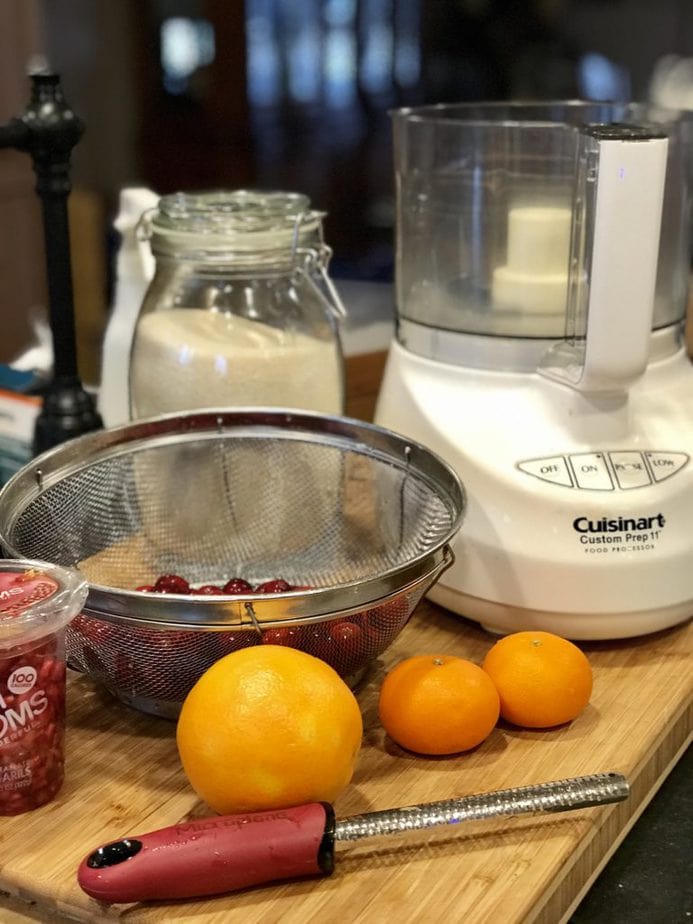 This can be done in a food processor or if you don't have one, you may use a blender, but do it in small batches, if not you will end up with super chunky mushy relish. I've made this in many blenders when doing this relish at rental properties, since we have rarely spent a Thanksgiving at our home! It's highly doable!
Place your cranberries and pomegranate arils in the food processor and pulse until rough chopped. If a finer chop of the pomegranate is desired, wait and process those with the last batch of cranberries and chop fine.
Scrape the sides, after you've achieved larger chunks and pulse again until finely chopped as pictured below.
Remove chopped cranberries to a glass storage bowl, preferably one with a lid.
Zest your orange and set aside, peel and section your orange and if desired, one Cutie (mandarin). I used the Cutie because my orange, while beautiful on the outside was rather pale on the inside.
Place oranges in the hopper of food processor (not zest) and pulse until no large chunks of orange remain. It'll be pulpy and juicy. If using blender do a few sections at a time, remove and pulse until all are chopped.
Toss zest in with cranberries…
Then pour in pulpy orange juice and stir to combine.
Mix well and then pour in your sugar, don't pour it all in at once, sometimes your oranges are super sweet, sometimes they are not, your sugar amount will depend on how sweet you want it. I also like to allow it to sit with the sugar for an hour or so, then adjust as necessary, adding a bit more if needed.
Stir until well incorporated. Then at this point if desired, refrigerate until ready to serve, may make ahead 4-5 days.
Now, walnuts in my opinion bring this up to a whole new level of yumminess and crunch! But I like to add them just before serving so they stay their crunchiest!
But toast them ahead of time and have them all chopped and ready to add in, you can even put them in a baggie and place on top of the relish in your fridge, so you won't forget to add them at serving.
Start by giving them a good rough chop, or be all fancy and buy them pre-chopped!
Next, warm up a pan over medium heat. I like to use a cast iron pan, just feels like it toasts them more evenly.
Toss them in the pan and shake around for a couple of minutes, tossing the pan every 30 seconds or so, so one side doesn't get too toasted.
Allow to cool completely prior to stirring them into the relish.
Once cooled, stir into relish and serve immediately.
Scoop finished relish into a pretty glass serving bowl, it's such a beautiful red color you won't want to hid this dish but instead put it on full display. Encourage your guests to take a little spoonful, a little goes a long way!
Enjoy your holiday season!
Print
Fresh Cranberry Relish
Author:

Prep Time:

15 mins

Total Time:

15 mins

Yield:

8

-

10

servings

1

x
Category:

Relish

Cuisine:

Holiday
---
---
---
---
Recipe Card powered by