The Best Festive Holiday Christmas Salad Recipe
As an Amazon Associate, I earn from qualifying purchases. Please read my disclosure policy.
For a beautiful Holiday Salad Recipe this year, add a healthy punch of bold flavors to your holiday menu. Simple greens, fruits, and veggies topped with goat cheese and crunchy nuts — it is a festive Christmas Salad topped with pomegranate arils and a pomegranate balsamic vinaigrette.
It is almost that time of year again, and this holiday salad recipe is one of those easy recipes that is like edible centerpiece addition to any Christmas or Thanksgiving menu. In fact, most dinner buffets have some sort of salad greens – and this is a festive holiday salad with a super healthy benefit.
This Thanksgiving and Christmas, schedule out your stunning and delicious holiday spread in advance. Try my Copycat Honeybaked Ham (super easy!) with Air Fryer Asparagus, Easy Instant Pot Glazed Carrots, and a healthy heaping of Potatoes au Gratin.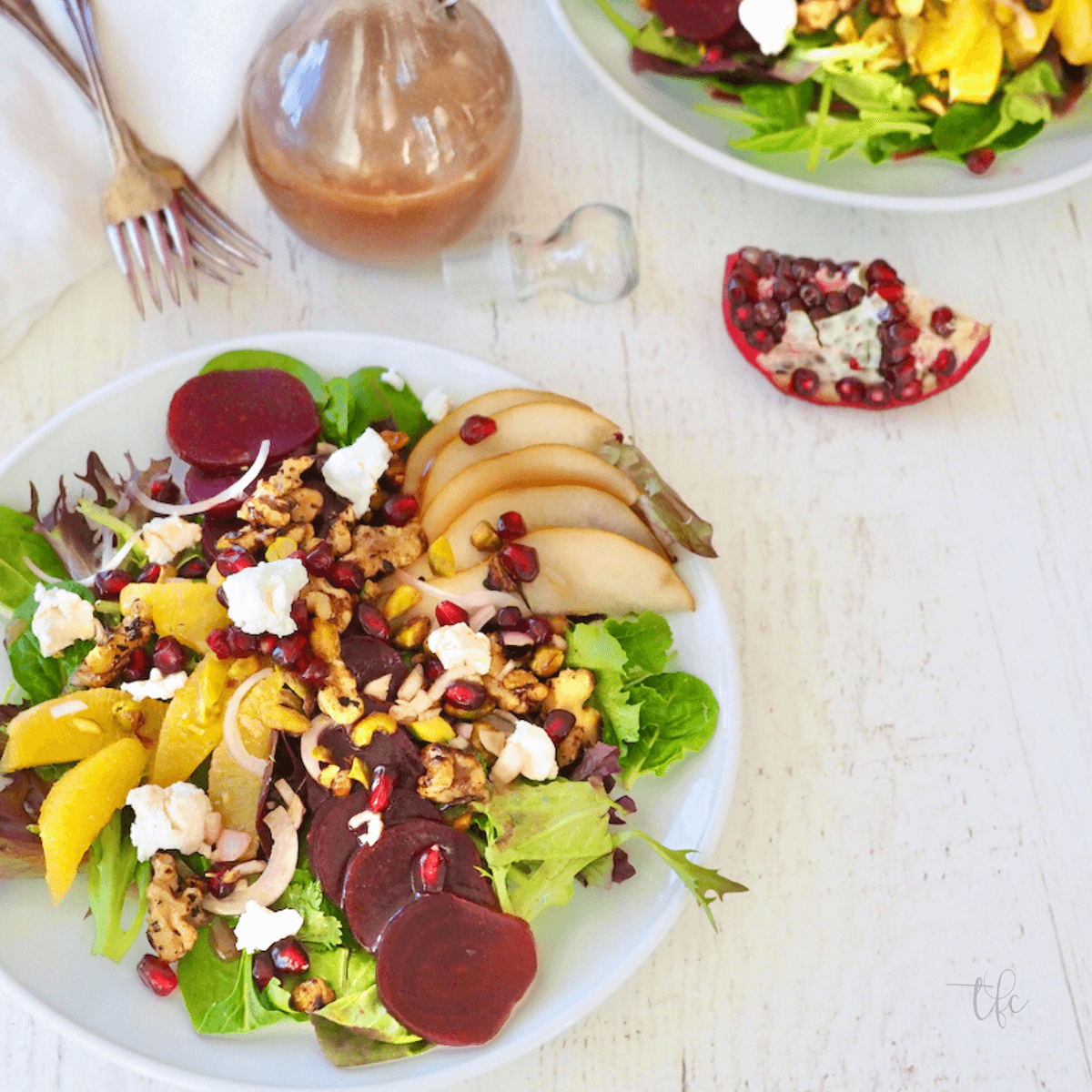 Why You Will Love this Holiday Salad Recipe
Holiday Meal Presentation | Gorgeous festive salad or Christmas salad recipes, this easy salad is perfect for holiday meals, Christmas luncheons and Christmas parties.
Healthy Benefits | A simple green salad loaded with nutrient-dense fruits and protein, nuts and cheese boosts immunity during the holiday season or at any time.
Complex Flavors | All of the ingredients play so well together with a boldness that will impress.
Ingredients for Holiday Salad Recipe
For the full recipe, pop to the end of the post for the printable recipe card.
Baby Spring Lettuce | Baby greens are a beautiful combination of tender baby spring varieties of lettuce, peppery arugula, and spinach– and it looks fancy too!
Pear | Pears are the sweet fiber and vitamin-packed fruit providing the lightest color of the salad. Choose your favorite pear; Anjou, Bosc, Asian, Bartlett, Comice or apple slices would be a crunchy and sweet alternative.
Naval Oranges | These are the seedless and best-tasting oranges lending a citrus punch.
Shallot | Shallots are the sweet mild onion for a subtle oniony flavor.
Beets | Earthy and sweet, I love the taste and color of beets in my salad.
Pistachios & Walnuts | Nuts in a salad add a hearty bite – use crunchy pistachios and honey toasted walnuts for a nutty good combination.
Goat Cheese | This cheese sprinkles easily onto the salad, adding a tart and early taste.
Pomegranate Arils | Garnish your salad with these tiny tart beauties.
Ingredients for Pomegranate Salad dressing | Olive oil. balsamic vinegar, shallots, Dijon mustard, orange juice and pomegranate juice.
Healthy Twist
No twist is needed for this recipe! This healthy eating recipe is packed with vitamins, nutrients, fiber, bold flavors, and more! Enjoy!!
How to make a stunning holiday salad
Step 1 | Make Pomegranate Salad Dressing Recipe
Please see my recipe for homemade Pomegranate Salad Dressing, but the full recipe is in the recipe card below.
This tangy sweet citrus salad dressing recipe is the icing on the cake- so to speak. The Christmas Salad Pomegranate plate is already stunning in presentation with fresh ingredients and full flavors.
Pour on the tangy balsamic vinegar, bold olive oil, orange juice and pomegranate juices for a beautiful salad with complex dressing– it brings all the lovely flavors together just right!
Step 2 | Toast your Honey Walnuts
Line a baking sheet with foil or parchment to receive the hot sticky nuts.
Place chopped walnuts into a skillet over medium heat and shake around until warmed and nutty smelling. Drizzle honey and stir to coat evenly, stirring for one minute, then remove and cool for 5 minutes separating nuts so they don't stick! You might also enjoy my maple bourbon candied pecans!
Step 3 | Prepare the Holiday salad recipe
Clearly, you need to wash and prep all the fruits and veggies. So grab the cutting board and a sharp knife — here is what needs to be done.
Pears will be sliced thin.
Orange segments are peeled and sliced.
Shallots are sliced for the salad and diced for the dressing.
Chop or slice cooked or canned beets to your liking. Use regular or pickled beets here.
Pistachios are chopped if you want to, their pretty green adds such a holiday flare!
Juicy pomegranate seeds need harvesting (see FAQ) if you are using whole fruit. Or purchase a package of pomegranate arils.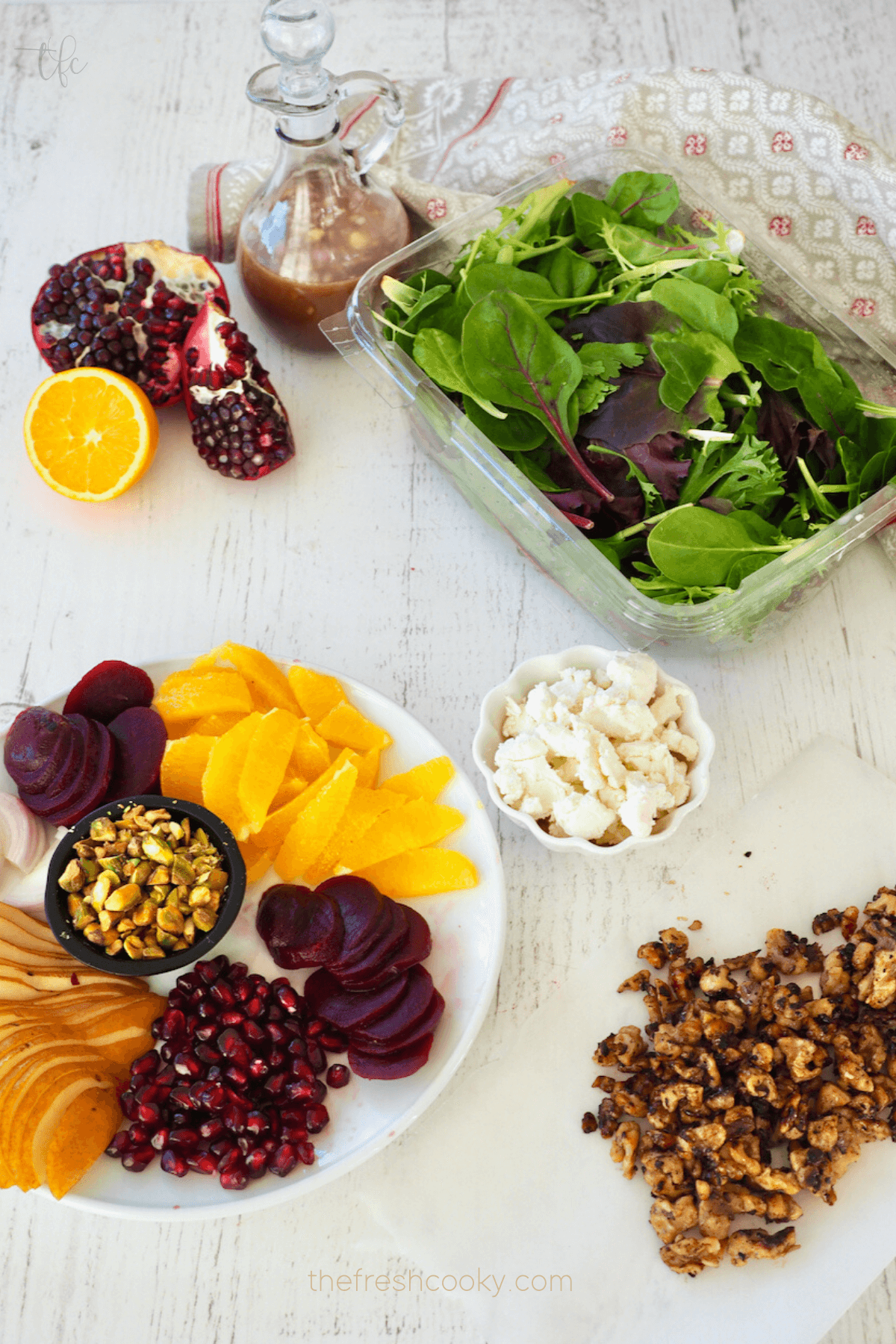 Pro Tips
Most of slicing and dicing can be done the day before and sealed in an airtight container — then you can assemble last minute, ready for your holiday table. If slicing the pears ahead, you may want to sprinkle a little fresh lemon juice to preserve the color, these are quick to slice last minute. Make your dressing the day ahead too!
Step 3 | Arrange Your Salad
I love to present my salad in the best way, whether on individual plates (my favorite), in a large serving bowl, or on a big platter. So take time to arrange your salad, it doesn't take long!
Artfully arrange the baby spring greens and add the layers of the remaining ingredients:
Lay out the pears, oranges, and sliced beets, and then sprinkle with shallots, pistachios, walnuts, and goat cheese, finishing with pomegranate arils for color.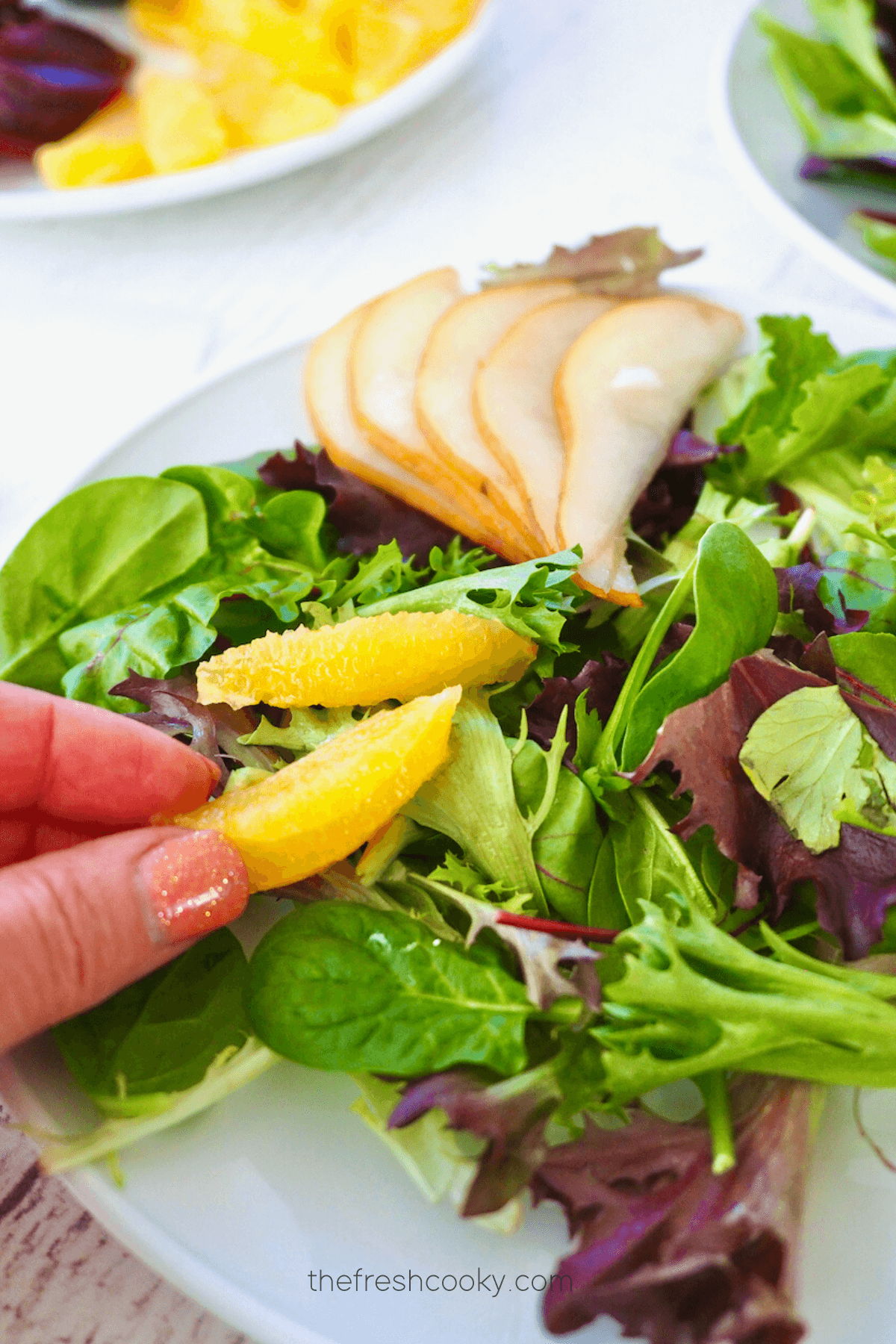 Finally, serve the Christmas salad with pomegranate dressing on the side or dress in a large salad bowl and toss (in front of guests for a great way to impress!) and maybe a fresh grind of black pepper.
Take a moment to stand back and take a look at the pretty presentation– so satisfying!
Variations & Substitutions
Oils | Change olive oil out for grapeseed oil or avocado oil.
Vinegar | Use balsamic or pomegranate balsamic for the best taste profile. Or try red wine vinegar if you'd prefer.
Cheese | Not a fan of creamy goat cheese? Try feta cheese or blue cheese crumbles instead.
Onions | If you love the crunch of a strong onion in your salad, add the bold taste of red onion slices in place of the shallots or try my quick refrigerator pickled red onions for a milder take.
Spring Mixed Greens | You can use other healthy greens to make this hearty salad. Mix up your lettuce choices to taste.
Nuts | If nuts are not your thing, try sunflower seeds or pepitas.
Make Ahead and Storage Tips
If you are making this salad ahead, I recommend storing each layer in a separate container so the colors and freshness stay crisp. Keep the sliced fruits from browning by adding a few drops of lemon juice to each bag or container of fruit.
Then you can layer and dress the salad when ready to serve.
And, if you have not mixed in the dressing you can place the salad in a container and store it in the refrigerator for a day or two.
**I have had good luck making up the individual salads, covering them tightly with plastic wrap and storing in the crisper drawer for up to 2 hours before an event. Wait to place the nuts and dressing until the last minute so it doesn't get wilted and soft!
Frequently Asked Questions
Can this recipe be a Vegan Recipe?
Of course, it can be easily adjusted to be a vegan holiday salad recipe. All you need to do is eliminate the goat cheese!
What proteins would pair well as a topping for this salad?
If you are looking to make this salad into a meal, add bacon strips, slices of steak, maple chicken, shrimp skewers, or a nice piece of salmon. Really, just about any animal protein would be a beautiful addition to this salad. Try edamame or grilled tofu for a vegetarian approach.
What are some healthy salad toppings?
Go Raw | Anything raw is going to be healthier always! Whether it's veggies or fruit, in its raw state is best! Chop away!
Got Crunch | Instead of using a candied nut or deep fried crunchy, use toasted nuts and seeds instead!
Chewy | To add some healthy chewiness to a salad, think of adding cooked whole grains, beans and legumes.
Hint of Sweetness | Go with natural fresh fruit for this, or naturally dried fruits.
Punch of Flavor | Add shaved or small chunks of hard cheeses, they tend to be healthier for you, though I won't tell if you use goat cheese or feta, also delish!
What is the easiest way to remove seeds from a pomegranate?
I feel like I'm a pro at this, being raised in So California with neighbors who grew pomegranates.
There are many tutorials out there, many of them suggest the submerge the pomegranate in a bowl of water, but that seems a bit fussy for this veteran pomegranate seed remover.
Growing up in Southern California, we had a neighbor who had a gorgeous pomegranate tree in their front yard. Smartly, he and his wife started hosting a "Pomegranate Party" for the neighborhood kids (who would steal them at night), we could pick and eat as many as we liked and even take a few home. I have fond memories of this time, it was usually near Halloween and I am pretty sure we came dressed in costumes.
The easiest way to remove seeds from a pomegranate is to slice through the rind in 4 quarters (not all the way through the pomegranate, that's what makes a juicy, sticky mess). Then you gently pull the quarters away from each other revealing the ruby jewels that are called arils. Gently push them away, stripping the arils away from the bitter white pith. I like the way this tutorial explains it. You can plop them into a bowl of cool water or do it on a cutting board.
How to Store and Freeze Pomegranate Arils (Seeds)
Refrigerate leftover arils in an airtight container, they should last about 5-7 days.
If your pomegranate arils are about to go bad, spread them out in an even layer on some wax paper or parchment paper lined baking sheet. Flash freeze for 30-60 minutes, then transfer to an airtight freezer baggie or container, freezing up to 3 months. To thaw, place in fridge overnight and discard any juices that accumulate. (Super delish in smoothies!)
More Gorgeous Salad Recipes
More Helpful & Easy Holiday Recipes
Like this recipe?
Don't forget to give it a ⭐️⭐️⭐️⭐️⭐️ star rating and comment below the recipe!
I hope you loved this Christmas salad with Pomegranate — if you did, would you share your creation on Instagram, Facebook and Pinterest? And be sure to comment below!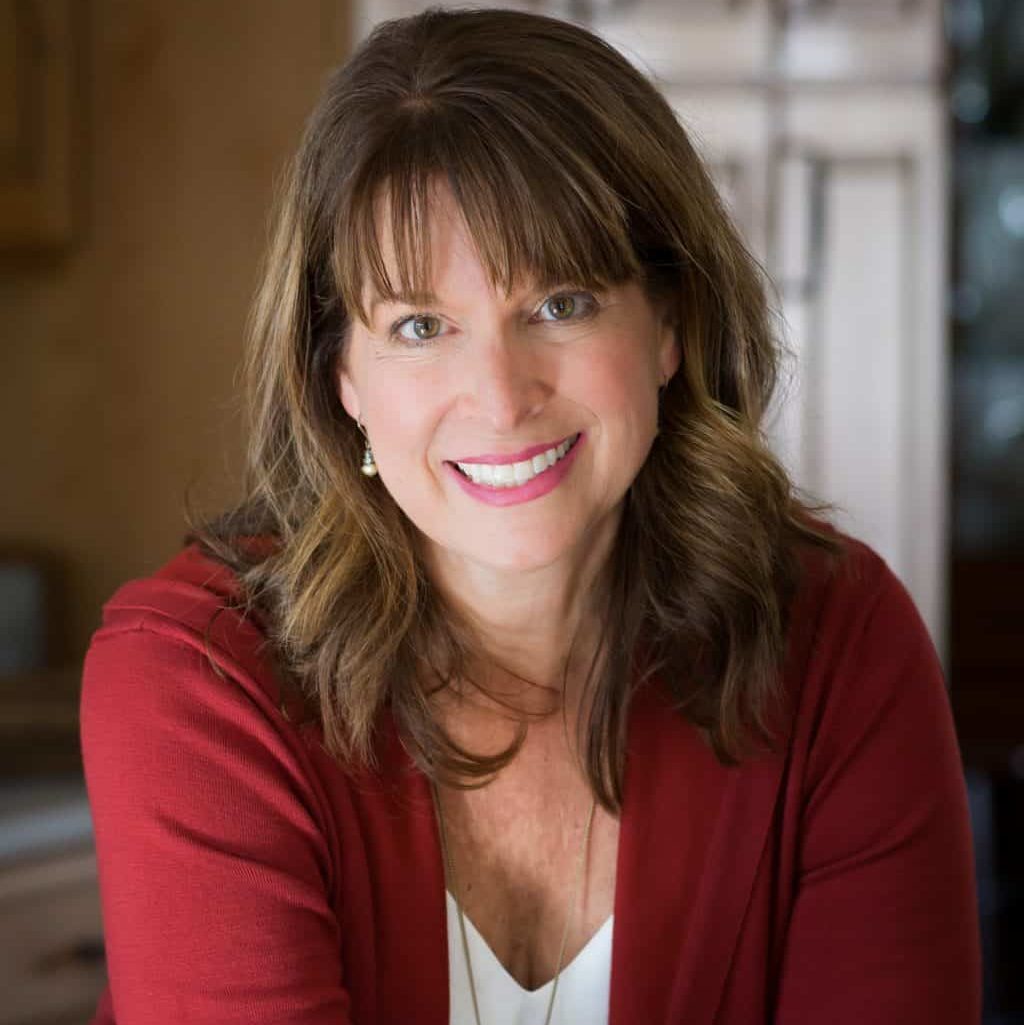 About Kathleen Pope
Recipe Innovator | Food Photographer | Food Writer
Hi, I'm Kathleen Pope. Here at The Fresh Cooky you will find easy, mostly from-scratch, trusted recipes for all occasions. From speedy dinners to tasty desserts, with easy step-by-step instructions. I am here to help teach you how to make mouthwatering recipes without spending hours in the kitchen. Read more about Kathleen here.