As an Amazon Associate, I earn from qualifying purchases. Please read my disclosure policy.
This Easy Ham Pot Pie Recipe uses all your best leftovers from the holidays and puts them all into one fantastic dish – except for the desserts, of course. The result is savory ham, a rich filling of tender potatoes, and veggies in a creamy sauce, topped with a buttery, flaky pie crust. A must make leftover ham pot pie!
So, if your Easter or Christmas meal included fantastic dishes like Honeybaked Ham, Potatoes au Gratin, and Southern-Style Green Beans – you are halfway to a delicious buttery ham pot pie, and you shouldn't even need a trip to the grocery store. This is the ultimate comfort food.
Easy Ham Pot Pie is a great way to use up some leftovers (like this green bean casserole) and fresh ingredients too. And don't we all need an easy and delicious recipe the day after feeding family and friends at a large holiday meal? I know I do!
Origins of Ham Pot Pie Recipe
This recipe for leftover ham pot pie has it roots going back to an old Pennsylvania Dutch recipe, a popular recipe much like a chicken pot pie, it's loaded with ham instead of chicken, but all the same great flavors you get in a chicken pot pie.
Why You Will Love this Leftover Ham Pot Pie
Use up all those leftovers!
Pot pie is a classic comfort meal
Most meals are better on day two, right?
Super easy assembly, virtually a one pan meal
Ingredients
When I came upon this old recipe, I thought – GENIUS! I can make delicious holiday dinners and use the leftovers in another fantastic meal. Be sure to print the recipe at the end of this post, which has all of the measurements and instructions included.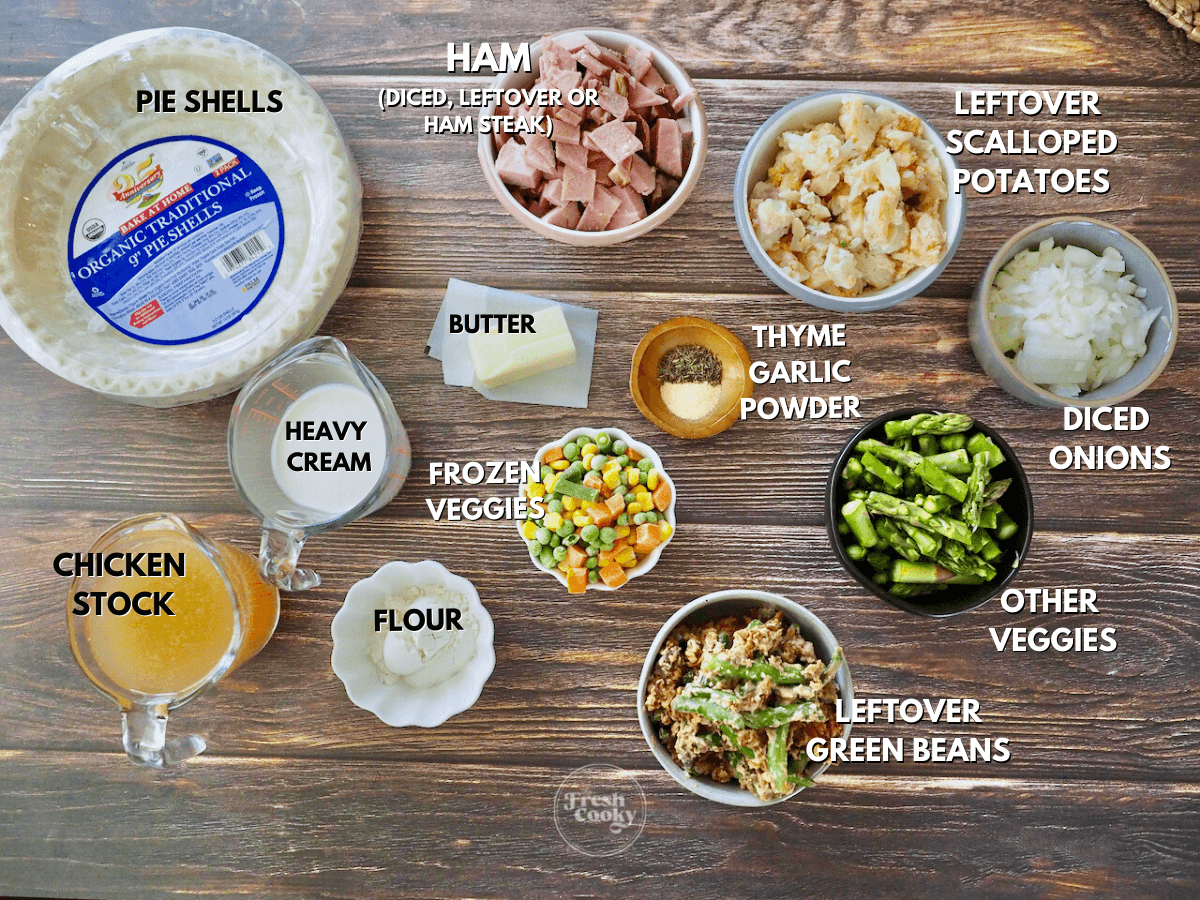 Diced Ham | Leftover holiday ham works excellent here, cut it off that ham bone
Frozen Peas and Carrots | Use frozen peas, carrots, or mixed veggies
Scalloped Potato Leftovers | Use up those leftovers or dice and boil a potato, or swap out with a can of diced potatoes
Leftover Green Bean Casserole | If yours was all eaten over the holidays, you could use frozen or canned beans. Your choice!
Other Veggies | I had some fresh asparagus that I didn't use, so chopped that up, blanched it quickly, then tossed it in the ham pot pie!
Onion | Finely chopped
Chicken stock | Chicken broth, or if you have a lot of ham juices leftover, use ham broth
Heavy Cream | You can use half and half or even whipping cream here, or go lighter and use whole milk
All Purpose Flour | Substitute gluten-free flour or cornstarch
Spices | garlic powder and dried thyme, but if you have fresh herbs, use them!
Butter or Olive Oil | Use olive oil for a bit more healthy ham pot pie!
Pie Shells | Use pre-made shells, homemade pie dough, crescent roll dough, or even puff pastry. I used organic frozen pie shells.
Gluten-Free Ham Pot Pie
Use your favorite gluten-free pie dough, or I love this brand, available at Whole Foods for Gluten-Free frozen pie crusts.
Healthy Twist
This easy dinner can be as healthy as you want to make it. Pot pie, in general, is not known for being a low-fat meal. It is hearty, warm, and yummy, dish, with a creamy filling, but healthy is not usually associated.
That said, when you make a meal from scratch, you can control how much of the good and the not-so-healthy you put in there! So, it is all up to you!
How to Make Leftover Ham Pot Pie
Heat oven to 375 degrees. Then get out a large skillet, over medium heat melt butter (or oil) and sauté the onions until golden brown and translucent.
Reduce to low and stir in the flour and cook another 1-2 minutes, until golden and thickened.
Add the chicken broth and the heavy cream to the skillet and stir until just thickened.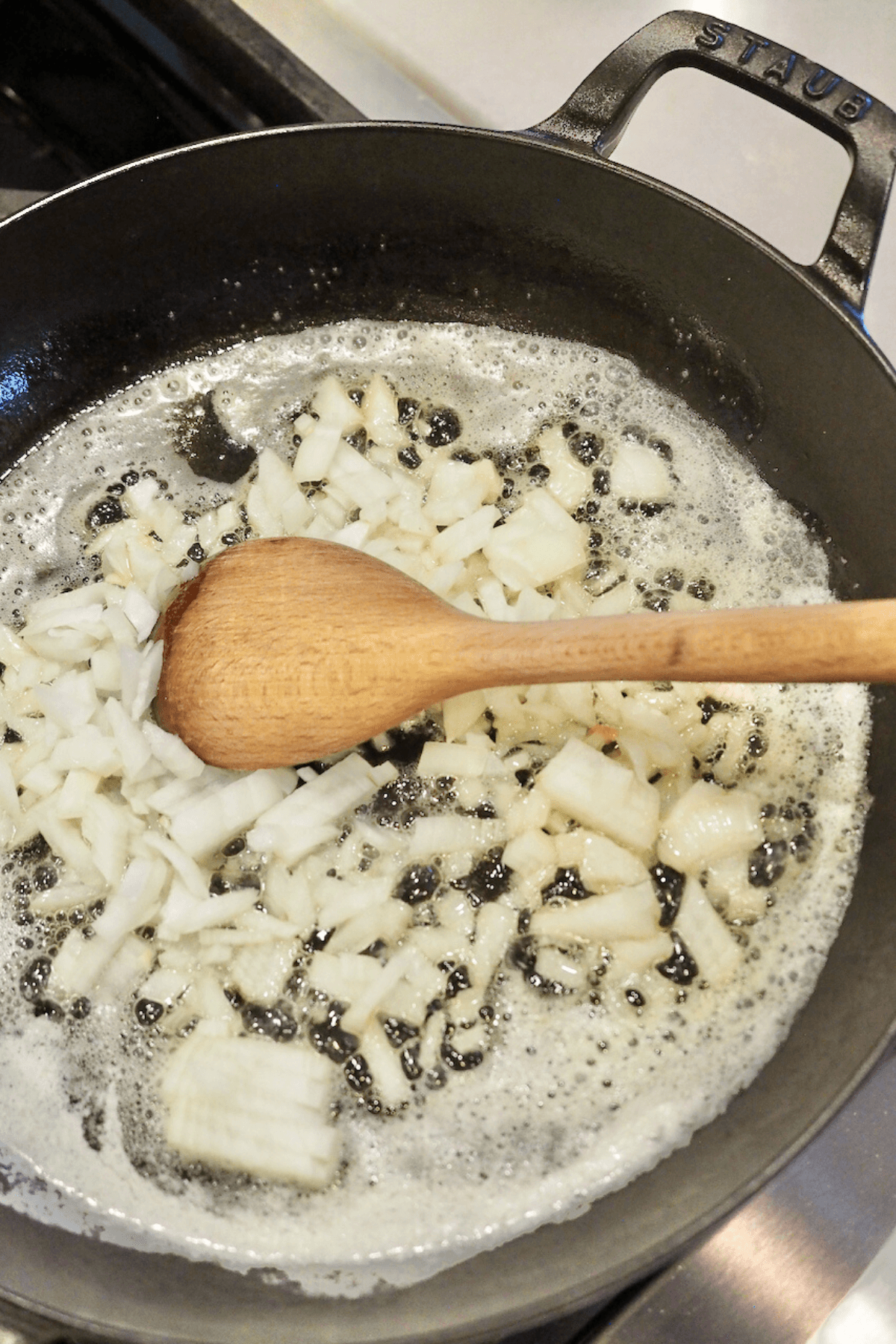 Now you can add all those glorious leftovers and some new ingredients too. Stir in the ham, potatoes, green beans, garlic powder, thyme, and frozen veggies. Take a quick taste and add a dash of salt if needed, but typically this is salty enough all on it's own.
Once fully covered in the sauce, pour the ham mixture into the thawed pie dough lined pie dish or a baking dish.
Cover the pie with the remaining top crust, pinching the edges of your dish to seal the crust, then brush the top with an egg wash of one egg and 1 tbsp of water. This is optional, but will give it a golden and glossy appearance.
Be sure to cut slits in the top to allow steam to escape – and your pie is ready for the oven. If desired, place on a baking sheet to catch any drips.
Bake, brush with melted butter (if desired) and let cool for 10 minutes, then slice and serve.
Cut slices of the ham casserole pie, serve, and enjoy!
Fresh Tips
If you use fresh veggies, steam them in a pot on the stove or in the microwave for 2 minutes to soften them a bit before adding them to the pie, use your favorite vegetables, that's the beauty of a pot pie!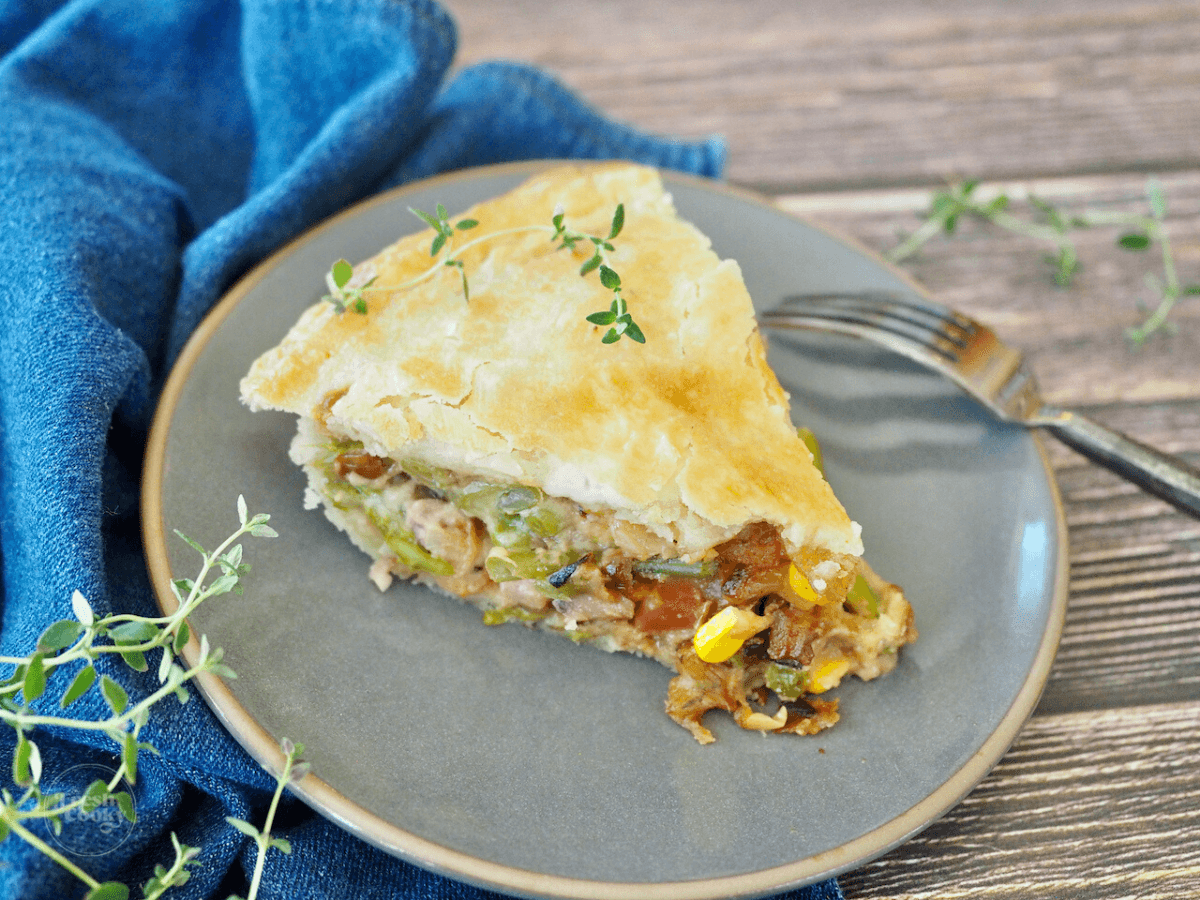 Variations & Substitutions
This recipe is so very versatile – and it uses up what is in your fridge. But that is only one of the reasons I love it so much. So, take a chance and change it up according to whatever holiday dishes you have leftover.
Made a turkey this year? Switch the ham to turkey pot pie, want to use leftover chicken? Go for it! The pictures aren't pretty but this beef pot pie rocks!
Crust Options | Use frozen crusts for ease. Want a doughier crust? Try canned crescent roll dough. Maybe you love flaky pastry? Roll out some puff pastry dough and top the creation.
Have a bunch of leftover rolls or biscuits? Use a baking dish sprayed with cooking spray, and pour the ingredients in. Then top the meat and veggie mixture with the leftover bread! Brush with melted butter, and VOILA!
No ham leftovers? Use a ham steak cut into cubes instead.
Leftover corn this year? Go ahead and toss that in too! Almost any veggie combo is good in a hot pot pie, it will become one of your family favorites too!
Recommended Equipment
You do not need much for this easy recipe!
I love my Staub Everyday Pan, it's large enough to handle a meaty recipe like this, plus if you just add a top crust, you could keep it all in the skillet and go from stovetop to oven!
If you prefer to make your own crust, I recommend using a deep dish pie plate, or even making it in a casserole pan, these are my faves. They are a bit smaller and work great for recipes like this cranberry cheese dip!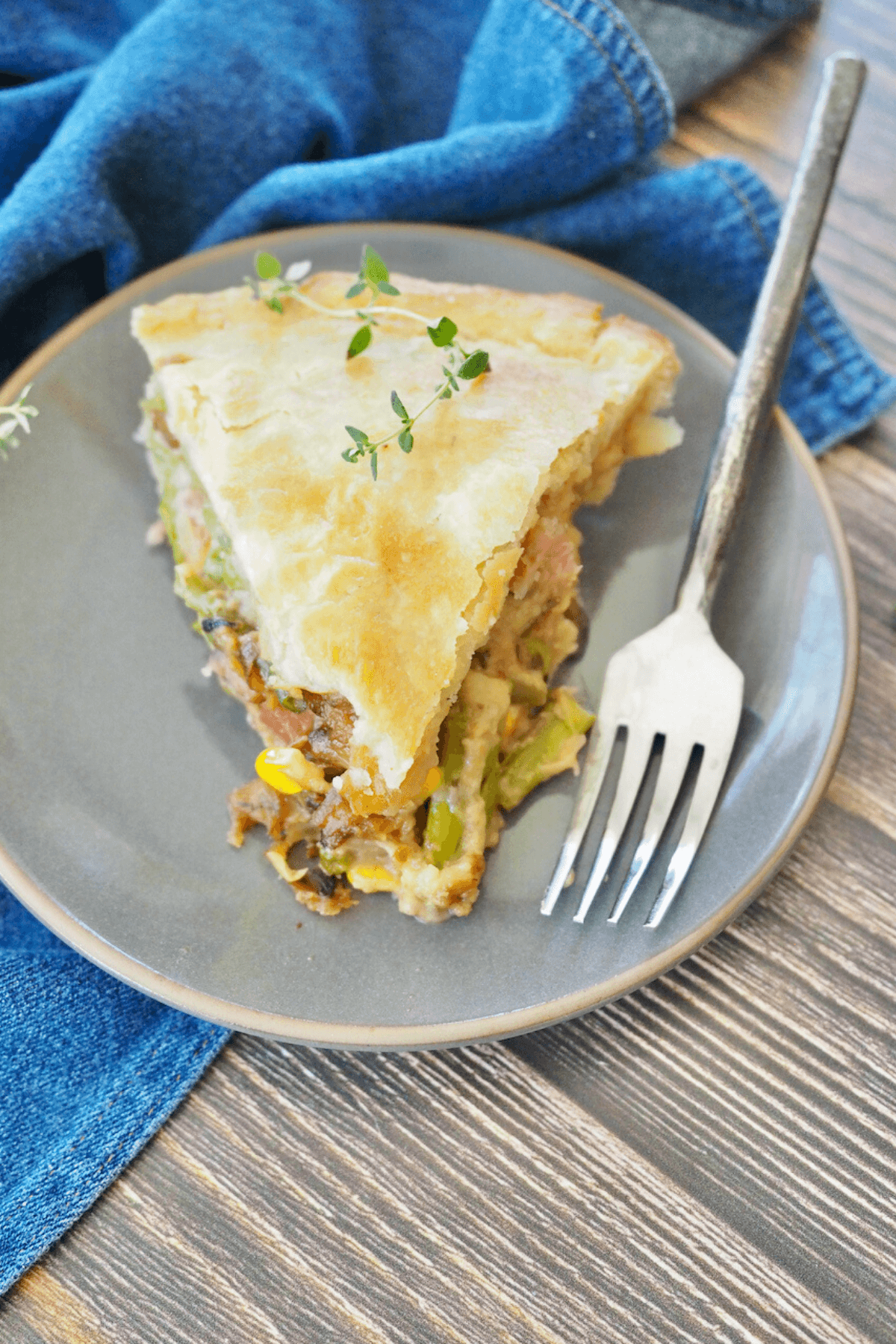 Storage Tips
Now, if you have leftovers from this pot pie leftover meal…that is a lot of leftovers! Go ahead and cover the pie pan or baking dish with plastic wrap or foil and store in fridge for 3 to 4 days.
Freezing | You can approach freezing this meal in many ways. First, you can freeze the individual leftovers of each meal and then thaw and combine them. You can mix the filling and freeze, thaw and place it in the pie shell.
Or you can put the entire pie together and freeze it (cooled & wrapped well) before cooking. Then bake as instructed, increasing the time by 20-30 minutes, covering if the crust starts browning too much.
Reheat | Place entire leftover pie or just a slice in an oven safe dish, heat, covered at 300 degrees covered for 20 minutes or so. Or place in microwave until hot.
Frequently Asked Questions
Do I need to pre-bake the bottom crust?
You do not have to. That said, it is a great idea to prick the bottom crust and partially cook it. That way, you are assured the bottom crust will not be soggy.
How can you tell when the pie is done cooking?
Baking the pie takes 35-40 minutes, it should be golden and the ham pie ingredients bubbly, since just about everything is already cooked. But if you would like to check, the internal temperature should reach 165 degrees.
What can I do if my pie is runny?
Be sure you allow the pie to cool for 10 to 15 minutes before cutting. They key however is to start with a thicker consistency while you are making it in the pan. It should be moist and cover all of the add-ins, but not dry. Add a little more broth if too thick, add a little more flour or cornstarch if too runny.
What makes a pot pie?
A pot pie is a savory pie, typically consisting of a flaky pastry bottom and top, with a creamy filling in the middle. Pot pies can be made with a variety of savory fillings: turkey, chicken, beef, seafood or event plant-based and in this case, pork or ham!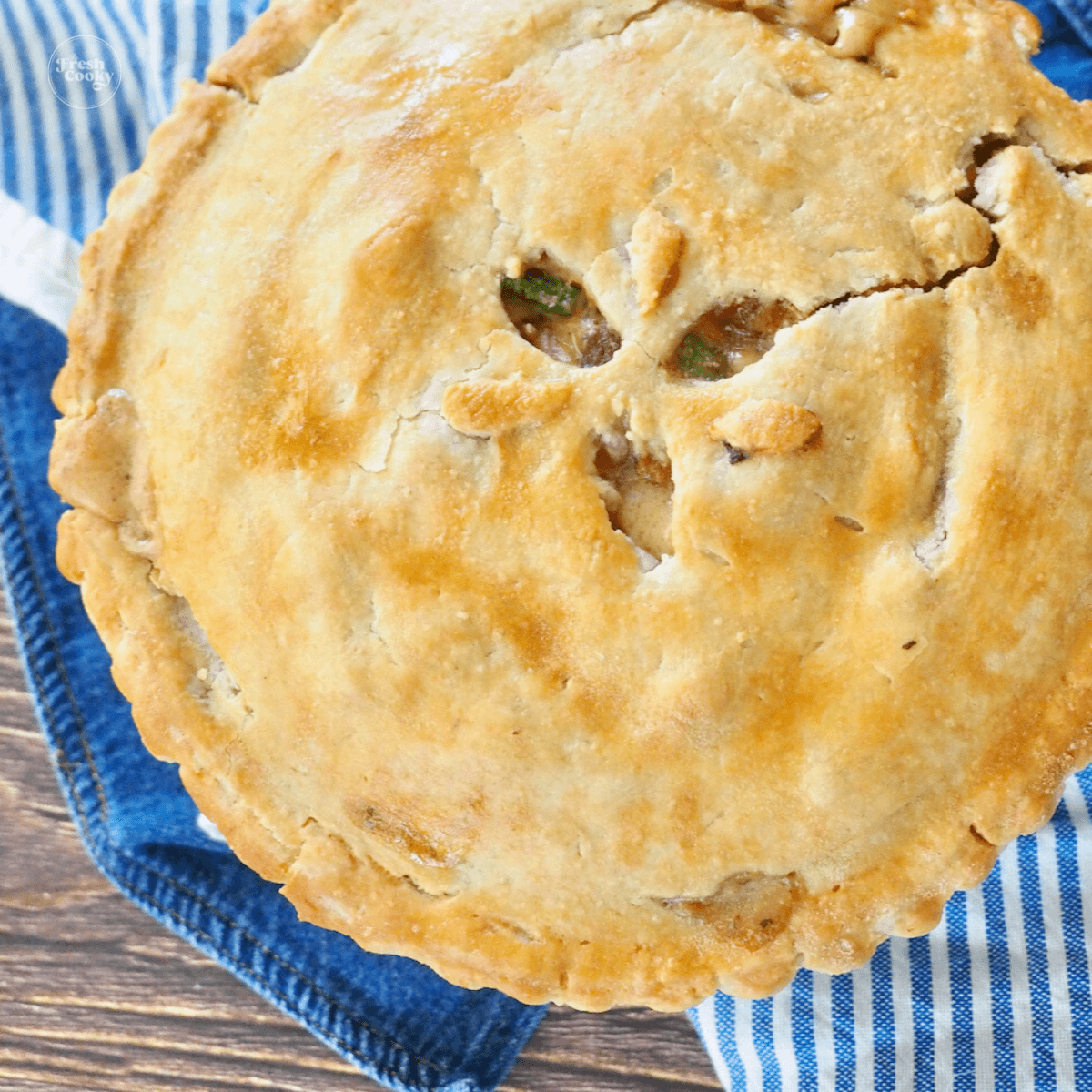 I hope you loved this savory ham pot pie! Be sure to pop down into the comments and rate the recipe!
Must try leftover ham recipes:
More Great Recipes Using Ham or Pork
Love it? Pin It!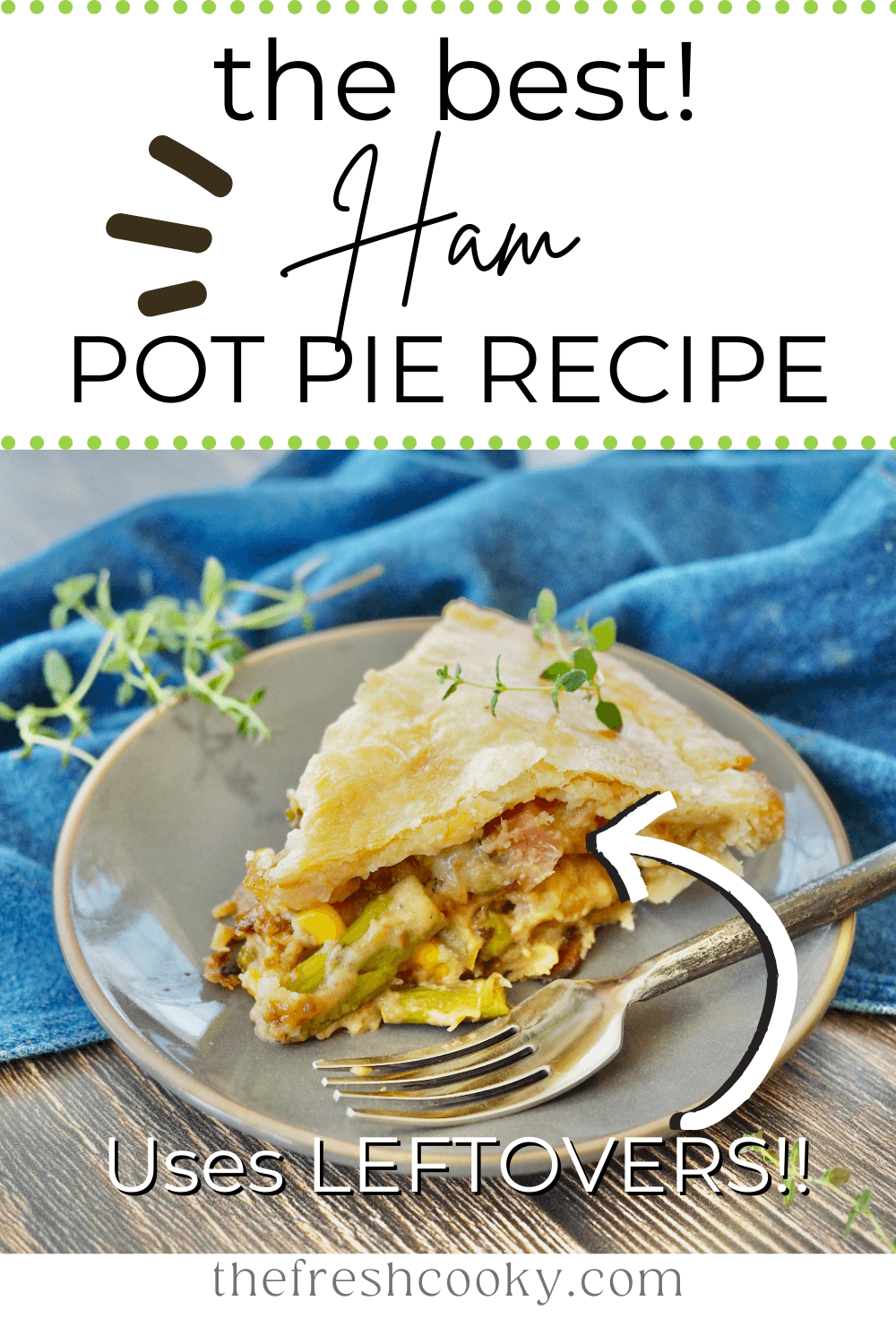 Like this recipe?
Don't forget to give it a ⭐️⭐️⭐️⭐️⭐️ star rating and comment below the recipe!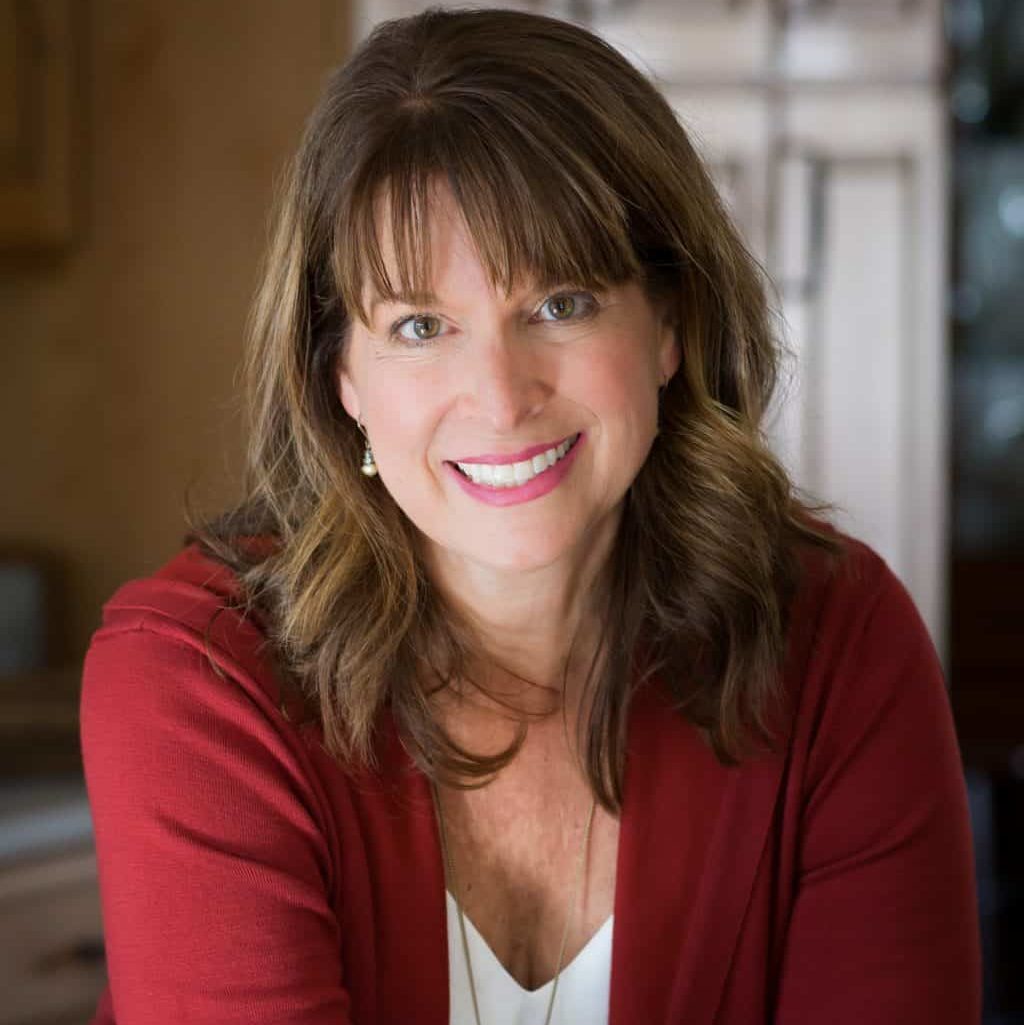 About Kathleen Pope
Recipe Innovator | Food Photographer | Food Writer
Hi, I'm Kathleen Pope. Here at The Fresh Cooky you will find easy, mostly from-scratch, trusted recipes for all occasions. From speedy dinners to tasty desserts, with easy step-by-step instructions. I am here to help teach you how to make mouthwatering recipes without spending hours in the kitchen. Read more about Kathleen here.