Healthy Moist Pumpkin Bread
As an Amazon Associate, I earn from qualifying purchases. Please read my disclosure policy.
Welcome to Pumpkin "season" or everything pumpkin spice season at least and this healthy moist pumpkin bread recipe is lower in sugar and definitely! This tender and easy quick bread is perfect for fall baking, with rich pumpkin spices that makes it great to gift neighbors and friends.
Are you a pumpkin fan? If so, try my Chocolate Pumpkin Graham Crisp, Easy Pumpkin Spice Coffee Cake or these Maple Pumpkin Scones.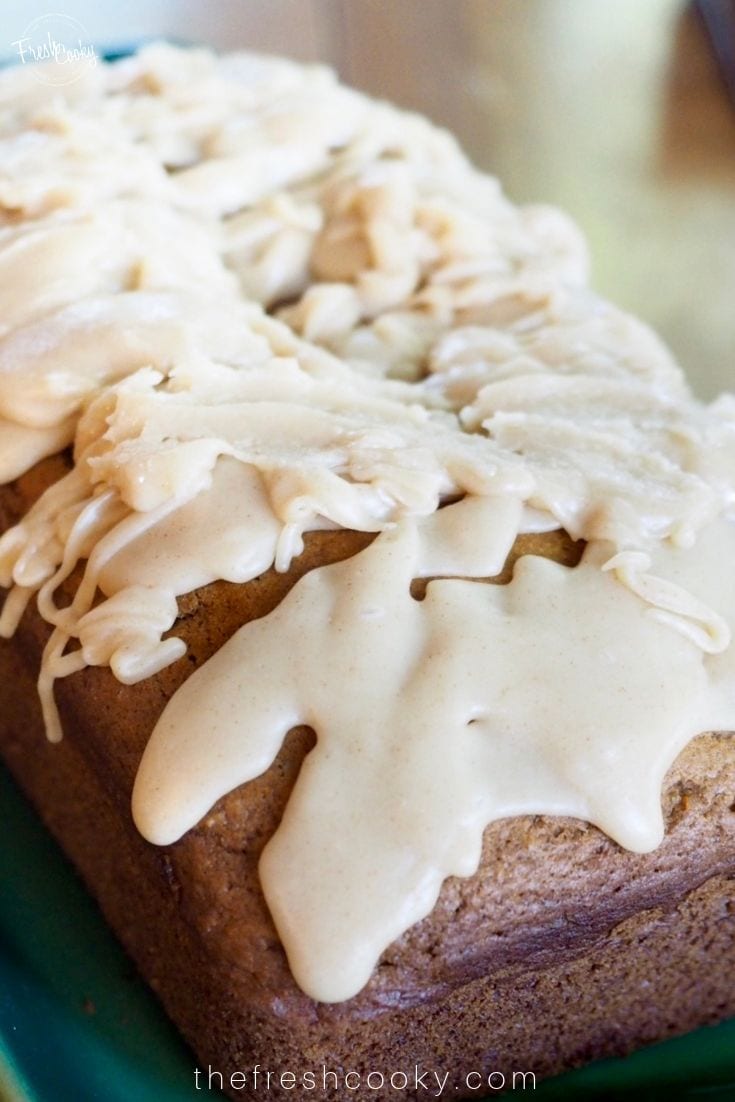 I am however; a HUGE fan of pumpkin and all of the wonderful spices that go into all things pumpkin! There are so many marvelous nutrients in pumpkin, I love to put it in my chili, it adds a lovely thickness and creaminess and I buy it by the case all year long as I put it in our dog's food daily, for low-calorie bulk, antioxidants and nutrients.
I love pumpkin bread, but my old recipe had 3 cups of sugar in it, yikes! This recipe is inspired by The Domestic Rebel. It's a denser quick bread than normal, with hints of ginger, mixed with the lovely earthy spices like cinnamon, cloves, and nutmeg.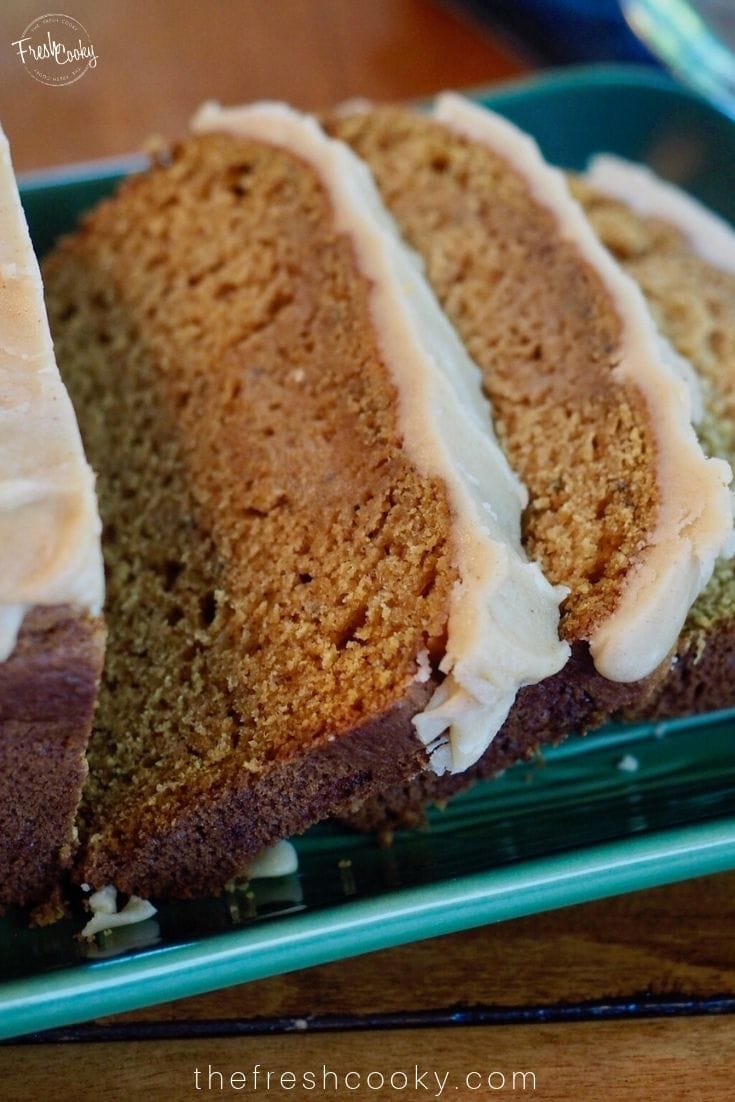 Ingredients
BUTTER | use the real stuff, not soft out of the fridge, cause that's not real butter, it's a blend.
DARK BROWN SUGAR | if using light brown sugar add 1 TBL molasses)
CANNED PUMPKIN PUREE | NOT PUMPKIN PIE FILLING
EGGS | I always use large eggs in my baking
CINNAMON, NUTMEG, GINGER, CLOVES | give it all the wonderful Pumpkin Spice taste, or try substituting Pumpkin Pie Spice mix.
ALL PURPOSE FLOUR | I use Organic Unbleached AP flour in my baking, but regular flour is fine
Let's Make Moist Pumpkin Bread (A bit healthier)
Start by creaming the butter and dark brown sugar for a couple of minutes, until it's light and fluffy.
TIP: If you don't have dark brown sugar, you may replace it with light brown sugar and 1 tablespoon of molasses, of course the likelihood of having molasses might also be slim! I haven't tried it with light brown sugar, but give it a try and let me know what you think.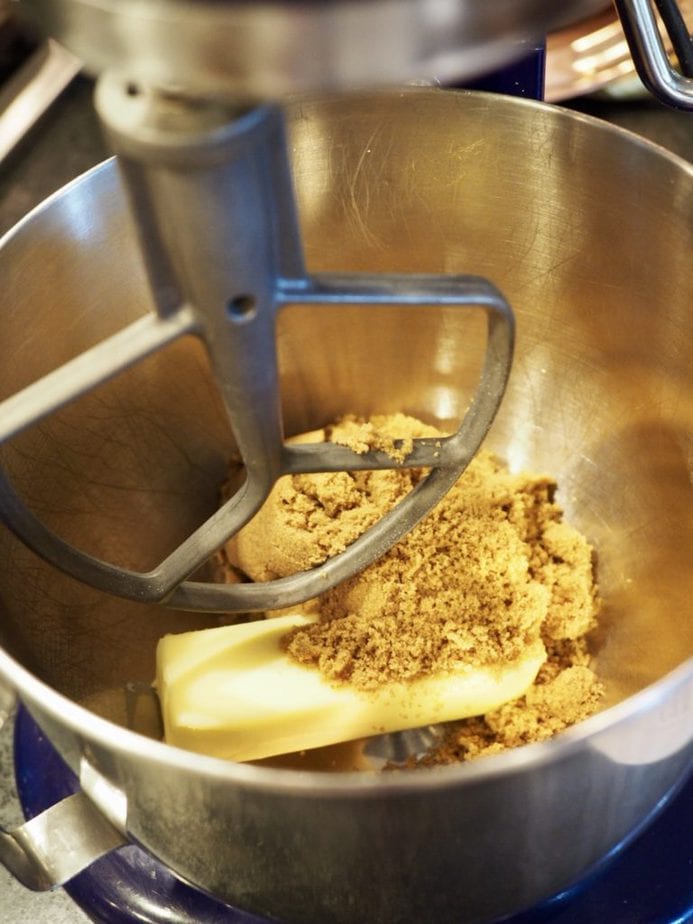 Next add your pumpkin, a generous, heaping cupful. Then add your eggs…and your spices.
Mix well, it will look a bit "curdled" because of the pumpkin, but it will combine once you add the flour and leavening. Place flour, leavening and salt in a small bowl and whisking to combine.
Slowly add the all-purpose flour to the mixture, mixing on low until combined, scraping down the sides occasionally.
Spread dough into one large prepared (spray with oil) loaf pan or 4 mini loaf pans, the dough will be thick.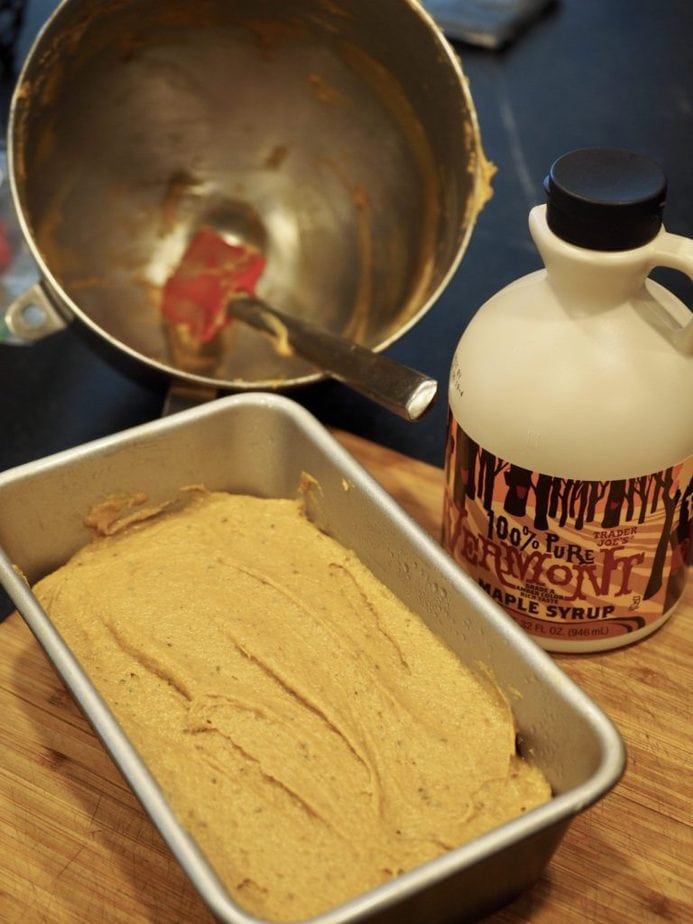 Bake at 350° for 40-50 minutes for large loaf or 25-30 minutes for 4 mini loaf pans
Remove from oven, set on a cooling rack and allow to cool in pan for 10 minutes
Invert onto cooling rack and allow to cool completely before frosting. If you don't want hash marks on the top of your loaf, carefully turn it over back onto the bottom. Careful, as it will be hot.
If desired, once cooled, drizzle on this AMAZING Browned Butter Maple Glaze.
Brown Butter Glaze
In a small heavy bottomed saucepan, melt your butter over medium-low heat, watching very carefully as it will burn. It will foam up after it's melted, that's when it'll begin browning, gently stir or swirl over heat another minute or two until lightly browned and a wonderful "nutty" aroma starts wafting up to your nose.
Stir in your maple syrup and your powdered sugar, it might "seize" a bit, but keep adding liquid and whisking until you achieve a pourable consistency.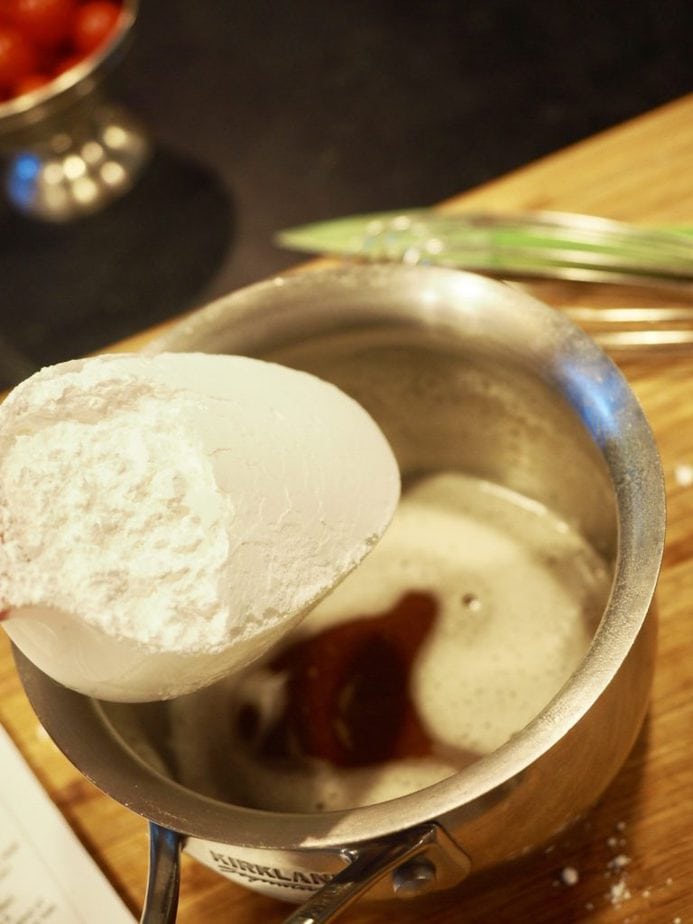 Whisk until blended, then add a bit of cream, milk or half and half, a few teaspoons at a time while whisking until smooth.
Add enough cream until it's easily pourable, it will harden slightly once you pour it onto the pumpkin bread.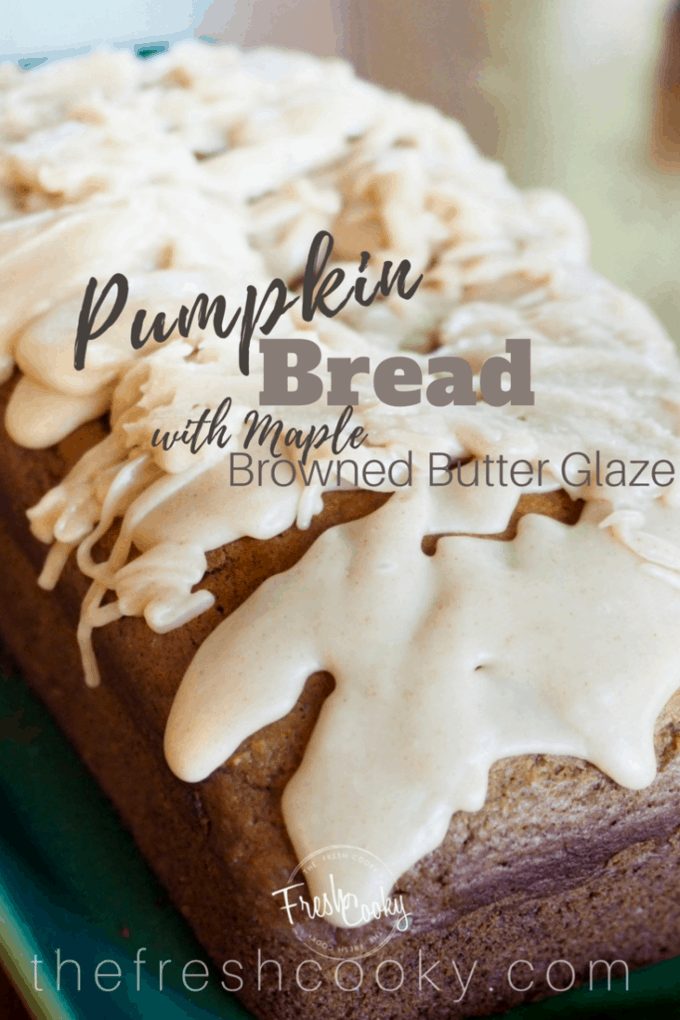 With or without the brown butter glaze it is delicious. Toast it and slather a little butter on it, don't try putting a slice with frosting in the toaster, it'll melt, and make a mess of your toaster. Don't ask me why I know this…oh, all right, yes, I did it, duh! Not one of my finer moments.
Variations
Add ½ cup chocolate chips
Or ½ cup chopped nuts, your favorites, walnuts, pecans, almonds, mmmm!
Try adding 1 teaspoon chia seeds for a bit of protein
Or maybe add ¼ cup shredded coconut
MORE QUICKBREAD RECIPES
Like this recipe?
Don't forget to give it a ⭐️⭐️⭐️⭐️⭐️ star rating and comment below the recipe!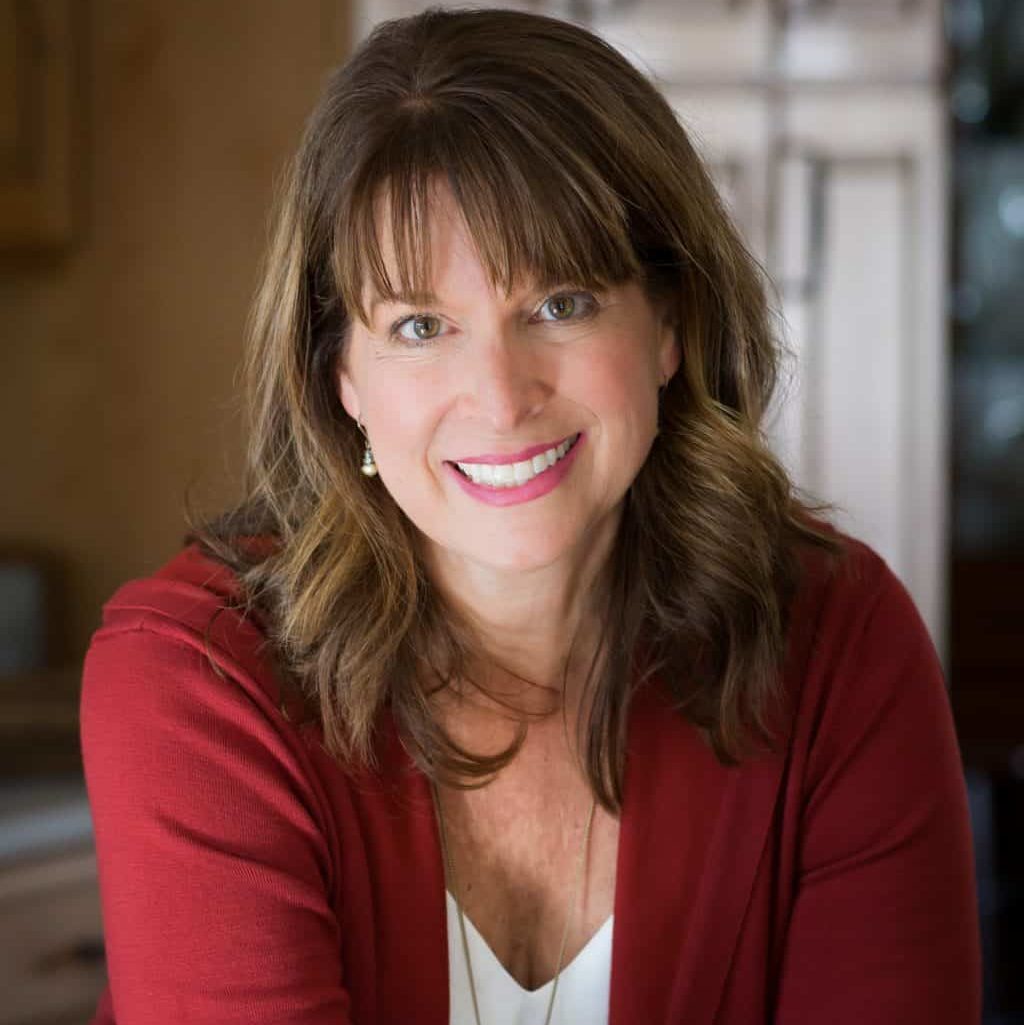 About Kathleen Pope
Recipe Innovator | Food Photographer | Food Writer
Hi, I'm Kathleen Pope. Here at The Fresh Cooky you will find easy, mostly from-scratch, trusted recipes for all occasions. From speedy dinners to tasty desserts, with easy step-by-step instructions. I am here to help teach you how to make mouthwatering recipes without spending hours in the kitchen. Read more about Kathleen here.