Moist Banana Graham Oat Bread
As an Amazon Associate, I earn from qualifying purchases. Please read my disclosure policy.
I love me a moist, tender, easy quick bread! Using up overripe bananas…BONUS! This Moist Banana Graham Oat Bread is loaded with the nutty heartiness of oat and graham flours, reduced sugar and used honey; making it the perfect afterschool snack. I know you and your family will love it!
MOIST BANANA GRAHAM OAT BREAD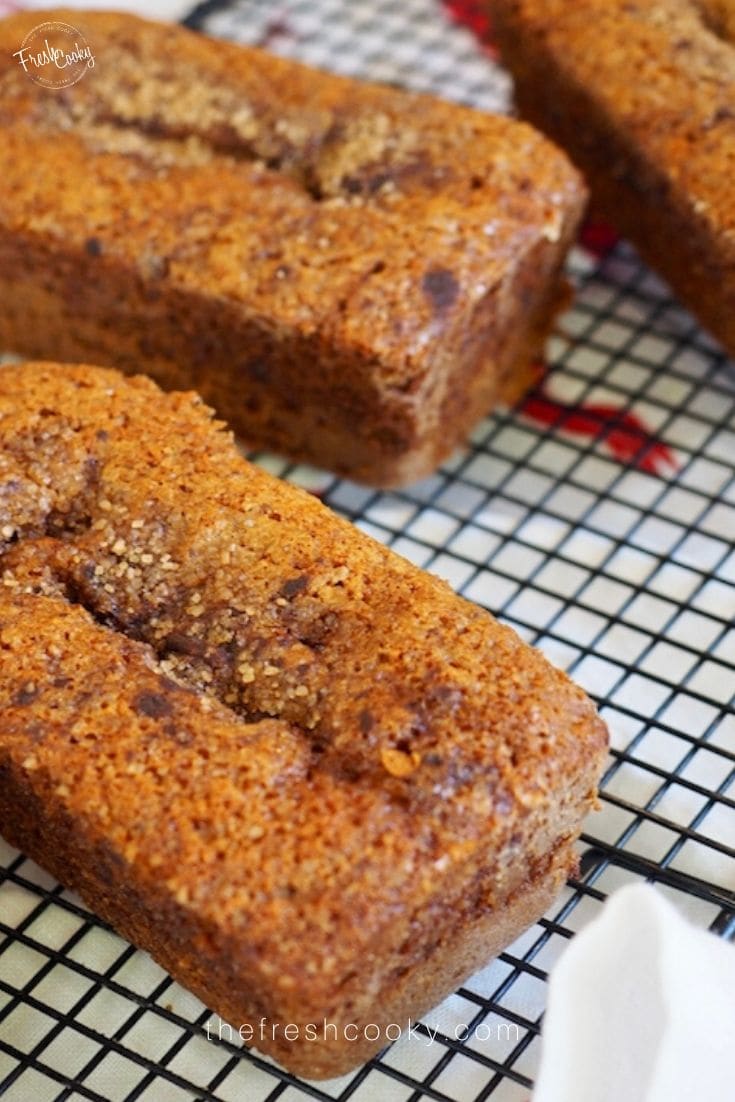 A few weeks back my oldest son had his wisdom teeth out, I was trying to think of soft foods I could make for him, other than the usual milkshakes, pudding and mashed potatoes (which he hates).
I spied my very spotted bananas on the counter and this recipe was born. I've adapted it from one of my regular banana breads to be a smidge healthier using oat and graham flours in order to get a little fiber in him.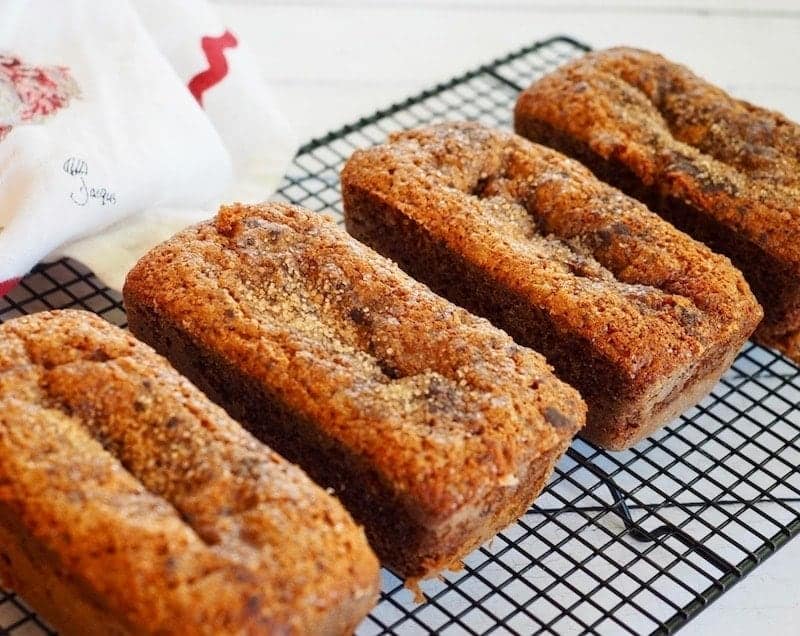 Why BAKE IN MINI LOAF PANS
I like making my quick breads in mini loaf pans, for several reasons:
Easier storage.
One loaf yields 4 mini loaves; making it a simple neighbor, hostess or friend gift.
Freezes beautifully and doesn't take up as much room
Bakes faster, with less of a chance of the middle sinking.
OR IN ONE LARGE LOAF PAN
If you prefer to bake in a standard loaf pan, prepare as directed and bake a little longer (instructions in recipe).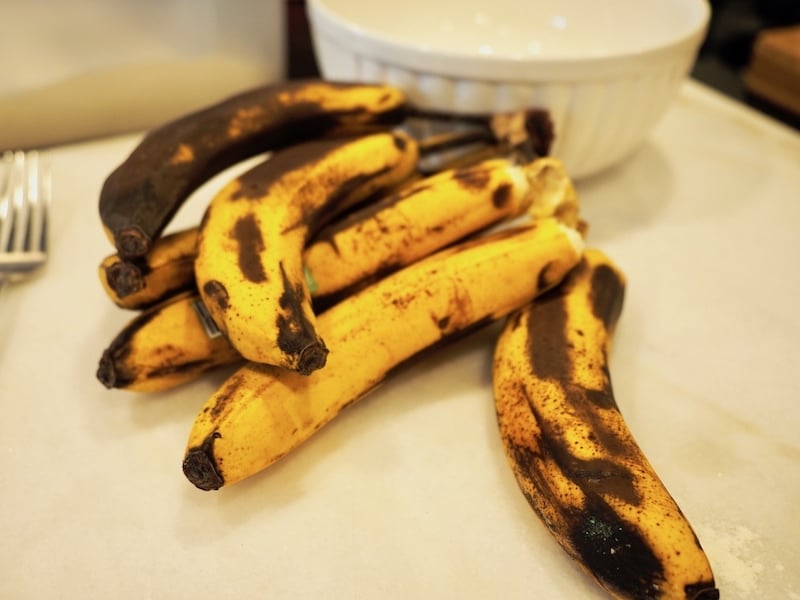 BANANA TIPS
Ever wonder why there is the plastic wrapped around the stem on the bunch of bananas, it slows down the browning process! Read this article, it has some great tips for how to keep them from browning too quickly.
If however; they have gone beyond the point of enjoyment; simply peel, wrap the banana in plastic wrap and place in a freezer baggie and freeze until ready to use.
Thaw on counter until soft and mash for recipe. They will be brown and a lot of liquid will have come out of them, just mash it all together!
And if your bananas or summer fruit are bringing fruit flies, try this homemade fly trap — it really works!
Place your soft (overripe) bananas in a bowl and using a fork mash until soft and chunky.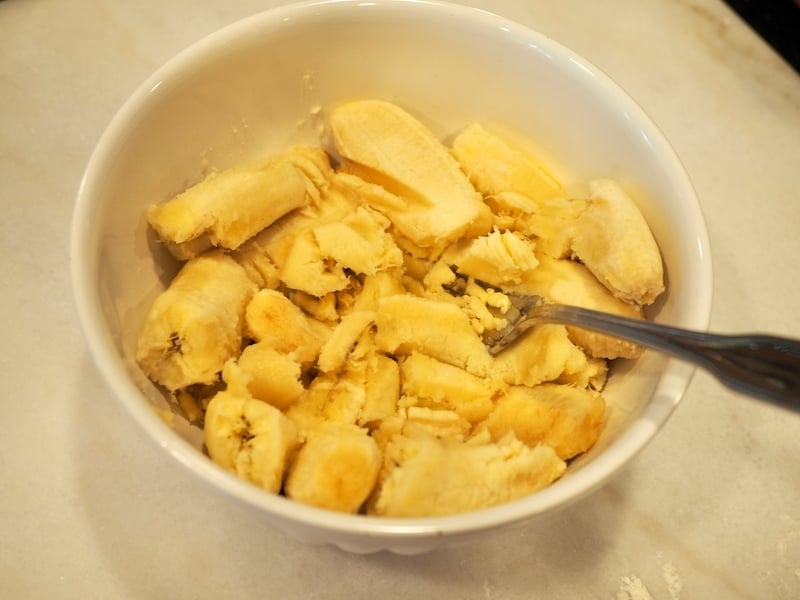 Preheat your oven to 350° (325° for dark non-stick style pans) and spray your pan(s) with non-stick spray or oil (I like this Avocado spray oil, works great in all situations, high or low heat).
In a large mixing bowl; measure oat flour, unbleached flour, graham flour, baking soda and sea salt; whisk.
TIP | If you cannot find Graham flour, you may substitute a light Whole Wheat flour such as Bob's Red Mill Whole Wheat Pastry Flour or just increase your all-purpose flour by 1/4 cup.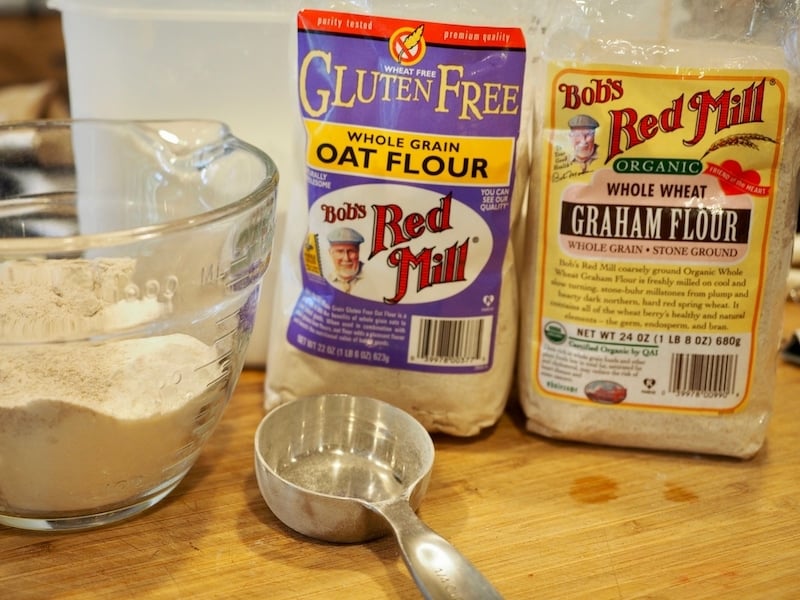 In the bowl of a stand (or handheld) mixer fitted with the paddle attachment, cream your butter on medium-high speed for 1 minute, until light and creamy. Scrape sides if needed.
Add your all-natural cane sugar and your honey, cream again until sugar and honey are combined well with butter and mix for 1-2 minutes on medium.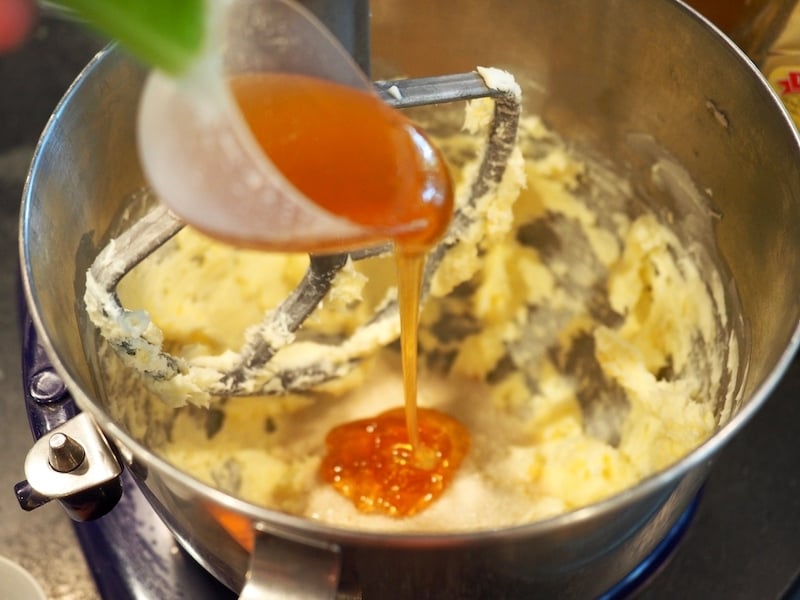 Lightly beat your eggs in a small mixing bowl and add to butter mixture. With mixer on low add in your mashed bananas along with the eggs and mix until combined, about a minute, scrape sides of bowl to release any butter if needed.
Add vanilla and mix to combine.
With mixer on low, slowly pour in the flour mixture and mix only until combined. If using nuts and/or raisins, mix in now.
Pour evenly into prepared mini loaf pans.
If desired sprinkle with a little demerara sugar or other course sugar and some cinnamon.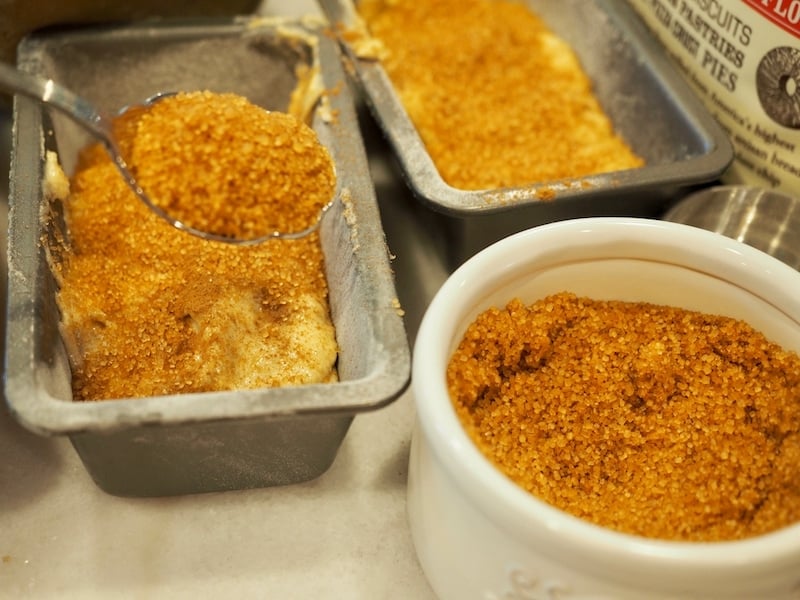 Place pans on cookie sheet, leaving space between each pan and bake at 350 for 25-30 minutes until toothpick inserted comes out clean.
Remove from oven and allow to cool for 10 minutes before transferring to wire rack to cool completely.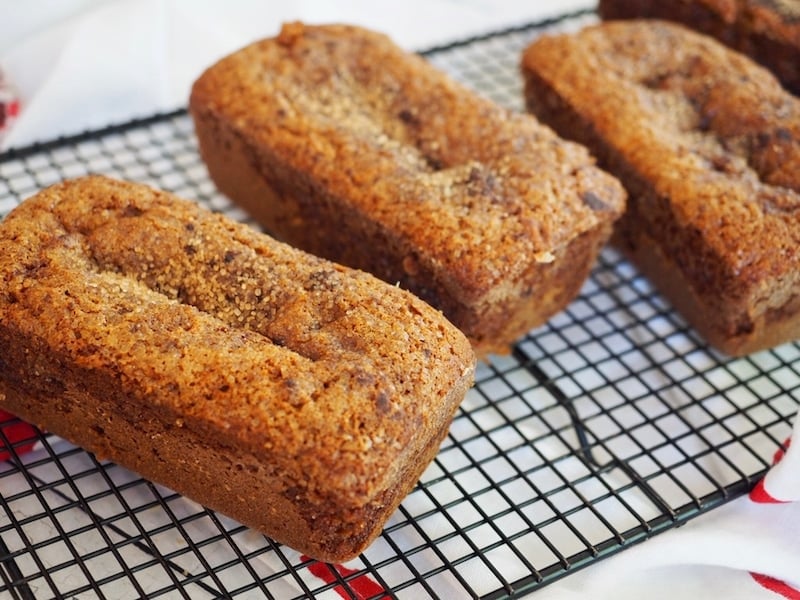 To give as a gift, wrap in plastic wrap (cooled), then again in natural parchment paper and tie with bakers twine. Check out this post for Zucchini Lemon Bread for step-by-step instructions on wrapping.
We enjoy our banana bread toasted with a little pat of butter, or make a small sandwich and slather a little butter in between.
EASY BANANA MUFFINS
This recipe is easily adapted for muffins, they will come out a little lighter and more cake like.
If you think batter is too thick, add 1 tablespoon of cream (buttermilk or milk may substituted) and mix until combined.
GLUTEN FREE BANANA BREAD OR MUFFINS
My brother and his family are gluten free. Many of my recipes are easily converted to gluten free using a good cup for cup or 1 to 1 Gluten Free flour to replace gluten flour.
In this case, keep the oat flour (make sure it's gluten free) and replace the all-purpose flour and graham flour with Gluten Free all-purpose flour (try replacing the graham flour with Coconut or Almond Flour).
Quick breads and muffins are probably some of the easiest items to convert to GF, try this Gluten Free Coffee Cake (regular flour option)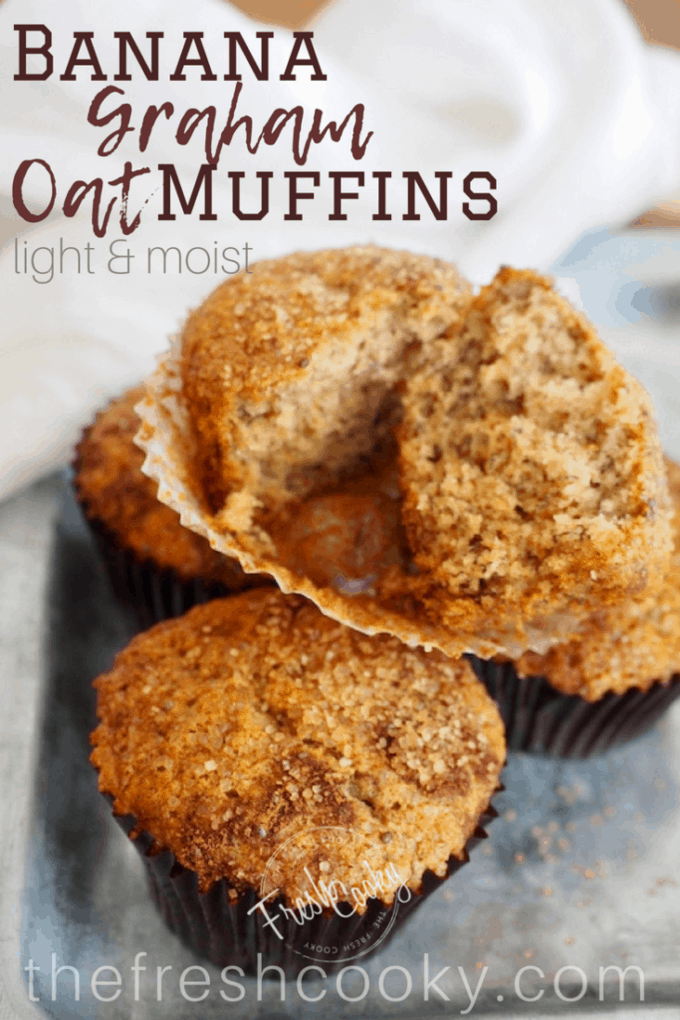 Using a large scoop into prepared muffin tins (lined and sprayed with non-stick or oil spray) fill about 2/3 full, makes about 18-20 muffins.
Bake at 350° for 18-20 minutes until toothpick inserted in middle comes out clean. Place pan on wire cooling rack for 5 minutes before removing to cool completely.
Jump on over to my recipe for Banana Graham Streusel Muffins for an even more amazing take on this simple quick bread.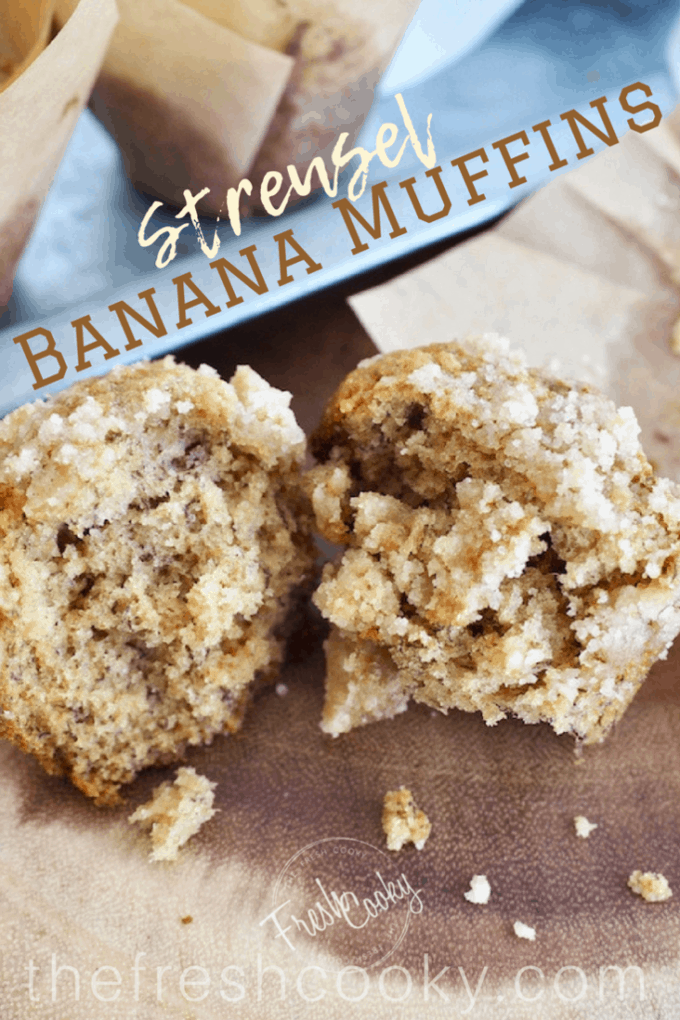 Oh and you just might L.O.V.E. this versatile Brown Sugar Cream Cheese Frosting!

Brown Sugar Cream Cheese Frosting is also delicious on these recipes:
If you enjoy this recipe, give these other treats a try: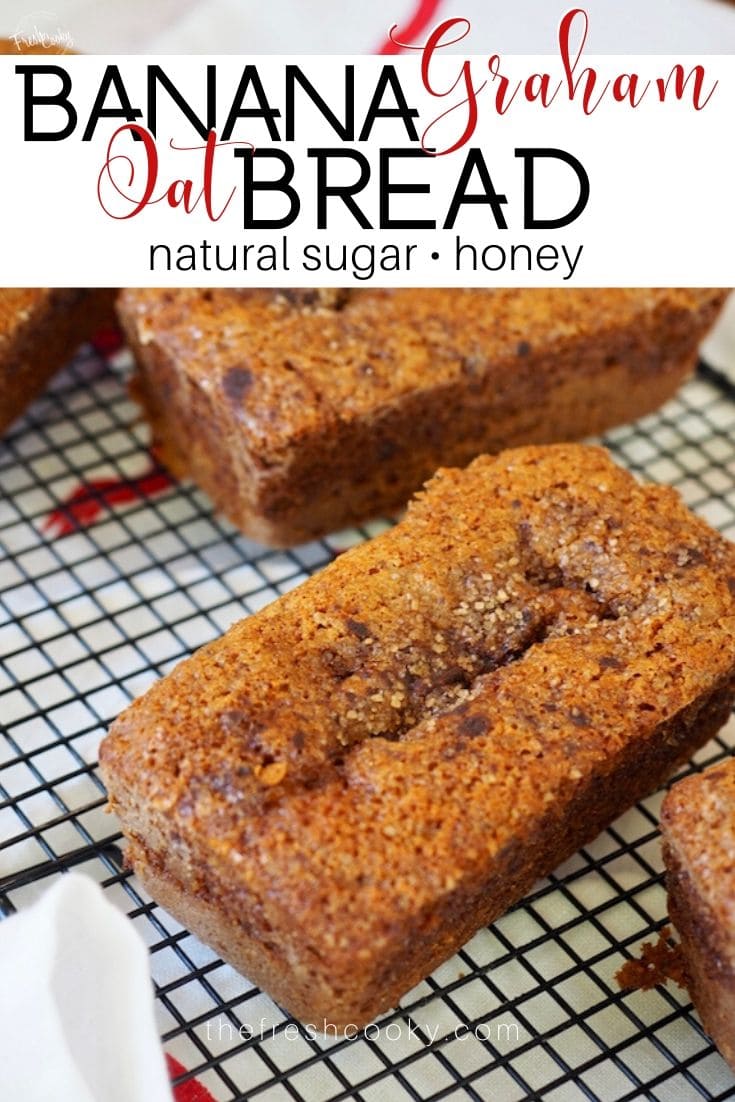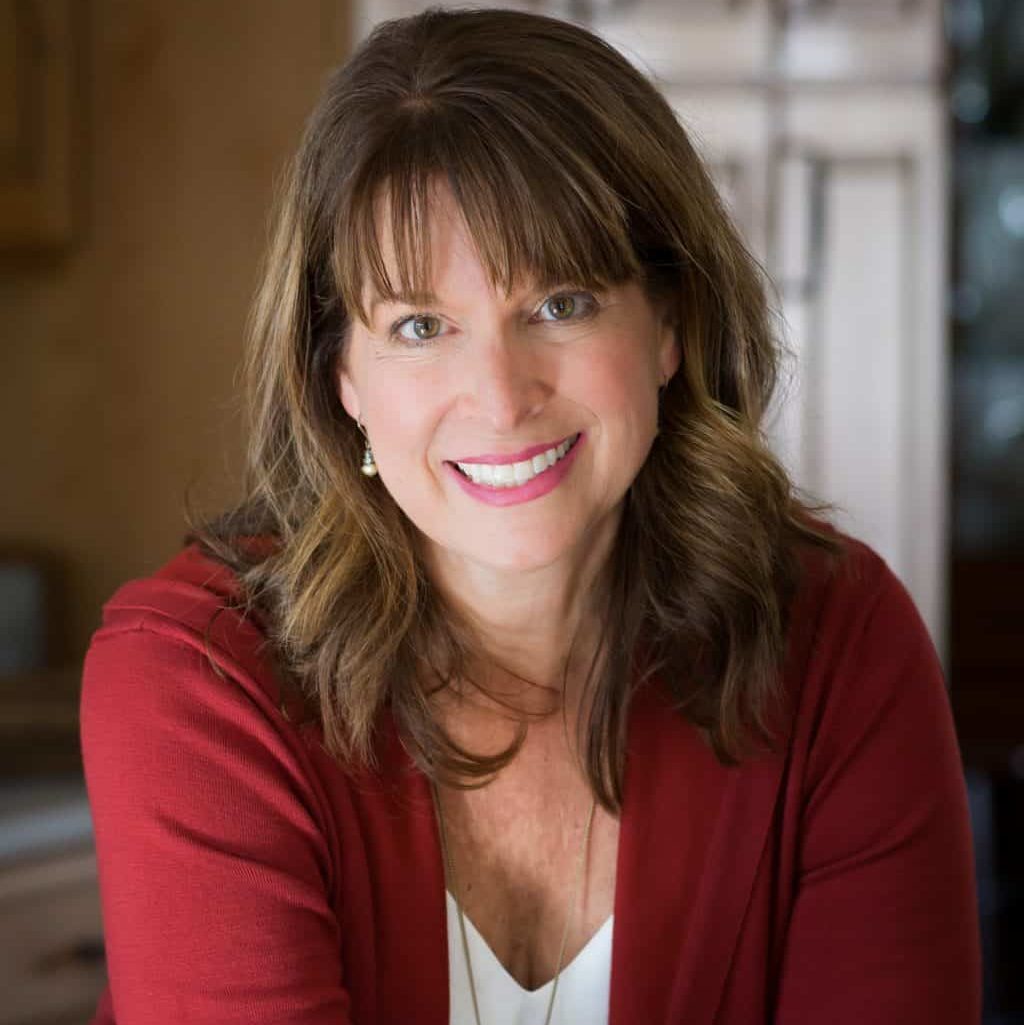 About Kathleen Pope
Recipe Innovator | Food Photographer | Food Writer
Hi, I'm Kathleen Pope. Here at The Fresh Cooky you will find easy, mostly from-scratch, trusted recipes for all occasions. From speedy dinners to tasty desserts, with easy step-by-step instructions. I am here to help teach you how to make mouthwatering recipes without spending hours in the kitchen. Read more about Kathleen here.