Disclosure I am a participant in the Amazon Services LLC Associates Program, an affiliate advertising program designed to provide a means for us to earn fees by linking to Amazon.com and affiliated sites, this post may contain links. At no cost to you!
Simply, the BEST! Browned Butter Rice Crispy Treats are nutty, toasted, silky, crunchy browned butter and vanilla bean kicks up the standard rice crispy treat. Oh and a sprinkle of flaky sea salt on top…superb! I'm a total sucker for a rice crispy treat, it tends to be my go-to dessert when I need to make a lot in a short amount of time, they are always a hit and are pretty darn allergy tolerant.
BROWNED BUTTER RICE CRISPY TREATS
Whew, summertime wears me out! And it just started! Akk!! I am finding it hard to focus on the blog while I get into my summer rhythm, which is of course a haphazard rhythm, if anything. For a schedule and routine loving girl, it can make me a bit grumpy at times. But I'm trying to embrace my inner procrastinator. It's working since I'm writing this post the night before it's due!
I first heard about these from a friend who introduced me to this beautiful cookbook
by Joanne Chang from Flour Bakery in Boston. We're heading back to Boston later this summer, I so hope we can stop by one of her locations and sample some of her deliciousness!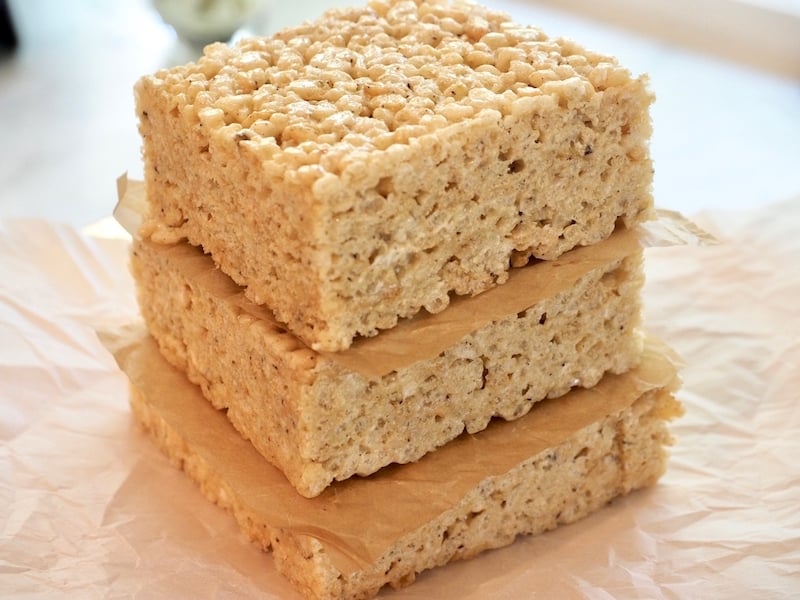 I've modified it slightly, especially since Vanilla Beans have sky-rocketed in price, but the taste and flavors are still amazing.
HOW TO BROWN BUTTER
Don't be afraid of browning butter, even a newbie can do it, just watch closely. For properly browned butter you should use unsalted butter as it contains less water and more milk solids, which is where you get the bulk of your deep, intense flavor. Here's a great post on three variations and usage for browned butter. Want to read about the comparison between browning salted vs. unsalted butter? Check out this Cooks Illustrated test. That said, I have used salted butter many times because I don't let a little salt get in my way!
Begin by lining a 9 x 13 inch pan with parchment paper, sprayed with oil.
I open my marshmallows and measure out my rice cereal so they are ready to go once the butter is ready.
DOUBLE THE RECIPE
This recipe easily doubles using a half sheet pan, line it with a sheet of parchment paper and with oil.
Start with cold, unsalted butter in a large pot (large enough to contain your rice cereal). Heat over low heat until melted, occasionally give the pot a stir or a swirl. Once melted, add your vanilla bean or vanilla bean paste.
This image shows using Vanilla Bean Paste – 1 teaspoon equals 1 vanilla bean.
The butter will start to bubble, rapidly, sounding a bit like a babbling brook. Be patient, the entire browning process will take about 5 minutes.
It'll start foaming up, with a softer, gentler almost "popping" kind of sound, shortly after it foams up you should start seeing it turn brown, the milk solids will become a dark caramel brown.
I thought I ruined my browned butter once, but I couldn't make myself throw those expensive ingredients away, so I cooled the butter & vanilla bean mixture and placed it in a container in the fridge. A few days later, I took it out of the fridge, took a sniff and much to my surprise it smelled fine, a little nuttier than usual, but still so good. I re-melted it and though a little more dark specks were in the treats, they tasted marvelous!
As soon as it's browned, dump in your marshmallows and sea salt and begin stirring over low heat.
Stir until they are a beautiful, melty glop with all the ingredients mixed throughout the marshmallow mixture.
Once all of the marshmallows are completely melted and incorporated, remove from heat and pour in your rice cereal.
Using a large spoon or spatula, carefully fold the rice cereal into the marshmallow mixture. Look at those beautiful brown bits!!
Once all of your marshmallow mixture is incorporated into the rice cereal, scoop or pour it into your prepared pan. Spray a piece of plastic wrap, parchment paper or wax paper with spray oil and lay on top of hot treats, smoothing and pressing gently to fill all corners and make it even. I asked my son to be my model for this shot! 16 year old hands are nicer than mine!
GET FREE RECIPES

FROM THE FRESH COOKY DELIVERED RIGHT TO YOUR INBOX!
Don't press too hard, you don't want solid compressed treats, but you do want them to stick.
Allow to cool completely in pan, when ready to cut, invert or using parchment paper remove from pan onto cutting board. If you are anal like me, you might even get a ruler out making sure they are all the same size. Cut them into 12 squares and sprinkle with a little flaky sea salt or Fleur de Sel
DECORATING OPTION
After cooling about 5 minutes, sprinkle some mini M & M's on top and gently press into the treats.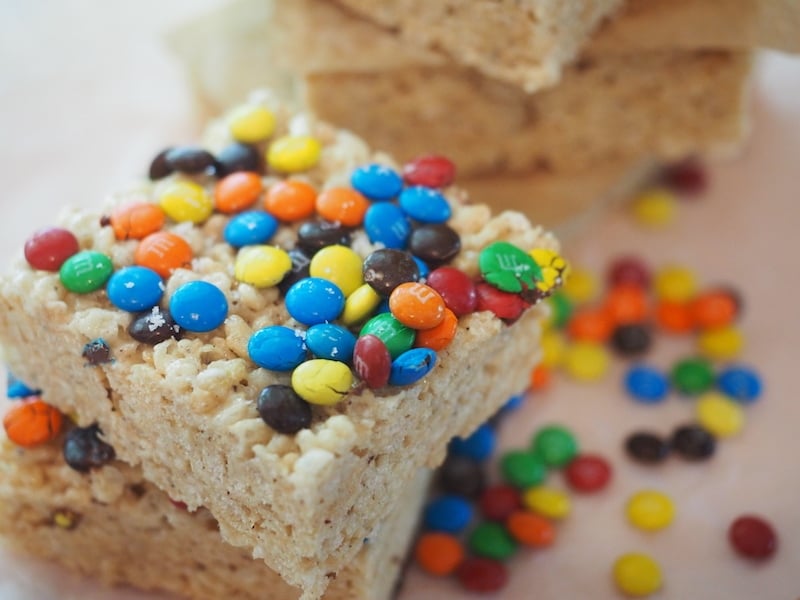 Store in sealed container for up to a week, best within first few days, but still quite tasty a week in, if they stay around that long. Nice to use as gifts for teachers, coaches, neighbors. I wrapped them in a strip of parchment paper and tied with some bakers twine. Place them in a cello bag, tie with twine and you have a festive treat!
If you like browned butter, try these!
I'm sharing this recipe on my favorite Link Parties | Foodie Friday | Weekend Potluck | Meal Plan Monday
Recipe lightly adapted from Epicurious.
TOOLS FOR THIS RECIPE
I'd love it if you enjoy this recipe if you'd comment and rate the recipe in the recipe card.
Hashtag any recipes you make from The Fresh Cooky #thefreshcooky or tag me @thefreshcooky on
Instagram to be featured on our stories!
Print
Browned Butter Rice Crispy Treats
Author:

Prep Time:

5 mins

Cook Time:

15 mins

Total Time:

20 mins

Yield:

12

squares

1

x
Category:

Dessert

Cuisine:

American
---
---
---
---
---
Recipe Card powered by
LOVE WHOLESOME DELICIOUS RECIPES? COME FOLLOW ALONG!
If you share a picture of something you make from our blog, tag it #TheFreshCooky so we can see it. We might feature it on Instagram!
GET FREE RECIPES

FROM THE FRESH COOKY DELIVERED RIGHT TO YOUR INBOX!