As an Amazon Associate, I earn from qualifying purchases. Please read my disclosure policy.
Six creative traditional and non-traditional lunch box ideas for you to easily put in place this year! Healthy lunches for tweens and teen athletes that easily adapt to fit most kids.
From preschool to highschool, kid lunch ideas for school and homeschool! We all need a little help sometime, lunches vex me, so I came up with 6 new ideas that you can implement as well.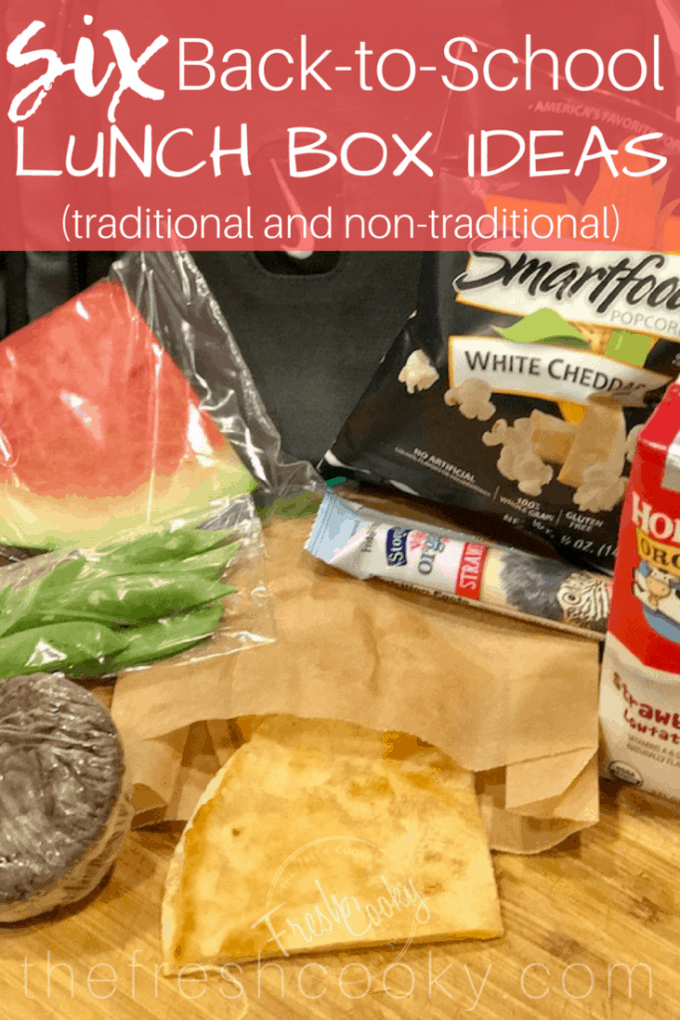 Six Creative Lunch Box Ideas
Back-to-School…what emotions does that evoke in you? Joy, sadness, glee, fear, a mixture?
I crave the routine that school brings, it brings the joy of a schedule back into my own life, call me weird, it's okay, others do!
I am so grateful to no longer hear whiny phrases like, "I'm bored!" or "I don't know what to do?" and I'm sure my kids are happy to not hear, "If you can't find something to do, I'll give you something to do;" I've had more than one wall, baseboard and window washed when someone told me they were bored! By the way, that's a quick cure for the "I'm Bored" Syndrome.
I so enjoy seeing all of the first day of school pictures that everyone posts! Here are my boys first day of school photos, I actually got my 13 year old to crack up! And I love that I captured this smile, it's totally him! He just doesn't show it all the time, being 13 and all.
Pencils, paper, folders, backpacks, super-expensive calculators, new clothes and lunch boxes; I have had quite a few friends ask me for some new ideas for lunches.
The dreaded, but beloved lunch box, we actually still use lunch boxes vs. bags, they have sportier ones now for older kids, just a simple Nike swoosh on the front; gone are my days of The Backyardigans, Power Rangers and Captain America, sigh.
Easy Healthy School Lunch Ideas
But the daily quandary still arises; what to put in your child's lunch? You want healthy, they want sugar; so how do you come up with tasty and different lunches that will be fun and yet provide good nutrition and be something they want to eat.
My boys have never liked the school hot lunch and have always preferred a homemade lunch. Which in the end, I am more than happy to oblige since I know what is going into them, even if I do grumble!
HOW MANY LUNCHES ARE MADE IN A SCHOOL YEAR
With approximately 5 lunch-making days each week and roughly 39 weeks in the school year, taking holidays and breaks into account that reduces the number by about 27 days, that is still 168 lunches a year, PER KID! You didn't know there was going to be a math lesson!
13 years for my 12th grader = 2,184 lunches
11 years for my 10th grader = 1,848 lunches
Totaling approximately 4,032 lunches to date! I'm tired already! LOL!
Six Creative Lunch Box Ideas
Five days of school lunches plus a bonus idea for the weekend because we also need lunch box ideas for kids at home. Know your child, it's okay if they aren't a traditional eater. My Gabe is a non-traditional eater, he'd much prefer his lunch to be filled with anything but sandwiches; he prefers fruits and veggies over his protein.
Lunch Idea# 1 | Non-traditional
Uncured Summer Sausage (I buy from our local health food store, Natural Grocers)
Carrot Chips
Fresh Blackberries
Z Bar
Fruit Leather
Juice Pouch (frozen, thaws by lunch!)
A couple of Lindt Balls (we call them, "lint" balls)
Lunch Idea #2 | Traditional
Turkey & Provolone Sandwich on Organic Whole Wheat Bread
Carrot Chips
A Protein Bar
Yogurt Tube
Banana
Whole Grain Chips
Strawberry Milk (or chocolate)
And a couple of Lindt balls (antioxidants, right!?)
Lunch Idea #3 | Non-Traditional
Uncured Honey Smoked Ham (I like Applegate), rolled up with a toothpick
Petite Dill Pickles
Grape Tomatoes
Nut-Thins (again trying to get a bit of protein in him)

Chewy Chocolate Chip Cookies

(make these ahead of time, freeze them in packs of two and toss them straight from the freezer into the lunch box, they'll be perfectly thawed by lunchtime)
Juice Pouch
Lunch Idea #4 | Using Leftovers
Leftover pepperoni pizza, wrapped in wax paper
Chips
Banana
Fruit Leather
Strawberry Milk
Lunch Idea #5 | Non-Traditional
I love these TW Franks, they are preservative free, with nothing but good stuff in them.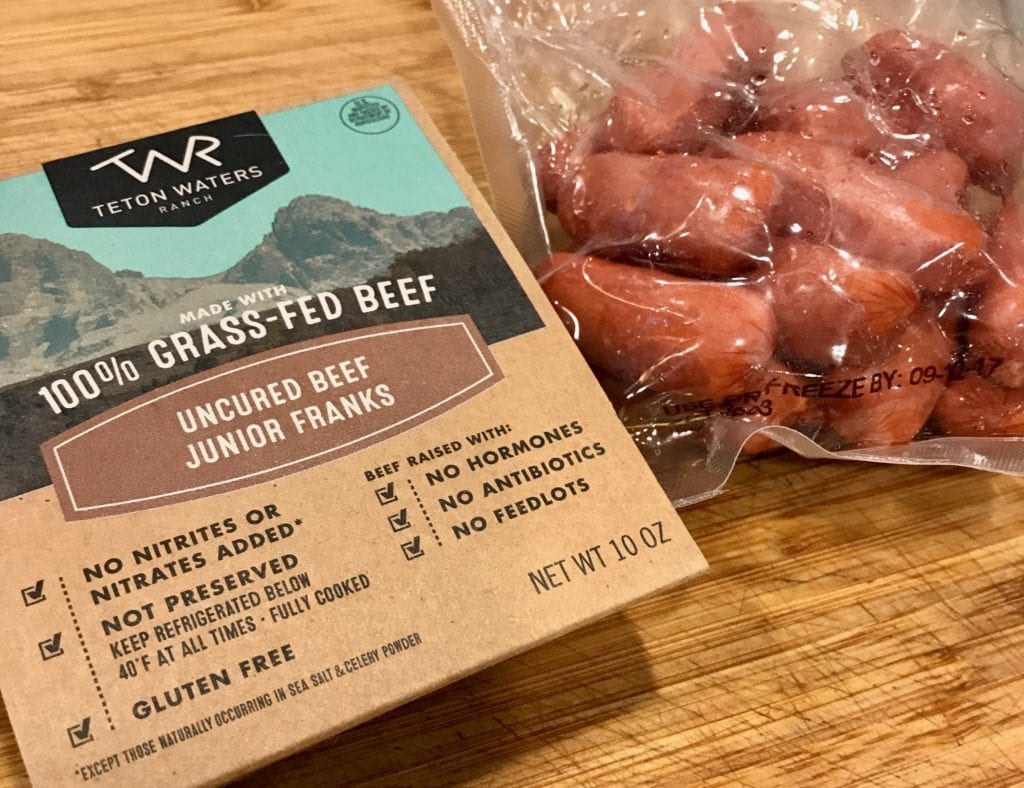 While they are heating, I fill the Thermos with hot water to heat it, then once the sausages are finished, I pour the water from the thermos, dry it out and toss in the Smokies! He tells me they stay warm until lunchtime! Do this for any items you send to school in a thermos, it will keep things hotter longer.
Lunch Idea #5 | Non-Traditional
Lil' Franks Smokies
BBQ or other dipping sauce
Strawberries
Celery with Peanut butter (or other nut or sun-butter)
Organic Popcorn
Juice Pouch, Milk or Water
Don't forget the fork or toothpick
YOU NEED THESE IN YOUR LIFE
Brownie Sandwich Cookies with Chocolate Chip Cookie Dough Frosting
Lunch Idea #6 | Traditional and Non-Traditional
Grilled Quesadilla – Two tortillas, a little butter, cheese, heat on both sides, place in bag.
Place chips or popcorn on top of the warm quesadilla, making a buffer between the warm and cold.
Fresh Snap Peas
Watermelon
Yogurt
Strawberry or Chocolate Milk or Water
Sometimes I see lunch making as a drudgery, I try and remind myself of all the blessings that involve making all those lunches. And yet, I don't always succeed, sometimes I'm racing around like a chicken with my head cut off slapping something together at the last minute, a blessing being the farthest thing from my mind.
But, in rare moments, I remind myself of these blessings: I have two healthy, beautiful boys to feed each day, we have plenty of food to be able to provide for them, I have eyes that can see, hands that can work; we are blessed with wonderful schools and I try and pray a quick prayer of protection over their day at school while I make their lunches.
Perspective! Suddenly it's not such a drudgery.
MORE SCHOOL LUNCH BOX IDEAS
Make your own tacos (tortillas, cheese, meat, lettuce, tomatoes, chips and salsa)
Whole grain cereal with milk, sausage or bacon
Chicken Noodle Soup, or my boys favorite is Italian Wedding Soup
Chicken strips or popcorn chicken, BBQ sauce, with veggies and fruit
Hummus with veggies and pita bread
WHAT I KEEP IN MY PANTRY
Healthy chips

Organic popcorn

Organic Whole Grain Cracker options

Protein bars (this is tricky since one of my boys is allergic to tree nuts and most good bars have tree nuts. I did finally find the ONE bars which have no tree nuts (most of them) and they are tasty)
As for sweets, I try and make my sweets so I know what is in them, it's so easy to do, make up a batch of whatever, leave out enough for your family to enjoy and freeze the rest into individual sized servings.
I tend to do this on Friday's, I seem to have a bit more time on Fridays. Plus it's a fun start to the weekend to come home to fresh baked cookies.
I'd love to hear what unique things you throw in your lunch boxes?
Like this recipe?
Don't forget to give it a ⭐️⭐️⭐️⭐️⭐️ star rating and comment below the recipe!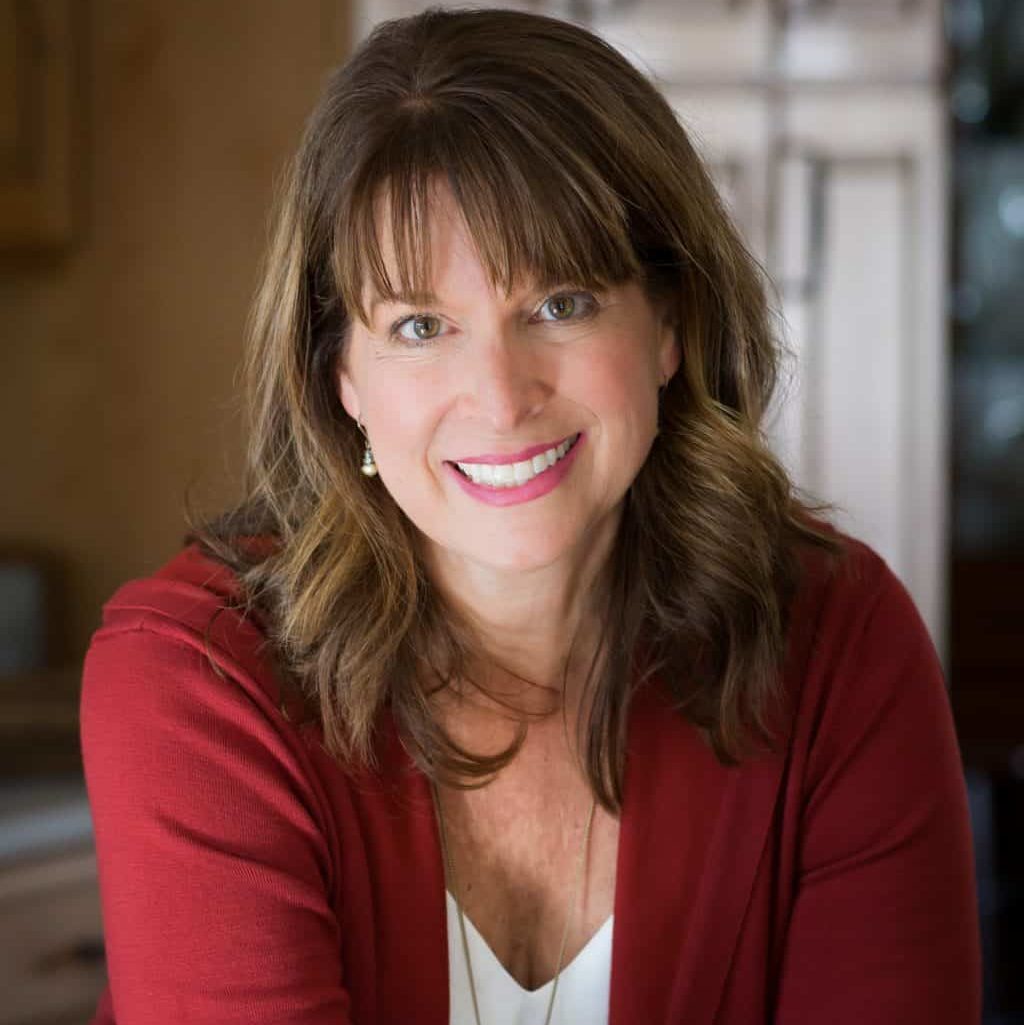 About Kathleen Pope
Recipe Innovator | Food Photographer | Food Writer
Hi, I'm Kathleen Pope. Here at The Fresh Cooky you will find easy, mostly from-scratch, trusted recipes for all occasions. From speedy dinners to tasty desserts, with easy step-by-step instructions. I am here to help teach you how to make mouthwatering recipes without spending hours in the kitchen. Read more about Kathleen here.