Easy Cream Cheese Danish Recipe (Copycat Starbucks)
As an Amazon Associate, I earn from qualifying purchases. Please read my disclosure policy.
You'll quickly fall in love with this incredible Copycat Starbucks Cream Cheese Danish Recipe! An easy recipe using puff pastry and a quick cream cheese filling, then baked to golden, puffy perfection.
Even if you aren't a loyal Starbucks customer, these easy cream cheese Danishes will WOW your taste buds! Each bite is perfectly sweet and flaky. The best part of making these treats at home is the fragrant and heavenly aroma that fills your home as they bake.
Craving more tasty copycat recipes? Check out my Crumbl Chocolate Chip Cookies, these soft Panera Orange Scones, and this Starbucks White Hot Chocolate.
Why You Will Love this Recipe
Light and Sweet | This easy and light recipe has the perfect sweetness.
Fun to Make | Put your creative side to work with this fun recipe! Forming the pastry swirls is more of an art project than a baking endeavor.
Better for You | The ingredients list for Starbucks are things like xanthan gum, folic acid, and dough conditioner, so stick with what you know!
Simple Ingredients for Starbucks Cheese Danish
Ingredients, directions and nutritional information in the printable recipe card at the end of the post.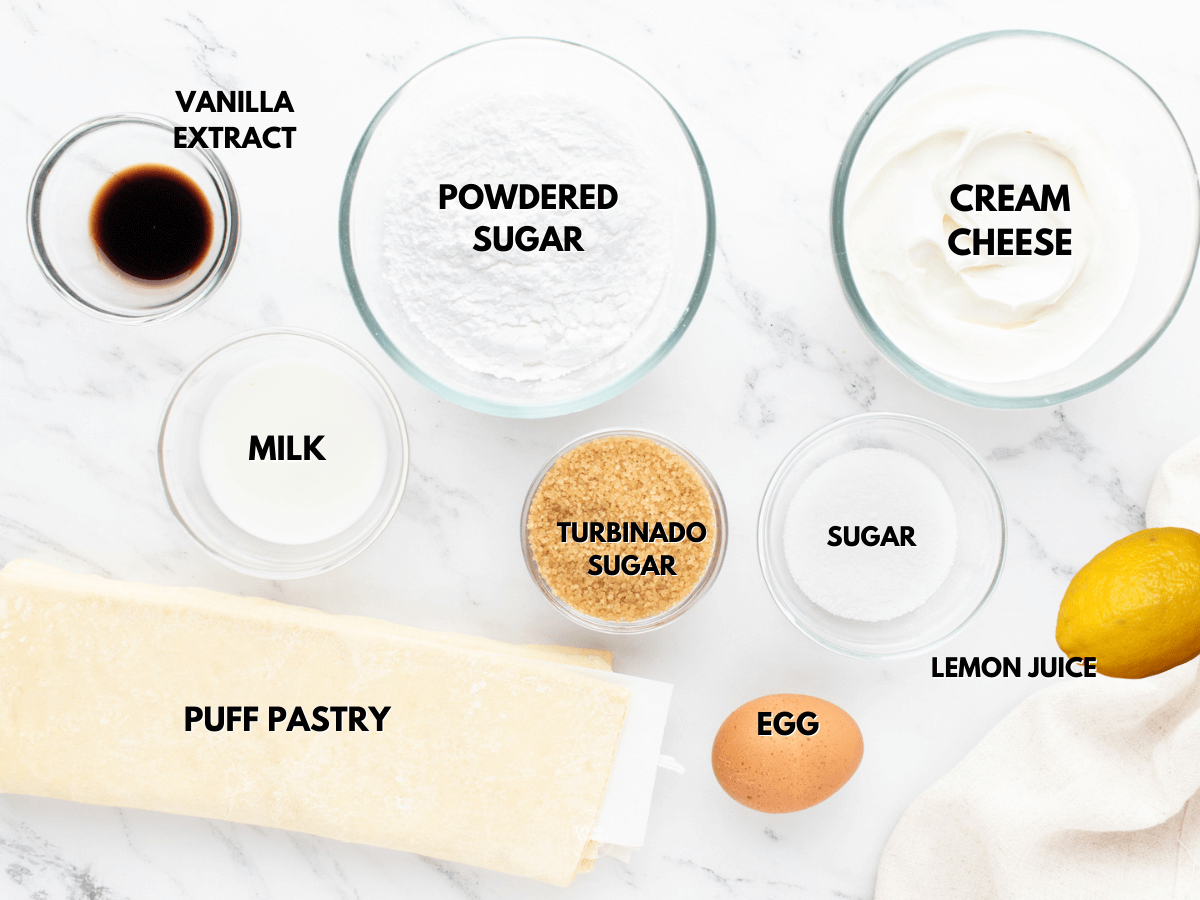 Cream cheese | Plain cream cheese is the base for the sweet and fluffy cream cheese mixture in the center of each Danish, you can use full-fat or Neufchatel if you prefer.
Sugar | I like to use cane sugar for this recipe. However, you can use white granulated sugar if you prefer.
Lemon juice | This ingredient is optional. It adds a lovely pop of citrus flavor to enhance the cheesy and sweet notes.
Vanilla Extract | A couple of drops of vanilla extract gives the cream cheese mixture a creamy richness.
Puff pastry | I like this all butter French Puff Pastry, but you can use whatever you can find at your grocery store. Remember to set it out to thaw before starting the recipe, you can't really rush this step.
Egg | Separate the yolk and egg white. The yolk is used for the simple cream cheese mixture, and you will use the egg white as an egg wash, brushing it over the pastry for a golden surface as it bakes.
Turbinado sugar | Make pastries sparkle with turbinado sugar, rich in molasses and caramel flavor.
Glaze Ingredients | As simple as powdered sugar, milk and vanilla makes a creamy and smooth glaze.
Take out your puff pastry, egg, and cream cheese at the same time allowing them to come to room temperature.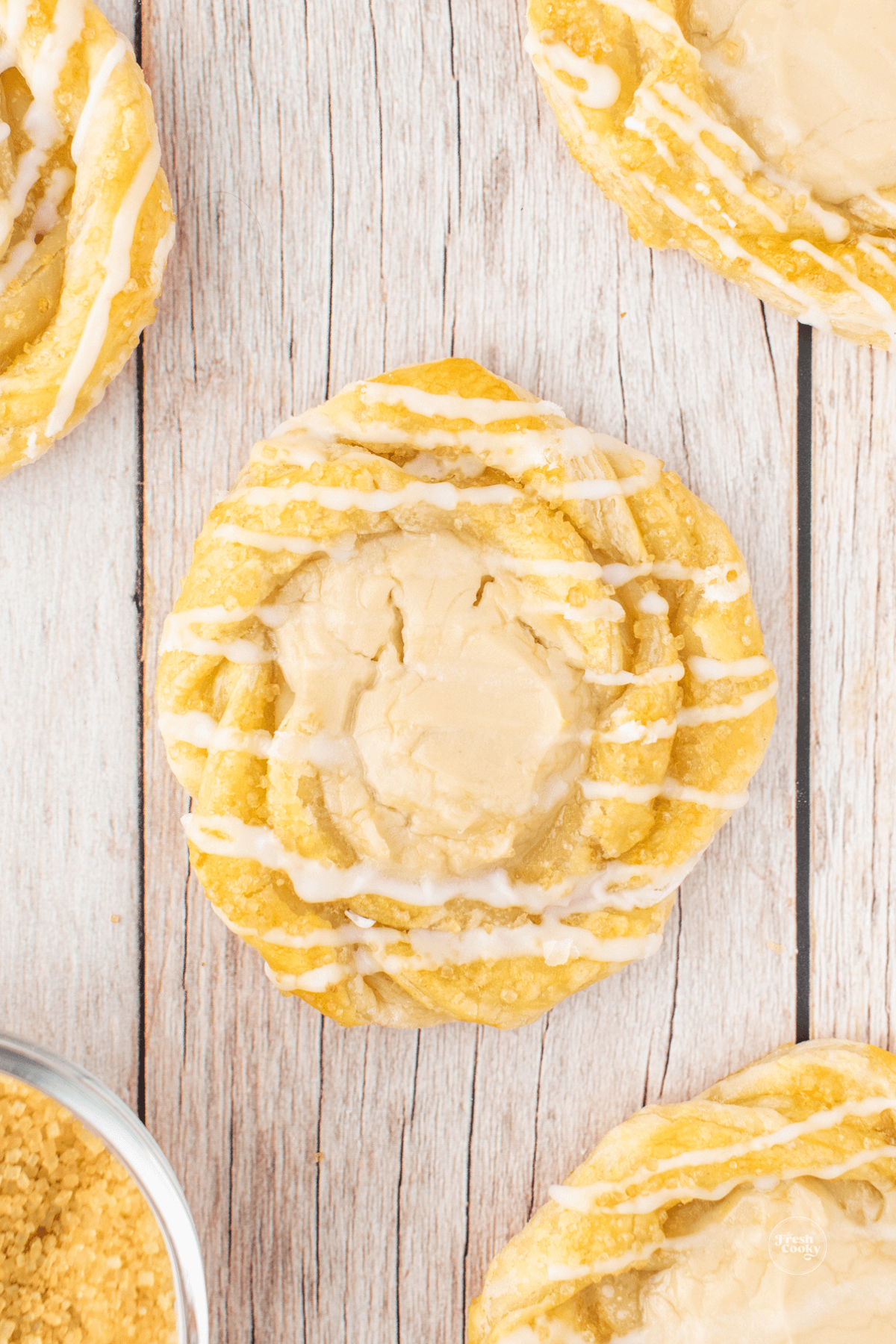 How to Make the Starbucks Cream Cheese Danish
Start this Starbucks copycat recipe by preheating the oven to 400 degrees F. Then, prep the cookie sheet with parchment paper or a silicone mat. You may also want to prepare the ingredients before diving into the recipe.
For example, separate the egg yolk from the egg white and squeeze some fresh lemon juice. Furthermore, be sure your cream cheese and egg is set out to come to room temperature, and the puff pastry is thawed.
Step 1 | Blend the Cheese Filling
Next, set out your stand mixer or a bowl and hand mixer to blend the sweet cream cheese ingredients.
Add the egg yolk, fresh lemon juice (if using), granulated sugar, cream cheese, and vanilla extract to the bowl. Beat the ingredients until the mixture is smooth and creamy. Set the bowl aside to add to the puff pastry later.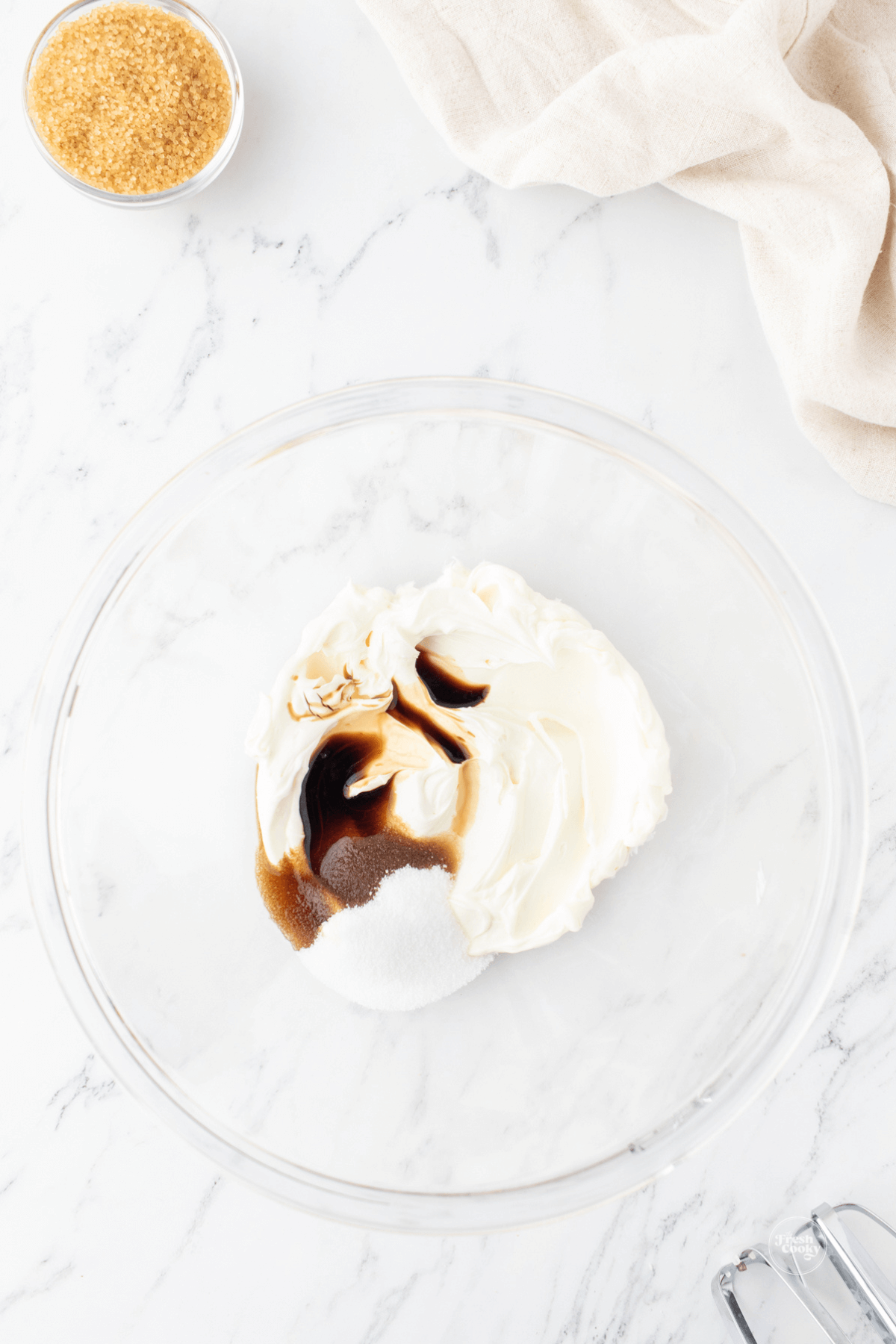 Step 2 | Prep the Pastry Dough
Prep a clean surface with a light layer of flour and set out a smooth rolling pin. Next, unfold the thawed puff pastry sheets onto the surface and use the rolling pin to roll out the dough, applying light pressure. Then, slice each sheet into 12 strips. *Use a pizza cutter for the best results and effortless slicing! Don't stress if you don't have one at home– you can also use a sharp knife.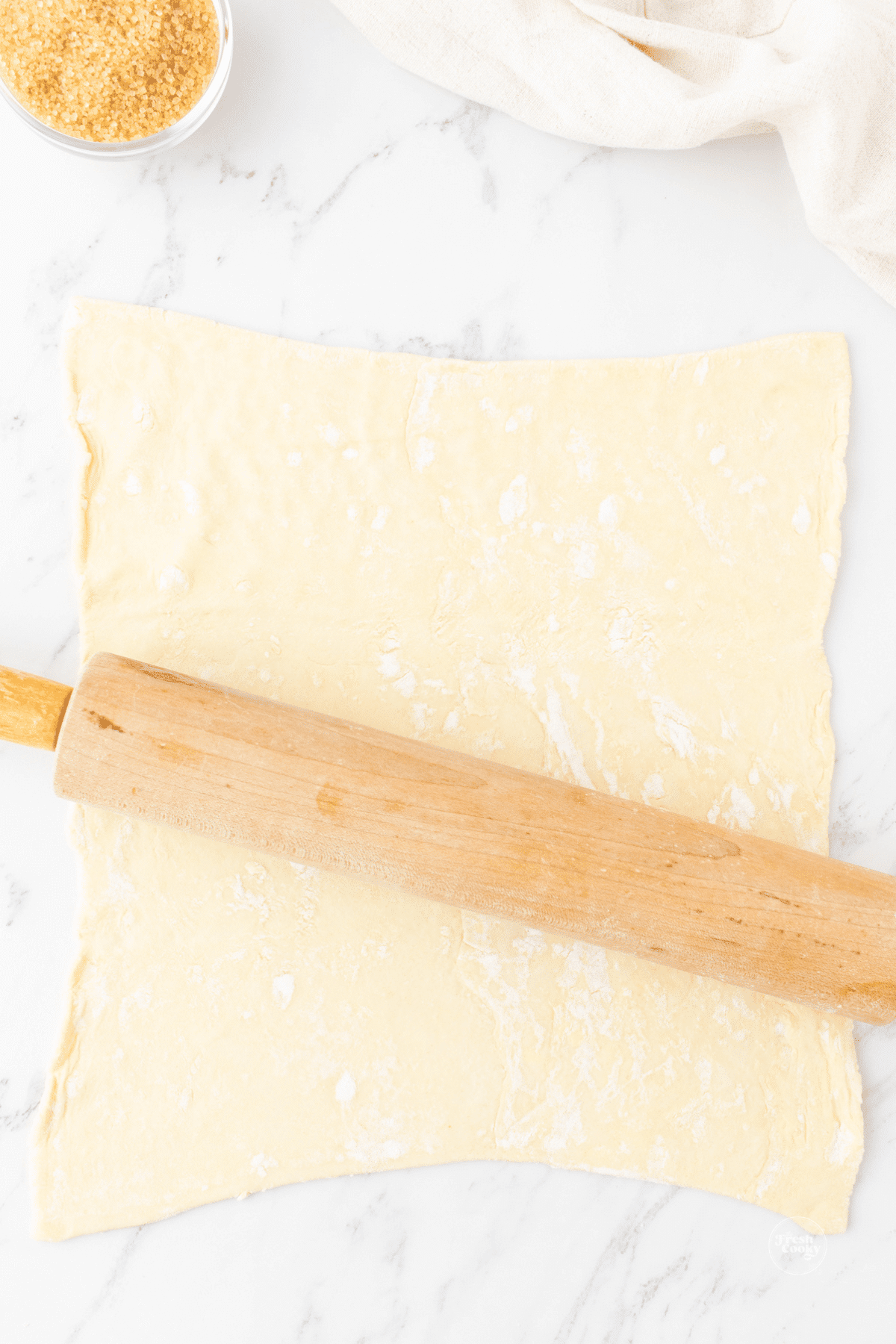 Now, connect two strips of the puff pastry to create one long one. Twist each side in the opposite direction and wind the twisted strip into a spiral. Then, use a spoon or your hand to flatten the center slightly. This will create a bed for the cream cheese mixture.
Step 3 | Fill the Dough & Bake
Move the pastries to the lined baking sheet and drop a dollop of the sweet cream cheese mixture onto each pastry. You'll want a little more than a tablespoon of cream cheese in the center of the Danishes. It may help to use a small cookie scoop, but a spoon also works well.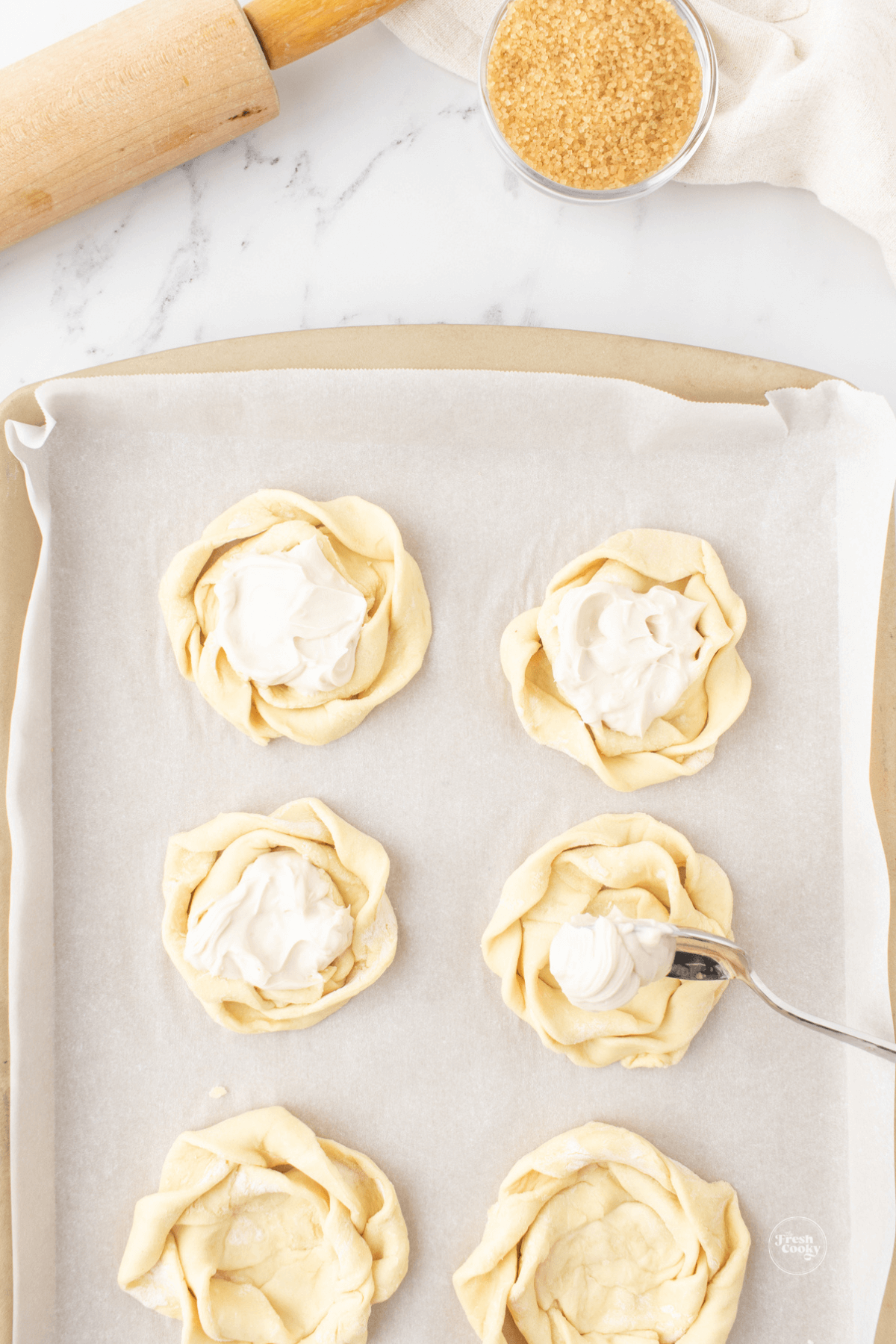 Then, beat the separated egg white with a teaspoon of water and gently brush it onto the pastry edges. Sprinkle with turbinado sugar and bake for 15-18 minutes. You want the pastries to be golden brown like the little treasures they are.
Remove the pastries from the oven and let them sit for about five minutes. Then, transfer them to a cooling rack and quickly throw together the glaze.
Step 4 | The Glaze
All this simple glaze requires is a little bit of whisking. Combine the three ingredients in a small bowl and whisk until it's silky smooth. Finally, drizzle the sweet glaze over the warm pastries.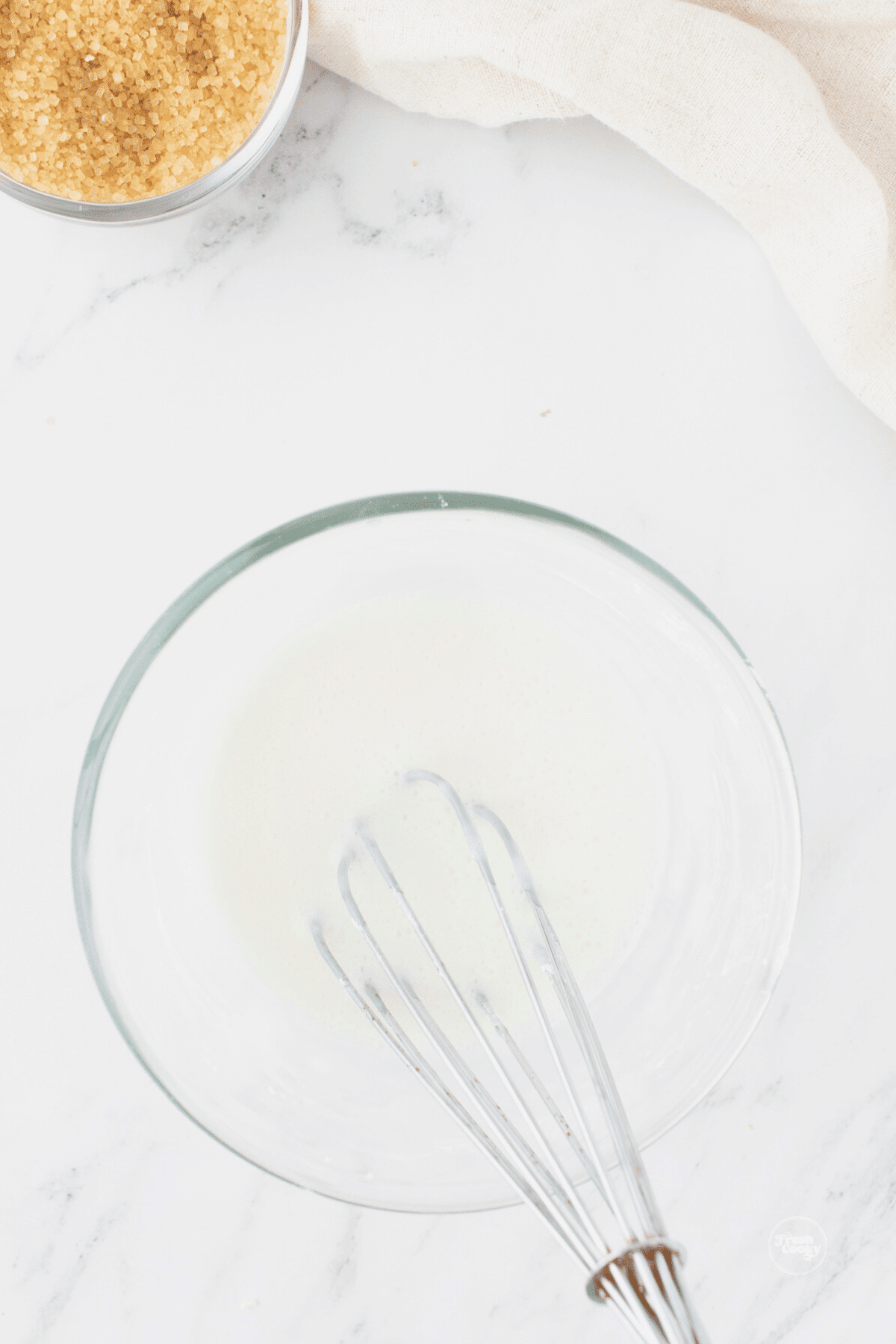 Serve your copycat Starbucks Cheese Danish recipe with a steaming cup of hot coffee or chilled glass of cold brew for the whole Starbucks at-home experience!
Pro Tips
Take your time forming the unique shape of these cream cheese Danishes. After you finish the first couple of pastries, the others should be a little easier. Remember to have fun with creativity!
You'll want to sprinkle flour on your workspace when rolling out the puff pastry and to form the shape. However, you may also want to add some flour to the rolling pin to prevent the dough from sticking.
If you don't have a stand or hand mixer at home, no worries! Using a spoon and whisk you can manually combine the cream cheese ingredients in a mixing bowl.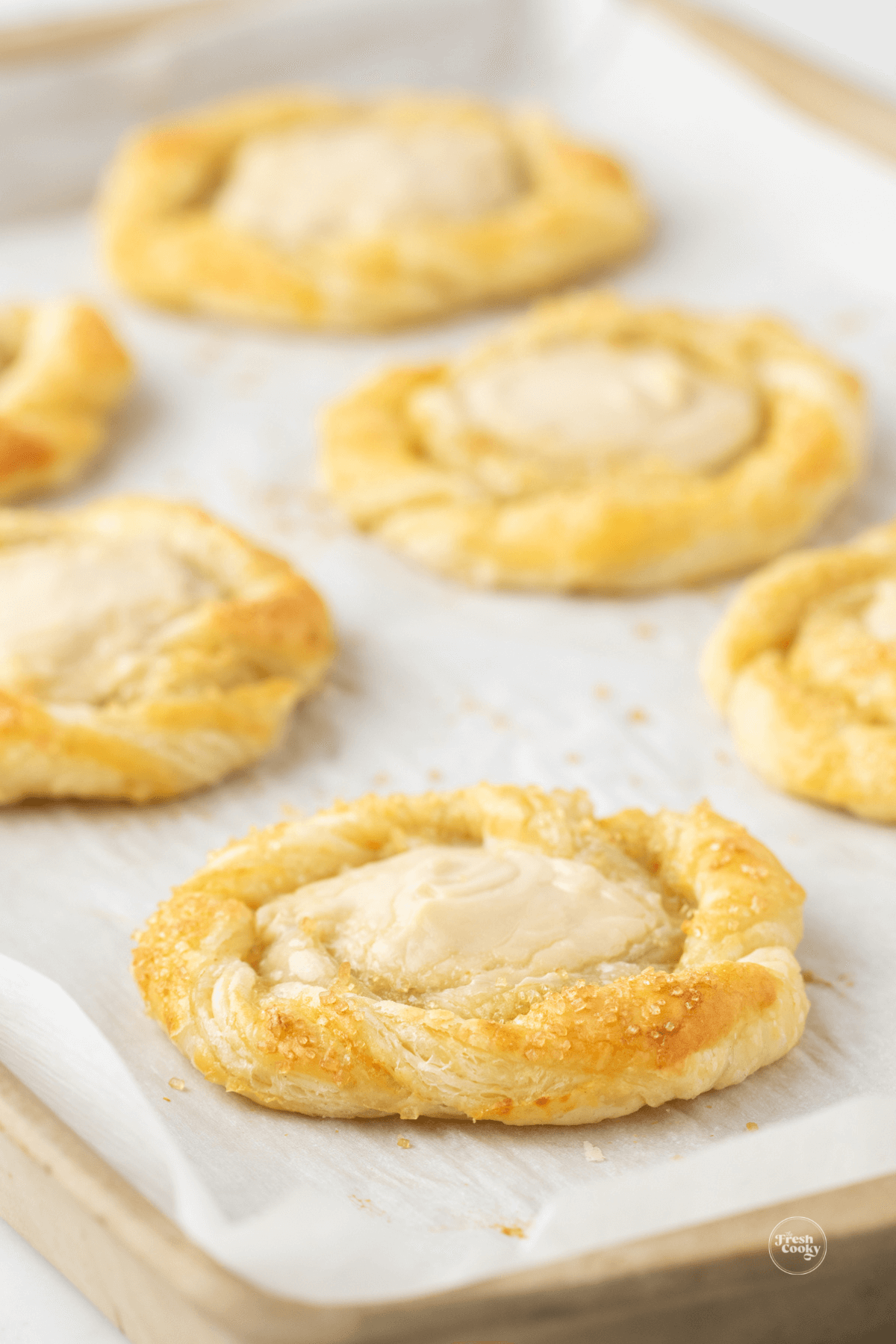 Variations & Substitutions
Make them less fancy | Instead, you can lightly roll each puff pastry sheet to flatten the creases. Next, cut it into eight four-inch squares. Using a pastry brush, lightly brush the edge of the squares with a beaten egg white. Then, pressing gently, fold each corner about 1 inch towards the center. The pastries will look similar to small envelopes. Finally, place each Danish about 2 inches apart on the baking sheets, fill with the cream cheese mixture and brush the pastry with egg white once more.
Sugar Plum Cheese Danish? Try my friend Megan's Starbucks Sugar Plum Danish. Or add a dollop of spiced plum jam on top of the cream cheese filling and make it your own Starbucks Sugar Plum Cheese Danish!
Lemony Cheese Danish | Add a teaspoon of lemon zest to your cream cheese mixture.
Dairy-Free Cream Cheese Danish | Use your favorite dairy-free cream cheese and use plant-based milk in the glaze.
Gluten-Free Cream Cheese Danish | Purchase a good Gluten-Free Puff Pastry dough the rest should be good to go!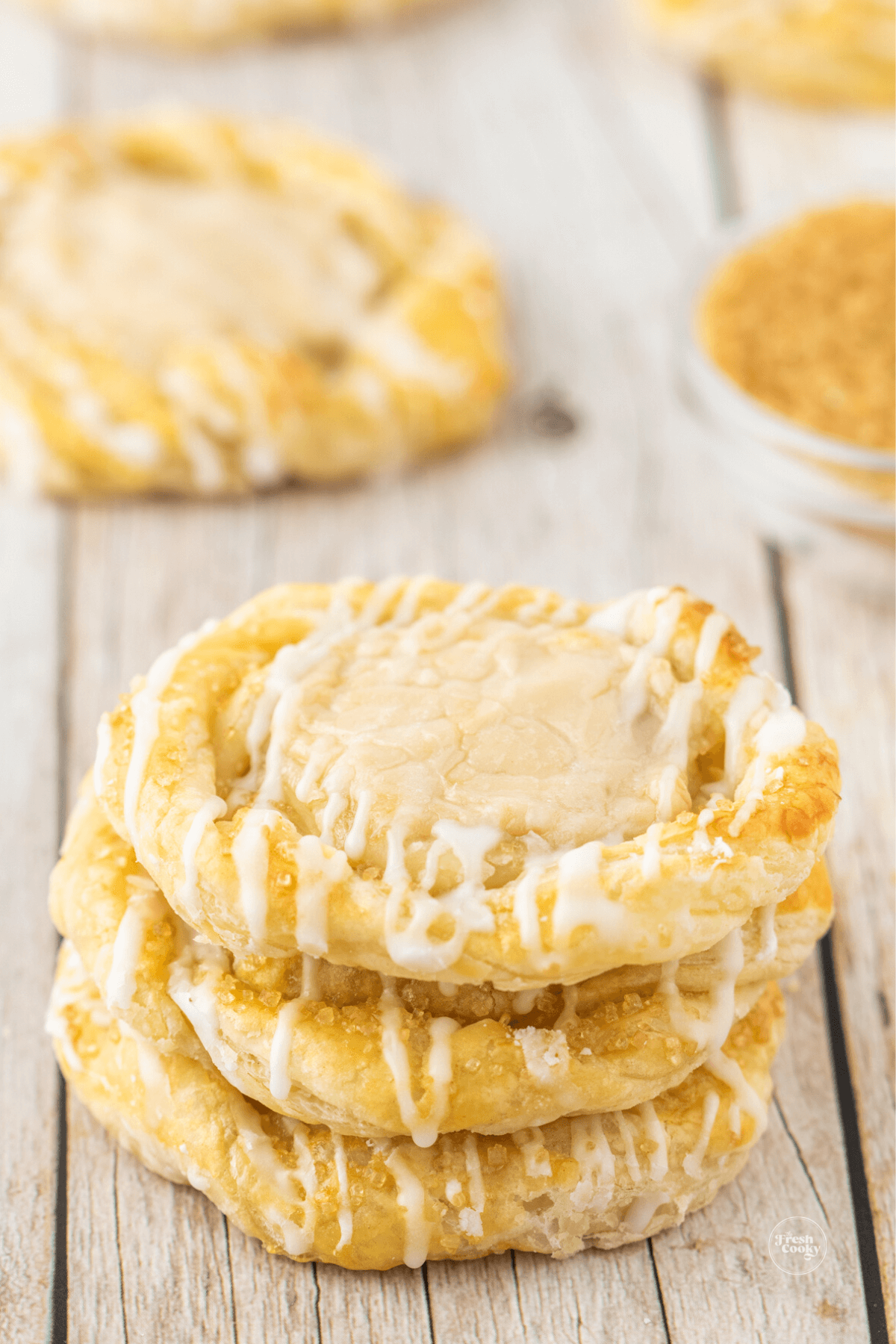 Air Fryer Cheese Danish Starbucks
Yes, you can make these in your air fryer. Proceed with recipe as directed, preheat the air fryer to 330 degrees F. Place a piece of parchment on your air fryer tray and keep about 2 inches between the danishes, air fry in preheated air fryer for 6-8 minutes.
Storage Tips
Freezer | To freeze the danishes for later, place them in a freezer-safe bag in a single layer. They will store well for about three months.
Refrigerator | You can also store the finished recipe in the refrigerator. In an airtight container, the Danishes will keep in the fridge for about five days.
Reheat | Reheat them in the microwave for about 30 seconds or place on a baking sheet in a 350 degree oven. Air Fryer 300 degrees and heat for 1-2 minutes.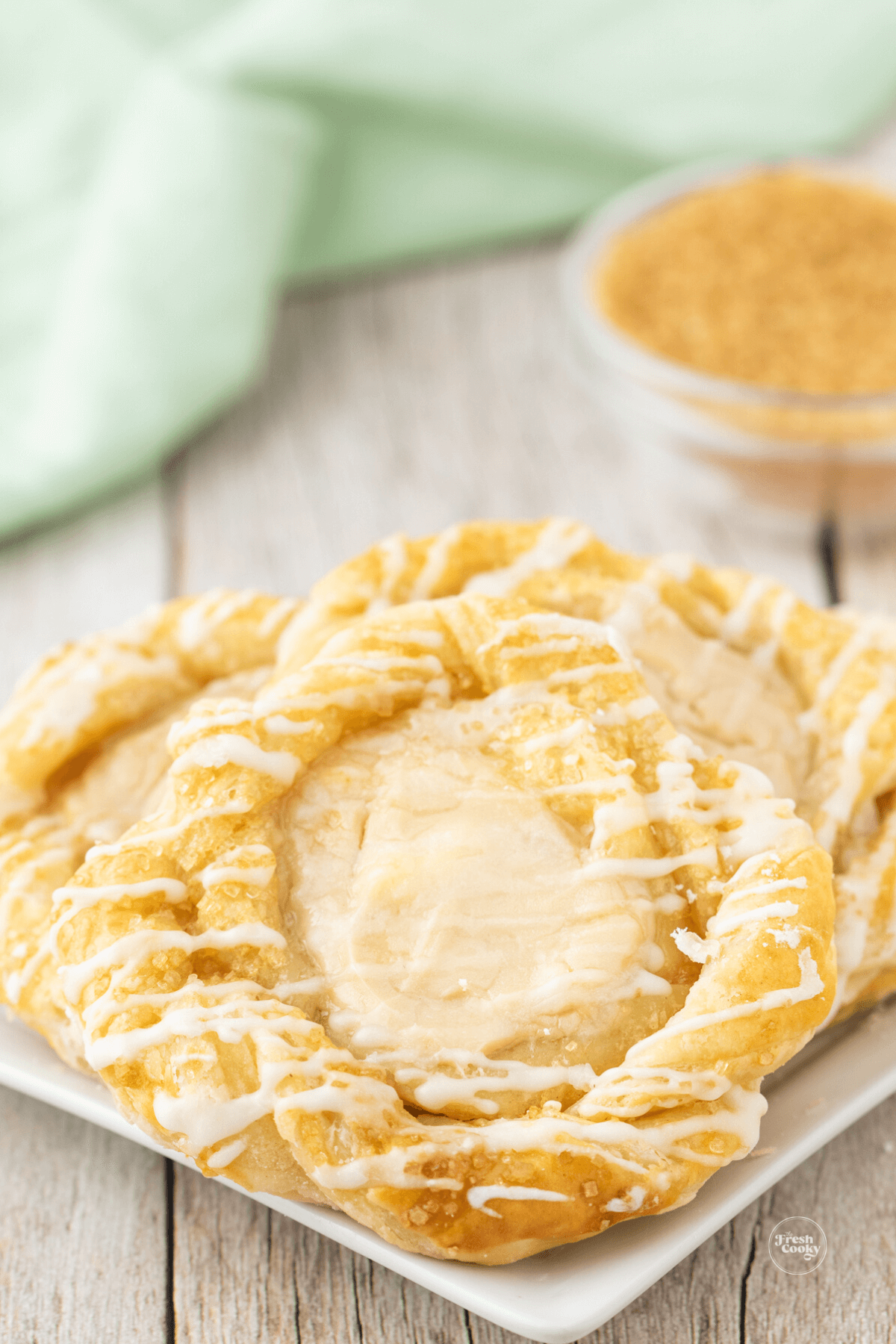 Frequently Asked Questions
What cheese is in Starbucks cheese danish?
According to their ingredient list, Starbuck's uses Neufchâtel cheese in their cheese danish, which is a lower fat version of cream cheese. I used full-fat cream cheese, but you can use either!
What is a cream cheese Danish?
If you aren't familiar with cream cheese Danishes, they are a pastry that originated in Denmark. Now, it is an adored treat or light breakfast snack worldwide. Danishes are made from flaky puff pastry and filled or topped with a sweet cream cheese mixture.
They are sometimes filled with fruit or fruit-flavored cream cheese, like blueberry or strawberry.
Can you make Starbucks Danish with crescent rolls?
Yes, you can! For a less traditional method of making cream cheese Danish, you may use two cans of crescent roll dough instead of the sheets of puff pastry. Preheat the oven to 350 degrees F and unroll the dough into rectangular pieces using two pre-cut triangles. Slice the rectangles into 8 inch by 1 inch pieces and continue forming the pastry swirls as directed for this recipe. Or just make rectangles, proceed with cream cheese mixture and bake.
Can you make your own homemade puff pastry dough?
t's possible, but can be challenging. Frozen dough is still delicious. Plus, it significantly reduces the time you spend on this puff pastry with cream cheese filling recipe. Store bought croissant dough from Whole Foods, Trader Joe's and other specialty stores is made with all-butter and they have vegan options too!
How do you heat up a cheese danish from Starbucks at home?
If you would like to warm your Starbucks cheese danish simple place on a microwave safe plate and heat for 30 seconds. Or pop in a 350 degree oven for just a few minutes to warm back to perfection.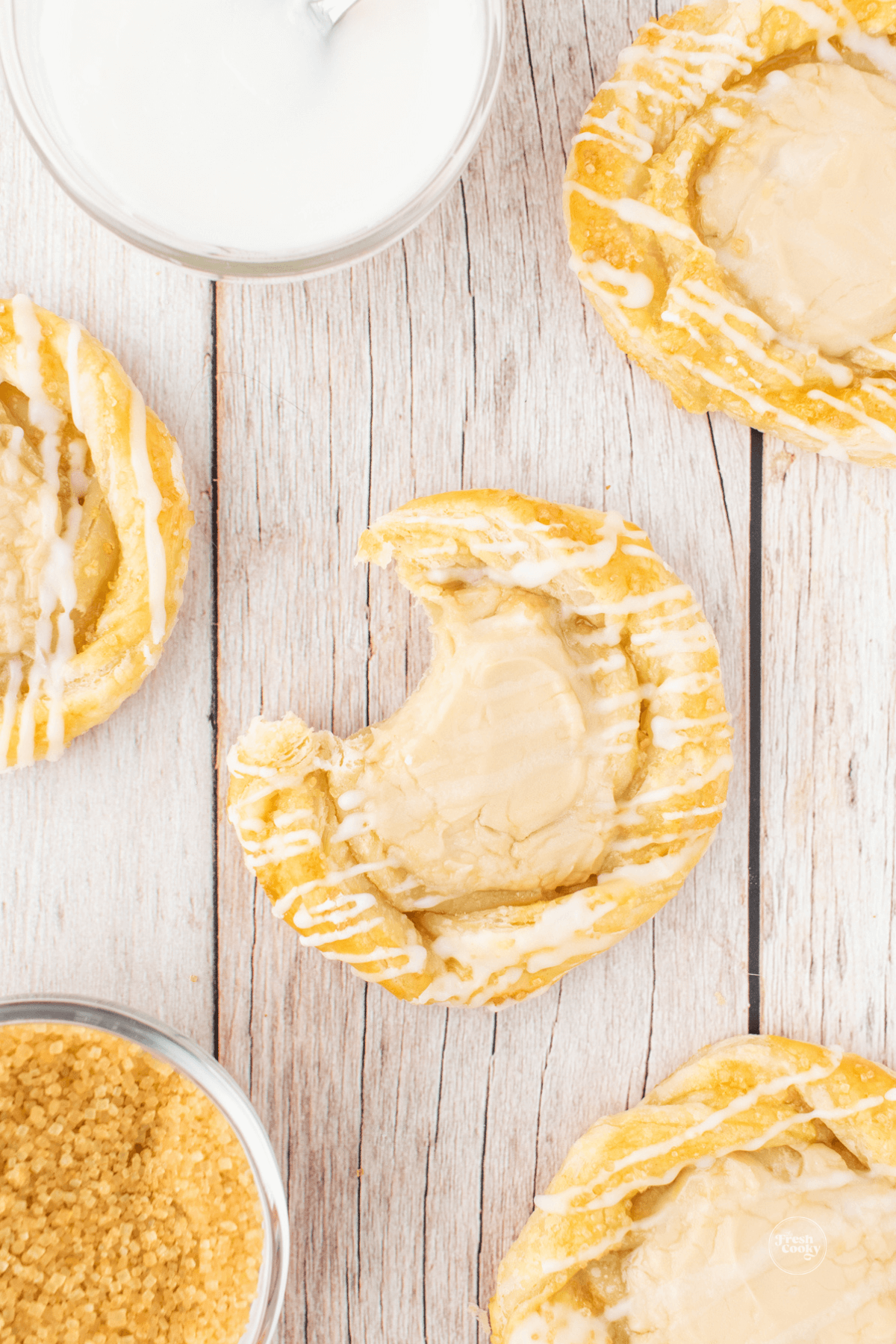 What to serve with Starbucks Cheese Danish Recipe
More of our favorite breakfast sweets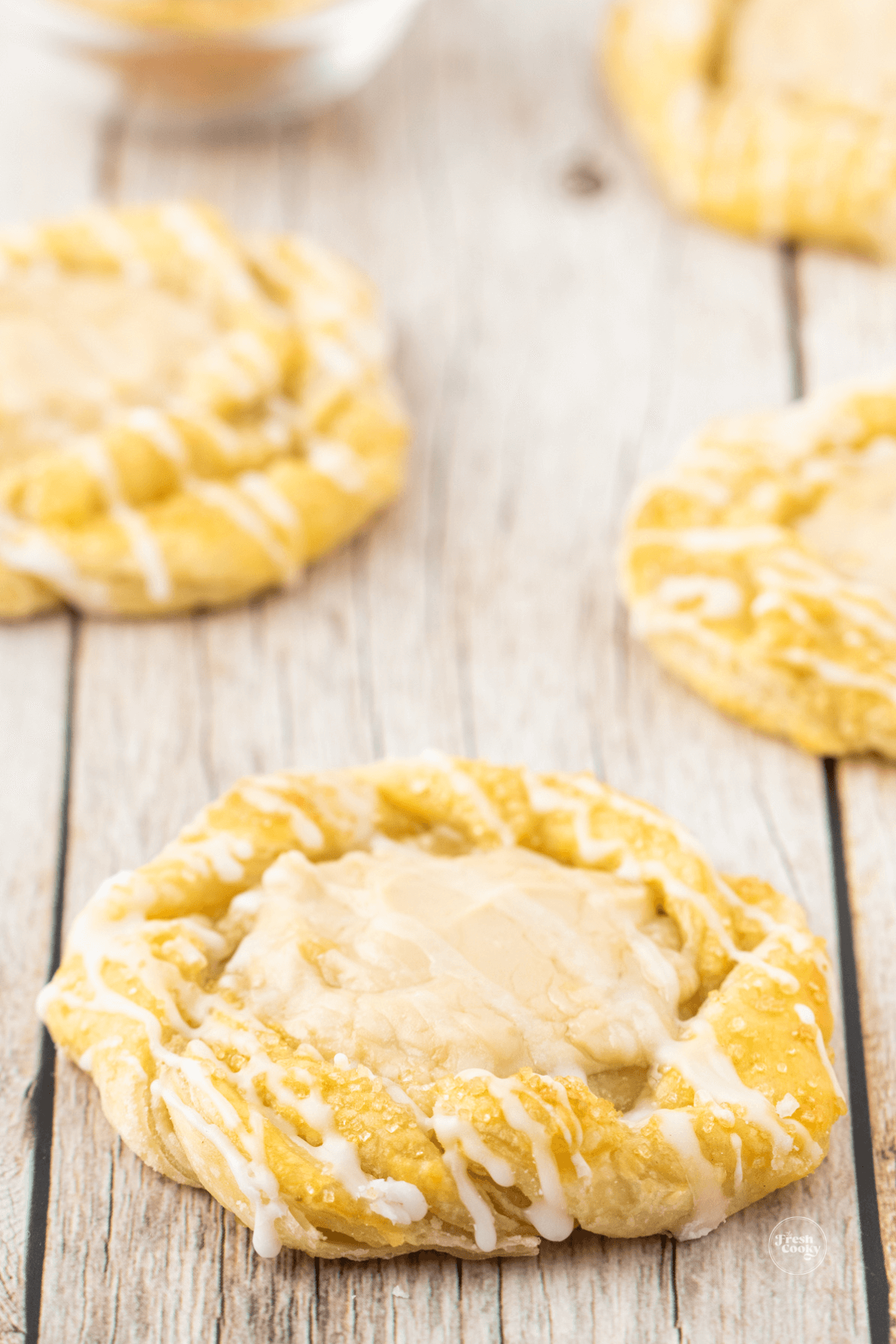 The hardest part about this recipe is waiting for the ingredients to thaw and come to room temperature. So plan ahead!
I hope you loved this Starbucks Cheese Danish Recipe — if you did, would you share your creation on Instagram, Facebook and Pinterest? And be sure to comment below!
Like this recipe?
Don't forget to give it a ⭐️⭐️⭐️⭐️⭐️ star rating and comment below the recipe!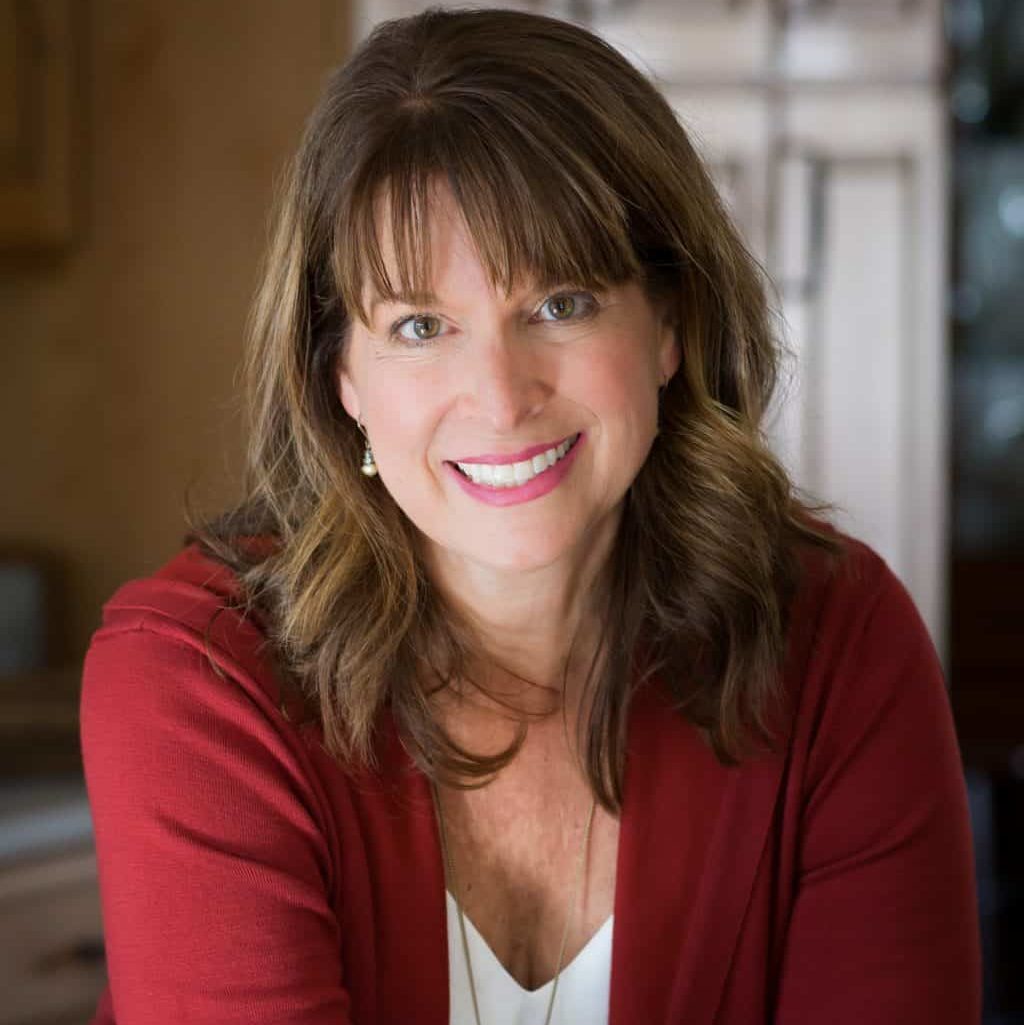 About Kathleen Pope
Recipe Innovator | Food Photographer | Food Writer
Hi, I'm Kathleen Pope. Here at The Fresh Cooky you will find easy, mostly from-scratch, trusted recipes for all occasions. From speedy dinners to tasty desserts, with easy step-by-step instructions. I am here to help teach you how to make mouthwatering recipes without spending hours in the kitchen. Read more about Kathleen here.