Charcuterie Cups | How to Pack a Perfect Charcuterie Board to Go
As an Amazon Associate, I earn from qualifying purchases. Please read my disclosure policy.
Meet your next go-to appetizer! These individual charcuterie cups are everything you love about charcuterie boards but loads more fun! I'll show you how to pack a charcuterie board to go. These tasty single–serve treats are easy to make, portable, and perfect for gatherings large and small. No boards or cheese knives needed! One of my favorite things!
Whether you are just looking for a small board cheese plate, or want to go full out and make amazing charcuterie boxes to go, I've got you covered. These are the perfect addition for holiday parties, bridal showers, baby showers, engagement parties, game day party; wherever you want to have a next level appetizer that will be the star of the show.
For more festive and beautiful appetizers this holiday season try my Easy Pesto Burrata with Roasted Tomatoes, Whipped Goat Cheese with Bacon & Dates or my popular Cowboy Crack Dip.
Why You Will Love this Recipe for the Perfect Appetizer
Customizable | Whether you are hosting a holiday party, a book club or just a few girlfriends, these individual cups are completely customizable for any of your special occasions. Think date night, picnic, potluck, office party – a simple charcuterie board to go!
Portable | Want to get your guests to mingle? Place trays of individual cups at different spots around the party and watch the magic begin. No more crowded kitchen!
Easy Peasy | No cooking required, just simple assembly with fabulous results.
Scalable | Depending on the number of guests, plan on one cup per person with a few extras for those who might want more.
What on earth does Charcuterie mean?
Charcuterie (shar-KOO-ta-REE) is the art of preparing and presenting cured meat products, such as ham, bacon, salami and sausage on a large board. Although charcuterie is often associated with the culinary traditions of France and Italy, it is practiced all over the world, and has become wildly popular in the United States.
Today's charcuterie usually includes cured meats, different types of cheese, olives, fresh or dried fruit, pickled vegetables, crackers, chocolate, and other items laid out beautifully on a large or small board. Literally the choices are endless!
Charcuterie cups are equally as beautiful and are a great way to add a touch of elegance to any party, picnic or gathering. With loads of options, you can be as creative as you like, or follow the recipe below exactly.
Key Ingredients & Options for a Portable Charcuterie Board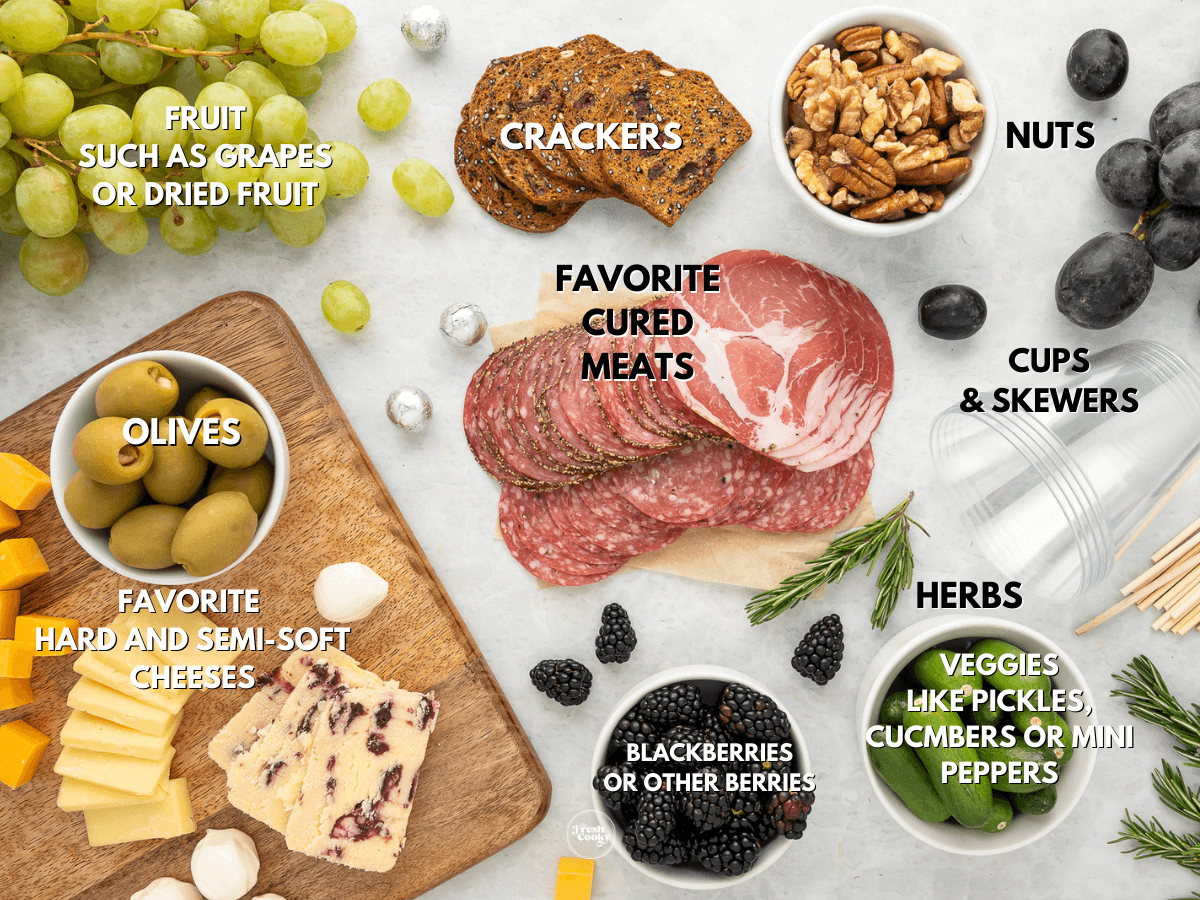 Ingredients, directions and nutritional information in the printable recipe card at the end of the post.
Base Layer
Layer the bottom of your cup with smaller items that can withstand and balance the weight of other ingredients choosing foods that compliment each other and go well together. Think savory and sweet!
Nuts | Try cashews, pecans, walnuts, almonds, shelled pistachios or any combo of mixed nuts. Or make some Maple Bourbon Pecans or Rosemary Cashews for a special touch.
Fresh berries | Blackberries, raspberries, strawberries and blueberries all work well.
Fresh Fruit | Try sliced apples, pears or orange segments. To keep your slices from turning brown, create a water bath with a ratio of 1 tbsp of lemon juice to 1 cup of water. Soak the slices for 3 to 5 minutes, then drain and rinse them.
Dried fruits | apricots, figs, cherries, cranberries, dates and even figs are all good options.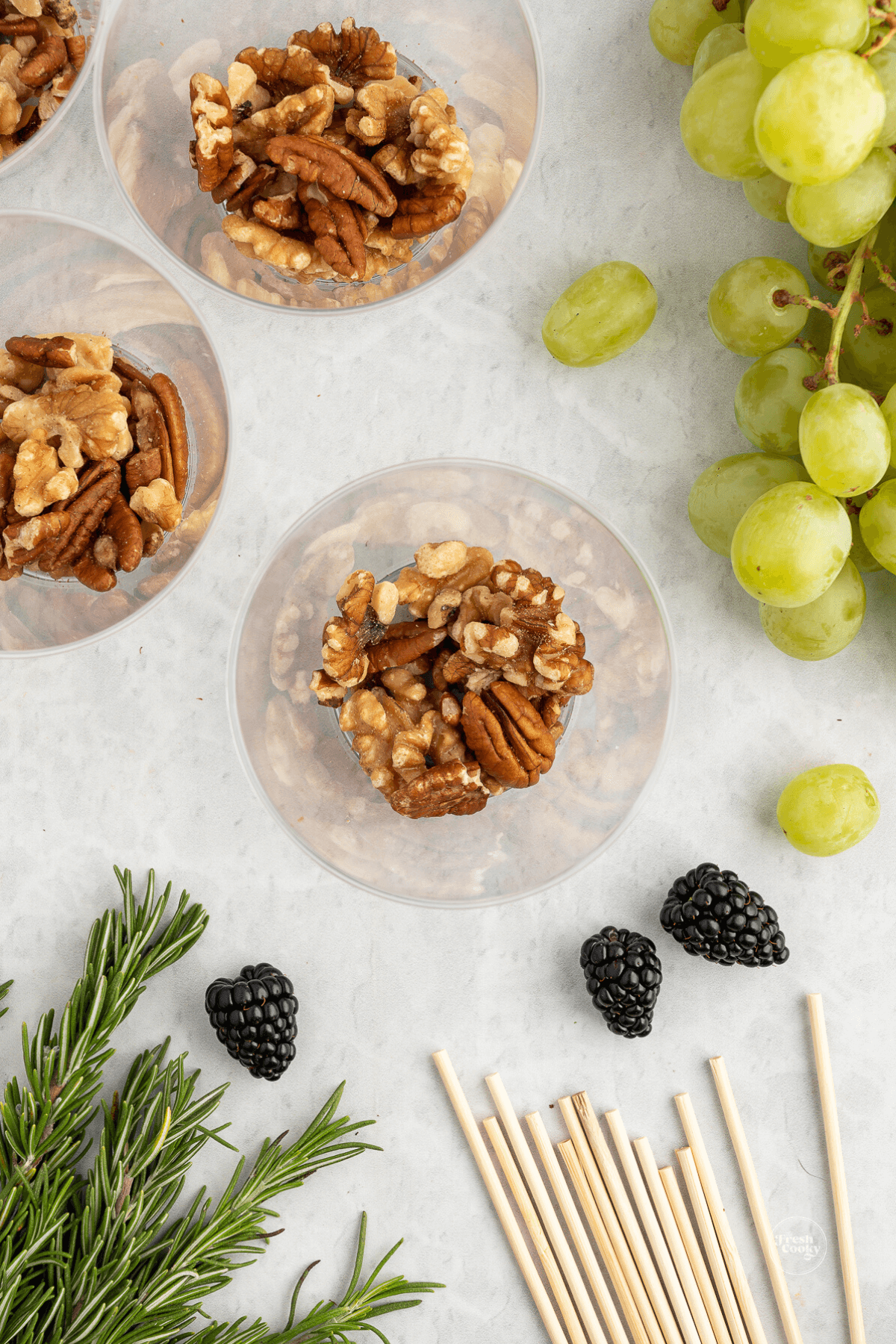 Skewers
Cured Meat | Salami, prosciutto, pepperoni, Calabrese, Chorizo, Mortadella, Capocollo, Capicola, Soppressata, summer sausage. Be creative; using a cookie cutter, cut the meat or cheese into different shapes
Cheese | Use all kinds of cheese! Brie cheese wedges, gouda, cheddar, havarti, baby mozzarella balls, sharp cheddar, mini Babybel or your favorite cheese. Cut into cubes, wedges or thick slices.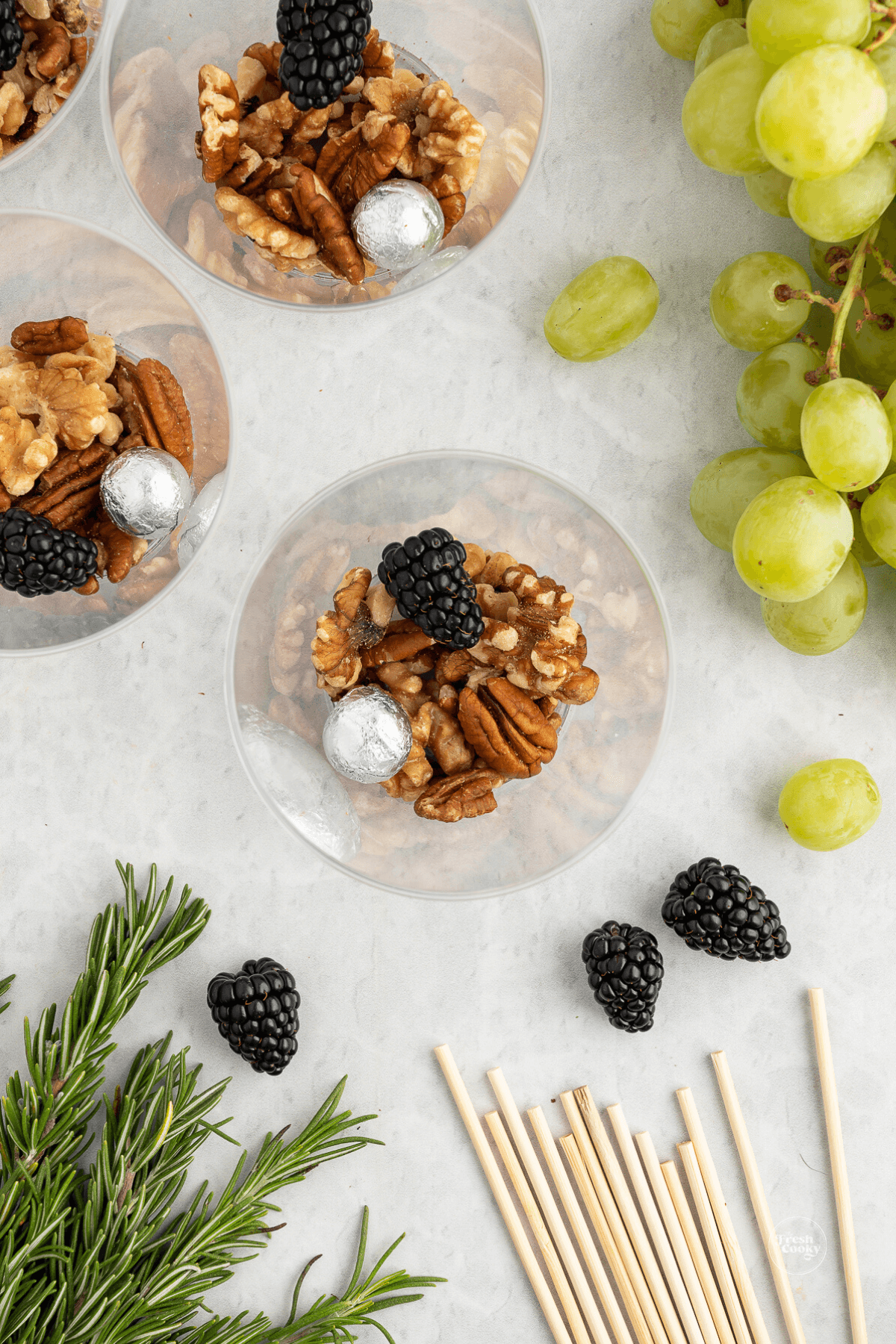 Fresh Tips for How to Pack a Charcuterie Board to Go
Charcuterie Board Ideas
Meats can be rolled or folded for the skewers. Wet-cured meats can be used but are harder to skewer than dry-cured meats and may need to be rolled tightly in order to stay on.
Avoid dry hard cheese like parmesan as it can crack and crumble when skewered. Soft cheese without a rind also do not fare well on skewers, unless they are a bit more firm. The best cheeses are semi-hard or semi-soft cheeses that hold their shape well but also do not crumble.
Olives | Visit your grocery deli antipasto bar for numerous colorful options.
Grapes | Red or green or both!
Add Pop of Color | Fresh Berries balance the saltiness of the cured meats, as well as grape tomatoes or cherry tomatoes hold up well on a small charcuterie board
Baby pickles | Choose snack-sized baby dills or cornichons for best flavor.
Mini cucumbers | Adds a healthy crunch without making everything soggy!
Mini Peppers | These peppers add a little sweet bite and a pop of color!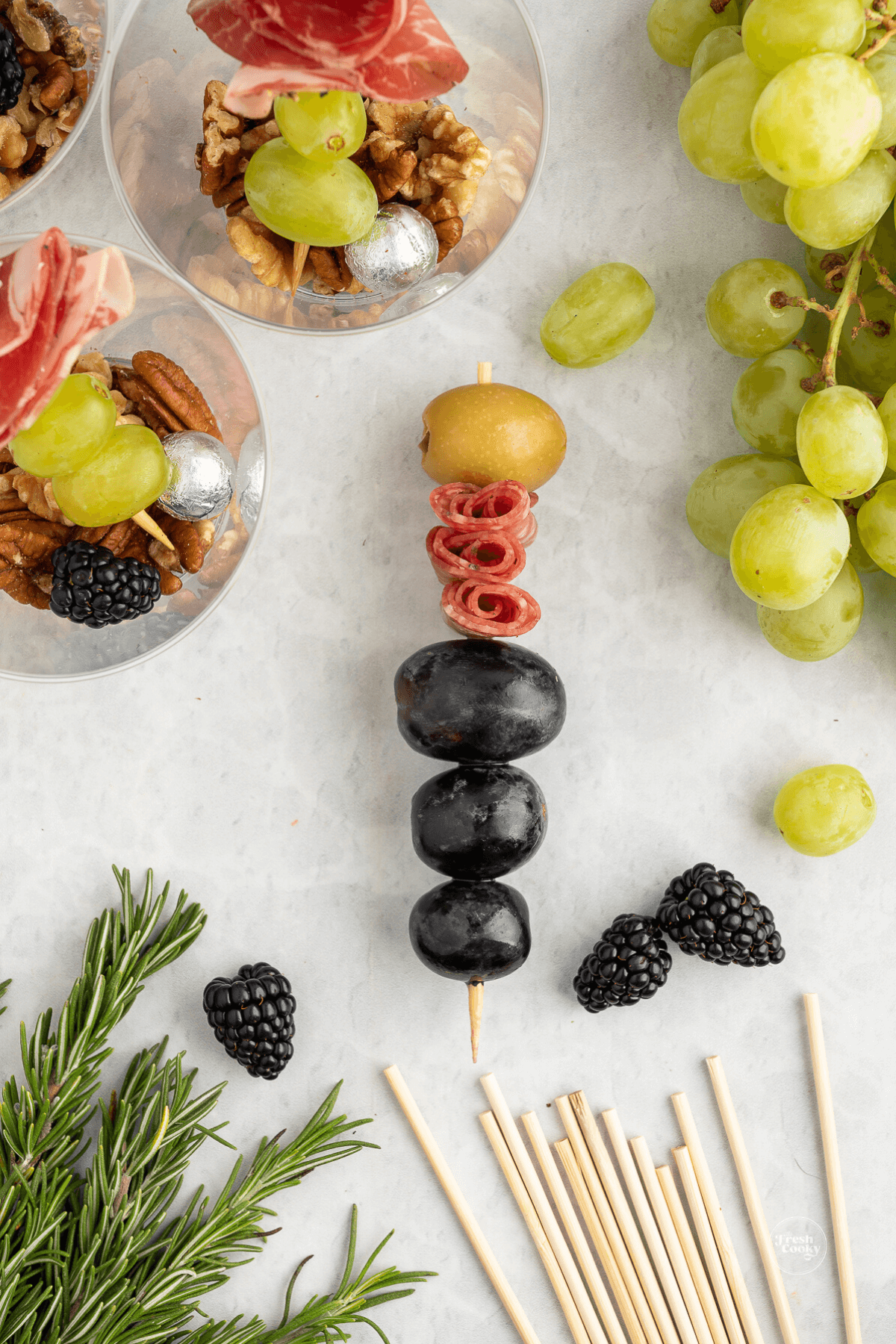 Add-Ins
Once you've filled your base and added the skewers, have fun filling in the gaps with these foods!
Crackers | Any kind that strikes your fancy! Pretzels and dried bread sticks work well too.
Sliced Cheese | White cheddar, sharp cheddar, smoked cheddar, or a cranberry cheddar- delish!
Chocolate | Foil wrapped provides a barrier so that the chocolate stays fresh and free from moisture or strong flavors. Use milk and/or dark chocolate. Plus they are just plain pretty!
Seasonal Treats | Trader Joe's always has fun seasonal items that can easily be added to your cups. Try chocolate covered stars, pumpkin shaped mousse cakes or a sprinkle of treats from the Jingle Jangle tin. Or skewer my Sugared Cranberries for sweetness and a pop of color.
Fresh Herbs | While your eaters may not munch on fresh herbs, it adds a beautiful presentation and pleasing aroma. Try skewering some olives on fresh rosemary, or add a sprig of thyme, or make mini caprese skewers adding fresh basil.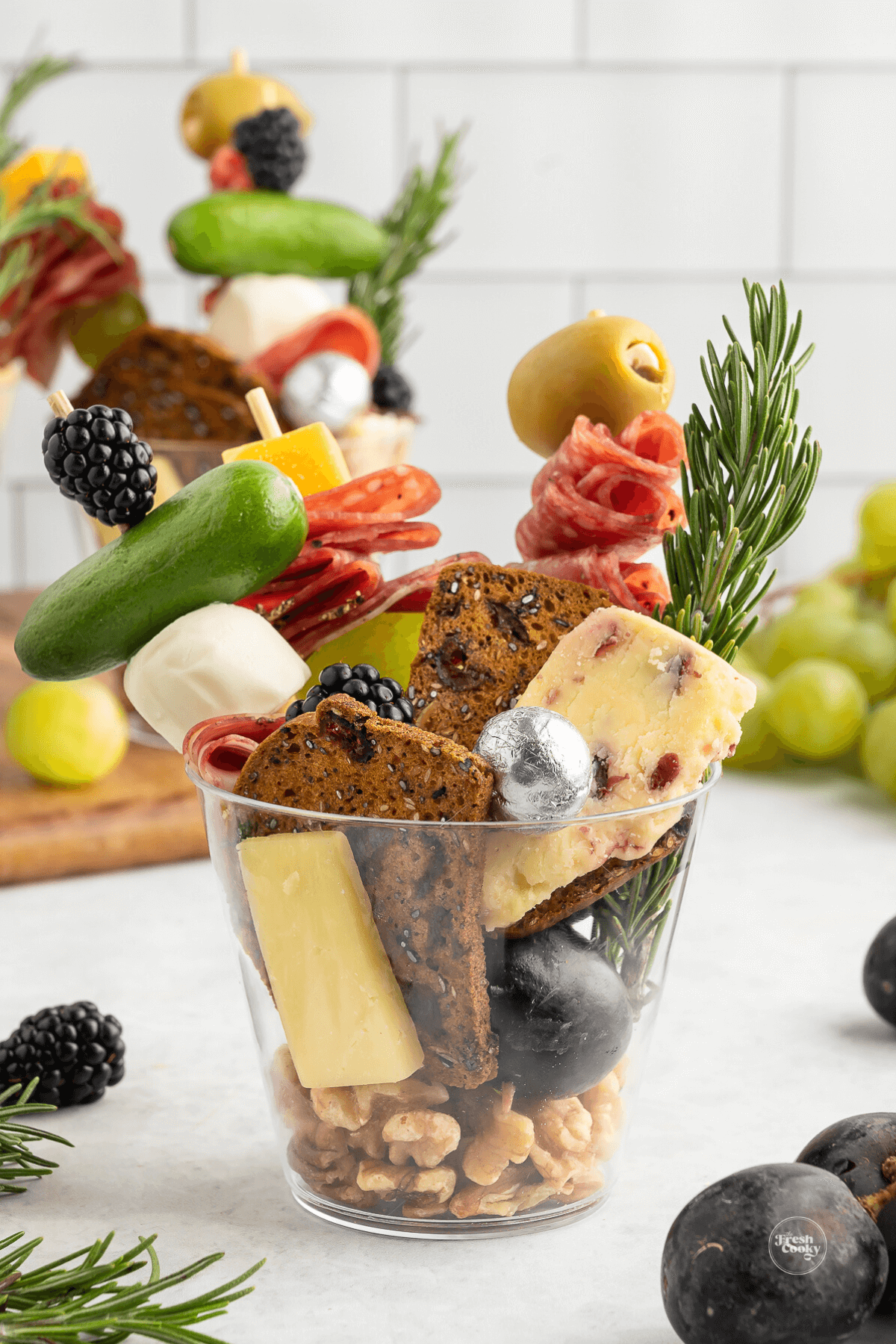 How to Pack a Charcuterie Board to Go
Here is exactly what I used to make my charcuterie cups:
Base | Nuts (walnuts and pecans), blackberries, and foil-wrapped chocolates were added to the bottom. Crackers, blackberries, sliced white cheddar, sliced Wensleydale cheese with cranberries, and foil-wrapped chocolates were added to fill the cups after the skewers were added.
Skewer 1 | Blackberry, baby cucumber, baby mozzarella ball, folded prosciutto (2), and green grapes (3).
Skewer 2 | Garlic stuffed green olive, rolled Italian dry salami (3), and purple grapes (3).
Skewer 3 | Cubed yellow cheddar, folded Italian dry salami, folded peppered dry salami, folded coppa, green grape, purple grape, and garlic stuffed green olive.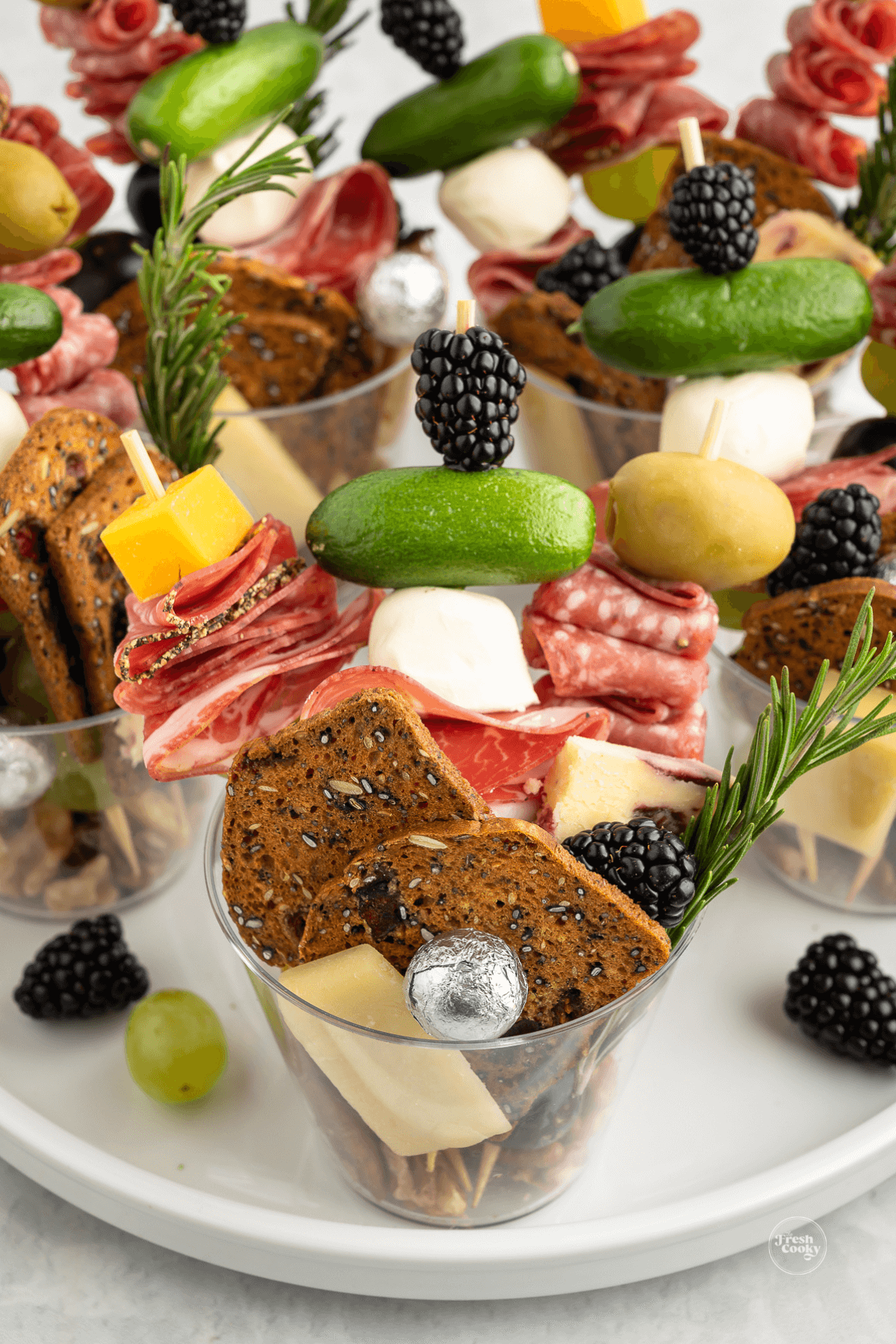 How to Make Charcuterie Cups or a Picnic Charcuterie Board
When deciding what to put in your charcuterie cups, consider both balance and variety. You want each cup to have enough variety to be interesting but also contain ingredients that complement each other and go well together. Have fun with both flavors and textures, including sweet, savory, salty, crunchy, soft, cured, and fresh ingredients.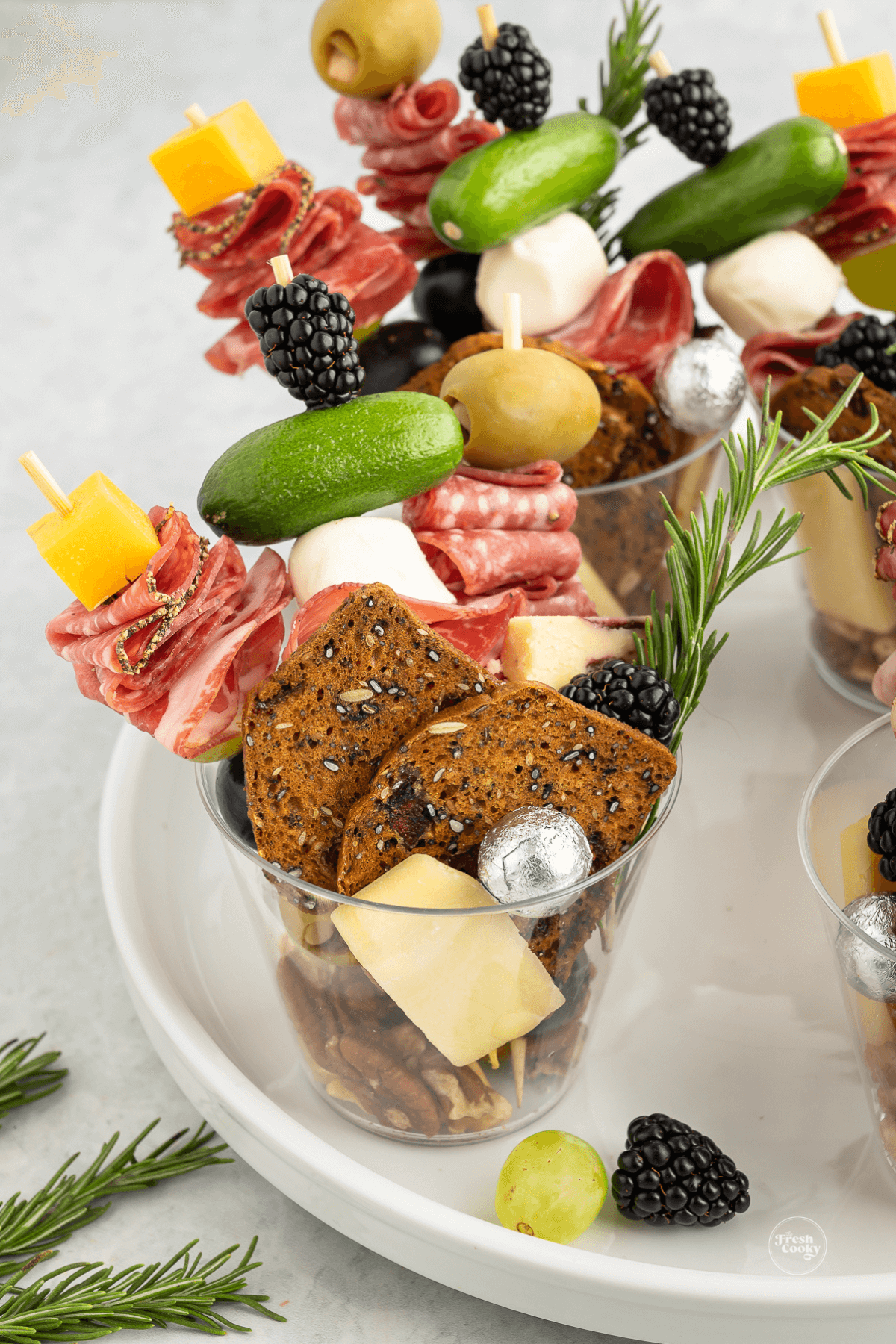 Variations
Add pizzazz to your cups or glass containers (called Jarcuteries) and customize them to include seasonal or themed items. Holiday shaped cookies, seasonal flavored items, in-season produce, and homemade treats all make great additions.
Have a favorite cheese or specialty shop? Select personal or local favorites to give your cups a unique feel.
Try my Delicious Cheese Dips or Cranberry Cream Cheese Dip alongside your to go charcuterie cups. Hot honey, artisan preserves, bruschetta, pesto, or hummus also go fabulously well with charcuterie cups.
Recommended Equipment for Charcuterie Cups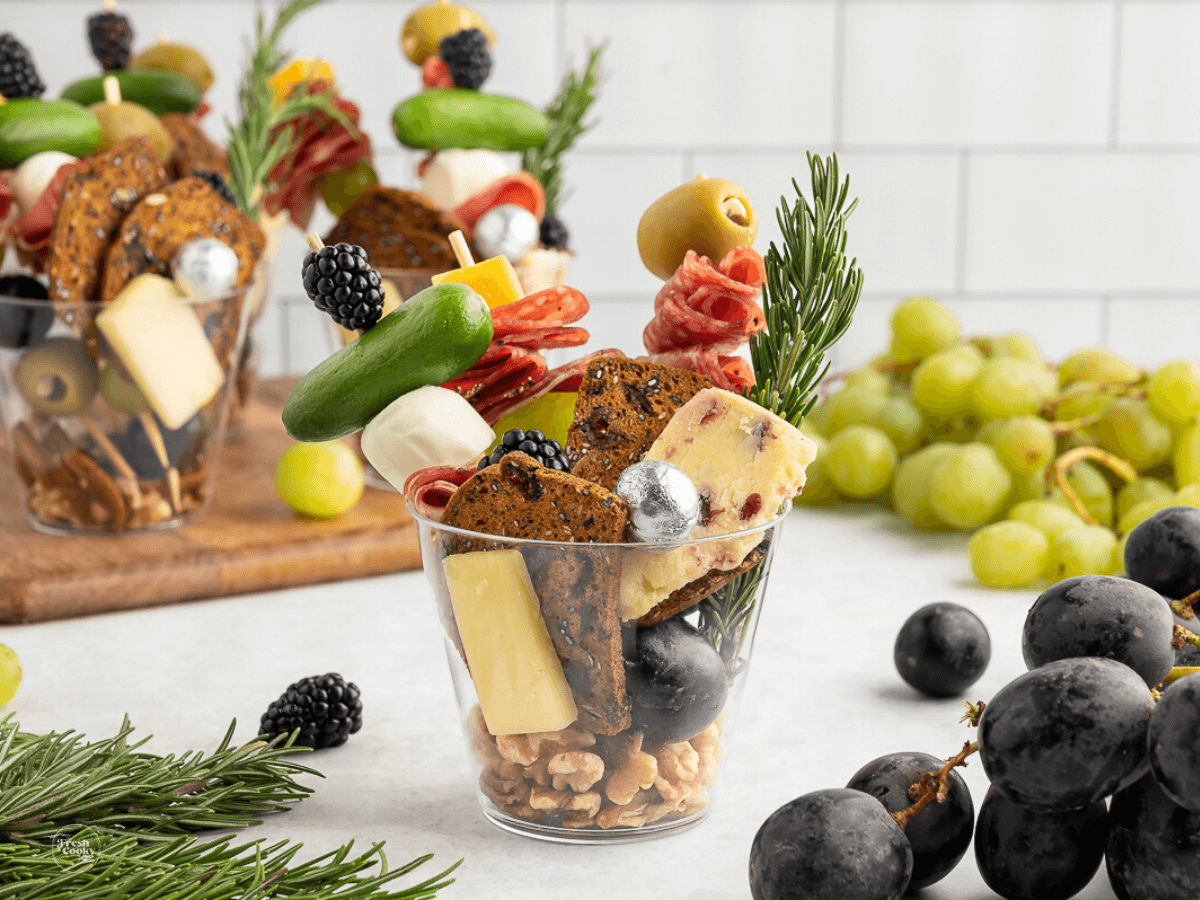 Storage Tips
These cups can be made up to 24 hours ahead of time. Leave out any items that might get soggy (crackers, pretzels, etc.) and add them as the last step, right before serving.
Cover prepared cups with plastic wrap to prevent the meat and cheese from drying out and store in the refrigerator until ready to serve.
Store any leftovers (removing crackers, pretzels, etc) in an airtight container in the fridge for up to 4 days.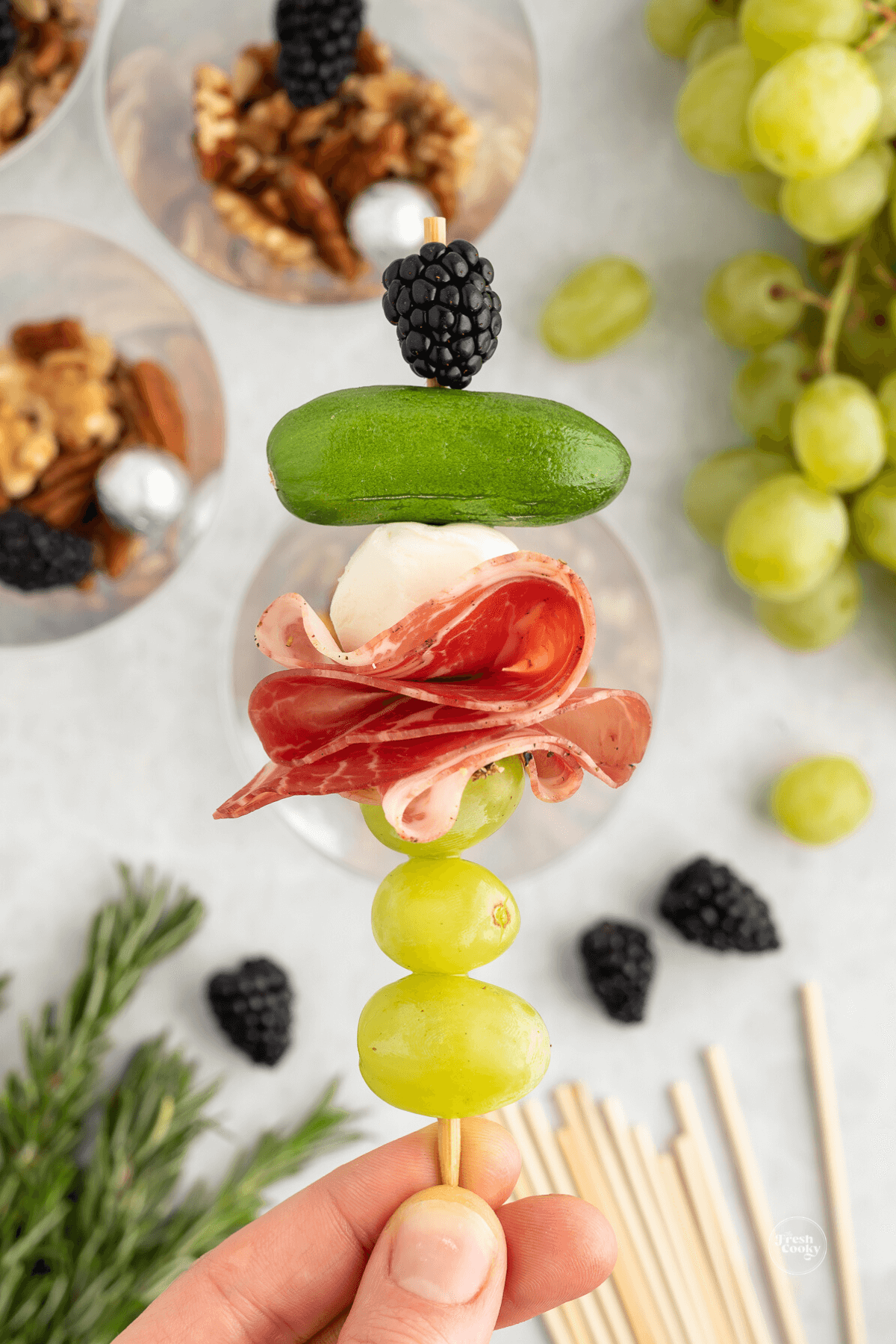 Frequently Asked Questions
How much food will I need for the charcuterie cups?
The amount of food needed will vary depending on how many people you are serving. A good rule of thumb is 2 ounces of meat, 1-2 ounces of cheese, and ½-1 ounce of nuts per person. Additionally, you will want ingredients like fruit, crackers, olives, and/or chocolate to supplement.
What size of cups should I use?
Consider whether you are serving these as a pre-dinner appetizer or alongside other appetizers as the main course. For pre-dinner appetizers, I suggest 4 oz cups. 8-9 oz cups or mason jars will hold more food and would work well as part of an appetizer only spread. When using longer skewers, use a taller cup to help stabilize the base and prevent tipping.
What type of skewers should I use?
A variety of skewers or long toothpicks will work for these charcuterie cups. Avoid long skewers like the type used for shish kabobs or grilling. I used 6-inch bamboo skewers.
How long can charcuterie sit out?
This will depend on the ingredients you are using, and the temperature that the food is sitting at, but generally, you do not want charcuterie to sit out at room temperature for more than 2 hours. Keeping these charcuterie cups refrigerated until you are ready to serve them will help keep them fresh. But, who are we kidding? These cuties will be gone well before that!
How to Pack Charcuterie Cups to Go
Use a higher edged tray or even a fruit box and pack your charcuterie cups snuggly in the box, filling in gaps with a little tissue paper or tea towels to keep them upright. If traveling with them for a ways, make sure they are well sealed with plastic wrap.
If in warmer climates, place an ice pack or two underneath the tray or box for transport.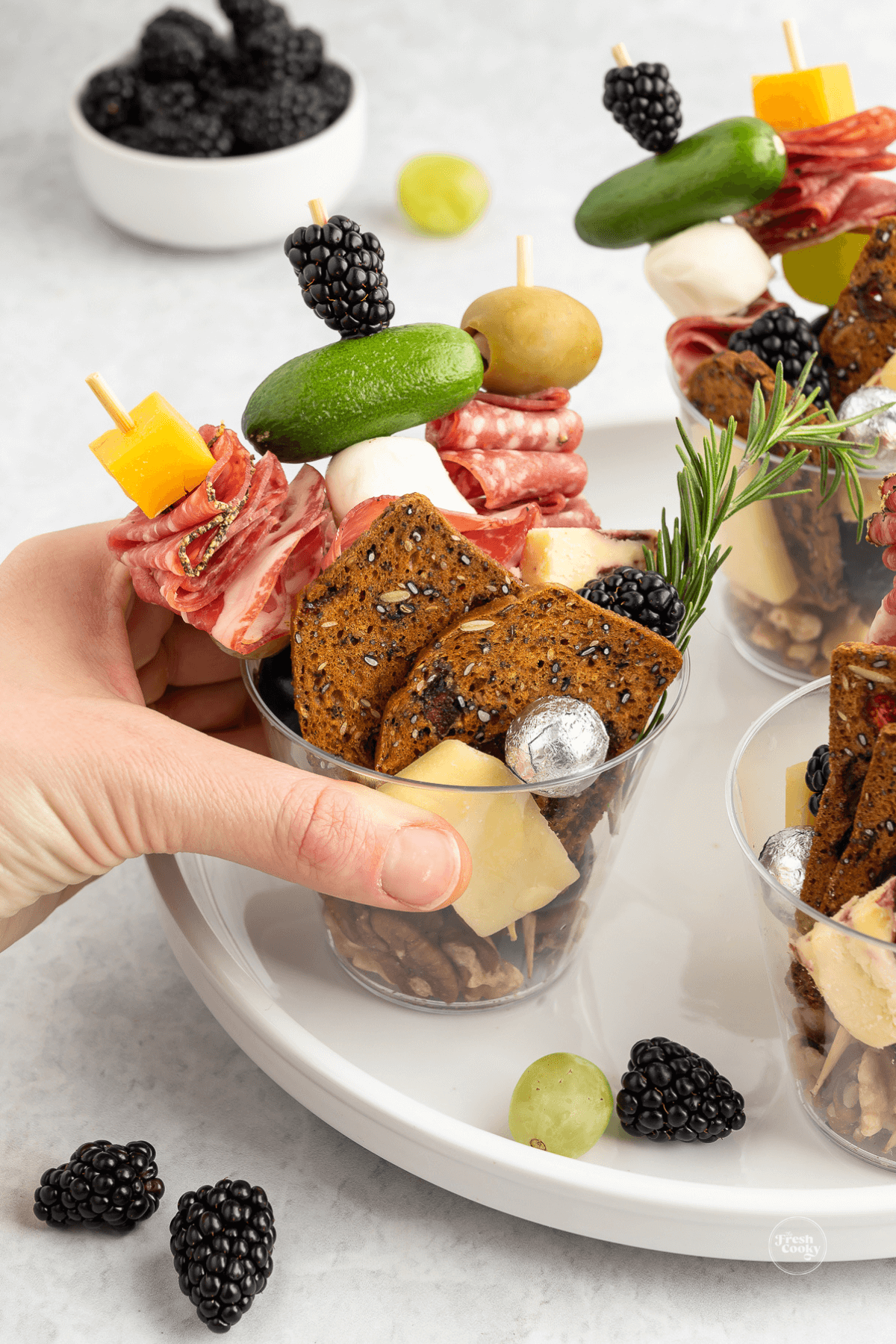 Make it an Appetizer Party – More great appetizers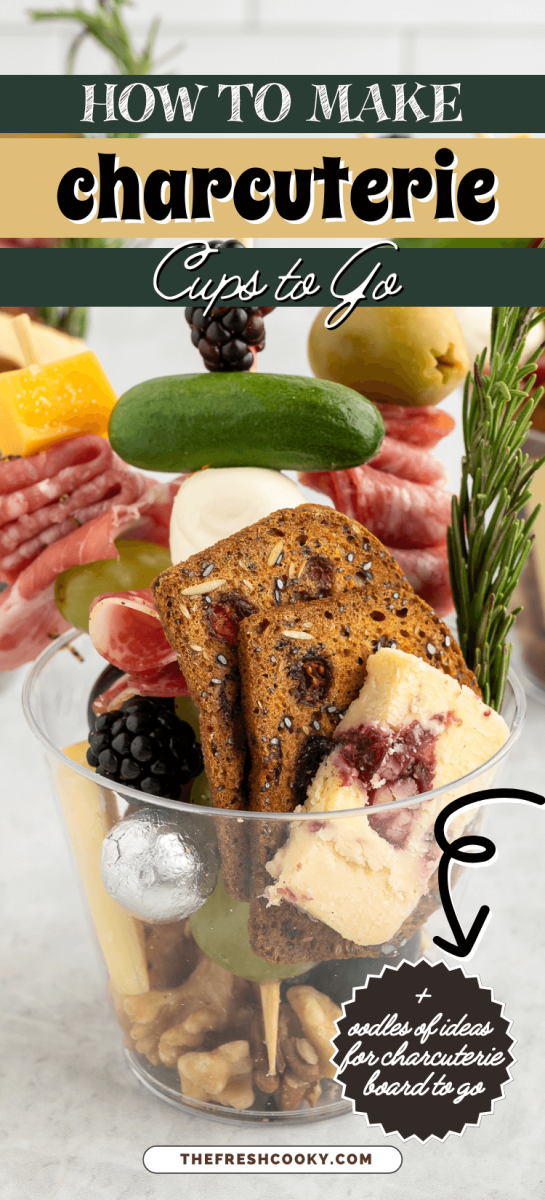 I hope you loved these Charcuterie Cups; how to pack a charcuterie board to go — if you did, would you share your creation on Instagram, Facebook and Pinterest? And be sure to comment below!
Like this recipe?
Don't forget to give it a ⭐️⭐️⭐️⭐️⭐️ star rating and comment below the recipe!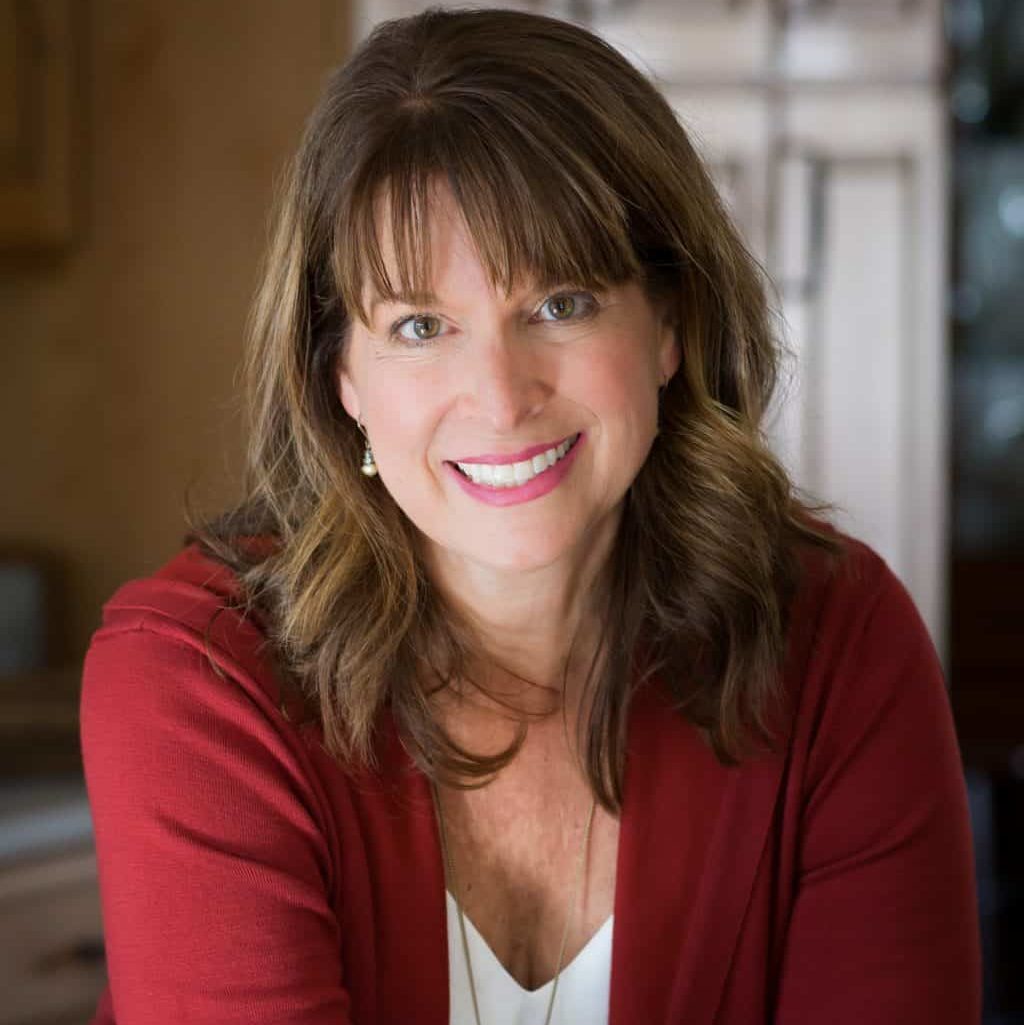 About Kathleen Pope
Recipe Innovator | Food Photographer | Food Writer
Hi, I'm Kathleen Pope. Here at The Fresh Cooky you will find easy, mostly from-scratch, trusted recipes for all occasions. From speedy dinners to tasty desserts, with easy step-by-step instructions. I am here to help teach you how to make mouthwatering recipes without spending hours in the kitchen. Read more about Kathleen here.