As an Amazon Associate, I earn commissions from qualifying purchases (
disclosure policy
).

Happy week before Thanksgiving! How can it be!
I feel like it was last week I was sweltering in the summer heat, enjoying a slice of cool Key Lime Pie on the front porch. Are you ready for Thanksgiving? Regardless it will arrive next Thursday.
Hopefully you had a moment to open the email I sent Tuesday; it had oodles of Thanksgiving recipe ideas — if you didn't receive it, email me and I will send that over to you.
I'm HERE to answer your Thanksgiving food questions! Shoot me a quick email or comment below and I will do my best to reply quickly to you.
Every year, I think to myself, "Self, you need to get out a Thanksgiving planning guide" and year after year, I laugh to myself and say, "well, maybe next year". What I really need is a Procrastinators Guide to Planning your Thanksgiving Meal. Who is with me! 🙂
Top 5 Must have Thanksgiving Recipes
Here are what I would call my cream of the crop, top 5 recipes for a great Thanksgiving!
You might also enjoy this post with some ideas for frugal Thanksgiving decor ideas.
NEW CRANBERRY DESSERT RECIPES
I have had so much fun being part of a collaboration with other bloggers for Cranberry Week, where I created 3 new delicious Cranberry Dessert Recipes for you! I kinda think you are going to LOVE them! Plus a bonus Cranberry Appetizer recipe!
OATMEAL CRANBERRY BARS | Made with fresh cranberries, the crust doubles as the crumb topping, these bars are tender, buttery and bursting with sweet-tart cranberry flavor!
CRANBERRY CHRISTMAS CAKE | This gorgeous cake is easy enough for Christmas morning, elegant enough for Christmas dinner or a Christmas party! Especially when paired with my Vanilla Butter Sauce and Sugared Cranberries.
NANTUCKET CRANBERRY PIE | or Cranberry Cake, or Cranberry Tart, or Crustless Cranberry pie — whatever you want to call this delectable 10 minute prep cranberry dessert, this will become one of your favorite family recipes every Thanksgiving and Christmas.
BONUS CRANBERRY RECIPE
Cranberry Cream Cheese Dip — the perfect sweet, salty, cheesy combo we all love for a holiday appetizer! And it assembles in minutes!
This Cranberry Cream Cheese Dip is a great, tasty way to get rid of leftover cranberry sauce.
Get a Jump on Black Friday Sales
Many companies are starting Black Friday sales early, here are a few for the foodies in your life, or maybe to add to your Christmas wish list.
FREE STEAKS FOR A YEAR!!? AT ButcherBox their Black Friday Sale includes free steaks for a year! Read more about it here! I have been using ButcherBox recently and I love their meat!
OXO Kitchenware Products | I love the OXO brand and you will to! They are featuring 20% off all bakeware…get the deal.
SPOONFUL OF COMFORT | Looking for a unique gift to send to family and friends who have everything? Everyone needs a little comfort food sometimes!
Sur la Table continues to have wonderful sales!
Most Popular Gift Guides
*As an affiliate of ButcherBox, Sur la Table, Oxo, Spoonful of Comfort and VAT19 I receive a small commission from purchases, without costing you a dime!
CHECK OUT MY UPDATED HOME page ==> Holiday Favorites, Holiday Sides, Drinks and Sweets!
Print these beautiful From the Kitchen of Gift Tags or these Holiday inspired food gift tags!

Top 5 TFC recipes on the blog and on Pinterest, these are tried and true with many reviews!
Browse through my recipe index, you will see morning sweet treats, 30 Minute Meals and Dinners of all sorts, sensational sides and of course drinks and desserts!
===>>> Visit The Fresh Cooky's Amazon Shop <<<===
PSSSTTT — Did you know that clicking the links to the recipes on the blog is what ultimately provides the means for me to bring you fresh, new recipes each week! FREE TO YOU!
I pray you are surrounded with love this Thanksgiving, and are reminded of how very much we have to be thankful for! One of the top things on my list of thanks, is for each and every one of YOU!
With my heart full of gratitude for all of you, I want to wish you and your loved ones a blessed holiday celebration.
"Give thanks to the Lord, for He is good! His faithful love endures forever"! 1 Chronicles 16:34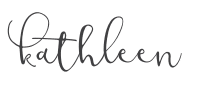 P.S. Be sure to browse through last weeks Fresh Fridays for more great recipes!