Stocking Stuffers for Teens | Boys & Girls
As an Amazon Associate, I earn from qualifying purchases. Please read my disclosure policy.
Unquestionably stockings are my favorite part of Christmas morning, so it made sense to research some great stocking stuffers for teens and tweens to help you love stockings as much as I do! Whether you are looking for stocking stuffers for boys or girls, I've got you covered.
If you like these gift ideas, you might enjoy these other gift guides:
The Best Stocking Stuffer Ideas for Teens & Tweens
I've adopted this same love of stuffing stockings with my own family and thought it was high time I gave you some of my ideas. Teenage boy approved!!
Stocking Stuffer Ideas for Teens
I hear people lament all the time how they hate shopping for stocking stuffers? What?? That's the easiest part of Christmas shopping! Which is why I can up with these stocking stuffer ideas for teens.
Years ago, when my boys were small, my sister-in-law made them darling felt stockings and since we already had fancy mantle stockings.
Since I typically overestimate how many stuffers will fit in a stocking, it worked perfectly to divide our stocking loot between the two.
In the past these stockings have bought us a little time in the morning, but now that they are teenagers and they like to sleep…a LOT; I find myself up early, excitedly waiting for them to wake up.
NEWLY CURATED ITEMS (NOT ALL STOCKING SIZED!)
Stocking Stuffers for Boys
I have had several friends say these RUMPL blankets are the best, their kids love them!
VAT19 | This is another unique and creative gift buying website! I can always find a unique and fun item on this website.
Stocking Stuffers for Girls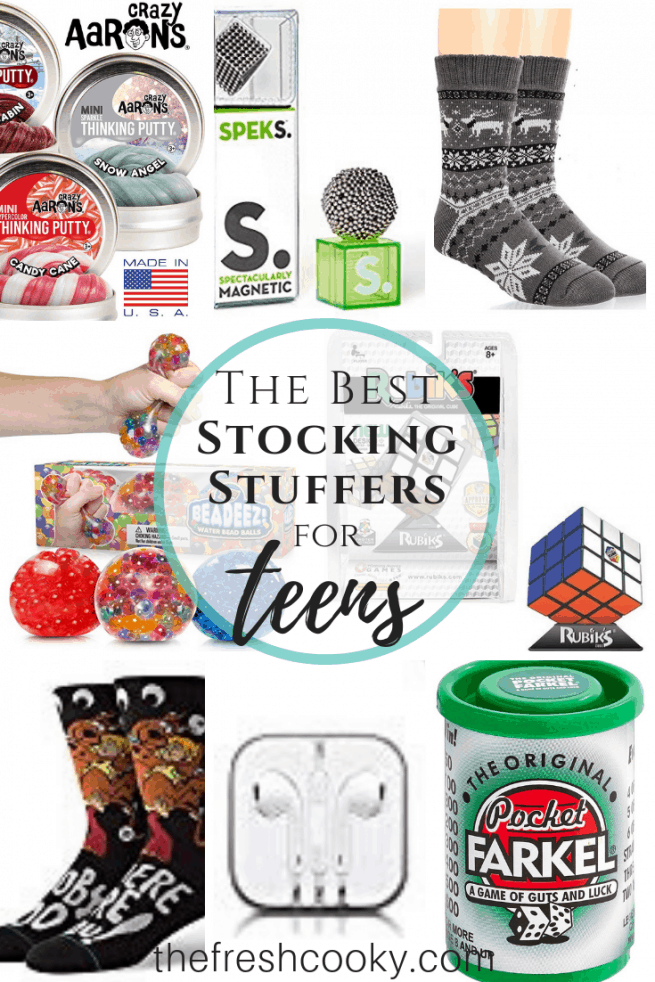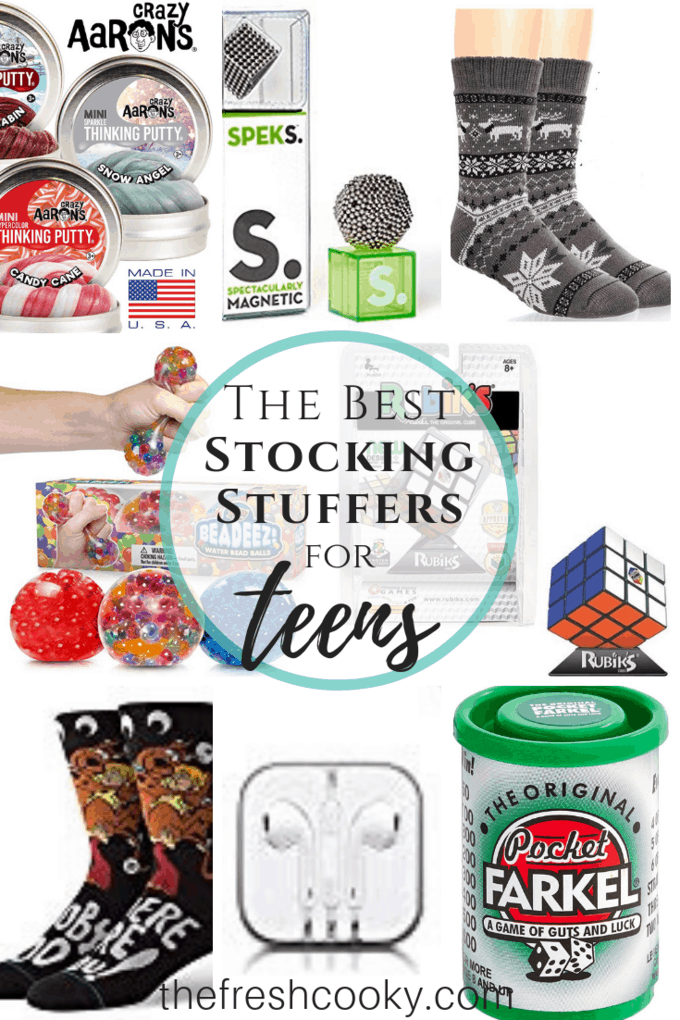 Now I find myself taking pictures of the tree, making Christmas breakfast like these amazing gooey Cinnamon Rolls with candied bacon or my make-ahead Cinnamon Crunch Baked French Toast.
Checking my list twice, whipping up a couple of delicious Eggnog lattes, opening the Bible to Luke 2, then, when I can't take it any longer, we wake them up.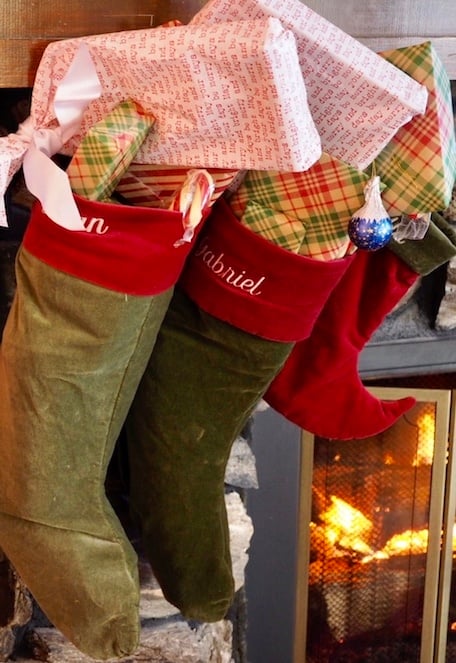 The best part is you can shop for all of these products on Amazon, in your jammies, on your comfy couch!
Whether you are housebound during a big snowstorm or squeezing in some shopping during your lunch break. In no time you will have your stockings stuffed and maybe even a few items for under the tree too!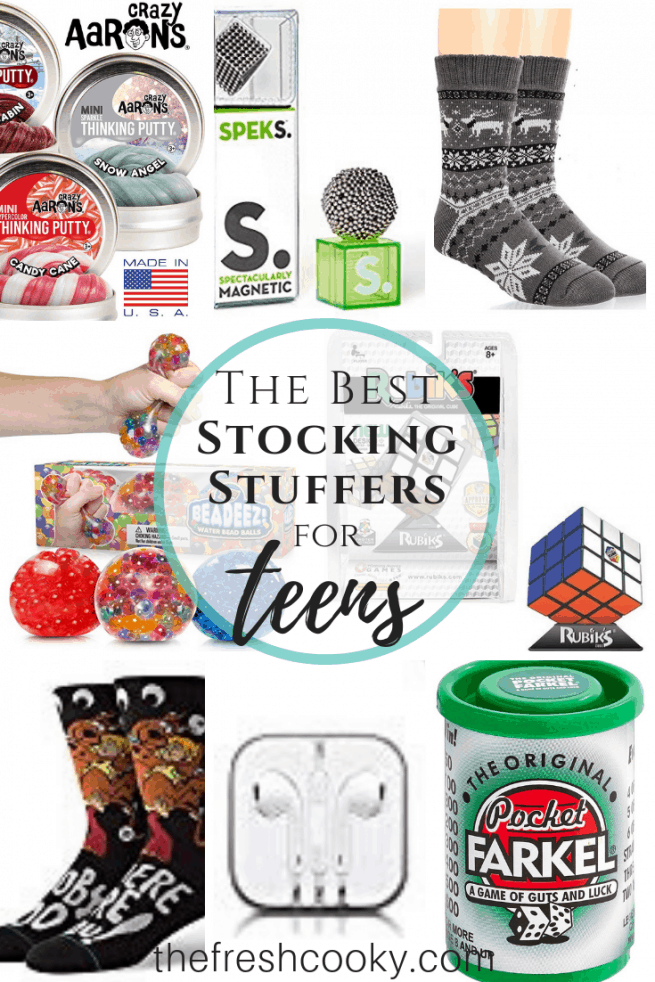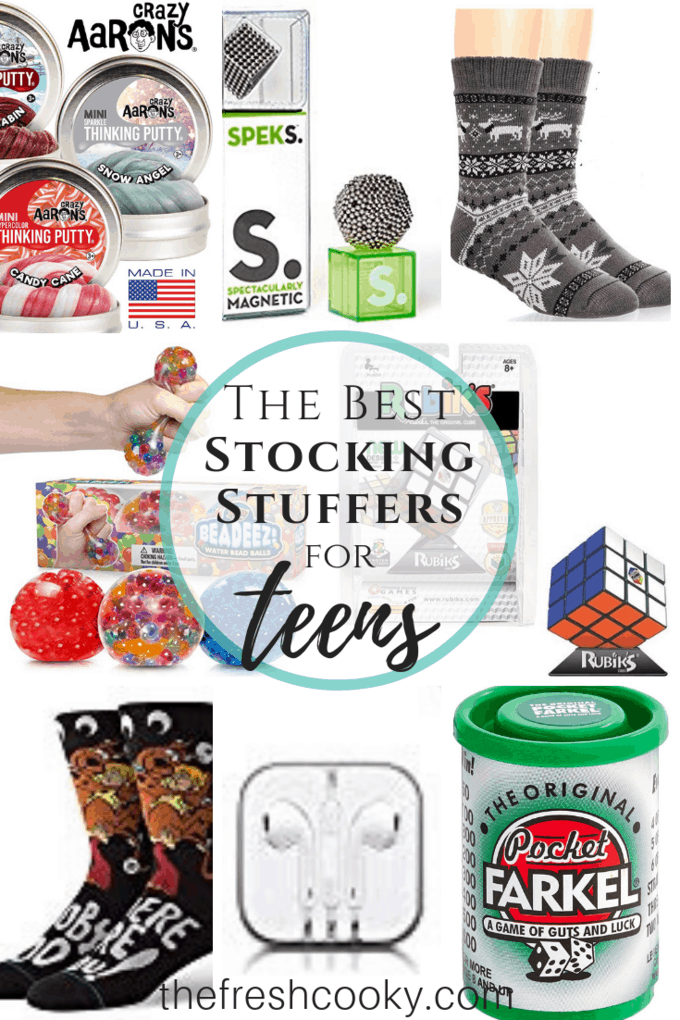 Best Stocking Stuffers for Teens & Tweens (and college kids too)
These stocking stuffers are sure to please any stocking opener. It'll bring the kid back out in your teenager!
Kanoodle | I actually have this on order for my college freshman, many of these can be crossover gifts.

Pocket Farkle

| Games never get old and dice games are fun for the entire family! We love playing Farkle, easy to learn and portable too. We also have Farkle with Friends which is a great way to get the kids and friends involved and get them off electronics!
Boba Bubble Tea Kit | Kinda thinking everyone would have fun with this one!
Crazy Socks | These stocks by Stance are one of my favorite brands, they are made well and really hold up to teen boy wear and tear! We have patriotic, Star Wars, Steph Curry, and tropical to name a few. And they have some pretty cute girls socks too.
More great Stocking stuffer Ideas for Tweens
Thinking Putty by Crazy Aaron | This is the coolest stuff, especially if you have a tactile or sensory sensative kid. Gabe is fairly obsessed with this stuff, and it doesn't dry out! I love this mini holiday assortment.
Beadeaz Balls | Along the same lines as the above, this is the perfect tactile tool. Just try and resist squishing one!
Pocket iPhone Case | This case is perfect, it protects the phone and has a secure pocket for school ID, driver's permit & licenses and a little cash.
LipTrip by Mountain and Ocean is the BEST lip treatment. Developed for everything from dry, high altitude to the wind of the tropics. This is the only lip balm my kids, actually the whole family will use. We have them everywhere!
If you prefer a more balmy, balm, try Dr. Bronners it's a bit lighter, not so waxy
Speks Magnetic Balls | These are not for young kids; or anyone who tends to put things in their mouth. All packaging says adults only, but my boys have played with these for year. These magnetic shapeable balls are mashable, smashable, rollable, buildable, puzzling, and world famous!
Rubiks Cube | Yup, the good old fashioned Rubik's cube, our oldest is consumed with Rubik's Cubes, all kinds and sorts. Give the regular one a try or opt into one of the tougher ones.
Wide Mouth Water Bottle Paracord Bottle Holder | My kids are always losing or dropping their water bottles, with this simple holder you can strap it right to their backpack.
Bamboo Toothbrushes | I typically stick toothbrushes in my kids stockings and Easter baskets! Practical and yet necessary and I like these eco friendly toothbrushes.
School Spirit Wear | I bought each of my boys a school tie (they have to dress up the day before a swim meet), a school lanyard, school socks; these make great stocking stuffers. All available from our school DECA store, I'm sure you have something similar.
UNO with Customizable Wild Cards | We played this with family over Thanksgiving; ages 16-60 we had a blast with this new twist on the classic! Have you tried Dos? I might have to get this one for our stockings!
Game of Phones | but this one is a mini game and the offline version!
Have you ever played Dutch Blitz? It's solitaire for a group, on steroids! I've played this with tweens through adults, and it's fun for ALL!
U Fidget | I love these fidget toys, all three, Gabe always has something in hands and these satisfy sensory and tactile needs.
Metal Earth 3D Puzzles | These puzzles are the metal version of a Lego, my almost 19 year old still loves these! All kinds of styles – don't forget the tool kit!
I keep my eyes open all the time for little things when I'm in stores like Trader Joe's or even our grocery store.
Items like edible coal, fun gum, natural mints, all-natural candy canes, like Colorado hand-made Hammond's candies.
What do you add to your stockings? I'd love to hear what types of things you put in there!
Come back often, I am frequently adding new items I discover or hear about from friends or happen upon myself.!
Happy stocking stuffing and a very Merry (and not so stressful) Christmas season to you!
If you made it this far, give yourself a pat on the back! I hope this guide helped ease some of your holiday stress, afterall, that's not what it's about.
Now take a minute and remind yourself the meaning of this Advent!