Best Cranberry Cream Cheese Dip
As an Amazon Associate, I earn from qualifying purchases. Please read my disclosure policy.
This Cranberry Cream Cheese dip is not only easy, is perfect for the holiday season. 4-ingredients to this cheesy, sweet-tart, salty and savory hot dip. Using homemade or leftover cranberry sauce, this cream cheese cranberry dip will be raved about at your next party.
A slam-dunk holiday appetizer; with sharp white cheddar cheese and cream cheese studded with fresh cranberries assembles in minutes for the best baked holiday appetizer. Plus it's gluten-free!
I've teamed up with other bloggers to bring you the best holiday party food and drinks! And if you love this easy cranberry dip, you will love this even easier, Goat Cheese Appetizer, this Cowboy Crack dip or my pretty whipped goat cheese with bacon and candied dates. And always a classic at any holiday party; this is the best Crudite Dip recipe for veggie platters!
I love cranberries; these bright red, jewels of the holiday season show up everywhere, and I have had so much fun creating new cranberry recipes this week!
Be sure to try my new Oatmeal Cranberry Bars, Cranberry Christmas Cake, and don't miss out on this stomach soothing Cranberry Relish.
You will want to wash it all down with this luscious Cranberry Lemon Drop Martini or my kid-friendly Cranberry Spritzer.
Simple Ingredients for Cranberry Cream Cheese Dip
Ingredients, directions and nutritional information in the printable recipe card at the end of the post.
Cranberries | If fresh berries aren't in season, frozen work too, but don't thaw them.
Extra Sharp Cheddar Cheese | If you aren't used to buying extra sharp, give it a try for this white cheddar cranberry dip, the sharpness compliments the sweetness of the cranberry sauce.
Cream Cheese | I used full fat for this recipe, but you can use what you prefer, be sure it is softened cream cheese, you can leave it on the counter while making your homemade cranberry sauce.
Cranberry Sauce | A simple homemade cranberry sauce recipe is below, but if you are wondering what to do with leftover cranberry sauce this is a great way to use it!
Fresh Nutmeg | Why, because as a friend said lately, FRESH NUTMEG! You may substitute with ⅛-¼ teaspoon ground nutmeg, but if you have never grated your own nutmeg you are in for a treat. Like on these eggnog butter cookies.
A good aged cheddar cheese is what you want here, it's the star. The salty bite of the cheese is complimented by the sweet-tart cranberries.
How to Make Cranberry Cream Cheese Dip
Make Homemade Cranberry Sauce
Remove 1/2 cup fresh cranberries, set aside for the dip.
Add cranberries, granulated sugar, orange and lemon juice and water to a small saucepan. Stir to combine, cooking over medium-low heat, stirring occasionally.
The sugar will dissolve and the cranberries will start to burst, you want some cranberries rather whole, while others will disintegrate. Simmer for about 15-20 minutes on low. Refrigerate any leftover cranberry sauce and then make my Lemon Cranberry Bars!
How to Make Cranberry Dip
Lightly spray a small 1 ½ quart baking dish (I love the smaller one in this set) with a little spray oil and preheat the oven to 375 degrees F (350 if using convection).
In a medium-large mixing bowl, stir together the cream cheese and aged cheddar cheese until combined.
Grate some fresh nutmeg into the cheese mixture and combine, this is a taste preference. I like a little more, about ⅛ – ½ a teaspoon (ground may be substituted).
Gently stir in the cranberry sauce and reserved fresh cranberries, spooning the cranberry mixture evenly into prepared baking dish, baking 18-23 minutes until bubbly in the middle and the edges.
Cover if needed with some foil (shiny side down) if browning too quickly. If using convection, check at about 15 minutes.
A few minutes before you are ready to pull it out of the oven, sprinkle remaining aged cheddar cheese on top and remove foil to brown a bit.
Serve immediately with crostini, crackers or pita chips. If desired, grate a little more fresh grated nutmeg over the top.
How to Make Crostini
You can purchase these already baked, however; making your own is easy and superior in taste, plus I prefer them slightly less crunchy than store bought; you might also enjoy this Easy Tomato Bruschetta.
Purchase a fresh French Baguette from the bakery at your store, then run it through the slicer machine; evenly sliced pieces every-single-time!
Pour a little olive oil into a shallow bowl, then lightly dip (don't dunk) one side of the baguette slices into the oil and place on baking sheet. Alternatively, you may use a pastry brush and brush the tops with oil.
Repeat with as many as you are making. I like to sprinkle with a little flaky sea salt as well.
How to Bake Crostini in a Toaster Oven
Place in toaster oven under the toast setting and set for your desired brownness, I love my new Breville Smart Oven, I set it on toast for 8 slices on the 5-6 dark setting and they came out perfectly.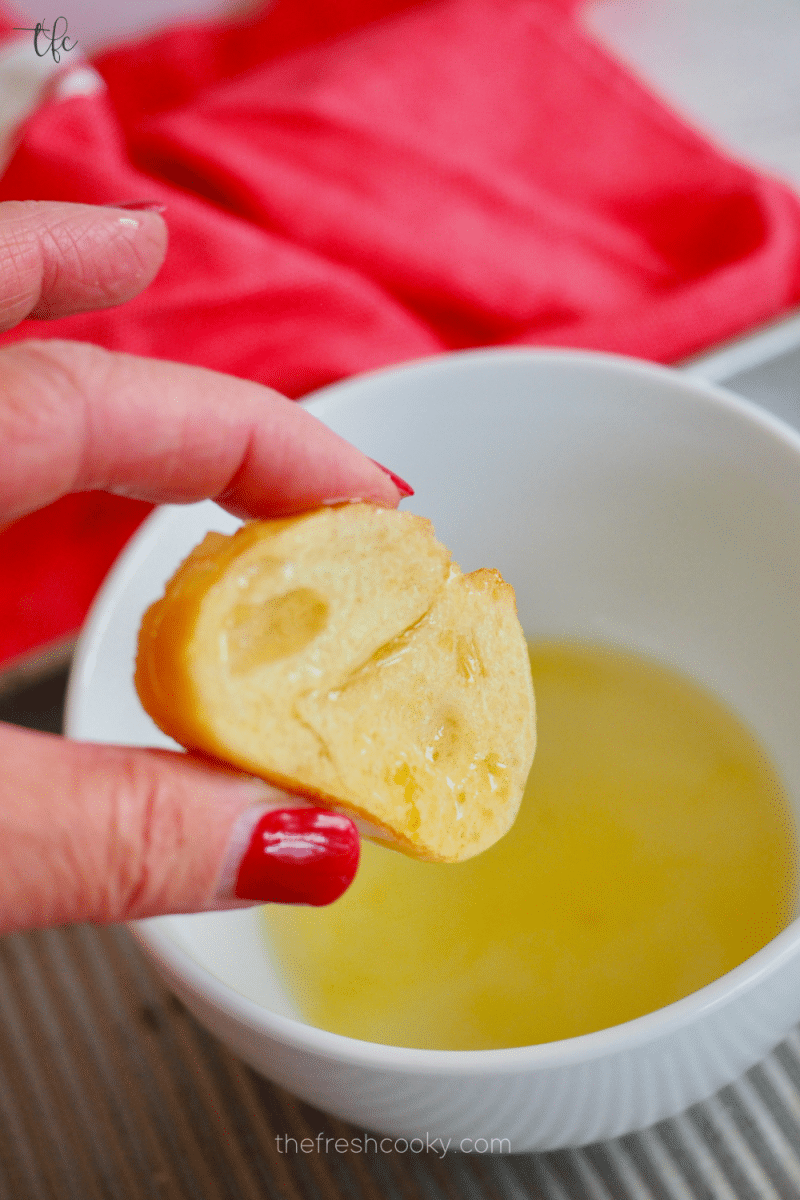 Crostini in a Conventional Oven
Preheat oven to broil. Place baking sheet in middle of oven, and broil for about 2 minutes, checking often. The crostini may be made ahead of time.
Variations & Substitutions
Jalapeño Cranberry Dip | Like it spicy? Add two tablespoons of chopped jarred jalapeños to the cheese with cranberries mixture. Sweet, Spicy and YUMMY!
Swap the cream cheese for Mascarpone cheese for a creamy, cranberry cream cheese dip.
Love nuts? Add ¼ cup of your favorite chopped nuts, a deconstructed cranberry cheese ball.
Mix in a little fresh chopped rosemary or thyme for an earthy taste.
Frequently Asked Questions
Can I make this cranberry dip ahead of time?
Yes, assemble the dip ahead of time, cover and refrigerate. When ready to bake, remove from oven for 30 minutes to allow to come to room temperature, then bake as directed.
Is this Cranberry Cheese Dip Gluten-Free?
It sure is! But shred your own cheese, sometimes the anti-caking agents they put into pre-shredded cheeses have gluten in them. Plus hand shredded aged cheddar cheese melts so much better.
Can I make Vegan cream cheese cranberry dip?
Yes! Substitute the cream cheese and shredded aged cheddar cheese with your favorite plant-based substitutes.
Can I double this recipe?
Absolutely, use a 7×11 or 2 quart casserole dish, double the ingredients and bake until bubbly all the way through.
Can I replace fresh cranberries with frozen?
YES, do not thaw them, if desired, give them a quick rinse right before using in your recipe.
Storage & Rewarming Tips
Make Ahead | Make this dip up to 2 days in advance. Store covered in fridge, bring to room temperature (about 30 minutes) and bake as directed.
Store | If you have leftovers, cool dip completely, store in airtight container in fridge up to 5 days. I do not recommend freezing this white cheddar cranberry dip.
Reheat | Place cream cheese cranberry dip in an oven safe dish and warm covered with foil in 250 degree F oven for about 20-30 minutes. Or place in microwave safe container and warm in 30-45 second intervals until bubbly. Serve immediately.
More holiday recipes
I hope you loved this 4-Ingredient Cranberry Dip — if you did, would you share your creation on Instagram, Facebook and Pinterest? And be sure to comment below!
Like this recipe?
Don't forget to give it a ⭐️⭐️⭐️⭐️⭐️ star rating and comment below the recipe!
It's time to start planning our holiday parties we all need some delicious and festive recipes to serve! Check out all these amazing holiday appetizers as part of the #FavoritePartyFood blogging event hosted by Jennifer from Take Two Tapas
FAVORITE PARTY FOODS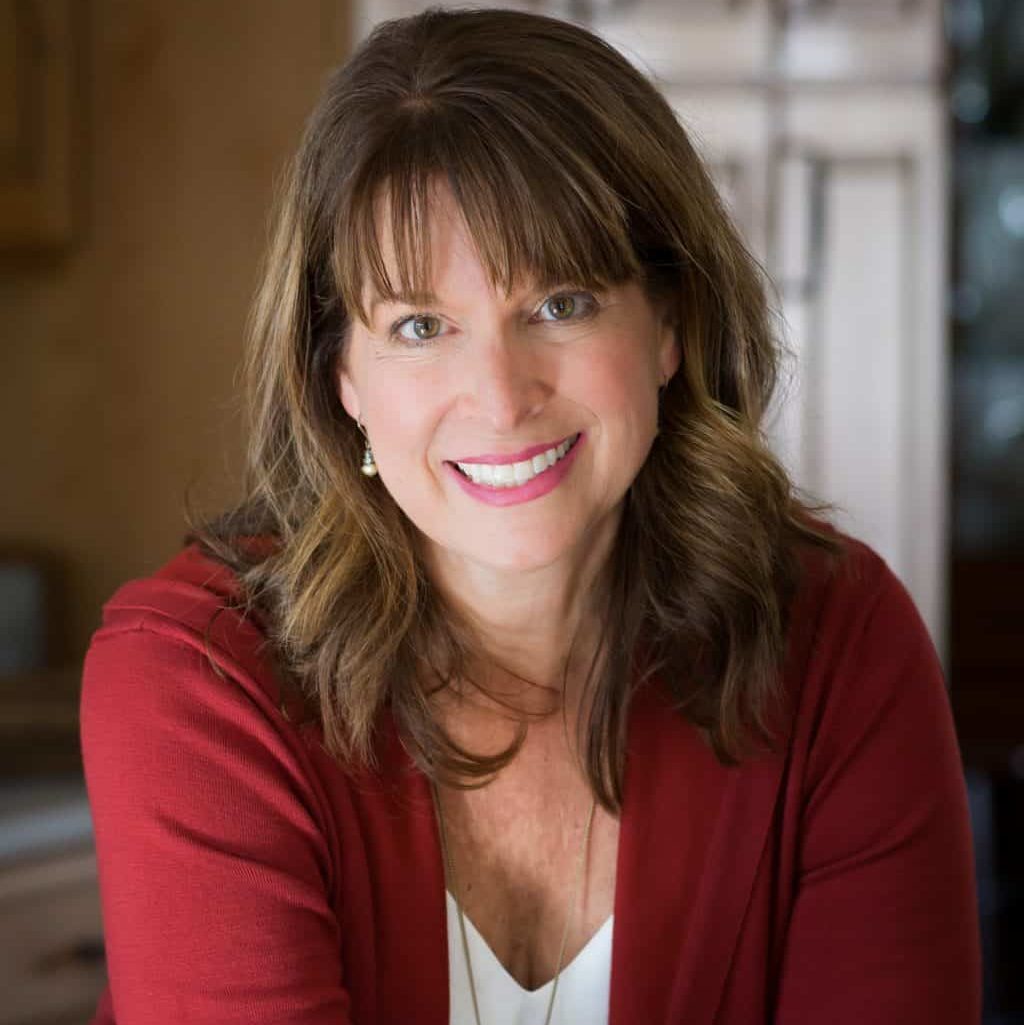 About Kathleen Pope
Recipe Innovator | Food Photographer | Food Writer
Hi, I'm Kathleen Pope. Here at The Fresh Cooky you will find easy, mostly from-scratch, trusted recipes for all occasions. From speedy dinners to tasty desserts, with easy step-by-step instructions. I am here to help teach you how to make mouthwatering recipes without spending hours in the kitchen. Read more about Kathleen here.