As an Amazon Associate, I earn commissions from qualifying purchases (
disclosure policy
).
It has been a strange year for sure! Let's dive in and I will show you how to celebrate Thanksgiving in 2021 making it the best ever!! A time of giving thanks, offering our gratitude for the bounty and abundance we have in this great country, of sharing this bounty and love with family and friends.
This post will guide you through a complete Thanksgiving meal including tablescape ideas using items from around your home or inexpensive grocery store purchases. Let's go all out for 2021!
Whether you are celebrating Thanksgiving in the USA or in Canada these tips, recipes, decorations and centerpieces are easily adapted.
When is Thanksgiving in the USA & Canada?
We will start with our friends to the north, Canada celebrates Thanksgiving on the second Monday in October and here in the US we celebrate on the fourth (or last) Thursday in November.
I love this holiday, with no pressure to get the right gifts, no gifts at all; just thanks! Gratitude, thankfulness, gratefulness, appreciation.
I hope you take some time to reflect on the reason for holiday, before you jump into the sumptuous feast prepared by/for those you love.
Read a story, a few passages from the Bible on thanksgiving and gratitude or just go around and have everyone say what they are thankful for this year.
I had so much fun setting the table (watch Setting the table in 30 seconds) preparing the dishes, smelling the smells, savoring the food, enjoying the company of a few friends who we invited to dinner.
DIY THANKSGIVING CENTERPIECE IDEAS
I love setting my table several days ahead of time, plus I get to enjoy the pretty table for several days and can fine tune the settings if need be. Read on for these simple and frugal DIY Thanksgiving Centerpiece ideas.
HOW TO SET A CHEAP HOLIDAY TABLE
I mostly used things that were around the house; leftover ribbons, jars and candles.
I bought a few bright red apples, mini pumpkins and pomegranates to brighten the table
Some fresh eucalyptus…make it yours by gathering things you have around. If you can, it will take a lot of stress off of you if you can set your table ahead of time.
Starting with my centerpiece, a variety of candles in jars (like simple grocery store Mason jars) and candlesticks. Just wrapped with a variety of ribbons, birch bark, raffia, and twine around them.
Gather your decor, get your dishes, silverware and glasses all ready and iron your linens.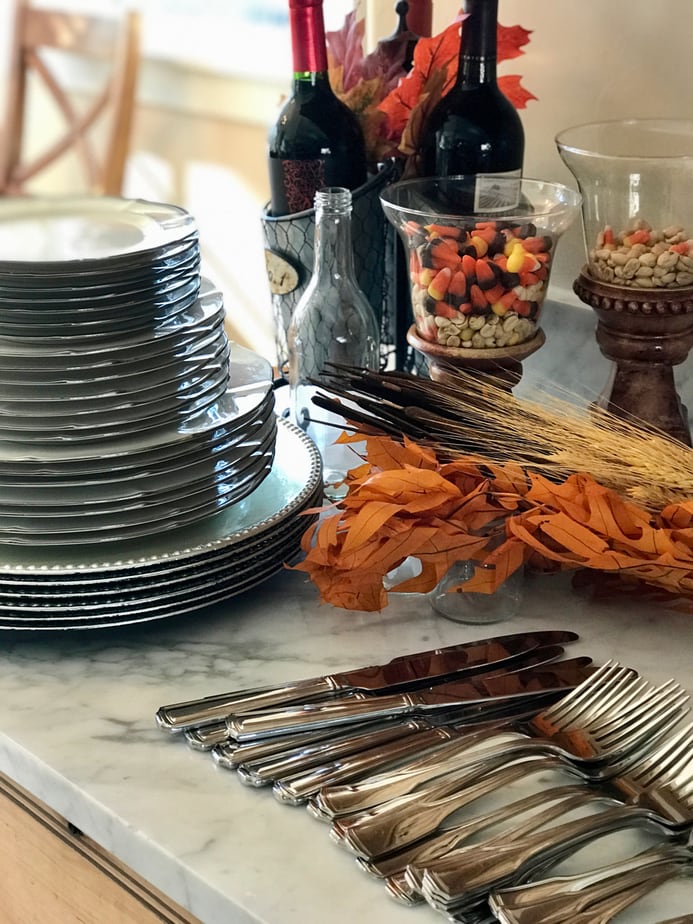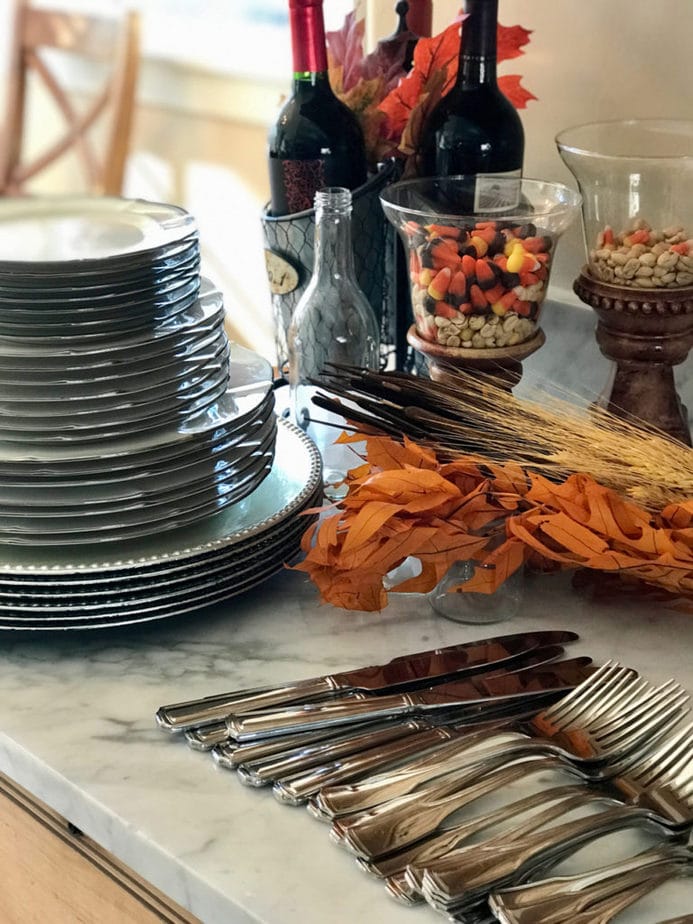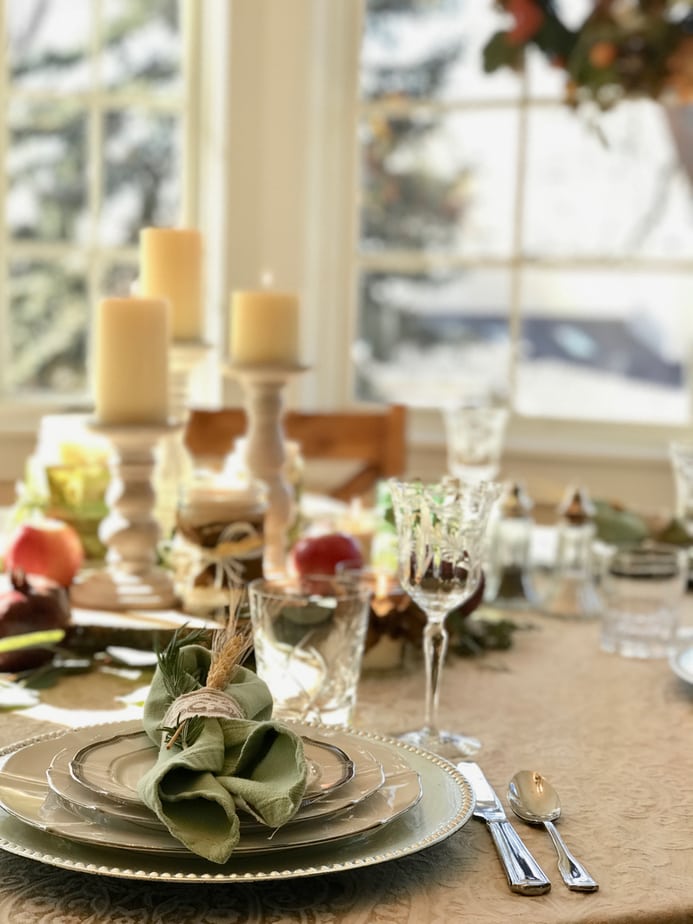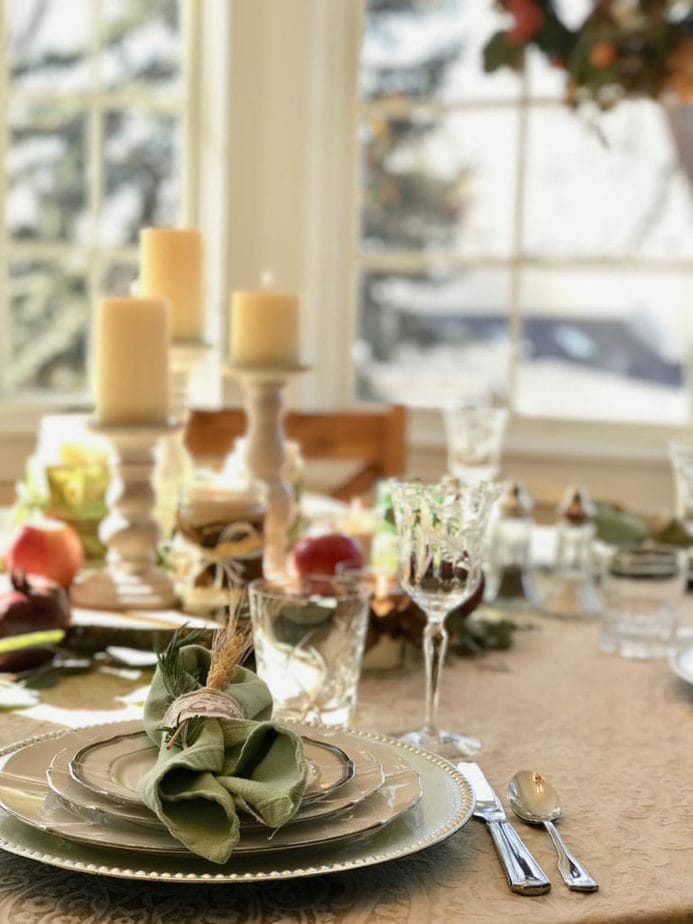 Purchasing a small amount of seasonal flowers is a very inexpensive way to decorate your table! These gorgeous orange and red tipped roses brought an amazing pop of color to the table.
One last shot of the table, just before we sat down to eat. This is how to celebrate Thanksgiving 2020 style!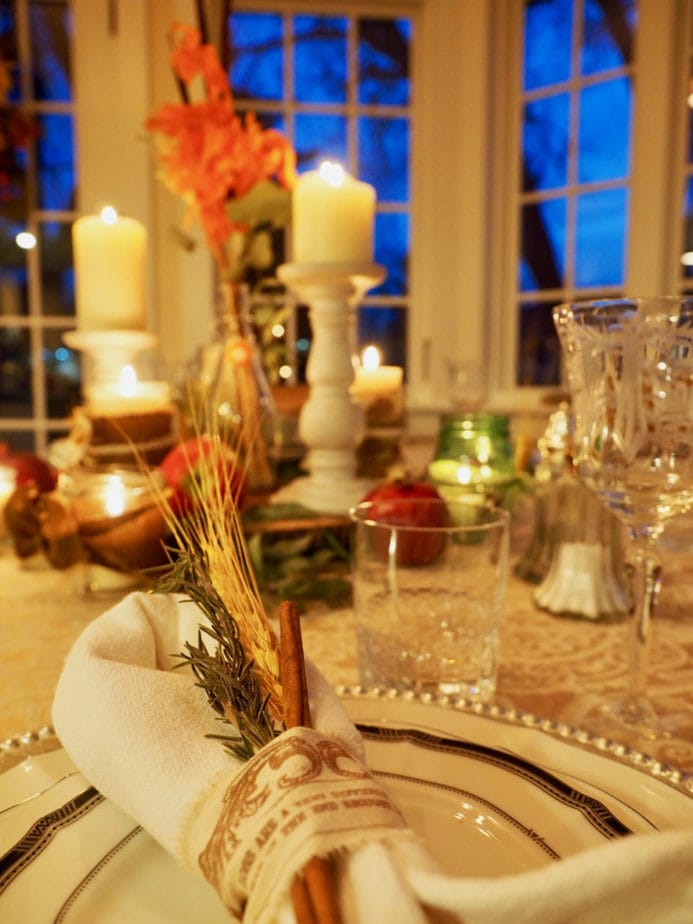 To go along with last weeks post, we are rounding out the Thanksgiving meal, just so everyone understands, I do not normally make the entire meal!
I highly encourage you to ASK for HELP! I have a large family and typically there are a few friends, neighbors, boyfriends/girlfriends sprinkled in as well.
We'll often have 28 at our table(s) on Thanksgiving! Regardless of how you are celebrating this year, make things ahead, ask others to bring something; sides, drinks, appetizers, desserts, $100, a new puppy…whatever your heart desires. 🙂
And if you are going to someone's house, offer to bring something or three somethings!
SIMPLE AND CHEAP PLACE CARDS
I purchased fresh bay leaves (in the refrigerated produce section of our grocery store) and using a gold metallic pen wrote names right on the leaves. These look beautiful for Thanksgiving and Christmas as well as for other gatherings throughout the year.
Additionally, I bought some inexpensive burlap ribbon (usually on sale at Hobby Lobby or JoAnn's) and wove it throughout the tables.
Thanksgiving Menu Ideas
Grab a glass of whatever you prefer and give thanks. A couple of my favorite verses are below.
Let them praise the Lord for his great love and for the wonderful things he has done for them.
For he satisfies the hungry with good things. Psalm 107:8-9 (NLT)

Since everything God created is good, we should not reject any of it but receive it with thanks.
For we know it is made acceptable by the word of God and prayer. 1 Timothy 4:4-5 (NLT)

Give thanks to the Lord, for he is good!
His faithful love endures forever. I Chronicles 16:34 (NLT)
I found these song lyrics that can be used as a prayer, I love this!
"Grateful for each hand we hold
Gathered round this table.
From far and near we travel home,
Blessed that we are able.
Grateful for this sheltered place
With light in every window,
Saying welcome, welcome, share this feast
Come in away from sorrow.
Father, mother, daughter, son,
Neighbor, friend and friendless;
All together everyone in the gift of loving-kindness.
Grateful for whats understood,
And all that is forgiven;
We try so hard to be good,
To lead a life worth living.
Father, mother, daughter, son,
Neighbor, friend, and friendless;
All together everyone, let grateful days be endless.
Grateful for each hand we hold
Gathered round this table."
– Mary Chapin Carpenter – Thanksgiving Song Lyrics
Happy Thanksgiving friends and family!