As an Amazon Associate, I earn commissions from qualifying purchases (
disclosure policy
).
These Mexican recipes in my Cinco de Mayo Recipe Collection are healthy, quick and easy, you'll be serving them up in no time for your celebration — but I'll let you in on a little secret, I don't really need a special day to eat Mexican food! I can eat it just about every day!
Honestly though, I am really putting together this Cinco de Mayo Recipe Collection so I have all of my Mexican recipes all in one place! Be sure to look for the recipes at the end from some of my fellow bloggers!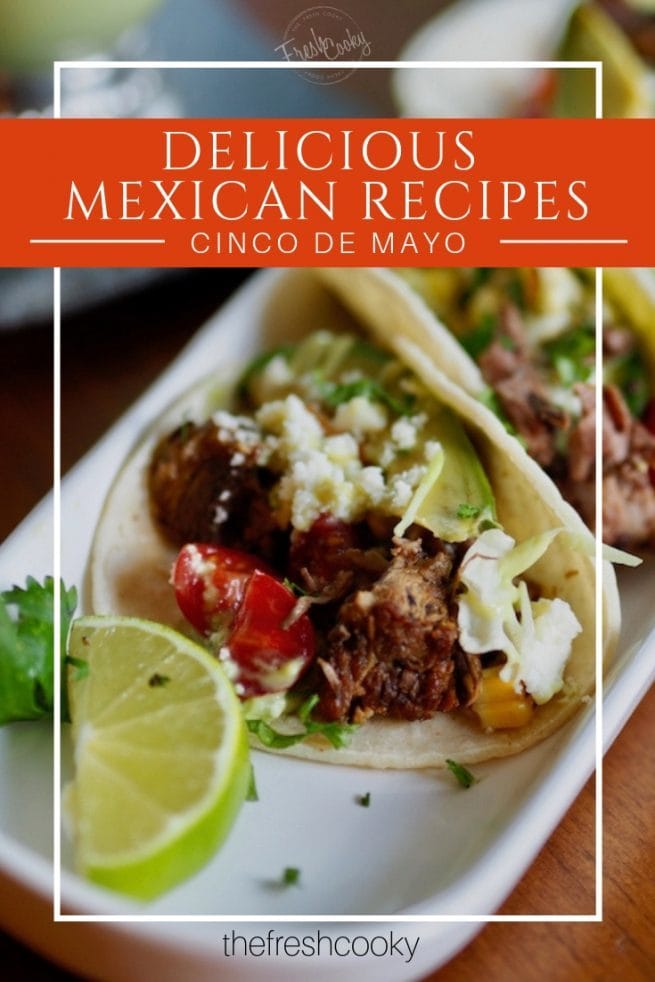 I'm probably the most boring person when it comes to my favorite Mexican meal; if I'm cooking I don't mind making a variety of Mexican foods, but if we go to a restaurant, you will hear me order the same thing every time — Cheese Enchiladas, rice and beans.
Yup, super simple, nothing fancy for me and the more cheese the better!! Easy and ready in 30 minutes or less!
Along with my enchiladas and rice, in my ovenproof skillet, I heat some refried beans on the stovetop, top it with shredded cheese and stick it in the oven to melt.
More great recipes from my blogging friends!
Last but never least, D-E-S-S-E-R-T! Oh yeah, my fave for sure! While these are not all traditional Mexican desserts, they can certainly be cajoled into behaving like one!
Cinco de Mayo beverages
Drinks are a must at your celebration! Try these simple recipes:
Don't forget to PIN your favorites on Pinterest — I realize you cannot make all of these delectable recipes in one day, but save them for next week…wink – wink.

I hope you enjoyed perusing this Cinco de Mayo Recipe Collection!

Cinco de Mayo Recommendations