4 Ingredient Margaritas (Regular or Frozen)
As an Amazon Associate, I earn from qualifying purchases. Please read my disclosure policy.
This Simple 4 Ingredient Margarita recipe is my go-to margarita recipe with a SECRET ingredient adding a delightful flavor. Salty, limey and tangy deliciousness! Bonus! How to make margarita slushies!!
SIMPLE 4 INGREDIENT MARGARITAS (Regular or Frozen)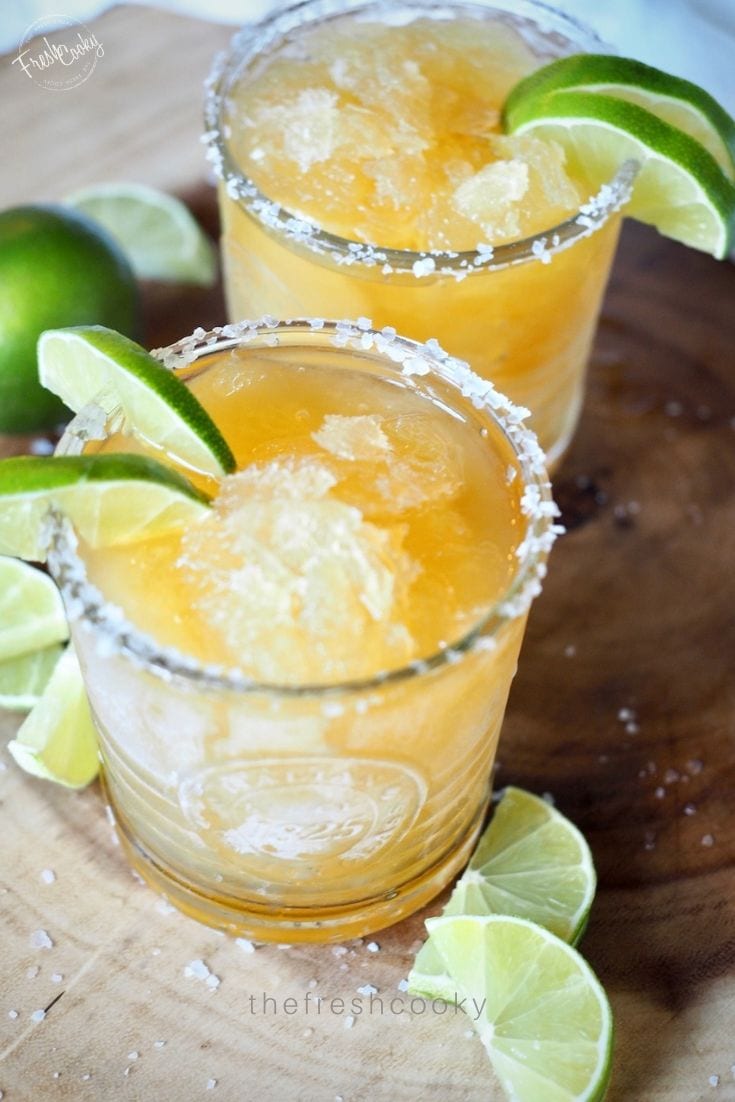 4 Ingredients To A Delicious Margarita
This is a very simple, barely-even-need-a-recipe kind of recipe! Just 4 ingredients and you are set for a party! My kind of recipe! I've been making and sharing this recipe for years, since my boys were babies as a matter of fact, thanks to Allison, a long time friend from my MOPS days.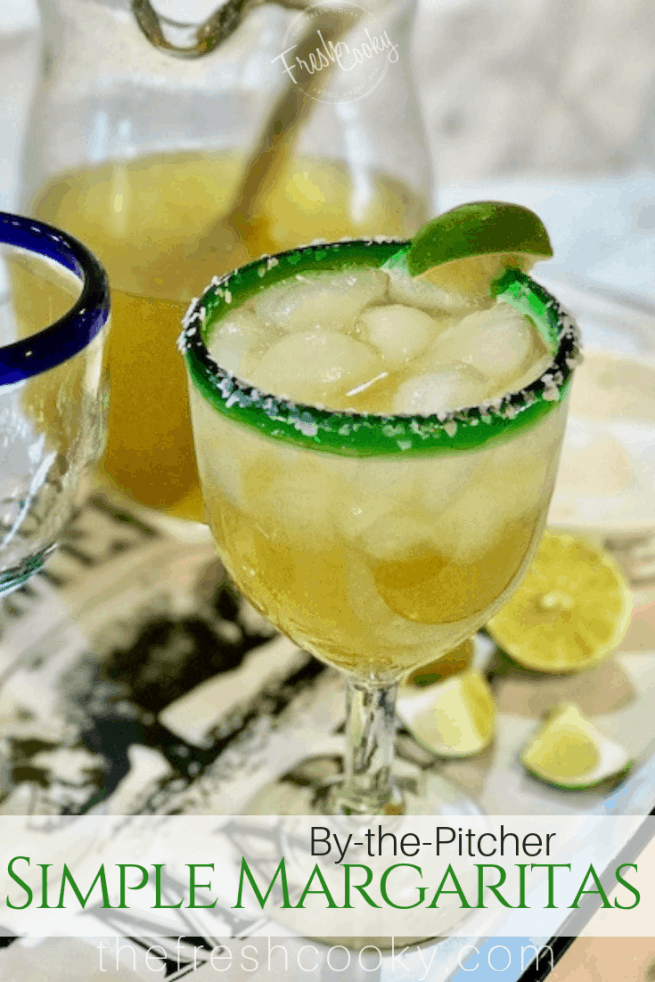 In the summer I keep the ingredients on hand, it's quick and simple for those times when you need a quick drink if someone drops by.
SECRET INGREDIENT IN 4 INGREDIENT MARGARITAS!
Pour 1 cup of Rose's Sweetened Lime Juice, 1 cup Tequila and drum roll please….the SECRET INGREDIENT…pour 1 cup of (unfiltered) apple juice into the pitcher, add ½ cup Triple Sec (or Grand Marnier) and stir. That's it! Serve over ice with a salted rim (if desired) and a squeeze of lime.
WARNING | These are strong! Please, please always drink responsibly.
TIP | When salting the rim, don't put the ice in first (like I tend to do), but first rub your lime wedge around the rim of the glass, then dip your glass (upside down) in your salt, then put your ice in. Beautiful every time.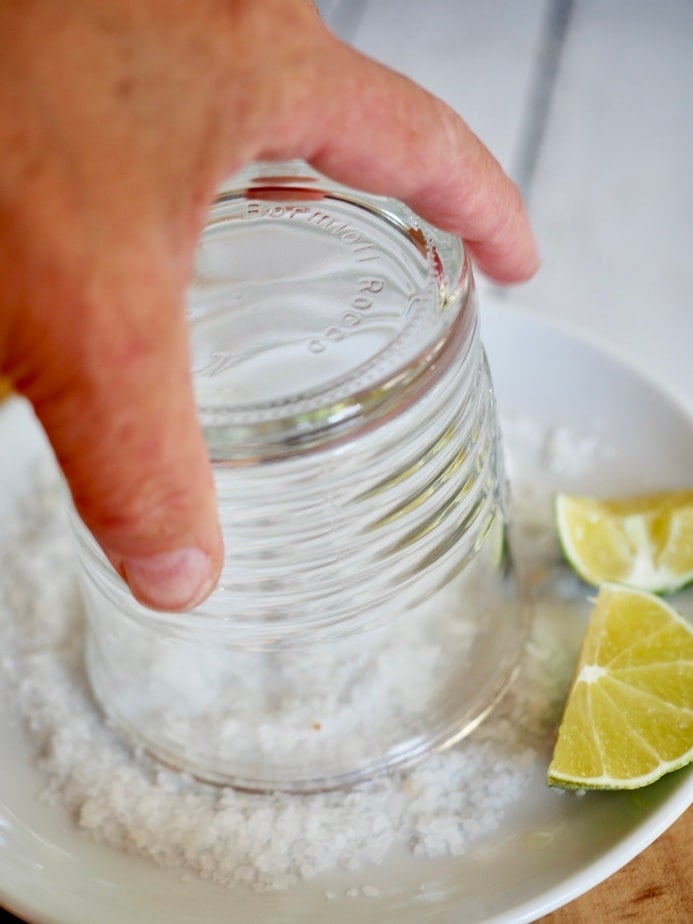 While you are at it, throw together a quick appetizer or charcuterie board. So easy to assemble, it doesn't need to be fancy. I bought some olives, cherries, Marcona almonds, cheeses and crackers, tossed in some strawberries and there you have it! Delicious, colorful and nutritious!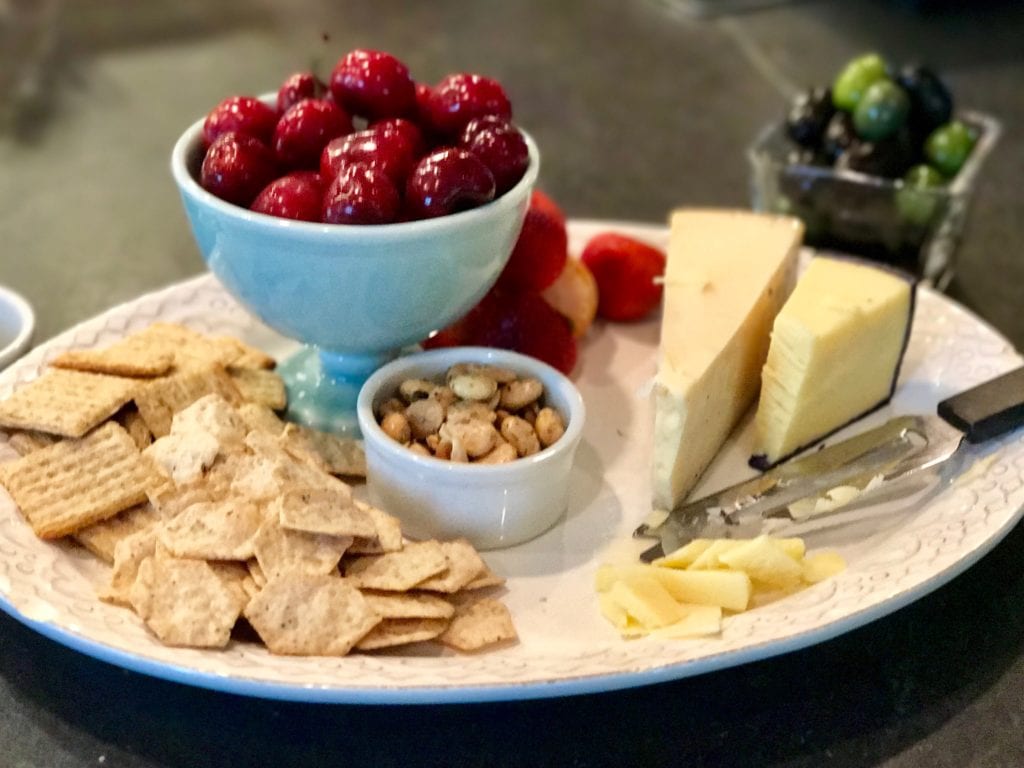 FROZEN MARGARITA SLUSHY (Freeze to have on hand!)
Freezing your cocktail seems to be the rage, so I thought I'd get in on it. Simply mix together your margarita ingredients well, place in a freezer friendly container and freeze. I used my small mixing bowl since it has a lid. WARNING, these are even stronger since you aren't pouring them "on the rocks". If you make these into slushies, you may want to add some crushed ice or a touch of water to take them down a notch.
When ready to serve, freeze your glasses for 15 minutes or more if desired and rim your glass with flaky salt, add a scoop of crushed ice and and scoop using a medium scoop the slushy margarita mixture into the frosty glass. Garnish with a slice of lime.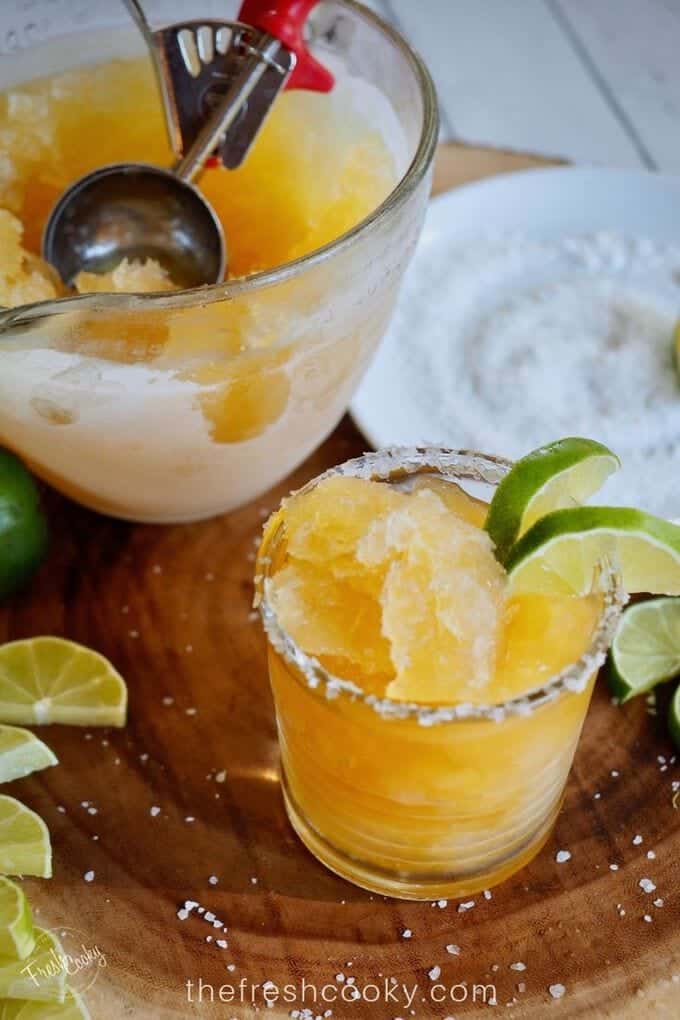 Perfect for Cinco de Mayo, Father's Day or any hot summer day, ah heck, great for any time of year.
TO GO WITH YOUR MARGARITAS:
I am sharing this delicious recipe on Meal Plan Monday and Weekend Potluck!
Like this recipe?
Don't forget to give it a ⭐️⭐️⭐️⭐️⭐️ star rating and comment below the recipe!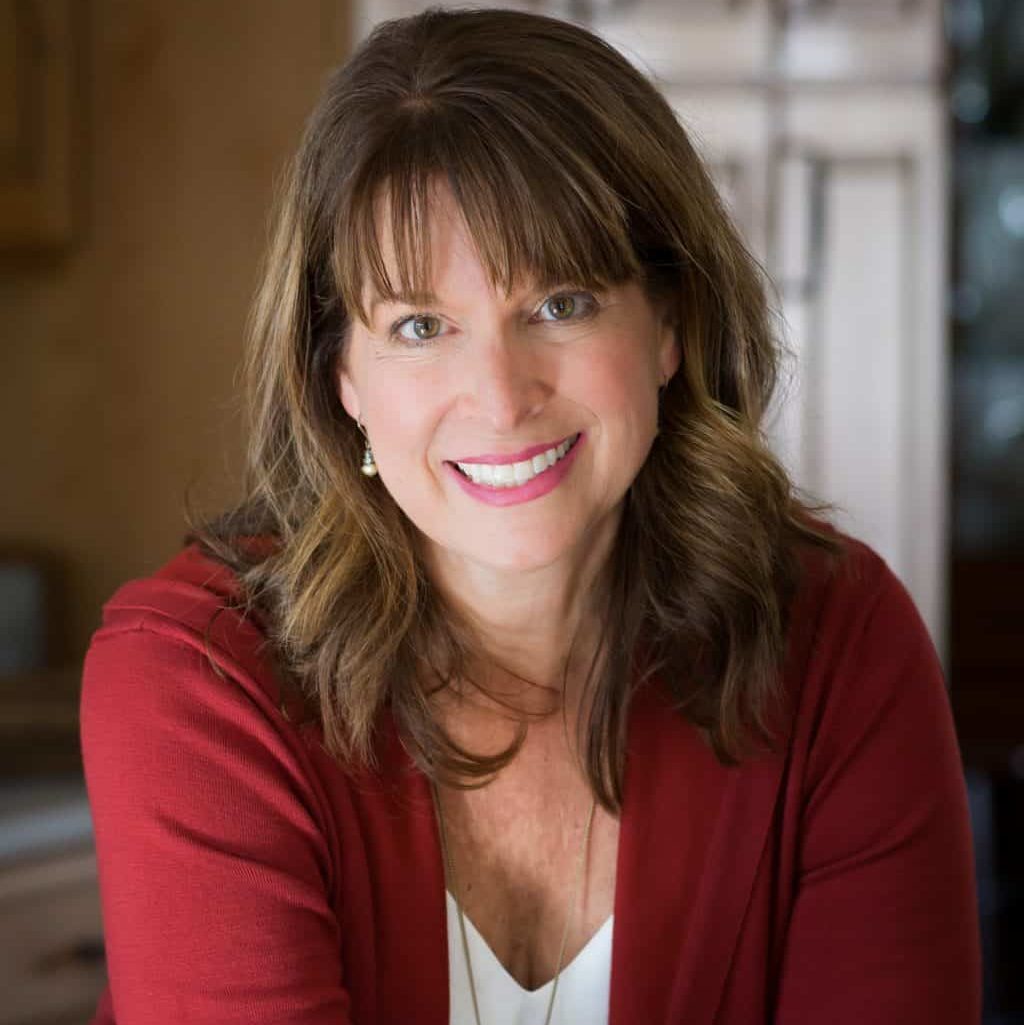 About Kathleen Pope
Recipe Innovator | Food Photographer | Food Writer
Hi, I'm Kathleen Pope. Here at The Fresh Cooky you will find easy, mostly from-scratch, trusted recipes for all occasions. From speedy dinners to tasty desserts, with easy step-by-step instructions. I am here to help teach you how to make mouthwatering recipes without spending hours in the kitchen. Read more about Kathleen here.