As an Amazon Associate, I earn from qualifying purchases. Please read my disclosure policy.
I have been asked over the years if I have a Colorado Green Chile recipe or Chile Verde; and I did not, until now! Using tasty New Mexico roasted Hatch green chiles, jalapeños, pork, tomatoes and spices slow cooked to release the best flavors! Rich, thick Colorado Green Chile can be served alone like a chili or soup, used for smothering a burrito, as a side for any Mexican dish!
This recipe is easier than you think too and comes together in no time flat, you can even slow cook it in your oven or crockpot. Naturally gluten-free and easily adapted to be vegetarian.
We love Mexican food in our home and apparently you do too! Try these reader and family favorites! Creamy Chicken Poblano Soup, Instant Pot Carnitas and this scrumptious Chile Relleno Casserole.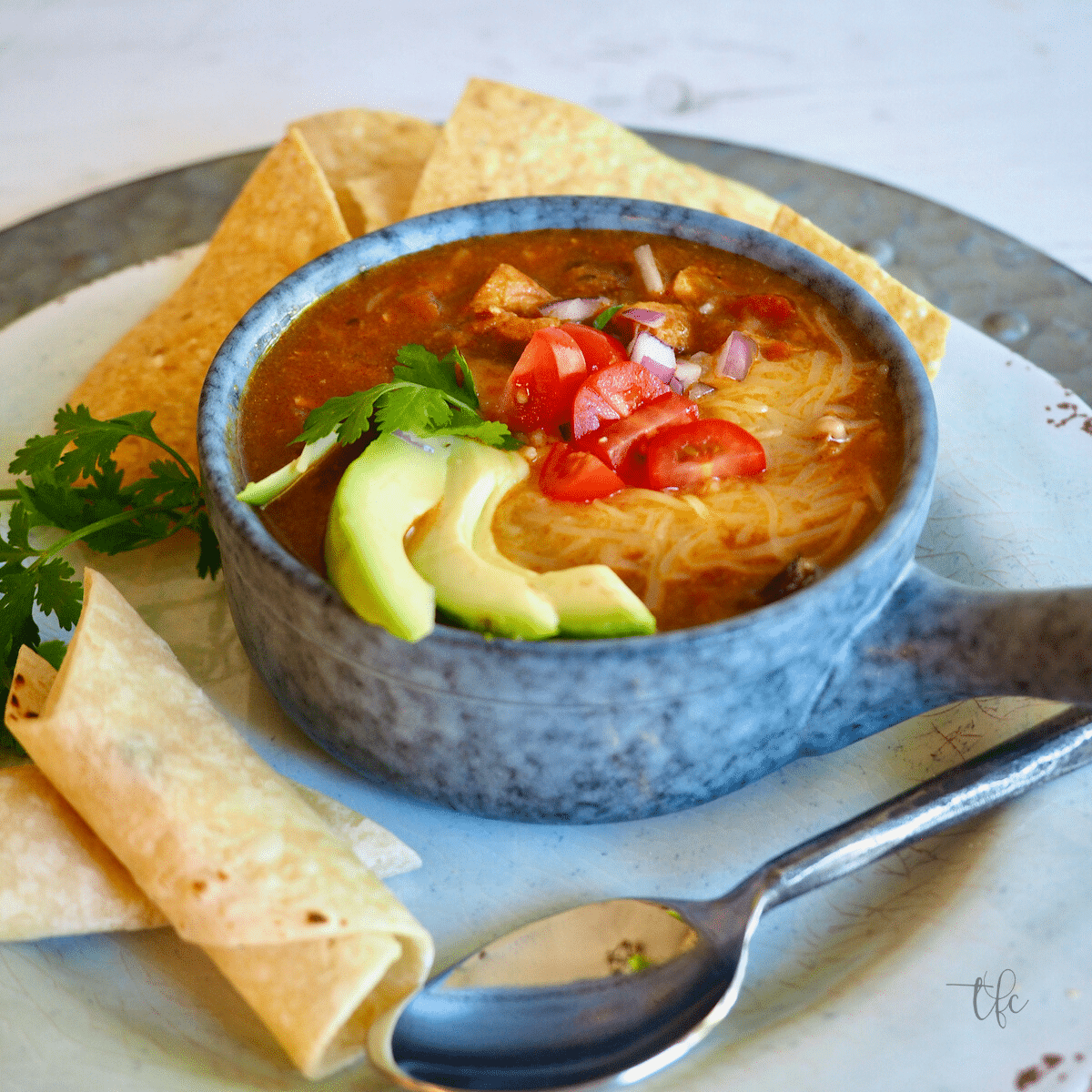 Anyone who knows me, knows I am a bit of a spice wimp, but as I "mature", I seem to be able to tolerate more spice heat; not weather heat, I still, and always will wilt!
I first had Colorado Green Chile when our cousins came to town and we took them to a local Mexican restaurant. They ordered pork green chile as an appetizer. It came with a big basket of warm tortilla chips and as they dug into this odd looking, admittedly unappetizing concoction, I decided to join them.
My taste buds sang that night, not too spicy, but super flavorful; full of pork, Hatch green chiles and oodles of melted cheese, gobbled up with fresh tortilla chips!
Award Winning Mile High Green Chile
I have wanted to post this recipe for awhile, and I am joining other fabulous bloggers for a Chili Cookoff! Be sure to browse all of the wonderful recipes at the end of this post!
In researching for the best green chile recipe , we think this is the best recipe! I scoured cookbooks, magazines, the internet and my friends and neighbors for the best award winning chili verde recipe! Like any regional recipe, there are so many variations.
In the end, our neighbor kept telling me about the recipe he had for an Award winning Mile High Green Chile, I took his recipe, tweaked it ever so slightly. This is an award winning green chile recipe, that was featured in a local magazine. That was good enough for me!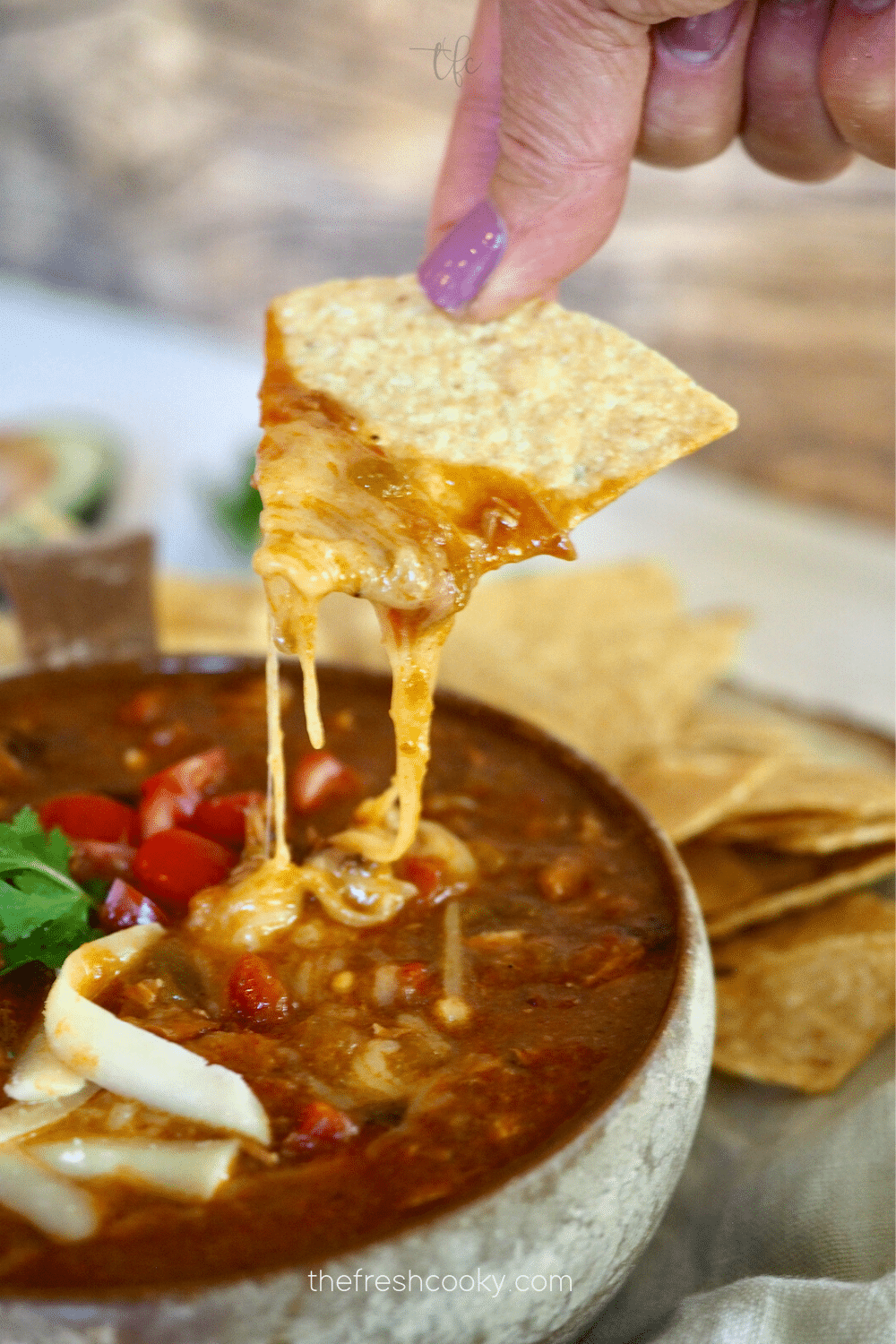 What is a Hatch Green Chile?
Hatch Green Chiles are only grown in the Hatch Valley, NM — is quite the Colorado obsession. These green chiles are in season from mid August through late September, so it's easy to miss this season! Which I obviously did this year!
Colorado actually grows their own version of the Hatch Green Chile, called the Colorado Green Chile, the pepper, not the soup or stew, I outline the differences below.
When picked early and then roasted, Hatch green chiles have a very smoky, upfront flavor, then as the chiles mature and turn red, they develop a slightly sweeter flavor profile and a more earthy underlying taste." Source
Chile vs. Chili
I have always thought of "chili" as the beef based stew we make in the fall and wintertime, and Chile as something with peppers, turns out, I am not all that wrong.
In fact, depending on where you live, just about any variation goes! But technically, a "chile" is a pepper and Chili or Chilli is a soup or stew. I don't care how you spell it — just make this Mile High Green Chile!
Primary Ingredients
Reading through this post will provide a visual and written recipe making experience, however; if you are in a hurry, simply scroll to the bottom and print out the recipe card with all of the details.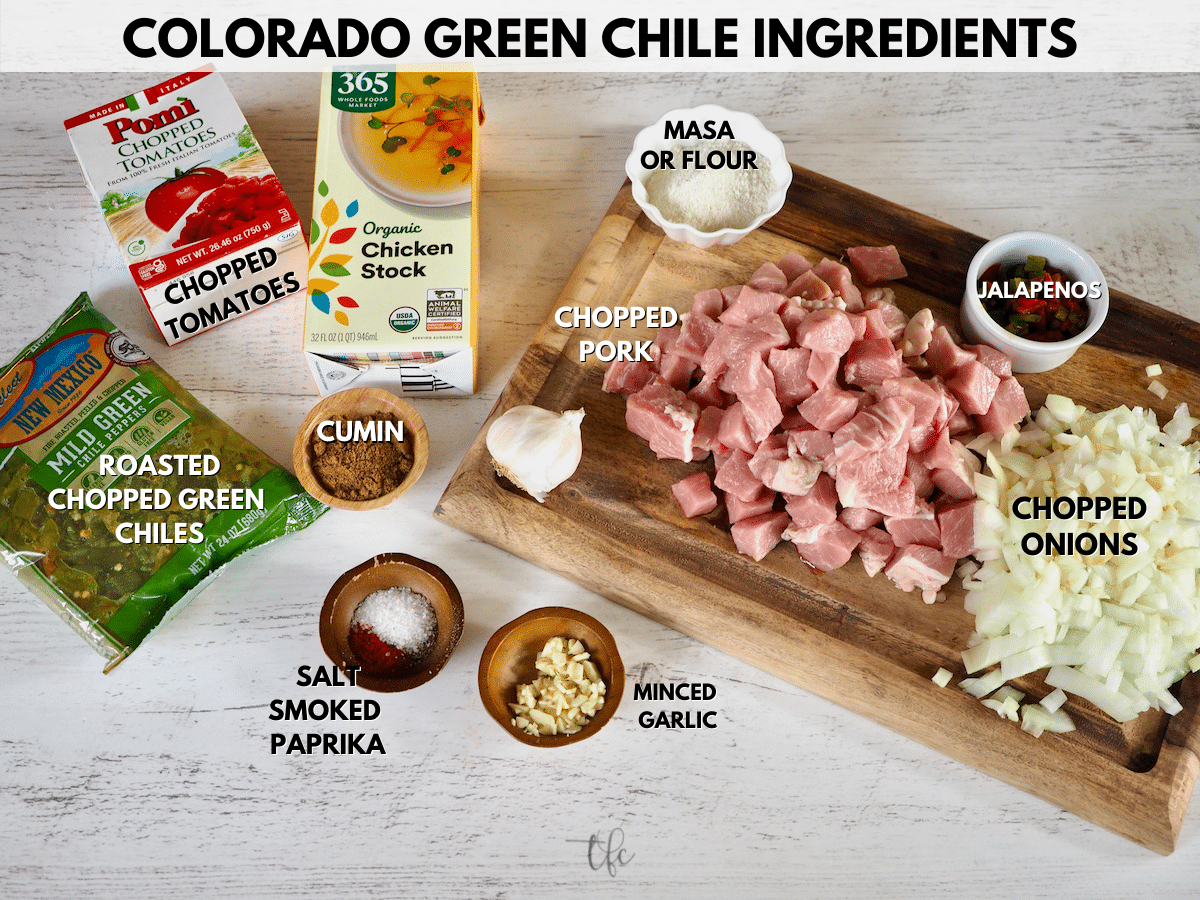 Pork | Pork green chile is classic and traditional in this Southwestern stew.
Diced or Stewed Tomatoes | I like a little more tomatoes in mine, but you can adjust as you prefer.
New Mexico roasted green chilies | Fresh or frozen, Hatch, Colorado Green Chiles, or Anaheim are close too.
Jalapenos | Roasted, Fresh or canned is fine.
Chicken Stock or Broth | Like your green chile thick, use less, like it more soup-y, add more!
Masa | Traditional Chile Verde is made with gluten-free Masa (corn flour), if you don't have any, you can swap for regular flour.
Butter | Just a touch to make the roux, which will thicken this green chile stew perfectly.
Spices | Already so many great spices in this dish, but minced garlic, cumin and a little smoked paprika, will take it over the top.
Instructions
Add a tablespoon or two of oil (vegetable or olive works) to a large frying pan (this is my favorite pan!), over medium-high heat, add pork in batches, sprinkle with salt and pepper, don't crowd the pan. You don't want to steam the meat, but get a quick, crisp sear on the outside. Set aside.
In a large soup pot, add a tablespoon of oil and cook the chopped onions until caramelized and translucent; then add minced garlic, cumin and smoked paprika, stirring around for one minute to bloom the spices.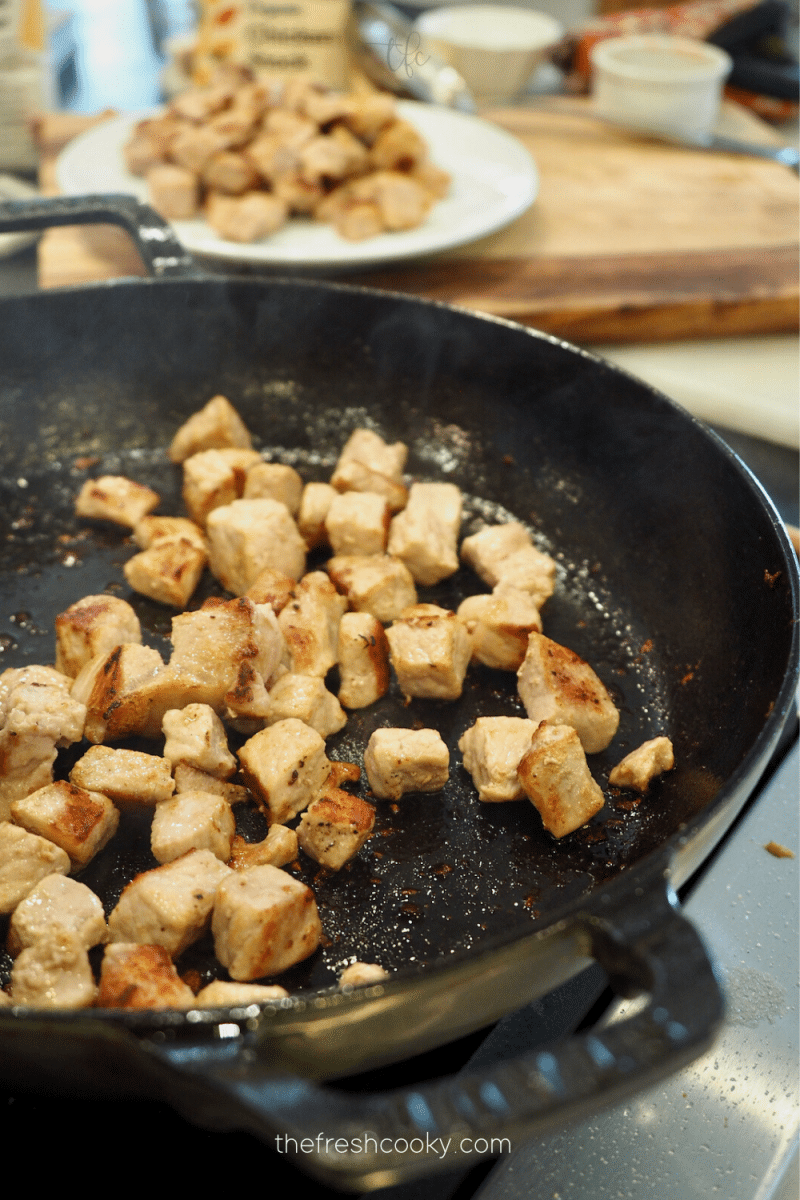 Add the tomatoes, the green chilies and jalapenos. Bring to a simmer on low, then stir in the browned pork.
TFC PRO TIP | I used a 26 oz box of diced tomatoes, which tends to overpower the "green" in the chile, but I like tomatoes and thought it will yield a slightly milder flavor. If you want it greener, then add a standard 15 oz can of tomatoes.
Meanwhile, add the butter to the skillet you browned the pork in (don't wash it, you want all of those flavorful brown bits), over low heat, once butter is melted, add the masa flour to the melted butter, stirring constantly for about 1 minute, until flour is lightly browned.
Add chicken stock slowly whisking constantly until thickened. This is a roux, which will thicken the stew.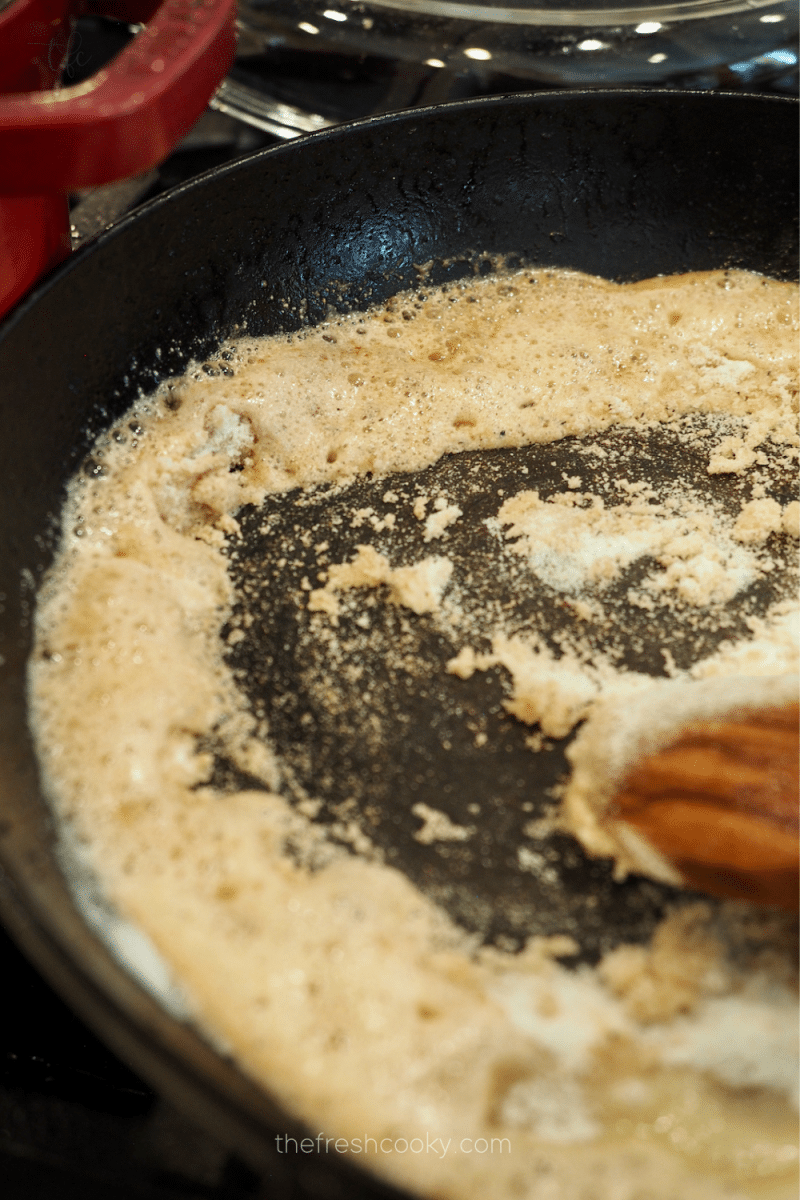 Add the roux to the green chile, stirring to combine, and simmer for at least 2-3 hours. See notes below for Oven cooked green chile and Crock Pot versions.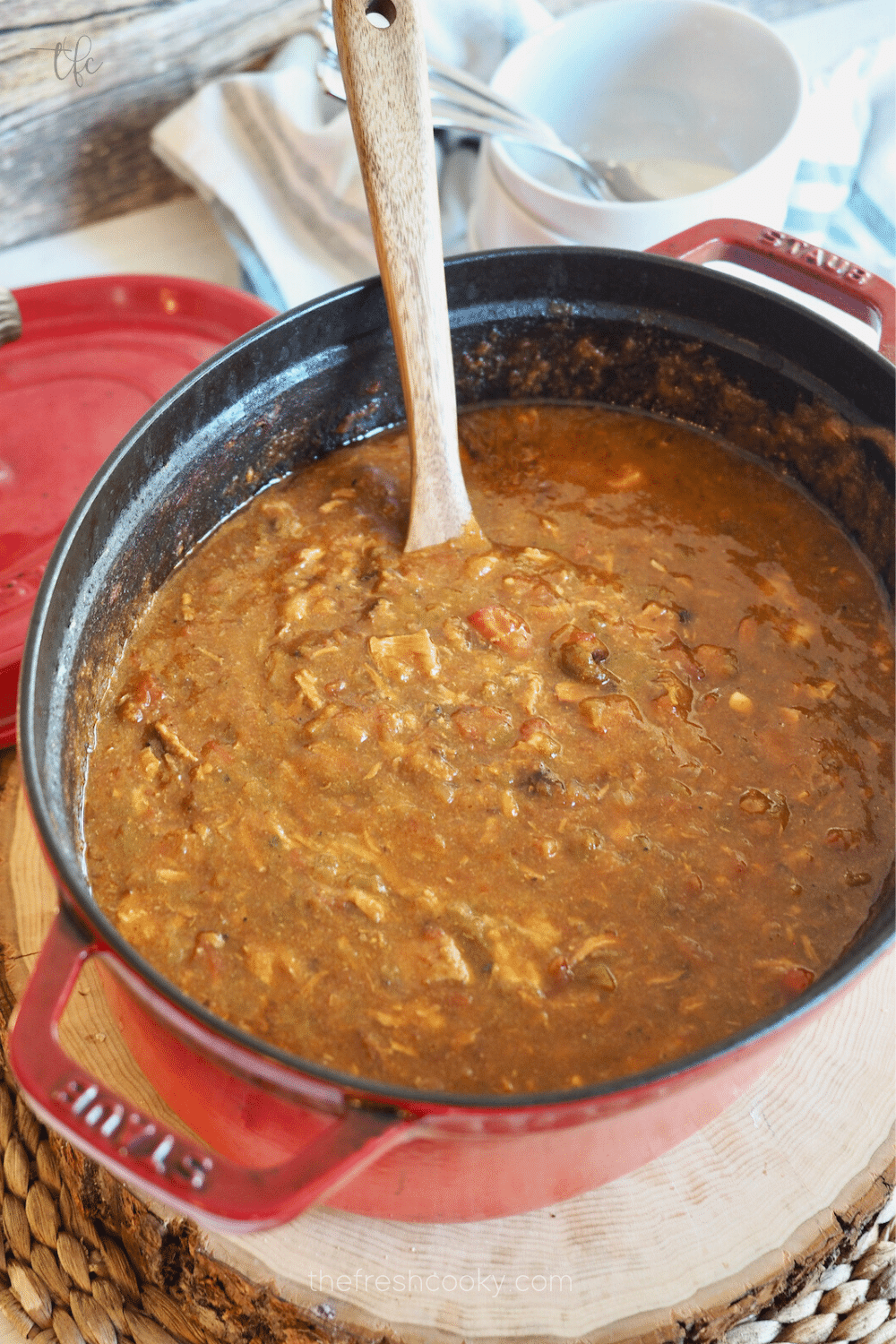 Recommend Equipment
A few pieces of kitchen equipment will make this recipe even easier to make!
Large Frying Pan | I seriously recommend this Staub Everything pan, because I really do use it for everything! From easily and quickly sautéing beef for my Cheesesteak Sandwiches to making Sloppy Joes, you will love this pan!
Soup Pot | You need a 5-6 quart soup or stock pot, I used my Coquette, because it easily went from stovetop to oven! This is a less expensive version of the same type of pot.
Knife | A good sharp knife is essential in recipes like this, from dicing the pork, chopping the onions, mincing garlic — my favorite kitchen, that I use for everything, is this Wusthof Santoku knife.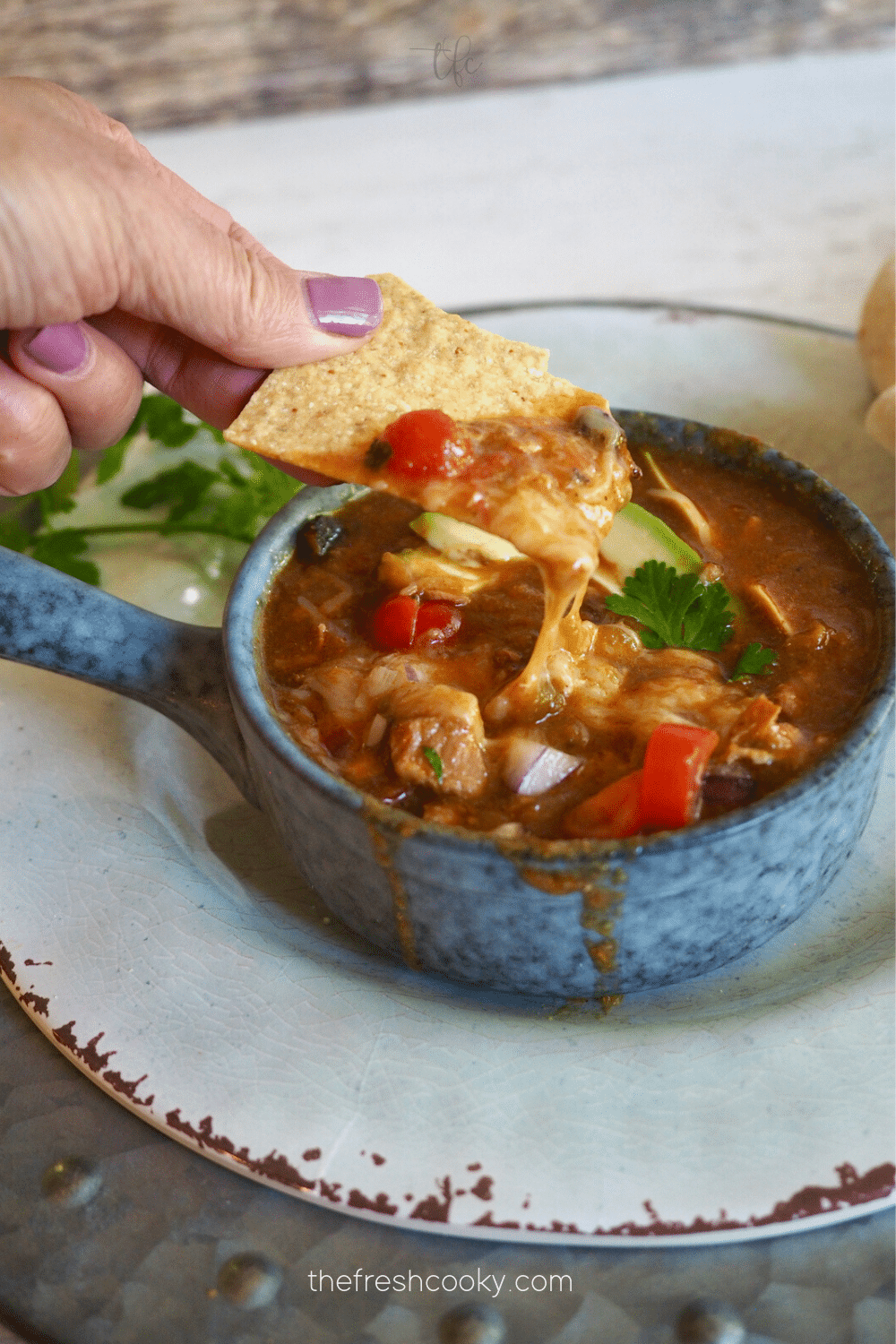 How to make Slow-Cooked (Dutch Oven) Colorado Green Chile
My stovetop tends to get pretty hot even on simmer, so for tomato based recipes, like my Grandpa Frank's Spaghetti Sauce (so yummy), I tend to finish simmering in the oven, using a Dutch Oven.
Preheat the oven to 250 degrees F and place the (oven safe) covered pork green chile in the oven. I let mine stew (get it) for 6-7 hours, the pork was fall apart tender.
Crock Pot Chile Verde
Yes, you can make this Chile verde in the crock pot! A couple of tips so you attain the same great results as slow cooking this tender Colorado green chile.
Saute the onions in a large frying pan until translucent, add the garlic and spices, stirring around until bloomed. Remove from pan and add to crockpot, add tomatoes, green chiles and jalapenos.
Add a little oil to the same pan, increase heat to medium-high, salt and pepper the pork pieces and brown in batches, remove and add to crock pot.
Make the Roux | Add butter to the same pan over medium-low heat, melt, then quickly whisk in the masa (flour) until browned and bubbly, about a minute.
Whisking constantly, slowly whisk in chicken stock until it's thick, like a gravy. Stir into a crock pot, cover and cook on low 8-10 hours or on high 4-5 hours.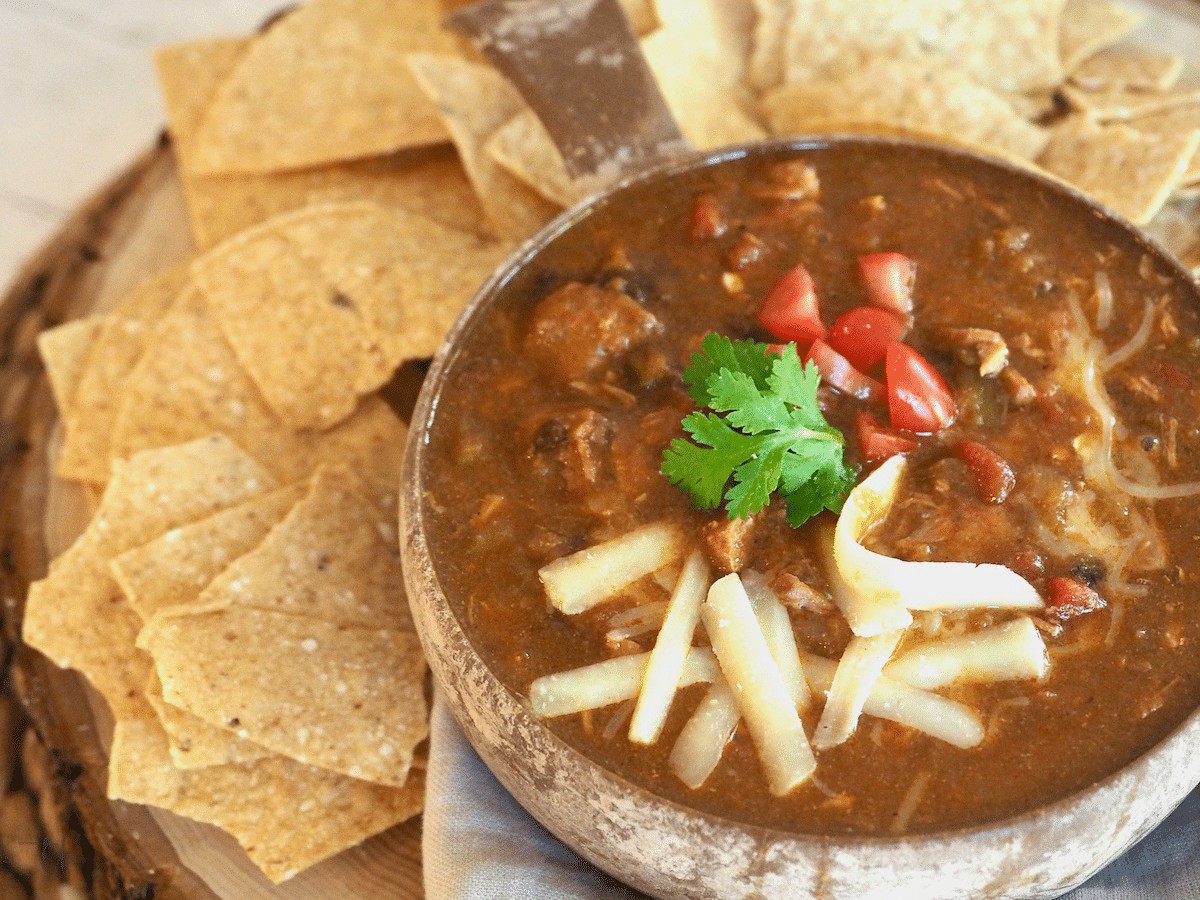 Variations
Gluten-Free Pork Green Chile | This recipe is naturally gluten-free as long as you are using Masa flour! You can also substitute Masa with a good GF All-Purpose Flour.
Vegetarian Colorado Green Chile | Easily adapt this recipe to be vegetarian, actually even vegan.
Omit the pork
Substitute oil for the butterl (reduce slightly when making the roux)
Replace chicken stock with vegetable broth ⇐ make your own!
Frequently Asked Questions
What's the difference between Colorado Green Chili and New Mexico Green Chile?
The growing conditions in each state make the peppers slightly different, the Pueblo green chili has slightly thicker skin, while Hatch green chiles have slightly thinner skins, most likely due to the altitude.
Is Green Chile a Colorado Thing?
When I first moved to Colorado, almost 3 decades ago (eeks), as a former Southern California girl, I had eaten my fair share of Mexican food, but the New Mexico or Tex-Mex flair was new to me.
Yes, Green Chile is a Colorado thing. In almost every Mexican restaurant you will find a variation on the menu. Now you can make Colorado Green Chile no matter where you live!
Is Green Chile Recipe hot (spicy)?
We all have different taste buds when it comes to spice, I felt that this green chile recipe has a nice amount of heat, without overwhelming the tastebuds or overpowering the other ingredients. But if you love things really spicy, adjust the spices to your level of liking. See below for details.
I can't find frozen New Mexico Green Chiles?
You can roast your own Green Chiles! You will need about 24-32 oz (3-4 cups), each chile once roasted, seeded and chopped yields about 1 oz of chiles, so you will need between 18-24 roasted green chiles. Or, though not optimal, you can use canned Hatch green chiles.
What's the difference between Colorado Green Chile and Chile Verde
The biggest difference is that Chile Verde uses tomatillos in place of the diced tomatoes used in this recipe, they are both "green chiles" which is what Chile verde means (chile green), but using tomatillos is more traditional and keeps the chile recipe all green.

If you want to use tomatillos, use about 12-18 ounces, husked, rinsed and halved. Cut in half and place cut side down, on a foil-lined baking sheet. Place under a broiler for about 5-7 minutes to lightly blacken the skin. Remove from oven, let cool enough to handle. Puree in blender and add to chile verde. You may opt to not roast the tomatillos and puree them raw as well, but the flavors will be better if you roast them.
How do I roast Hatch Green Chiles?
I roasted my jalapeños on my stovetop, which is the same method, see the pictures below.
Wash and dry green chiles, wear gloves while you are handling chiles and don't touch your eyes!
You can roast whole, or slit lengthwise and remove seeds and roast.
GRILL OR GAS STOVETOP | place chile peppers directly over the flame on the grill or stove, roasting until blackened and blistered.
OVEN Roasted Green Chiles | Lay chile peppers on a sheet pan, move the rack to about 5 inches from the broiler and broil over high heat until skin is blistered and charred on all sides. If necessary, remove and turn the chile peppers for even charring.
Both Methods | Once evenly blistered and blackened, place chiles in a plastic baggie, bowl covered with plastic wrap or a paper bag. Allowing them to "steam" for about 15-20 minutes, this will allow you to remove that charred skin leaving behind the smokey, delicious chile pepper.
TFC PRO TIP | Do not wash the peppers after blistering or removing the skin, this will wash away some of that delicious smoky flavor!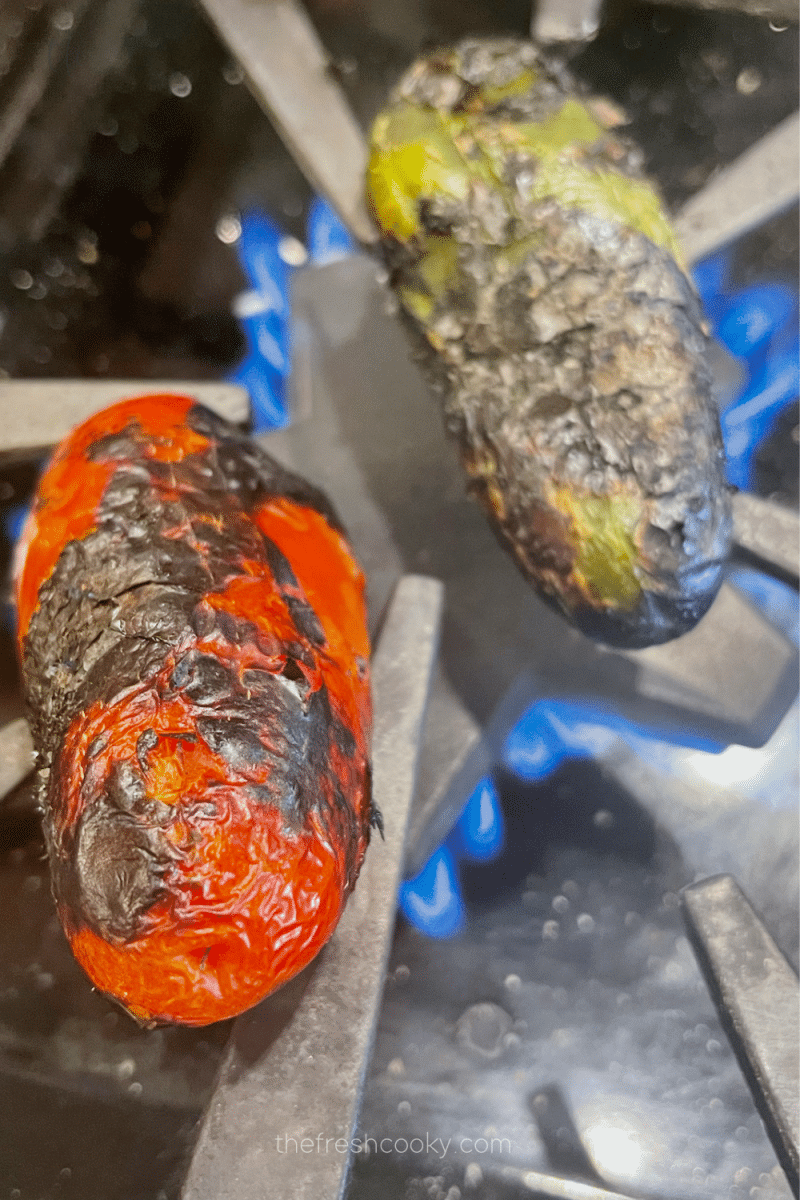 Substitutions
The biggest substitution you will probably need to make is in regard to the Hatch green chiles, here are my suggestions:
Roast your own chile peppers (see above)!
Can't find Hatch or Colorado Green Chiles? Use Anaheim peppers instead.
If you absolutely cannot find fresh or frozen green chiles, then purchase high quality canned Hatch Green Chiles, using the same amount.
Pork | I used diced pork, but, if you prefer, you can use a whole pork shoulder roast or pork butt. Follow instructions for searing on all sides, until a nice crust forms. Then add to the chile ingredients, including 2-3 cups of chicken stock. I suggest waiting to make the roux (thickener) and adding after you remove and shred the pork. If necessary add additional chicken stock.
Hot Green Chile
I get it, some like it hot! 🙂
Use fresh jalapenos vs. roasted or pickled and increase the amount. For instance, I roasted the jalapeno's which reduces the heat factor, making the jalapeno milder.
Get out your cayenne or Chipotle powder, adding a bit at a time, increase to your taste.
Serve with a spicy salsa, or make your own salsa adding hotter chile peppers.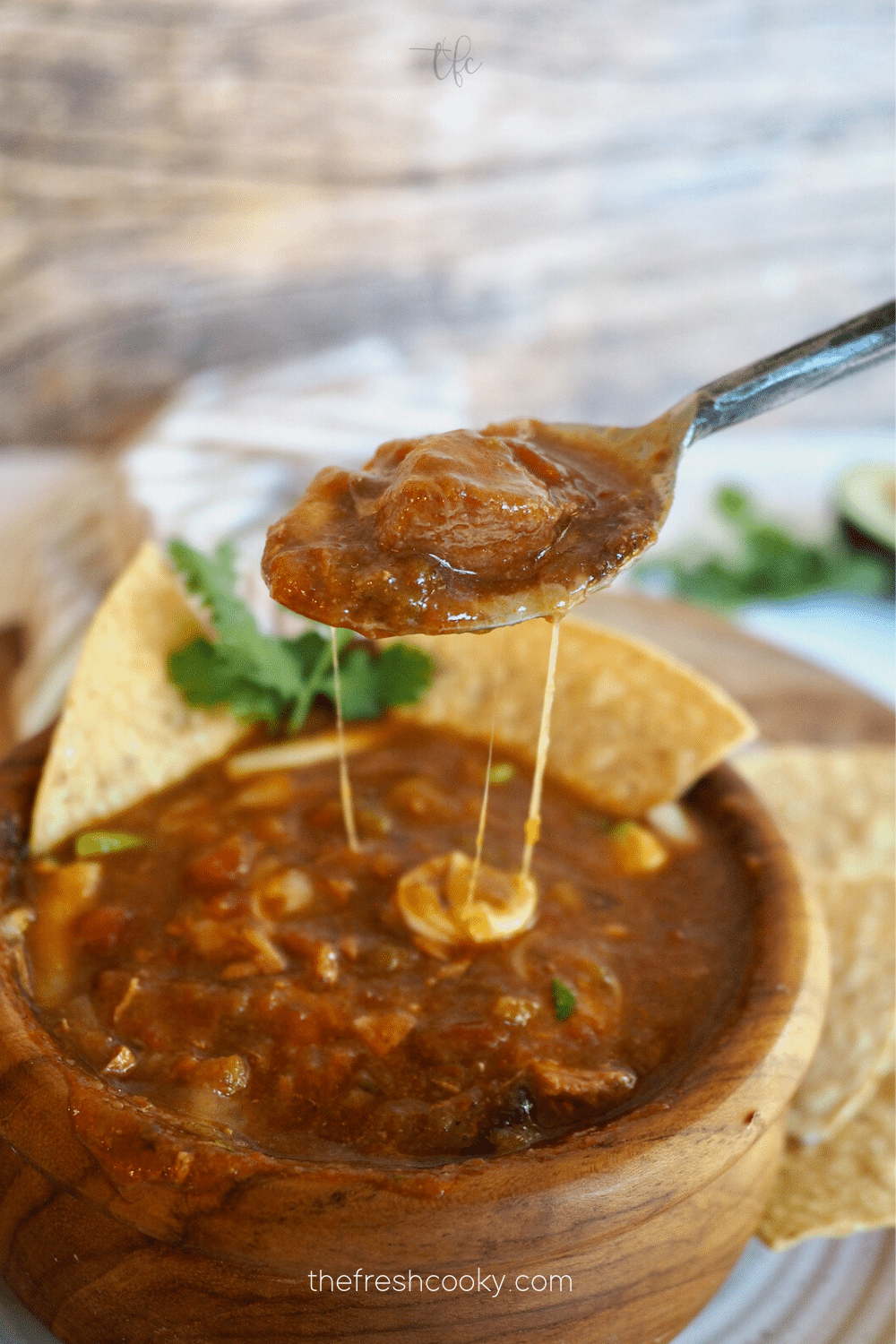 Ways to Enjoy Mile High Green Chile
This is one of THOSE recipes that you can enjoy in many ways!
Eat as is, as a soup or stew; kind of like this Tortilla Soup!
Add a generous amount of shredded cheddar cheese and serve with chips as a delicious and hearty appetizer.
Stuff enchiladas with this delicious green chile, or simply smother and use in place of your usual enchilada sauce.
Smothered | Most Mexican restaurants in the Southwest will ask if you want it "smothered" which simply means, pouring a generous portion of green chile over the top of the main dish.
Add spoonfuls over eggs and potato dishes for a delicious Southwestern, Huevos rancheros type of dish!
Delicious served over rice, try this Cilantro Lime rice for a little more flavor!
Don't forget to serve with tortilla chips or flour or corn tortillas.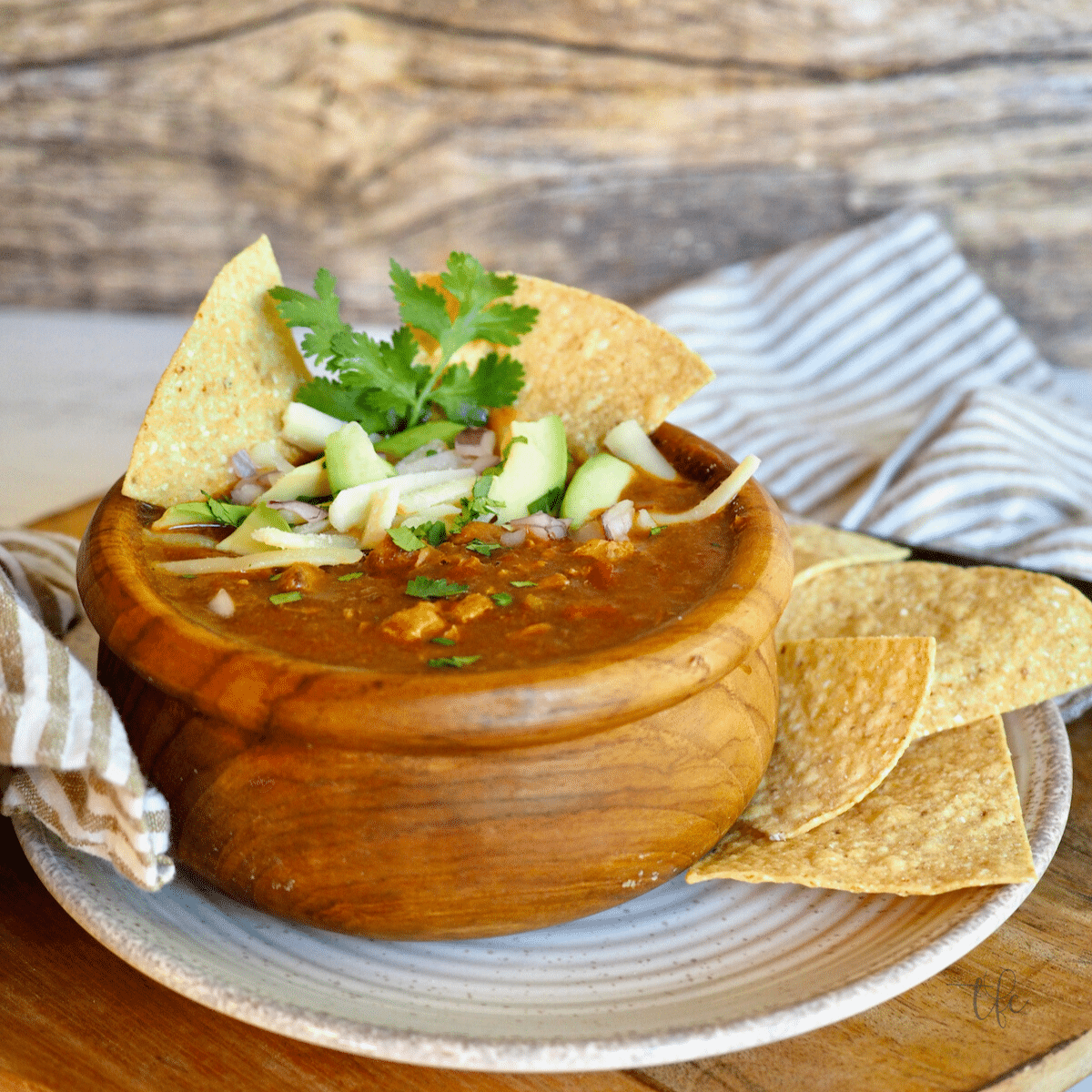 Suggested ways to Garnish Pork Green Chile
These are my favorite ways to eat this award winning green chili recipe!
Fresh chopped cilantro, a must for any Mexican inspired dish!
Sliced or diced avocados, I think the flavors compliment this green chili perfectly!
Chopped fresh tomatoes, they add a delicate flavor.
Squeeze of fresh lime juice just brightens the overall flavor.
Crushed tortilla chips, kind of like Tortilla soup
Chopped red onion and/or sliced black olives
Mexican Crema or Sour Cream; because sour cream 🙂
CHEESE — everything is better with cheese, if making this vegan, then be sure to use plant-based cheese and sour cream.
STORAGE
The beauty of making this big ol' pot of Mile High Green Chile is that it, well, makes a lot! Our family is now holding steady for a few more months at 3 people, so you can better believe that I am freezing up some of this delicious chile for later on!
Cool completely and store in an airtight container in the fridge for 5-7 days, and up to 4 months in the freezer. Thaw and use however you like!
I sure hoped you enjoyed this recipe, if so, be sure to PIN to your favorite board and leave a comment below!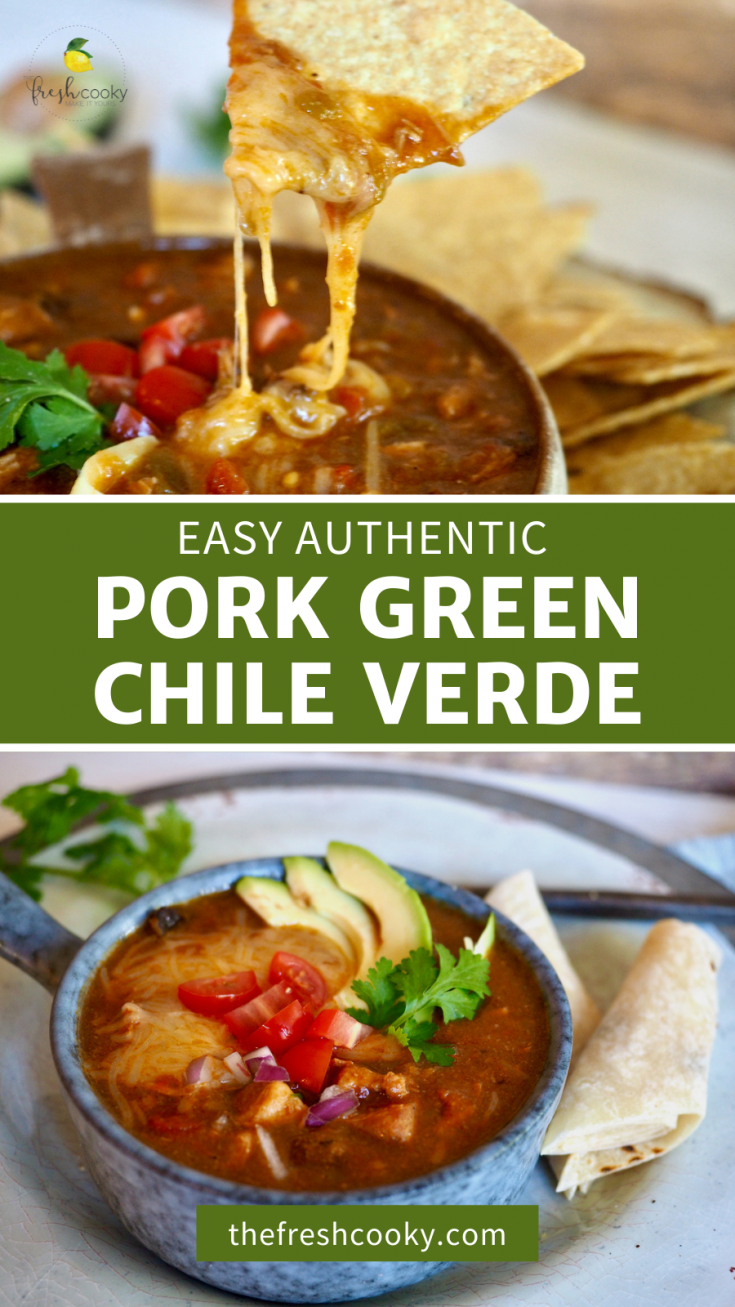 Welcome to our 2021 Chili Cook-Off!
October is Chili Cook-Off Month! We have delicious recipes from across the country to get your chili making to the next level of deliciousness!

#ChiliCookOff is an annual blogging event that is hosted by Ashley from Cheese Curd In Paradise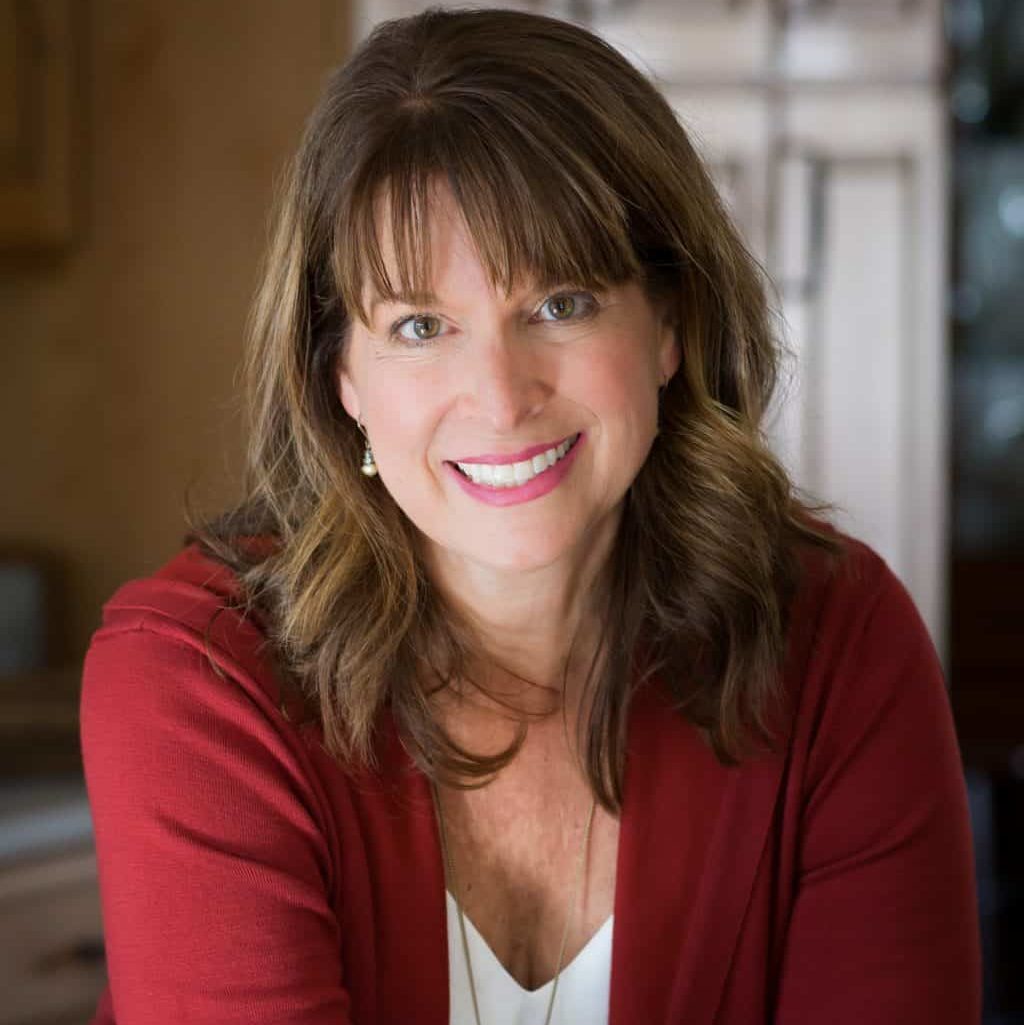 About Kathleen Pope
Recipe Innovator | Food Photographer | Food Writer
Hi, I'm Kathleen Pope. Here at The Fresh Cooky you will find easy, mostly from-scratch, trusted recipes for all occasions. From speedy dinners to tasty desserts, with easy step-by-step instructions. I am here to help teach you how to make mouthwatering recipes without spending hours in the kitchen. Read more about Kathleen here.