These Healthy Hibiscus Margarita's will transport you to the tropics! This hot pink, sweet-tart recipe uses traditional ingredients, combined with hibiscus flower syrup or tea, to create a beautiful and tasty drink. No expensive plane trip or resort fees required! Sip this beauty on a rooftop, lake, front porch, deck, bathtub, couch, pool…you get the idea.
HEALTHY HIBISCUS MARGARITAS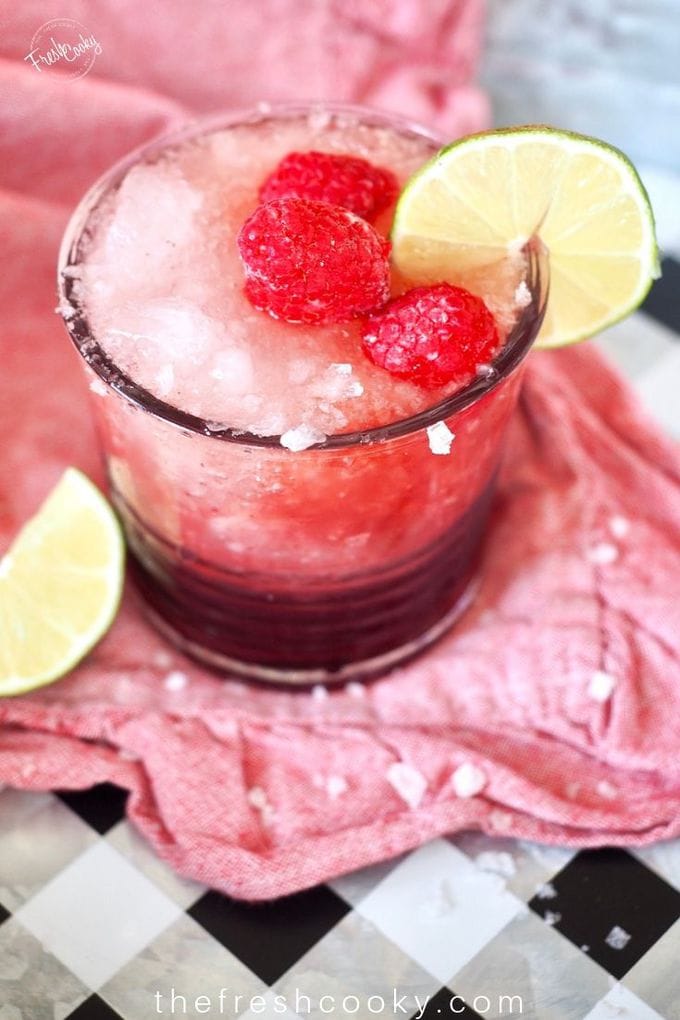 The Healthy Hibiscus Margarita is made with dried hibiscus flowers, the same flowers used to power Celestial Seasonings Red Zinger and Tazo's Passion tea. It's a powerful petal people (did ya catch that alliteration!?). These flowers produce to some pretty positive results and are linked to aiding with the following:
Historically, hibiscus tea has been used in African countries to decrease body temperature, treat heart disease, and sooth a sore throat.
Recent studies have looked at the possible role of hibiscus in the treatment of high blood pressure and high cholesterol. (source)
I am not a medical practitioner, please consult your physician if you have questions.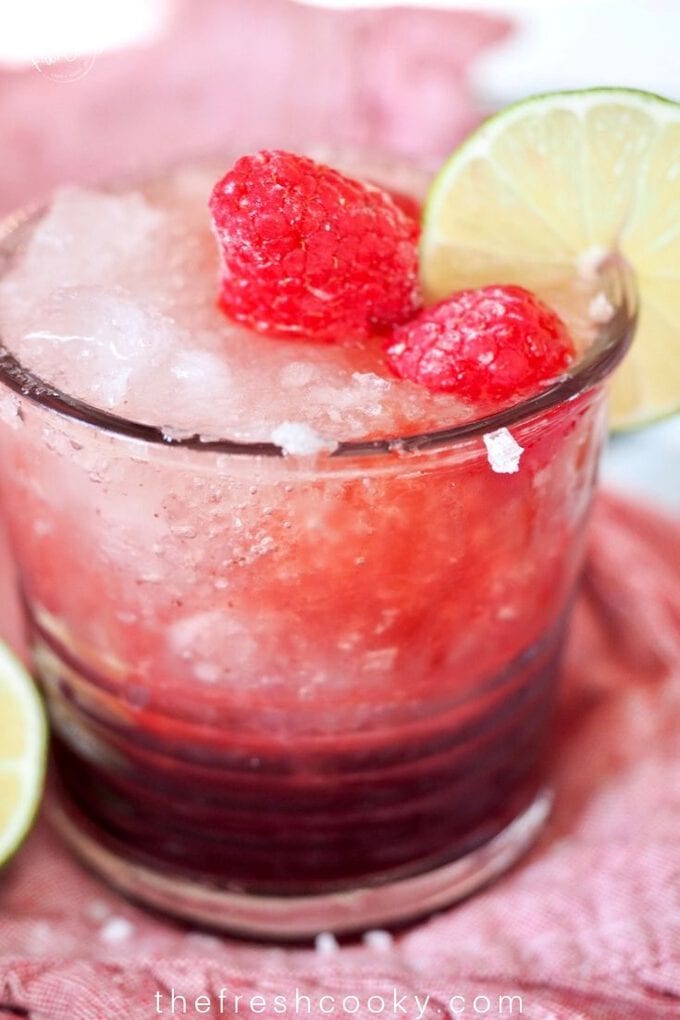 I've been a bit obsessed with Hibiscus of late and what's not to love about it!? The COLOR is so naturally hot pink, with the perfect sweet-tart balance and knowing it has healthy benefits! Yes, please!
So why not whip up some Easy Barbacoa Street Tacos or maybe some simple Creamy White Queso Dip and invite some friends over for a little Mexican fiesta or a tropical luau! These Healthy Hibiscus Margarita's will be a hit!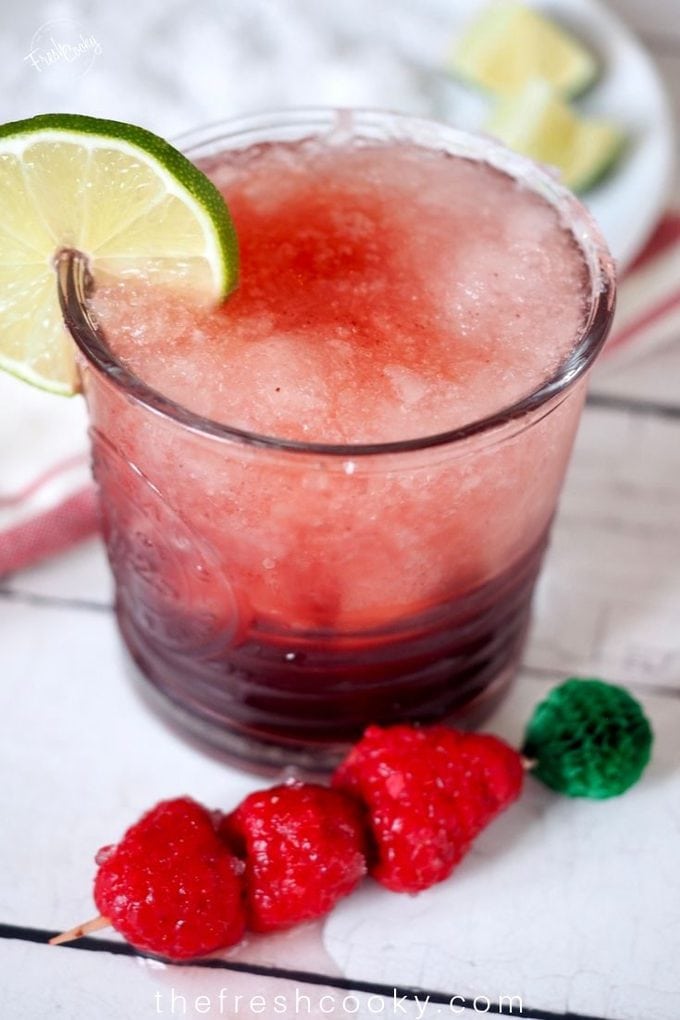 4 INGREDIENT HIBISCUS MARGARITAS
That's it! Simple ingredients that anyone can assemble, plus, since it's tea based it's essentially health food, right??
MAKING HIBISCUS SIMPLE SYRUP
Maybe this step sounds too hard to tackle; simply make up some of this Hibiscus Simple Syrup (simple is even in the name) and wow your friends all summer with these beautiful, boozy, floral, citrusy and bright cocktails…or you can "simply" purchase Hibiscus Syrup. P.S. A list of multiple ways to use this beautiful syrup on the Hibiscus Simple Syrup post.
JAMAICA, BAHAMAS, OR MEXICO?
What's the origin of Hibiscus cocktails? Do you care? I don't! LOL! Whether it's a Bahama Breeze, a Margarita de Jamaica or a Hibiscus Mojito, this flower rocks the tropical world. And if you love hibiscus but don't want the alcohol or calories, try my Copycat Starbucks Passion Tea Lemonade.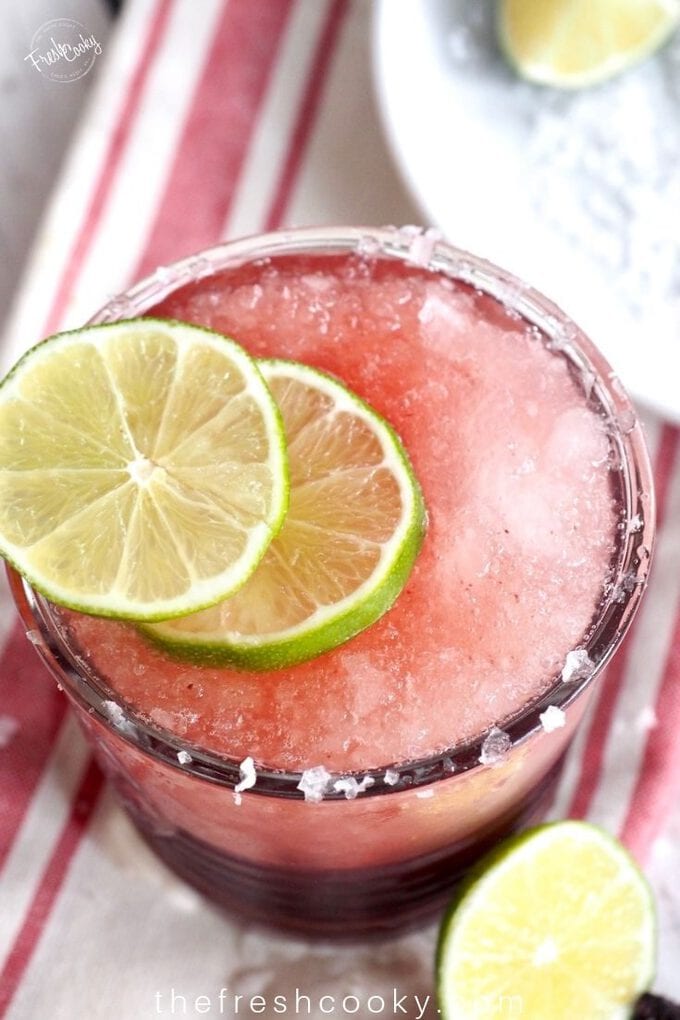 MAKING A HEALTHY HIBISCUS MARGARITA
If you enjoy a salted (or sugared) rim, if not, skip to the next step. Rub a wedge of lime around the rim of the glass, then turn upside down and swirl in rimming salt, plain or lime would be yummy too, or try something like this cane sugar rimming sugar.
Fill a glass with ice (I prefer crushed), then pour tequila and hibiscus syrup or tea into the glass.
Followed by the orange liqueur and lime juice, that's it!
Give it a little stir if you wish to blend the color throughout, then if desired garnish with a wedge of lime, or maybe a hibiscus flower in syrup, or fresh raspberries or other fresh bright berry!
COCKTAIL OR MOCKTAIL
As with all of my cocktails, you can easily convert this Healthy Hibiscus Margarita into a Healthy Hibiscus Cooler by simply omitting the alcohol and topping the drink off with your favorite mixer; try tonic water, any sparkling water, seltzer, add a splash of lemon or limeade and you have a delightfully refreshing mocktail.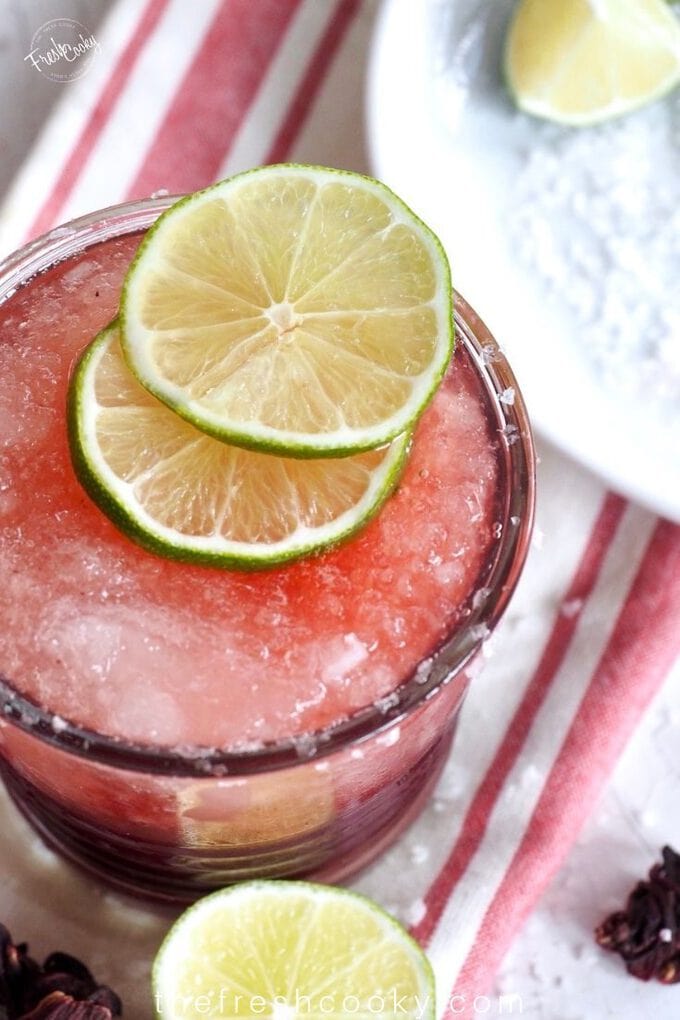 Make a big batch using the same ratios and pour a scant half cup over ice per person.
As a great non-alcoholic thirst quencher, stir one or two tablespoons of hibiscus syrup into a glass with ice and cold sparkling water.
For an Agua de Jamaica dilute the hibiscus syrup with even more water and fill with ice.
Check out these other refreshing summer drinks from your favorite bloggers
Enjoy this recipe for Healthy Hibiscus Margaritas? Please leave a comment and rate the recipe in the recipe card.
Hashtag any recipes you make from The Fresh Cooky #thefreshcooky or tag me @thefreshcooky on Instagram to be featured on our stories!
LOVE WHOLESOME DELICIOUS RECIPES? COME FOLLOW ALONG!
Share a picture and tag it #TheFreshCooky so we can see it.
GET FREE RECIPES

FROM THE FRESH COOKY DELIVERED RIGHT TO YOUR INBOX!