Creamy and tangy Coconut Lime Chicken Marinade is simple and made with only a handful of natural pantry ingredients. Whole30 approved, and also Dairy Free, Paleo and Gluten Free, this dish will please anyone! Coconut Lime Chicken is probably our families favorite grilled chicken marinade!
PIN NOW for WINNER, WINNER CHICKEN DINNER
Ahh, Mother's Day…breakfast in bed, kids behaving and dressed perfectly, fresh flowers lovingly arranged in a vase…wait what?? Reality check! Instead there is tension as someone takes too long in the shower, I snap at my sweet husband who is just trying to help, we hastily grab a "bar" for breakfast as we run out the door for church, and I regretfully leave in my wake my "perfect" family wondering why in the world they bought me that "Greatest Mom" Mother's Day card?!
So it's not perfect, it's not the Hallmark Sunday Night movie; but it's your crazy wonderful family and you wouldn't have it any other way. Perhaps you'll go out to brunch, or heat up leftovers, or get invited to someone's home, or just maybe, you will be the one making dinner.
Mother's Day Menu Suggestion
Anyhoo, Happy Mother's Day to all of the imperfect, wonderful, well meaning, on-their-knees praying, flawed, beautiful, sacrificing, nursing, taxi driving, amazing and loving mom's far and wide! Happy Mother's day Momma! I love you!!! My teacher, inspiration, biggest cheerleader and fan! Isn't she beautiful!?
How to make Coconut Lime Marinade
You mix de lime with de co-co-nut! This is seriously some of the best and moistest chicken you'll ever try. Don't like coconut? Try it anyway, you don't really taste the coconut! Not a fan of limes? No worries! This marinade is subtle and yet does something amazingly wonderful to make it the most moist, delicately flavored chicken ever!
Double the batch and throw 3-4 ready to go packs in the freezer, to pull out for a rainy day or a sunny, summer BBQ!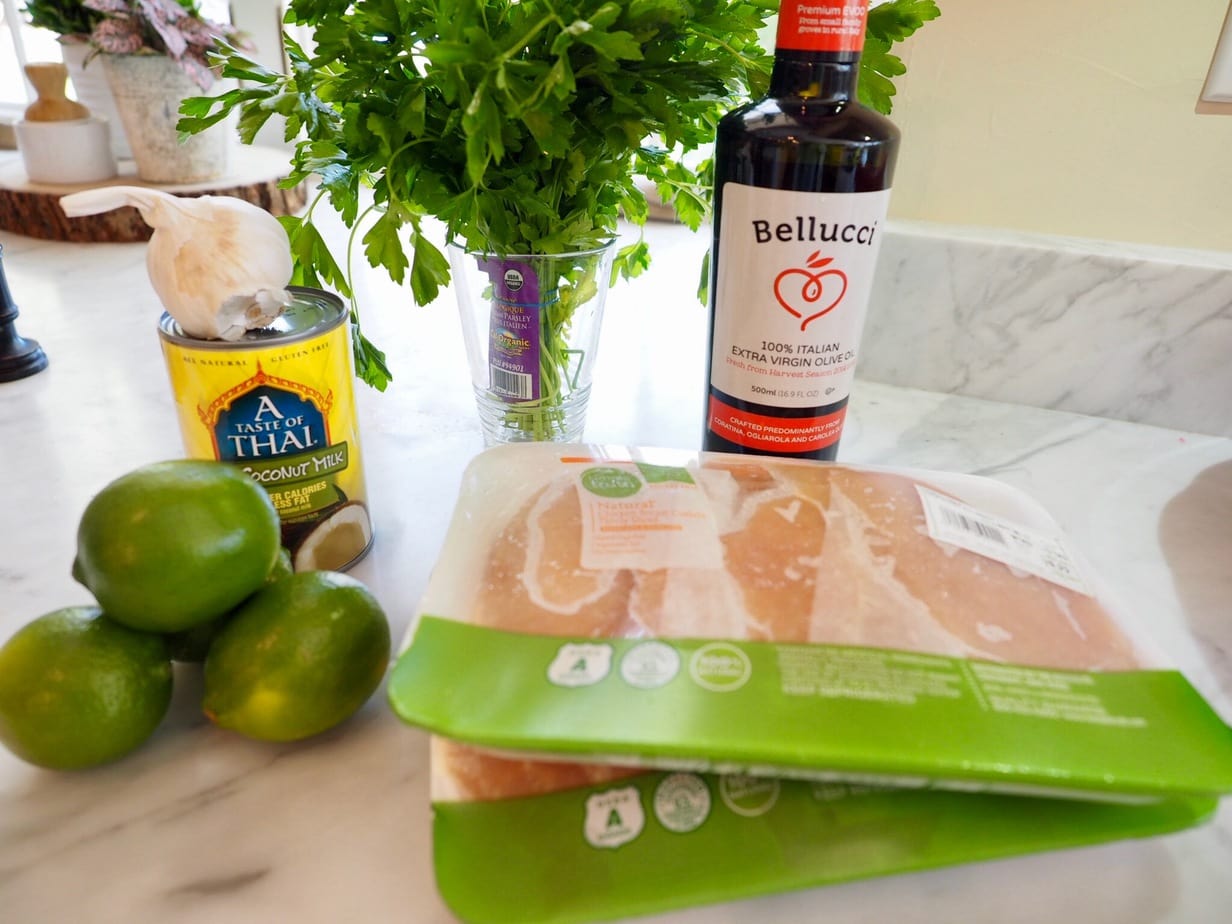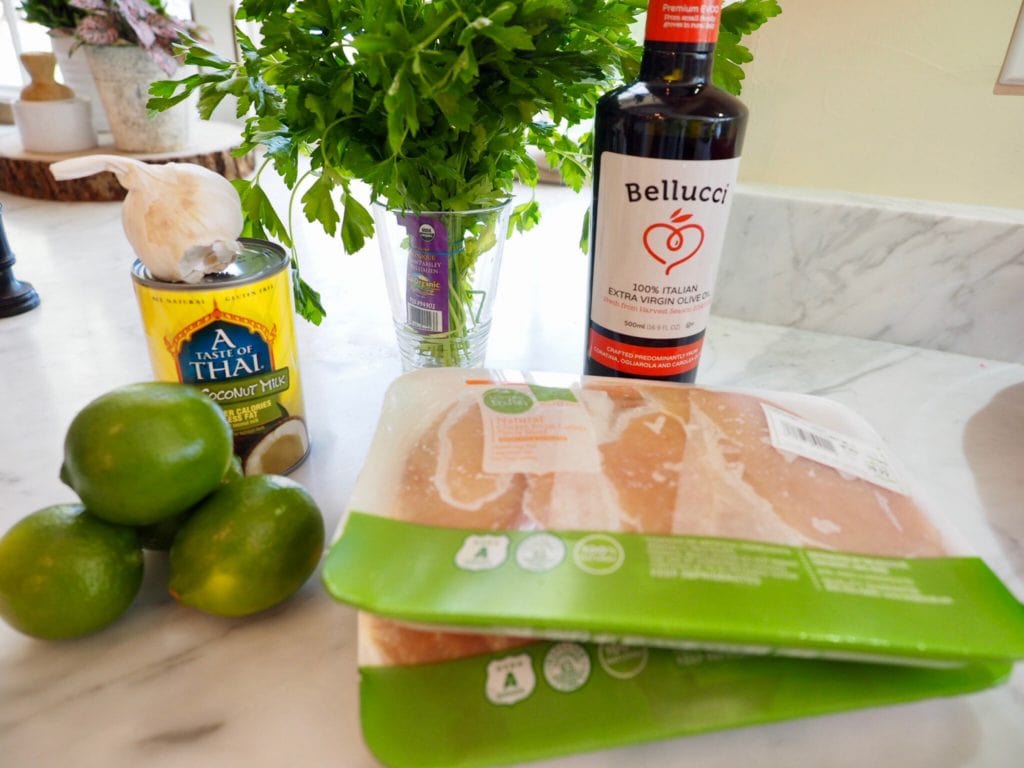 Pour your coconut milk into a mixing bowl, it might be super thick or just like milk, don't worry either way, you'll whisk is all together until smooth.
TIP | Often there is a solid cap of coconut at the top of the can, simply poke a hole in it with a spoon and pour the liquid into your mixing bowl, then scoop the solid out of the can and mix in with the rest.
Zest half of a lime (or a whole lime, if you are doubling the recipe). If you don't have a microplane, just use a grater on its finest side. But seriously, this will be the best $10 you will spend! You can zest citrus, grate nuts, fresh ginger, finely grate a small piece of hard cheese, even chocolate! They are the best!
Dump your zest into the coconut milk.
Squeeze in your lime juice. Again, this citrus squeezer is seriously another one of the best ever! No fuss, no muss, no seeds, no pulp, easy-peasy-squeezy! Thank you to my sweet sister-in-law for sending it to me!
See how it just squeezes them inside out! Getting out every last drop of juice! I personally like the chicken to have a stronger lime zing, so I will typically use 4 limes, but flavor it to your taste.
Next pour in your olive oil…
Chop your garlic or use a garlic press like I've used here (I go back and forth, between the two) and place in coconut milk mixture.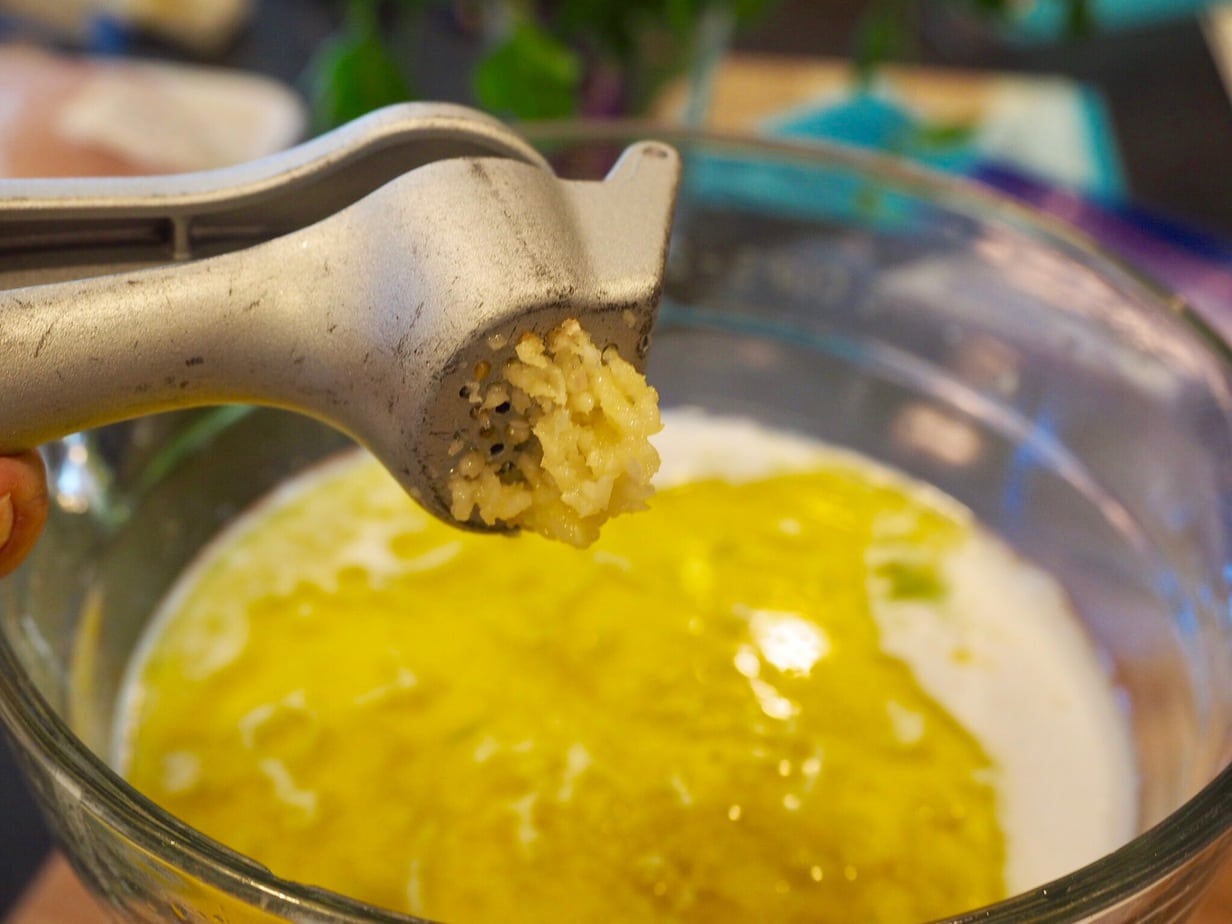 Grate or chop your ginger (or use ¼ teaspoon ground ginger) and place in coconut mixture.
Sprinkle in your seasoned salt…
Last, but most certainly not least, and while the parsley is optional, don't forgo this step if you can, it really adds beautiful color and flavor! Parsley or cilantro are scrumptious!! We've recently switched to cilantro, loving the flavors!
Add your pepper if desired, I'm not a pepper fan, I don't put it in most recipes, but I certainly will always let you know how much to add. I go against the grain of cooks by not adding the beloved, ground black pepper. The chef police will probably haul me off to pepper jail.
Now, whisk it all together to mix well. I used my immersion blender for just a few pulses to blend it together since I was splitting it up between multiple freezer bags.
Preparing for Freezer Storage
Evenly distribute between two gallon sized baggies (since I doubled I needed four), I like to make the marinade in a measuring bowl so I can tell total volume and do a bit of math when I need to divide between the baggies. This kind of math I can do, beyond 4th grade math, not so much!
I bought this nifty little baggie holder years ago, when I was making a lot of freezer meals!
Place your desired amount of chicken into the bags (I generally put in 4 pieces, 1 per person), thighs taste yummy too, so don't feel compelled to just use breasts alone, sometimes I combine the two. Call me crazy, I like to live on the wild side!
Smush the air out from the bag and seal well. Don't forget to mark your baggies so a couple months from now you don't wonder what the mystery meat is!
Lay flat in freezer, until solid, then you can easily store.
When ready to grill, remove chicken from freezer and defrost before grilling, if I remember in time, I will thaw it in the refrigerator overnight so it's ready the next day, if not, place on the counter until thawed, then refrigerate. I've even been known to immerse the baggie in warm water – though you may want to double bag it in case there is a small hole.
If you are making one right away, allow to marinate for at least 30 minutes or longer before grilling. Grill on medium-low heat for 6-8 minutes per side, closer to the 6 minute mark. Once done, allow to rest on a plate for 5-10 minutes, cover with foil.
Pair it with a simple Cilantro Lime Rice and a nice crisp salad…
…or a lovely Tropical Mango Berry Salad. However you slice this moist chicken, you will love it. Great wherever you use chicken.
Enjoy this recipe? Give these other family favorites a try:
I'd love it if you enjoy this recipe if you'd comment and rate the recipe in the recipe card.
Hashtag any recipes you make from The Fresh Cooky #thefreshcooky or tag me @thefreshcooky on Instagram to be featured on our stories!
Yield: 6-8 servings
Coconut Lime Chicken
Moist, bursting with flavor, this grilled coconut lime chicken is sure to please. Freezer and kid friendly, perfect for your next BBQ. Whole30, Paleo, Keto and Dairy Free!
Total Time
1 hour
10 minutes
Ingredients
3-4 limes, 1 zested and the rest juiced
¼ cup olive oil
1 can coconut milk, light or regular
3-4 cloves garlic, chopped or pressed
1 - 2 teaspoons fresh chopped ginger (or ¼ teaspoon ground ginger)
½ teaspoon pepper
½ cup fresh Italian flat leaf parsley, chopped (or try chopped cilantro)
3-4 lbs boneless chicken (breasts or thighs)
Instructions
Pour coconut milk into a large measuring bowl.
Zest one lime (use half or whole depending on how much citrus flavor you want). Squeeze your limes, fresh is really best, but if you must you'll need about ⅓ of a cup. More limes for a jazzier flavor. (I use 4 or 5)
Add olive oil, minced garlic, minced ginger, seasoned salt, and pepper. Chop parsley/cilantro and whisk in well. If available, use an immersion blender to mix well, pulse a few times.
If not available, whisk well and divide evenly between 2 freezer ziplock baggies. If freezing bags, be sure to label before pouring into baggies.
Marinate chicken at least 30 minutes or longer before grilling. Squeeze air out of ziplock, lay flat in freezer. If frozen, thaw in refrigerator before grilling. Remove from marinade, reserve.
Grill 6-8 minutes per side over medium-low heat, a minute or two longer if need be for darker meat (thighs). Baste with marinade while grilling (optional), leaves a lovely glaze on top.
Remove from grill, place on plate and cover with foil allowing to rest for 5-10 minutes before serving. Easily doubled for multiple freezer meals!
Notes
© 2017 | This recipe for Coconut Lime Chicken was featured first on The Fresh Cooky.
LOVE WHOLESOME DELICIOUS RECIPES? COME FOLLOW ALONG!
Facebook | Instagram | Pinterest | Twitter
If you share a picture of something you make from our blog, tag it with #TheFreshCooky so we can see it. We might feature it on Instagram!
I am so tickled when I see you've made one of my recipes!
GET FREE RECIPES FROM THE FRESH COOKY DELIVERED RIGHT TO YOUR INBOX!