Easy Instant Pot Carnitas (Crockpot & Oven too)
As an Amazon Associate, I earn from qualifying purchases. Please read my disclosure policy.
These crispy, flavorful Instant Pot Carnitas are almost too easy! This traditional Mexican pulled pork dish is loaded with spicy seasonings and soaked in a zesty, citrus and savory broth for amazing flavor.
Believe it or not, it doesn't have to take all day to make tender, melt-in-your-mouth pork. You'll be shocked to see just how tender and juicy these Instant Pot pork carnitas can be, such a great recipe! If you don't have an instant pot pressure cooker, I explain how to make this easy recipe as slow cooker pork carnitas and oven baked carnitas.
And if you love Mexican food as much as we do, you have got to try my Slow Cooked Barbacoa Beef, Cheesy Enchiladas, Copycat Chipotle Chicken and this Chile Relleno Casserole.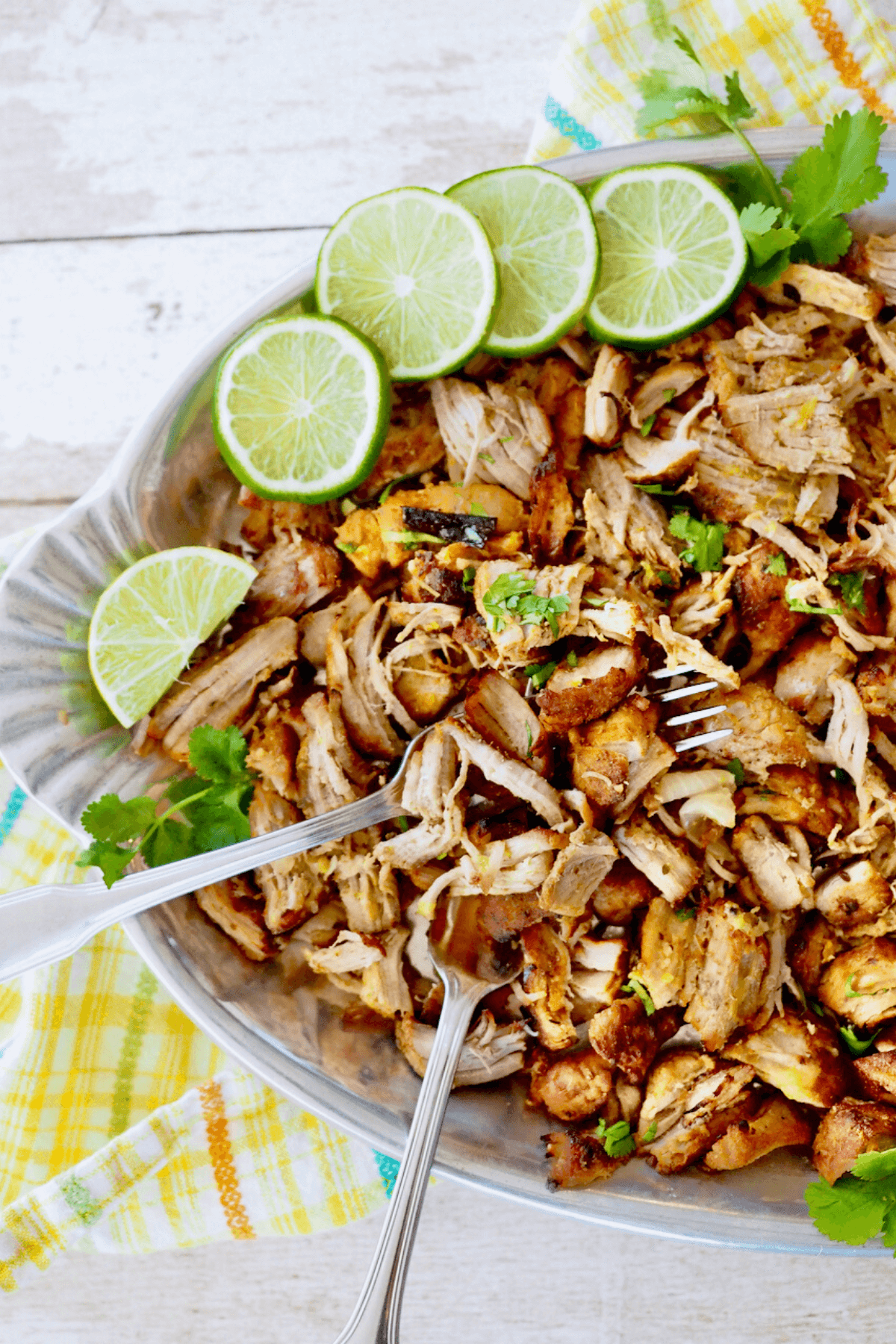 Traditionally a slow-cooked Mexican dish, my Instant Pot carnitas are a simple way to cut that time down to just a couple of hours – even less time if you don't marinate ahead of time!
Our youngest son ALWAYS gets Chipotle Carnitas when we eat there, he loves them in pork tacos and burrito bowls, and they are so yummy rolled into warm tortillas.
Why You Will Love These Instant Pot Carnitas!
They're a great way to make a whole lot of food in a short amount of time!
Uses a warm, spicy seasoning rub for a delectable crust.
A tangy and savory cooking liquid that has the meat literally dripping with flavor!
This recipe is also Whole30 and paleo compliant, so you can enjoy it whole heartedly
Simple Ingredients
For the full recipe and measurements, print the recipe card at the end of the post.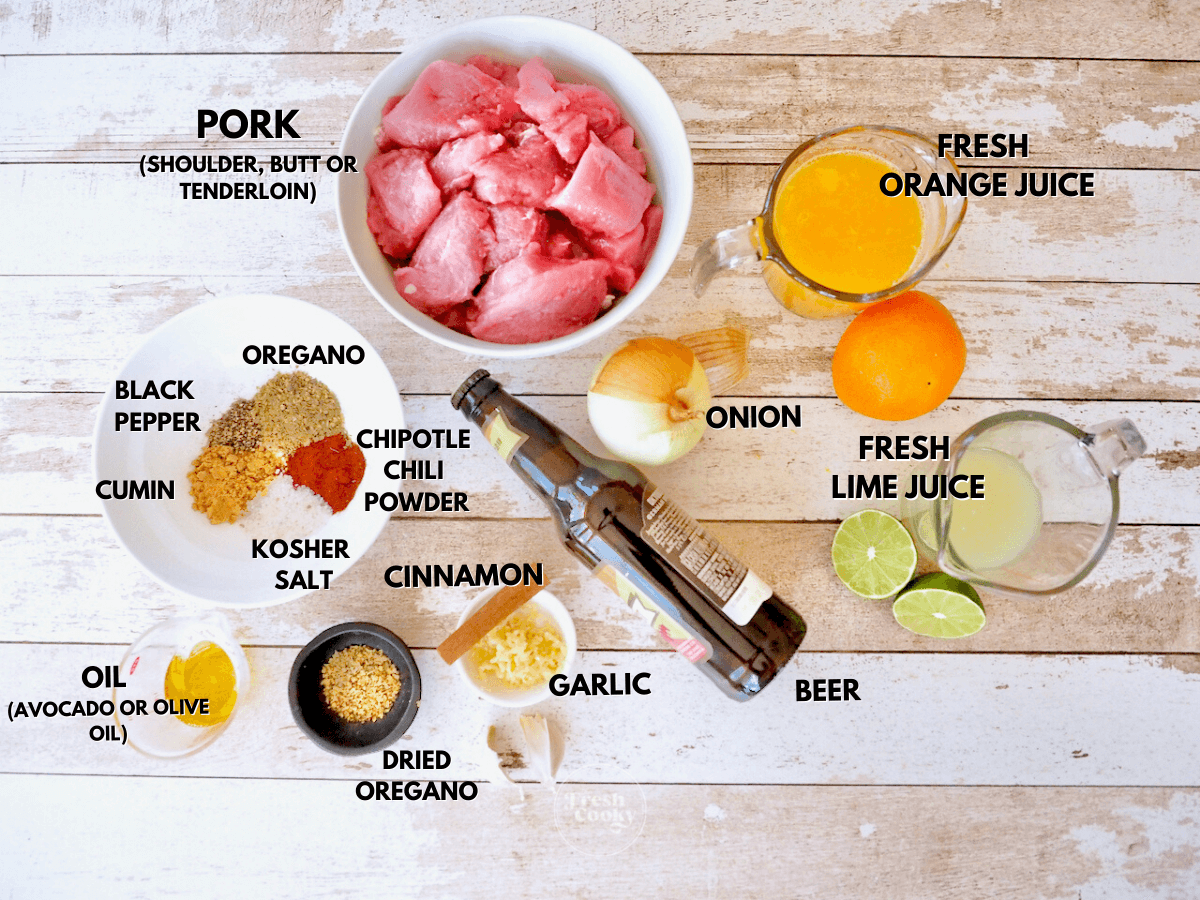 Pork | You can use; boneless pork tenderloin, boneless pork shoulder or pork butt (depending on where you live, it might be called pork shoulder, Boston butt or Boston shoulder). Remove the excess fat, then cut into large chunks of meat. The best cut of meat for carnitas is pork butt or shoulder, as the fat translates into flavor!
Oil | I used avocado, but you can use Olive oil or other high heat oils
Seasonings | All the best Mexican seasonings here; cumin, oregano (regular or Mexican oregano), kosher salt, ground black pepper, and ground chipotle chile powder
Onion & Garlic | Flavor boosters right here!
Cinnamon Stick | part of the traditional carnitas flavor
Beer | Use a classic Mexican beer or a nice lager
Orange Juice | much like Yucatan pork, we use fresh squeezed orange juice here,
Lime Juice | again, keeping with a traditional Pibil, you want fresh squeezed lime juice
Instructions
Step 1 | Make spice rub & marinate
Add the rub ingredients to a small bowl and whisk together. Apply the rub to the meat pieces, massaging into the surface. For maximum flavor, allow to marinate for at least two hours, remove from refrigerator last 30 minutes to bring to room temperature. If you are short on time, you may skip to step 2 right away.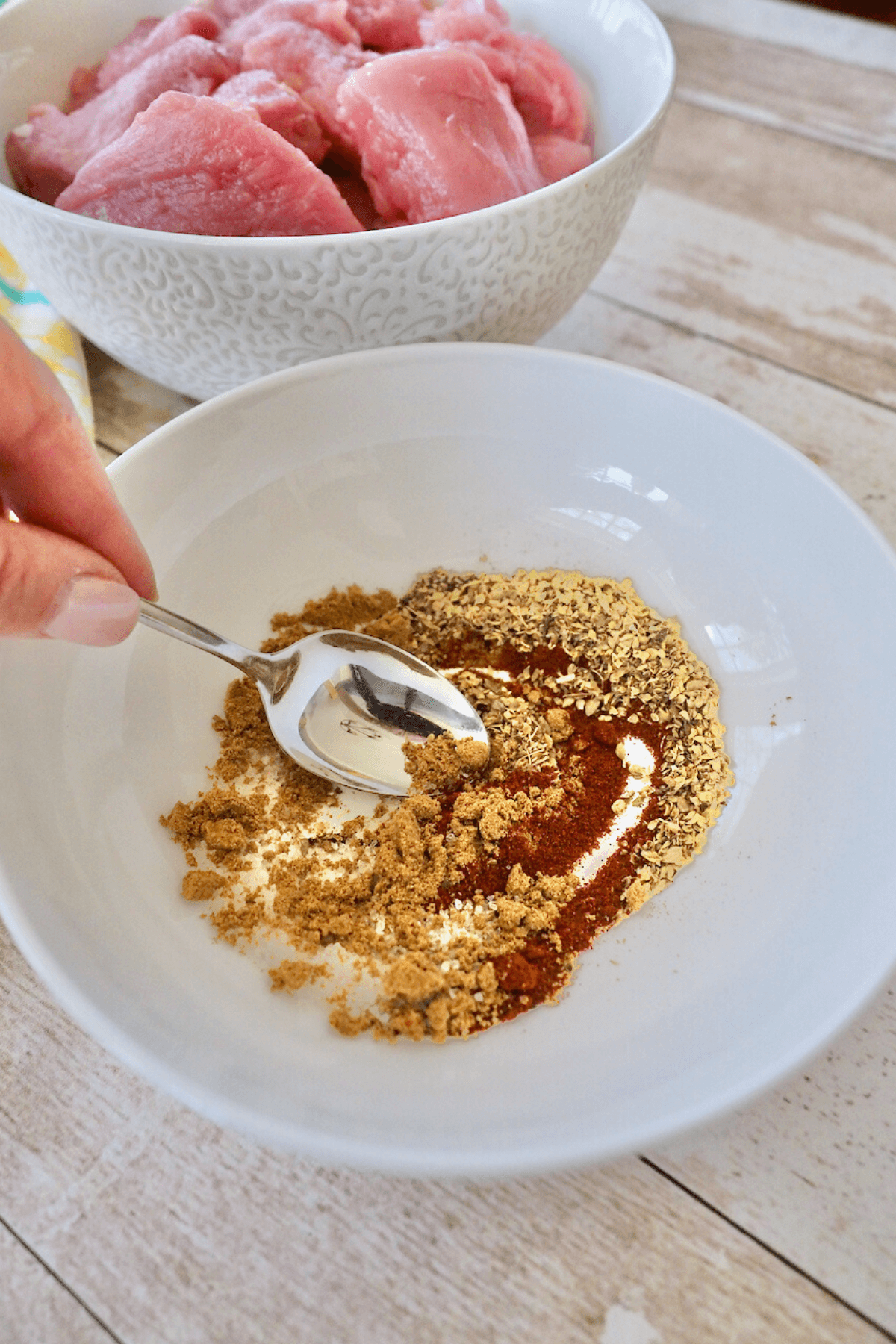 Step 2 | Sear the meat in batches
Add oil to your Instant Pot and press Saute. When the pot reads "HOT", add the meat, in small, uncrowded batches. When all pieces are crisp browned, set aside on a plate. I also like to heat a skillet with a little oil, alongside the instant pot saute function. By working two batches at once, they will brown quicker and more crisp.
Brown the onions in the Instant Pot for a couple of minutes. Toss in the garlic and stir for the final minute, or until fragrant.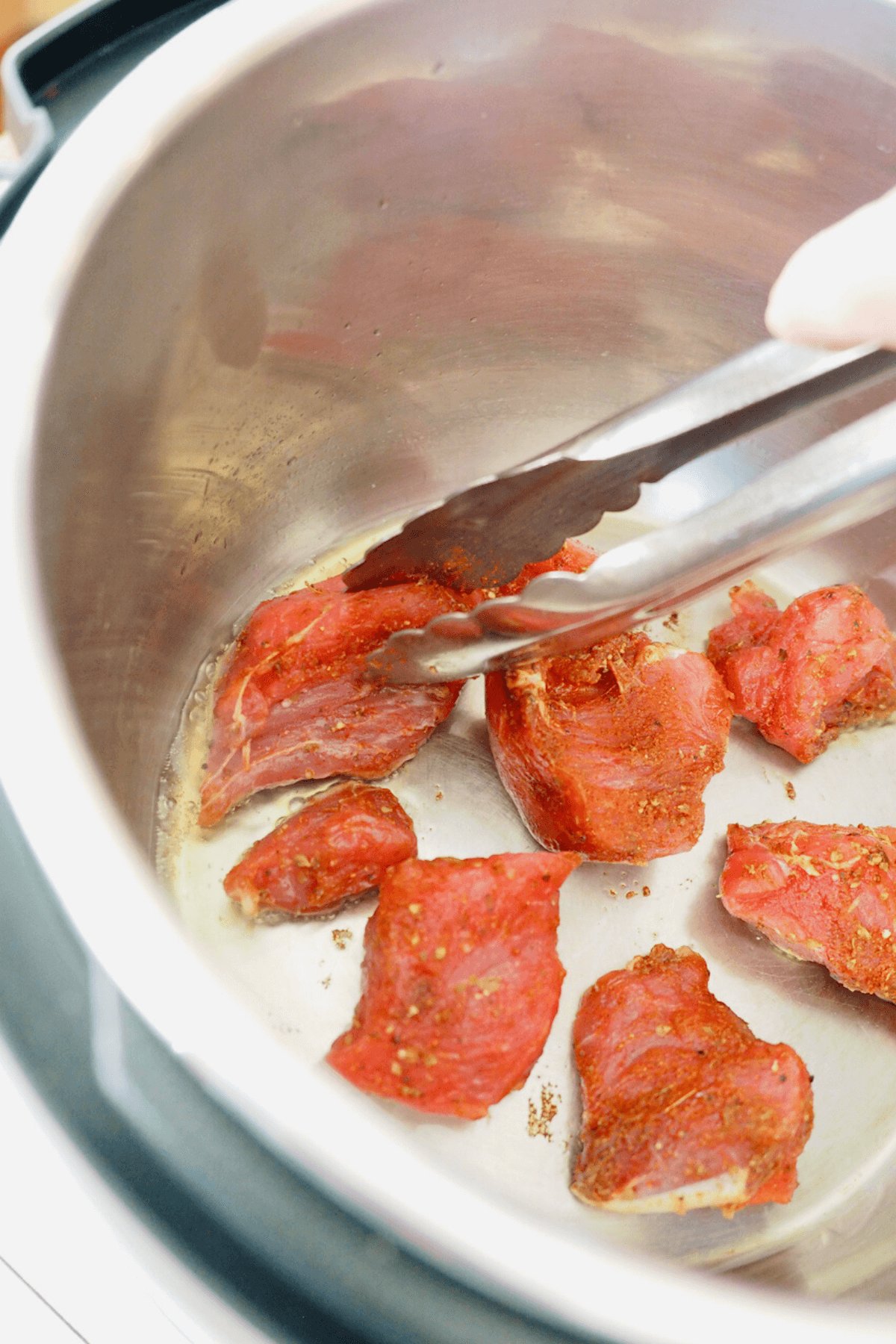 Step 3 | Deglaze Pan
Keep the Instant Pot on "HOT" and deglaze by pouring in the beer and scraping the leftover bits of meat, onion, and garlic off the bottom of the pan. Turn off the Instant Pot.
Place the meat back in the pot. Pour the cooking liquid over the meat (beer, orange juice, lime juice), onions, garlic, sprinkle oregano, and add the cinnamon stick.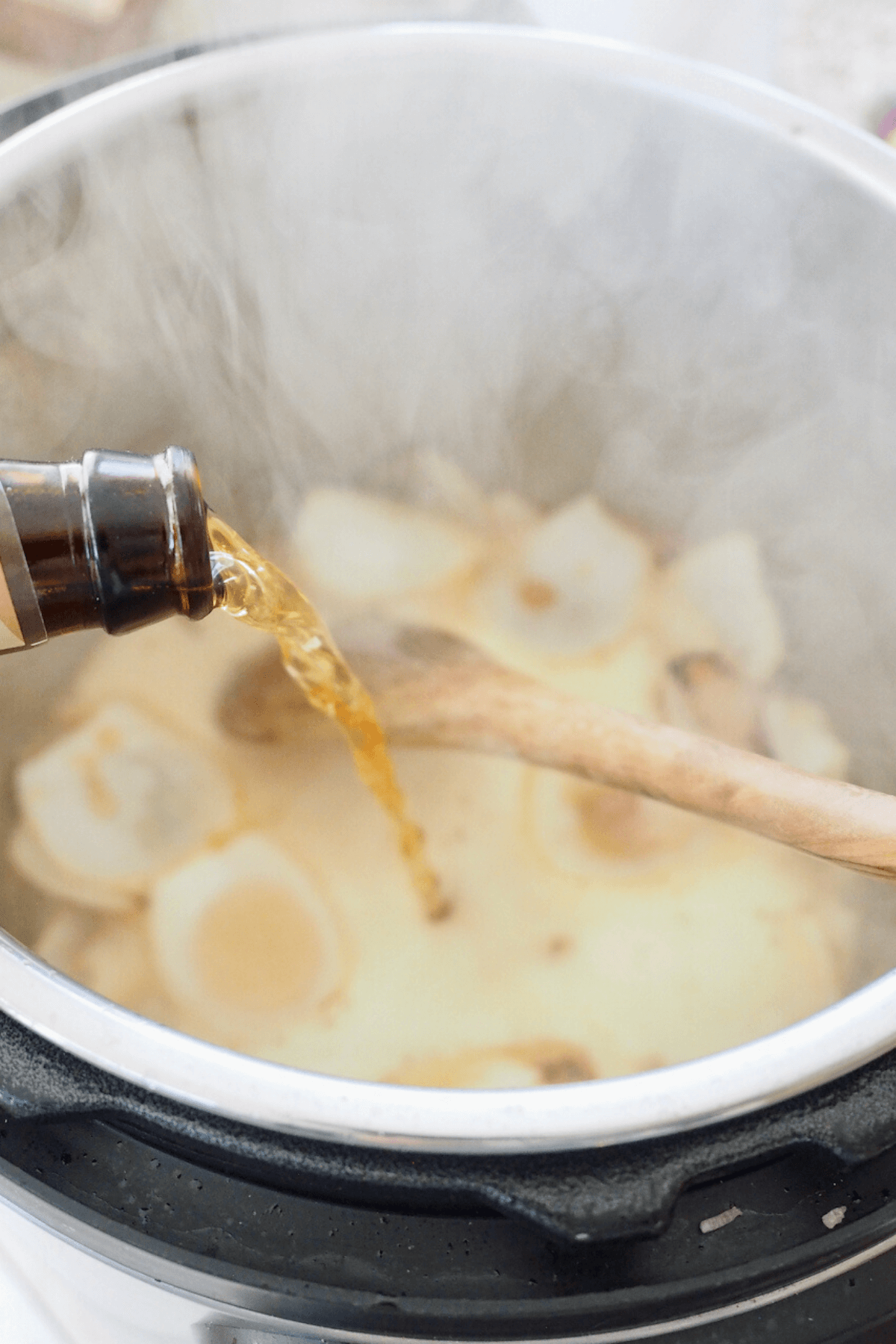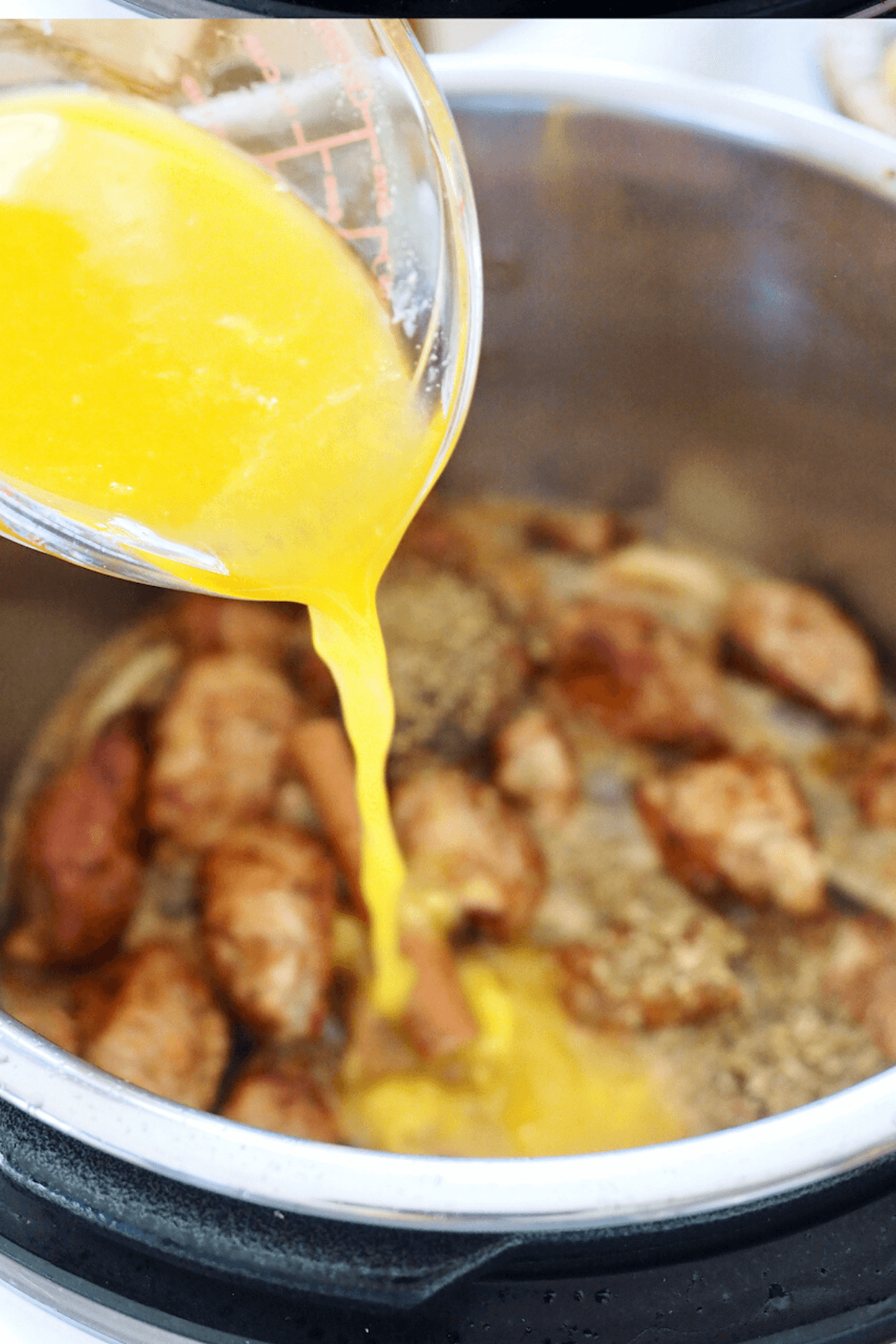 Step 4 | Pressure Cook + High Altitude Pressure Times
Secure the lid to the pot with the vent in the pressure position. Set to Pressure Cook, Manual for 15 minutes cook time, (16-17 minutes for high altitude) it will take about 5 minutes to come to pressure. Follow with a quick release and remove the meat. Shred tender pork with two forks.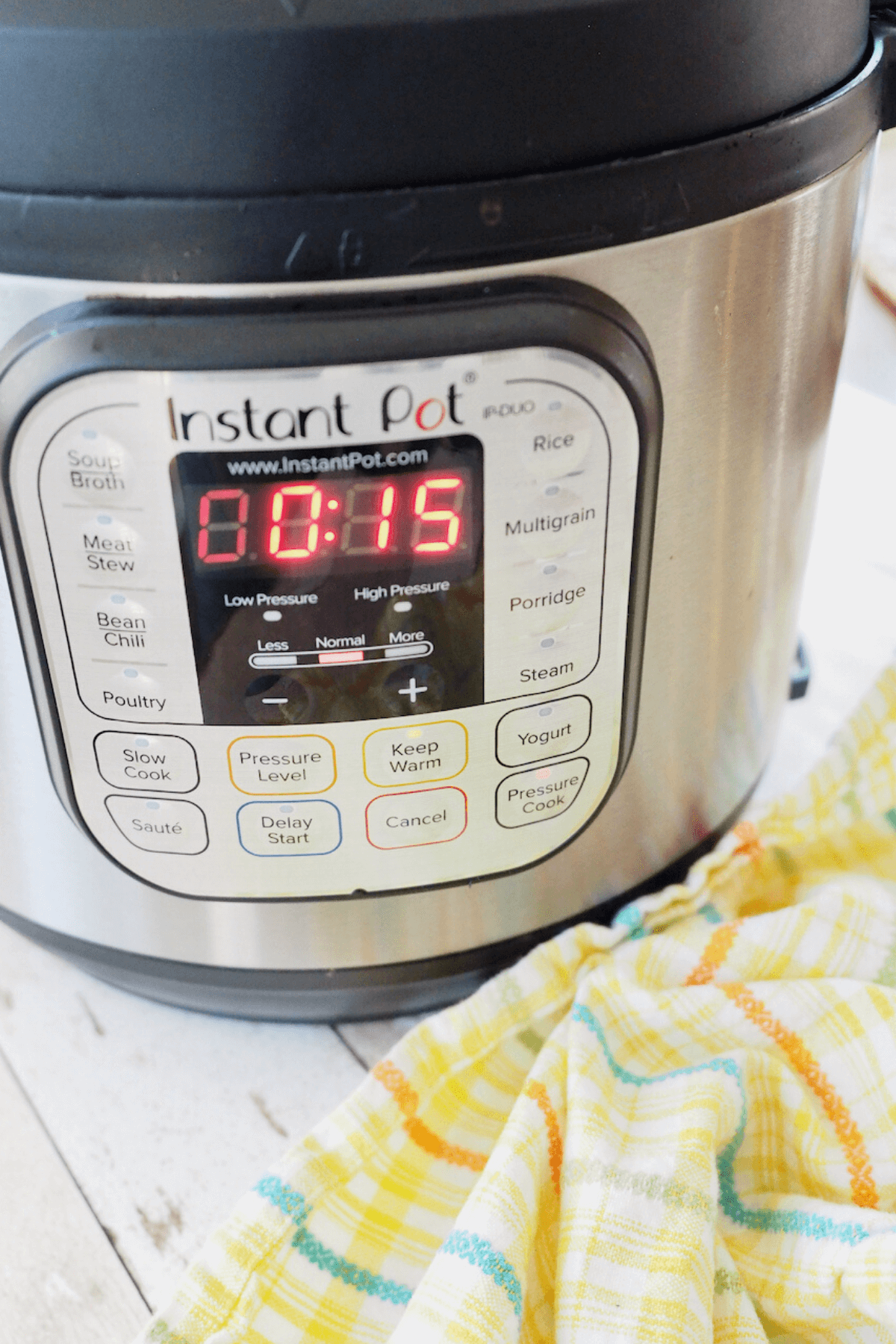 Fresh Tip
Only shred and crisp what you will be eating, freeze the rest with juices.
Step 5 | Crisp the shredded pork carnitas
While your oven preheats to broil, transfer the shredded pork to a sheet pan (lined with parchment paper for easy clean up). Pour some of the cooking liquid on top before placing the pan in the oven 8 inches from the broiler.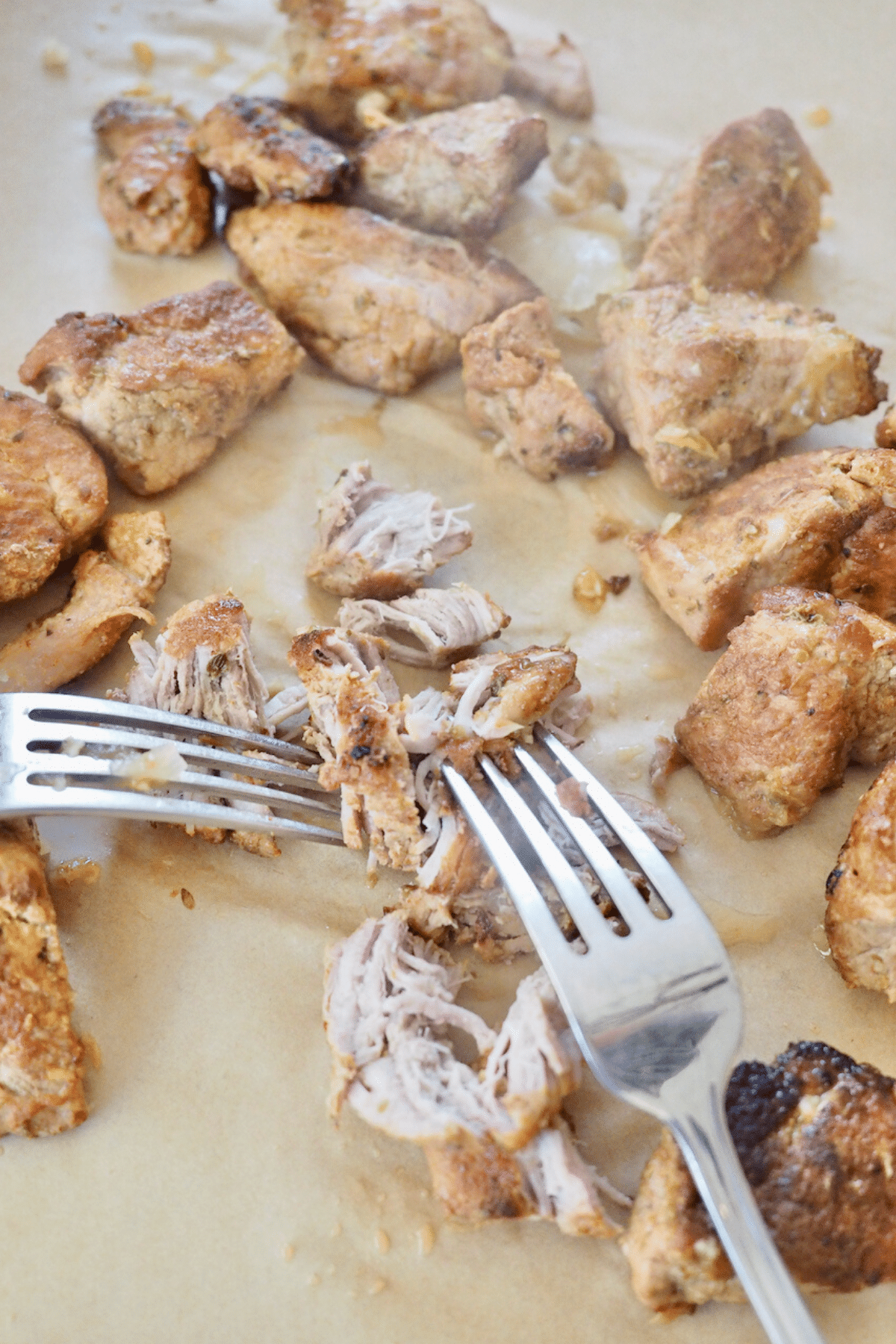 Broil for 7 minutes, flip the meat, and broil for another 5 minutes. Tada, you have tender, juicy and crispy pork carnitas from the Instant Pot! Serve immediately!
Cooking Variations
Oven Method | Sear pork with oil in a heavy Dutch Oven or heavy bottomed pot, remove to a plate, add onions and garlic until lightly browned, then deglaze pan with the beer or broth. Mix together orange juice, lime juice, oregano and cinnamon stick, pour over the pork butt, then cover and cook in a preheated 325 degree oven for 4 hours, or until the meat falls apart, crisp the meat as described above.
Slow Cooking Method (crock pot) | Heat a cast iron pan and the oil over medium-high heat, carefully place the pork into the skillet and sear until brown and crispy on both sides, doing in batches if necessary.

Brown onions and garlic, then deglaze pan with beer/broth and pour browned bits into slow cooker along with the seared pork. Mix together the orange juice, lime juice, oregano and cinnamon and pour over the top of the meat, cover and cook on LOW for 8-10 hours or on HIGH 4-6 hours. It's ready when the meat falls apart easily! Shred and crisp as directed above.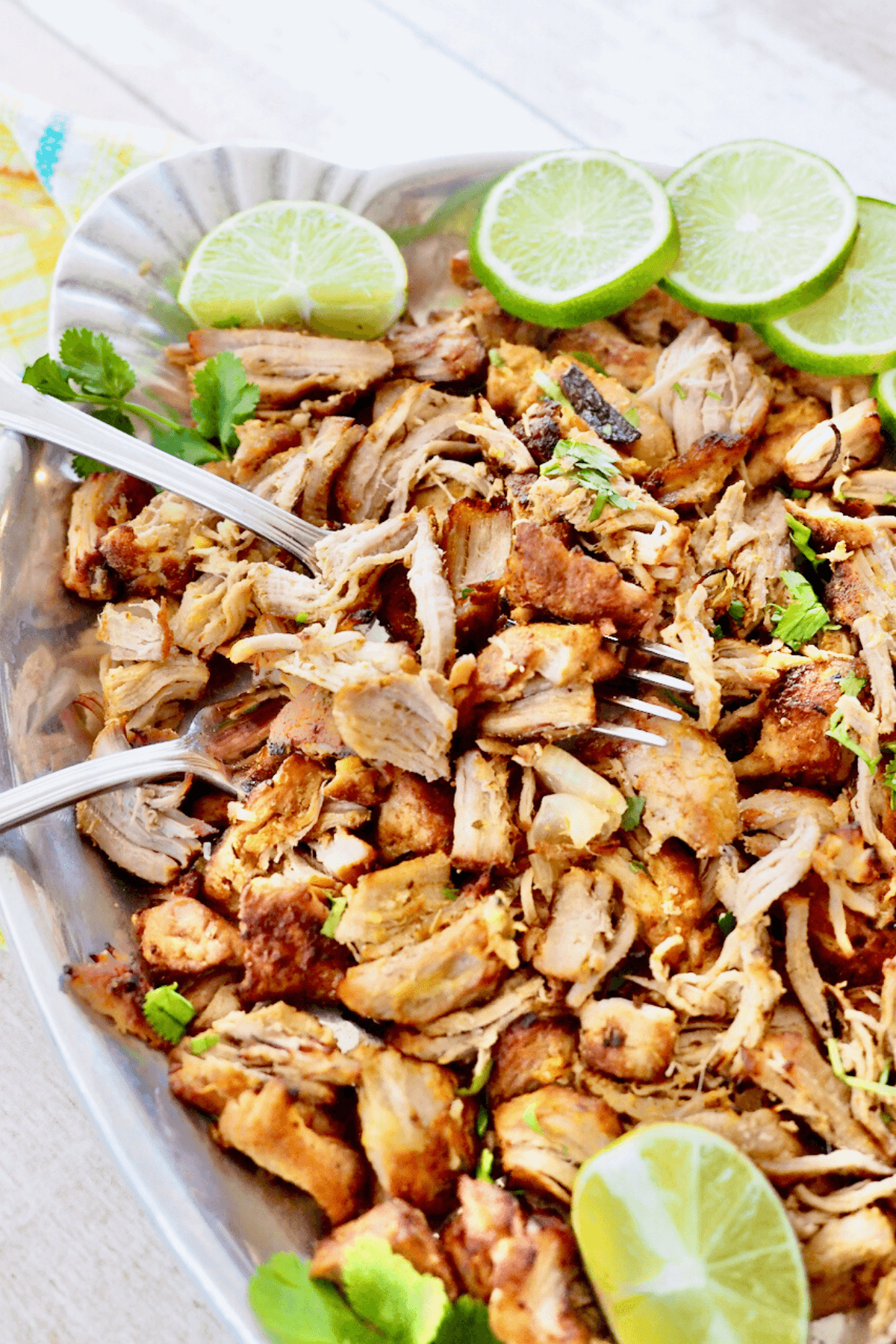 Variations & Substitutions
Omit the beer altogether, it adds a lovely flavor, but it is not necessary if you prefer not to use beer. You may also replace with chicken broth.
Copycat Chipotle Carnitas recipe includes juniper berries, but they are not always easy to find and honestly, my family of picky eaters loved this Chipotle Copycat Carnitas recipe so much, I didn't think it was necessary!
Add More Veggies! The Mexican seasonings and tangy cooking liquid would taste delicious with additional veggies in the mix, such as any color bell pepper, red onions or even jalapeños for some more spice.
Swap the pork out for boneless, skinless chicken thighs or breasts and only cook under pressure for 8-9 minutes, allowing 10 minutes of pressure release naturally, then shred and crisp in the oven as stated for the pork carnitas.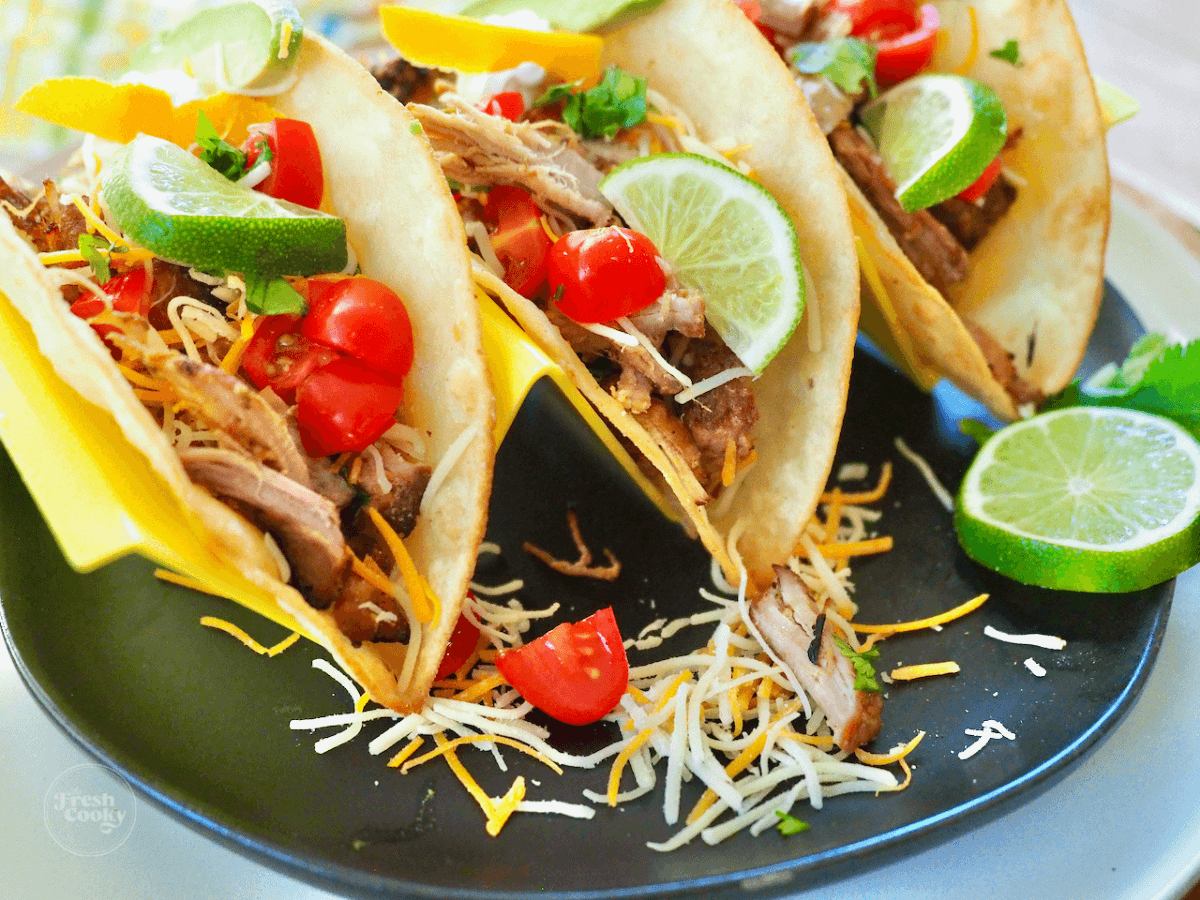 How to serve carnitas?
Serve shredded on a bowl of rice with your favorite veggies, and add some pickled red onion.
Eat fajita style, with warmed flour tortillas, sour cream, guac, and sautéd veggies (throw them in while under pressure).
Tacos of course! Loaded with all of your favorites, don't forget a squeeze of lime and some chopped cilantro.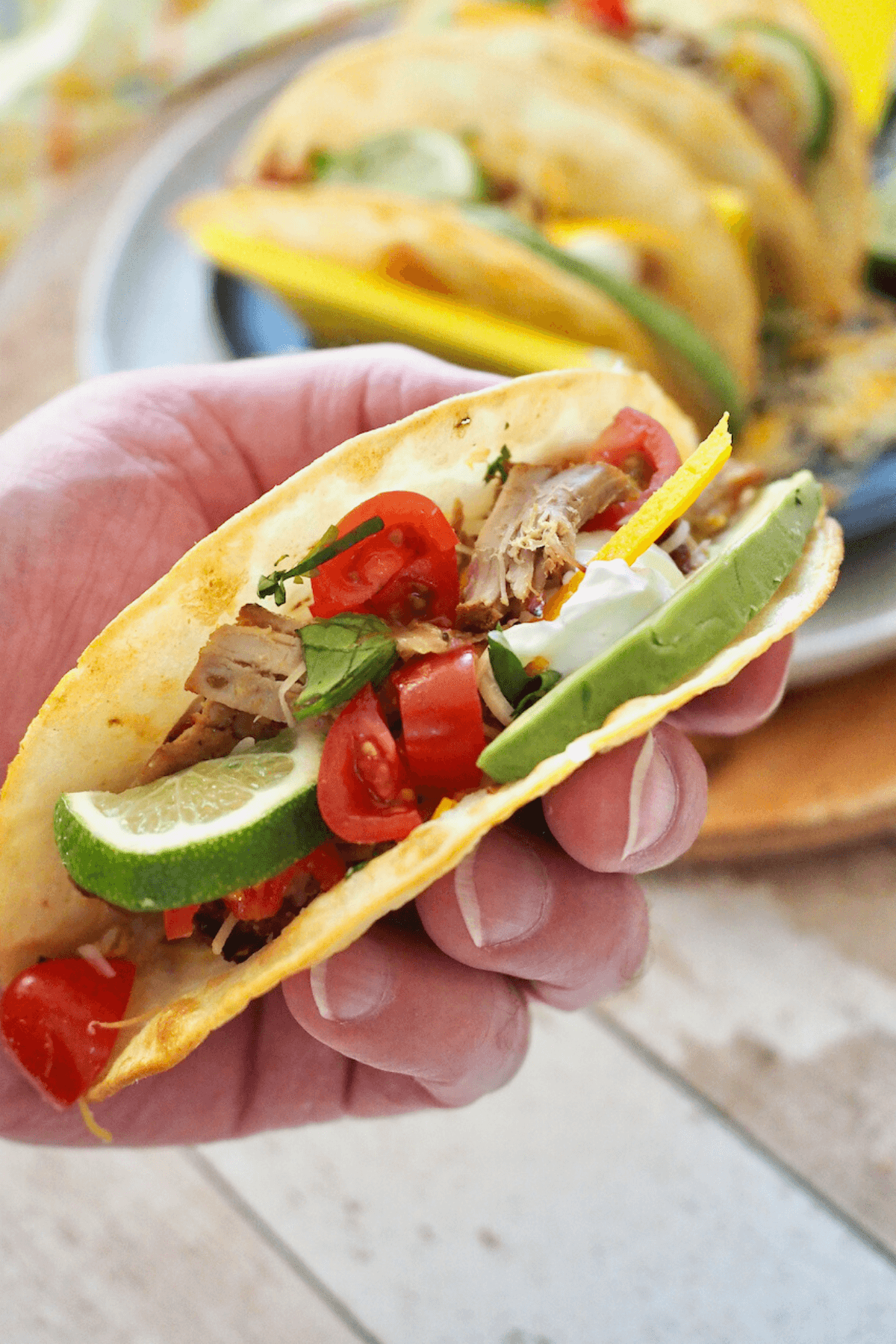 What to Serve with Carnitas?
Fresh Tips
When you transfer the shredded meat to the oven to broil, don't add too much of the cooking liquid. Overdo it, and the meat won't crisp up in the oven.
To speed up the process, you can brown some of the meat in a cast iron pan while another batch is in the Instant Pot. You can really use either method, but I highly recommend using the Instant Pot for at least some of the meat to get the best flavor as those brown bits add so much!
The rub that I use for this recipe is a great balance of heat and earthy seasonings. Make it in bulk, seal in a mason jar, and use for future recipes!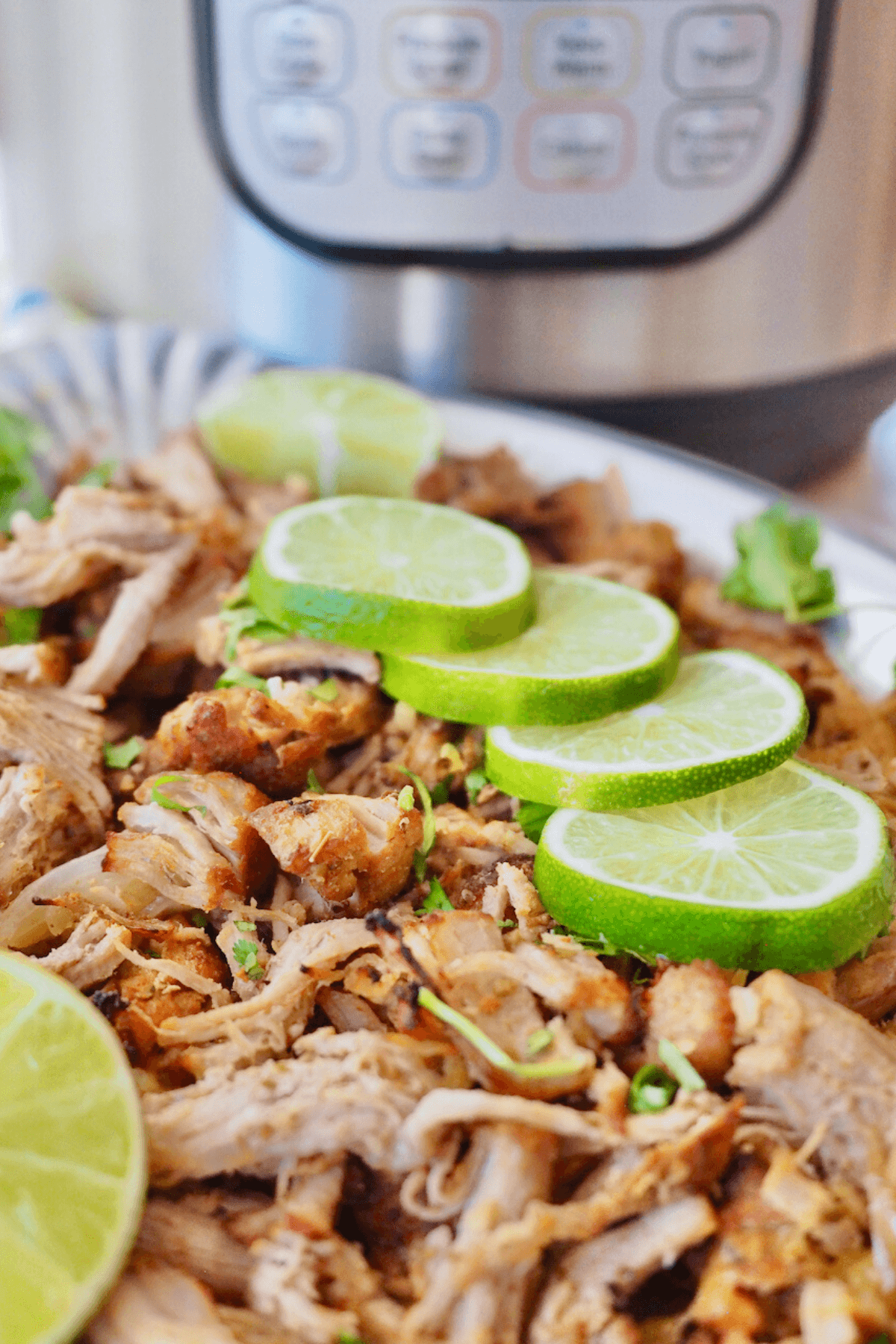 Frequently Asked Questions
How do I store and reheat Instant Pot carnitas recipe?
Store cooled instant pot pulled pork in an airtight container along with the cooking liquid once both have cooled. Leftovers will last for 1 week in the fridge and 3 months in the freezer. Perfect for meal prep!
To reheat, throw into a saucepan or skillet along with some of the juices and slowly bring to temperature.
What is the difference between pulled pork and carnitas?
The difference is very minor: pulled pork is slow cooked, shredded, and immediately served. Preparing carnitas, however, requires an additional step. The meat is then broiled in an oven to form a brown, crisp crust.
Can you overcook Instant Pot pork carnitas?
You can overcook anything! And if you do, the meat will become tough and dry. Follow the recipe's timing and don't overdo the crisping in the broiler for the final step.
What are Carnitas at Chipotle Restaurant?
Carnitas, literally meaning "little meats", carne is meat. Carnitas is a dish of Mexican cuisine that originated in the state of Michoacán. Chipotle carnitas recipe makes it recipe using thyme, juniper berries and bay leaves. Slow cooked or braised a for tender, pulled pork that is then crisped up in the broiler or in a cast iron skillet.
Storage & Reheating
Allow carnitas to cool completely, then store along with juices in an airtight container for up to 5 days in the refrigerator and up to 3 months frozen. I like to keep the chunks of pork whole when I freeze, they will stay more tender when reheating.
Reheating | Place desired number of hunks of tender pork carnitas in a small sauce pan with some added juices, over low heat, heat until cooked through, adding more liquid (water is fine) as needed. Shred pork with two forks directly in the pot and if desired, broil as described above for authentic pork carnitas.
What is the difference between Carne Asada and Carnitas?
Carnitas is a pulled pork dish, that is slow cooked (or in this instance a pressure cooking carnitas recipe) or braised until is falls apart, fork tender. Carne asada on the other hand is made using beef and is typically marinated and then grilled to tender perfection.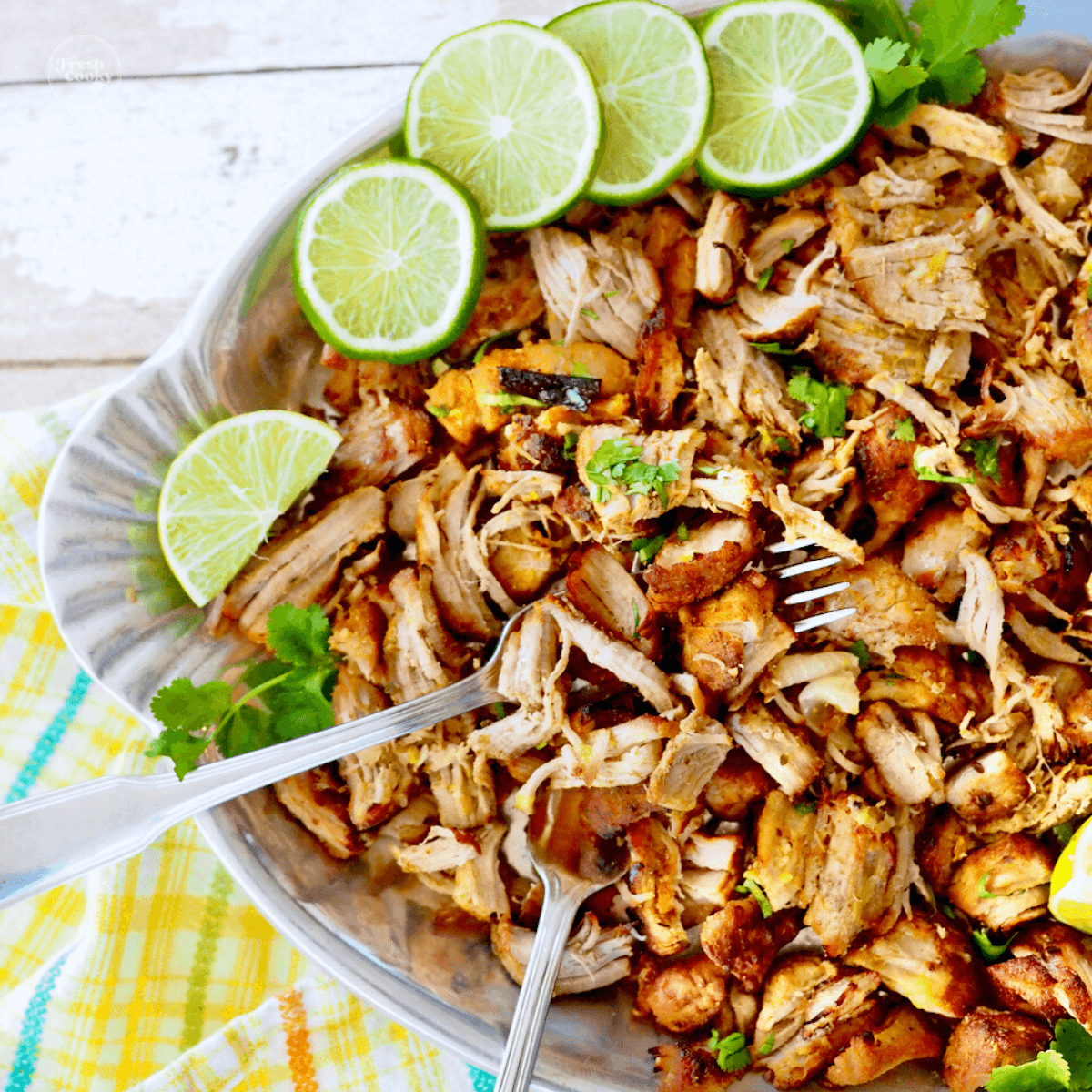 Recommended Equipment
Instant Pot | This is the Instant Pot I love and use, it is a 6qt which is perfect for our family of four.
Rimmed Baking Sheet | I love this baking sheet, they are made in the US and they do well keeping their shape under high heats!
Try these other Instant Pot Hits
I hope you loved this recipe for crispy pork carnitas in the Instant Pot! If you did, please leave a 5 star rating below and comment!
LOVE IT? PIN IT!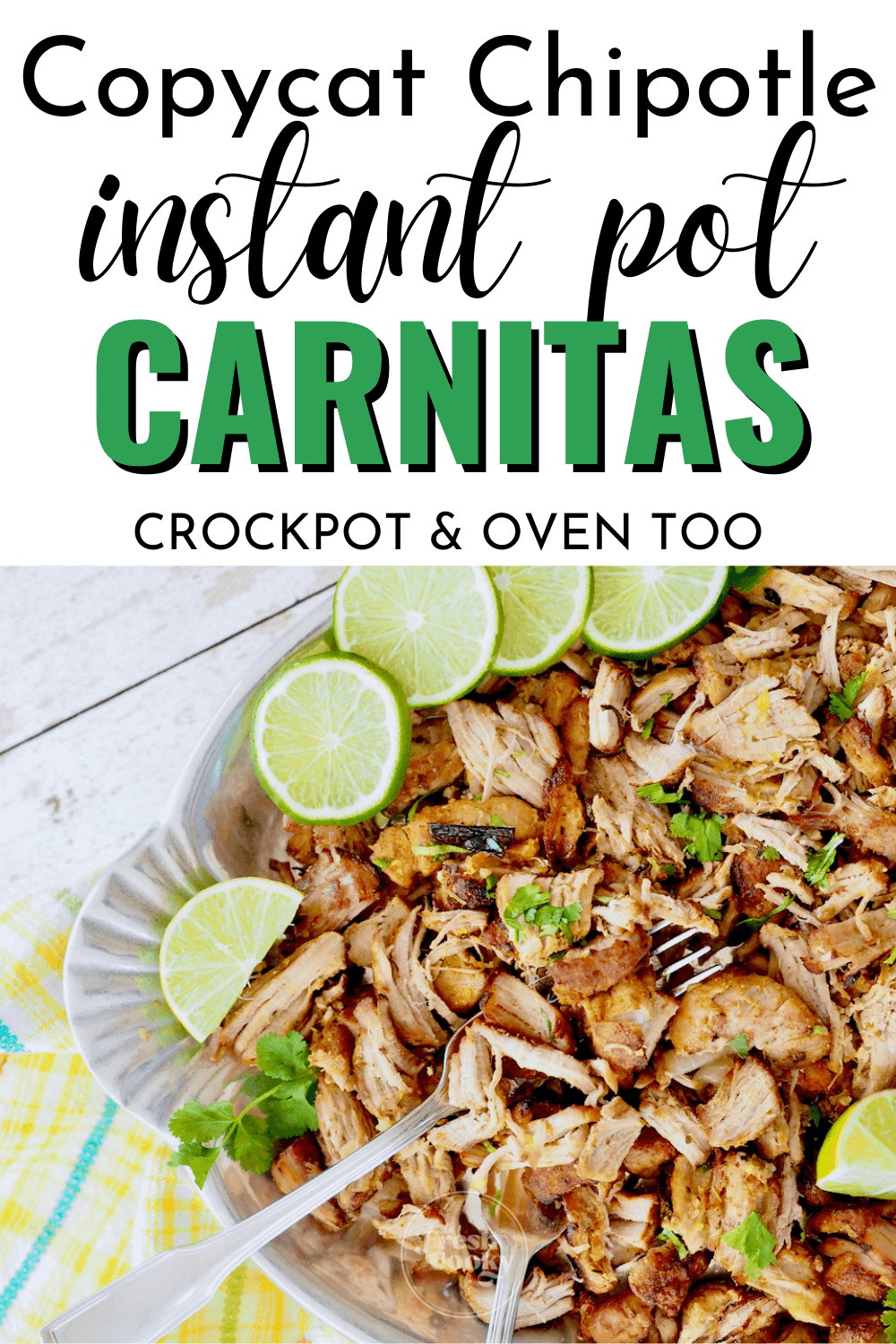 Like this recipe?
Don't forget to give it a ⭐️⭐️⭐️⭐️⭐️ star rating and comment below the recipe!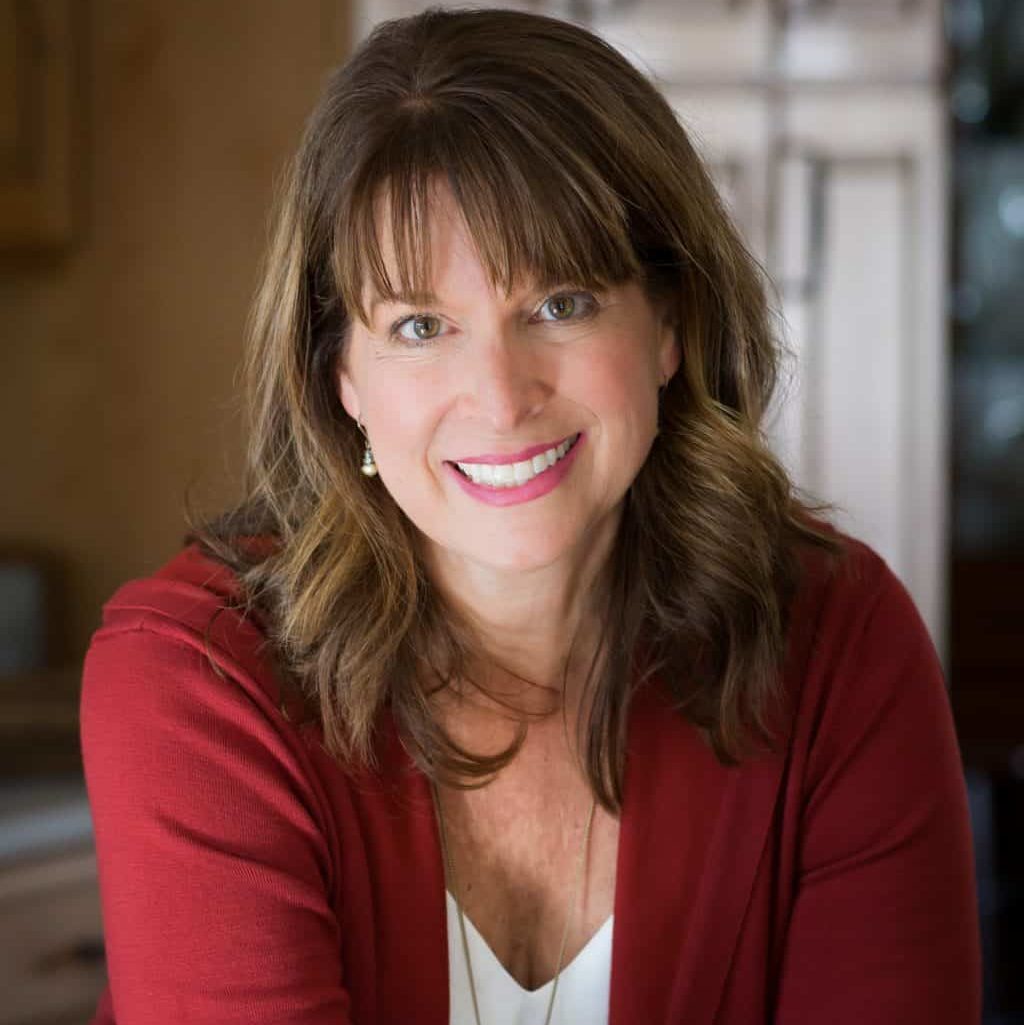 About Kathleen Pope
Recipe Innovator | Food Photographer | Food Writer
Hi, I'm Kathleen Pope. Here at The Fresh Cooky you will find easy, mostly from-scratch, trusted recipes for all occasions. From speedy dinners to tasty desserts, with easy step-by-step instructions. I am here to help teach you how to make mouthwatering recipes without spending hours in the kitchen. Read more about Kathleen here.