4th of July Cookie Cake (Patriotic Skillet Cookie)
As an Amazon Associate, I earn from qualifying purchases. Please read my disclosure policy.
This 4th of July Cookie Cake is just as beautiful as it is delicious. White chocolate chips and patriotic red, white, and blue m&m's mixed into a homemade chocolate chip cookie base, and topped with buttercream frosting and festive sprinkles.
This Independence Day (or any patriotic holiday), celebrate with this crisp yet chewy baked skillet cookie, all dressed in America's colors! This simple-to-make, easy-to-serve, and crowd-pleasing recipe is the missing piece to your 4th of July menu.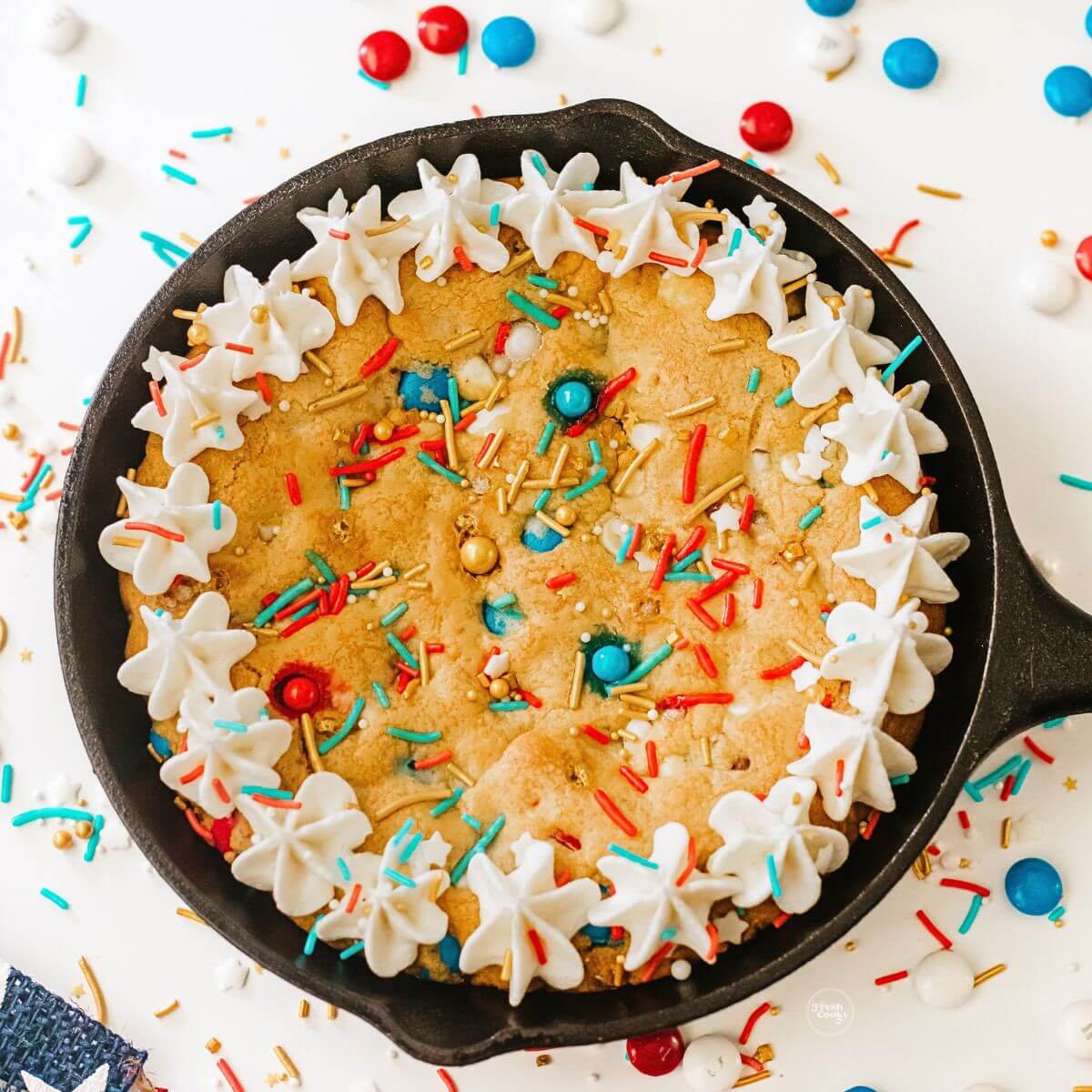 Why You Will Love
Patriotic Cookie – One of the best parts of the 4th of July is making everything red, white, and blue!
Serves a Crowd – No matter how many guests you're hosting this Independence Day, this cookie cake can be doubled or tripled to serve everyone.
Kid-Friendly Recipe – This is a great recipe to let your children help in the kitchen! Make it your new tradition!
Easy to Make – This patriotic skillet cookie presents beautifully and is super easy to make – Mix, press, bake, and frost. That's it!
A patriotic cookie by so many names. Is it a cookie cake, cookie pie, skillet cookie, cookie pizza, or pizookie? Who really cares about the name? Once you sink your teeth into this irresistibly chewy red, white, and blue cookie cake, you won't!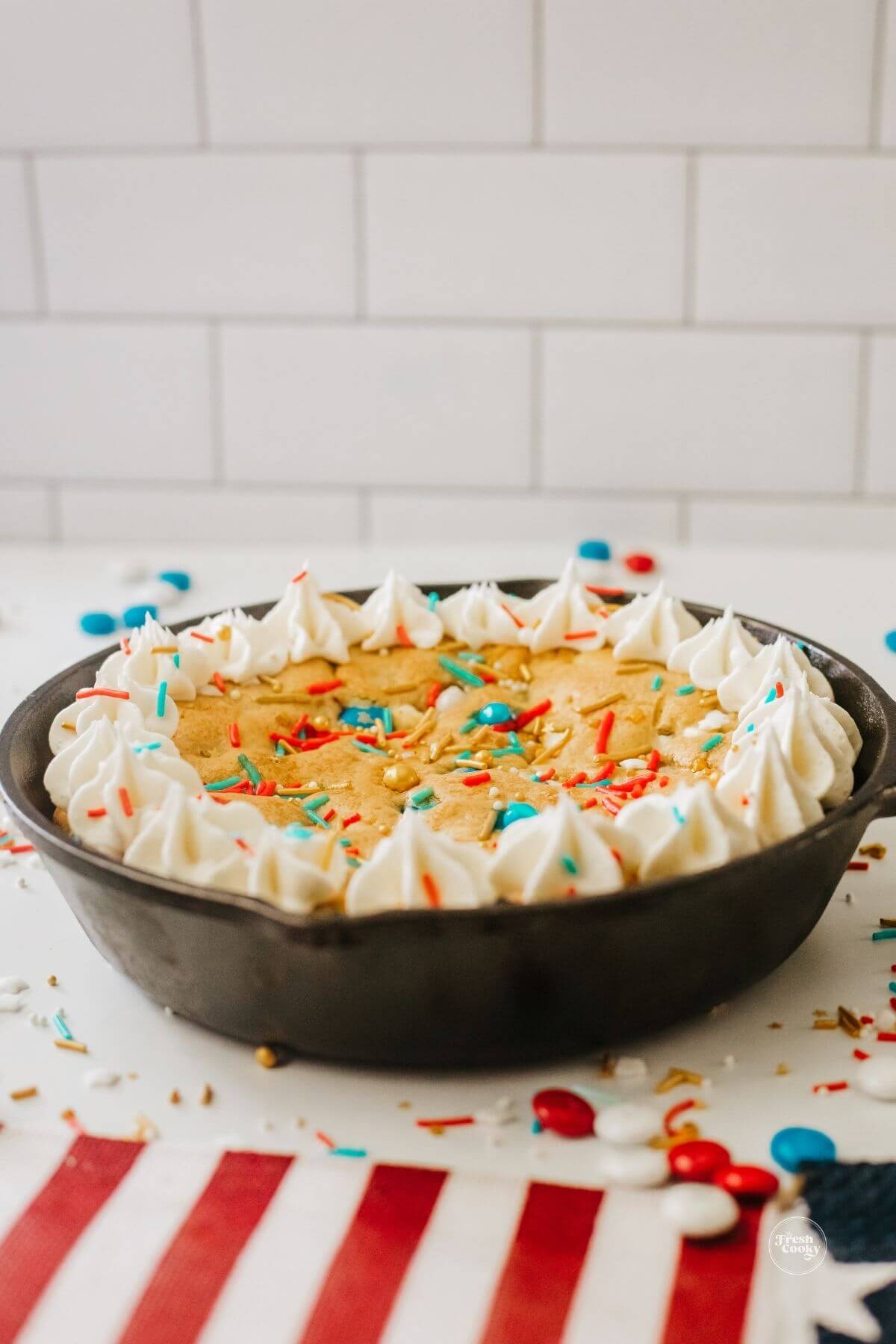 I enjoy giving precise details in my recipe posts to lead my readers through any questions. If you're just here for the printable recipe, feel free to click "Jump to Recipe" right under the title of this post, and you'll head straight there!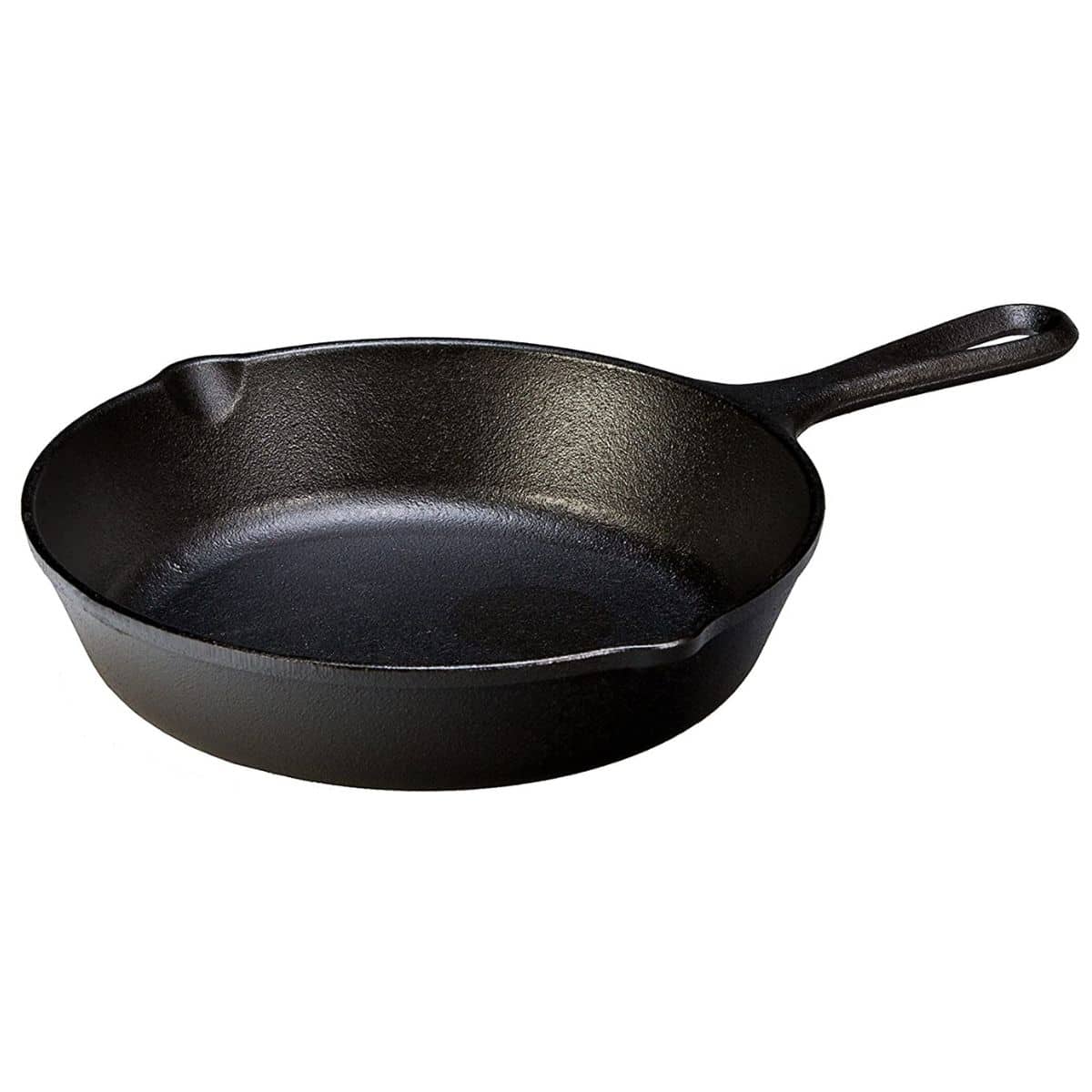 Simple Ingredients for 4th of July Cookie Cake
Flour and Baking soda | Use all-purpose flour for structure and baking soda to help the cookie rise and have a tender texture.
Salt and butter | Add a pinch of kosher salt and softened butter to add a balanced creaminess to the flavor of this easy recipe.
Sugars | Use white sugar, natural cane sugar, and light or dark brown sugar.
Vanilla | A couple of drops of vanilla extract deepens the cookie flavor.
Egg | An egg is essential for most cookie recipes, helping combine the ingredients and produce the desired texture. Make sure it's room temp!
White chocolate chips | Represent the bright white stars on the American flag with white chocolate chips.
M&Ms | Make this cookie cake with red, white, and blue M&Ms perfect for the Fourth of July.
Sprinkles | Choose fun and patriotic sprinkles online or at the grocery store for the perfect 4th of July dessert.
Frosting | Decorate the skillet cookie cake with vanilla buttercream frosting. Purchase your favorite brand of icing from the store, or check out my easy and delicious homemade recipe.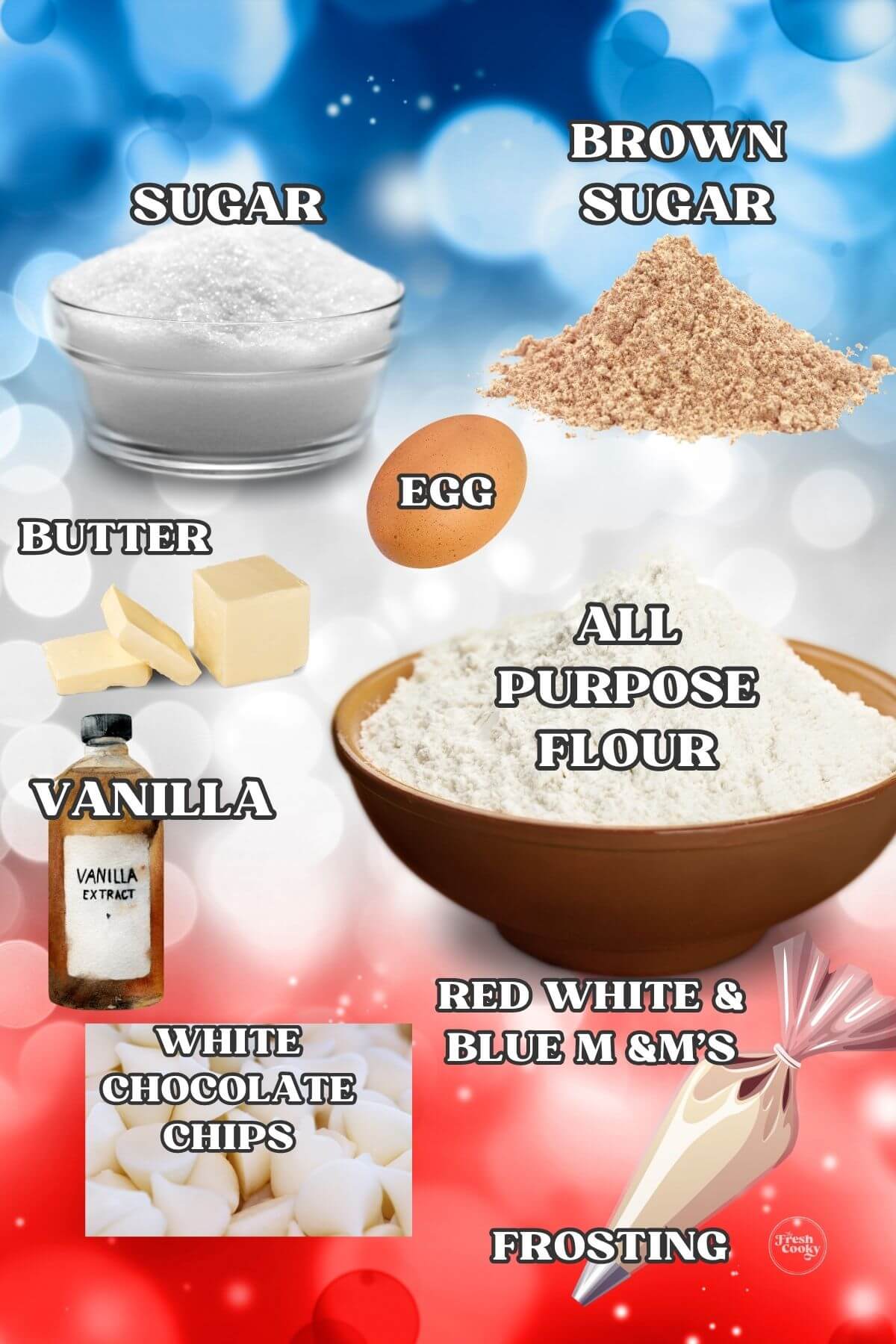 How to Make a Forth of July Cookie Cake
Step 1 | Mix the chocolate chip cookie dough
First, preheat the oven to 350° F (175° C) then in a medium bowl, combine the flour, baking soda, and salt in a bowl. In the bowl of a stand mixer or hand mixer, using the paddle attachment; cream softened butter, granulated sugar, and brown sugar on medium-high speed for about 5 minutes until light and creamy.
Next, mix the vanilla extract and room-temperature egg for one minute on medium-high speed.
Once thoroughly combined, begin slowly pouring in the flour mixture you set aside earlier. Mixing on low speed until just combined.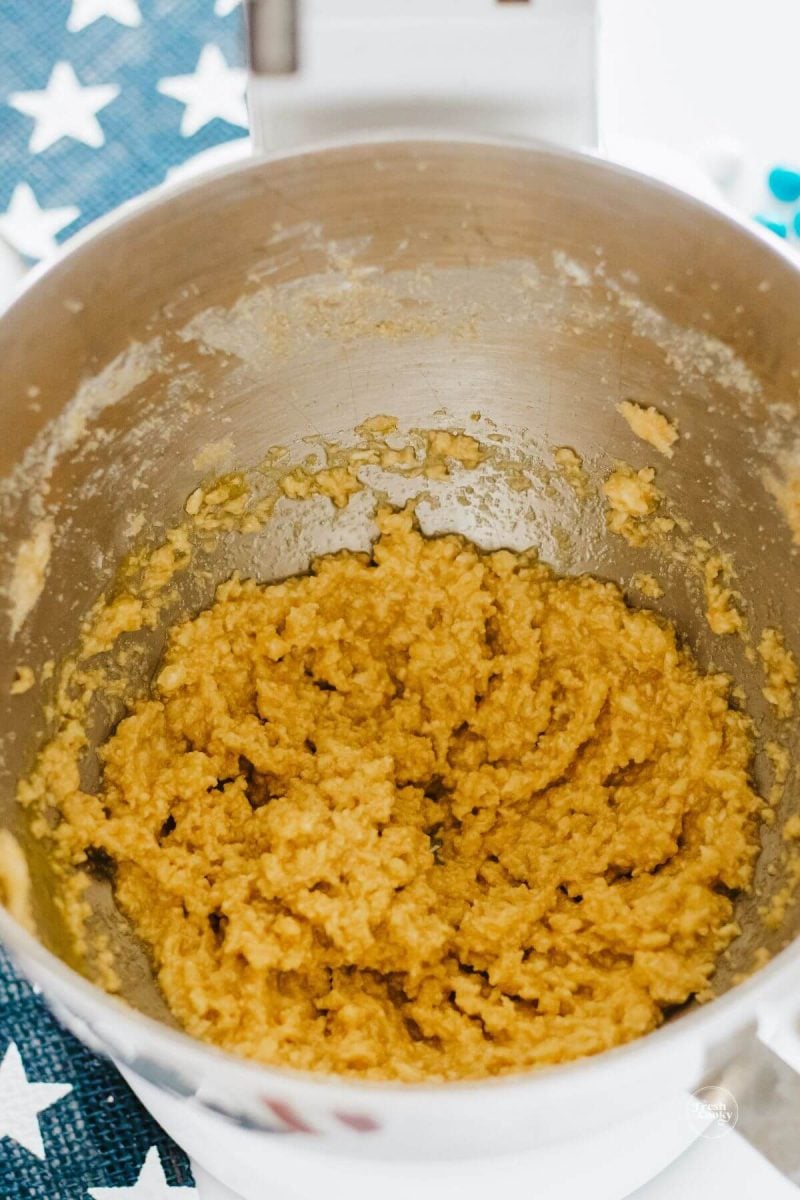 Step 2 | Add the chocolate and press into the skillet
Now that the chocolate chip cookie dough is complete sprinkle in the M&Ms and white chocolate chips. Fold them into the dough until they are evenly incorporated. Lightly butter or spray with oil the cast iron skillet or line with a piece of parchment paper.
Press the dough into gently using your fingers or a sheet of parchment paper. Add the sprinkles, and you're ready to bake!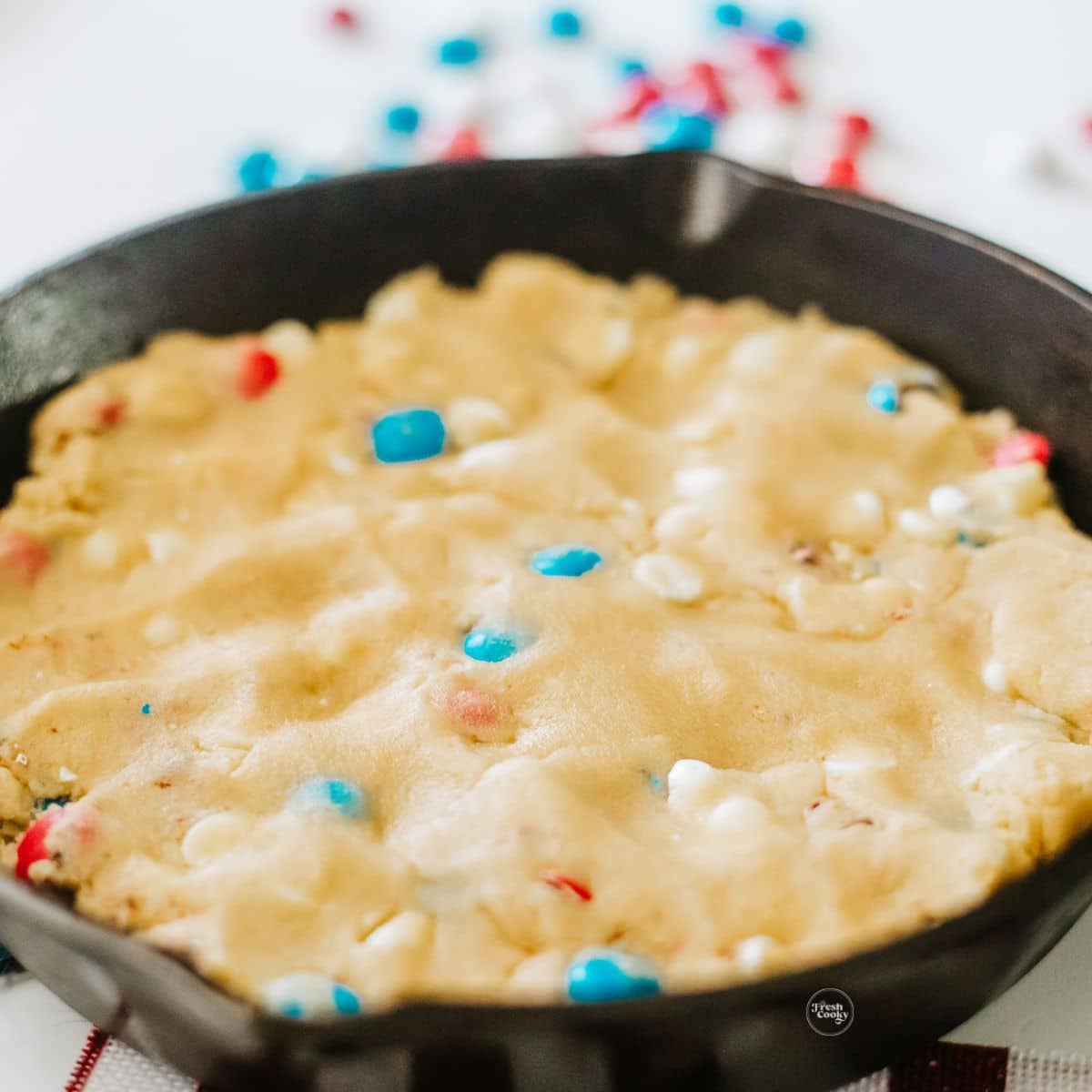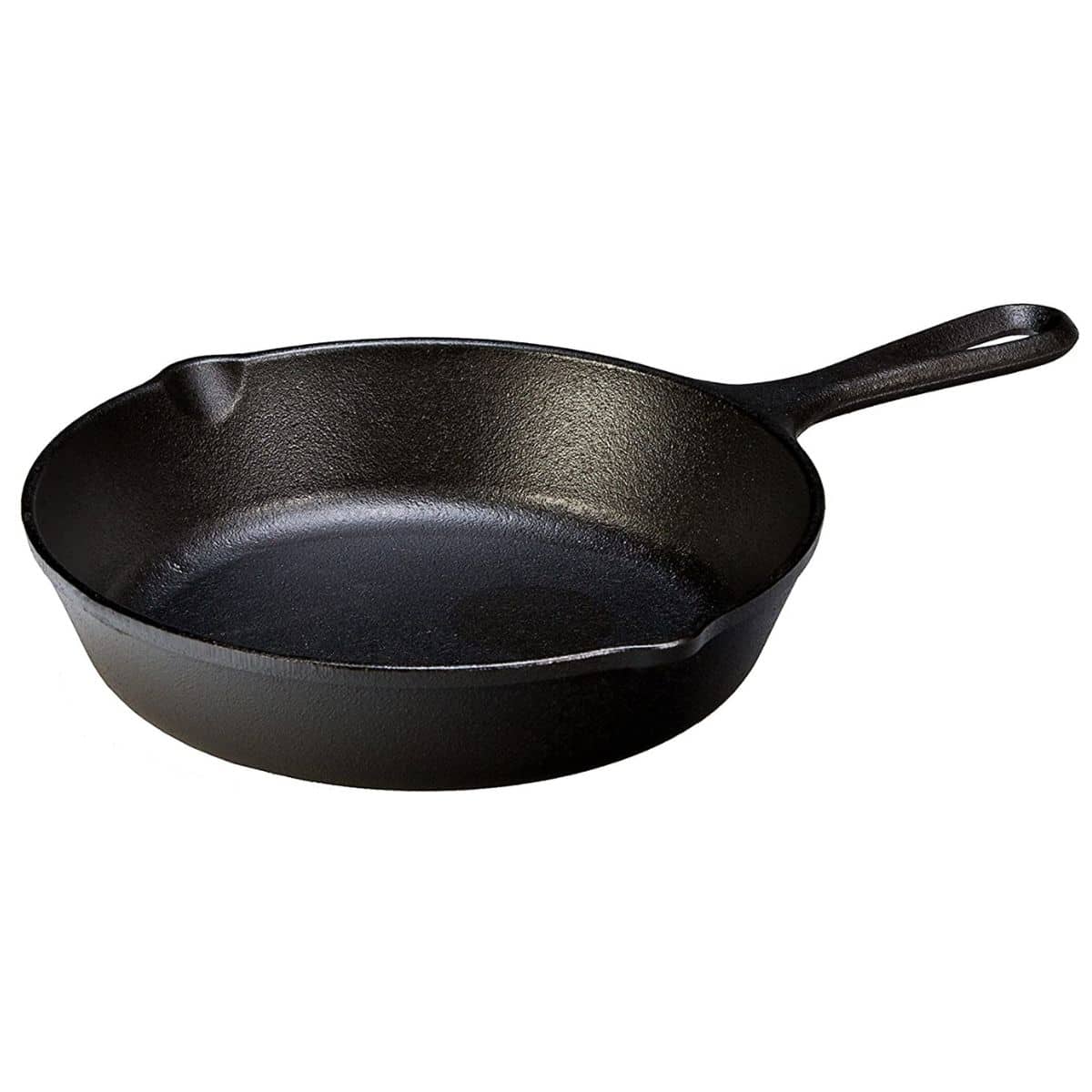 Fresh Tips
To make a larger red white and blue cookie cake, double the recipe and bake it in a 12-inch cast iron skillet. Cook a little longer until it puffs up and has golden edges.
Use parchment paper to line the skillet instead of oil or butter. Makes it easier to remove too!
Step 3 | Bake your red white and blue cookie
Slip the skillet into the preheated oven and bake for 15 to 20 minutes or until the surface of the giant pizza cookie is a subtle golden brown color. Then, remove it and allow the cookie to cool completely before frosting.
Step 4 | Add frosting and serve!
If making homemade, make your buttercream frosting according to recipe card instructions, then transfer the buttercream to a piping bag fitting with a 1M star tip if desired (or place into a ziplock baggie and snip ½ inch off the end).
Pipe the frosting around the outer edge of the skillet cookie. If you're feeling extra festive, sprinkle a pinch of red, white, and blue sprinkles on top, slice, and serve by slicing wedges, like a fun dessert pizza!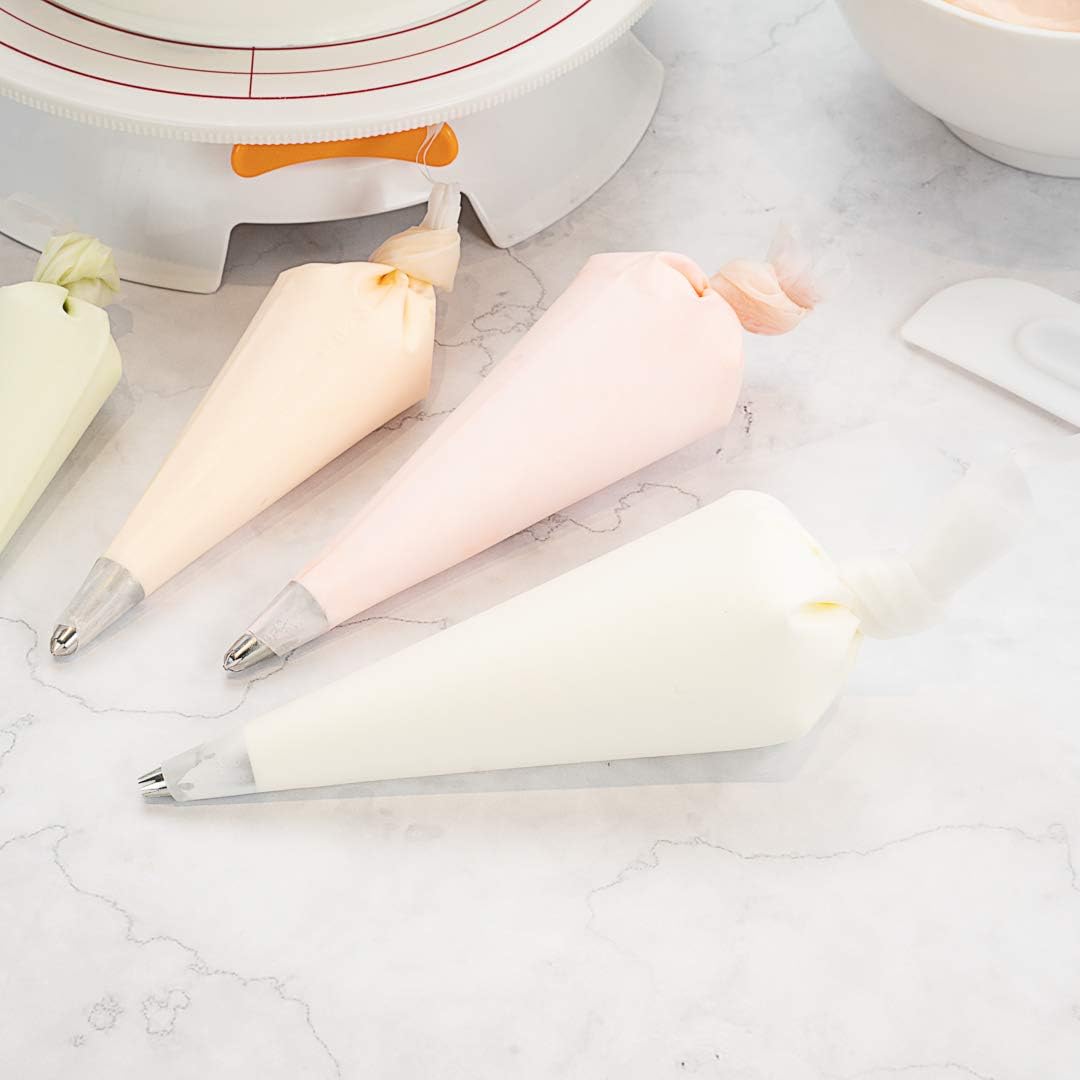 Favorite Piping Bags
Reusable piping bags
Variety of sizes
BPA free
Heavy duty, Silicone
Don't forget your tips
Baking Tips
Avoid overbaking the red, white, and blue sugar cookie cake. Aim for a tender texture, neither too dry nor doughy, edges should be golden, middle dull, not glossy.
Instead of separating red and blue m&m from a regular pack, look for special Independence Day M&Ms in local stores or purchase them online.
If you don't have an oven-safe skillet at home, use a 9-inch basic cake pan or pie plate.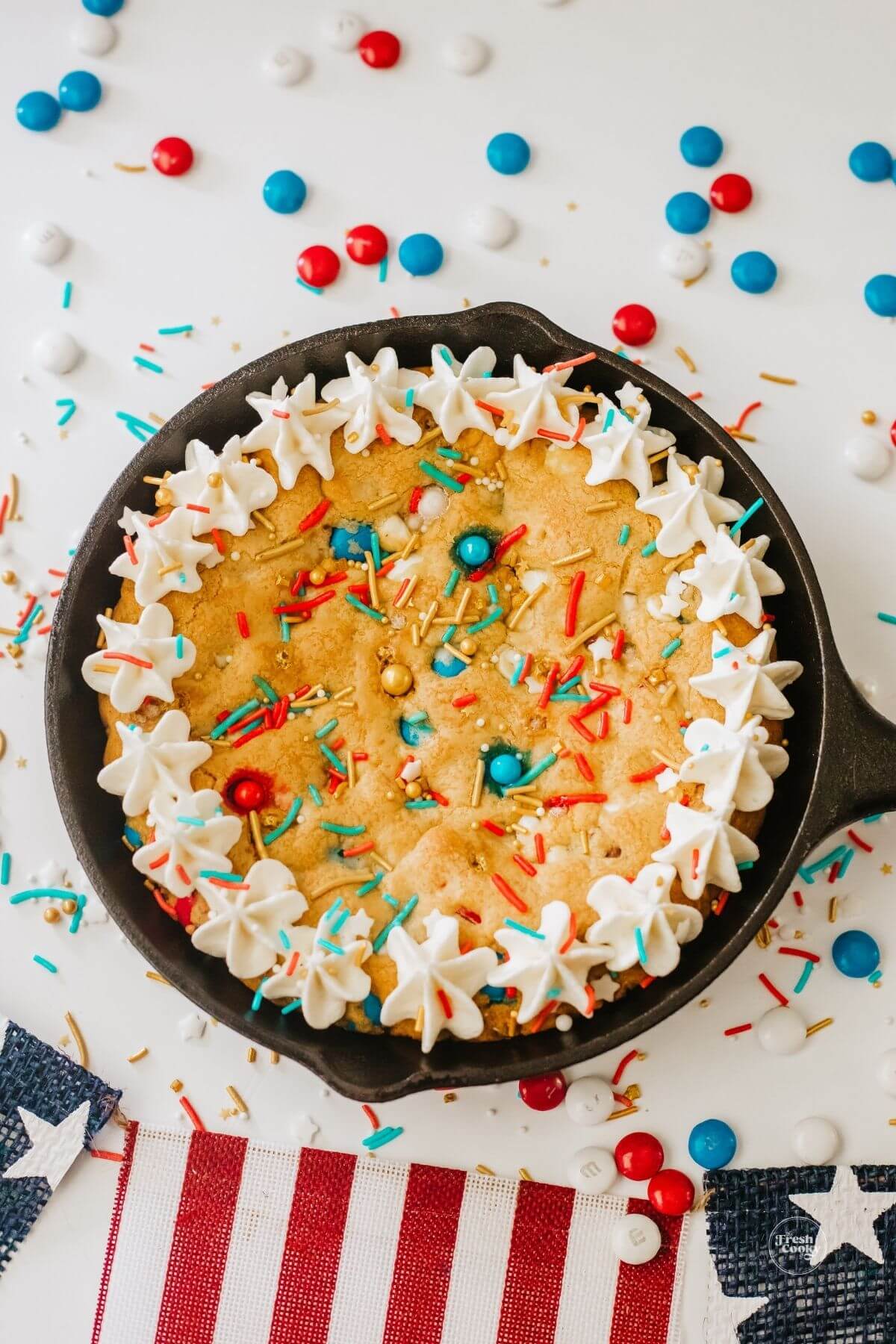 High Altitude Red White and Blue Dessert Cookie
Add 2 additional tablespoons of flour.
Subtract two tablespoons of brown sugar.
Increase the oven temperature to 375°F (190° C).
Bake for about 15-18 minutes or until the cookie turns golden brown at the edges.
I love gathering with family and friends to show our love and appreciation for our country. Besides the company, the best part is the tasty cookout-style dishes and red, white, and blue desserts. Try my Patriotic Ice Cream, use red, white and blue sprinkles in my cake mix cookies, try these Strawberry Phyllo Cheesecake Cups, or this Strawberry Shortcake Cookie.
Variations & Substitutions
Swap the Colors: patriotic dessert fit for any occasion by swapping the M&M colors and using different sprinkles. It's perfect for birthdays, graduations, summer cookouts, and more! As is, this recipe is also great for Presidents Day, Labor Day, Veterans Day, Flag Day, and Memorial Day.
Frosting: Bring more red, white, and blue by dying the frosting and making a pattern of patriotic dots around the edge of the cookie cake. You can even make white and red stripes with a blue square and white dots for stars to make a delicious American flag cookie cake.
Gluten-Free Cookie Cake: Make this recipe gluten-free using 1/2 GF all-purpose flour and 1/2 almond flour, oat flour, or coconut flour, and ensure the sprinkles and vanilla extract are gluten-free.
Swap out the white chocolate chips with semi-sweet or milk chocolate chips.
Make it a giant patriotic sugar cookie by following my Cadbury Cookie Cake recipe.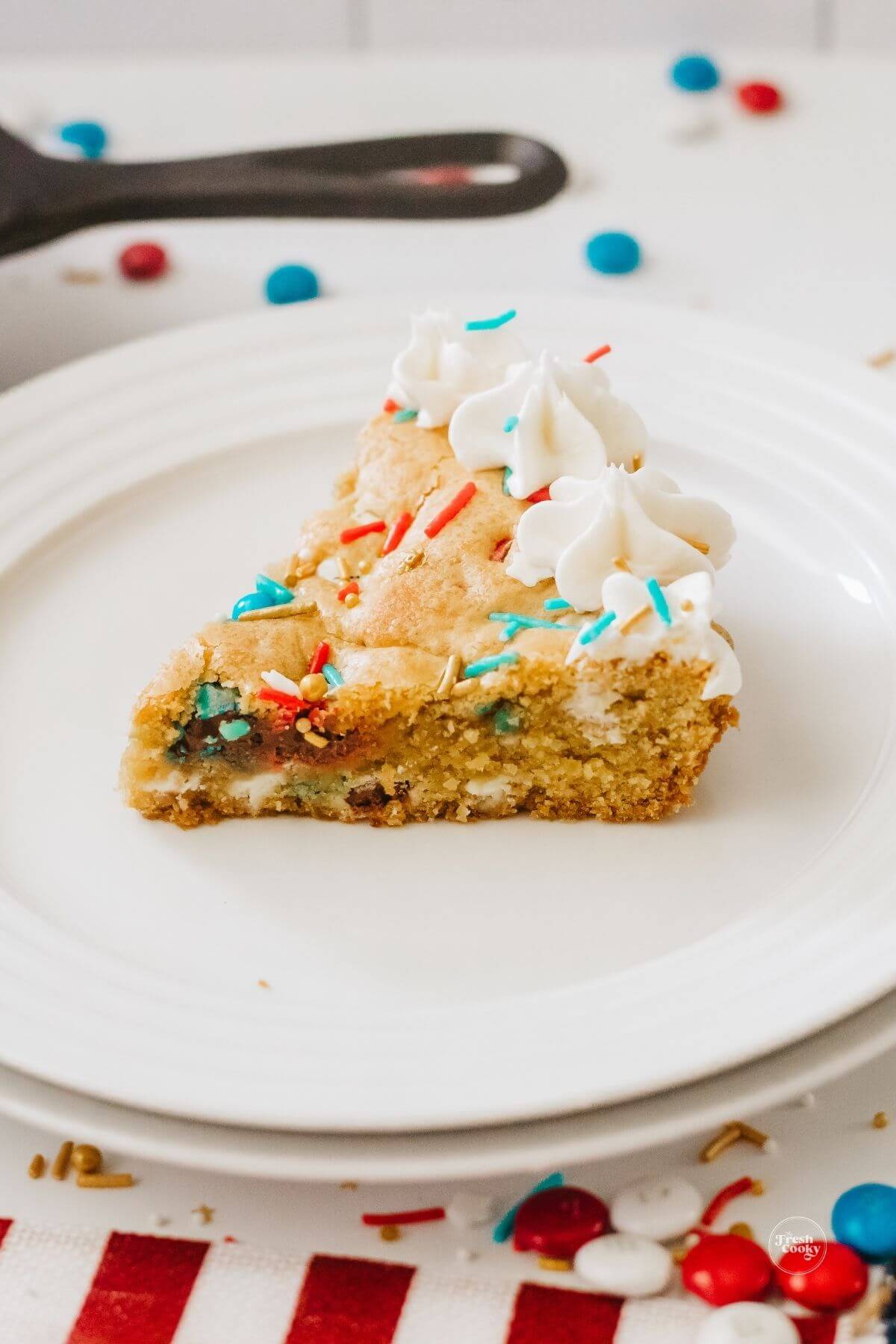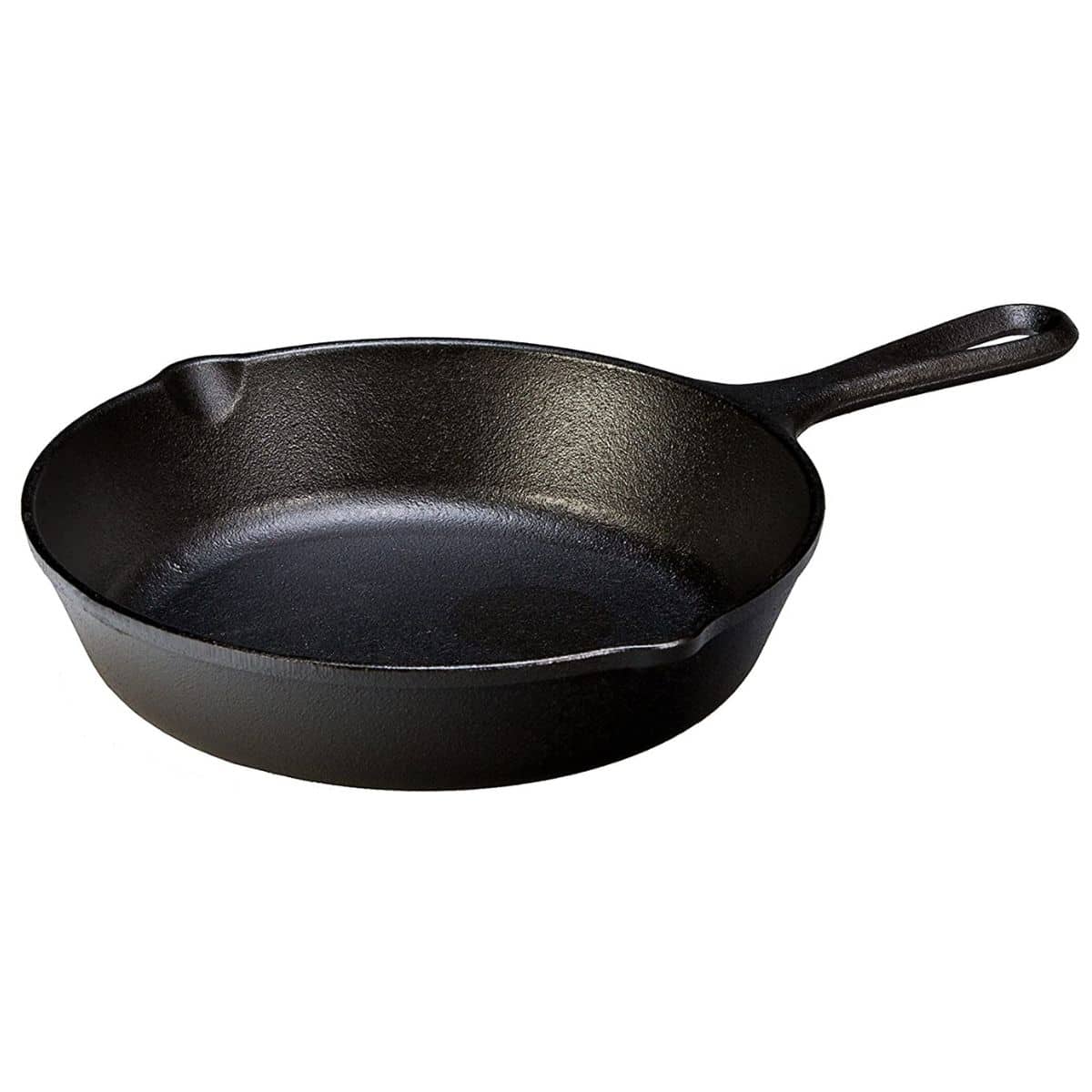 Storage Tips
Store your July 4th dessert in an airtight container or cover it tightly with plastic wrap or aluminum foil it will keep on the counter for 2-3 days. Refrigerate for up to five days, but is best served fresh.
How to Freeze a Skillet Cookie
​Save your cookie cake leftovers for up to three months by storing them in a freezer-safe bag or container in the freezer. Then, let it thaw overnight in the fridge before slicing it again.
Frequently Asked Questions
Does a cookie cake need to be refrigerated?
Your cookie cake is safe at room temperature on the countertop before frosting for 2-3 days. Cover it tightly with plastic wrap or foil or place it in an airtight container for the best results if it needs to sit longer.
Can you make a skillet cookie in advance?
Sure! I suggest skipping the toppings and frosting until the day you will serve the recipe. Follow the instructions to remove the cake from the oven, then let it cool and store it in the refrigerator in an airtight container up to two days before your Fourth of July party.
Can you reheat a skillet cookie?
If you want to serve leftover cookie cake toasty warm, reheat it in the oven covered with aluminum foil until heated. You can also reheat the cookie cake in the microwave if preferred. I suggest removing the icing if you rewarm the cookie, or it can make quite a mess.
How do you soften the butter to room temperature?
You have a couple of options. First, leave the butter on the countertop for about 30 minutes before starting the recipe. Or warm the butter in the microwave for just 7-12 seconds (mine has it perfect at 12 seconds). Cut butter into cubes and place on a plate, it will become room temperature in no time.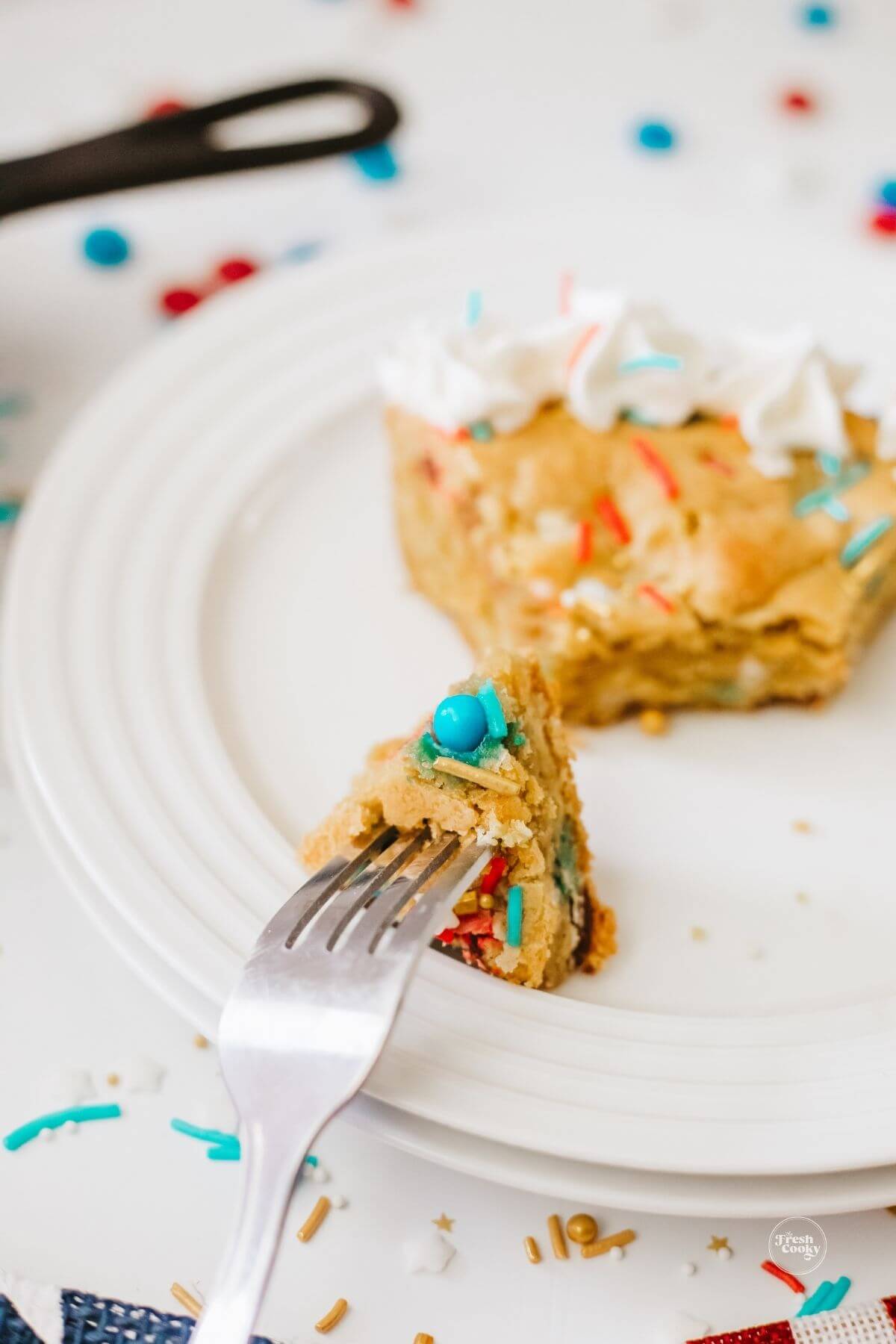 What to serve with Patriotic Pizookie Recipe
Serve this recipe with homemade cool whip and fresh berries on the side, or try a scoop of homemade ice cream!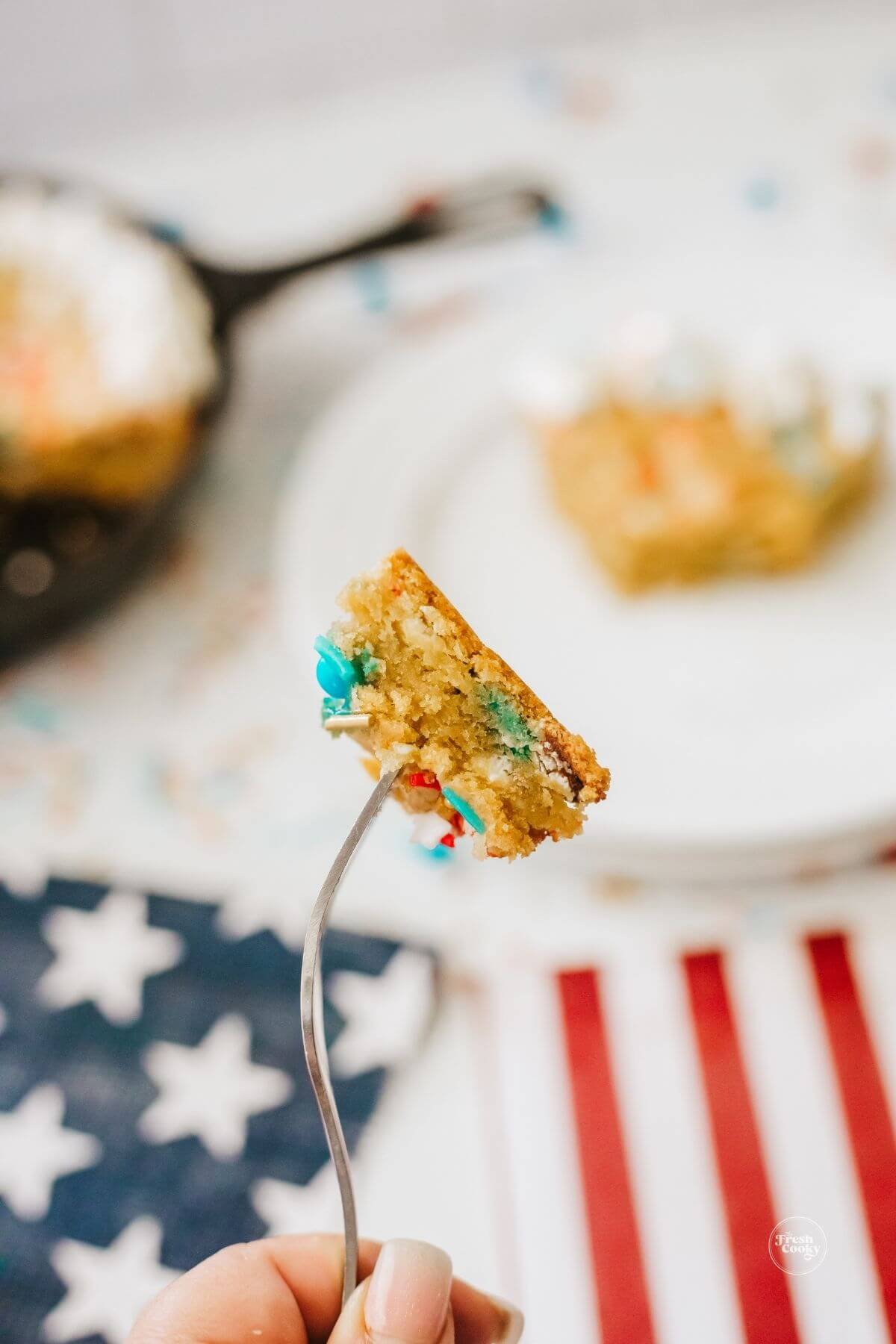 This recipe serves four to six Fourth of July guests, but you can easily double it to serve a larger crowd!
Best Entrees and Sides for Patriotic Cookie Cake + Video
Before diving into your homemade cookie cake, choose entrees and sides perfect for your 4th of July backyard or beach BBQ. Try my Bacon Balsamic Macaroni Salad with bright red tomatoes, cheddar cheese, balsamic ranch dressing, and the best Cowboy Baked Beans with Bacon with this saucy Oven Baked Beef Brisket. Or go traditional and make these amazing Smashburgers with Smash Sauce!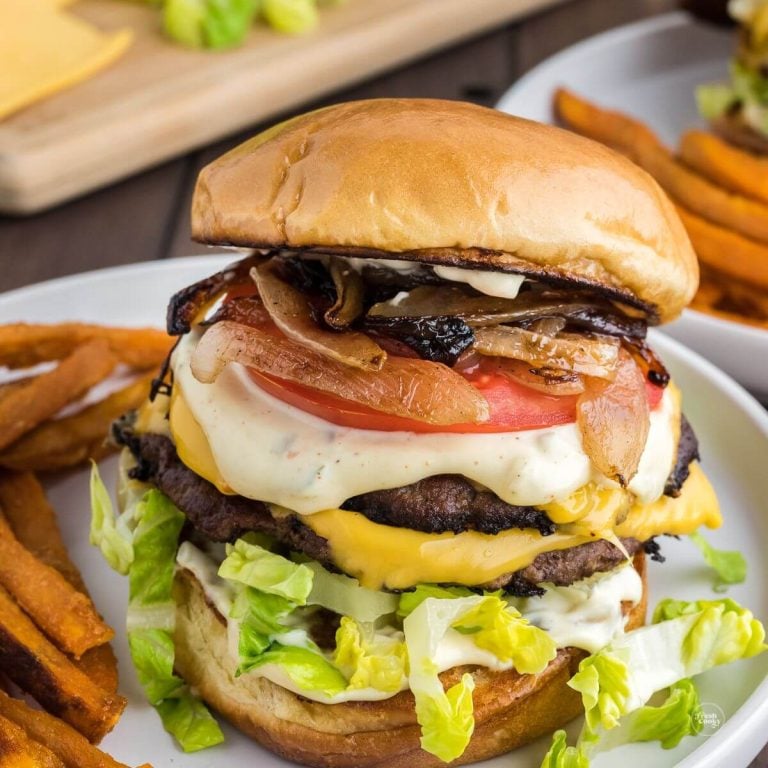 Best Smash Burger Recipe with Onions on a Blackstone
Delicious Smashburger Recipe: Juicy patties sizzling on a Blackstone griddle, topped with caramelized onions. Your taste buds will thank you!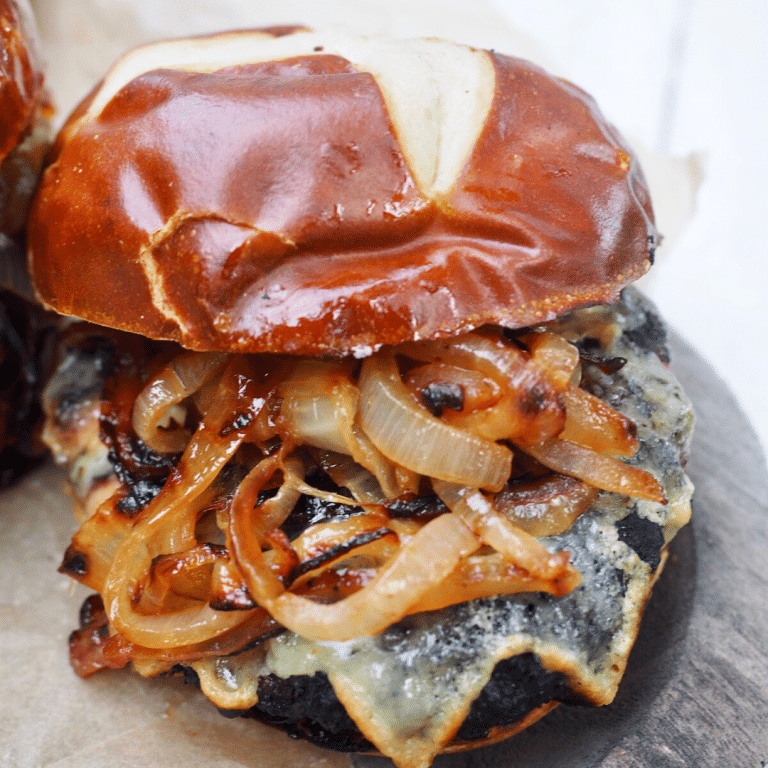 The Best Bison Burger Recipe with Caramelized Onions
Juicy, tasty, flavorful, healthier bison burger, loaded with caramelized onions on a salty pretzel bun! (Or easily convert to beef, chicken or turkey), using pantry staples!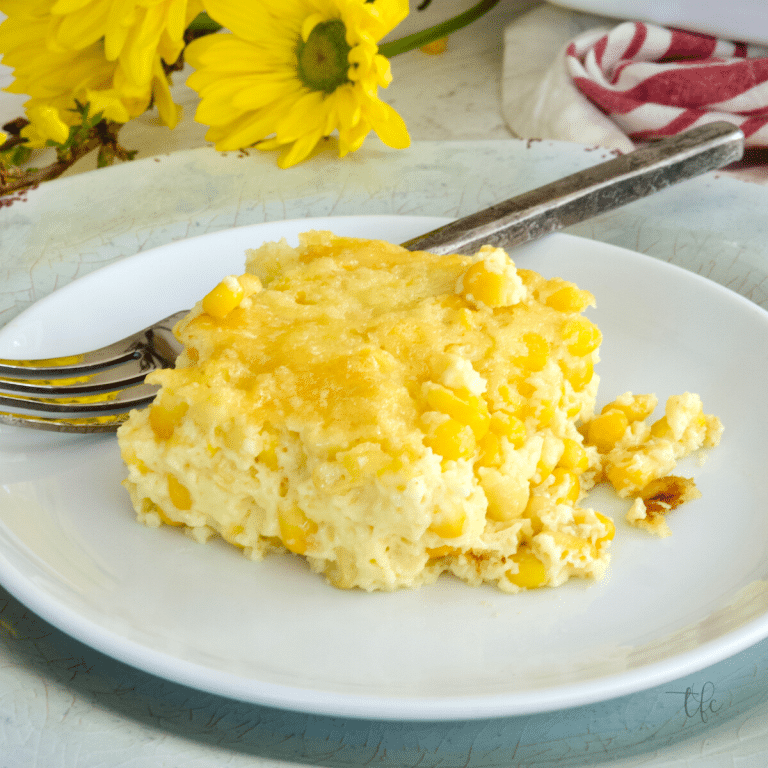 Easy Corn Casserole without Jiffy
Easy corn casserole without Jiffy is so simple, using everyday, all-natural ingredients. This corn pudding recipe, simply put — is the best corn side dish. Plus easily adapt this recipe to be gluten-free.
Best Festive Drinks to Serve with Red, White, and Blue Cookie Cake
Whether you are gathering with adults or families this Fourth of July, serve refreshing and delicious beverages that pair wonderfully with your chocolate chip cookie cake, like this Blueberry Gin Cocktail, all-American Blueberry Limemade with or without alcohol, or a sweet Cherry Bomb with rich bourbon and maple syrup.
Blueberry Gin Cocktail
Learn how to make this gorgeous, layered Blueberry Gin Cocktail or as I like to call it, Blueberry Gin Gin Fizz. Made with a layer of homemade blueberry syrup on the bottom, spicy ginger beer in the middle and topped with this beautiful gin. Easy steps to create this lovely ombré layered look by a simple "float" process.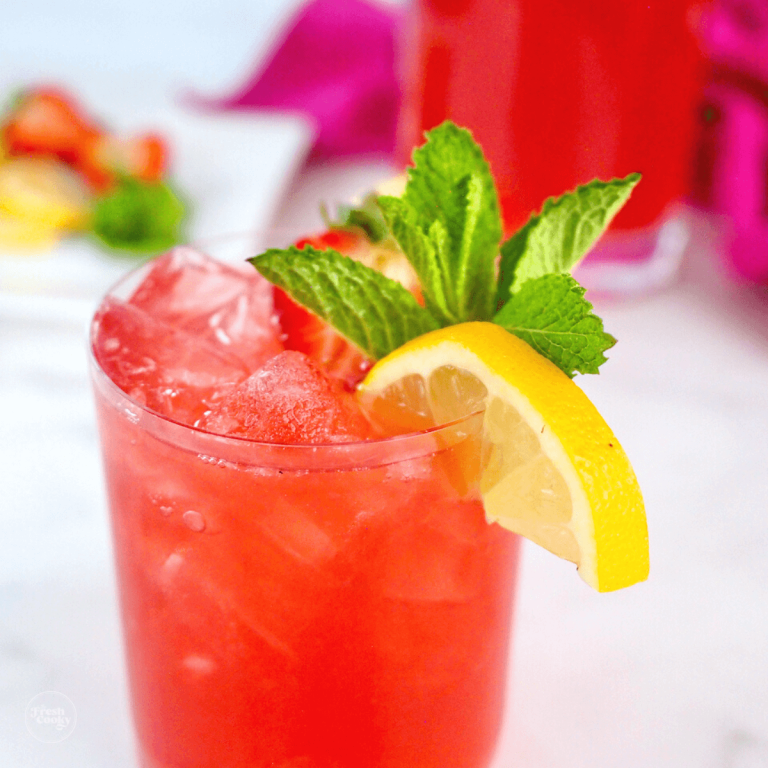 Pink Lemonade Vodka Cocktail
Looking for a simple, homemade pink lemonade vodka cocktail? With a few simple ingredients this fresh and delicious all-natural pink lemonade vodka drink will become a summer favorite! This easy cocktail recipe can be made by the glass or by the pitcher!
Easy Iced Peach Green Tea Lemonade Recipe (Starbucks Copycat)
There is nothing more refreshing on a hot summer day than a tall glass of iced peach green tea lemonade. This copycat Starbucks version is a bit lighter, using all natural flavor, no sugar, fresh peach juice, light lemonade and Jade Citrus Mint Tea, a flavorful green tea.
More Fourth of July Cookie Ideas
More Red White and Blue Desserts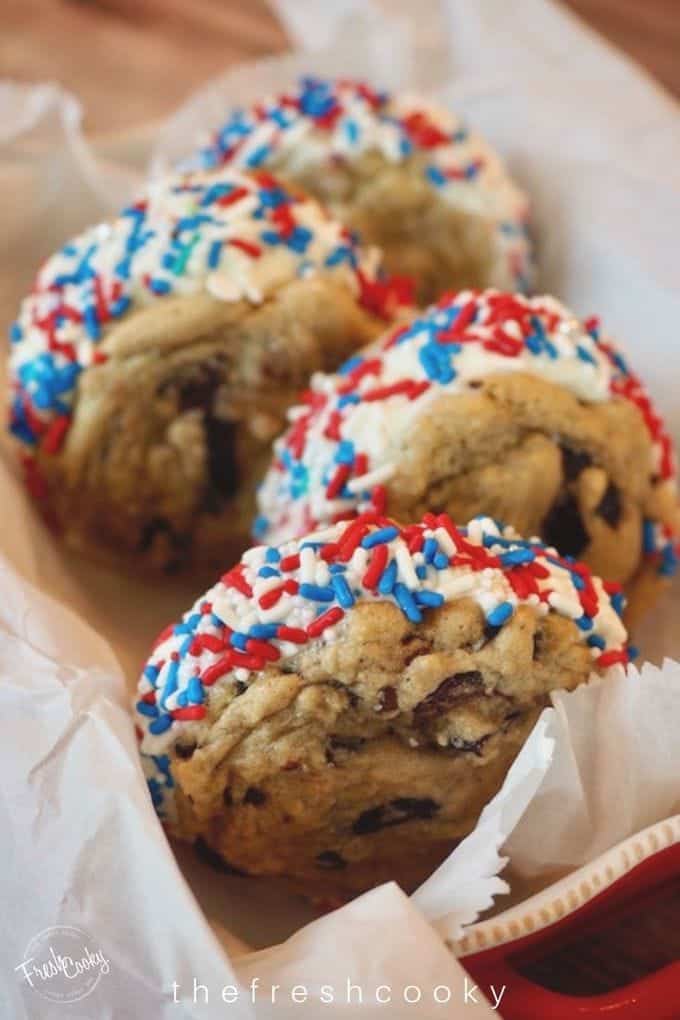 Chocolate Chip Cookie Ice Cream Sandwiches
Creamy ice cream sandwiched between two amazing chocolate chip cookies, rolled in brightly covered sprinkles! The essence of summer in a handheld treat.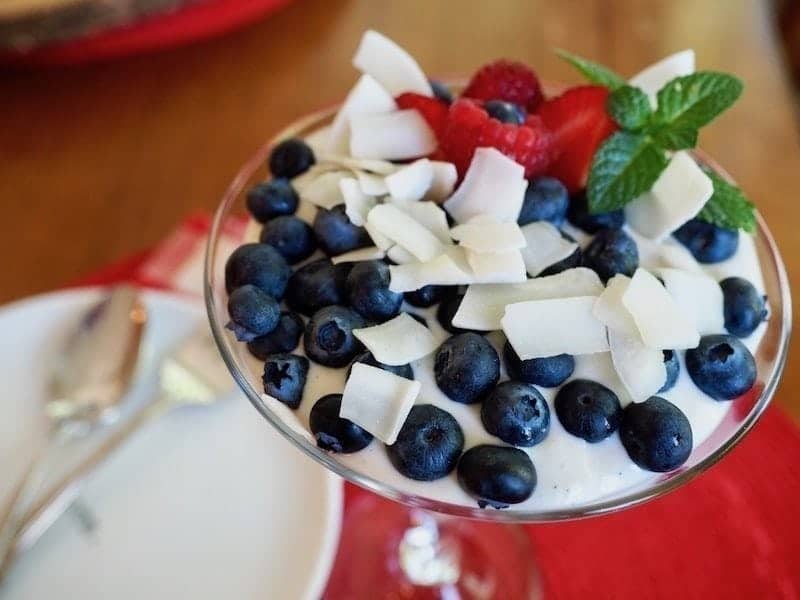 Red, White and Blueberry Yogurt Parfaits
Enjoy these red, white and blueberry yogurt parfaits, with fresh berries and creamy yogurt — the perfect start to your Independence, Memorial or Labor day!!
Red, White and Blue Ice Cream
A perfect patriotic treat! Make this easy, red, white and blue ice cream for Memorial day or July 4th and watch smiles happen! Just a few simple ingredients to this no-churn vanilla ice cream recipe.
PRO TIP
Most oven temperatures run hot or cold by 25-50° F; the best way to know if your oven is at the correct temp is to place an oven thermometer inside and allow the oven to preheat 20-30 minutes for accuracy.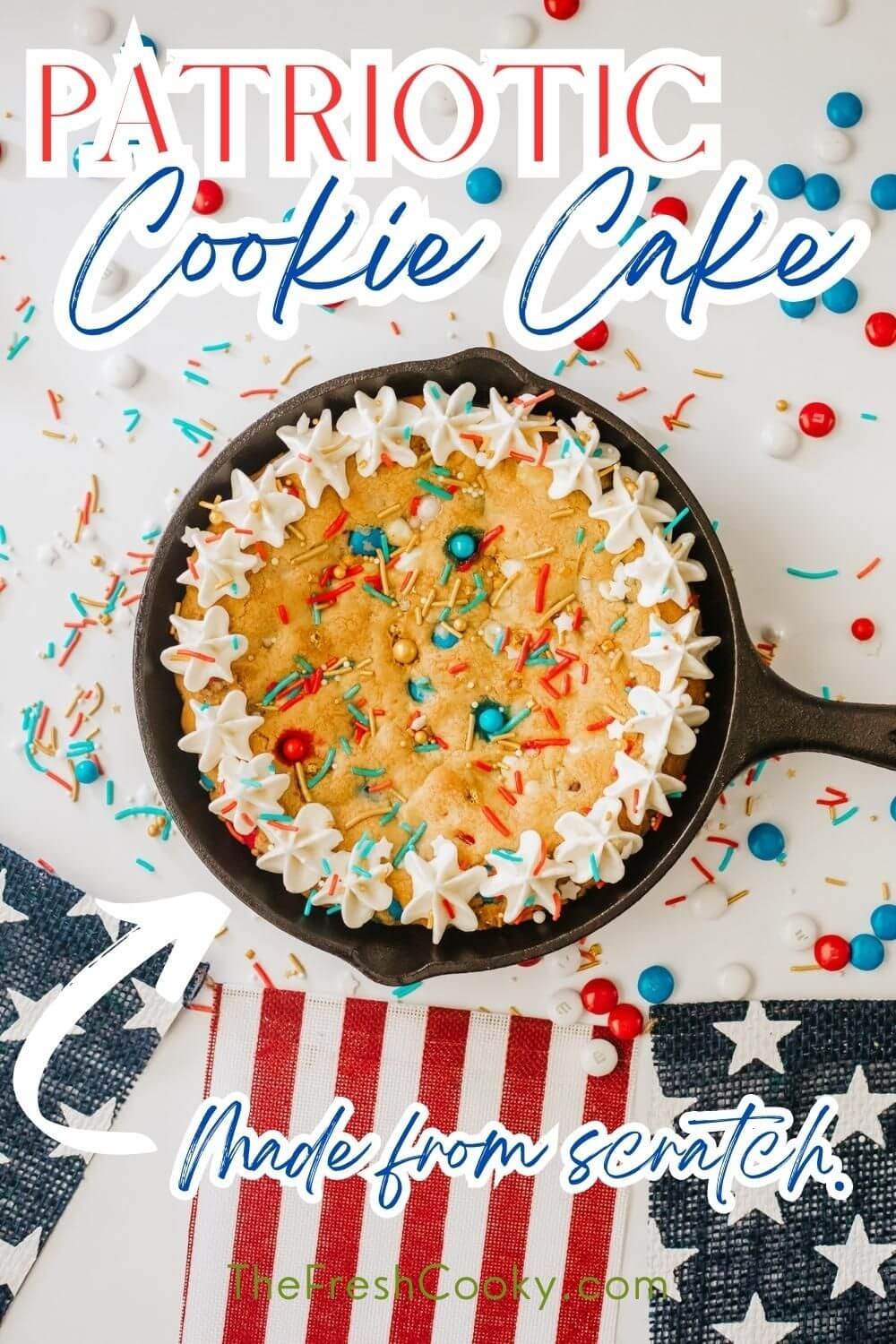 I hope you loved this Easy Patriotic Cookie Cake— if you did, would you share your creation on Instagram, Facebook, and Pinterest? And be sure to comment below!
Like this recipe?
Don't forget to give it a ⭐️⭐️⭐️⭐️⭐️ star rating and comment below the recipe!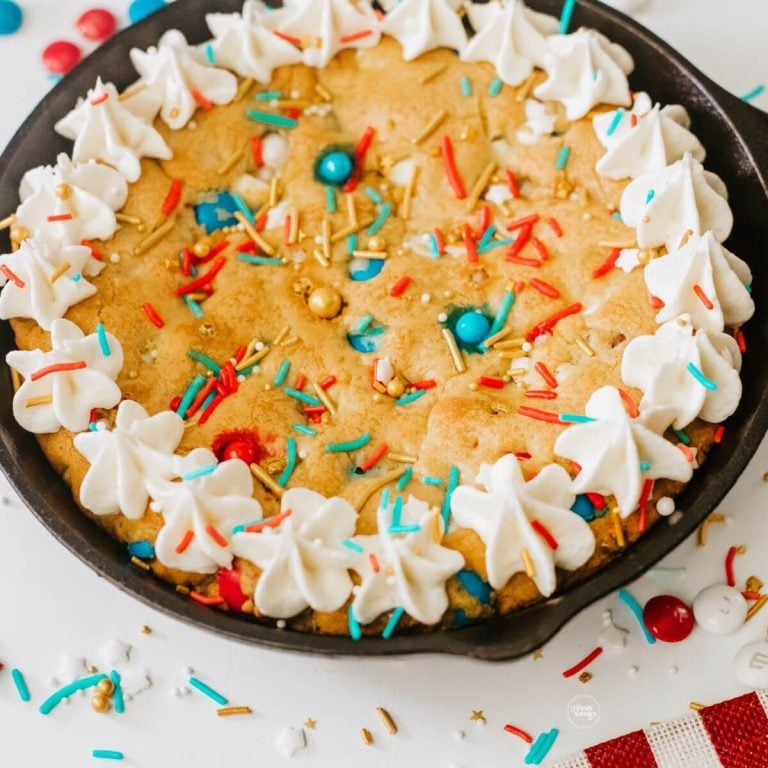 4th of July Cookie Cake (Patriotic Skillet Cookie)
This 4th of July Cookie Cake is just as beautiful as it is delicious. White chocolate chips and patriotic red, white, and blue M&Ms mixed into a homemade chocolate chip cookie base and topped with buttercream frosting and festive sprinkles.
Ingredients
1 ½

cups

all-purpose flour,

+ 2 tablespoons high altitude

½

teaspoon

Baking soda

½

teaspoon

kosher salt

1/2

cup

butter

,

1 stick, softened to room temperature

¼

cup

sugar

,

I use all natural cane sugar

10

tablespoons

light brown sugar

,

packed (that's ½ cup + 2 tablespoons) (reduce to ½ cup high altitude)

1

teaspoon

vanilla extract

1

large

egg

,

room temperature, quick room temp, set egg in bowl of warm (not hot) water, 5-7 minutes.

½

cup

White Chocolate Chips

½

cup

m&ms

,

Red White and Blue or favorite colors

Patriotic Sprinkles

1/2

can

Buttercream Vanilla Frosting ,

or make your own, even better! Make up ½ recipe of my vanilla buttercream
Instructions
Preheat oven to Bake at 350° F (175° C) and line an 8-inch oven-proof skillet (I love cast iron) with parchment paper or lightly spray with oil or rub with butter. (375°F (190° C) for high altitude)

Combine flour, baking soda, and salt in a medium bowl; whisk to combine. Set aside.

Next, cream together butter and both sugars with paddle attachment on medium-high speed for 3-5 minutes until light and fluffy.

Add in your vanilla and egg, and mix on medium-high speed for 1 minute, scraping sides if needed.

Slowly add in your flour mixture.

After everything is combined, stir in your M&Ms and white chocolate chips; gently fold them into your dough, or stir for a few seconds on the lowest setting.

Press cookie dough into the bottom of prepared cast-iron skillet that is well-greased with a little oil or butter (or line it with parchment paper). Add your sprinkles on top.

Bake at 350° F (175° C) for 15-20 minutes or until slightly golden; see notes for High Altitude. For high altitude, bake at 375°F (190° C) checking at 15 minutes. Cool completely before frosting.

Make your buttercream frosting or stir store-bought frosting well, then fill your piping bag with white buttercream and pipe icing around the edge of your cooled cookie cake. Add additional Sprinkles if you like. Slice and enjoy.
✱ Kathleen's Tips
Larger Cookie Cake
If desired to make a larger cookie cake, double the recipe and press into 10 or 12-inch cast iron skillet; bake until puffed and slightly golden around the edges.
You may also bake this pizza cookie in a pie plate or 9″ cake pan.
High Altitude Cookie Cake
Increase flour by two tablespoons
Decrease brown sugar by two tablespoons
Increase oven temperature to 375°F (190° C) and bake 15-20 minutes until just turning golden brown.
Oven Temperatures
Most oven temperatures run hot or cold by 25-50° F; the best way to know if your oven is at the correct temp is to place an oven thermometer inside and allow the oven to preheat 20-30 minutes for accuracy.
Nutrition
Serving:
1
serving
Calories:
539
kcal
Carbohydrates:
73
g
Protein:
6
g
Fat:
25
g
Saturated Fat:
15
g
Polyunsaturated Fat:
1
g
Monounsaturated Fat:
6
g
Trans Fat:
1
g
Cholesterol:
77
mg
Sodium:
450
mg
Potassium:
120
mg
Fiber:
1
g
Sugar:
48
g
Vitamin A:
559
IU
Vitamin C:
0.2
mg
Calcium:
81
mg
Iron:
2
mg
Nutrition Disclaimer
The Fresh Cooky is not a dietician or nutritionist, and any nutritional information shared is only an estimate. We recommend running the ingredients through an online nutritional calculator if you need to verify any information.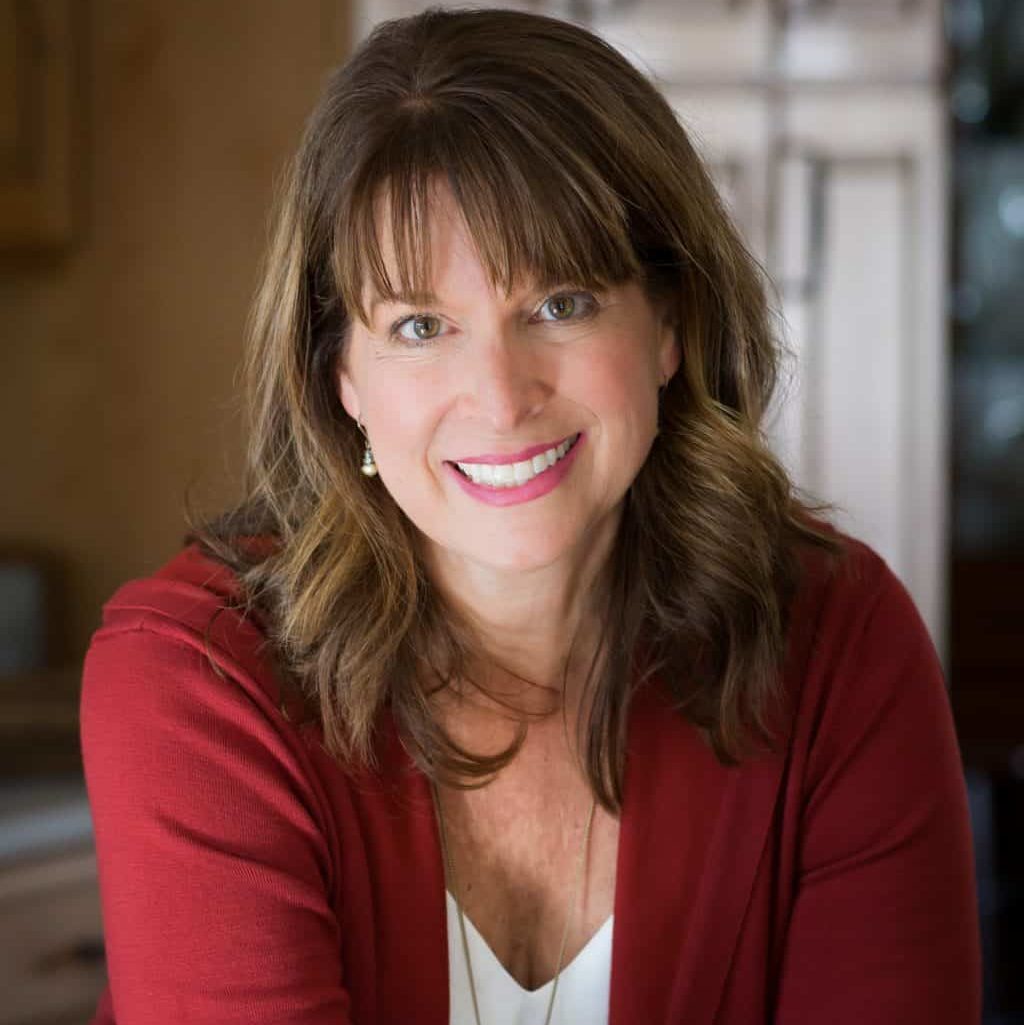 About Kathleen Pope
Recipe Innovator | Food Photographer | Food Writer
Hi, I'm Kathleen Pope. Here at The Fresh Cooky you will find easy, mostly from-scratch, trusted recipes for all occasions. From speedy dinners to tasty desserts, with easy step-by-step instructions. I am here to help teach you how to make mouthwatering recipes without spending hours in the kitchen. Read more about Kathleen here.