Easy Chewy Blondies Recipe | The Best Blondie Recipe
As an Amazon Associate, I earn from qualifying purchases. Please read my disclosure policy.
The easiest, best chewy blondies recipe! These are the best blonde brownie recipe; with more of a vanilla, buttery, caramel-y, almost butterscotchy taste! If you have never made blondies this recipe is for you, easy, one bowl, chewy blondies.
Blondies are super versatile, you can mix just about anything in (see mix-in options towards the end of the post) and as long as you do not over bake them, they are the moistest, chewiest, gooey bar cookies around! High altitude instructions included!
They are the best of bar cookies since they whip up in no time, in one bowl (no mixer required) and take less than a half an hour to bake. Grab my other simple one pan bar recipes too! Basic Fudge Brownies, Sugar Cookie Bars or these Salted Chocolate Graham Bites.
What's the Difference between a Blondie and a Brownie?
The main difference between blondies and brownies is brownies have the addition of chocolate whether melted or in cocoa form and blondies are rich in buttery, brown sugar and vanilla flavors.
Anyone who has followed me for awhile, knows I don't shy away from chocolate recipes; like my easy One Bowl Brownies, or my Triple Chocolate Dream Torte or this incredibly easy Chocolate Chocolate Chip Bundt cake.
BUT, blondies take the cake for me, or the bar cookie, or whatever…blondies rock! Even my husband, a committed chocolate lover, loves these — he calls them "Fat Pills!" 🙂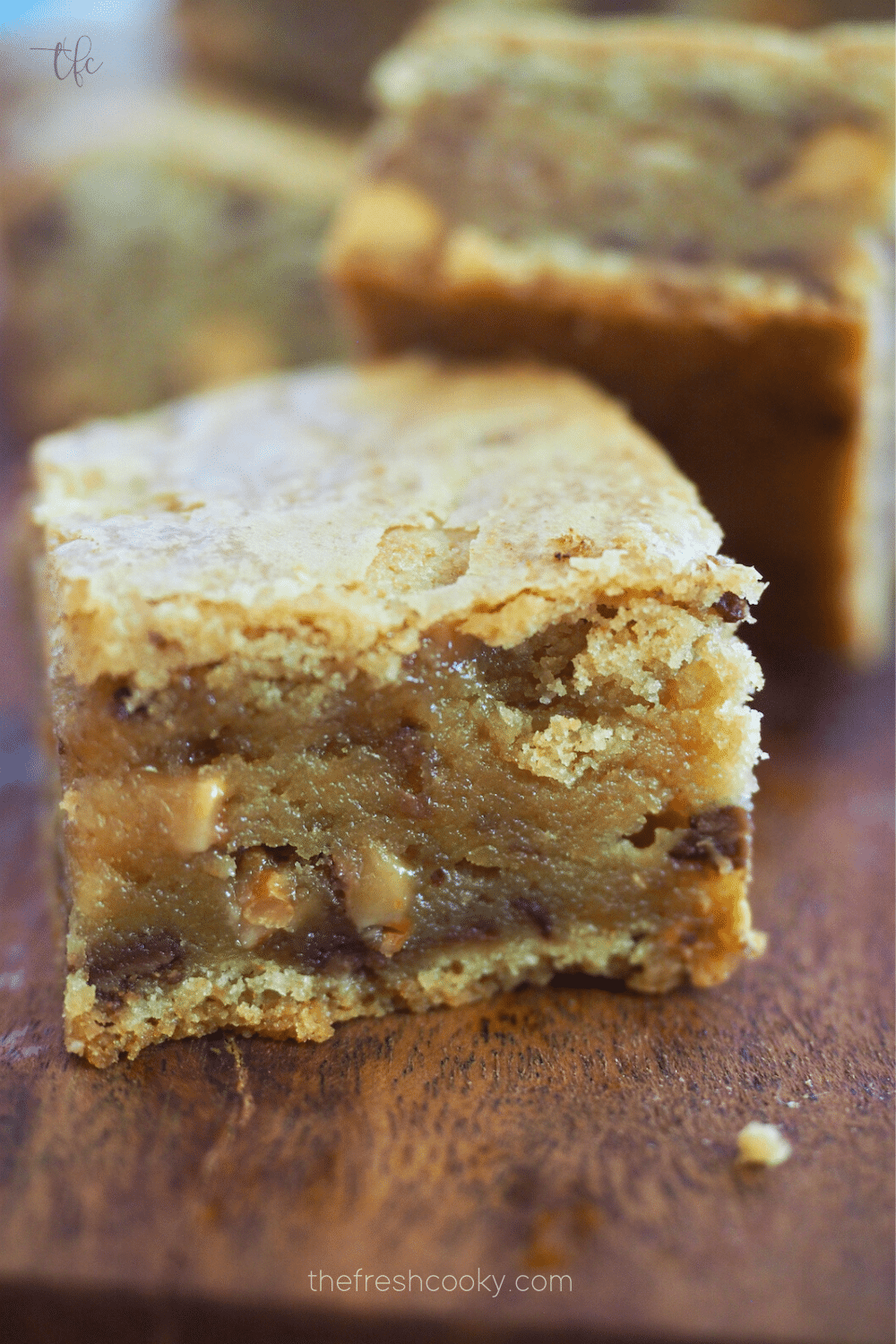 Tips for Making the Best Chewy Blondies Recipe
Melt the butter | I've made these with regular melted butter as well as Browned Butter (see post on Brown Butter Glaze for simple how to make brown butter), I think browned butter is my fave, but it's an extra step, so I get it you just need to get these in your belly! Psst…please use REAL BUTTER, real butter means it's hard coming out of the fridge, if it's in a tub or is soft out of the fridge it's not real butter, but a blend.
Extra Egg Yolk | Adding an extra egg yolk adds a bit more fat content and emulsifying abilities to the batter, some people have complained that when they make blondies the fat separates and floats to the top while baking. The fat gives baked goods extra-rich flavor and a velvety texture. The yolk also has the unique ability to bind liquids and fats together, creating an emulsion that prevents them from separating. (Source)
Brown Sugar | I have used all light brown sugar, half light and half dark brown sugar, the key is to use brown sugar, this gives the blondies that carmel-y, buttery chewiness!
BAKING TIME!! | This is probably the most critical aspect, I have overbaked many a blondie (or brownie for that matter). Baked goods have a tendency to bake faster at high altitude so I typically start checking my baked goods about 10 minutes before the lowest time given.
Whether you are at sea level, 1,000 feet or 8,500 feet, do not over bake them! Remove from the oven when the edges are just turning golden, pulling away slightly from the edge of the pan and the center still looks unbaked slightly. They will firm up as they cool.
OPTIONAL MIX-INS FOR BLONDE BROWNIES
Rule of thumb, add up to 2 cups of your favorite mix-ins, as few as 1/2 cup or none at all, you design this designer gooey cookie bar!
Chocolate Chip Cookie Bars | add up to two cups semi-sweet chocolate chips
Butterscotch Blondies | Add up to 2 cups butterscotch chips
Toffee Blondies | Add one 10 oz bag Heath bar toffee bits (I used Heath bits and butterscotch chips in this batch below! WOW!)
Also try, white chocolate chips and chopped walnut, hazelnuts, macadamia nuts, or pecans
White Chocolate Chips, Dried Cranberries or Cherries or other dried fruit and walnuts
M&M's, mini Reese's, Mini Rolo's, Caramel pieces or chunks, Mini Snickers, or Peanut Butter Chips
Whopper or Malteser Blondies | My personal favorite! Crush or chop 2 cups of malted milk balls in ziplock baggie and mix in. Optional | press whole malted milk balls into just out of the oven blondies and sprinkle with a little flaky sea salt!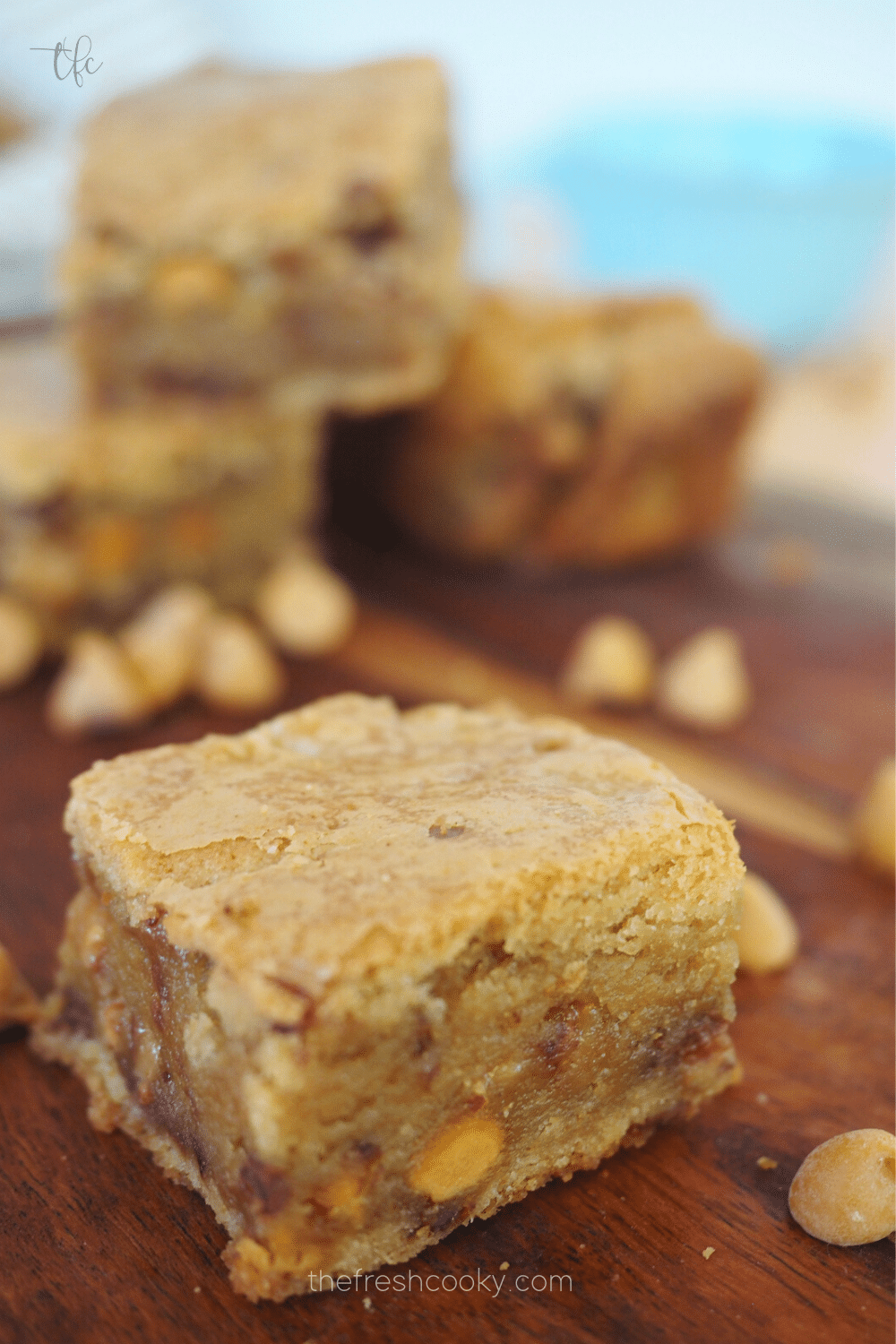 Chewy Blondies Recipe Ingredients
The full recipe with measurements is in the printable recipe card at the end of the post.
Butter | The real stuff, nothing that is soft coming out of the fridge.
All-Purpose Flour | I used organic unbleached all purpose flour, which I have found unbleached works best in baking.
Brown Sugar | I used light brown, but for a more caramel flavor you could certainly use dark brown.
Eggs | You need some lift and chew with your chewy blondies, the eggs help!
Mix-Ins | see above for ideas, I have used butterscotch chips, Heath bar bits, chocolate chips, and malted milk balls.
Instructions for Blondie Brownie Recipe
Start by melting the butter (and browning if you choose to do brown butter blondies), in a large mixing bowl or the bowl of a stand mixer, add brown sugar and melted butter and stir until smooth.
Add eggs one at a time, mixing in well after each addition. Stir in vanilla extract. In a separate bowl, whisk together flour, baking powder and salt.
Stir in flour mixture one cup at a time, mixing into the wet mixture a little at a time, until completely combined. Add desired mix-ins (chips, nuts, toffee, etc) stirring until mixed.
Spread batter into parchment or foil lined pan (for easier slicing). To easily "spread" batter, scoop batter into prepared pan and using a piece of parchment, wax paper or plastic wrap, lay over top of batter and smooth to edges of pan until even, see video below for how I do it.
For thinner (but more of them) blondies use 9×13 inch pan, for thicker chewier blondies use a 9×9 inch pan or 7×11 brownie pan.
Bake at 350 degrees F (Sea Level up to 3500 feet)
9×13 inch pan 20-30 minutes
9×9 or 7×11 inch pan 30-40 minutes
High Altitude Baking Instructions for the Best Chewy Blondies
Increase heat to 375 degrees F if using metal, regular pans (if dark or glass pans; keep temp at 350)
9×13 inch pan bake for 15-25 minutes
9×9 or 7×11 inch pans 20-30 minutes
PIN the recipe to your favorite Bar Cookie & Brownies Board!
If you like easy blondies, then you gotta try these easy recipes!
Like this recipe?
Don't forget to give it a ⭐️⭐️⭐️⭐️⭐️ star rating and comment below the recipe!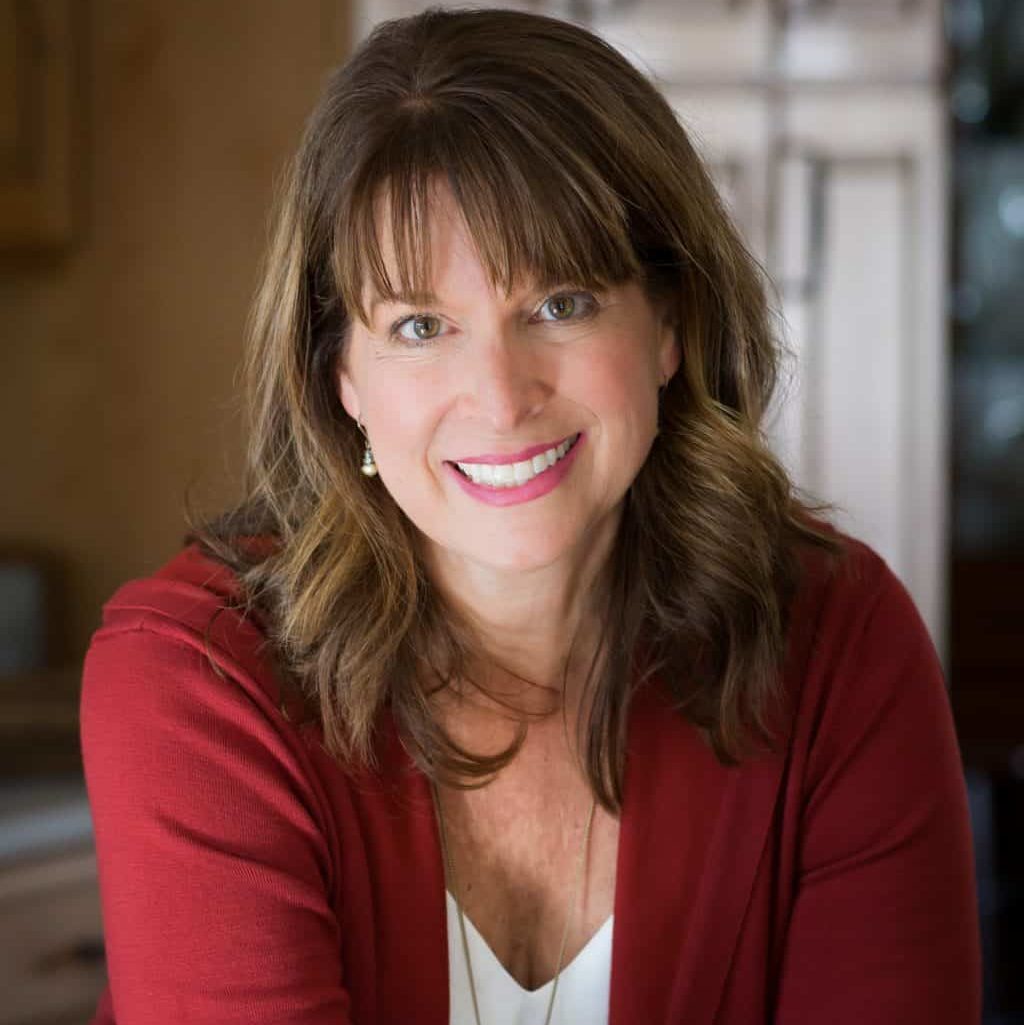 About Kathleen Pope
Recipe Innovator | Food Photographer | Food Writer
Hi, I'm Kathleen Pope. Here at The Fresh Cooky you will find easy, mostly from-scratch, trusted recipes for all occasions. From speedy dinners to tasty desserts, with easy step-by-step instructions. I am here to help teach you how to make mouthwatering recipes without spending hours in the kitchen. Read more about Kathleen here.