Best Smash Burger Recipe with Onions on a Blackstone
As an Amazon Associate, I earn from qualifying purchases. Please read my disclosure policy.
Say hello to this juicy Smashburger recipe with onions, where perfectly seared patties are topped with caramelized onions and creamy, tangy sauce. Thanks to the Blackstone griddle, you can make this mouth-watering masterpiece right at home! No Blackstone? No problem, keep reading!
The Blackstone Griddle continues to gain popularity for its ability to easily cook a variety of foods to restaurant-style perfection – everything from pancakes and eggs to stir-fry to smash burgers!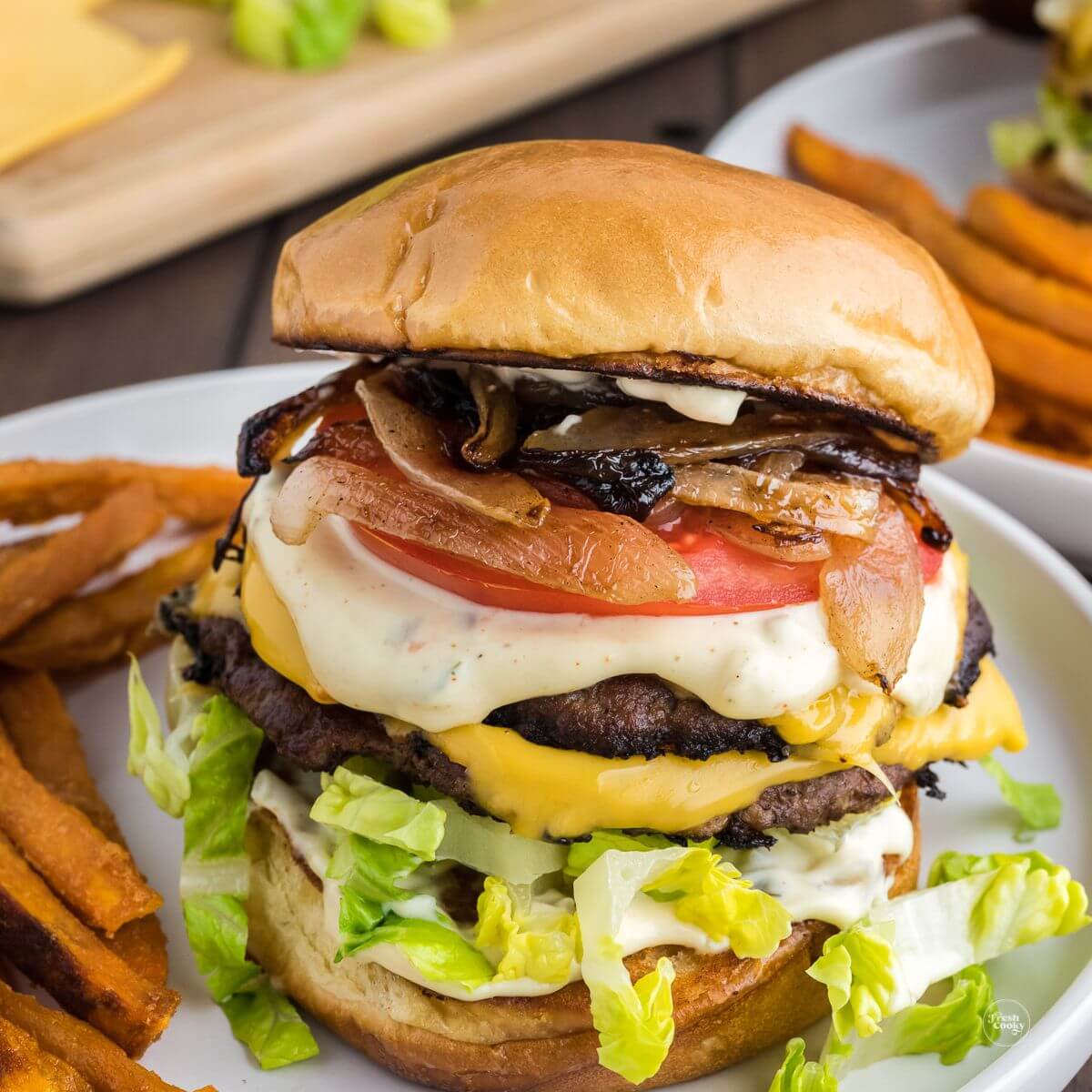 I enjoy giving precise details in my recipe posts to lead my readers through any questions. If you're just here for the printable recipe, feel free to click "Jump to Recipe" right under the title of this post, and you'll head straight there!
Why You Will Love This Blackstone Smash Burger Recipe
Prepared Fresh from Home | Fresher is always better; better flavor and better for you!
Authentic Flavor | This is the best burger! It tastes even better than the original Smashburger.
Super Simple Ingredients | Only meat and a few spices to make this juicy burger!
So why does a flat top griddle make such a difference when making a "smashed burger"? I'm glad you asked! The griddle's even heat distribution lets you achieve crispy, caramelized edges on your burger while preserving the juicy, flavorful center. Summer never tasted so good!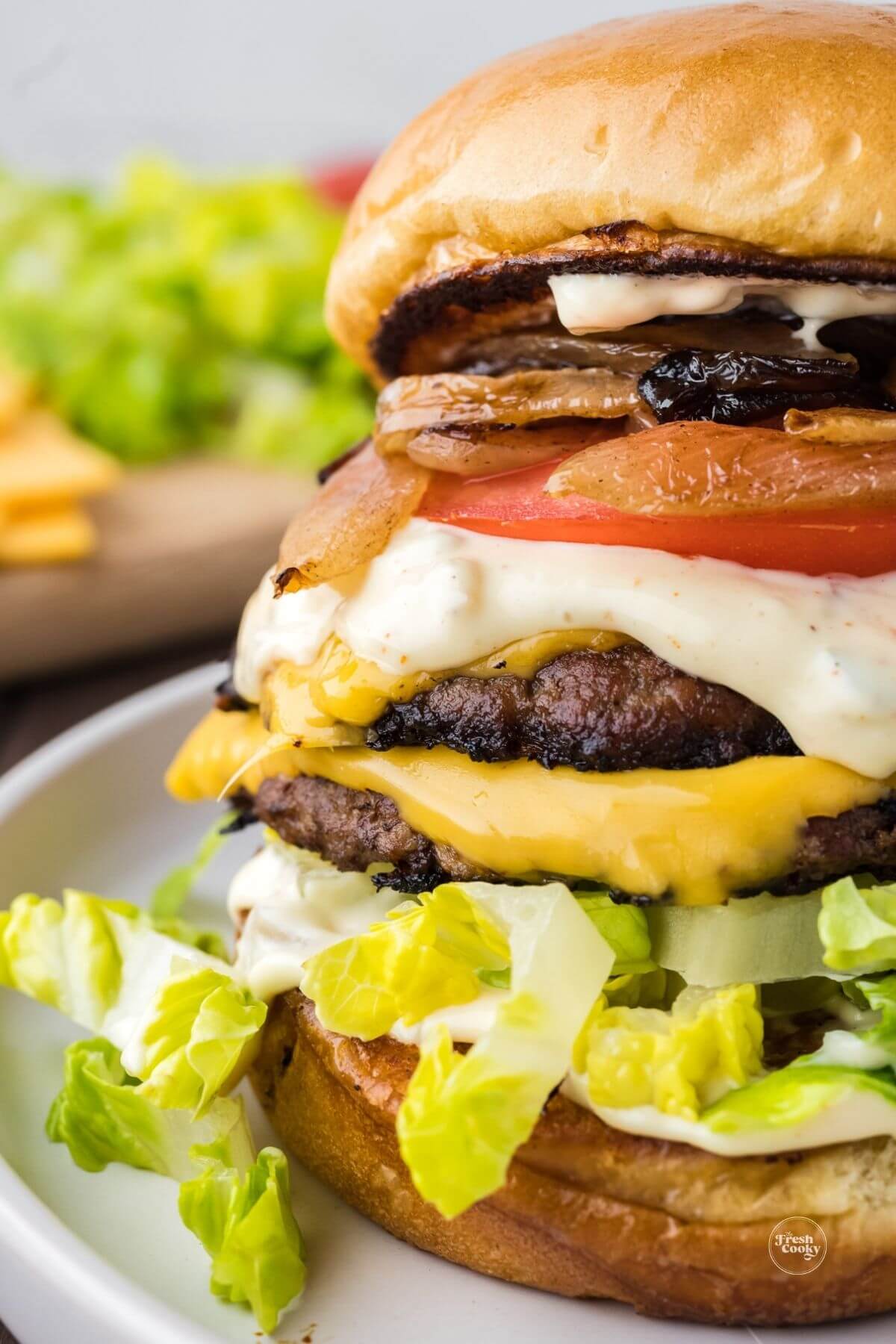 Healthy Twist
Use 93/7, 90/10 or even 85/15 ground beef in this recipe to lower the fat content.
The fat from the ground meat is what gives the burger the crispy edges, so you may need to add a bit of heart-healthy oil (like avocado oil) to the hot griddle or hot skillet pan to achieve those crispy burger edges and to prevent the patty from sticking.
If you're not a fan of ground beef, try ground bison, which is leaner, but still produces a tender, juicy burger. Try my bison burger, also!
Key Ingredients for a Smashburger Recipe with Onions
Ingredients, directions and nutritional information in the printable recipe card at the end of the post.
Smash Burger Ingredients
Ground Beef Chuck | Angus is best for its exceptional marbling and flavor. 80/20 ground chuck makes the juiciest burgers. Feel free to use other blends and ground meats.
Spices | Garlic powder, fresh ground pepper, kosher salt.
Beef Bouillon | Better-than-Bouillon Beef is a great option to ramp up the flavor but is also optional.
Onions | Use yellow, sweet or a white onion, sliced super thin (love this simple mandolin slicer). Caramelized or grilled onions make this burger better, give them a try, you'll also need a little butter and kosher salt.
Smash Burger Sauce Ingredients
See how to make this delicious and easy Smash sauce!
Mayonnaise | I like to use Chosen Foods Avocado Mayo for a healthier alternative and better flavor. However, you may use whatever mayo is your favorite.
Sweet Pickle Relish | Adds a sweet taste and a subtle tanginess.
Dijon Mustard | Tangy and sharp Dijon gives a kick to this sauce.
Lemon Juice | Freshly squeezed for the freshest flavor.
Seasoning Salt | Enhances the flavor of any dish. I like Lawry's.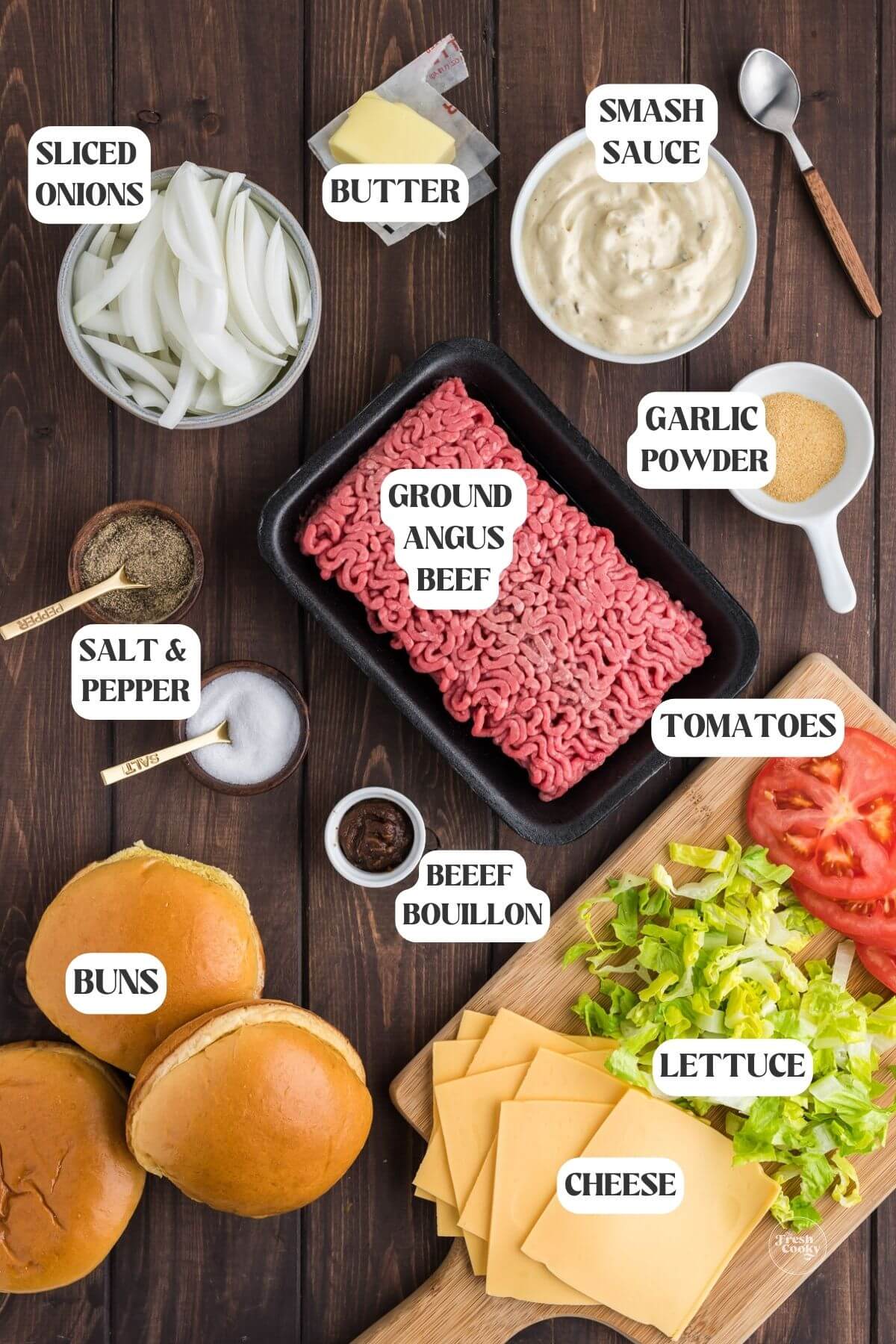 Favorite Topping Ideas
Hamburger Buns | I love Brioche buns however, pretzel buns or even a soft potato bun would be great!
Butter | A quick slather of softened butter makes a toasty bun.
Veggies | Shredded lettuce, onions, pickles, tomatoes – yum!
Cheese | A slice of American cheese is classic (I prefer organic American cheese), but white or regular cheddar cheese or pepper jack would make flavorful burgers.
How to Prepare Smash Burgers on Blackstone Griddle
Step 1 | Prep Burger Balls
In a medium bowl add ground chuck, and sprinkle the following evenly over the meat; kosher salt, black pepper, garlic powder, and if using, bouillon. Mix quickly, careful not to overwork the meat.
Divide meat into 8 similar-sized globs of ground beef and loosely roll each into a ball, being careful not to over-pack the meat. Each ball should weigh about 3-4 ounces (at 4 ounces, you will only get 6 total burgers).
Place the ground beef balls in the refrigerator or freezer until ready to grill, no longer than 20 minutes in the freezer.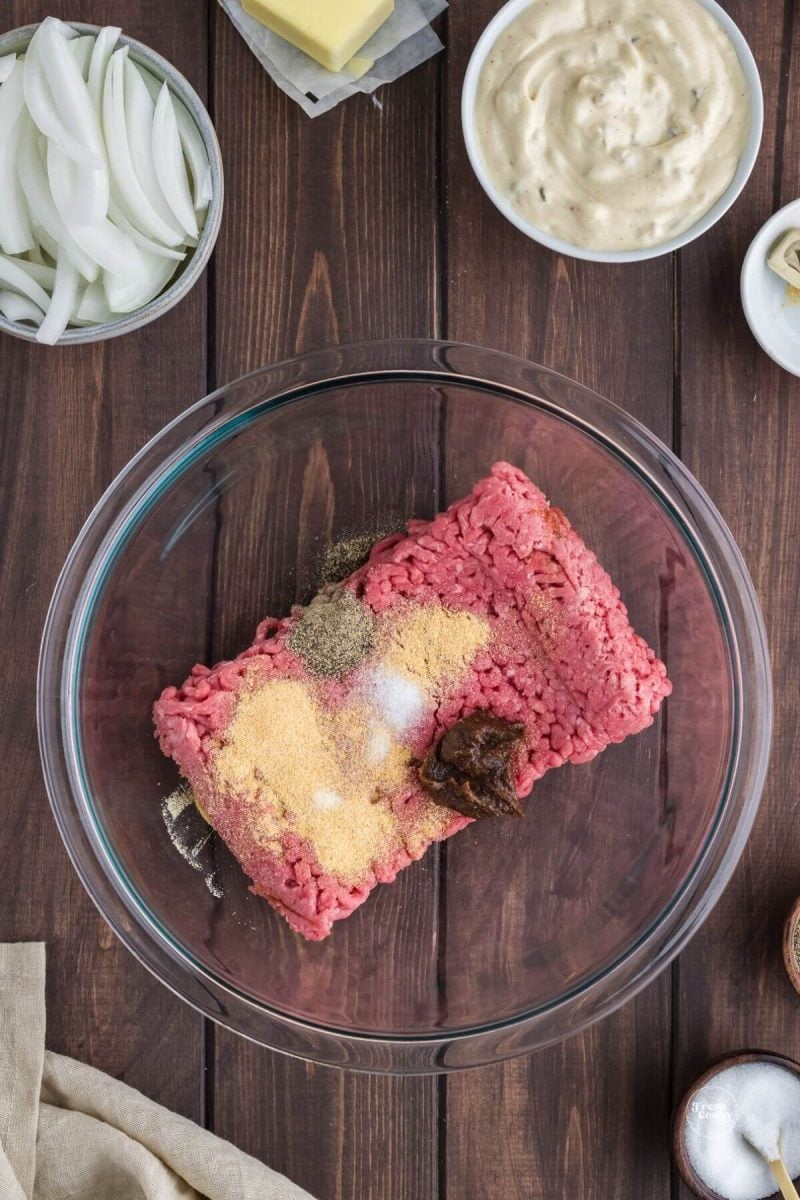 Pro Tip
Cold burger meat helps to create a better sear on the outside of the burger, giving you the crispy, caramelized crust smash burgers are famous for. It also keeps the burger patty from falling apart.
Step 2 | Prepare the Smash Sauce
Mix all the sauce ingredients in a small bowl, and place in the fridge until ready to use. Check out my detailed post on how to make this amazing smash burger sauce.
Step 3 | Prep Buns and Additional Toppings
Butter both sides of buns and set them aside. If caramelizing onions, slice paper thin, place in a bowl, sprinkle with salt and toss. Chop lettuce, slice tomatoes and have cheese ready to add quickly once the burger is done.
Step 4 | Grill Onions and Buns
Preheat the Blackstone Griddle to medium heat, about 400°F (205° C). Once hot, over medium heat, melt butter and add sliced onions, sprinkling with salt if you haven't already done so.
Grill, tossing fried onions occasionally until caramelized, about 10-15 minutes. Scoot grilled onions to the back and side, where they can continue cooking, stirring occasionally.
While the onions are cooking, grill buns until golden brown and set aside.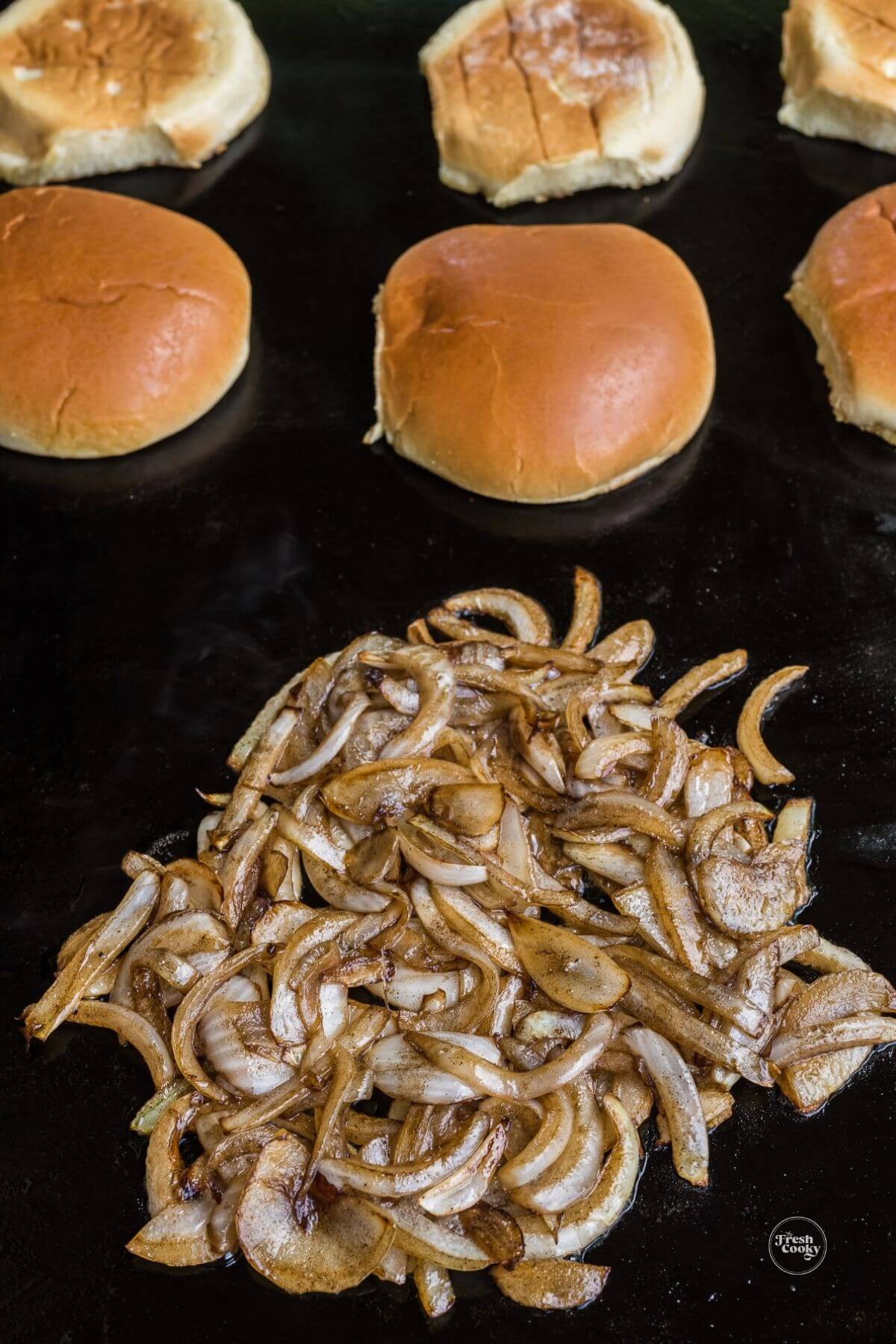 Step 6 | Cook the Burgers
Increase grill temperature to the higher side of medium-high heat. Once the cooking surface is hot, place 4 burger balls onto the center of the griddle.
To keep the meat from sticking, place a piece of parchment paper onto the top of the meatball, then using a burger press, or larger spatula, immediately and evenly smash straight down on the burgers so they become a thin patty.
Grill for 2-3 minutes, flip the burger patties, add a slice of cheese if desired, and cook for 2-4 minutes or until desired doneness.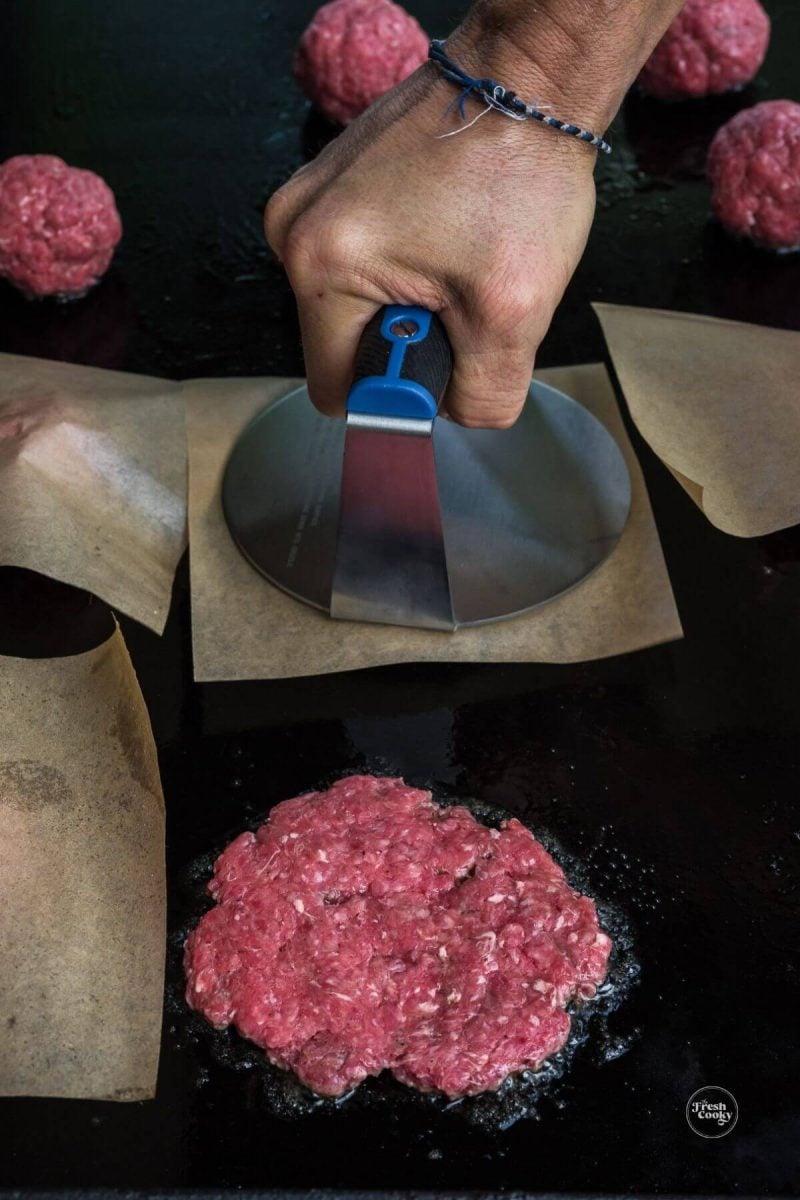 Pro Tip
This smashburger recipe with onions cooks quickly! Put only as many on a time that you can smash and turn.
Step 6 | Build Your Burger
For perfect smash burgers, slather smash sauce on the bottom bun, your favorite toppings like shredded lettuce, a slice of tomato, and dill pickles, then add burger(s) and top with caramelized onions and a toasted top bun. These burgers are thin, so two burgers make satisfying onion burgers!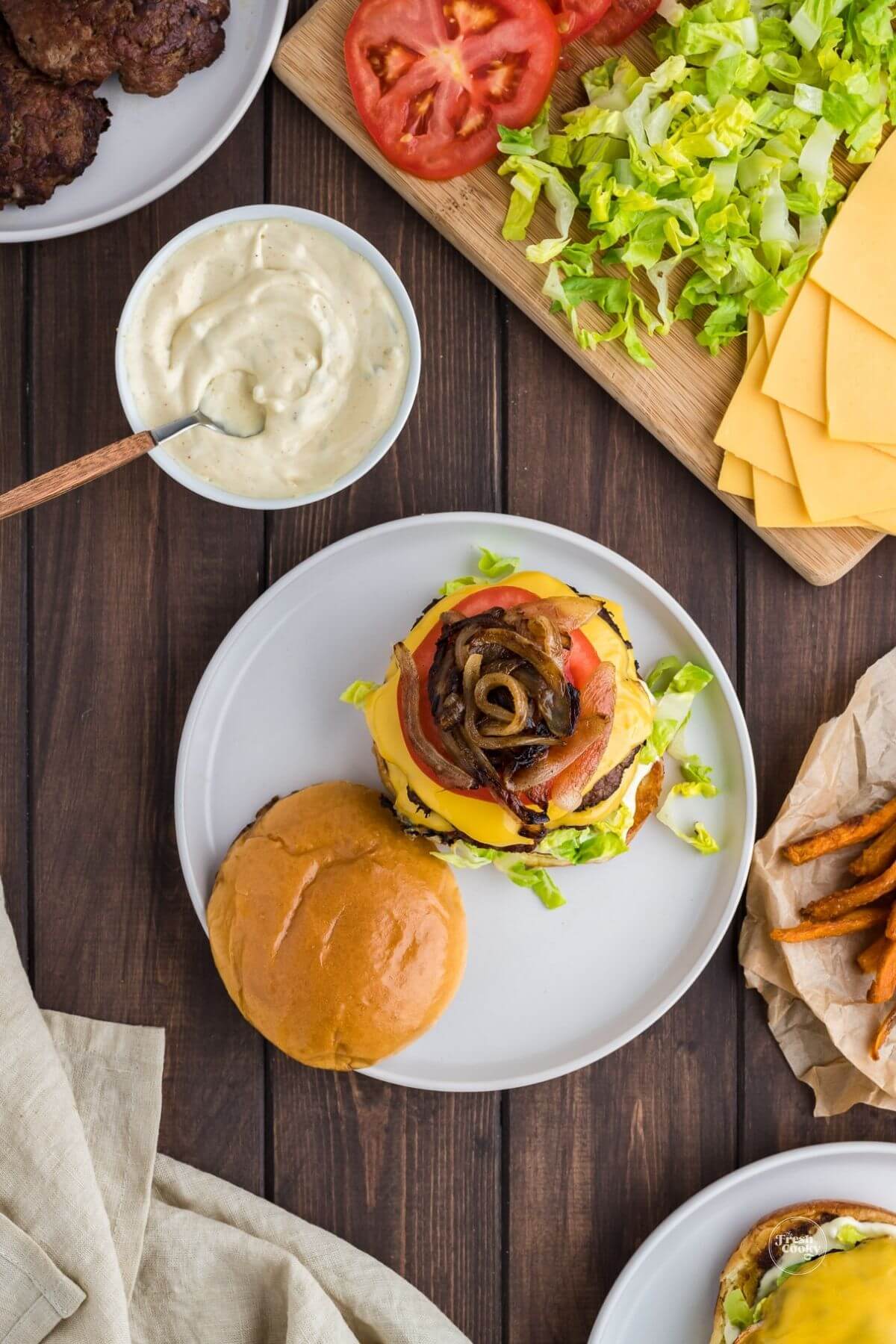 What If I Don't Have a Blackstone Griddle?
No worries! A cast-iron skillet works just as well. Like the Blackstone, a large skillet retains heat and distributes it evenly, which helps create that delicious crust on the meat. You'll want the skillet to be hot, so be sure to preheat it for 3-4 minutes.
You can also place a cast iron griddle or cast iron skillet directly on your grill grates and make this delicious burger. That way, it makes less mess inside too! Be sure to allow it time to heat up, 5-6 minutes.
Once heated, follow the instructions above for the onions, removing them from the skillet when done. Depending on the size of your skillet, you may only be able to "smash" two smashburgers recipes with onions at a time. A round burger press will be the easiest way to flatten your burgers.
To avoid a smoky house, you might try cooking your smash burgers on the skillet on top of your grill.
Make things twice as fast, start the onions in a separate skillet and make your burgers as they onions are finishing.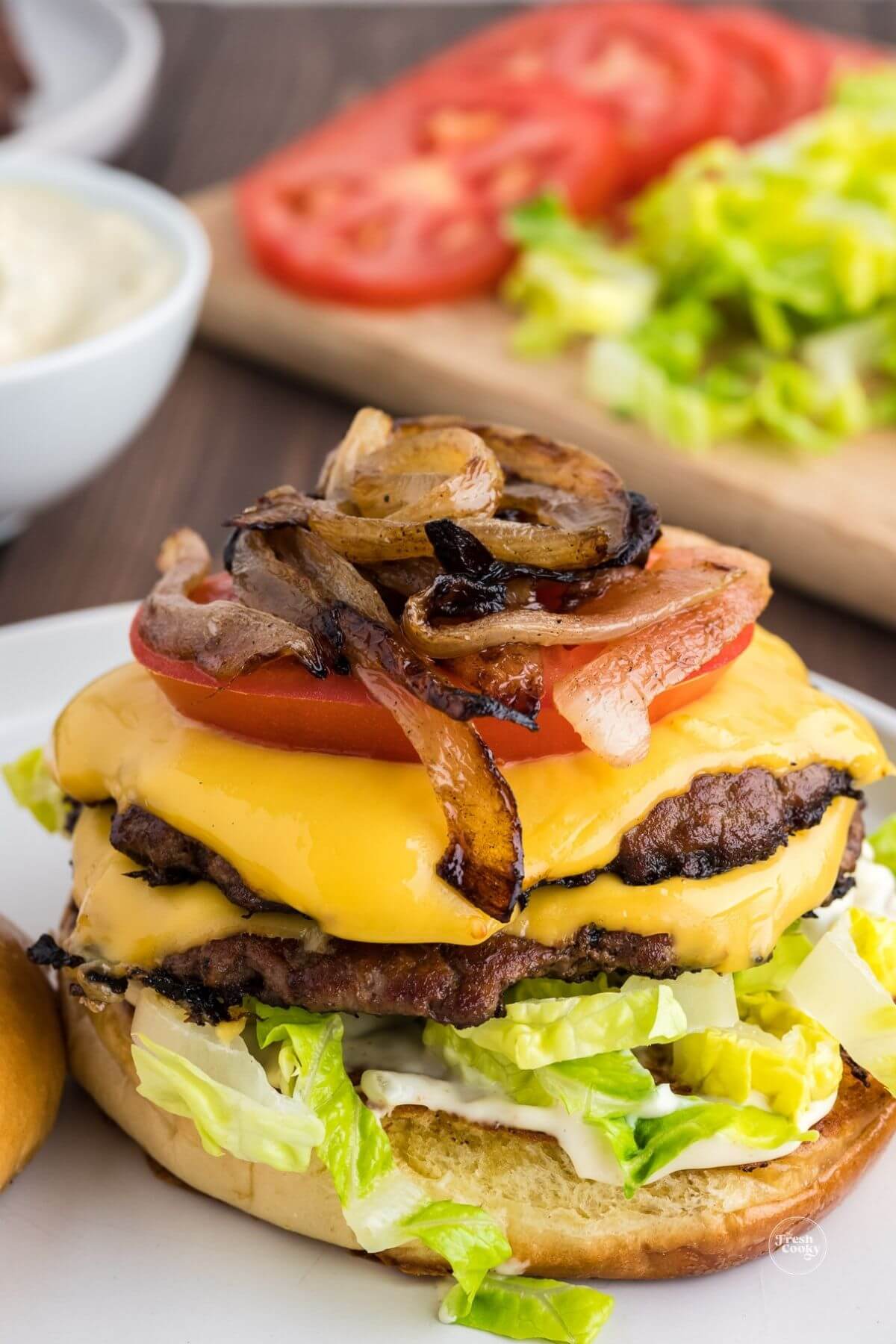 Fresh Tips for the Best Smashburger Recipe with Onions
Screaming Hot | Make sure your griddle is good and hot, around 400°F-500°F (204°-260° C), before you start to grill your hamburger meat. If the grill is not hot enough, the meat will not sear properly, and it may stick to the griddle's surface, making it challenging to flip.
SMASH 101 | To "smash" the burger, use a large metal spatula (placing it on the burger and pressing it down with your hand), a hamburger press, a bacon press, or the bottom of a large glass jar. A press will give you the thinnest and most evenly sized burgers.
Parchment paper is a must to keep your burger from sticking to whatever tool you use to press your smash burger.
Variations & Substitutions
Not a Beef Eater? Try ground turkey or chicken when making these homemade smash burgers. These leaner proteins may require additional seasoning and a touch more fat on the griddle to enhance the flavor.
Gluten-free Smash Burgers | Replace buns with a high-quality GF alternative, and use GF garlic powder. I recommend McCormick.
Dairy Free | This recipe can even be made dairy-free! Substitute butter with oil and use your favorite dairy-free cheese brand to top it off. Or, omit the cheese if you'd prefer.
Hungry for Breakfast? | Switch out your hamburger with pork breakfast sausage and make a delicious breakfast sandwich!
Oklahoma Burgers: Skip a step and grill your onions simultaneously as your burger. Place equal portions of sliced onions on your griddle, and top each with a hamburger ball. Press, cook for a few minutes, flip, and continue grilling until done. Add a slice of cheese, and Voila! I am told that's how an Oklahoma native does it!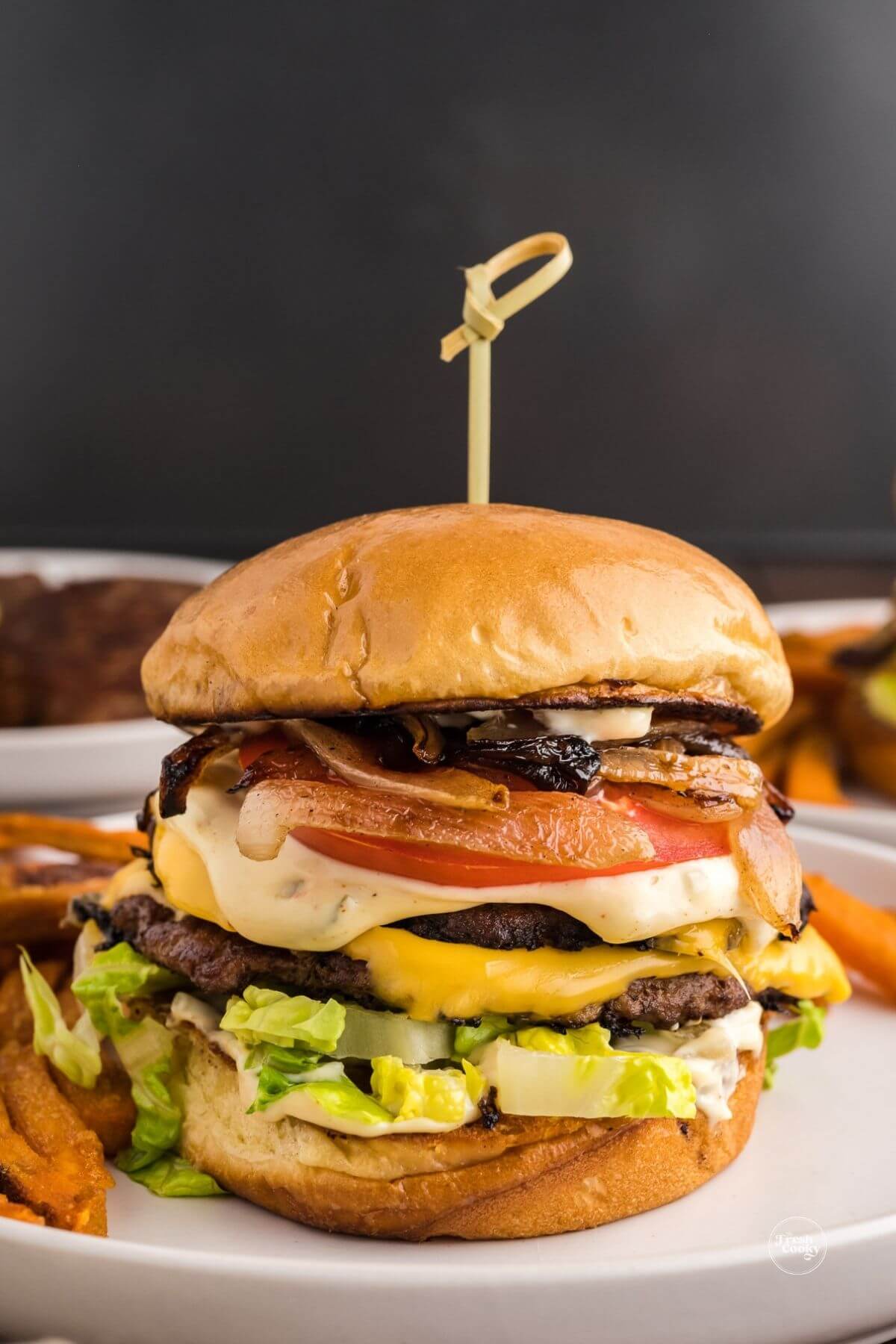 Tips for Two
If making smash burgers for two, I recommend still making the entire batch and freezing the unused hamburger balls for another meal. Buns freeze beautifully as well.
How to Store Leftover Smash Burgers
These burgers are just as delish the next day, so make sure you save your leftovers! Store the -ingredients separately and assemble them when you're ready for another burger.
Refrigerator: Once your burgers have cooked and cooled, place them in an airtight container. Store cooked patties in the fridge for up to 4 days.
Freezer: I don't recommend freezing the cooked patties. Instead, freeze the portioned raw balls of meat. Thaw in the refrigerator overnight and cook the patty as instructed.
Reheat: A great way to reheat leftover smash burgers is in the air fryer at 350° F (178°C ) for 5 minutes, flipping halfway through. Warming the patties in the microwave for 1-2 minutes is also an option.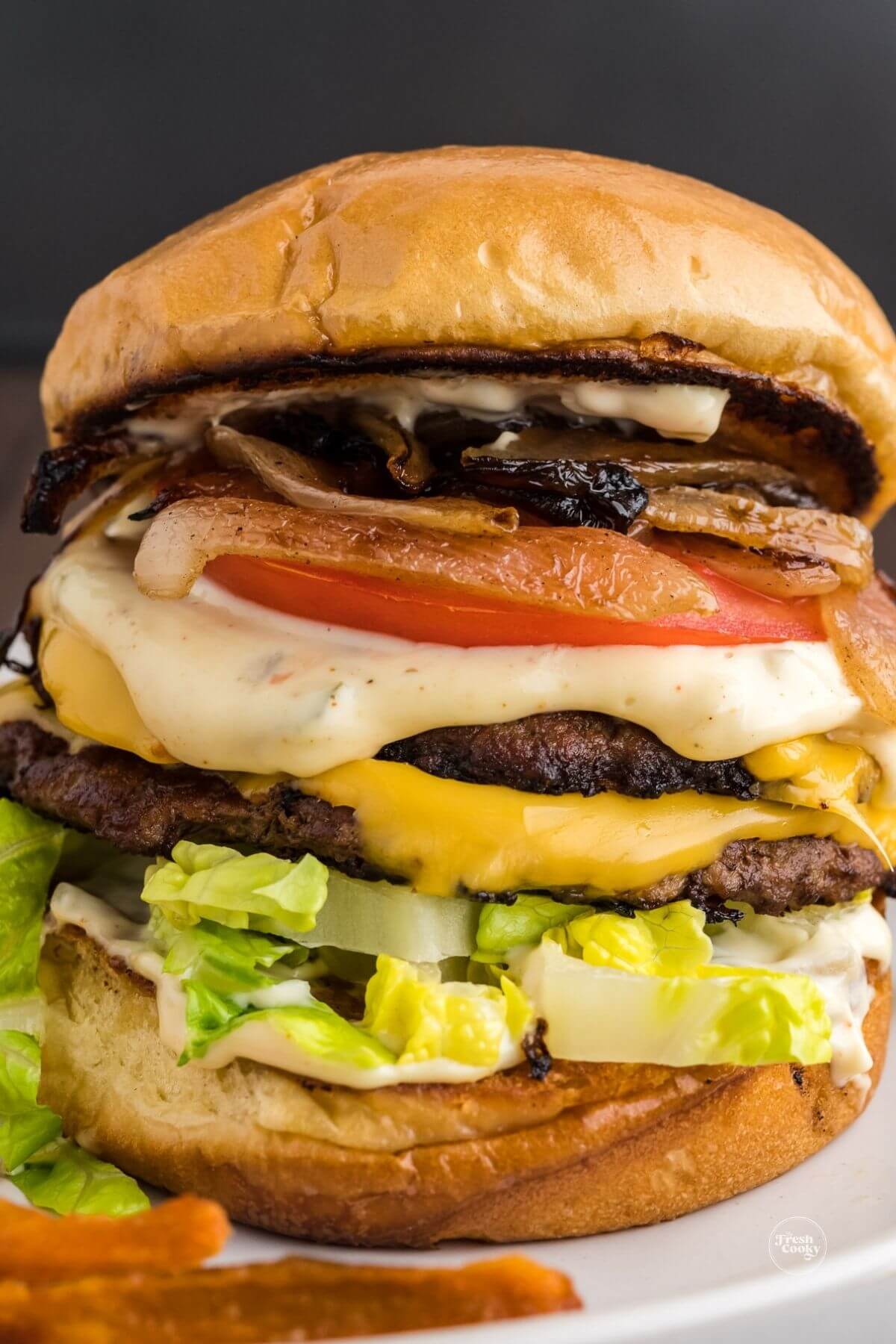 Frequently Asked Questions
What temperature should I cook smash burgers at?
The griddle should be heated between 400°-500° F (204°-260° C), and the burgers should be cooked for 2-4 minutes per side until they are browned and crispy
Why does my hamburger meat need to be cold when I put it on the griddle?
Cold meat helps to create a better sear on the outside of the burger, giving you the crispy, caramelized crust smash burgers are famous for. It also allows the patty to retain its shape and prevents it from falling apart during cooking.
Can you cook smash burgers ahead of time?
Yes, however, cooking the burger is the quickest part of this recipe! I recommend preparing and assembling all of your ingredients and then cooking your burger just before you are ready to dig in!
How do you keep the burgers from sticking when you smash them?
The secret is in the parchment paper! Don't skip that step. Try these parchment paper discs or cut a small piece of parchment and use that between the meat and the press/spatula – this will keep the patties from sticking.
Why is my Smash Burger dry?
The key to juicy smash burgers is pressing them thin, but not too thin. If they are too thin, they will lose their moisture. If your beef is too lean, it will also dry out easier. I recommend using 80/20 ground chuck for the best, most juicy results.
What to Serve with Your Smash Burger
Well, classic french fries like these crispy and flavorful Air Fryer Steak Fries are a no-brainer, but why stop there? Mix things up with sweet potato fries, or try these scrumptious Zucchini Corn Fritters for a healthier alternative. Sip on a cool and smokey Cherry Bomb Cocktail and indulge in these delectable Easy Chewy Blondie Bars to complete your summertime (or anytime!) meal!
These burgers cook fast! Make sure you have everything prepped and ready to go before cooking!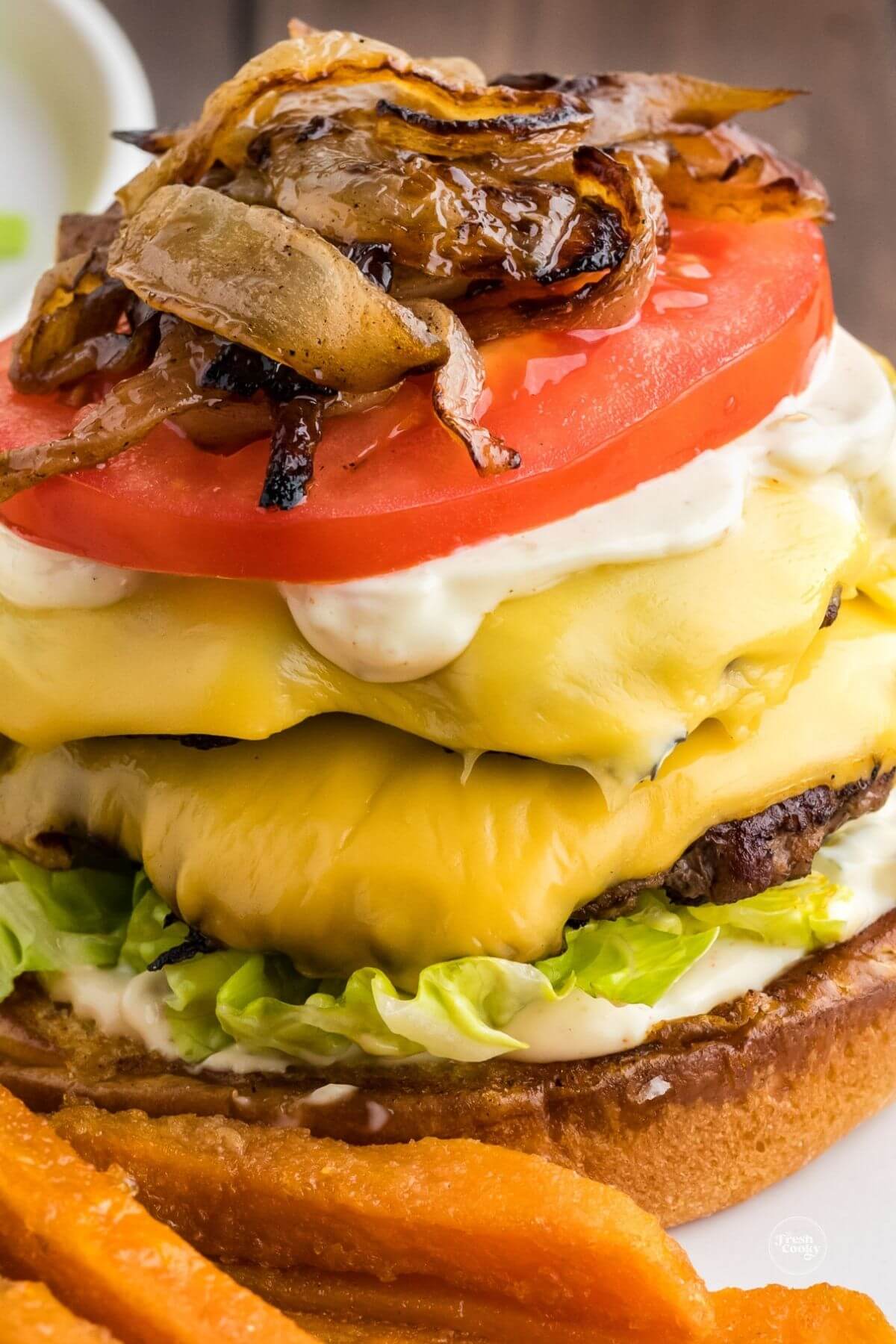 Best Side Dishes to Serve with Smash Burgers
Nothing like the irresistible scent of burgers on the Blackstone gets me dreaming of summer barbeques. No summer cookout is complete without adding my mouth-watering Best Ever Cowboy Baked Beans, infused with rich smoky flavors.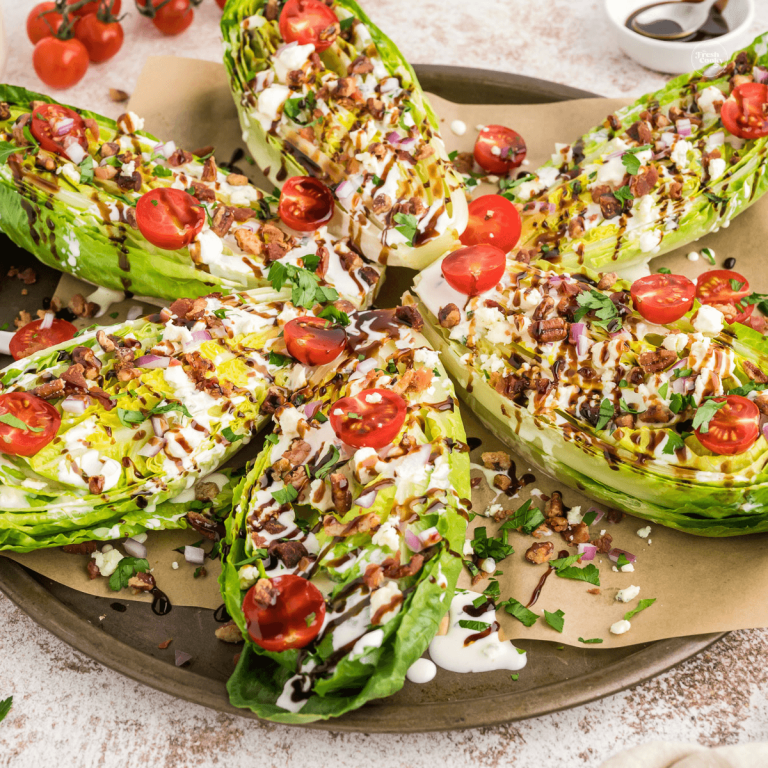 Best Steakhouse Wedge Salad Recipe (with Romaine)
Healthier Romaine wedge salad is topped with creamy blue cheese dressing, bacon bits, blue cheese crumbles, cherry tomatoes, red onion, and candied pecans; the best Steakhouse wedge salad.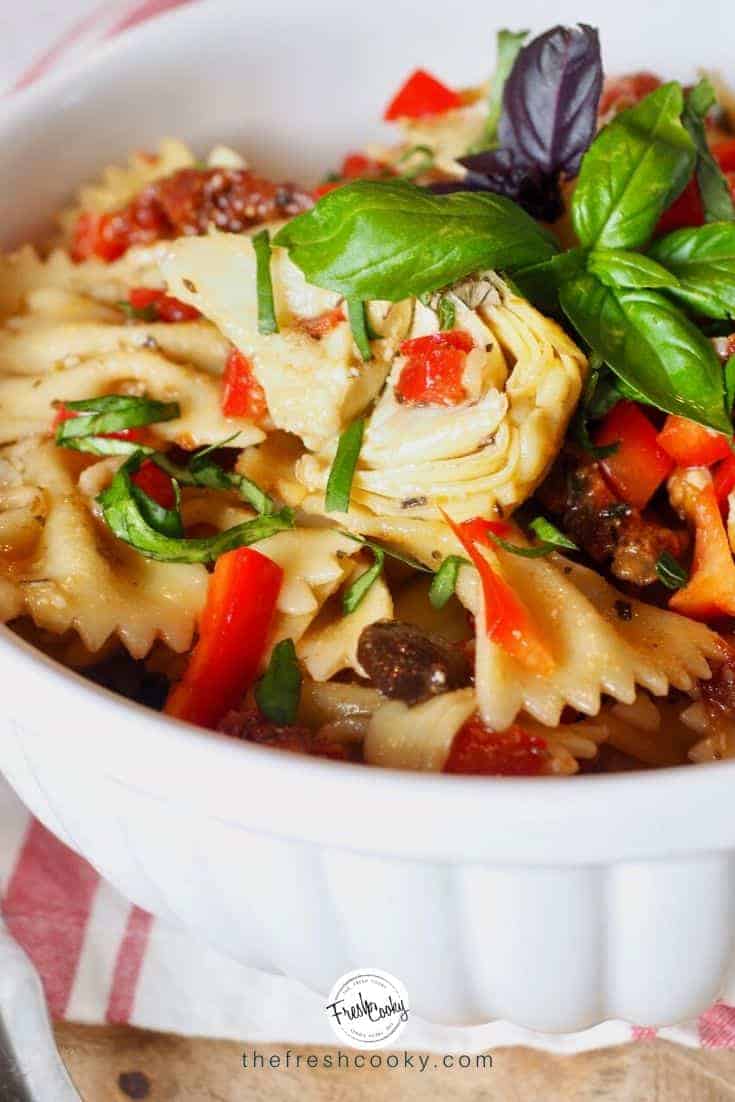 Best Italian Pasta Salad with Sun Dried Tomatoes
All the right flavors, bright and colorful, packed into this beautiful pasta salad. Great for a crowd or your family, the leftovers are even better!
Best Desserts to Serve with Smash Burgers
Every good burger meal needs to end with a couple of delectable desserts. Take a bite of my zesty and tangy Old Fashioned Lemon Squares or indulge in my creamy, dreamy Magnolia Banana Pudding. Or is a no-bake dessert is more your speed, try my ice creams!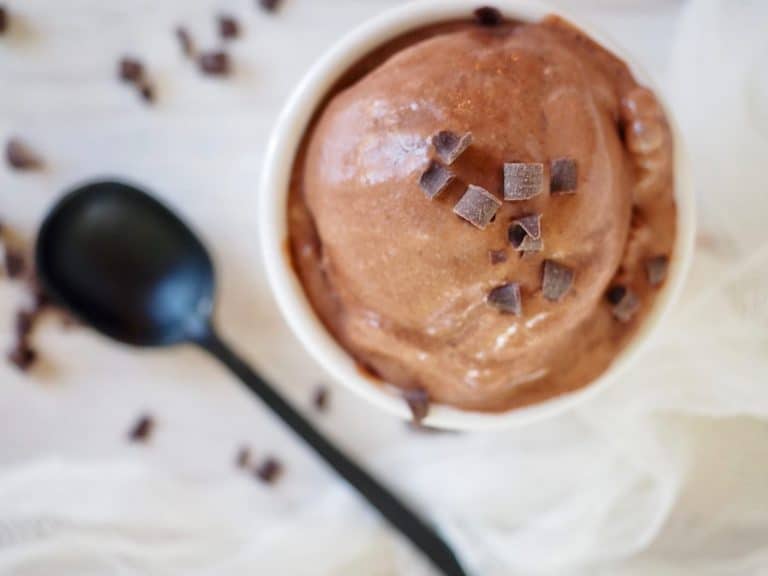 Easy Homemade Chocolate Ice Cream Recipe (no eggs)
Five ingredients — that's it, just five simple and basic ingredients to this AMAZING, creamy, no-cook, old-fashioned homemade chocolate ice cream, no eggs! Keep it basic or get creative with your mix-ins, regardless this is an amazing ice cream.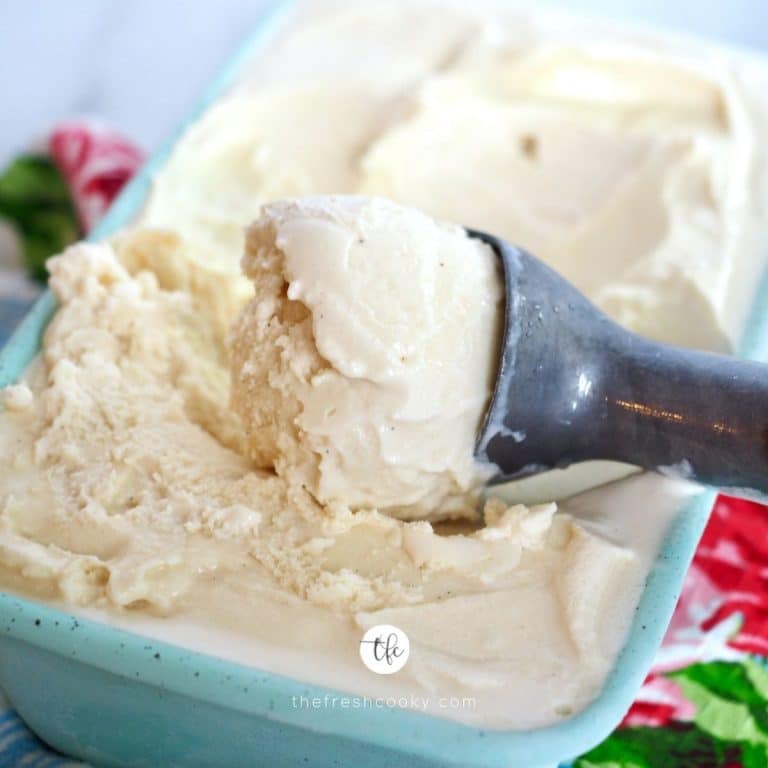 Old-Fashioned Vanilla Bean Ice Cream
Creamy, homemade old fashioned ice cream, with gorgeous flecks of vanilla beans and no sweetened condensed milk! This churn ice cream has simple ingredients that will be ready in no time for your ice cream maker.
How to Season Your Blackstone Griddle
If this is your first use, make sure to season your Blackstone Griddle before using it.
Simply wash the griddle with some cold, soapy water.
Turn the burners on high for 10-15 minutes; it will darken during this time; turn the heat off.
Select an oil of your choice (flaxseed is recommended) and cover the cooktop with a thin layer of oil. Use tongs and grab some paper towels rubbing them over the surface like you are trying to rub off the oil; it should be a really thin layer.
Be sure to let the oil smoke; this is much like seasoning a cast iron pan.
Turn the heat back up to full blast; you want it to be really smokin'; this is the blackening phase that will give you a beautiful surface. It might take up to 30 minutes, so be patient; make yourself a margarita — once it stops smoking, turn off the heat.
For the best surface, repeat the oil-smoke process above 2-3 times! Check out this tutorial for more information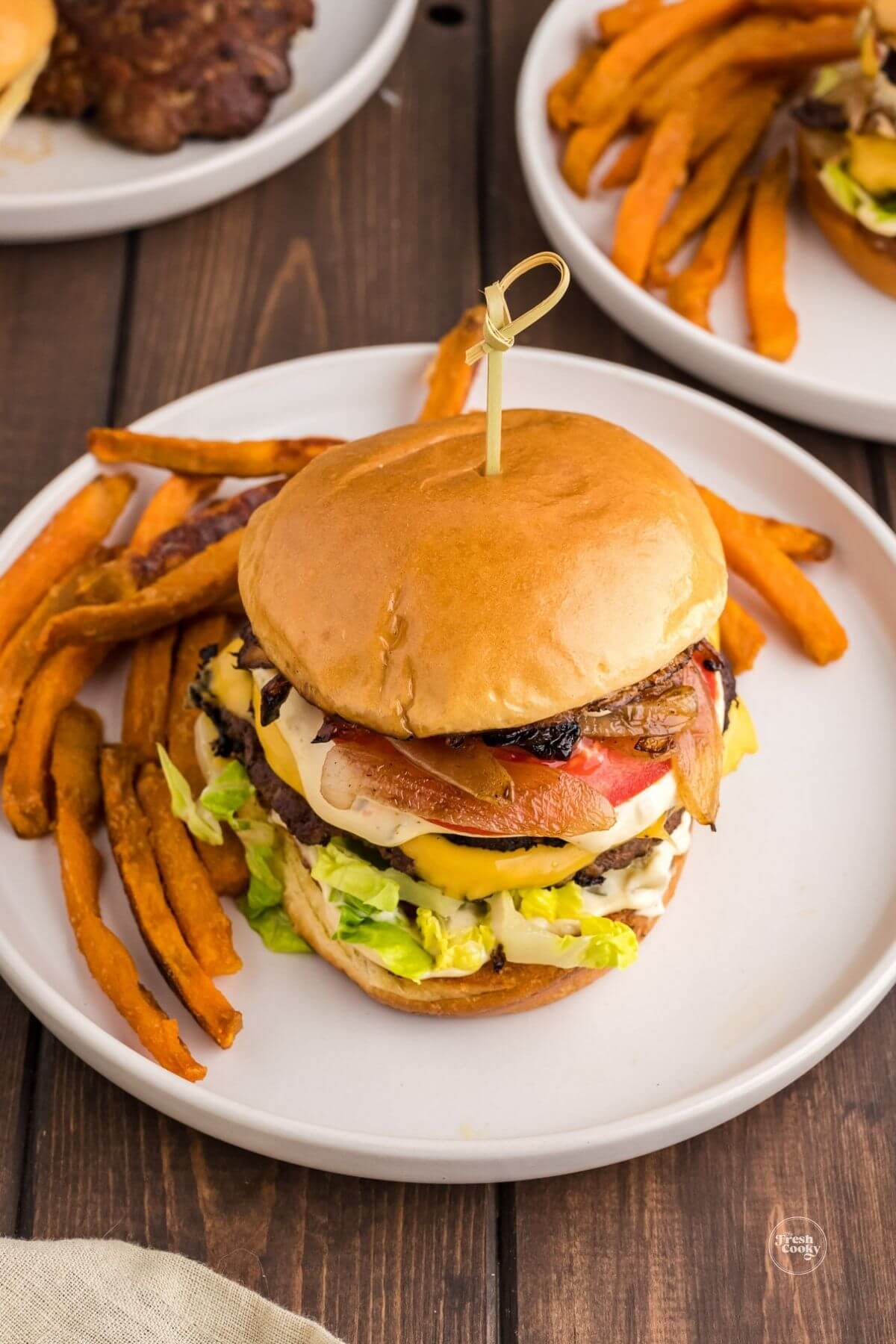 More Delicious Food from the Griddle/Grill: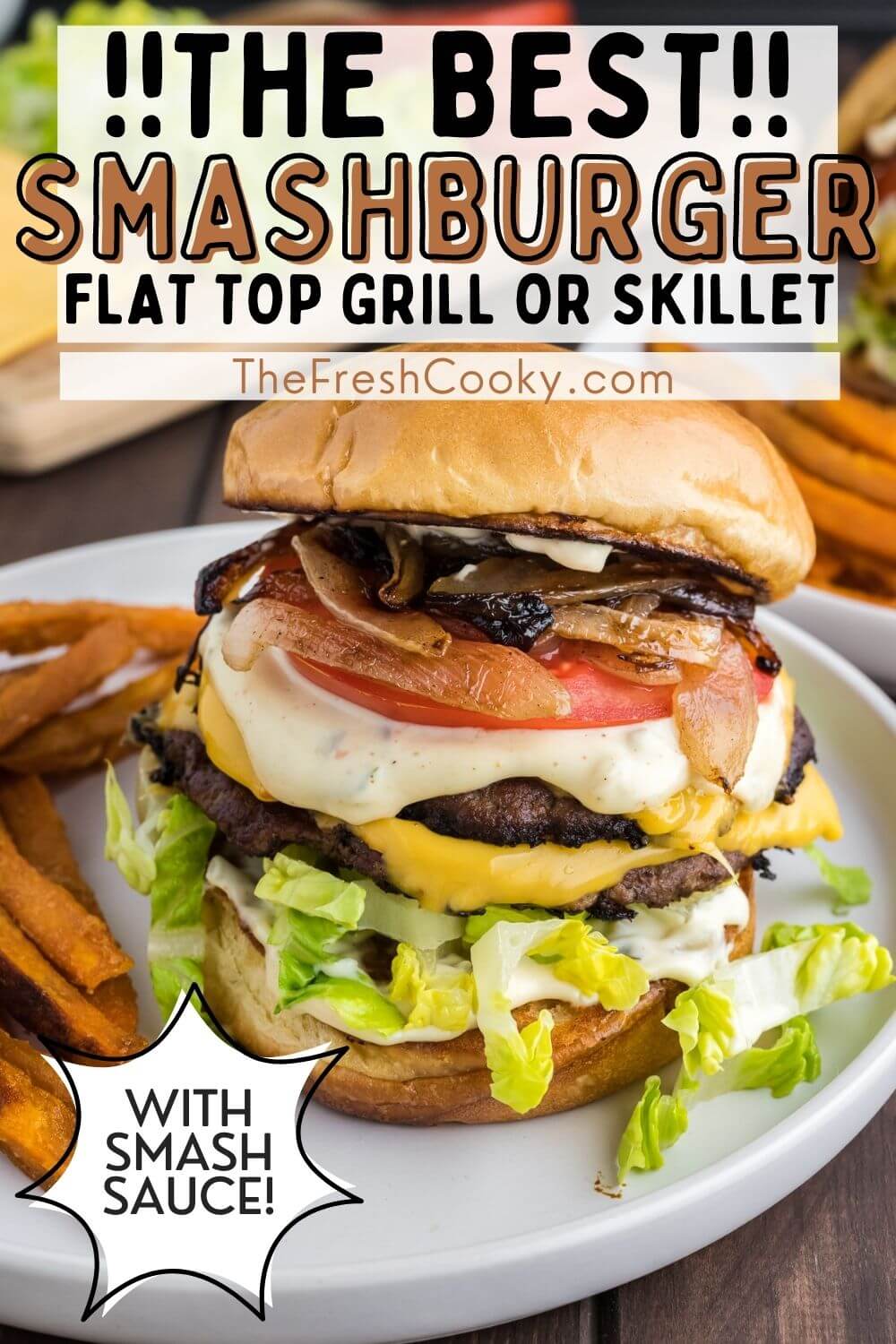 I hope you loved this Smashburger recipe with onions on the Blackstone — if you did, would you share your creation on Instagram, Facebook, and Pinterest? And be sure to comment below!
Like this recipe?
Don't forget to give it a ⭐️⭐️⭐️⭐️⭐️ star rating and comment below the recipe!
Best Smash Burger Recipe with Onions
Delicious Smashburger Recipe: Juicy patties sizzling on a Blackstone griddle, topped with caramelized onions. Your taste buds will thank you!
Ingredients
Smash Burgers
1 ½

pounds

ground beef chuck

,

80/20 is the best, most flavorful, see notes for others

1

teaspoon

kosher salt

1

teaspoon

garlic powder

1/2

teaspoon

black pepper

1-2

teaspoons

beef bouillon,

I like organic Better-than-Bouillon

6

slices

cheese

,

use your favorite, American, cheddar, pepper jack

3-6

Brioche buns

2-3

tablespoons

butter

,

to grill buns
Caramelized Onions
2

large

onions

,

sweet, yellow or white, sliced thin

3-4

tablespoons

butter or olive oil

pinch

kosher salt
Suggested Optional Toppings
6

tablespoons

Smash Sauce

,

see notes for how to make

shredded lettuce, sliced tomatoes, pickles
Instructions
Prepare Smash Burger Balls
In a medium bowl add ground chuck, and sprinkle the following evenly over the meat; kosher salt, black pepper, garlic powder, and if using bouillon. Mix quickly, careful not to overwork the meat. Divide meat into 8 similar-sized meatballs.

Return the burger balls to the refrigerator or freezer until ready to grill, no longer than 20 minutes in the freezer.
Prepare Smash Sauce (optional)
Mix all the sauce ingredients in a small bowl, and place in the fridge until ready to use.
Grill Onions
If making caramelized onions, on the flat top grill, over medium heat, melt butter and add sliced onions, sprinkling with salt. Grill, tossing occasionally until caramelized, about 15 minutes. Scoot to the back and side, where they can continue cooking, stirring occasionally.
Grill Buns
Butter buns and grill until golden brown, set aside. Have toppings sliced and ready to build your smashburger.
Grill Smash Burgers
Increase grill temperature to the higher side of medium-high heat. Once hot, place 4 burger balls onto the griddle, to keep the meat from sticking, place a square of parchment paper onto the top of the meatball, then immediately smash straight down on the burgers, so they become a thin patty.

Use a wide steel spatula, you may have to use your hand or something else to push down on the spatula or a burger press (you may also use the bottom of a large glass or jar).

Grill for 2 minutes, flip, add cheese if desired, and cook for 1-2 minutes. Add cheese during last minute or two until melted.

Build your burger, by adding smash sauce to the bottom bun, adding shredded lettuce, a slice of tomato, and pickles, then add burger(s) and top with caramelized onions topping with the top bun.
✱ Kathleen's Tips
Smash Sauce
½ cup mayonnaise, good quality, I like Avocado mayo

1 tablespoon sweet pickle relish

1 tablespoon Dijon mustard

1 teaspoon fresh lemon juice

½ teaspoon seasoning salt (like Lawry's)
Mix all ingredients together, keep in fridge until ready to use. Store leftovers in airtight container.
Storage
Store any leftover smash patties in an airtight container in the refrigerator, lasting 4 to 5 days.
You can also freeze your burgers in a freezer safe container. Or, freeze your pre-portioned burger balls, defrost them, and smash them on the griddle when you're ready.
Nutrition
Serving:
1
burger
Calories:
688
kcal
Carbohydrates:
25
g
Protein:
32
g
Fat:
51
g
Saturated Fat:
26
g
Polyunsaturated Fat:
1
g
Monounsaturated Fat:
14
g
Trans Fat:
2
g
Cholesterol:
205
mg
Sodium:
919
mg
Potassium:
412
mg
Fiber:
1
g
Sugar:
2
g
Vitamin A:
934
IU
Vitamin C:
4
mg
Calcium:
258
mg
Iron:
3
mg
Nutrition Disclaimer
The Fresh Cooky is not a dietician or nutritionist, and any nutritional information shared is only an estimate. We recommend running the ingredients through an online nutritional calculator if you need to verify any information.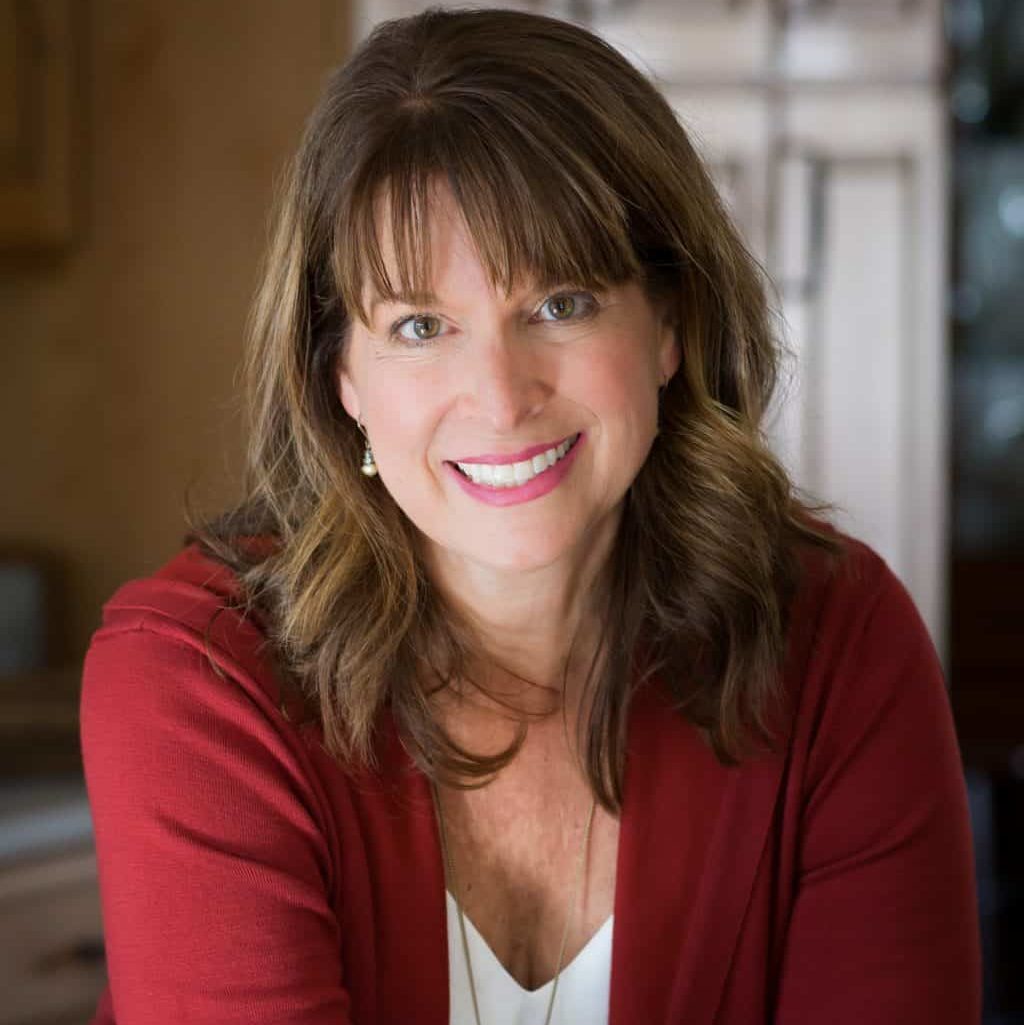 About Kathleen Pope
Recipe Innovator | Food Photographer | Food Writer
Hi, I'm Kathleen Pope. Here at The Fresh Cooky you will find easy, mostly from-scratch, trusted recipes for all occasions. From speedy dinners to tasty desserts, with easy step-by-step instructions. I am here to help teach you how to make mouthwatering recipes without spending hours in the kitchen. Read more about Kathleen here.