What is it about cake batter? Mmmm! I love the taste of it, but I'm not a huge fan of what many cake mixes have in them, so I set out to revise this delicious recipe for Cake Batter Chocolate Chip Cookies using a natural cake mix…and it's a WINNER!
CAKE BATTER CHOCOLATE CHIP COOKIES
I was in search of a fun, festive cookie variation (instead of my go-to Chewy Chocolate Chip Cookies) for our swim league finals this past weekend. I've been wanting to make these Cake Batter Chocolate Chip Cookies for awhile. They were a huge hit, kids and adults alike gushed about them, so I feel pretty confident that they are a great cookie with all of my "great cookie" factors; they must be…
…soft, chewy and have amazing flavor!
And so they wouldn't completely melt in the 90+ degree weather, I froze them ahead of time and they still tasted great after thawing!
Using an organic vanilla cake mix along with all natural cane sugar and other natural ingredients; and making a few prep adjustments (which I explain) for the natural ingredients and altitude, I think I've landed on ONE DELICIOUS COOKIE!
INGREDIENTS FOR CAKE BATTER CHOCOLATE CHIP COOKIES
Here are my ingredients; I wanted you to see the cake mix I used so you can see the simplicity of the other ingredients. Any vanilla (yellow, golden or white) cake mix will work…don't feel like you need to use this particular brand or even a natural one for that matter, just because it's my thing doesn't mean it has to be yours!
How to Make the Chewiest Cake Batter Cookies
In a large batter bowl fitted with a sieve and sift the all-purpose flour, cake mix, baking soda and sea salt together and set aside.
Next, in the bowl of a stand mixer or a hand mixer (nothing wrong with a good hand mixer) cream the softened butter for 2 minutes until lighter in color and fluffy. Scrape down the sides using a sturdy spatula.
The Importance of Creaming Butter and Sugars
Now, add granulated and brown sugar; if using all natural cane sugar, beat for about 4-5 minutes, if using refined white sugar, beat for about 2 minutes until smooth and fluffy. Scrape down the sides before adding your room temp egg.
Crack room temperature egg (see tip) and beat on medium-high for 1 minute, until combined. Scrape down sides and bottom of bowl.
GET FREE RECIPES

FROM THE FRESH COOKY DELIVERED RIGHT TO YOUR INBOX!
TIP | I never remember to take my eggs out to come to room temperature, so I use this little trick. Immerse the egg in a small glass or bowl of warm water, let it sit for 10 minutes while you prep your other ingredients.
Pour vanilla and beat on medium until combined.
Carefully add your cake flour mixture to the above ingredients with your mixer setting on low, mix until just combined, scraping down sides and bottom to assure all ingredients are incorporated.
Mix in (by hand or on the lowest setting of your mixer) your chocolate chips — I used Ghirardelli Milk Chocolate Chips, use whatever chip and combo you'd like; semi-sweet, dark chocolate chips, white chocolate, even butterscotch.
Finally, the fun part! Mix in those Jimmies, I used Rainbow Jimmies, but feel free to change them up according to your celebration (see details at end of post)! Only mix for a few seconds until combined.
WHY CHILL COOKIE DOUGH
Chilling the dough allows them to hold their shape while baking and not spread too quickly.
Cover your dough and refrigerate for at least 2 hours, or may be refrigerated for up to 3-4 days. The dough is somewhat sticky (mine wasn't too sticky, but still benefited from chilling out for a few hours).
Dough balls may be frozen for up to 3 months, but they'll never last that long!
PRO BAKER TIP
Chilling them longer than 2 hours? Try scooping them into dough balls (the dough will get really hard the longer it hangs out in the fridge) and then return them to the fridge or even freezer. Once your dough has chilled, preheat your oven to 350°F and line 2-3 large cookie sheets with parchment paper.
Using a small scoop (yields about 48 cookies) or medium cookie scoop (yields about 24 cookies) scoop your dough into balls and place about 2 inches apart on the prepared cookie sheet.
To ensure that your cookies don't spread too quickly, squeeze the dough slightly in the middle making them a bit taller than they are wide. Like shown below.
Keep extra dough balls, covered tightly in fridge until ready to bake.
BAKING TIMES FOR THE COOKIES
Larger cookies (using the medium scoop) bake the cookies for 8-10 minutes until the edges are set, golden and the center is still a bit glossy. Mine were done at 8 minutes.
Smaller cookies (my preference) bake for 6-8 minutes. Mine were done at about 6 minutes. They will set up as they cool.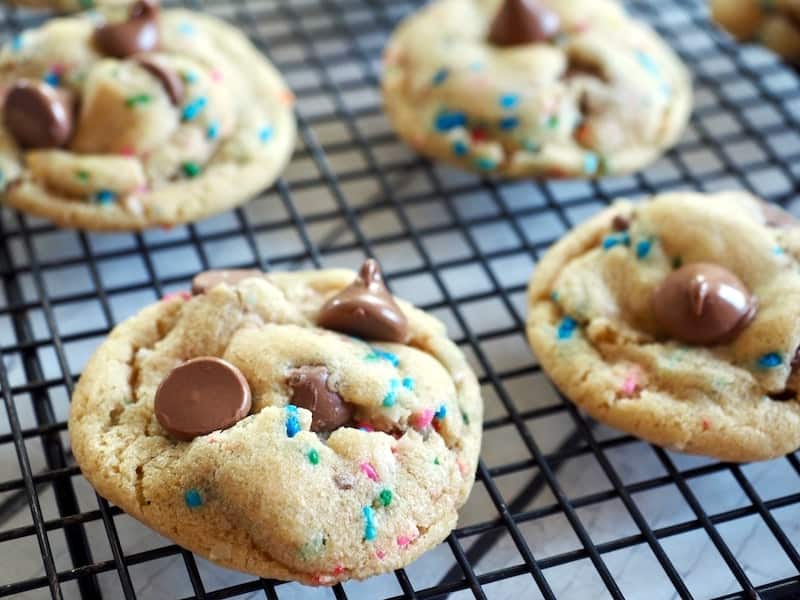 PROFESSIONAL BAKER TRICK
A trick that the professionals use for "prettier" cookies is to gently press a few chocolate chips into the cookies as soon as they are removed from the oven. The heat of the cookie will soften them and make them a part of the cookie.
Allow cookies to cool on the baking sheet, placed on a cooling rack for 4 minutes, then using a small spatula transfer to wire rack to cool fully.
Store cooled Cake Batter Chocolate Chip Cookies in an airtight container on the counter, the cookies stay fresh for about a week.
CAN YOU FREEZE COOKIES IN BULK?
YES! I do it all the time! Especially for summer team events. Simply place cookies in freezer friendly container, freeze overnight. Take out of the freezer in the morning, the warmth of the day will not only thaw them, but make them ooey-gooey one more time. Check out my post on the Best Chewy Chocolate Chip Cookies for tips on packing, freezing and traveling with cookies.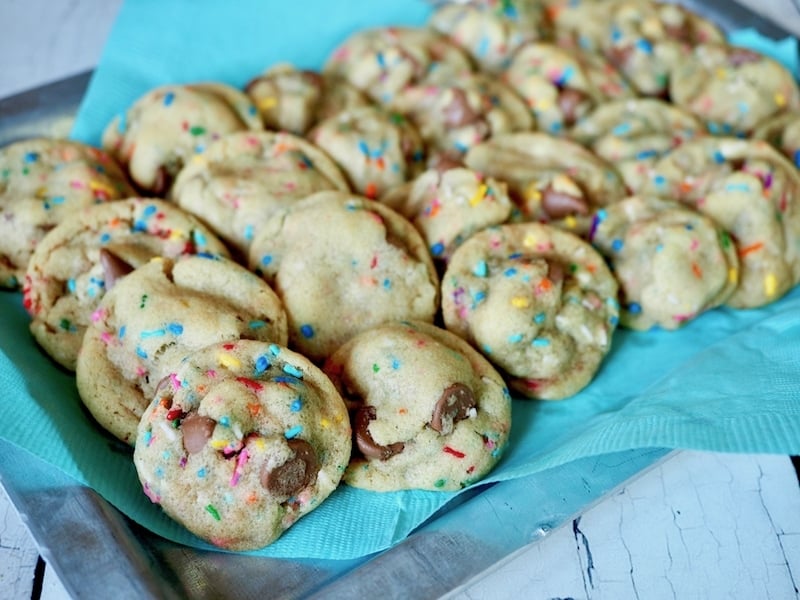 This recipe is adapted from Sally's Baking Addiction and I'm pretty sure I've never made ANYTHING that didn't taste fabulous from her blog! Go and check it out.
A few additional tips for Cake Batter Chocolate Chip Cookies:
Gluten Free cake mixes are NOT recommended for this recipe.
Vanilla, Golden, Yellow or White cake mix works just fine, you could probably even try chocolate!
Freeze the dough balls in a tightly sealed freezer baggie or plastic container for up to 3 months. When ready to bake, place on prepared baking sheet and allow to sit for 10 minutes while oven preheats. Bake as directed, the cookies might not spread as much as normal, but they are still delicious!
Oh and in case you were wondering, our swim team did fantastic at finals, so proud of all of our kids, what a great summer activity for kids, I never would have thought it, but 10 years into swim team and I'm a believer.
HOLIDAY THEMED CAKE BATTER COOKIES
By simply changing up the sprinkles for these cookies you can change up the holiday!
Sharing on my favorite link parties Weekend Potluck | Meal Plan Monday | Full Plate Thursday
Enjoy this recipe for cake batter cookies? Please leave a comment and rate the recipe in the recipe card.
Hashtag any recipes you make from The Fresh Cooky #thefreshcooky or tag me @thefreshcooky on Instagram to be featured on our stories!
"but those who hope in the

Lord




will renew their strength.




They will soar on wings like eagles;




they will run and not grow weary,




they will walk and not be faint."

Isaiah 40:31 (NIV)
Share a picture and tag it #TheFreshCooky so we can see it.
We might feature it on Instagram!
GET FREE RECIPES

FROM THE FRESH COOKY DELIVERED RIGHT TO YOUR INBOX!