Easy Christmas Sugar Cookie Fudge Recipe
As an Amazon Associate, I earn from qualifying purchases. Please read my disclosure policy.
Christmas Cookie Fudge Recipe is an easy-to-make holiday fudge, so rich and creamy and who doesn't love Christmas sugar cookies? Soft, velvety fudge – 5 ingredients and 10 minutes! And it's not just for the holidays, change the sprinkles for any occasion.
You won't be able to keep your hands off this addictive recipe! It's one of those irresistible treats that will have your friends and family returning for "just one more bite."
For more cookie-inspired desserts, try these Frosted Sugar Cookie Bars & Bites, Crumbl Sugar Cookies, these pan banging sugar cookies or my classic Chewy Chocolate Chip Cookie!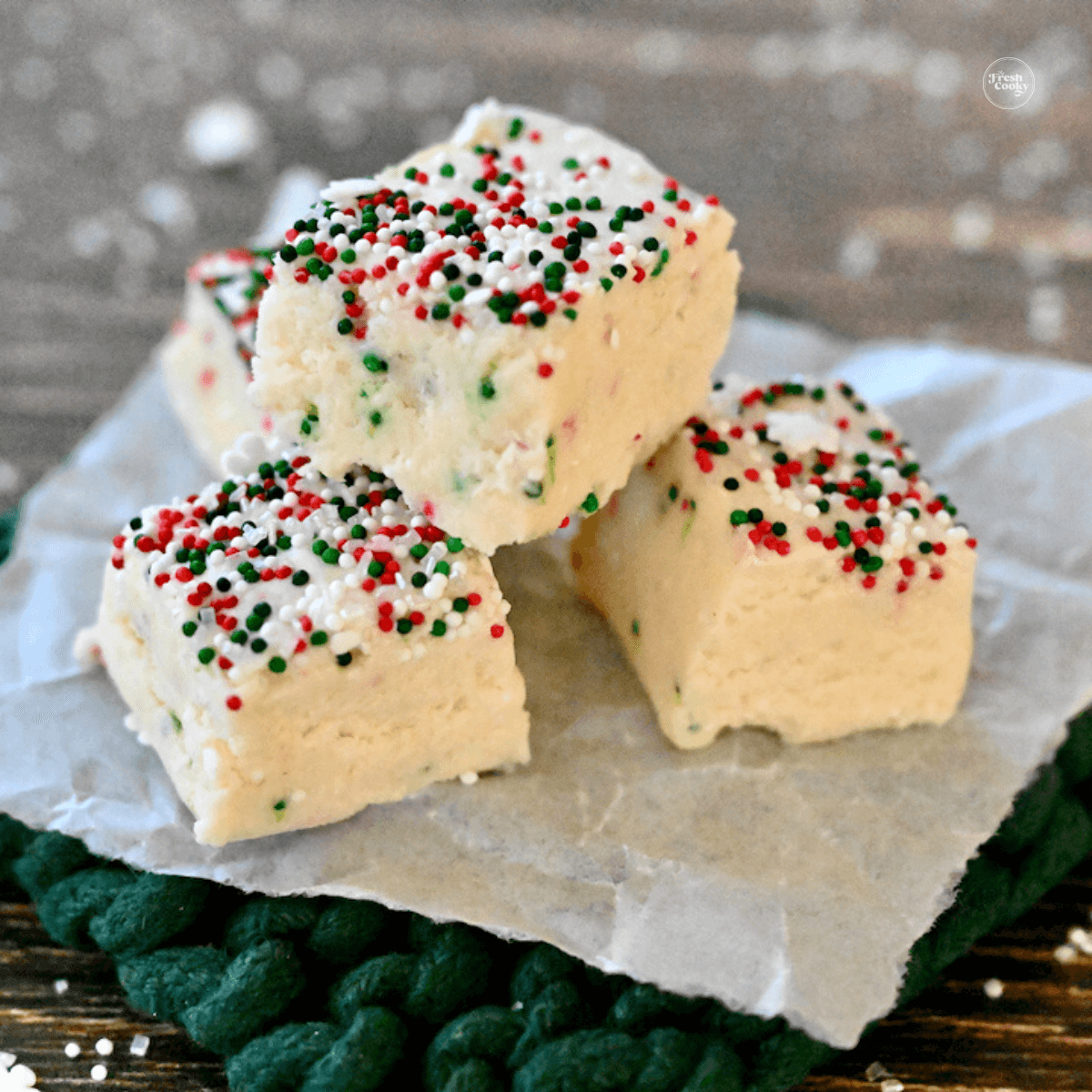 Why You Will Love this Christmas Cookie Fudge Recipe
Easy to Make | Don't be intimidated by making fudge. This no bake fudge recipe will show how easy it is to create such a silky and rich treat with simple ingredients and only a few steps!
Great for Many Occasions | A baby shower, kid's birthday party, office potluck, Valentine's Day treat—You name it! Swap the color of the sprinkles to make this recipe perfect for any occasion, not just the holiday season.
Share the Sweetness | Sugar cookie fudge is an excellent edible gift for your neighbors, teachers, co-workers, family, and friends and stands out on Christmas cookie trays!
I made this fudge several times over the holidays for parties — along with these easy Crockpot Peanut Clusters (amazing). The comments I received on the fudge were so fun, "I can't stop eating this", "It's kind of like divinity", "Oh my goodness, this is amazing!"
Simple Ingredients for this Easy Fudge Recipe
Ingredients, directions and nutritional information in the printable recipe card at the end of the post.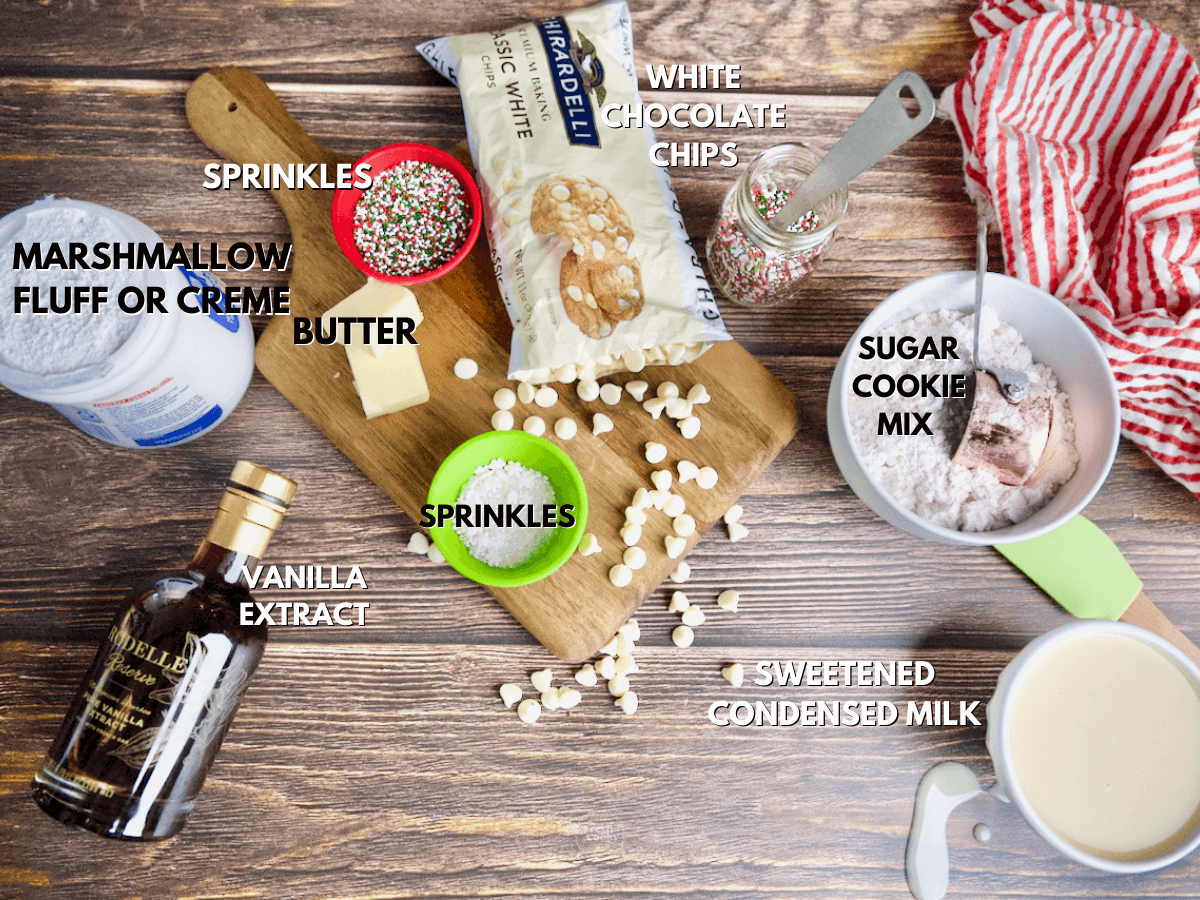 Sweetened condensed milk | Traditional fudge is often made with evaporated milk. However, to make this no-bake recipe nice and simple, you'll use sweetened condensed milk instead. Be sure to grab the correct ingredient at the store, as they are often on the shelf next to one another and easily confused.
White chocolate chips | Use good quality chocolate baking chips for the chocolatey base of the Christmas fudge recipe. I used Ghirardelli.
Sugar cookie mix | A box or bag of your favorite sugar cookie mix gives the fudge its sugar cookie flavor. I tested using Krusteaz Sugar Cookie mix and Betty Crocker; both were great!
Butter | Butter helps to give the fudge some extra flavor and a smoother texture.
Vanilla extract | Vanilla brings out the sweet sugar cookie notes of the white chocolate fudge.
Marshmallow fluff or creme | The final touch for this sugar cookie-inspired fudge is a jar of marshmallow crème or fluff—YUM
How to Make Christmas Cookie Fudge Recipe
I love easy recipes that are not fussy; most fudge requires a candy thermometer and careful watching, not this recipe, it's ready in minutes! Easy, delicious and pretty holiday treat!
Get started with sugar cookie Christmas fudge by taking out a square pan and spraying it with a little non-stick cooking spray or spray oil. Then, line the pan with parchment paper, the oil will help the paper stick. Cut the parchment paper to allow some to hang over the edge of the pan. This will help when you are ready to lift out and cut the fudge.
Now, grab a medium sauce pan, the butter, and the sweetened condensed milk. Set the stovetop to medium-low heat and melt the butter, then add the sweetened condensed milk. Stir the ingredients until the mixture becomes nice and hot, which won't take long.
Open up the bag of white chocolate chips and sugar cookie mix. Next, add the two to the saucepan and whisk or stir until all ingredients are melted and silky smooth!
Then, remove the pan from the stove and add the vanilla extract. Finally, stir in the marshmallow fluff until it is well incorporated and smooth. Then, mix in the colorful sprinkles! Ta-da!
You're almost done with this super simple recipe! Just pour the velvety fudge mixture into the prepared dish and smooth if needed. If you'd like, add more tasty Christmas sprinkles to the top of the fudge. Next, place the dish in the refrigerator and allow the sugar cookie fudge to set.
Storing this recipe in the fridge overnight will yield the best results, but you should let it chill for at least 2 hours until it's nice and firm.
Lastly, use a sharp knife to slice your festive fudge into bite-size pieces, about one inch each! Serve and enjoy your homemade fudge!
Fresh Tips
If you're storing the delicious sugar cookie fudge for later, stack the bites in layers with parchment or wax paper between to prevent them from sticking to one another.
This fudge is perfect for sending to friends and family through the mail! Be sure to seal them in an airtight tin for the best results. Print my fun Christmas gift tags!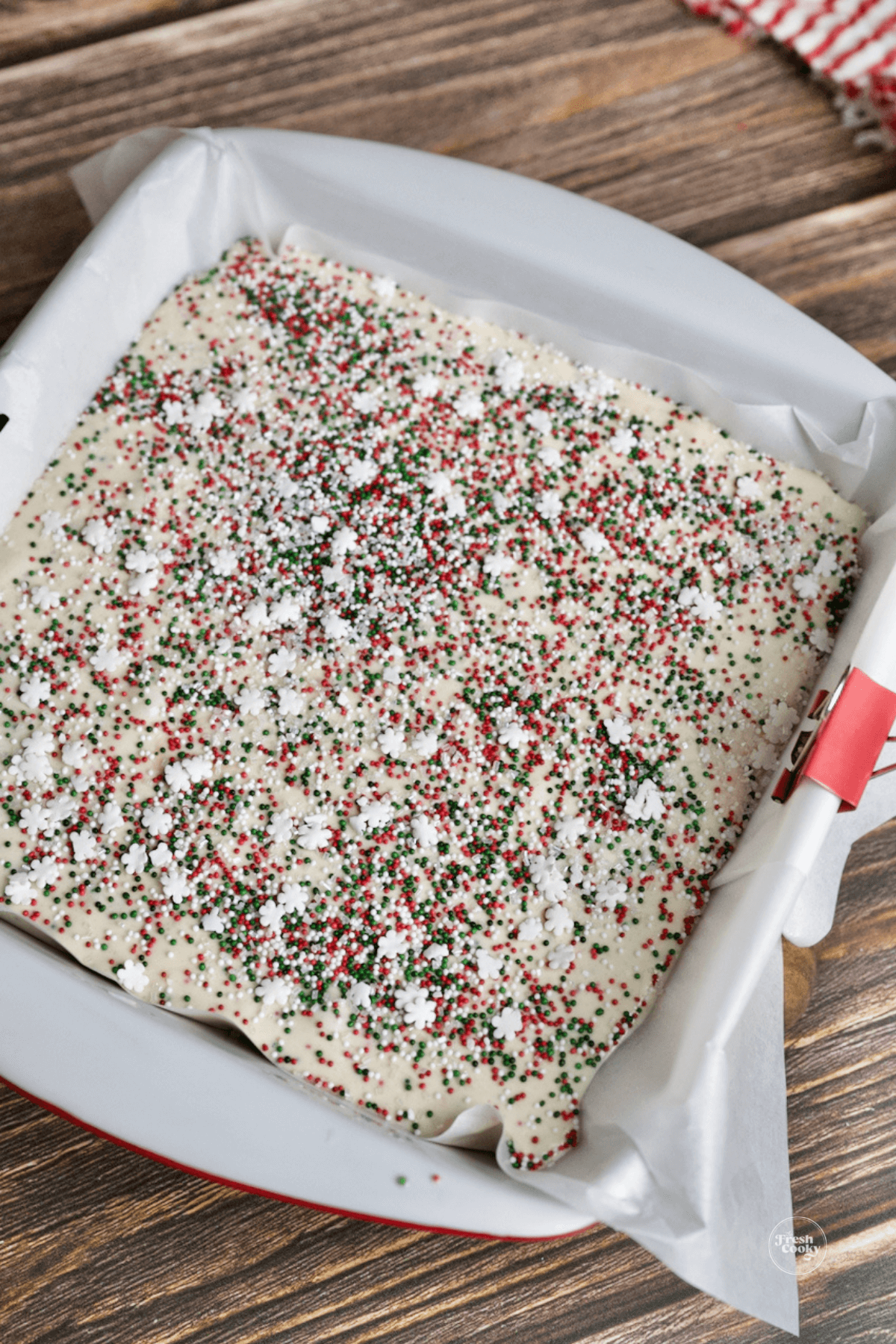 Toppings
This recipe calls for holiday sprinkles, like a mix of red and green sprinkles or any other variation. However, you can easily swap the sprinkles to make the fudge recipe perfect for any occasion. Use your favorite festive sprinkles, jimmies, nonpareils are both good choices, I used a combination of nonpareils and some snowflake and sugar crystal mix. Nothing too crunchy or large. Such as:
Use rainbow sprinkles for a kid's birthday party or exciting school event.
Add pink and red heart sprinkles for a sweet Valentine's Day treat.
Pour in red, white, and blue sprinkles for a Fourth of July celebration.
Pick out soft pastel sprinkles for an Easter dessert.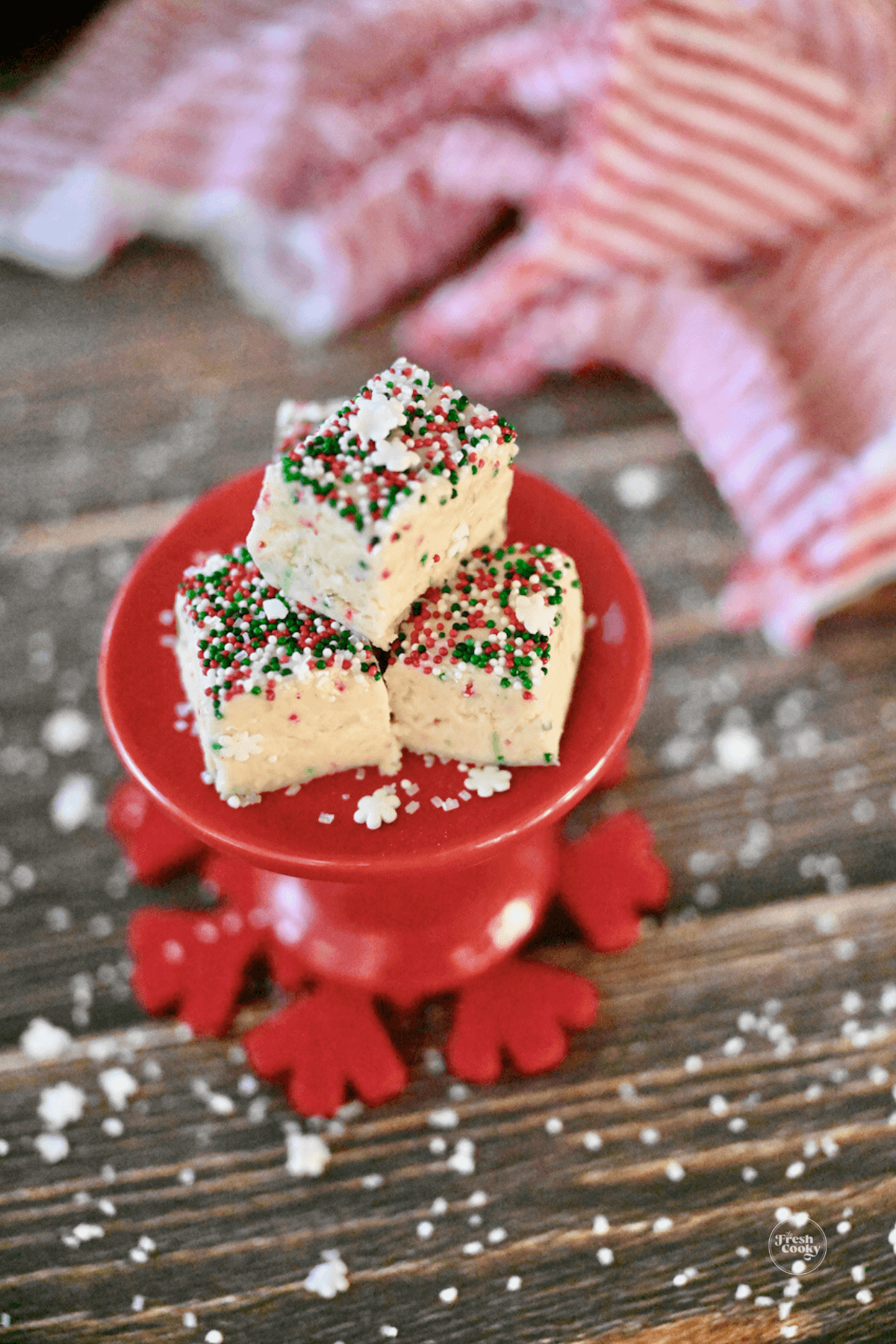 Variations & Substitutions
Omit the Marshmallow Fluff | If you aren't a fan of marshmallow flavor, or cannot locate the ingredient at your local grocery store, just leave it out! It will still taste delicious. However; it does lend a light and chewy texture to the fudge.
Dairy-Free Fudge | For dairy-free fudge, use coconut-sweetened condensed milk, dairy-free butter, and dairy-free white chocolate chips.
Gluten-Free Christmas Cookie Fudge | Use a Gluten-Free Sugar Cookie Mix. Everything else should be fine! As always, check for the gluten-free label on the remaining ingredients to ensure they will not trigger an allergic reaction for those with celiac disease.
Storage Tips
Room Temperature | You may leave your creamy fudge bites on the counter for about one week. Store them in an airtight container with parchment or wax paper between the layers.
Refrigerator | This delicious fudge lasts up to three weeks when stored in an airtight container in the fridge.
Freezer | You may also freeze this recipe. Place the fudge in an airtight container or freezer bag and freeze for up to three months. Sugar cookie fudge is so delicious straight out of the freezer! However, you may also allow them to thaw overnight in the refrigerator to serve them chilled but not frozen.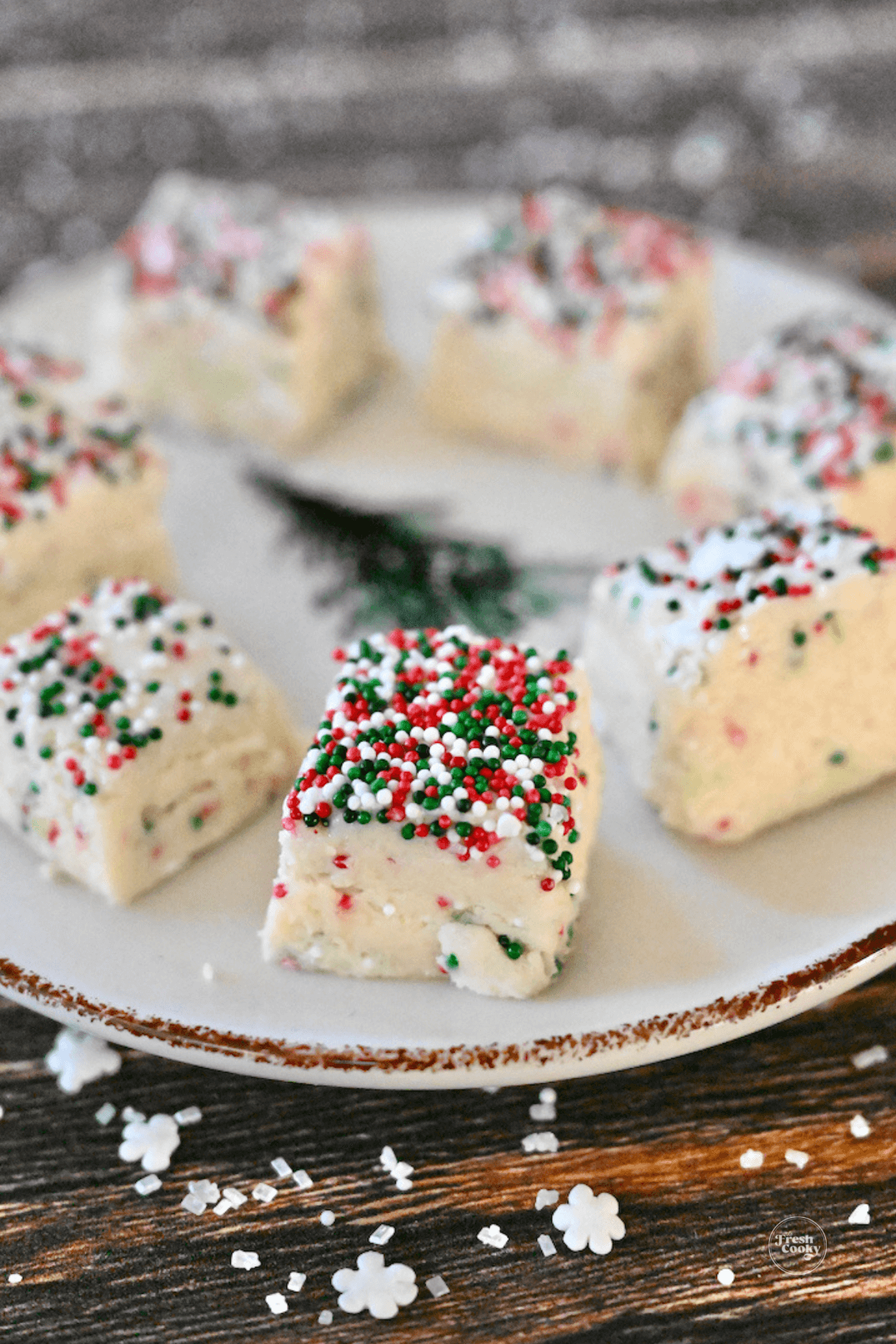 Frequently Asked Questions
What is traditional fudge made of?
This simplified and non-traditional fudge recipe tastes just as delicious as the real thing! Classic chocolate fudge recipes commonly include sugar, butter, and milk.
Should fudge be chewy or crumbly?
The ideal texture of any fudge recipe is smooth and firm yet soft enough to bite or slice through easily. You don't want the texture to be crumbly or grainy, which often happens when it is overcooked or overmixed.
Can You Microwave the Christmas Cookie Fudge?
Sure! If preferred, you can microwave the holiday fudge by melting the white chocolate chips in 10-second increments, stirring in between, until it is nice and smooth. Then, just add the rest of the ingredients and continue with the recipe as directed.

Keep in mind that microwaving chocolate has an increased chance of burning it, which could cause seizing – becomes grainy and separated. If that happens, check out my chocolate ganache post and how to fix broken chocolate. So, be patient and take your time, heating the chocolate for just 5 to 10 seconds at a time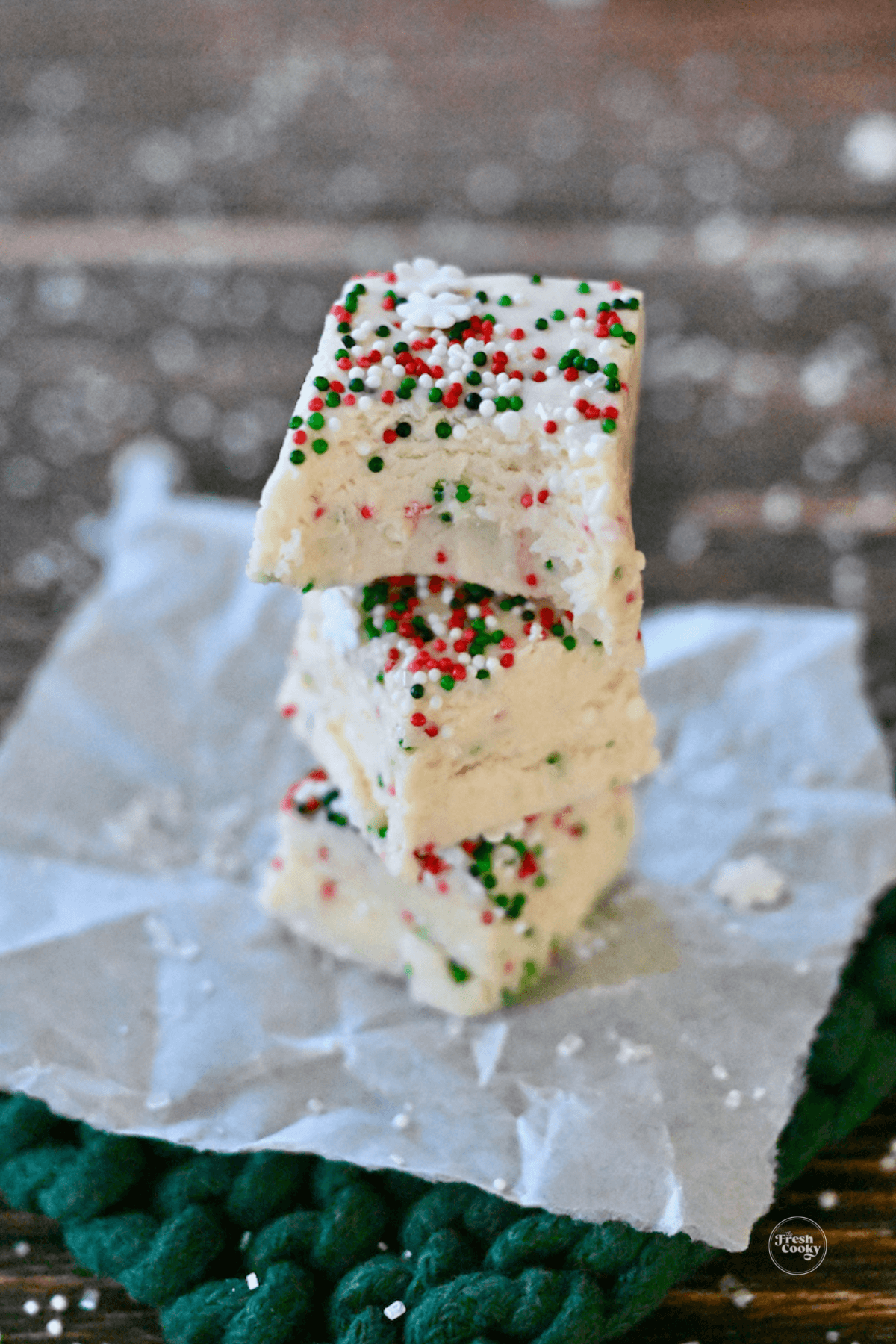 Other Sweet No-Bake Treats
This Christmas Cookie Fudge recipe is best made the day ahead. Be sure to allow for at least 2 hours of cooling and setting time before cutting, this will ensure the cleanest cutting. Preferably overnight.
Our favorite holiday treats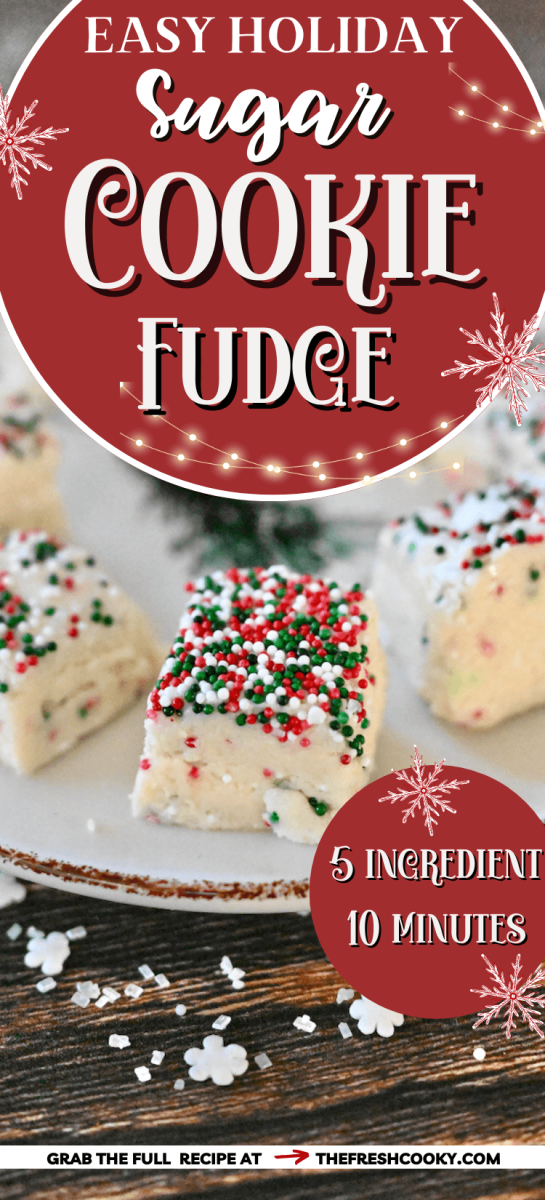 I hope you loved this Christmas Cookie Fudge Recipe — if you did, would you share your creation on Instagram, Facebook & Pinterest? And be sure to comment below!
Like this recipe?
Don't forget to give it a ⭐️⭐️⭐️⭐️⭐️ star rating and comment below the recipe!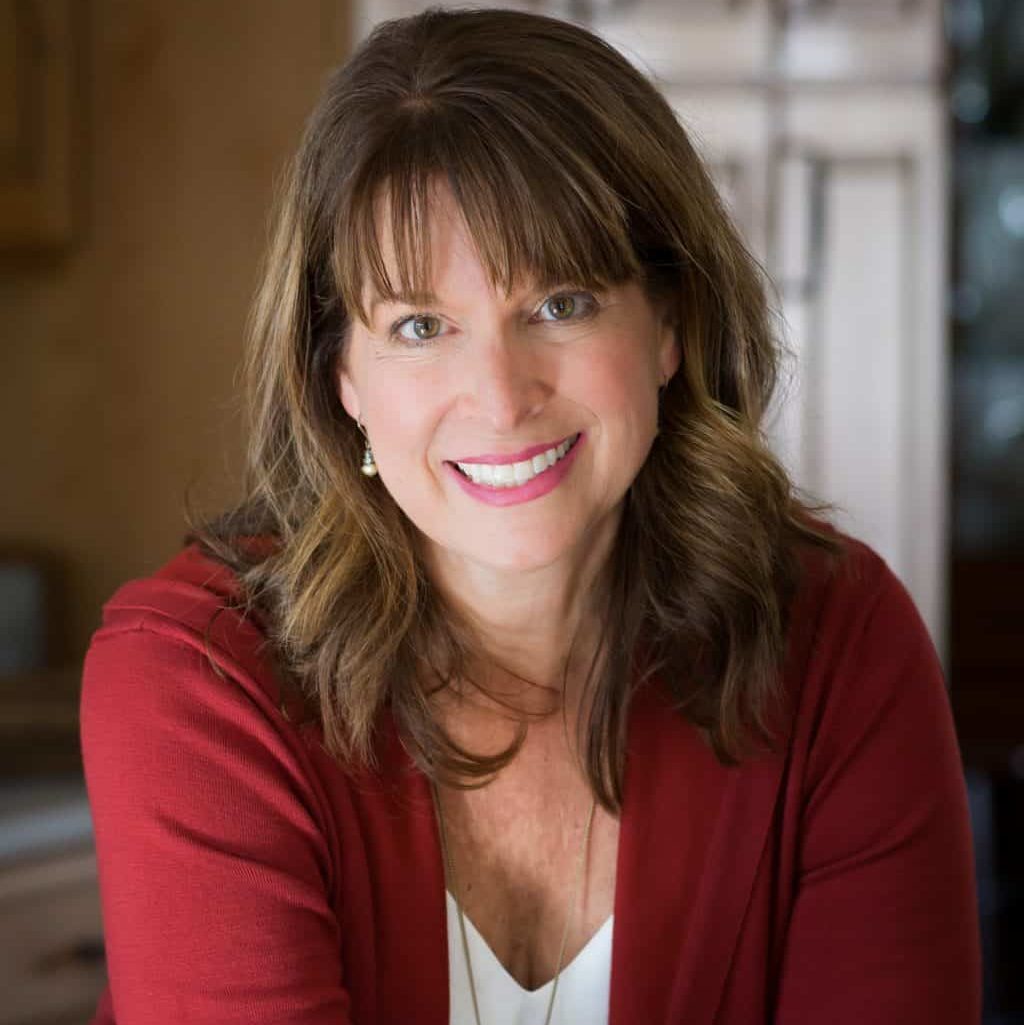 About Kathleen Pope
Recipe Innovator | Food Photographer | Food Writer
Hi, I'm Kathleen Pope. Here at The Fresh Cooky you will find easy, mostly from-scratch, trusted recipes for all occasions. From speedy dinners to tasty desserts, with easy step-by-step instructions. I am here to help teach you how to make mouthwatering recipes without spending hours in the kitchen. Read more about Kathleen here.