Outback Potato Soup Recipe (Slow Cooker or Stovetop)
As an Amazon Associate, I earn from qualifying purchases. Please read my disclosure policy.
My copycat Outback Potato Soup Recipe is an easy recipe the entire family will love! A slow cooker or stovetop loaded baked potato soup recipe. One of the best soups for a cold day, no going outside required.
Loaded baked potato soup is the best comfort food. Plus, it's so easy to make! If you're a fan of Outback's creamy potato soup packed with their signature Outback seasoning, you'll fall in love with this slow cooker loaded baked potato soup; a warm and savory recipe.
Copycat recipe fan? You might love my Creamy Chicken Poblano soup too. Or this easy HoneyBaked Ham Recipe? Try my Olive Garden Steak Alfredo Copycat Recipe or this Panera Copycat Broccoli Cheese Soup to get that restaurant taste without stepping a foot out the front door!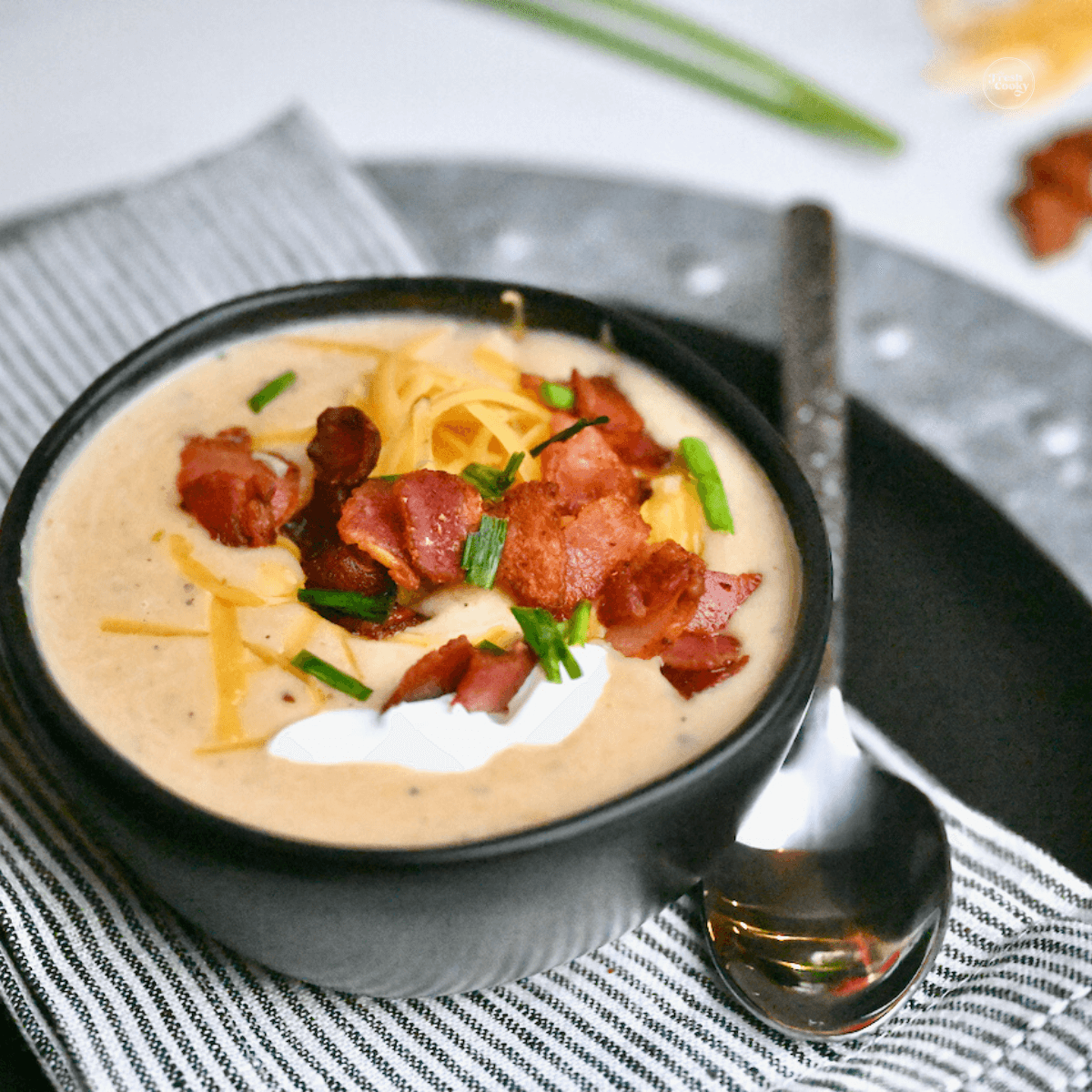 Why You Will Love this Outback Potato Soup Recipe
Copycats are the Best | This loaded baked potato soup is just what a chilly winter day calls for, without ever leaving home.
Easy to Make | There's nothing in this recipe that is too challenging for beginner cooks, a hearty soup everyone will love!
Three Cooking Methods | I love when there are multiple ways to make a single dish. Whether you make it in a crockpot, Instant Dutch Oven or on the stovetop.
I love an easy slow cooker recipe, I bet you do too! Try this popular Crockpot London Broil, or this Senate Bean Soup from my friend Shiela at Life Love and Good Food, or perhaps try this easy recipe from my friend Lynn at Nourish and Nestle — Crockpot Pinto Beans which would be great to make and have on hand for your favorite Mexican recipes!
Since January is National Slow Cooker Month I am bringing you several fabulous recipes this week along with those of a couple of blogging friends!
For game day, Super Bowl, March Madness and more, try my 3 Ingredient Chili Cheese Dip Recipe (Crock pot) or this Jalapeno Popper Dip!
Or maybe you are looking more for dinner, tender slow cooked pulled beef or fall apart tender pork roast or this comforting Tuscan White Bean Soup or my brand new 10 Vegetable Soup and don't forget this versatile Hashbrown Casserole (Cracker Barrel Copycat) breakfast, main dish or side dish!
Simple Ingredients
Ingredients, directions and nutritional information in the printable recipe card at the end of the post.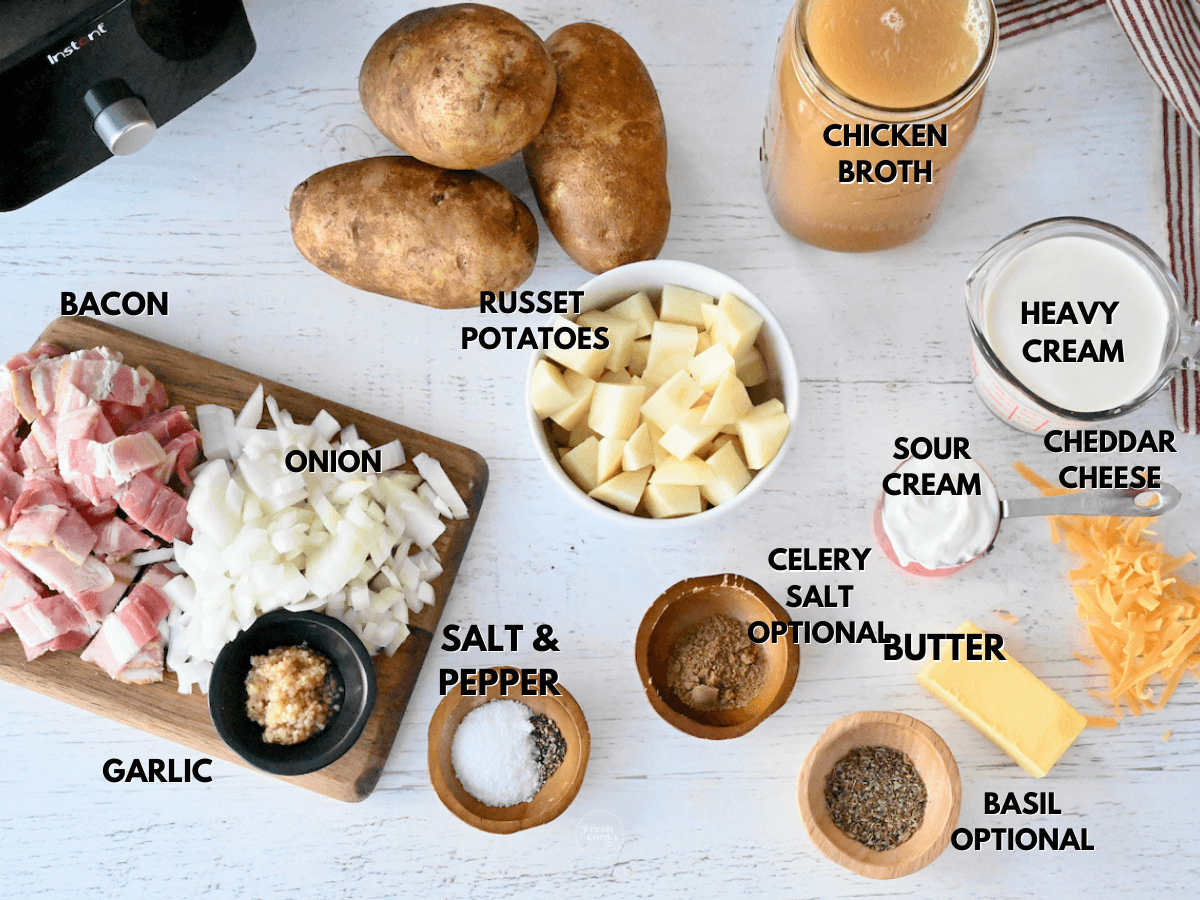 How to Make Potato Soup Like Outback
How to Start the Creamy Potato Soup
No matter what cooking method you choose, you'll start the soup the same way.
When you're craving this addictive Outback dish, all you need to do is start by taking out a large soup pot, Instant Dutch Oven, or large skillet. Next, place it on the stovetop over medium-high heat.
Dice the bacon into small pieces and crisp it in the pot or skillet over medium-heat. To easily break up the chopped bacon, use a rubber spatula. Then, remove the bacon bits with a slotted spoon or kitchen spider to a paper towel lined plate. If using lean bacon, you may need a small amount of oil.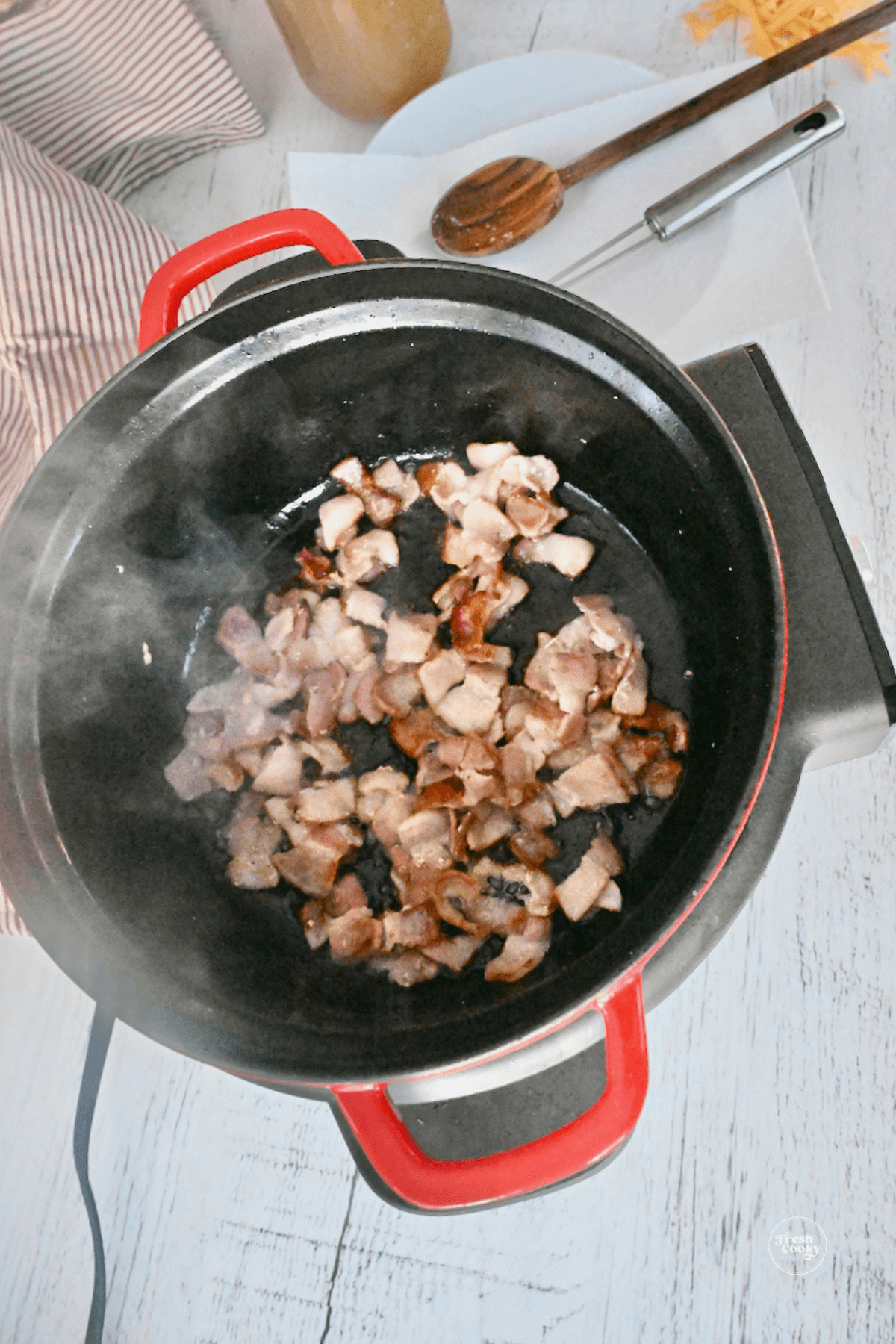 Then, dice the onion and reduce the temperature to medium heat, but do not discard the bacon grease! Sauté the onions in the bacon grease to add tons of flavor! To make the onions golden brown and caramelized, cook them for about 10 minutes, stirring occasionally. During the last minute, add the garlic and stir until fragrant.
Fresh Tip
If you want your Outback potato soup recipe to be creamy white, you will want to skip the step of caramelizing the onions in the bacon grease at least.
While my potato soup has a little more of a off-white, brownish white look, the flavor you get from sauteing the onions in the bacon grease and then deglazing the pan is out of this world!
Now, add the spices and stir. Pour the chicken broth and deglaze the pan or pot by scraping the brown bits from the bottom. If you're using a regular crockpot to make this recipe, carefully pour the mixture into a slow cooker.
Then, dice the potatoes and toss them in, stirring to combine. Cover the soup and follow the instructions below based on your cooking method.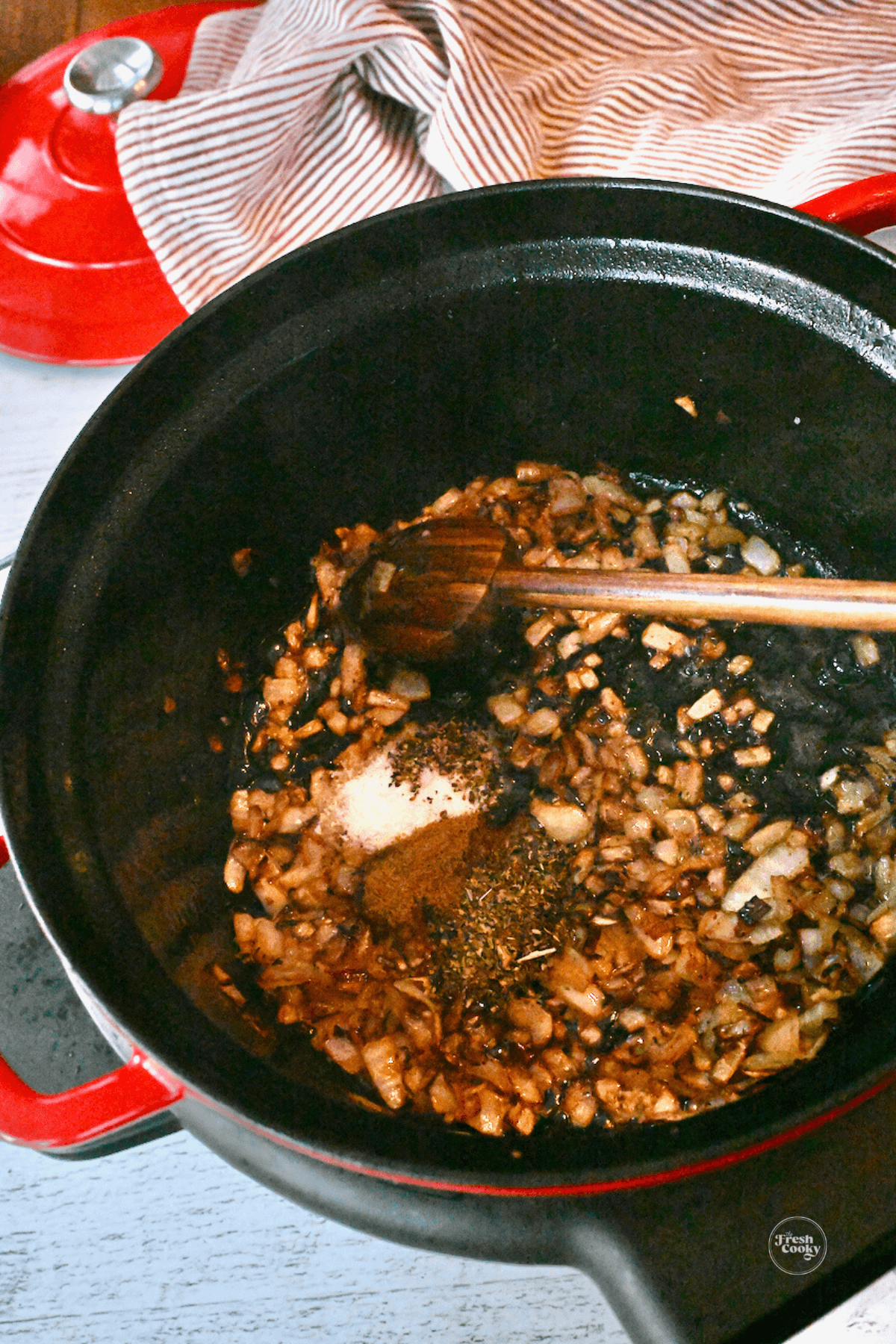 Option 1 | Instant Electric Dutch Oven Instructions or Slow Cooker
I love my new Instant Electric Dutch Oven from Instant Pot. It's a solid Dutch Oven that is safe to go from stovetop to oven and even used as a serving bowl! It's an excellent cooking method for college students living on campus and those in small apartments with limited space.
Believe it or not, you can make the whole soup with this appliance! However, you may also start the recipe on the stovetop, then transfer it to the electric Dutch oven or a standard slow cooker or Crockpot.
To make this potato soup entirely in the Instant Dutch oven, turn the dial to sauté and preheat for a few minutes. Next, cook the bacon bits until they are nice and crispy, then remove them with a plastic slotted spoon. Set them aside for later.
Keep about three tablespoons of bacon grease in the pot and sauté the diced onions for about 7 to 10 minutes until they are golden, stirring occasionally. Now, add the garlic and continue stirring for another couple of minutes until it's fragrant. Add spices and carefully mix some more.
Next, deglaze the pot with the chicken broth and toss in the cut potatoes. Cover and bring the soup to a simmer (starting on saute and moving to slow cook mode) for about 20-30-minutes, until potato pieces are soft.
What does deglaze mean? Simply put, to deglaze a pan means getting all of those brown bits with all the flavor off the bottom of the pan.
Once the potatoes are tender, continue with the recipe following the instructions after the remaining two cooking methods—How Easy is that?
Option 2 | Stovetop Outback Potato Soup Instructions
If you'd rather continue the Outback recipe on the stovetop, use the following instructions. First, bring the potatoes to a simmer over medium-low heat. Then, reduce heat to low and cover the skillet or pot. Cook until they are very soft, taking about 15-25 minutes.
Note that the smaller you dice your potatoes the quicker they will cook. Once they are perfectly tender, see the finishing instructions below. They should mash easily with a fork.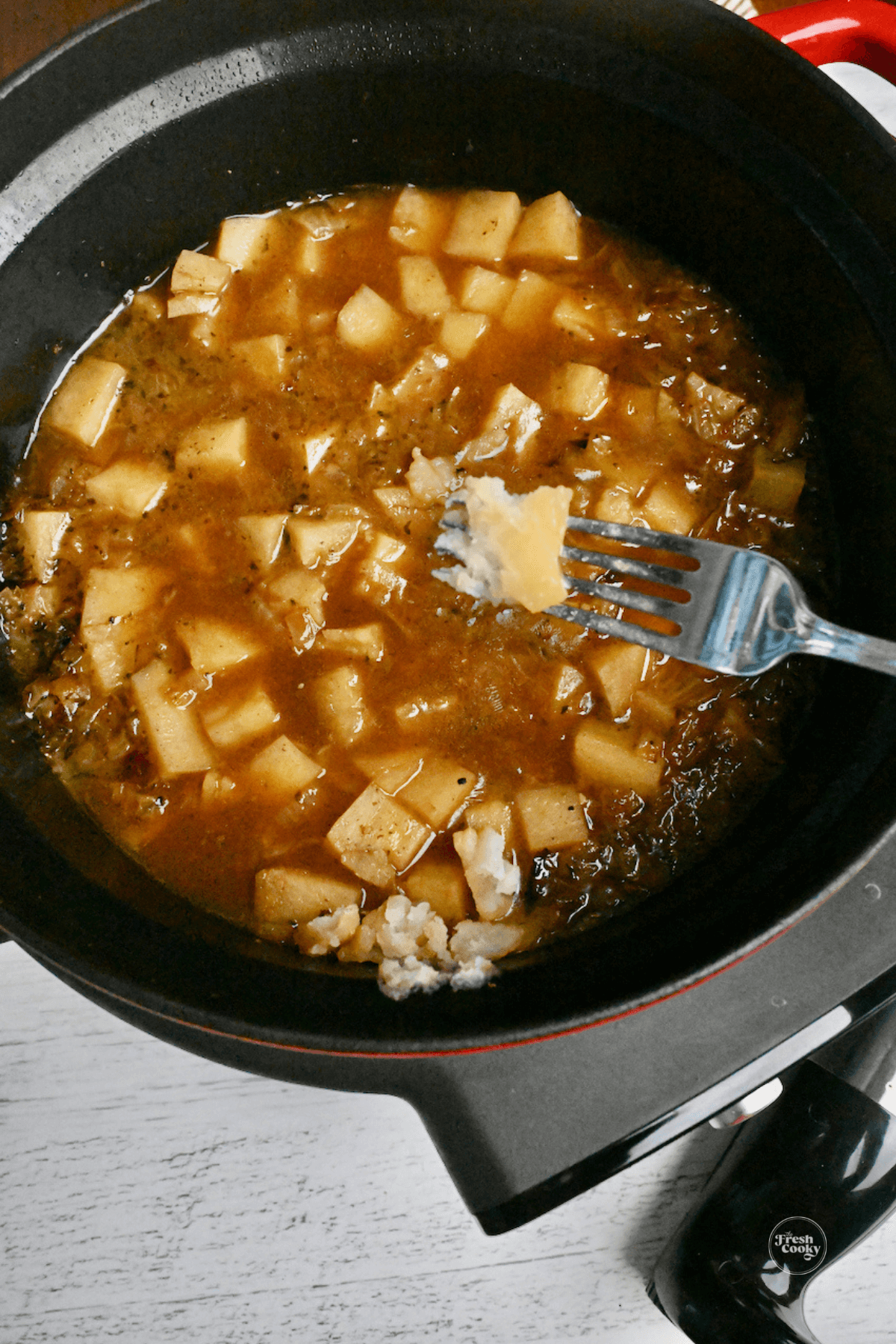 Option 3 | Loaded Baked Potato Soup Slow Cooker Recipe
If you'd like, toss all the ingredients, except the potatoes, into the slow cooker, and skip the sautéing on the stovetop. The only ingredient you'll want to crisp before adding to the crockpot is the bacon bits. To avoid dirtying more dishes, take a shortcut by purchasing real bacon bits from the store.
If you want to fry the bacon rather than using a pack of bacon bits, cook it and remove it to a paper towel-lined plate.
Then, add the diced onions, garlic, and spices to the skillet. Once they are cooked, dump them into the crockpot and deglaze the skillet with 1 cup of chicken broth. Pour the chicken broth into the crockpot.
Finally, add the diced potatoes and the remaining chicken broth to the slow cooker. Cover and set it to "LOW" for about 6-8 hours (checking at 4 if you are around). You may also cook it on "HIGH" for 3-4 hours or until the potatoes are soft. Then, finish the recipe with the instructions below.
How to Finish Outbacks Baked Potato Soup Recipe
For all three cooking methods, finishing the potato soup is the same.
Once the potatoes are fork-tender and almost falling apart, use an immersion blender to blend the potatoes to the desired smoothness. You may also mix them in small batches in an ordinary blender. Just be sure to leave the spout off the top and cover the hole with a clean tea towel so it doesn't explode on you! Or go old-fashioned and use a potato masher, mashing the soup until desired consistency.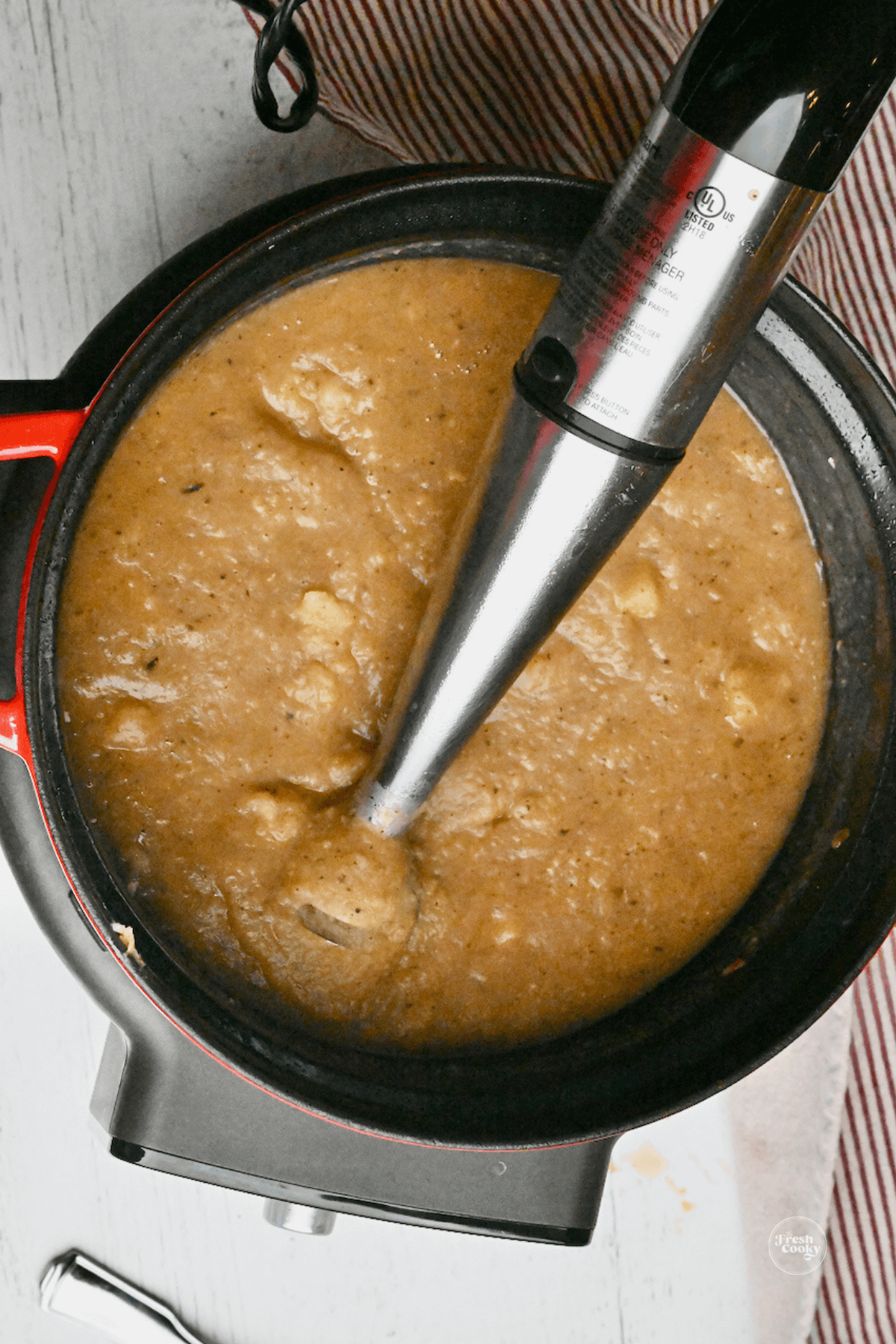 I prefer to make the potatoes mostly smooth while leaving some chunks for texture. If you are worried about making it too smooth, use a slotted spoon to remove a cup or two of potatoes before blending.
If using a blender, pour the smooth soup back into the pot and stir in the heavy cream, softened butter, and tangy sour cream.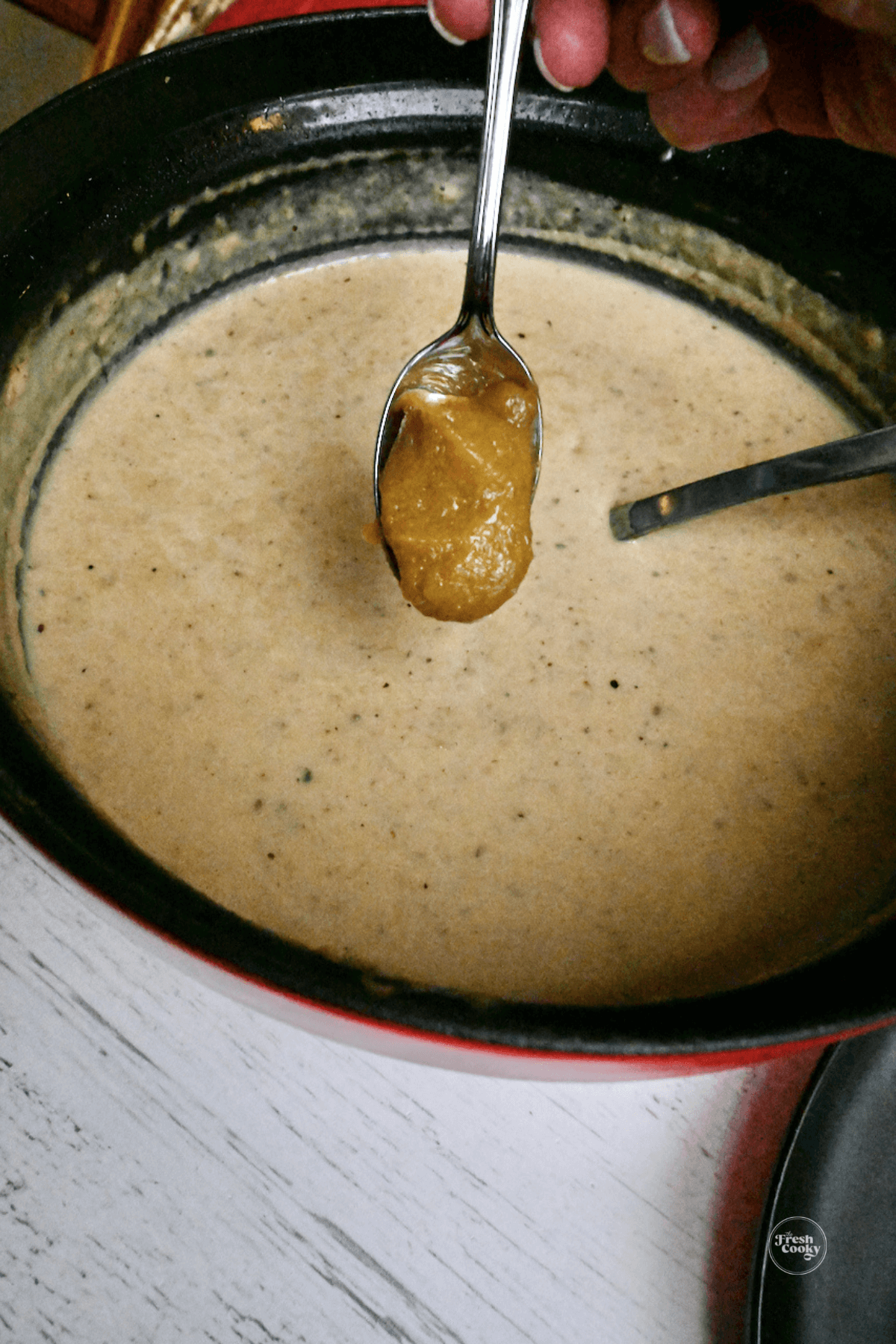 Taste and adjust the seasonings to your taste. For instance, I added one teaspoon of chicken bouillon for a kick of flavor at the end—just what it needed! Then, all that's left to do is ladle the soup into individual bowls and sprinkle on the toppings of your choice.
Fresh Tips
If you want the potatoes to cook a little faster, chop them into smaller pieces.
To avoid dirtying several dishes, I recommend using the electric Dutch oven cooking method.
Remember to transfer the freshly fried bacon bits to a plate or tray covered with a few layers of paper towels. This will help to remove some of the unnecessary grease and bacon fat.
Toppings
Top this delicious soup with a sprinkle of crispy bacon bits, tasty shredded cheddar cheese, a little dollop of sour cream, and some chopped chives or green onions. The sour cream adds a tangy flavor to each bite, and the cheddar cheese melts into the soup– YUM! A truly loaded baked potato soup.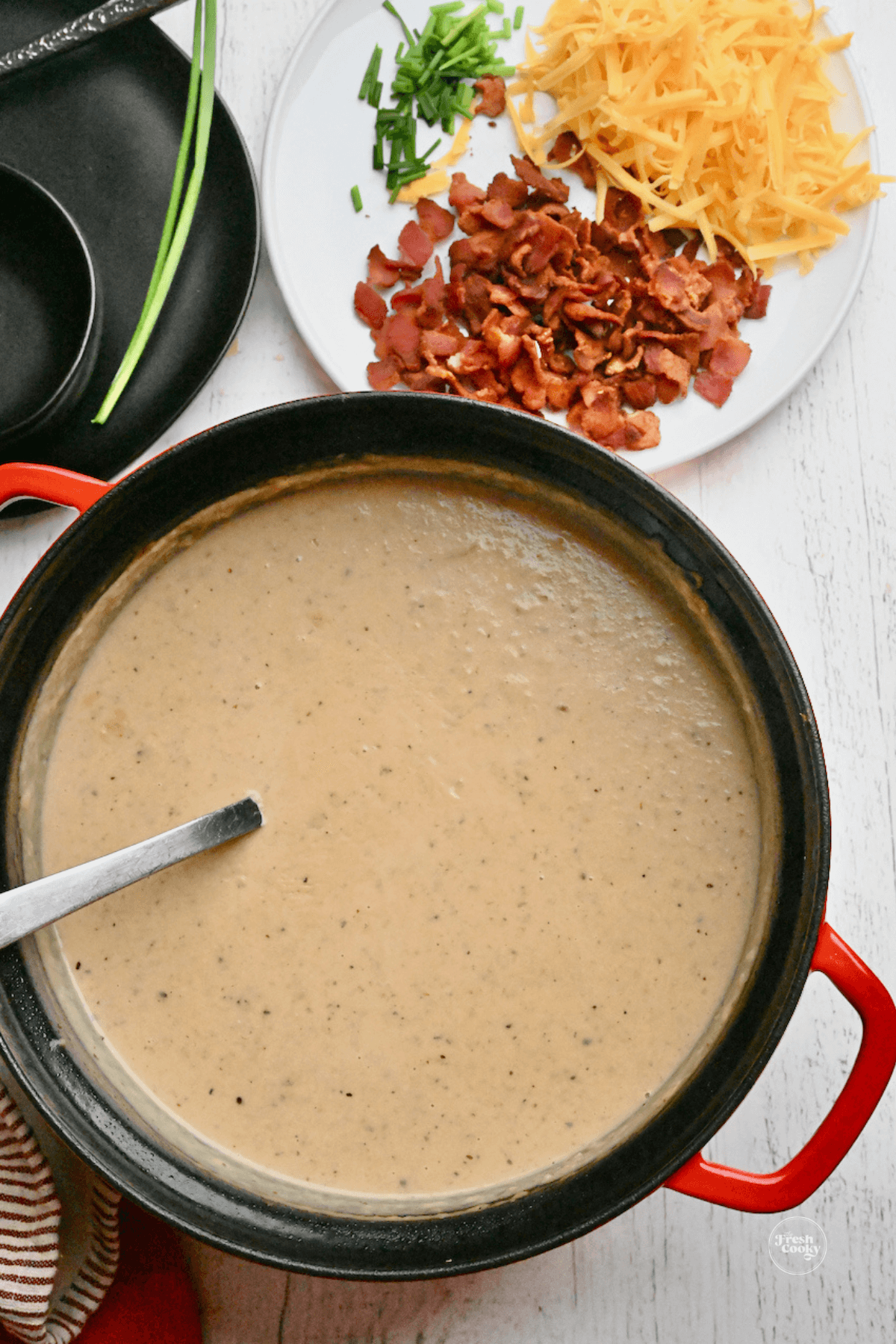 Variations & Substitutions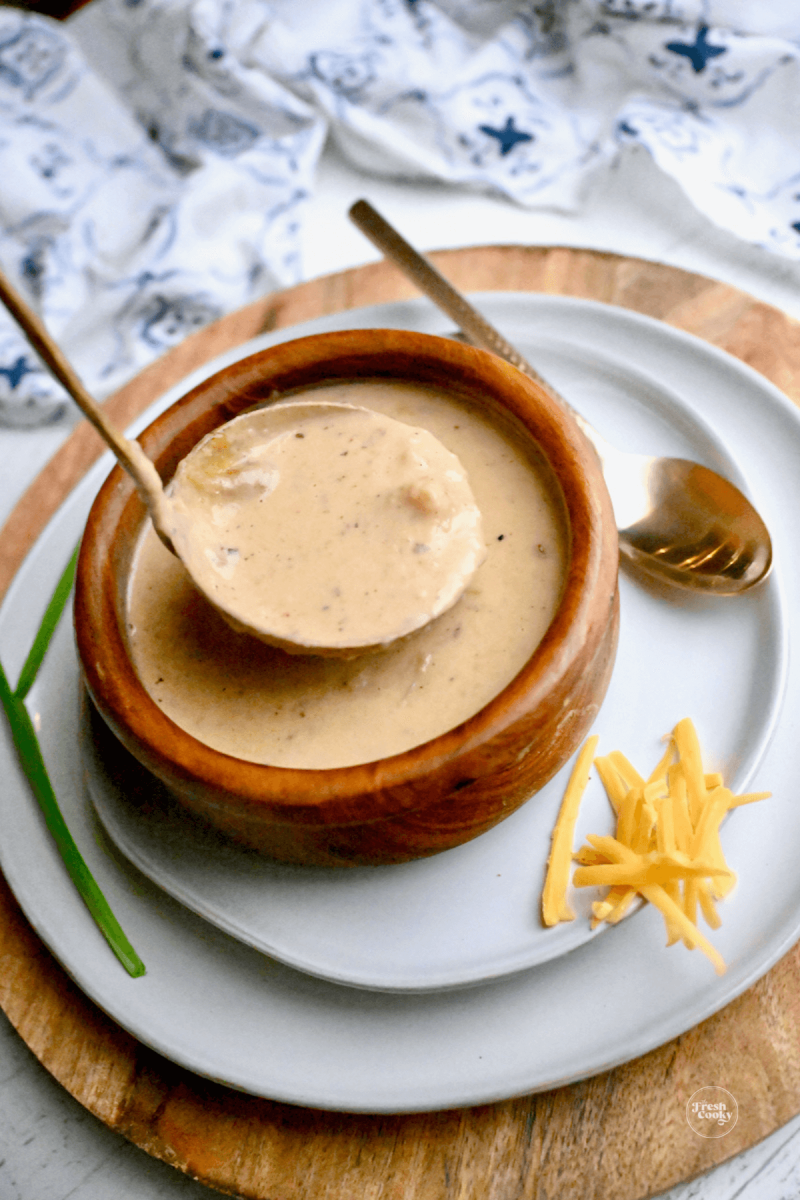 Storage Tips
How long does potato soup last in the fridge? This soup recipe will keep in the refrigerator for up to five days when stored in an airtight container. First, allow the recipe to cool completely, then pour it into a container to place in the fridge.
How to Freeze Potato Soup | Freezing Outback Steakhouse potato soup recipe will most likely alter the texture. When potatoes freeze, then can take on additional water from the freezing process, which turns them rather mushy once thawed.
That being said, it'll be extra runny when thawed, and the potatoes' texture will not be as the original. I suggest freezing in single serving portions, airtight containers or baggies with all air removed is best.
How to Reheat Potato Soup | Thaw frozen soup overnight in fridge for best results, then place in saucepan with a little extra liquid (cream or chicken broth would work well). Add a tablespoon or two of sour cream or Greek yogurt will also help bring it back together. Whisk it well as it heats to bring the texture back to a smooth and silky. Check out my post on how to fix Curdled Cream Soups for more information.
You may also microwave if desired, stir well after microwaving in 30-45 second bursts and follow the above to return the soup to a creamier texture.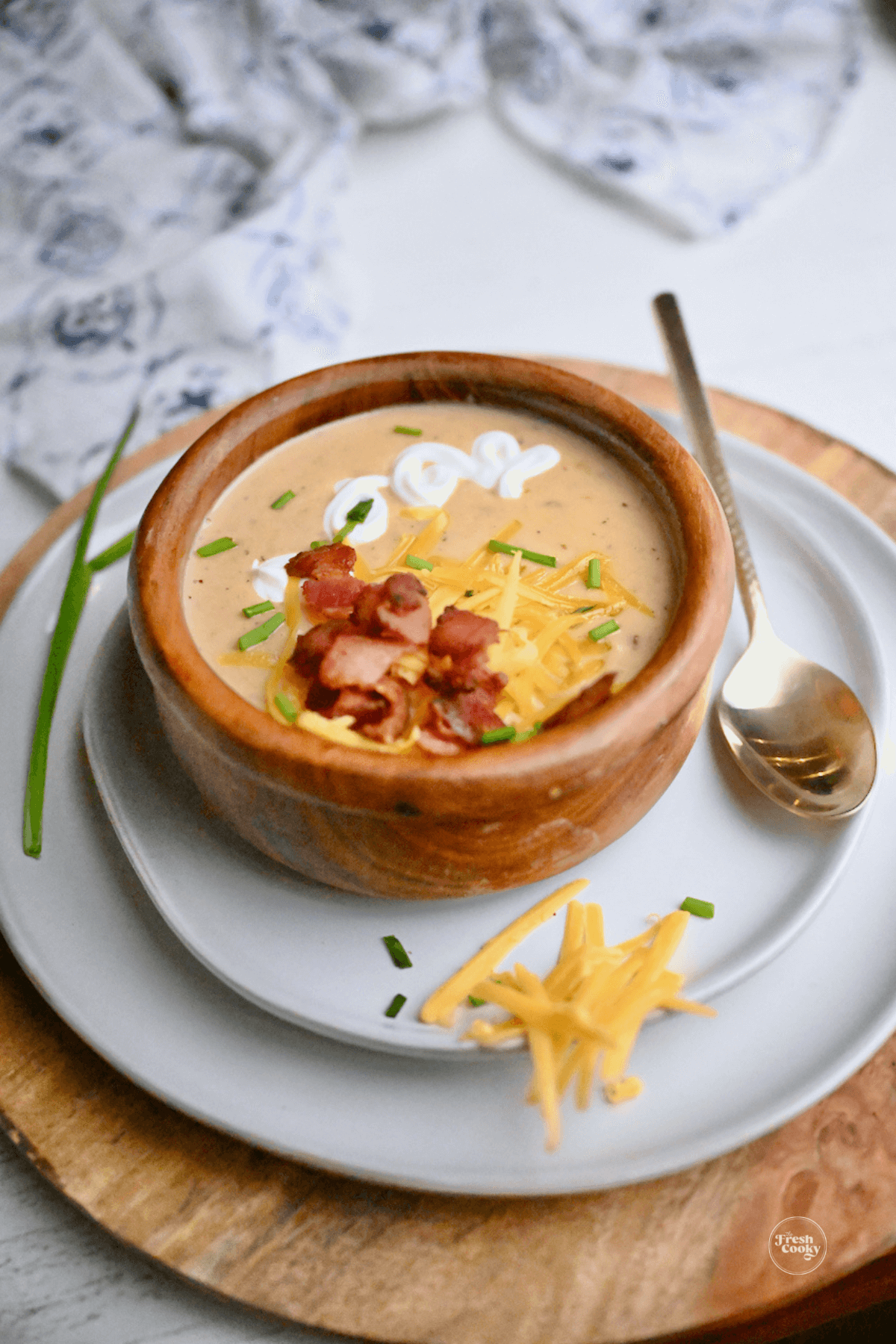 Frequently Asked Questions
How to thicken potato soup?
This recipe thickens as it sits. If you would like it thicker, you have two options; adding a little cornstarch or a flour and water slurry.
Traditional potato soup is thickened with roux or a flour and water mixture. If a thicker potato soup is desired, whisk together a ¼ cup flour with a few tablespoons of cold water until smooth, then slowly using a wire whisk, stir into the finished soup over low-medium heat, until desired thickness is achieved, start with just a little, you don't want it gloppy.
Can you substitute chicken broth with beef broth?
The soup may taste a little different, but it won't ruin the recipe. Furthermore, you should expect the flavor to differ slightly from the Outback soup
What vegetables can you add to potato soup?
Outback's potato soup doesn't include many vegetables. However, you can certainly make this recipe more substantial and nutritious by adding in more veggies, like peas, corn, carrots, broccoli, or celery.
How do you make hearty potato soup?
Add more vegetables and protein to make your copycat Outback potato soup recipe a complete meal. For protein, try ground beef, ground sausage, ham, or rotisserie chicken. Then, add some extra veggies, like broccoli or carrots.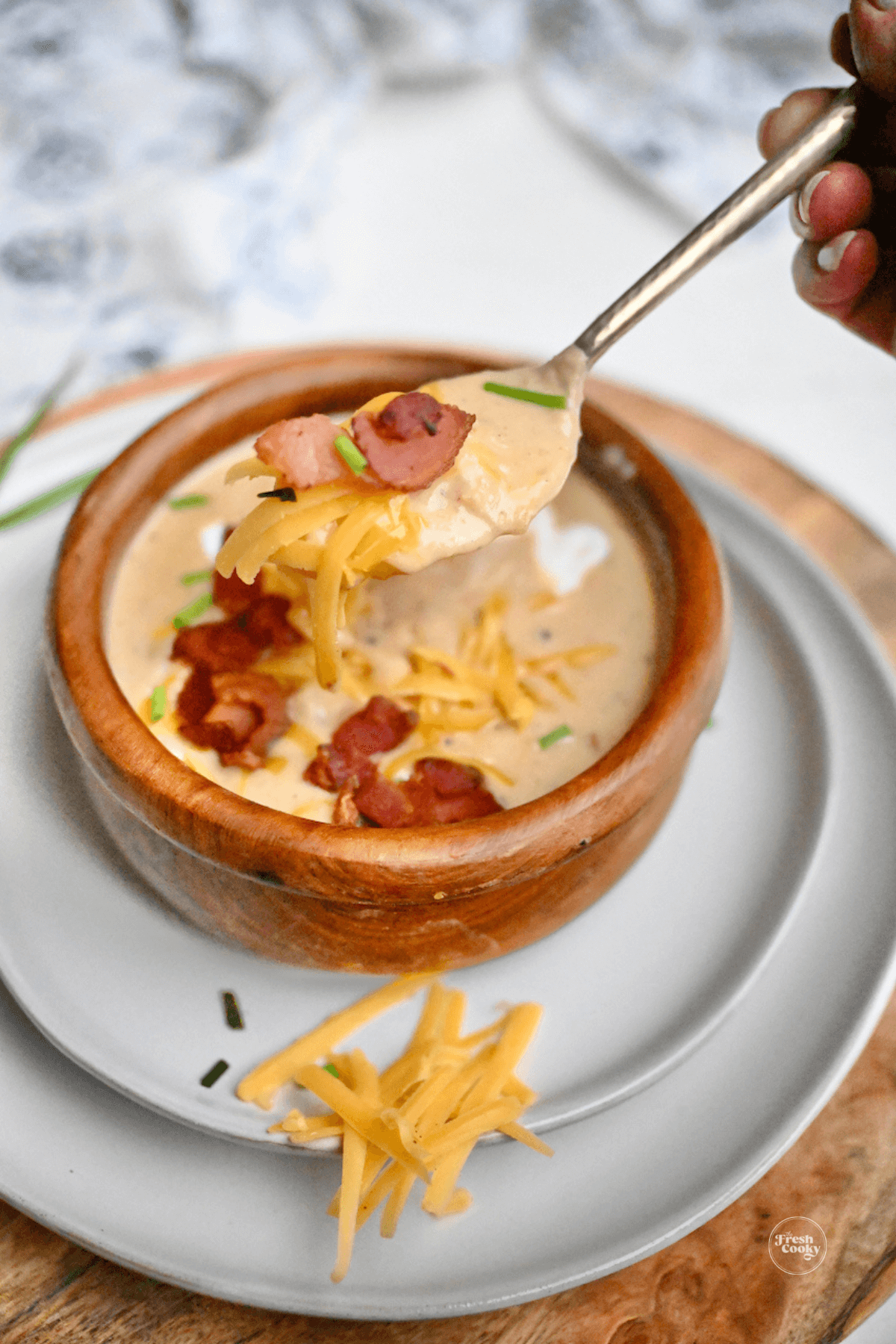 What Goes With Copycat Outback Baked Potato Soup
Serve this slow cooker potato soup recipe with sweet molasses bread (copycat Outback bread!) or these easy yeast rolls and a crisp green salad. Here are some more ideas of what to serve with this delicious hot soup:
More Easy Slow Cooker Recipes
These are some of our favorites and our readers too!
Deglazing the pot or skillet while making this potato soup recipe makes all the difference! Put the flavorful bits of bacon, onion, and garlic to use rather than discarding them. This adds a punch of savory taste to the final soup!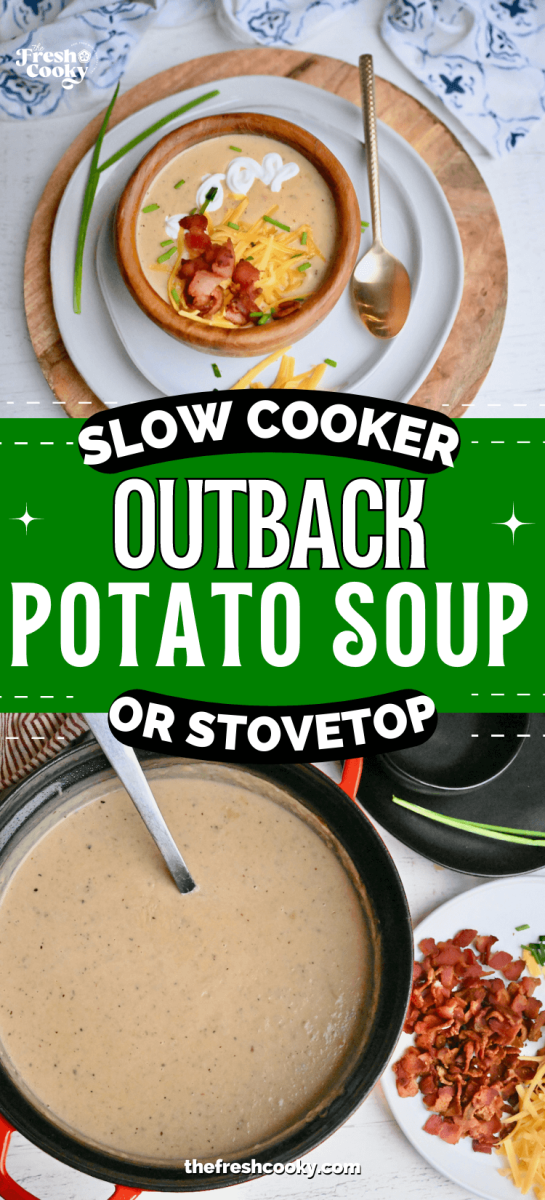 I hope you loved this Loaded Baked Potato Soup Slow Cooker Recipe — if you did, would you share your creation on Instagram, Facebook and Pinterest? And be sure to comment below!
Like this recipe?
Don't forget to give it a ⭐️⭐️⭐️⭐️⭐️ star rating and comment below the recipe!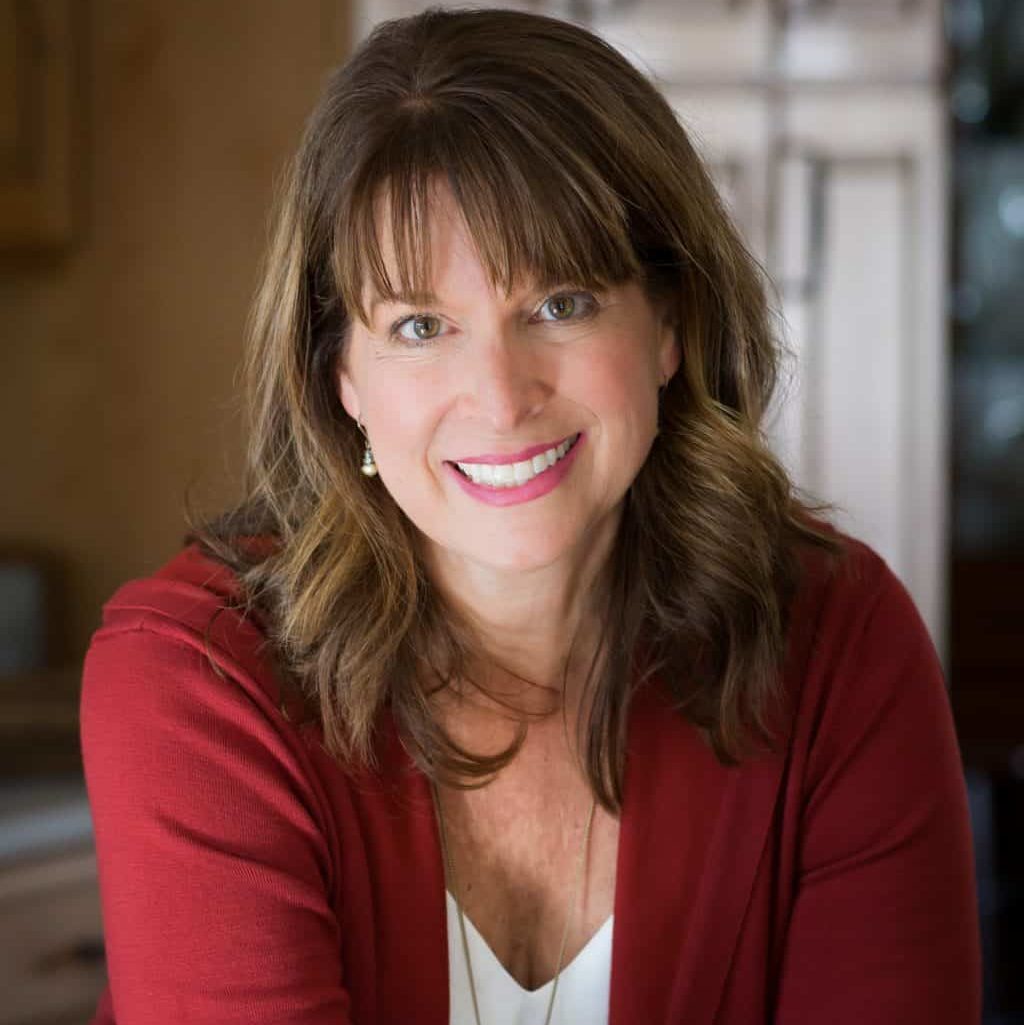 About Kathleen Pope
Recipe Innovator | Food Photographer | Food Writer
Hi, I'm Kathleen Pope. Here at The Fresh Cooky you will find easy, mostly from-scratch, trusted recipes for all occasions. From speedy dinners to tasty desserts, with easy step-by-step instructions. I am here to help teach you how to make mouthwatering recipes without spending hours in the kitchen. Read more about Kathleen here.