Mediterranean Layered Dip
As an Amazon Associate, I earn from qualifying purchases. Please read my disclosure policy.
A must have recipe in your appetizer collection. This Mediterranean Layered Dip or Greek Layered Dip comes together in minutes; it's fresh, easy, flavorful, healthy and tastes amazing.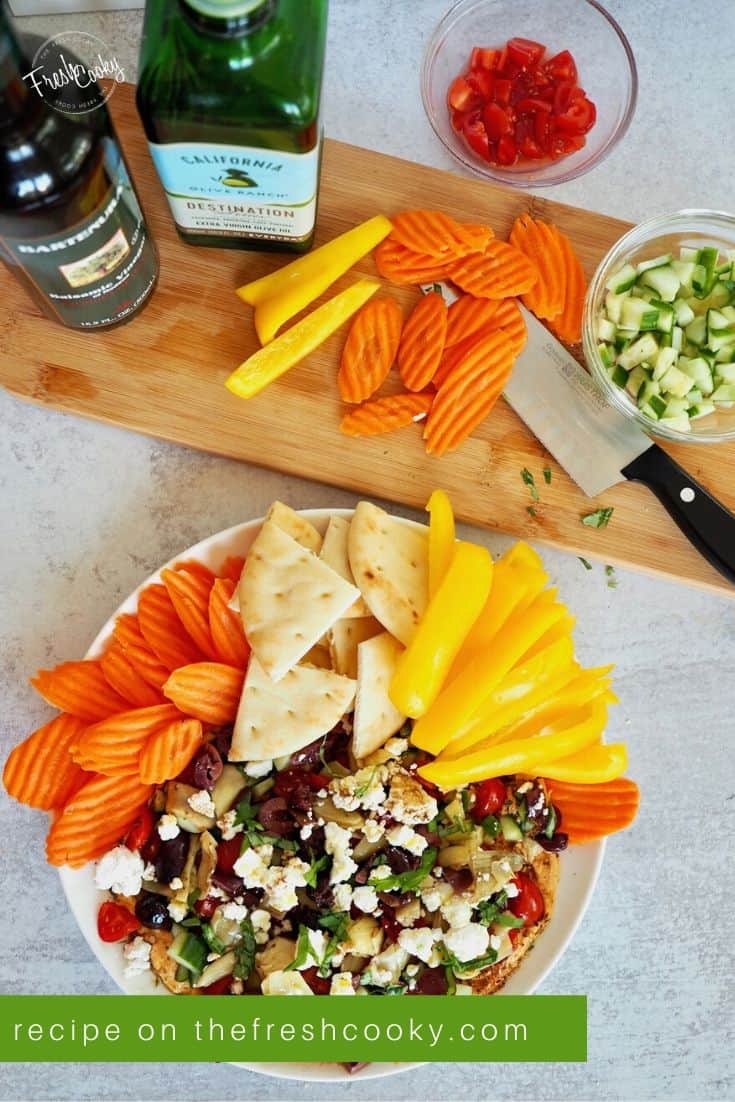 Mediterranean layered dip is your go-to, last minute, "help I need a quick appetizer" recipe! Filled with good-for-you, nutrient rich fresh veggies, creamy feta cheese, herbs and drizzled with olive oil and balsamic vinegar.
Grab your cucumbers, tomatoes, artichoke hearts, kalamata olives and chop-chop-chop, nice and small so with each scrumptious scoop they get tiny bits of everything in each bite.
You can make this in an 8×8 dish or any shallow dish. Make it big or small, simply adjusting the ingredients according to how many people you want to feed. I love schmearing it on a pretty plate or platter and then adding sliced veggies, pita wedges or crackers right to the plate. Gorgeous isn't it!?
The beauty behind dishes like this is you make it how YOU like it. Don't like cucumbers, leave them off, thought of something else you love…add it!
OTHER TOPPING IDEAS
Adore roasted red peppers, add them.
Sun-dried tomatoes, in oil or dried, chopped fine
Pepperoncinis, chopped
Red Pepper Flakes
Goat Cheese
Avocados
I adore Mediterranean foods, like this Chicken Shawrma, on repeat in our home or these super healthy Greek Quinoa Bowls!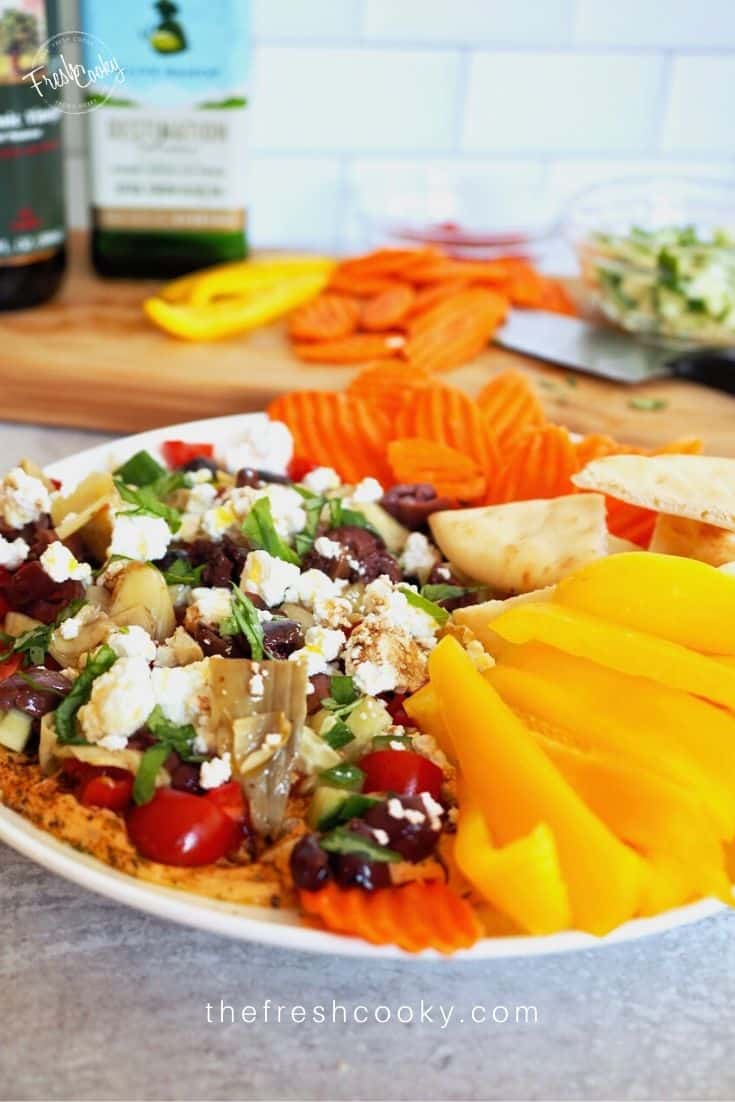 GREEK LAYERED DIP INGREDIENTS
Hummus; I used roasted red pepper, use your favorite flavor
Cucumber, chopped
Tomatoes; chopped
Artichoke hearts (whole, brined or marinated), chopped
Kalamata olives, seeded and chopped (try other olives too)
Feta cheese, crumbled
Basil or Oregano (or both), fresh, chopped
Olive oil, balsamic vinegar, sea salt, Italian Seasoning, fresh pepper
HUMMUS DIP ASSEMBLE!
Stir the hummus well, so it's nice and smooth. I used roasted red pepper hummus, you can use any flavor you like; schmear using a spatula in a reasonably thick layer on your serving dish.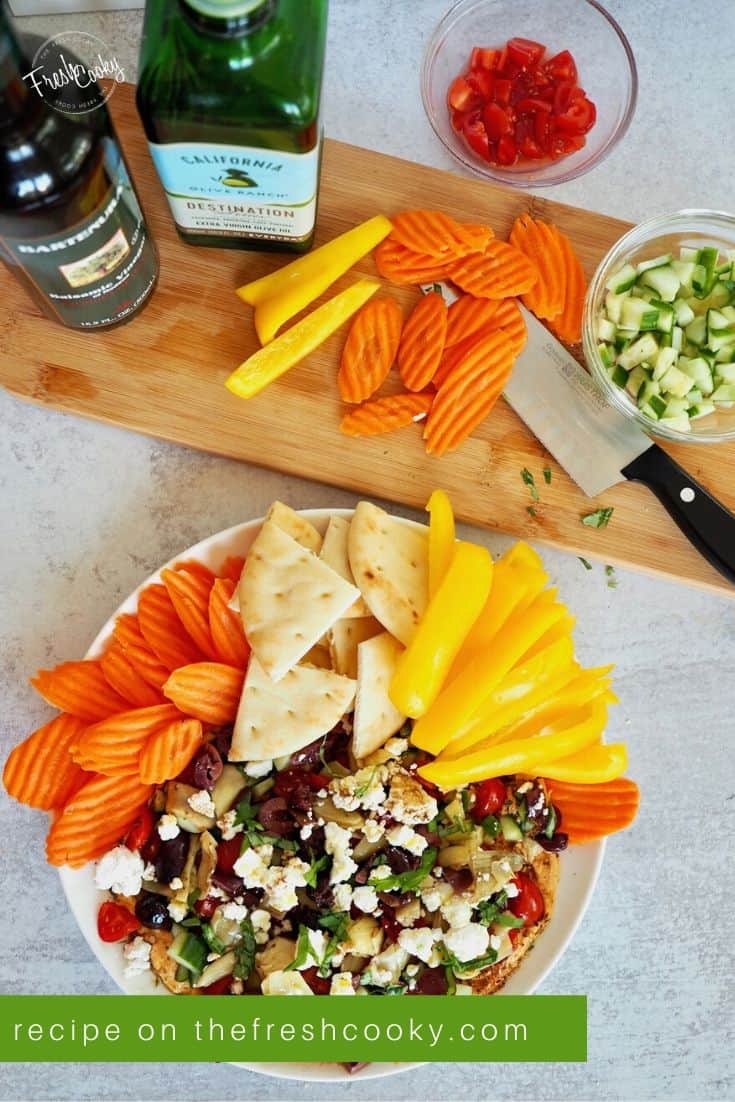 Drizzle on some good quality olive oil, then sprinkle on some of your favorite spices. I used Trader Joe's Onion Salt and a delicious Italian Seasoning blend, plus a sprinkle of sea salt. Try oregano, basil, pepper, red pepper flakes, all would be delicious.
Toss on some creamy feta cheese crumbles and a generous drizzle of balsamic vinegar, or try a balsamic reduction drizzled over the top. Add a sprinkle of flaky sea salt…perfecto!!
Don't forget your freshly chopped basil or oregano!
Serve with pita wedges (or make your own amazing Naan – gah!), sliced peppers (red, orange, yellow), tortilla chips, pita chips, crackers — whatever floats your boat!
Like this recipe?
Don't forget to give it a ⭐️⭐️⭐️⭐️⭐️ star rating and comment below the recipe!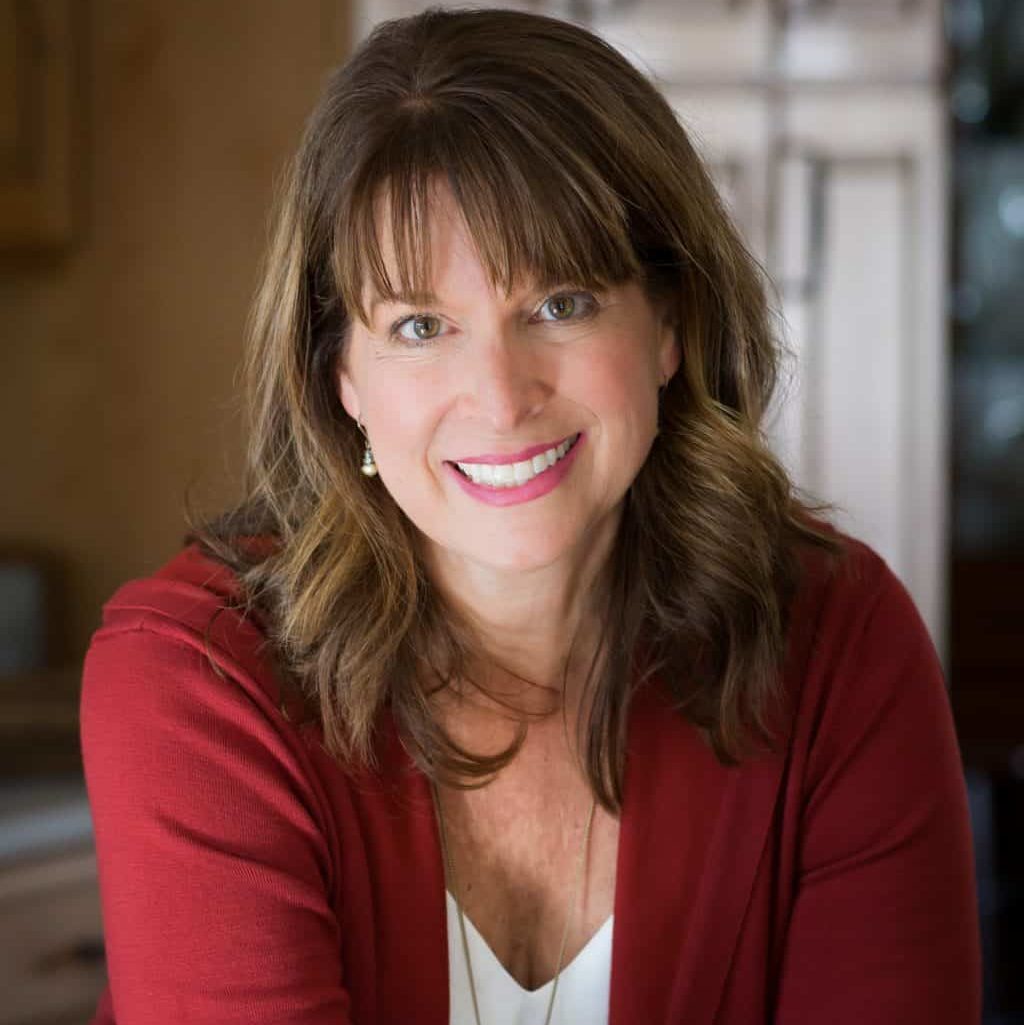 About Kathleen Pope
Recipe Innovator | Food Photographer | Food Writer
Hi, I'm Kathleen Pope. Here at The Fresh Cooky you will find easy, mostly from-scratch, trusted recipes for all occasions. From speedy dinners to tasty desserts, with easy step-by-step instructions. I am here to help teach you how to make mouthwatering recipes without spending hours in the kitchen. Read more about Kathleen here.