Pomegranate Cocktail Recipe (Best Thanksgiving Punch)
As an Amazon Associate, I earn from qualifying purchases. Please read my disclosure policy.
This fun drink is the best Thanksgiving punch! Pomegranate cocktail has pomegranate juice, cranberry juice, orange liqueur, fresh lemon juice and a splash of chilled club soda to make it all sparkle! A vodka punch recipe that is easily adapted to be non-alcoholic!
I love having go-to holiday punch recipes; making a pitcher or punch bowl filled with the best Thanksgiving recipe allows my guests to pour themselves a drink when they are ready. Perfect for Thanksgiving dinner or any holiday dinner party.
You might enjoy these other holiday cocktail recipes, perfect for special occasions; Cranberry Bourbon Sour, Cranberry-Lemon Drop Martini, a non-alcoholic Cranberry Spritzer and this Easy Wassail recipe (non-alcoholic).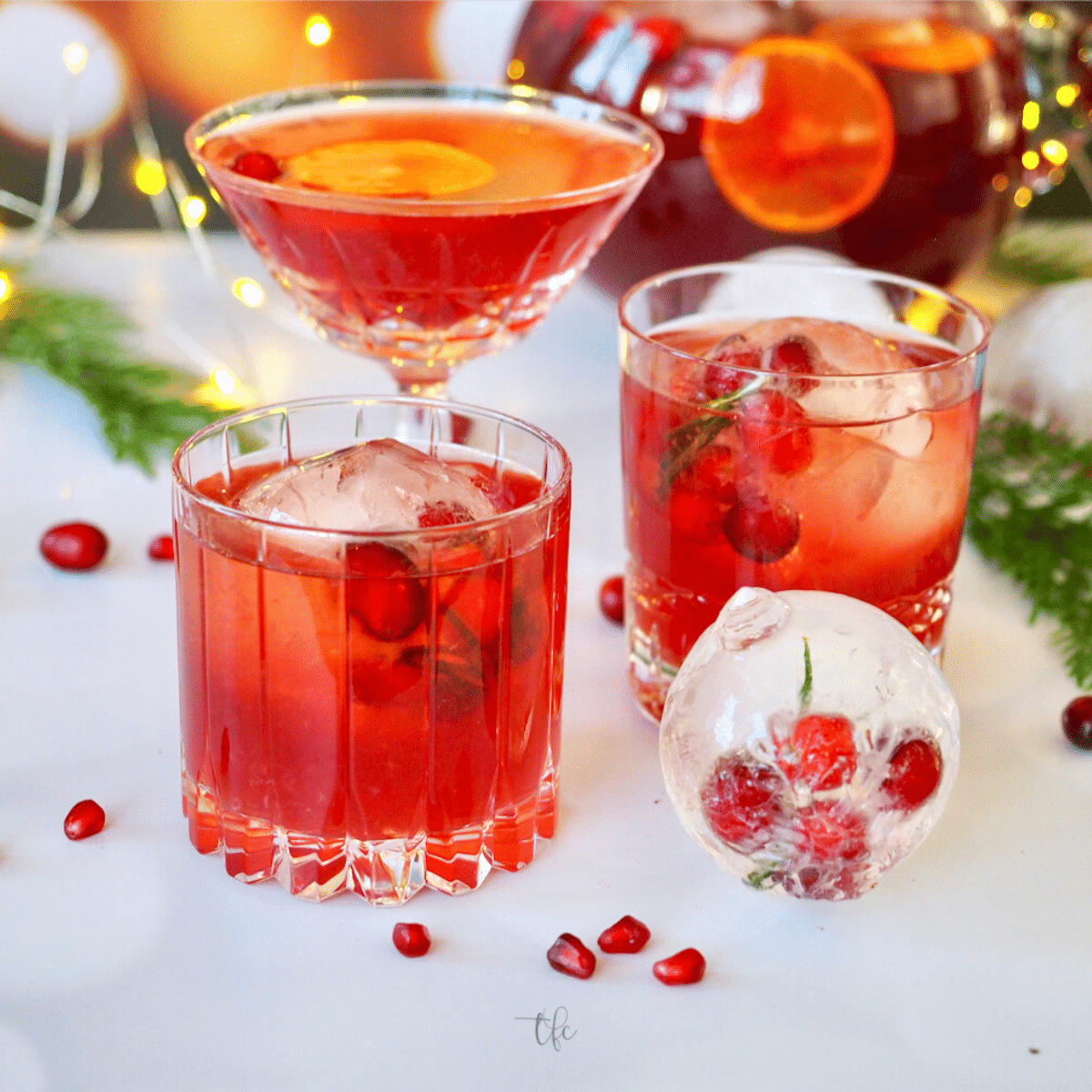 Each year I host a Favorite Things holiday party and this year I served this easy vodka punch. I ended up making a double batch of this pomegranate cocktail, storing the second batch in the fridge to refill my pitcher when it was getting low. They loved it!
If you are looking for festive drinks for your holiday parties, this holiday punch is the perfect recipe! Prefer an apple cider punch for Thanksgiving? Make my Apple Cider Bourbon Cocktail.
If you like this pomegranate cocktails you will love my Pomegranate Mule and this Hibiscus Pomegranate Margarita (Christmas Margarita).
Why You Will Love this Delicious Drink
Make Ahead | Make it ahead and chill, adding the Club Soda just prior to serving.
Large Group | This recipe easily doubles & triples for a crowd and everyone who has tried this punch – loves it!
Versatile | Easily adapt this punch to be non-alcoholic or use different fruits, juices, even champagne
Simple Ingredients for the Best Thanksgiving Punch
Ingredients, directions and nutritional information in the printable recipe card at the end of the post.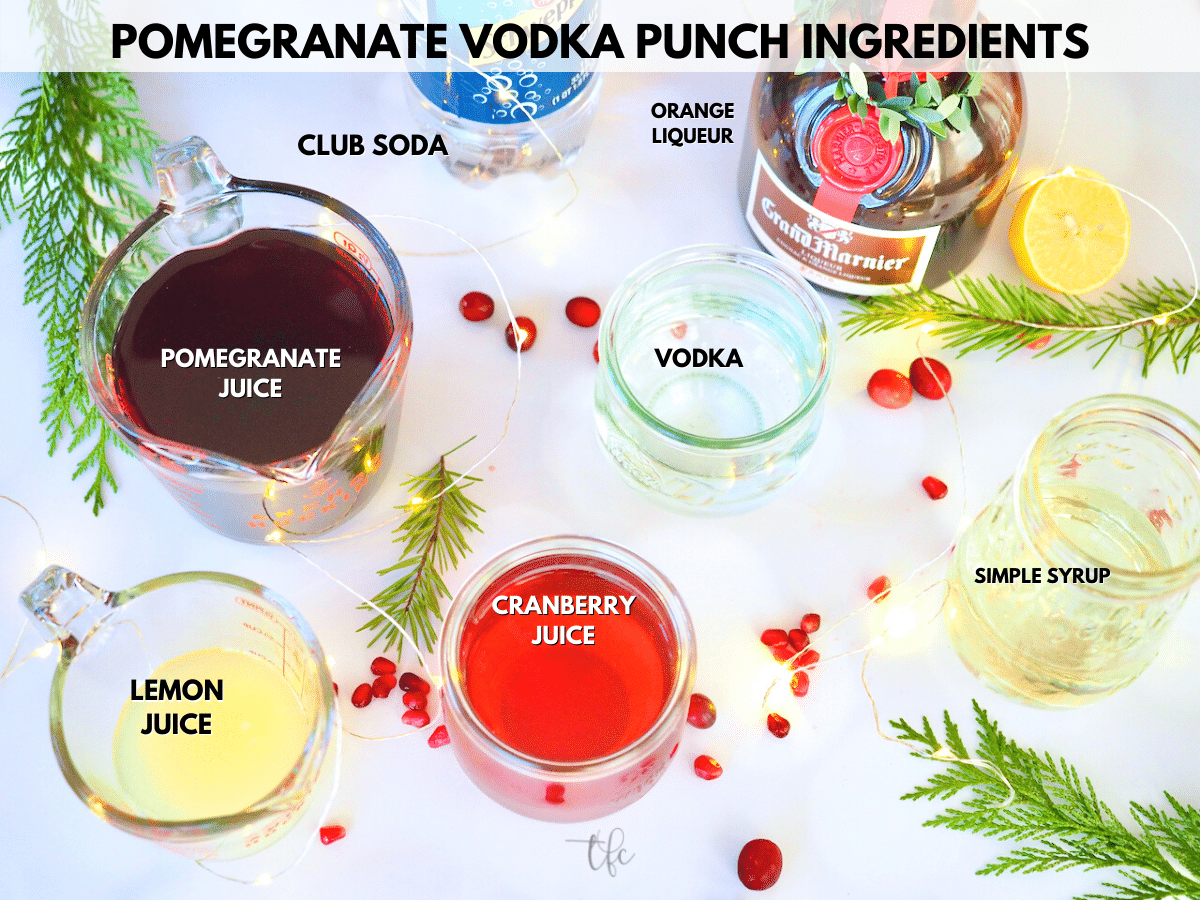 Pomegranate Juice | Make sure it is unsweetened pomegranate juice, it's sweet enough on it's own!
Cranberry Juice | I used cranberry juice cocktail, you could use 100% cranberry juice, but I would then also sweeten it with a lemon-lime soda or additional simple syrup.
Vodka | This is after all a 'vodka punch', use your favorite vodka. You could even try an infused vodka; try cranberry, lemon, orange or pomegranate infused vodka if you can find it!
Orange-Flavored Liqueur | I used Grand Marnier for mine, but you can use Cointreau or any other orange liqueur you choose.
Fresh Lemon Juice | Fresh squeezed is best here, the acidity and tartness highly complement and enhance this vodka punch recipe.
Simple Syrup | You can purchase simple syrup, or make your own – try my super simple syrup recipe using cane sugar, you could also use cranberry simple syrup.
Club Soda | Chilled; you will be adding at the very end to add sparkle and bubbles to this recipe, use plain or your favorite flavors.
Optional Rosemary & Cranberries frozen in ice cubes | I adore these ornament ice molds! Read below for how to make them!
Garnish | Use orange slices, apple slices, pear slices, cranberries, pomegranate arils to float in a large punch bowl for dramatic presentation.
How to Make a Holiday Punch Recipe
I know you can make this recipe, it's as simple as measuring and pouring! The only thing to do ahead of time is make sure your ice cubes are frozen and your ingredients chilled.
Measure out the pomegranate juice, cranberry juice, vodka, and orange-flavored liqueur, pouring into a large pitcher (make sure it holds at least 64 ounces).
Stir in the fresh lemon juice, simple syrup and chill under ready to serve. Just before serving, pour in chilled club soda and add decorative ice cubes if made.
Serve with ice or make enough ice molds for everyone to have one, a large ice cube melts slower and dilutes the drinks less. See my tips below for how to make your own ice molds.
Fresh Tips for the Best Thanksgiving Punch
Make sure all of your ingredients are well chilled before assembling the punch.
If you forgot to chill your ingredients, quick chill them in the freezer; measure ingredients into individual containers and place on a cookie sheet in your freezer for 30 minutes. Set a timer, you don't want to forget it!
Assemble your punch except the club soda and place in container or large pitcher in the fridge.
Add ice and club soda just prior to serving.
Serve with a variety of cocktail glasses and pretty ice molds for a festive holiday pomegranate cocktail.
Variations & Substitutions
For a less sweet cocktail, try using 100% cranberry juice, unsweetened, it's dark, tart and amazing tasting!
Skinny pomegranate cocktail; replace the simple syrup with a sugar-free simple syrup; omit the orange liqueur and replace with additional club soda. Even better, try my friend Sandra's Sugar-Free Grenadine Simple Syrup recipe.
Pomegranate Punch Non-Alcoholic Version | Replace the vodka and orange flavored liqueur with the following: 1 cup orange juice (fresh squeezed would be amazing), additional 1 cup cranberry juice and additional 1 cup club soda or for a sweeter version, use Ginger Ale or Sprite in place of Club Soda.
Replace cranberry juice with blood orange juice, regular orange juice, or even pineapple juice.
Instead of Club soda, use Ginger Beer for a bit more of a bite to the punch.
Swap out the vodka for rum for rum punch
Non-Alcoholic Option
Besides following the above substitutions to make this a non-alcoholic drink, you could also set up a drink station with a little sign of instructions for those who do not drink and those who prefer it fully loaded.
Make up the punch; leaving out the vodka and orange liqueur, including the club soda
Provide bottle of vodka, orange liqueur and fresh orange juice plus extra club soda or ginger ale
Put out two mini measuring cups (one for the alcohol and one for non-alcoholic add-ins)
Make a sign that says something like this:
To add some "jingle" to your "juice", pour in 1 oz vodka and 1 oz orange liqueur, stir and enjoy.
For a Merry Mocktail add 1-2 ounces orange juice, finishing with a splash of club soda or ginger ale.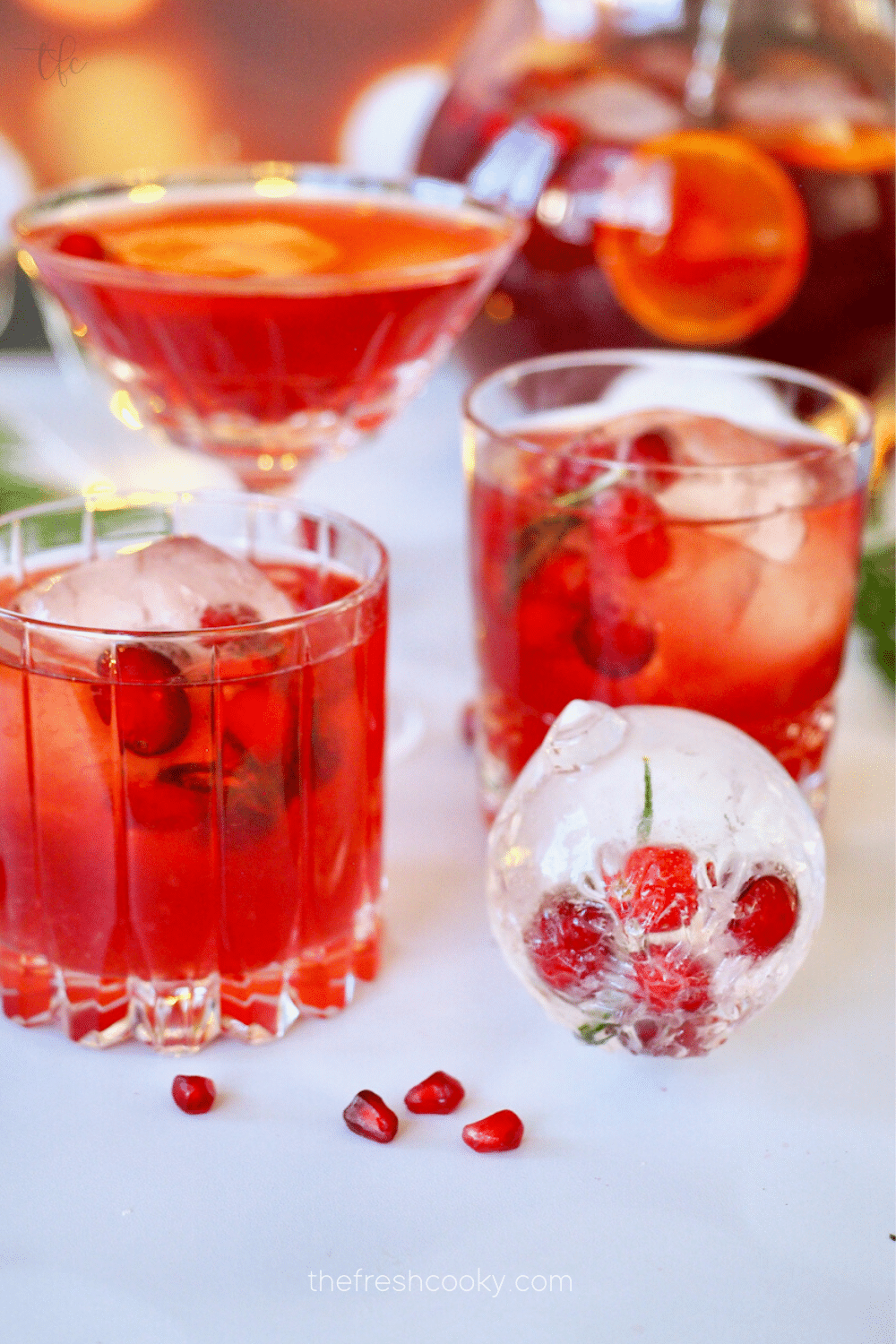 Frequently Asked Questions
What's the best pomegranate juice?
My opinion after trying many pomegranate juices is to purchase a pomegranate juice found in the refrigerated juice section, pure pomegranate. I like the POM brand Pomegranate Juice is the best. The bottled brands that are shelf-stable, have a slightly musty and off-taste to me.
What does pomegranate mix well with?
Strawberries, blackberries, blueberries, even gooseberries go great with pomegranate. Juices also compliment pomegranate, including apple, pear, cranberry, lemon, orange, pineapple. As far as mixers go, ginger beer, tonic water, soda water, club soda, and any sparkling water. Soda's like ginger ale, Sprite, 7-Up and Fresca go well too! You could even use coconut milk or water for a tropical flavor.
By-the-Glass Best Thanksgiving Punch recipe
Pour the following into a cocktail glass:
1 ½ ounces pomegranate juice
1 ounce of the following: cranberry juice, vodka, orange liqueur, lemon juice, simple syrup.
Stir well, add ice and finish with chilled club soda.
How to Make Decorative Ice Molds for Holiday Punch Recipe
You do not need pretty ice molds in order to make decorative ice molds. Using small square or round tupperware containers also works just fine.
Tips for the clearest ice mold
The reason ice gets cloudy is due to air particles in the water, they form air bubbles and create "cloudy" ice.
The best way to get crystal clear ice is to freeze filtered water in a cooler, then cut it using a serrated knife. Yes, you read that correctly – if you want to have the clearest ice possible, check out this post.
But I am not that fussy; I want it to be a bit simpler than that, and while my method isn't perfect, it does a pretty good job.
Start with filtered or even better distilled water, bring to a boil, this will help release as much air as possible.
Fill your molds with hot water (fill about ⅔ full or to line if using an ice mold) and place in any desired fruit or herbs.
For this recipe, I placed a couple of fresh cranberries and a small sprig of rosemary. A sliced mandarin orange, lemon and lime slices are also beautiful. Freeze until solid, remove from mold and repeat until you have the desired number of ice cubes for your vodka punch.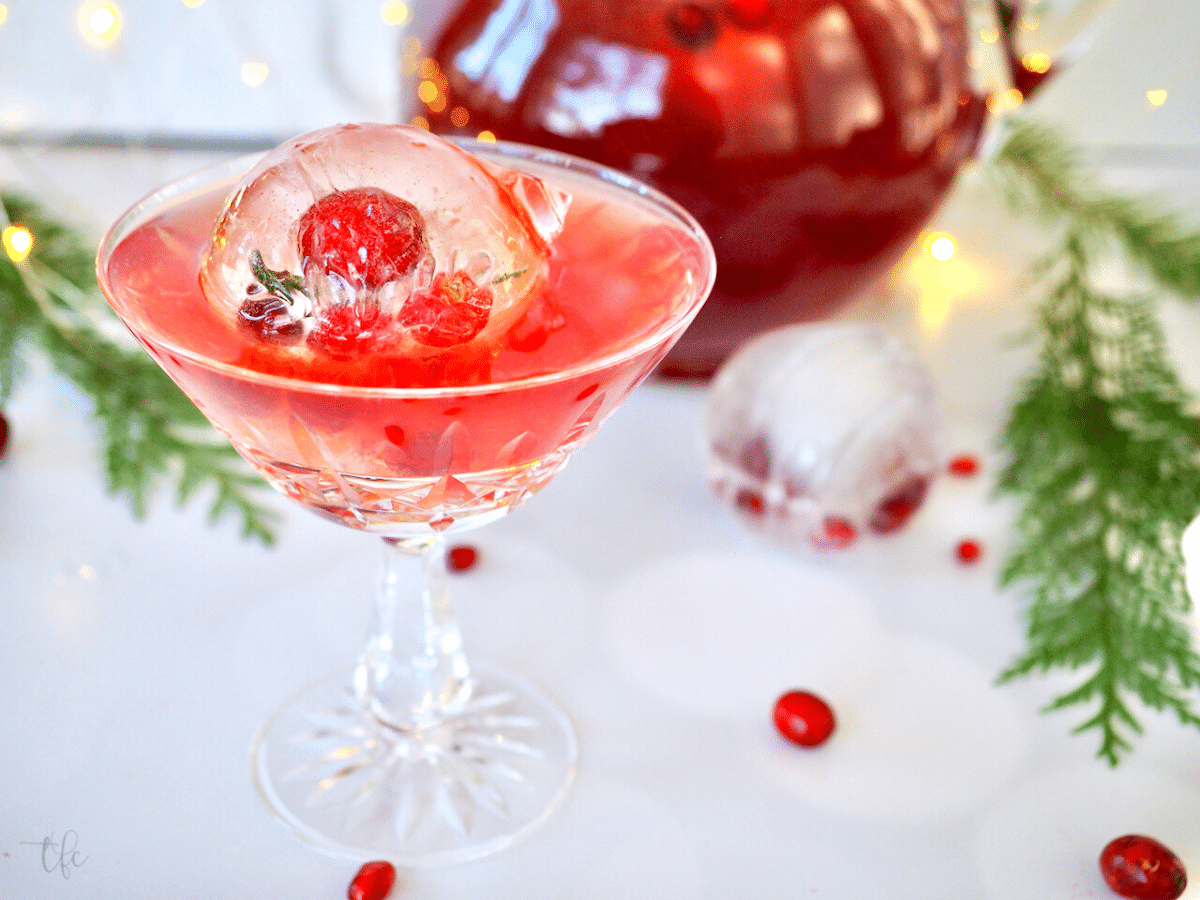 Storage
Store the leftover vodka punch recipe in a sealed jar in the fridge. To serve again, add a fresh splash of club soda or ginger ale is a great alternative. It will be a bit watered down, but will still taste delicious. Lasts up to 4 days in the refrigerator.
Recommended Equipment for Pomegranate Cocktail
Remember to always drink responsibly; this best Thanksgiving punch post when made with alcohol is intended for those 21+ years old. So what drink recipes will you be making this time of year?
More Thanksgiving Drinks
Recipes for the Big Meal on Thanksgiving Day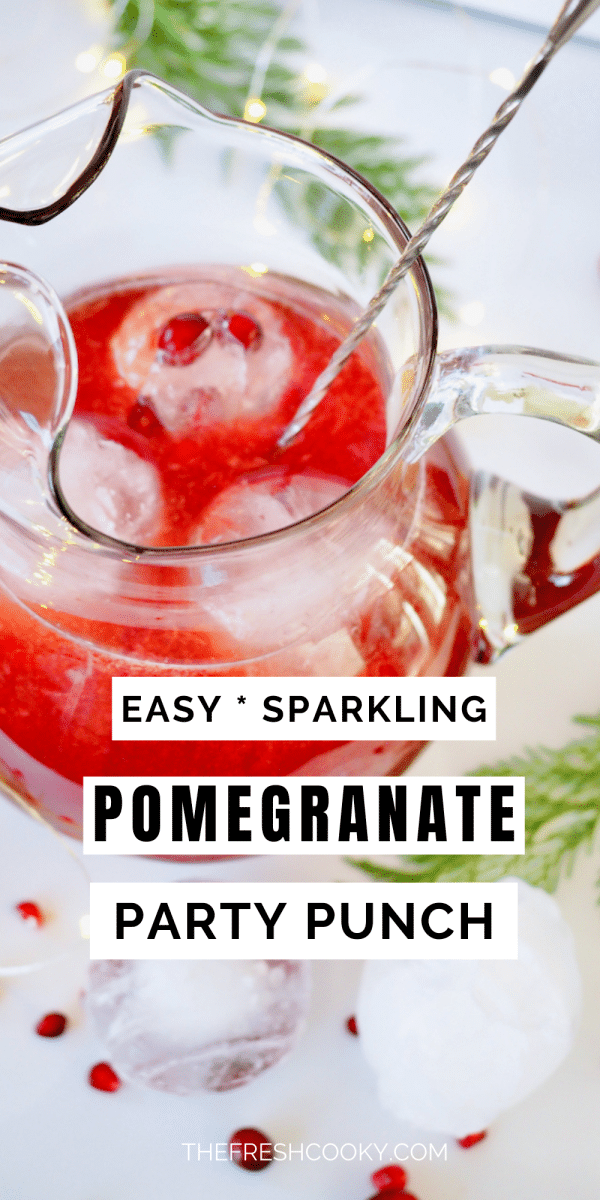 I hope you loved this best Thanksgiving Punch recipe— if you did, would you share your creation on Instagram, Facebook and Pinterest? And be sure to comment below!
Like this recipe?
Don't forget to give it a ⭐️⭐️⭐️⭐️⭐️ star rating and comment below the recipe!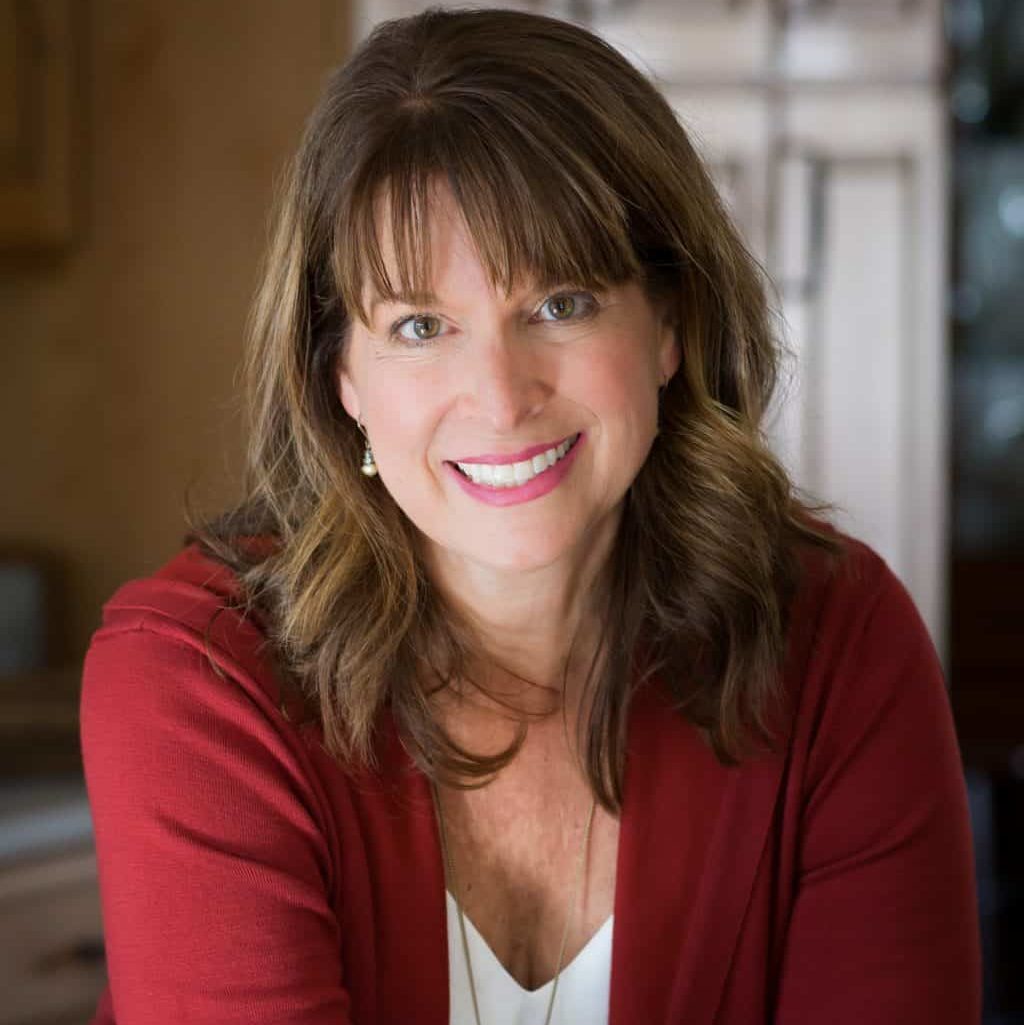 About Kathleen Pope
Recipe Innovator | Food Photographer | Food Writer
Hi, I'm Kathleen Pope. Here at The Fresh Cooky you will find easy, mostly from-scratch, trusted recipes for all occasions. From speedy dinners to tasty desserts, with easy step-by-step instructions. I am here to help teach you how to make mouthwatering recipes without spending hours in the kitchen. Read more about Kathleen here.