Eggnog Gooey Butter Cookies (from scratch)
As an Amazon Associate, I earn from qualifying purchases. Please read my disclosure policy.
Eggnog gooey butter cookies are just like they sound; gooey, buttery, chewy cookies, with a subtle eggnog flavor, finished with a sprinkling of fresh grated nutmeg! The best Christmas cookie, makes a lot and all the flavors of the holidays!
Ever had a gooey butter cookie or cake? The texture is something between a dense and chewy brownie and a sugar cookie.
We love baking in our house, you might try some of our holiday favorites! Pan Banging Sugar Cookies (what!), Andes Mint Brownie Bites, Salted Chocolate Graham Bites and Greek Butter Cookies.
What's the Origin of Gooey Butter Cake?
The Gooey Butter Cake (preceding the gooey butter cookie) originated sometime around 1930's – 1940's. According to legend, a German baker added the wrong proportions of ingredients in the coffee cake batter he was making. It turned into a gooey, pudding-like filling.
But his flop became an overnight sensation! This story is contested by a few folks, it's fun to read about.
Also made famous in more recent decades is the famous Paula Deen version of Gooey Butter Cake and cookies. I have a recipe that I have made for years for Pumpkin Gooey Butter Cake, but alas I haven't put it on the blog yet! Soon!
How to you make Eggnog Gooey Butter Cookies from Scratch?
Most gooey butter cookie recipes are made using cake mix. While I am not opposed to using a cake mix in a cookie (like these Cake Batter Chocolate Chip Cookies), these were too simple to whip up from scratch.
Eggnog vs. Egg Nog?
Apparently there are several variations of the spelling, the most common being eggnog, but also egg nog and egg-nog. I love it when I can't mess up a spelling!
Are you an eggnog lover or hater? I LOVE IT! Well as much as you can "love" a deliciously, rich, holiday drink! The good news about this recipe is the eggnog doesn't overpower the butter cookies, instead it enhances their flavor with traditional holiday essence.
I love baking with eggnog, like these Eggnog Scones; the mixture of milk, sugar and eggs make it ideal to add to baked goods.
INGREDIENTS
Baking powder
Cinnamon
Nutmeg
Butter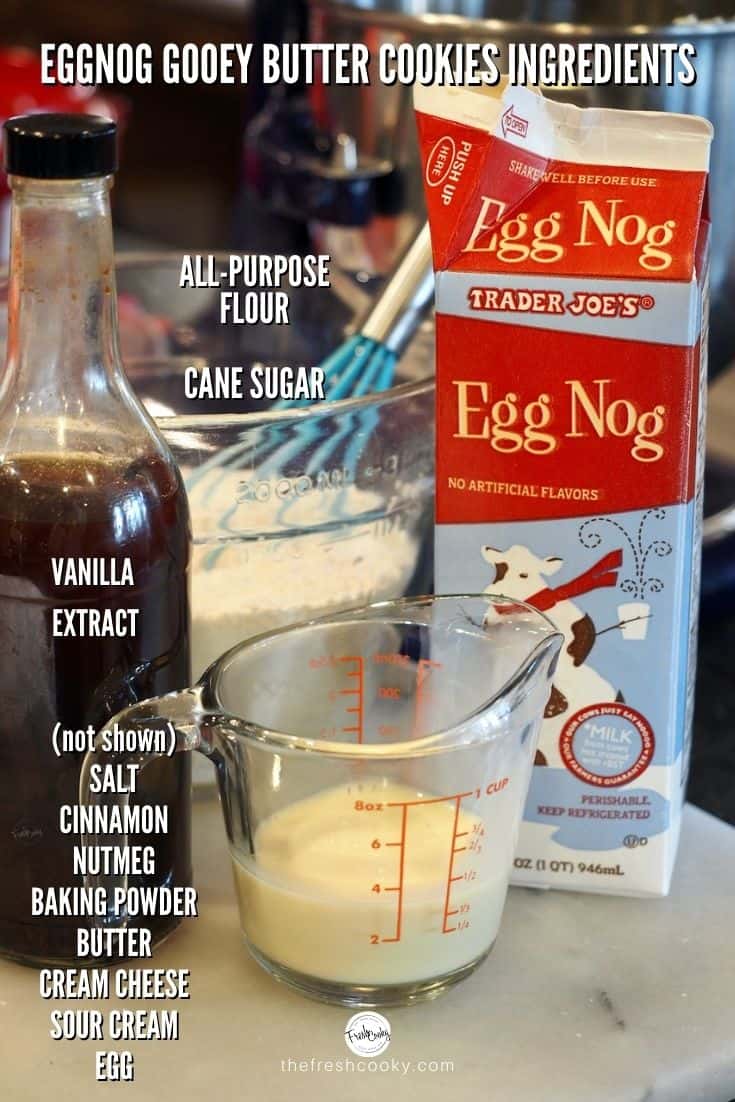 Cream cheese
Sour Cream or Greek Yogurt
Large Egg
Eggnog (full fat version)
Vanilla
Powdered Sugar for rolling
Ingredients for Brown Butter Glaze (if desired)
Fresh grated Nutmeg (my favorite spice grater)
Making Eggnog Butter Cookies
In a large mixing bowl, stir or whisk together the flour, baking powder, salt, cinnamon, nutmeg and set aside.
Beat cream cheese, butter and sour cream (or Greek yogurt) with a mixer until creamy.
With mixer on low, slowly pour in sugar and cream mixture until smooth, scraping down the sides occasionally, about 2-3 minutes. Add the egg, eggnog and vanilla mixing on low until combined.
With the mixer on low/stir, gradually add the dry ingredients and mix until just combined. The dough will be very sticky, or gooey! Chill at least 30 minutes, longer if possible.
Preheat the oven to 350F degrees; line a baking sheet with parchment paper or spray with non-stick spray. Using a small or medium cookie scoop, Form the dough into roughly 1-inch balls and roll in powdered sugar.
I suggest you roll them all and place them all on one (lined) cookie sheet and return to fridge, pulling off only those you are baking. When baking place 2 inches apart on prepared cookie sheet.
Bake for 10-12 minutes until edges have set and tops are just barely set, you don't want to over bake these cookies, they will firm up as they cool.
Allow cookies to cool on the baking sheet for 10-15 minutes before transferring to a cooling rack to cool completely.
If desired make up a batch of browned butter glaze and drizzle on top of cooled cookies. And don't forget the fresh nutmeg! Store in airtight container on counter for up to 1 week or freeze up to 6 months.
Make these as gifts and print out the gift tags below!
High Altitude Adjustments for Gooey Christmas Cookies
The only adjustment I made is to increase the flour slightly for high altitude baking, otherwise no changes. Measurements for sea level and high altitude are included in the recipe card below..
What are your favorite Christmas cookies? Pop below the recipe and leave me a comment! Happy baking!
PIN to your favorite Christmas Cookies board!
Like this recipe?
Don't forget to give it a ⭐️⭐️⭐️⭐️⭐️ star rating and comment below the recipe!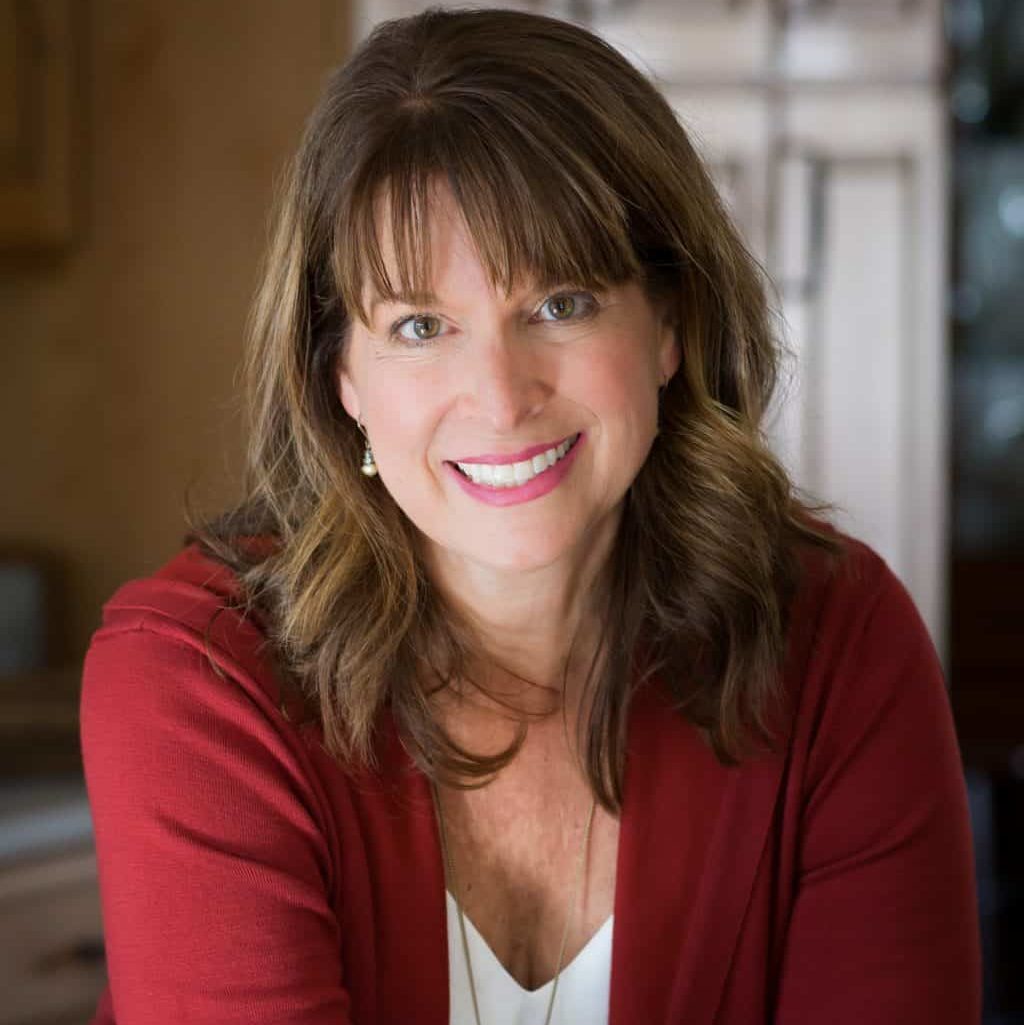 About Kathleen Pope
Recipe Innovator | Food Photographer | Food Writer
Hi, I'm Kathleen Pope. Here at The Fresh Cooky you will find easy, mostly from-scratch, trusted recipes for all occasions. From speedy dinners to tasty desserts, with easy step-by-step instructions. I am here to help teach you how to make mouthwatering recipes without spending hours in the kitchen. Read more about Kathleen here.