Copycat Starbucks Medicine Ball Tea Recipe
As an Amazon Associate, I earn from qualifying purchases. Please read my disclosure policy.
When you are under the weather, there is nothing like herbal teas a little honey and lemon; those warm liquids soothe a sore throat. This copycat Starbucks Medicine Ball Tea Recipe is just what you need to warm your soul and soothe your throat, a super cold buster.
Delicious and fragrant Jade Citrus Mint and Peach Tranquility herbal tea are mixed with lemonade and honey is the best Starbucks tea for sore throat — now you can make it a thome!
Pair this throat soothing tea with a hearty and healthy serving of Easy Chicken Noodle Soup or maybe you feel like some Easy Italian Wedding Soup or Homemade Tomato Soup.
And if you are looking for a collection of immune-boosting recipes for cold and flu season, then try my homemade Elderberry syrup, this rich, soothing beef bone broth and my Magic Mineral Broth. These can all be made ahead of time, so they are ready for you when a cold hits.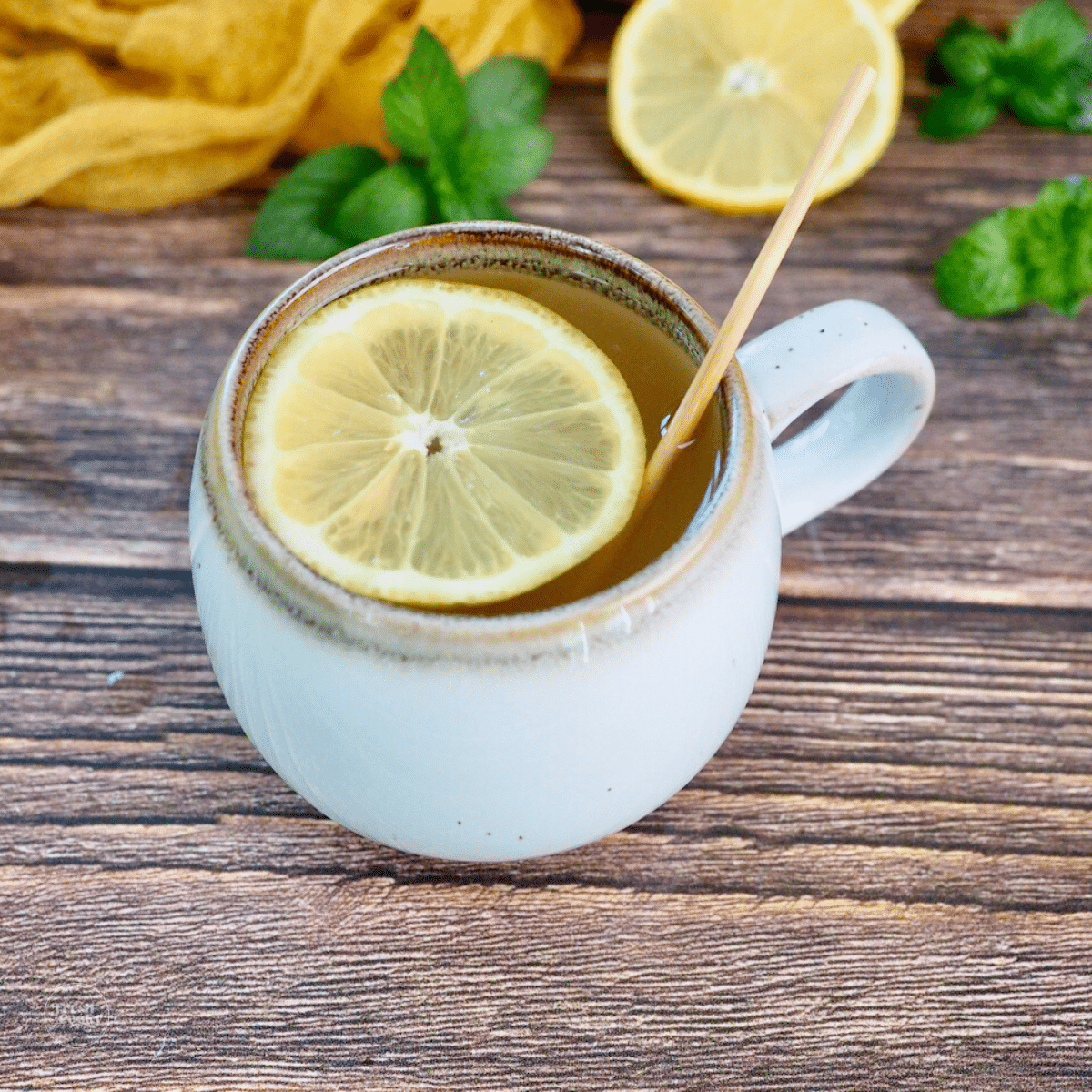 Why You Will Love this Starbucks Medicine Ball Recipe
Starbucks Copycat | This tried-and-true recipe is a Starbucks drink favorite for you to enjoy right in your home.
Soothing | It is the best Starbucks tea for sore throat, and homemade tea too!
Easy Recipe | Ready in about 5 minutes, doesn't get much easier.
If you love this recipe, you will adore my Starbucks Peach Green Tea Lemonade and this Starbucks White Hot Chocolate.
You won't find this on their regular menu, instead it's long been on the Starbucks secret menu (only Starbuck's baristas knew about) and is the best Starbucks tea for sore throat. This copycat recipe is just like the Starbucks version, made with minty lemon verbena and peach tea bags.
It is a medicine bomb hot drink made with local honey and pantry ingredients, in the comfort of your own home.
Medicine Ball Tea Ingredients
Ingredients, directions and nutritional information in the printable recipe card at the end of the post.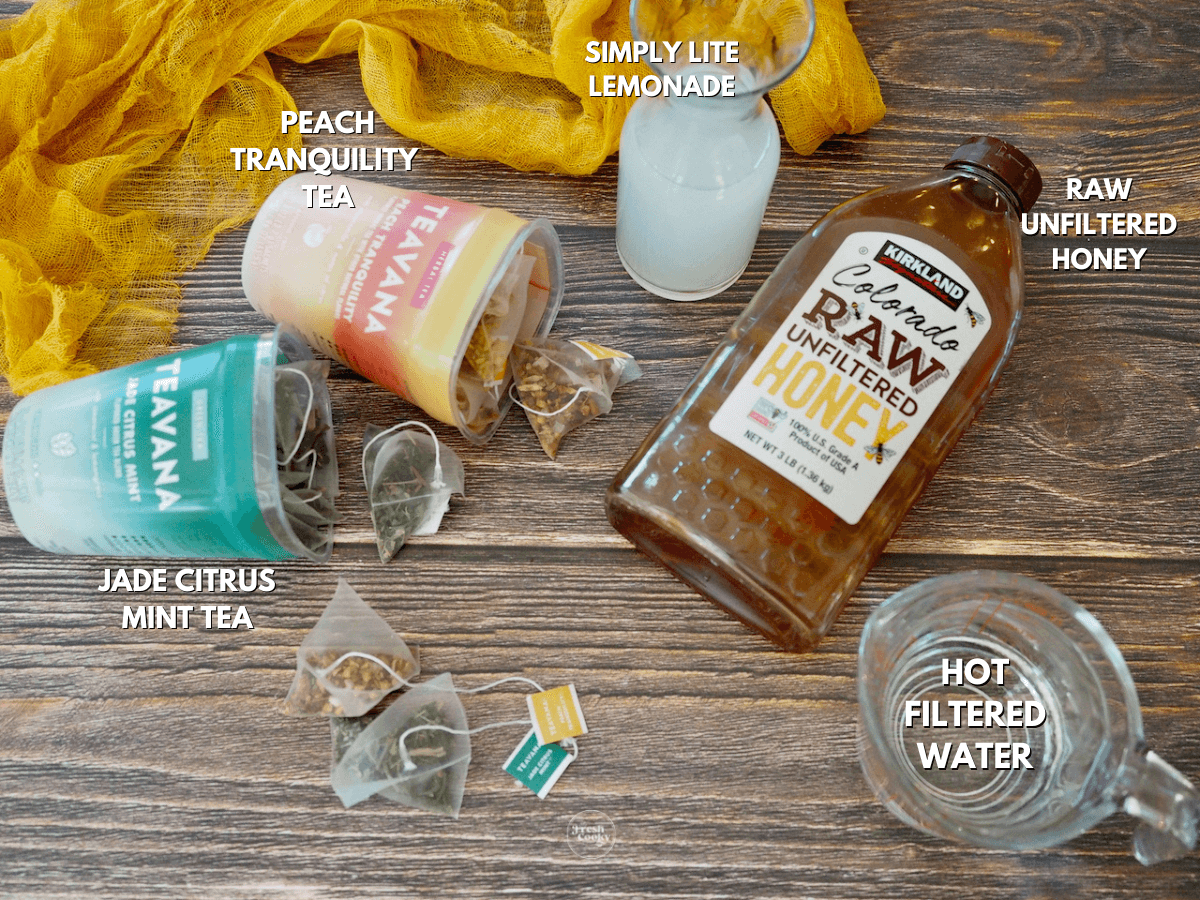 Lemonade | Hot lemonade is the "secret" ingredient in this recipe. Use your favorite lemonade, I love Simply Lite Lemonade. *See my notes in variations for how to make the tea recipe without lemonade using fresh lemons.
Filtered Water | Heat the water for your tea in a tea kettle, in the microwave, or on the stovetop. Filtered water is best, more pure; healthier.
Peach Tranquility Tea | A bag of Peach Tranquility tea is the brand I use for a fruity herbal tea flavor. Each tea bag contains apples, rose hips, candied pineapple, chamomile flowers, peach, licorice root, lemon verbena, chamomile pollen, and natural flavor. One of the best Starbucks teas.
Jade Citrus Mint Green Tea | Teavana teas contains green tea, spearmint, lemon verbena and lemongrass and natural flavor. Is jade citrus mint tea good for you? Yes, besides sipping on a warm beverage, green tea is packed with antioxidants and anti-inflammatory compounds.
Honey | If you can, get your hands on local honey, it packs a better punch to your immune system. Go with raw, unfiltered, honey, you can use a packet of honey for travel or honey straight from the bear.
Recommended Equipment
Frother | Zulay has a great handheld frother you can put right into your mug, but it doesn't heat it, just adds air, so use after you've heated everything. Also, try this Instant Electric Milk Steamer (from the makers of Instant Pot) which heats and froths. Either type will work well.
Electric Hot Tea Water Kettle | If you are a regular tea drinker, you will love having a tea kettle like this one from Amazon Basics.
Teavana Teas | I found my Peach Tranqulity tea at my local grocery store, and the Jade Citrus Mint Green tea from Walmart!
What is a Medicine Ball Drink?
The Medicine ball tea recipe is from Starbucks and used to be on their secret menu, but the word got out and now you can order this drink at Starbucks.
Also called the cold buster, some customers will ask for an optional pump of peppermint syrup for extra flavor, but in my opinion that just adds unwanted sugar, and refine sugar is a bacteria breeder, not prohibitor.
How to Make Jade Citrus Mint Tea
Pull out your kettle and favorite teacup and sip this delightful Starbucks Copycat Medicine Ball Tea in just a few minutes.
Step 1 | Heat the Lemonade
Starting with lemonade may be a surprise, but it is the best way to make this recipe quickly – and it turns out just right! You can use regular or light lemonade. I like Simply Lite Lemonade, made with Stevia, thereby reducing the overall grams of sugar.
Heat the lemonade in a frother or on the stovetop over medium-low heat until hot and simmering.
Step 2 | Brew the Best Starbucks Tea for Sore Throat
While the lemonade is heating, pour 8 ounces of just simmered hot water. You can simmer on the stove or in a glass measuring cup in the microwave. Then add one peach tranquility tea bag, allowing it to brew for 5 minutes.
Now, set a timer because, in only 2-3 minutes, you will add your tea bag of Citrus mint tea.
To help steep the tea and keep the heat in, place a small plate or saucer over the cup.
Pro Tip
Green tea becomes bitter if brewed too long, so watch the time on this one especially.
When time is up, promptly remove tea bags and squeeze to get all the good stuff out.
Step 3 | Combine the Flavors
It is time to stir in your honey of choice to taste. Pour in the hot lemonade and gently stir to combine all the soothing flavors profiles.
Many recipes call for steeping the tea in the hot lemonade and hot water, but my testing showed that it cooled down too quickly doing it that way, so I steep my tea first, then add the hot lemonade for a steaming Medicine ball tea recipe!
Top your teacup with a thin slice of fresh lemon and a gorgeous sprig of fresh mint.
Wrap your hands around the warm mug and sip immediately!
Even if you feel just fine, this honey citrus mint tea is a treat anytime. With just five simple ingredients, this recipe is easy to make and convenient with ingredients found in your regular grocery store. My hunch is you'll find this is the best Starbucks tea for sore throat – at home!
Variations & Substitutions
Sugar-free – If no sugar is desired, omit the lemonade and instead use ½ – 1 juiced lemon with two tablespoons of honey or maple syrup.
Since honey is known for its soothing and healing properties, it's best. However; a sugar substitute is okay, too, try using all-natural Stevia or Monk Fruit – but honey is one of the main ingredients in this tea concoction to soothe the throat, for vegans use pure maple syrup.
Minty Flavor – Add a sprig or two of fresh mint while heating the water or lemonade, or add a few drops of peppermint extract.
Teavana Tea Bags – This brand is the one used in the medicine ball recipe from the Starbucks menu. However, there are plenty of herbal peach tea and minty good different teas out there to choose from.
Alternative Teas | If you can't find Teavana, try this Tazo Zen tea (also a mint green tea), or if you are avoiding caffeine altogether, try this Tazo RefreshMint or any mint tea. To replace the peach tea, try this Tazo Peachy Green tea or this Celestial Seasonings Peach tea.
Frequently Asked Questions
Does Medicine Ball Tea contain caffeine?
The peach tea has no caffeine, but the jade citrus mint tea has 20 mg of caffeine from the green tea. If you are concerned try other mint herbal teas instead.
What are the health benefits of this tea?
Is Jade Citrus Mint Tea good for you, you might ask!
Tea contains antioxidants to soothe your cold and boosts your immune system with vitamin C, jade citrus mint tea has green tea in it which is known to have antioxidants and anti-inflammatory aids.

Honey coats the throat and soothes a cough and has antimicrobial properties. In fact, my friend is a vocalist, and she swears by tea with lemon and honey before a concert.

Then there is the mint. Fresh mint or mint tea leaves are an excellent way to loosen congestion!
How many calories are in a Medicine Ball tea?
A 16-ounce size tea has 130 calories, according to Starbucks nutrition information. Furthermore, it has 32 grams of carbohydrates, 30 grams of which are sugars. But at home, we're making with Simply Lite Lemonade (all natural, sweetened with Stevia) which reduces the calories to 89, plus 24 grams of carbs of which 22 grams are sugars.
How to make a copycat Medicine Ball tea recipe at home?
It goes without saying, with all our world has been through that if you aren't feeling well, you should stay home and this is the ideal homemade copycat recipe to make at home! Tea, Lemon or lemonade, honey is all you need. Stock up on the ingredients so you always have it on hand.
More Soothing Tea Recipes for You
Pro Tips
Aromatic Steam | Serve this minty lemonade tea very hot. The steam and the tea are excellent for loosening chest congestion and a stuffy nose. And they are also great for cough suppression.
Bedtime Good | Often at night, I will add a shot of whiskey or brandy to this for a relaxing, all-natural Nyquil — if you will.
Medicine Ball Drink Perfection | If there is a flavor that speaks to your soul when feeling bad, add that one! Next time you make this hot tea drink, add a couple of drops of peppermint extract to make your perfect drink.
So the next time cold symptoms hit, make yourself some of this "sick tea" and feel better, quicker.
More Copycat Recipes
I hope you loved learning how to make the best Starbucks tea for sore throat — if you did, would you share your creation on Instagram, Facebook and Pinterest? And be sure to comment below!
Like this recipe?
Don't forget to give it a ⭐️⭐️⭐️⭐️⭐️ star rating and comment below the recipe!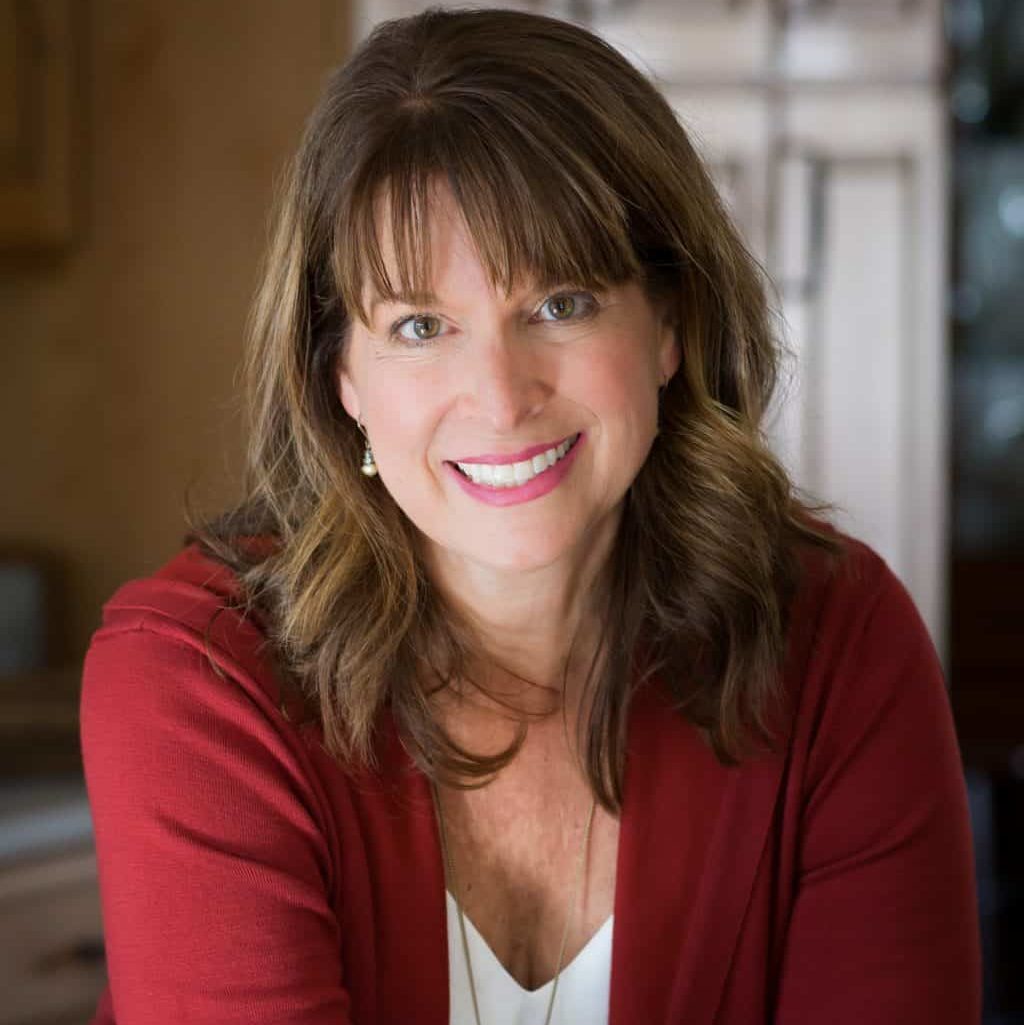 About Kathleen Pope
Recipe Innovator | Food Photographer | Food Writer
Hi, I'm Kathleen Pope. Here at The Fresh Cooky you will find easy, mostly from-scratch, trusted recipes for all occasions. From speedy dinners to tasty desserts, with easy step-by-step instructions. I am here to help teach you how to make mouthwatering recipes without spending hours in the kitchen. Read more about Kathleen here.