As an Amazon Associate, I earn from qualifying purchases. Please read my disclosure policy.
During the holidays, I love to try new recipes and make twists on familiar favorites! Lemon Cranberry Bars are refreshing and bright with sassy and sweet tones. They are wonderfully refreshing after a big meal and so festive with layers of yellow and red.
When I find fresh cranberries in the store, I can't resist buying them. Desserts made with fresh fruit are heavenly, and my cranberry squares recipe is popular for both kids and adults. Reminiscent of the popular Genevieve Ko NYT Cooking recipe for cranberry lemon bars.
If you're a cranberry lover like me, you won't want to miss these Oatmeal Bars packed with seasonal flavors. You can even use frozen berries! And if you want the basic lemon bar recipe, these Old-Fashioned lemon squares are the best!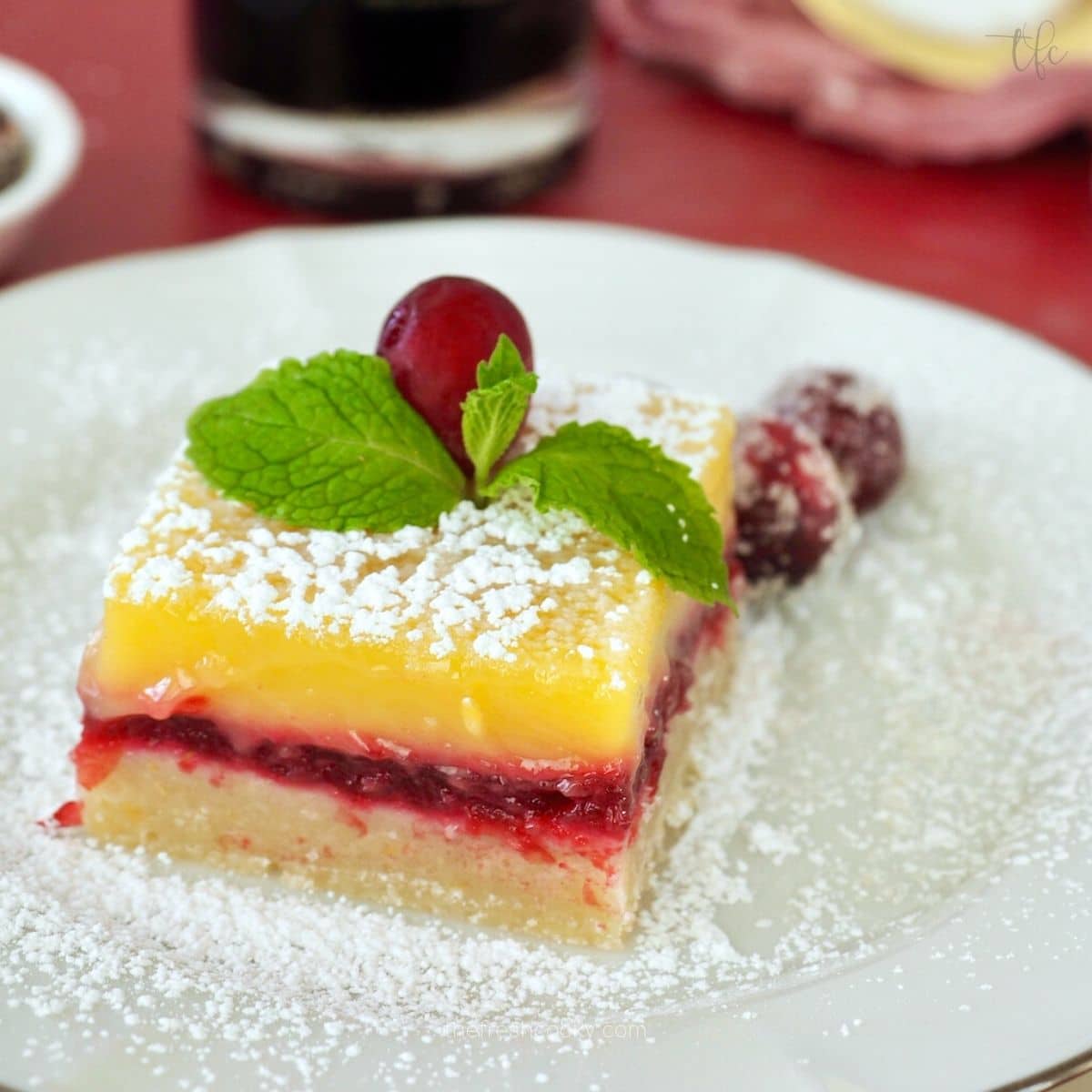 More great cranberry recipes, how about this AMAZING Cream Cheese Dip that's easy, mouthwatering, and savory— perfect for using up your leftover cranberry sauce. And don't forget Nantucket Pie that is simply irresistible with its crispy, buttery, cakey-cookie topping!
I am proud to be a brand ambassador for Rodelle products, and this Cranberry Lemon Bar recipe is part of our 2021 Cookie Celebration. I used Rodelle Reserve Pure Extract in these bar cookies, and it is sublime! It has amazing flavor, is rich in color and essence. Rodelle products are all-natural, many of them organic — all of them exceptional!
Disclaimer: As a brand ambassador for Rodelle I receive free products, however; the opinions expressed are entirely my own.
Primary Ingredients
All measurements, full ingredient list and instructions for Cranberry squares in the printable recipe card at the end of the post.
Cranberries | You can use fresh or frozen! This time of year, I always pick up several bags to have on hand for other dishes. And to make it easier, you may also use leftover cranberry sauce, you will need about 1 cup.
Lemons | You need freshly squeezed juice for the top layer of the bar, and the zest gives this treat an extra punch of flavor!
All-Purpose Flour | I love to use King Arthur's organic unbleached flour in all my baking for it's wonderful results.
Sugar | You'll need both granulated and powdered sugar for this recipe.
Eggs | These are essential for the curd-like topping to set up properly, I use large eggs in baking.
Butter | Real butter makes all the difference for both flavor and texture in your baking.
Vanilla Extract | For the holidays and baking, I keep this exquisite Rodelle Reserve Vanilla Extract on hand.
Instructions for the Best Lemon Cranberry Bars
Step 1 | Make Cranberry Layer
First things first, this is a layered dessert, make the Cranberry layer ahead of time and cool it (up to a day or two ahead is fine, bring to room temperature before spreading) and make the crust and cool it slightly.
Use a medium saucepan to boil the cranberries and sugar in water.
Reduce the heat to low and simmer while stirring occasionally. As the fruit cooks, break up the whole berries with a spoon or spatula.
Remove the pan from the stove and let the mixture cool for about 30 minutes, or longer.
Step 2 | Making the Shortbread Crust
Next, preheat the oven to 350 degrees F and line your baking pan with parchment paper. Leave some excess hanging over the sides and add some cooking spray so the dessert is easier to remove.
For the crust, combine the flour, salt, and sugars with zest in a bowl of a food processor (my dream food processor!). Add the butter cubes and pulse until crumbs stick together. You may also make in a bowl, using a pastry blender to combine the butter into the crumbs.
Press the dough into the bottom of the prepared pan for your cranberry lemon bars.
Bake for 20-30 minutes until golden. Cool for 20-30 minutes, then spread the cooled cranberry mixture over the crust and refrigerate.
Step 3 | Lemon Layer
For the final layer, whisk together the lemon juice, sugar, flour, Rodelle vanilla and salt.
Lightly beat the eggs in a separate bowl, then whisk them into the other ingredients.
Remove the chilled crust and first layer from the fridge.
Whisk the lemon mix one more time so it's frothy and pour it over the dessert.
Bake for 40-45 minutes until the center is set.
Let it cool completely on a wire rack, then refrigerate your treat for 12 hours.
Lift the dessert out of the pan using the excess parchment paper and slice into evenly sized cranberry squares.
Dust with powdered sugar before serving. If you would like an extra garnish, top each bar with a few Sugared Cranberries!
Variations
GLUTEN-FREE LEMON CRANBERRY BARS
You can make these cranberry lemon bars gluten-free by using 1 cup almond flour and ⅓ cup coconut flour as a substitute. The curd-like topping can be thickened with tapioca starch or coconut flour. You may also use a good gluten-free all purpose flour; but in shortbread I have found that I like almond flour better!
CRANBERRY LAYER SUBSTITUTE
If you don't want to the make the cranberry puree you can use leftover cranberry sauce or canned whole cranberry sauce, just don't make that layer too thick. You will need about a cup. You may also use raspberry, cherry or strawberry preserves if you wish.
TFC Pro Tips
Pro Tip 1 | Don't use concentrated lemon juice instead of fresh citrus! The only alternative I've found to use in a pinch is Minute Maid Premium Lemon Juice located in the freezer section.
Pro Tip 2 | Store your cranberry lemon bars in the fridge if you won't be eating them immediately, they tend to get soft.
Pro Tip 3 | A good hint to know when your shortbread crust is done cooking is by smell. It may only be a little golden, but the aroma will be more like a cookie than dough.
Frequently Asked Questions
Why are my cranberry lemon bars gooey?
If they look runny, they're not done. The trick is to cook your dessert long enough and give it enough time to set before cutting.

It is normal for them to jiggle slightly when you first take them out of the oven. Once cool, put your treat in the fridge to become firm, and you'll be set!
Are my cranberry squares overcooked?
If the top of your dessert cracks, it's getting overcooked and will be chewy. Take it out and let it cool immediately!

Getting them in the fridge as soon as possible will help stop them from continuing to cook in the pan.
How do I cut perfect cranberry squares?
Line your pan with parchment paper, when well chilled, at least 6 hours, preferably 12 hours. Using parchment paper, lift out and onto a cutting board.

Run a large knife under hot water, then dry it with a towel. The heat from the blade will slice easily through the dessert and create perfectly clean edges.
Storage
Store these cranberry lemon bars in an airtight container in a single layer, or lay a piece of parchment between layers. They will keep well for up to 7 days.
Can you freeze Lemon Cranberry Bars?
Yes, lemon bars freeze beautifully! Make sure they are cooled completely first, place on parchment paper and then on pan and flash freeze for one hour until firm. Then wrap well in plastic wrap and again in foil or place in an airtight baggie. Freeze up to 3 months, thaw in fridge overnight.
Can this recipe be doubled?
Yes, increase the pan size to 9×13 and double all of the ingredients! Bake a little longer, 5-10 minutes covering with foil if browning too much.
Recommended Equipment
Thanks for hanging out with me today, I hope if you tried this recipe you will pop down to the comments and let me know!
More Holiday Recipes
Gifting these beautiful cranberry squares? You might want to print out our beautiful Christmas food gift tags!
Like this recipe?
Don't forget to give it a ⭐️⭐️⭐️⭐️⭐️ star rating and comment below the recipe!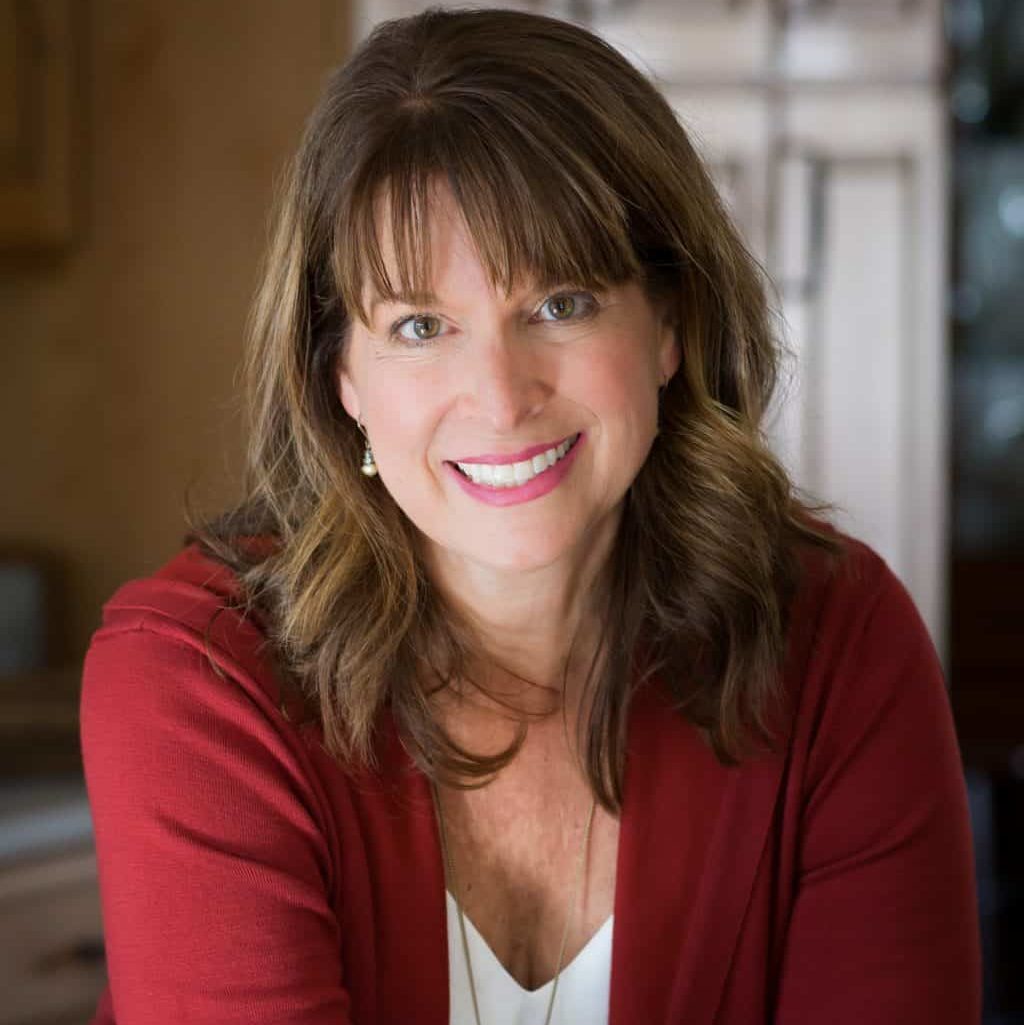 About Kathleen Pope
Recipe Innovator | Food Photographer | Food Writer
Hi, I'm Kathleen Pope. Here at The Fresh Cooky you will find easy, mostly from-scratch, trusted recipes for all occasions. From speedy dinners to tasty desserts, with easy step-by-step instructions. I am here to help teach you how to make mouthwatering recipes without spending hours in the kitchen. Read more about Kathleen here.