An easy tomato bruschetta loaded fresh basil, toasted garlic, olive oil and balsamic vinegar on top of a crispy crostini schmeared with creamy goat cheese — I make it often, especially during the summer, but equally as delicious during the winter!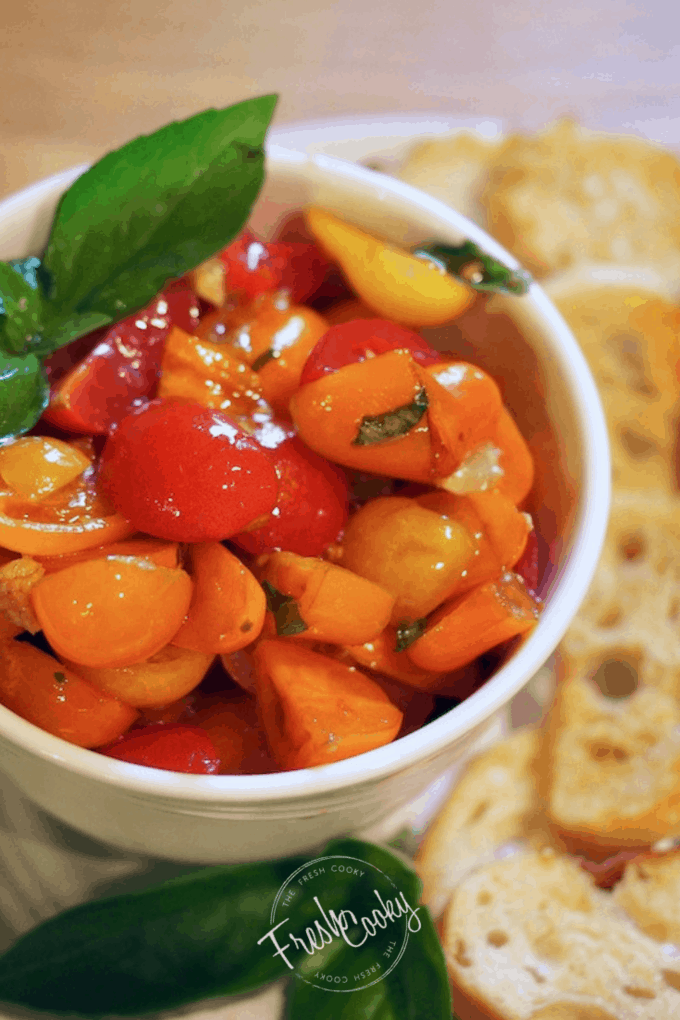 Kapow! Wow! Amazing! That's what your mouth will say when you bite into this scrumptious appetizer. It's fresh and bright, and you will be asked for the recipe every time.
How to Make Crostini
Buy a couple of fresh baguettes and slice them about ¼ inch thick, 1 – 1½ baguettes is usually the right amount, it never seems like there is enough bread. Or you can cheat and use the slicer in the bakery section of your grocery store; it slices the baguette super neat, nice and even.
Lay out your sliced bread on a 1/2 sheet baking pan, and using a basting brush, "paint" the olive oil over the top of the bread slices then sprinkle with a little sea salt.
⭐️ FREE, DELICIOUS RECIPES? YES, PLEASE! ⭐️
Broil on the middle rack, watch closely so you don't burn them, set the timer initially for 2 minutes, then every one minute until they are done to your liking. Good thing my hubby likes them a little crisper. Toast until lightly brown crispy, not like the first dark batch on the left, but more like the lighter on the right.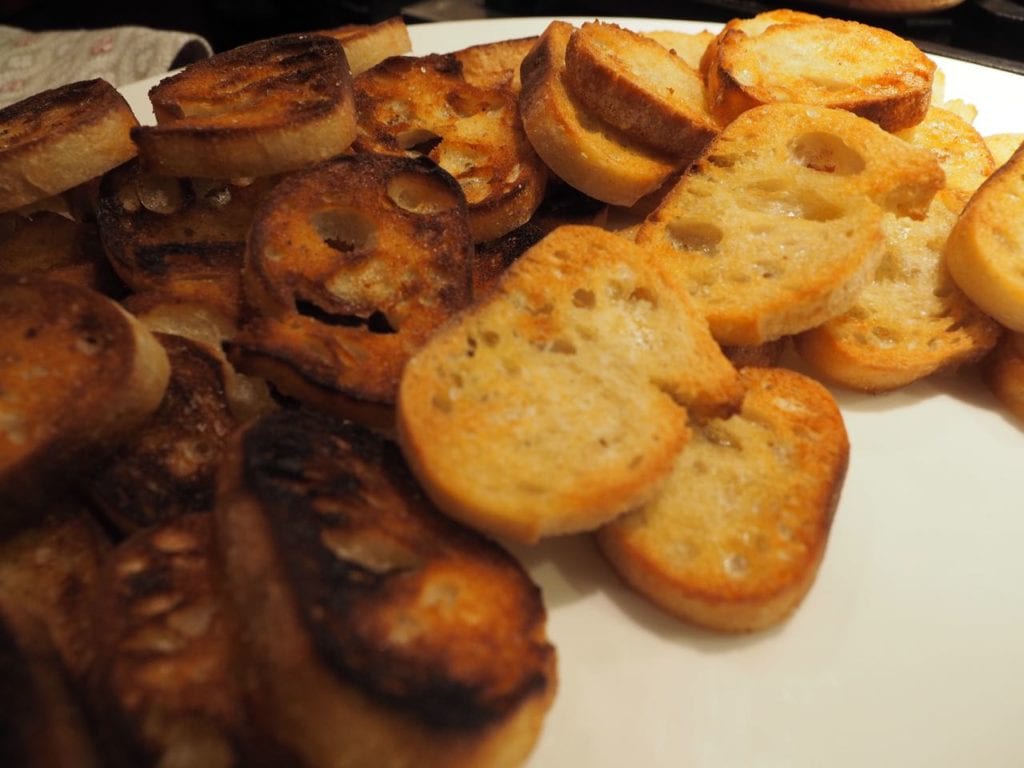 ASSEMBLE TOMATO BRUSCHETTA
Now for the bruschetta, these ingredients scream fresh and flavorful! Cut tomatoes into quarters and place into bowl. Aren't they beautiful, so full of color, even in the middle of winter.
In a small pan, heat olive oil on medium, then carefully place minced garlic into the hot oil. Stirring or swirling constantly, it will burn quickly, so watch closely. How I love my cast iron pans!
Just as a few pieces start turning brown, just a minute or so, remove from heat.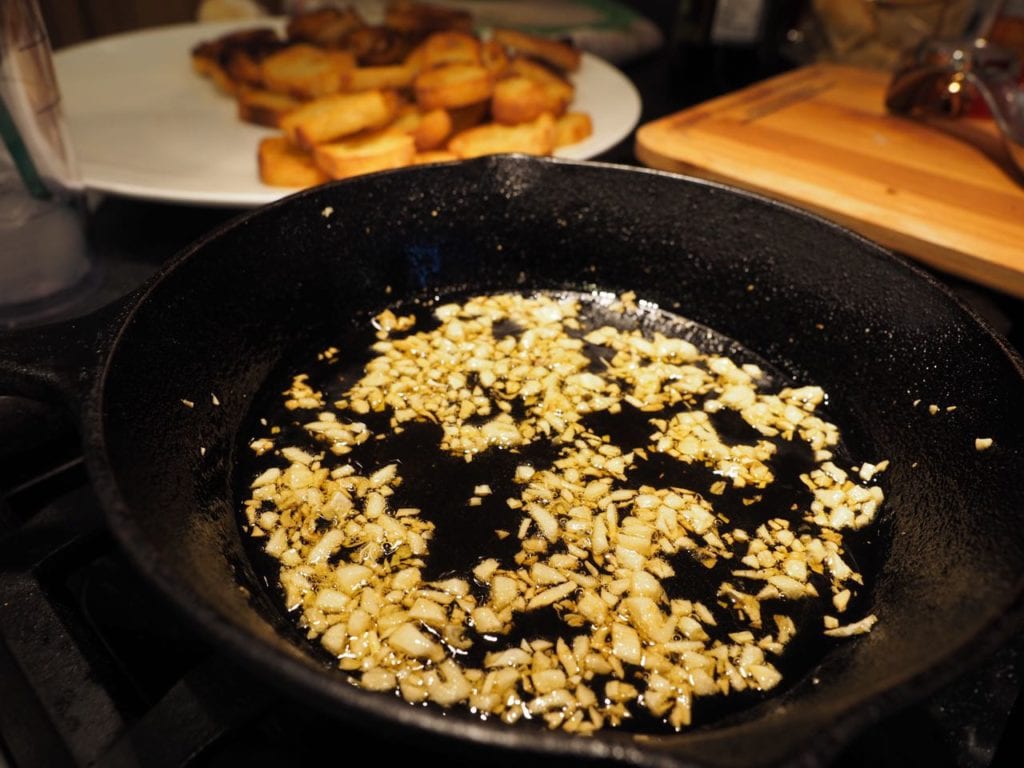 Let cool slightly and then pour (still warm, not hot) over tomatoes
Pour in a couple glugs of balsamic vinegar.
What does Chiffonade mean?
Chiffonade the basil (fancy word for roll up and thinly slice), first you stack them up (3-4 together)…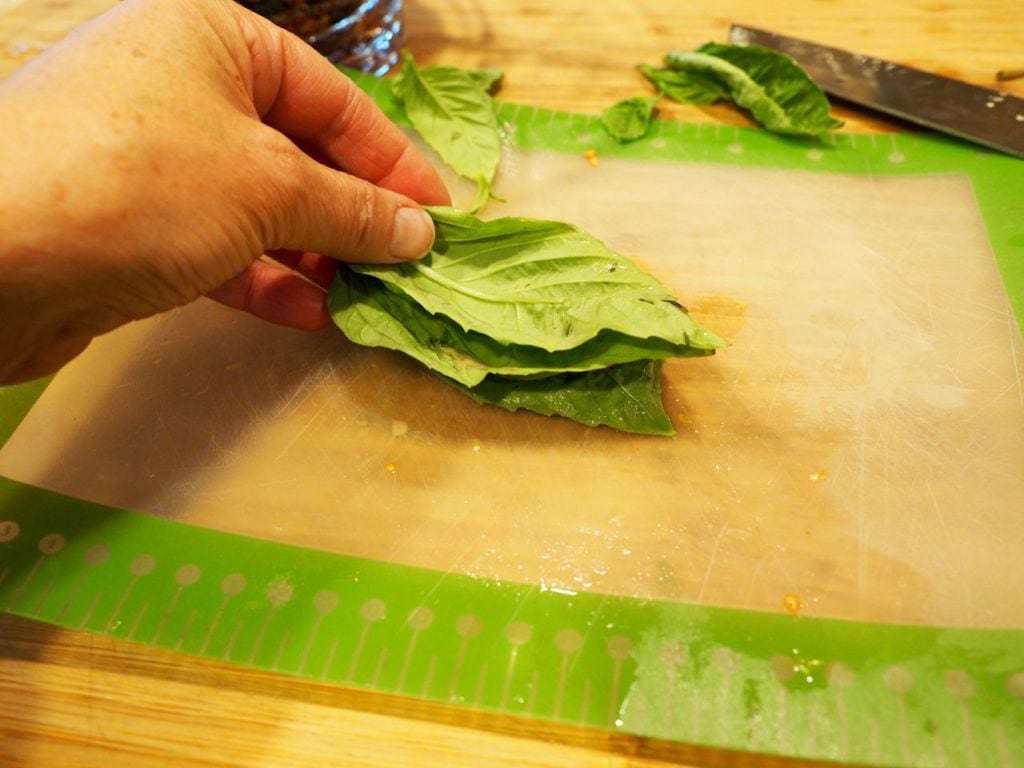 If needed, add a little more sea salt, but taste before adding too much.
Mix together and allow to sit on the counter (or fridge if not serving for awhile) allowing the flavors to marry.
⭐️ FREE, DELICIOUS RECIPES? YES, PLEASE! ⭐️
Serve with crispy crostini slices and a small log of goat cheese (let sit at room temp while you make your bruschetta). Now, for my favorite part, schmear some of that creamy goat cheese onto the crostini.
Then spoon some of the bruschetta mixture on top of the cheese schmeared crostini, allowing the juices to seep in. You can also purchase the slightly firmer goat cheese crumbles and put them directly into the bruschetta mixture. Excuse me while I go eat some! Manga!
TOMATO BRUSCHETTA IS NOT JUST AN APPETIZER
Try spooning this mixture on top of grilled chicken, or over a hot bowl of pasta. YUM!
Happily sharing on my favorite parties Weekend Potluck and Meal Plan Monday
Recipe inspired by The Pioneer Woman's Bruschetta.
⭐️ FREE, DELICIOUS RECIPES? YES, PLEASE! ⭐️
Like this recipe?
Don't forget to give it a ⭐️⭐️⭐️⭐️⭐️star rating in the recipe below!
Easy Tomato Bruschetta
This recipe for easy tomato bruschetta with fresh basil, toasted garlic, olive oil and balsamic vinegar on top of a crispy crostini schmeared with creamy goat cheese — I make it often, especially during the summer, but equally as delicious during the winter!
Ingredients
1-2 french baguettes
olive oil
½ - 1 pint Red Grape or Cherry tomatoes, quartered
½ - 1 pint Yellow Cherry tomatoes, quartered
4-6 cloves of garlic, minced well
2 TBL olive oil
1 TBL Balsamic Vinegar
8-16 Basil Leaves (chiffonade)
Salt & Pepper to taste (careful not to over salt)
Creamy Goat Cheese Log, softened at room temp or Goat Cheese Crumbles tossed in (Optional)
Instructions
Cut tomatoes into quarters. Add tomatoes to serving bowl. Slice your your basil, stacking a few leaves at a time, rolling and slicing gently to form crisp ribbons of basil. This is called chiffonade. Stir gently into tomato mixture.
In a small skillet, heat oil over medium heat, toss in garlic and stir, watching closely for about a minute, remove from heat just as first few pieces start turning golden brown. Cool slightly in pan, then pour over tomato mixture.
Add balsamic vinegar, salt and pepper. Gently toss to mix flavors. Taste add more salt if needed. If time, let sit for an hour, if not, it's still delicious!
Crostini
Place rack in middle of oven, turn to broil.
Slice the baguette (or use slicer in your bakery section at the grocery store) into even slices. Brush each slice with olive oil and sprinkle with a few grains of course sea salt.
Toast under broiler using the middle rack for a couple of minutes, watching closely, just takes a couple minutes Remove when golden brown. To serve, stir the mixture one last time.
If desired, spread a little soft goat cheese onto a toasted crostini, then spoon some of the bruschetta on top, allowing the juices to seep in. Or you may also stir in firmer goat cheese crumbles into the tomato mixture just prior to serving. Enjoy!
Notes
Not just an appetizer, try this over fresh hot pasta or on top of grilled chicken!
Recommended Products
As an Amazon Associate and member of other affiliate programs, I earn from qualifying purchases.
Nutrition Information:
Yield:

8
Serving Size:

1
Amount Per Serving:
Calories:

324
Total Fat:

9g
Saturated Fat:

2g
Trans Fat:

0g
Unsaturated Fat:

6g
Cholesterol:

3mg
Sodium:

565mg
Carbohydrates:

52g
Fiber:

3g
Sugar:

11g
Protein:

11g
The nutritional information is estimated and may not be entirely accurate.
GET FREE RECIPES DELIVERED RIGHT TO YOUR INBOX!
Love Wholesome & Delicious Recipes?
Follow along on Pinterest ★ Instagram ★ Facebook ★