Spiced Holiday Pomegranate Sangria Recipe
As an Amazon Associate, I earn from qualifying purchases. Please read my disclosure policy.
Packed with seasonal flavors, this Spiced Holiday Pomegranate Sangria Recipe is perfect for the upcoming months. Sip on this winter sangria with beautifully blended flavors of punchy citrus, tangy pomegranate, honey, herbs and spices, and your favorite red wine.
If you're looking for more cocktail recipes to serve with this Christmas sangria, check out my Pomegranate Cocktail, Cranberry Bourbon Sour Cocktail, Cranberry Lemon Drop Martini, or this Cranberry Spritzer – a mocktail. You will love this celebration cocktail, French 75 with St Germain.
And a few recipes to go along with this easy cocktail! Make this Cranberry Cream Cheese Dip and send your guests home with a bag of these easy Crockpot Peanut Clusters.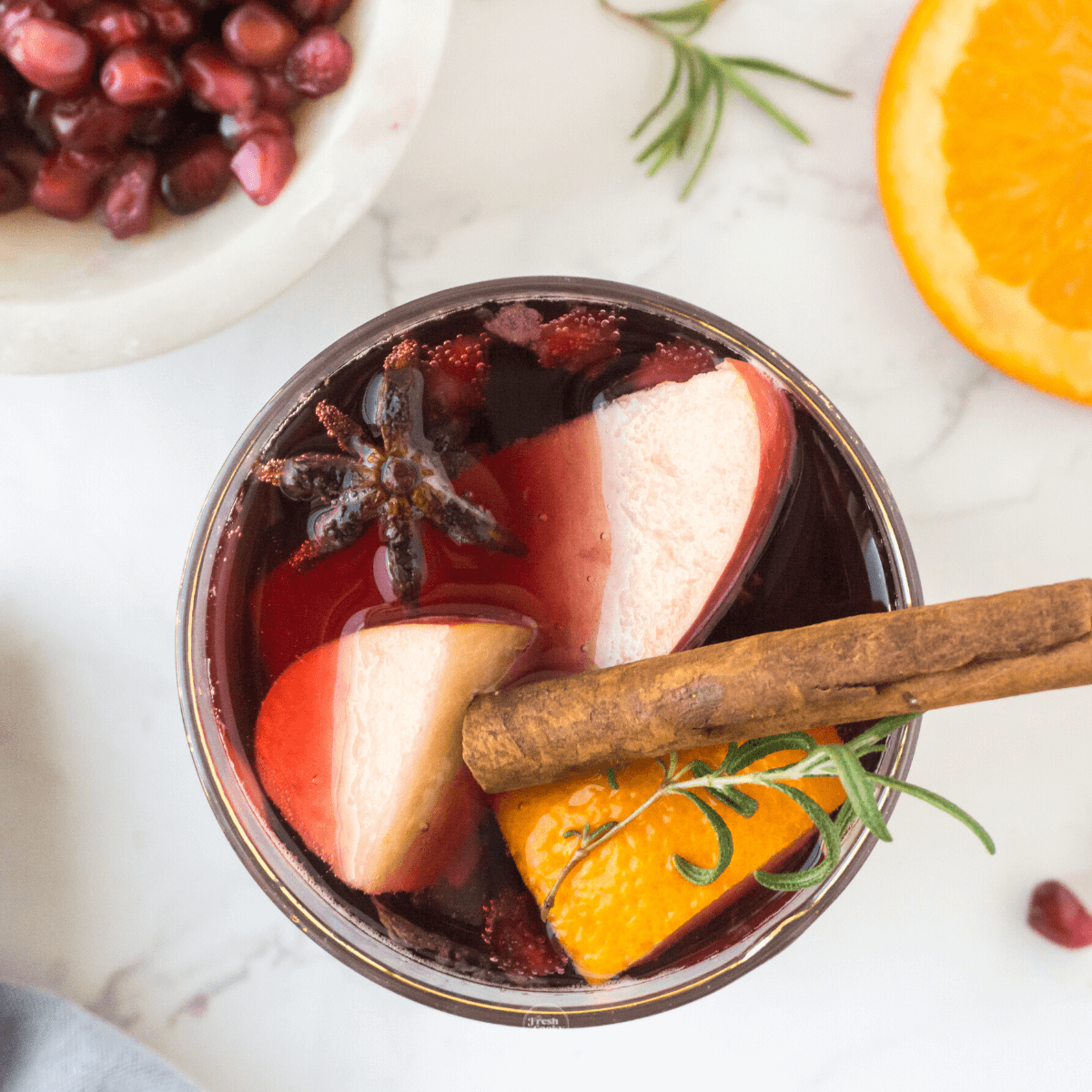 Why You Will Love this Christmas Sangria Recipe
Simple Recipe | All you need to do is slice the fruit, pour in the wine and spices, then let this festive drink sit overnight—easy and delicious! Excellent for the many holiday parties coming up.
Packed with Holiday Flavor | This recipe uses cinnamon, honey, citrus, apple, and pomegranate to lighten the bitter-sweet taste of the red wine.
Beautiful Presentation | Treat family and friends to a stunning deep red sangria topped with a delicate green rosemary sprig with dancing bubbles from the fizzy sparkling water.
For a Crowd | This delicious recipe easily doubles to fill a punch bowl, for a festive sangria.
Warm your soul this winter with our favorite cocktail. This refreshing and fruity winter sangria recipe It's the perfect beverage to liven up a dinner party or add holiday cheer to the end of a long day of Christmas shopping! It also works great for serving at a New Year party before popping the champagne.
Tips for Two
This pomegranate sangria recipe serves four glasses, perfect for a small gathering or two servings for you and the loved one with whom you are sharing the beverage. If you'd rather only make enough to have one serving each, cut all the ingredient measurements in half, or refrigerate the leftovers for up to two days and enjoy later.
Simple Ingredients for this Spiced Holiday Pomegranate Sangria
Ingredients, directions and nutritional information in the printable recipe card at the end of the post.
Red wine | Use your favorite bottle of wine, red wine is traditional for the base of the Christmas sangria. Consider Merlot, Zinfandel, or Cabernet Sauvignon, or your favorite blend.
Sparkling water | Add plain, lime or lemon sparkling water to the beverage to give it a fizzy texture.
Apple | Use your favorite apples. For the sweeter varieties, try Red Delicious, Honeycrisp, or Golden Delicious apples.
Orange | Include some citrusy notes by slicing an orange and adding it to the sangria.
Pomegranate Arils | Pomegranate seeds add a sweet-yet-tart taste to the overall flavor.
Honey | Drop in a dash of honey to cut some of the bitterness of the wine and tie together the fruity flavors.
Cinnamon sticks | Get that authentic cinnamon flavor by adding cinnamon sticks to the mix.
Star anise | Star anise also brings in some holiday spice, most grocery stores carry it this time of year. Also use in my easy Wassail recipe!
Rosemary | This adds a subtle earthy tone to this festive cocktail. Plus garnish the holiday sangria with fresh sprigs of rosemary, this evergreen looking sprig is fragrant and beautiful!
How to Make Sangria with Fruit
Begin this winter sangria recipe by washing, then slicing the apple and orange. If preferred, dice the fruit instead.
Next, select a pretty pitcher and add the apple and orange slices, pomegranate arils, star anise, cinnamon sticks, and rosemary sprigs.
Then, carefully pour the wine into the pitcher along with the sweet honey. Stir all the ingredients with a wooden spoon, cover the pitcher, and place it in the refrigerator.
Chill the pomegranate sangria for at least 4 hours before serving, allowing the flavors to combine and the fruit to steep into the wine. Preferably, let the beverage sit overnight for the best holiday sangria.
Finally, serve this spiced sangria cold. Spoon some of the fruit (or cut up some fresh fruit) into stemless wine glasses or your favorite glasses. Then pour it over the fruit. Lastly, top the drink with sparking water to give it a fizzy texture—DELISH! Don't forget to garnish with rosemary springs and maybe a cinnamon stick or star anise on top.
Pro Tips for the best Holiday Sangria Recipe
Wait to add the sparkling water until you're ready to serve, so the drink is nice and bubbly.
Make a double batch for a larger crowd at a holiday party, pouring into a pretty punch bowl.
Variations & Substitutions
Try Different Fruits | Pears, blood oranges, pineapples, and fresh cranberries are good options to experiment with for your holiday sangria recipe.
Spice It Up | Add 4-8 whole cloves or 6-8 whole allspice if desired.
Customize the Spice | If you don't like a particular spice, omit it.
Make the Non-Sparkling Version | Omit the sparking water for a non-fizzy sangria.
Other Bubbles | Try your favorite mixer, like Ginger Ale, Club Soda or even Prosecco would be a delicious addition.
Make it Extra Sweet | For those who might like it sweeter, make some simple syrup to have available, they can customize their drink on the spot.
Boost the Flavor | Include orange juice (about ½ a cup) or lemon juice (between 2-4 tablespoons) to kick up the citrus notes.
Extend your Sangria Recipe | In addition to the citrus juices above, add 1 cup of cranberry juice, pomegranate juice and/or apple cider, for a total of about 2-3 cups.
Change the Wine | Use your favorite white wine instead, dryer, more acidic, and crisp fresh whites like Pinot Grigio, Sauvignon Blanc, or Grenache Blanc. Again it will taste best using your favorite white wine.
Hot Spiced Wine Mulled Wine Option
A traditional holiday drink is hot spiced mulled wine, great for a chilly evening. Add wine and fruit to a saucepan, Dutch oven or crockpot. Then, stir in the honey and spices.
Simmer over low heat for about 30 minutes. Be careful not to allow the sangria to boil. Add rosemary at the very end and simmer for a few more minutes. If wanting to make an authentic mulled wine, add ¼ cup of brandy at the end.
Crockpot Holiday Sangria
To heat in a crockpot, combine all ingredients except rosemary, heating on LOW 3-4 hours, adding rosemary towards the end. A delicious holiday cocktail.
Storage Tips
Refrigerate
Refrigerate | Since this "steeps" in the refrigerator, the best place to store it is in the fridge. Store the leftovers in the fridge in a covered large pitcher for up to two-four days. But the flavors might start altering after 3 days, though it's still safe to drink.
Can you freeze sangria?
This spiced holiday sangria freezes great! If freezing before serving the beverage, leave the fruits out to remain fresh. Though I would still recommend making and serving this fresh! Leave the freezing for leftovers.
Leftover Sangria | First, remove the fruit before pouring the drink into a freezer bag. Thaw overnight and enjoy cold or warm in saucepan, or better yet, place frozen sangria in blender and enjoy margarita style.
Frequently Asked Questions
What's in Sangria?
Traditional Spanish sangria is made with fruit, spices and occasionally brandy or other liquor. The chopped fruit and spices infuse into the wine and vice versa.
What kind of wine should I use?
Any dry red wine will do the trick, in fact, don't go top shelf for sangria, but use something you enjoy drinking. Full-bodied, dry reds support the other sweeter flavors of the recipe well. Try Merlot, Zinfandel, Syrah, or Cabernet Sauvignon; Pinot Noir or your favorite red blend also work well.
How long do you soak the fruit and spices in the sangria?
The longer, the better. I'd recommend a minimum of 2 to 3 hours. However, the flavor comes to life when you allow the sangria to sit overnight.
What is sangria?
Traditional Sangria is of Spanish origin and is typically composed of wine, herbs, spices and fresh fruits. Current versions now include other fruit juices and sometimes the addition of brandy or other alcohols. Young wines are a bit better, nothing too aged, but a quality wine.

Occasionally, sangria includes fruit juices, ginger ale, or club soda and alternate fresh fruit slices.
What's the difference between white and red sangria?
The choice of wine differentiated a white sangria from a red sangria. As you may assume, white sangria is made with white wine, and red sangria is made with red wine. When using white wine, the sangria will take the color of whatever fruits or syrups you add to the mix.
More Tasty Pomegranate Recipes for the Holidays
A great make ahead drink | Be sure to allow the pomegranate sangria to sit in the refrigerator for at least a couple of hours. The longer the fruits steep and the flavors meld, the tastier results you will have!
More Winter Sangria Recipes (regular and non-alcoholic)
What to Serve with Christmas Sangria
I hope you loved this Christmas Sangria — if you did, would you share your creation on Instagram, Facebook and Pinterest? And be sure to comment below!
Like this recipe?
Don't forget to give it a ⭐️⭐️⭐️⭐️⭐️ star rating and comment below the recipe!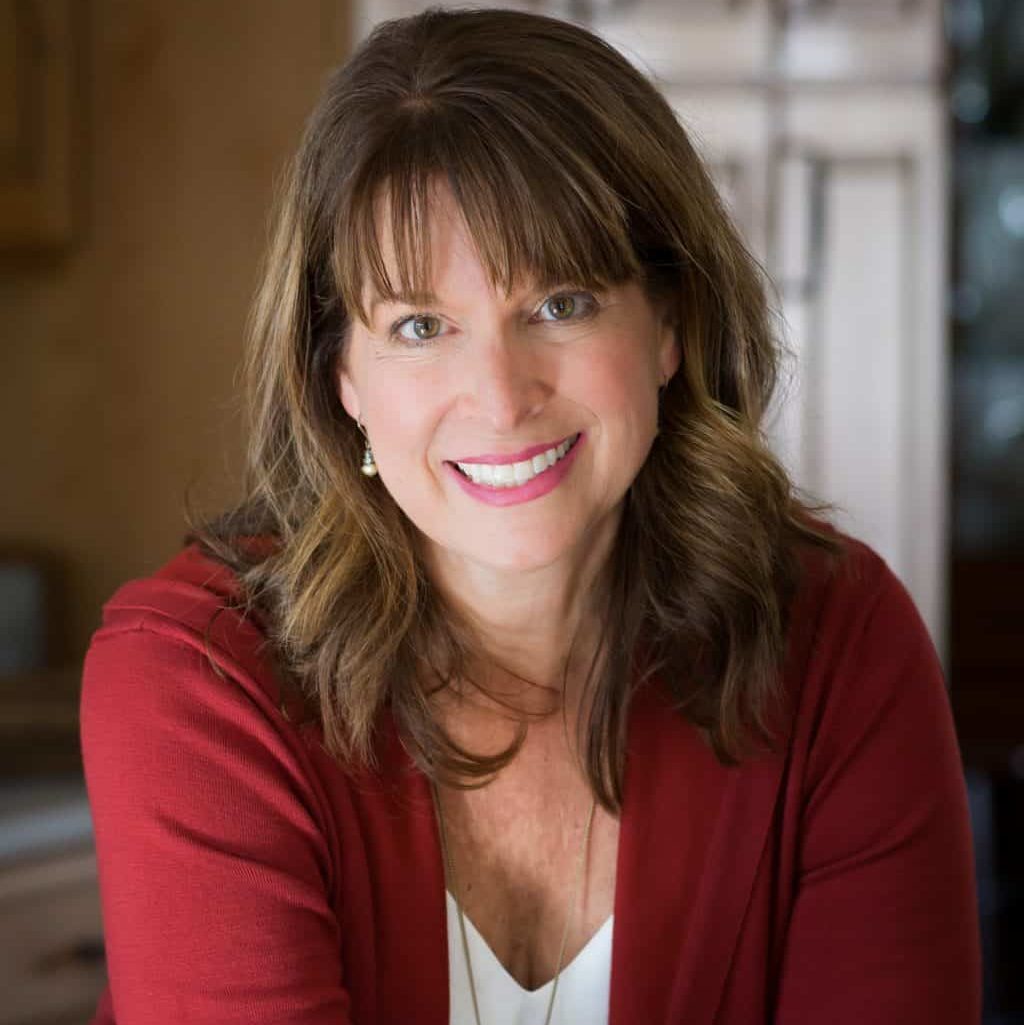 About Kathleen Pope
Recipe Innovator | Food Photographer | Food Writer
Hi, I'm Kathleen Pope. Here at The Fresh Cooky you will find easy, mostly from-scratch, trusted recipes for all occasions. From speedy dinners to tasty desserts, with easy step-by-step instructions. I am here to help teach you how to make mouthwatering recipes without spending hours in the kitchen. Read more about Kathleen here.