Easy Pesto Appetizer Recipe with Burrata and Roasted Tomatoes
As an Amazon Associate, I earn from qualifying purchases. Please read my disclosure policy.
This Easy Pesto Appetizer Recipe with Burrata and Roasted Tomatoes is gorgeous, versatile and delicious! This recipe includes fresh roasted cherry tomatoes, delicate burrata cheese, and warm and crispy baguette crostini topped with a pop of green with fresh basil pesto.
Much like your favorite traditional bruschetta recipe, this is a perfect recipe for entertaining or as a fancy plated meal starter. My friend Patty turned me on to this amazing recipe originally from the Magnolia Table Vol. II cookbook, with a few tweaks of course!
For a complete buffet chock full of appetizers, try adding some Homemade Mediterranean Dip or a fresh batch of Blender Salsa and Tortilla Chips.
Then get out the air fryer for some fast recipes like my Air Fryer Pretzel Bites with Easy Beer Cheese to dip them in! I am sensing a football watch party with these yummy appetizers!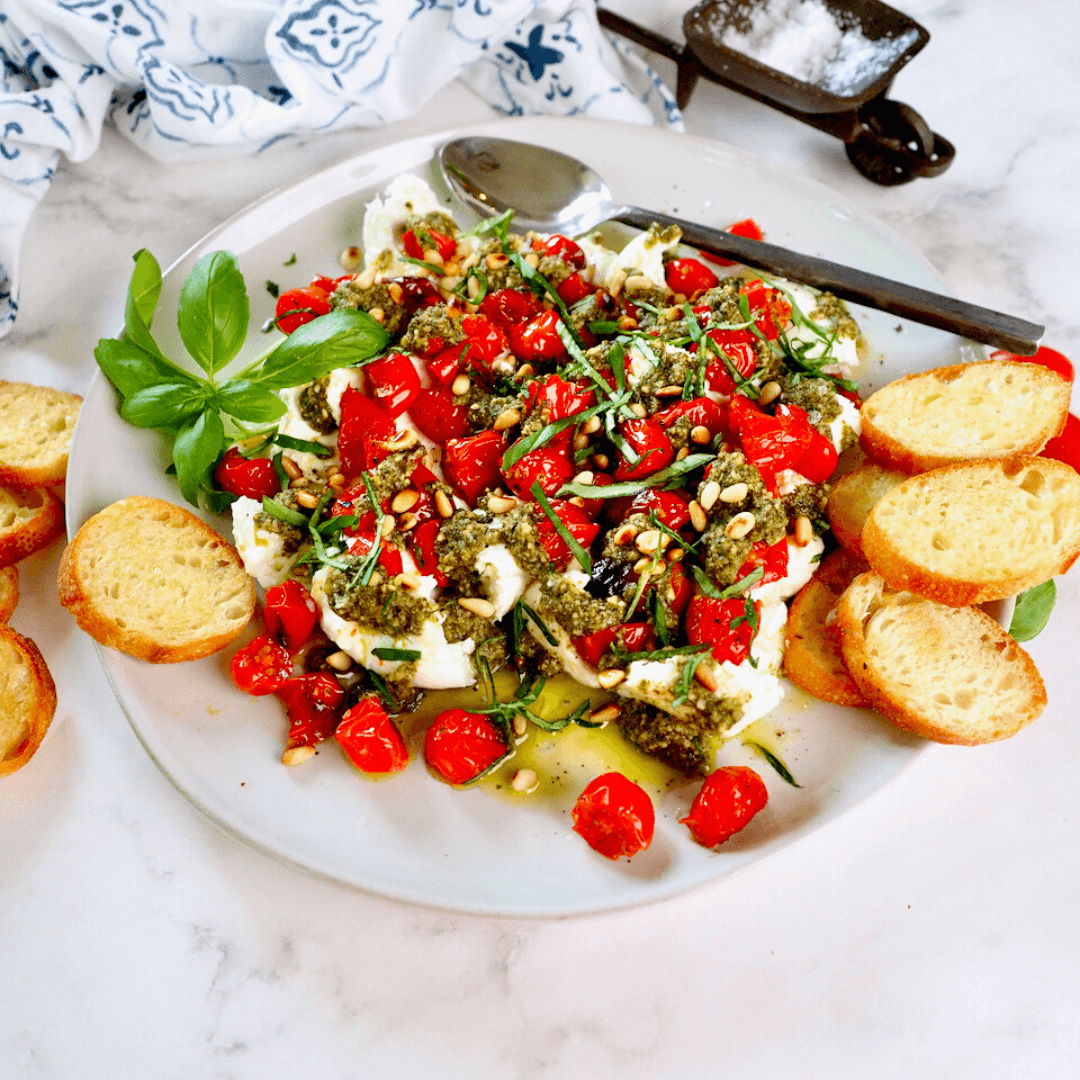 So what is burrata anyway?
Burrata is a cow's milk cheese that comes in a water-packed container. The cheese ball is a fresh mozzarella cheese outside with sweet cream center giving it a rich, buttery flavor. And the texture of this cheese is creamy inside and has a delicate cheese coating outside. – YUM!
What is Burrata Salad?
You might even call this a burrata salad! What is a burrata salad you ask!? Creamy burrata loaded with roasted tomatoes, pesto and fresh basil — this would be delicious served with a handful of arugula and served individually!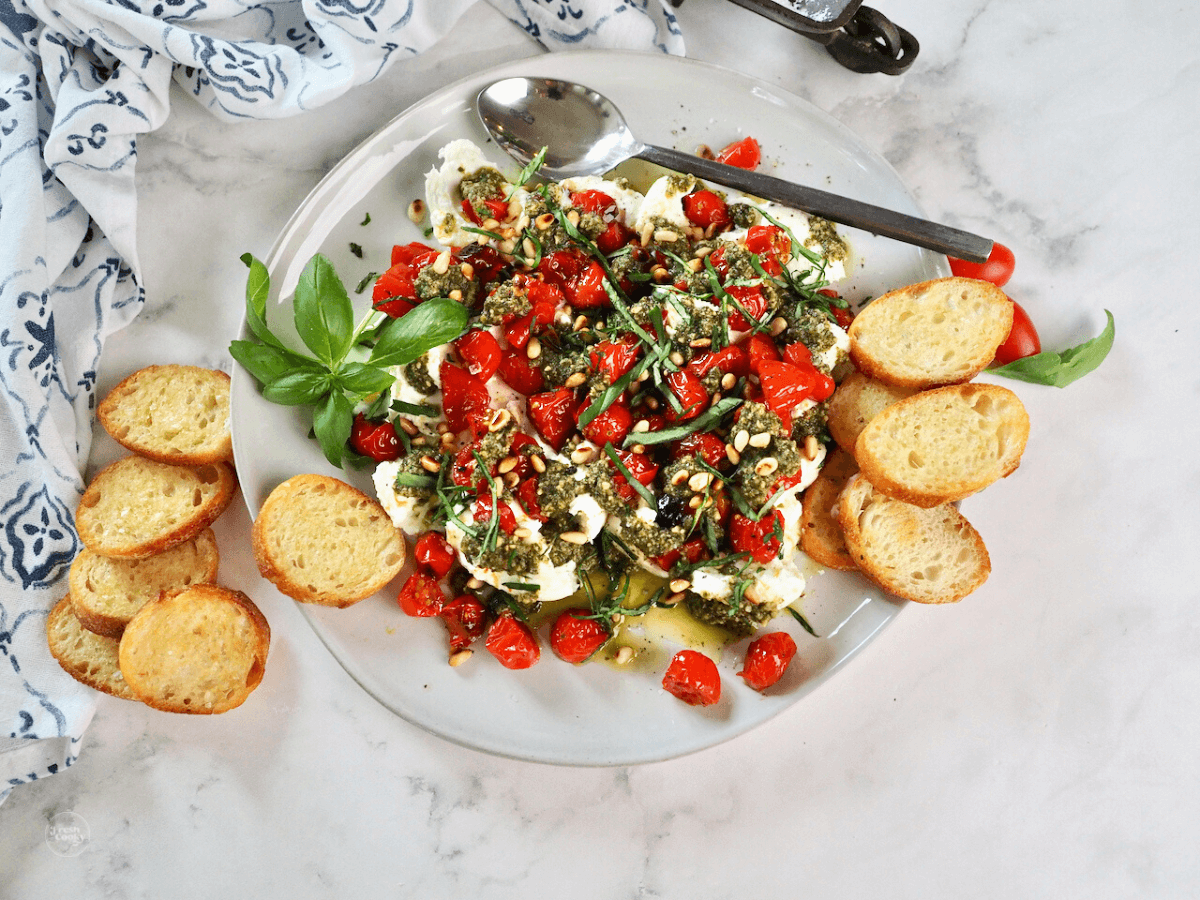 Why You Will Love this Recipe
All Season Appetizer | Fresh and bright for summer serving, a great game day appetizer, potluck or for your holiday parties.
Easy Recipe | If you are a beginner cook, this will be a simple appetizer to start bringing to parties and really wow the crowd!
Fresh & Healthy | There are so many ways this recipe is healthy for you. Fresh ingredients mean you can control just what goes in!
Key Ingredients
Ingredients, directions and nutritional information in the printable recipe card at the end of the post.
Crostini
It's colorful with bold flavors that will stand out to your guest. And, if you have a lot to do, you can make them ahead of time. Just let the pesto appetizers cool for 30 minutes before serving.
Baguette | I like to use Italian or French bread slices- but you can use any fresh crusty bread sliced into thick pieces. The longer you bake it, the crunchier the middle will be, so bake to your crunchy preference.
Olive Oil | For a more pungent taste, I use EVOO, but if you want that mild olive oil presence, you can use regular olive oil.
Kosher Salt | The larger salt is easy to pick up and sprinkle over your bread. And it looks nice too! You can use flaky sea salt if you want a stronger salt taste and don't forget a little fresh ground black pepper.
Cherry Tomatoes | Fresh tomatoes are best here, roasting them will make them sweet, juicy tomatoes.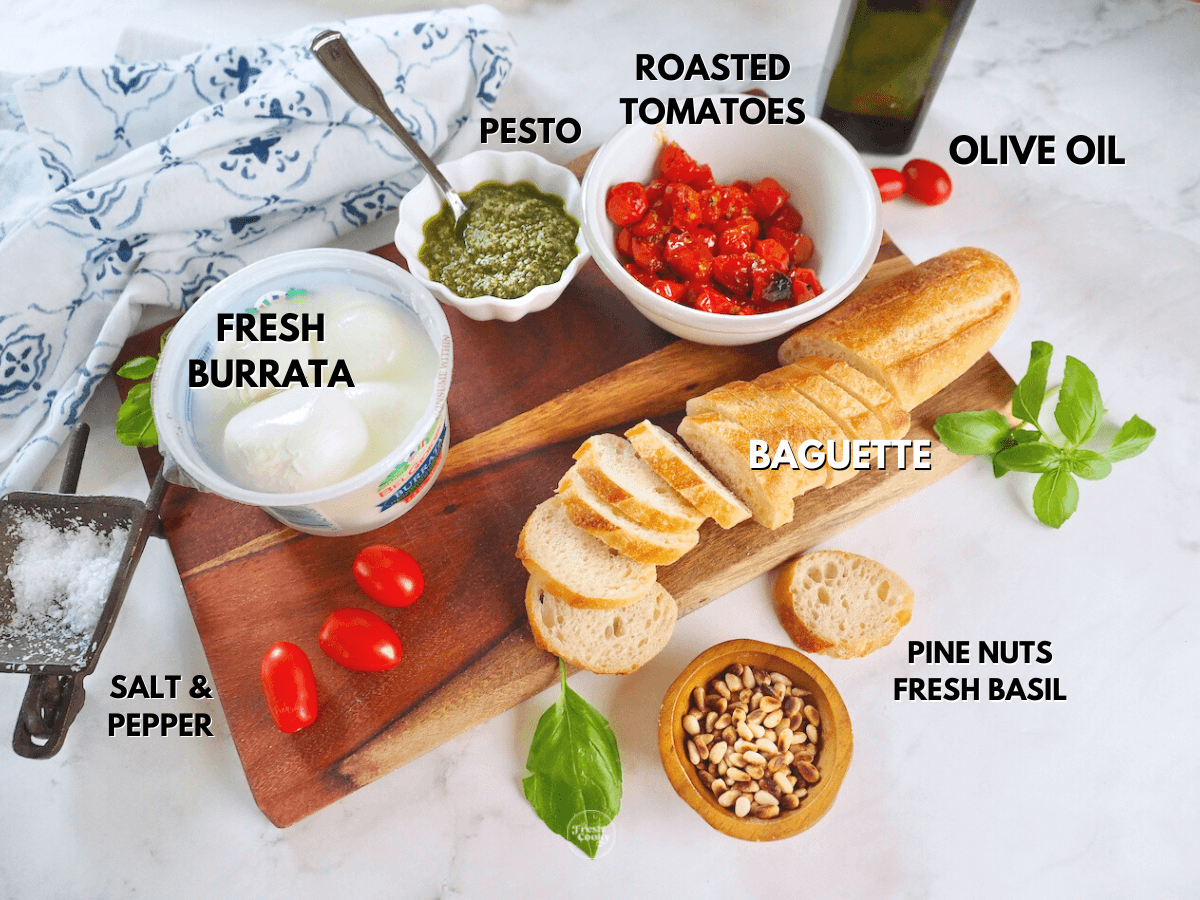 Burrata Pesto Appetizer Ingredients
Burrata Cheese | This type of cheese comes water packed. So, once removed from the water-filled container, I recommend patting it dry just a little bit to remove excess moisture, so the pesto doesn't slip right off.
Pesto Sauce | You can choose store-bought pesto or follow my recipe for Easy Homemade Basil Pesto Sauce.
Fresh Basil | Chiffonade the basil leaves and sprinkle on top for a pop of color and taste.
Pine Nuts | Toasted pine nuts sprinkled on top to give an extra crunch. Try roasted pumpkin seeds too!
Balsamic Vinegar | A flavorful drizzle of balsamic reduction is optional. Still, it really pulls all the flavors together and adds a sweet tang.
How to Make Italian Burrata Pesto Crostini
Step 1 | Prepare the Crostini
As the oven is preheating, slice the baguette into thick slices (about ¼-½ inch), so they hold up to all the delicious toppings. Then lay them on a foil-lined baking sheet; that way, clean-up is so much quicker!
Brush one side of each slice with olive oil. For easy application, pour your olive oil into a small dish, dip it in a pastry brush and then brush the oil onto one side of your baguette.
Now, lay them on the large baking sheet and sprinkle them with salt and pepper.
Bake the sliced and seasoned bread pieces until golden brown, rotating the pan once halfway through to ensure even crisping.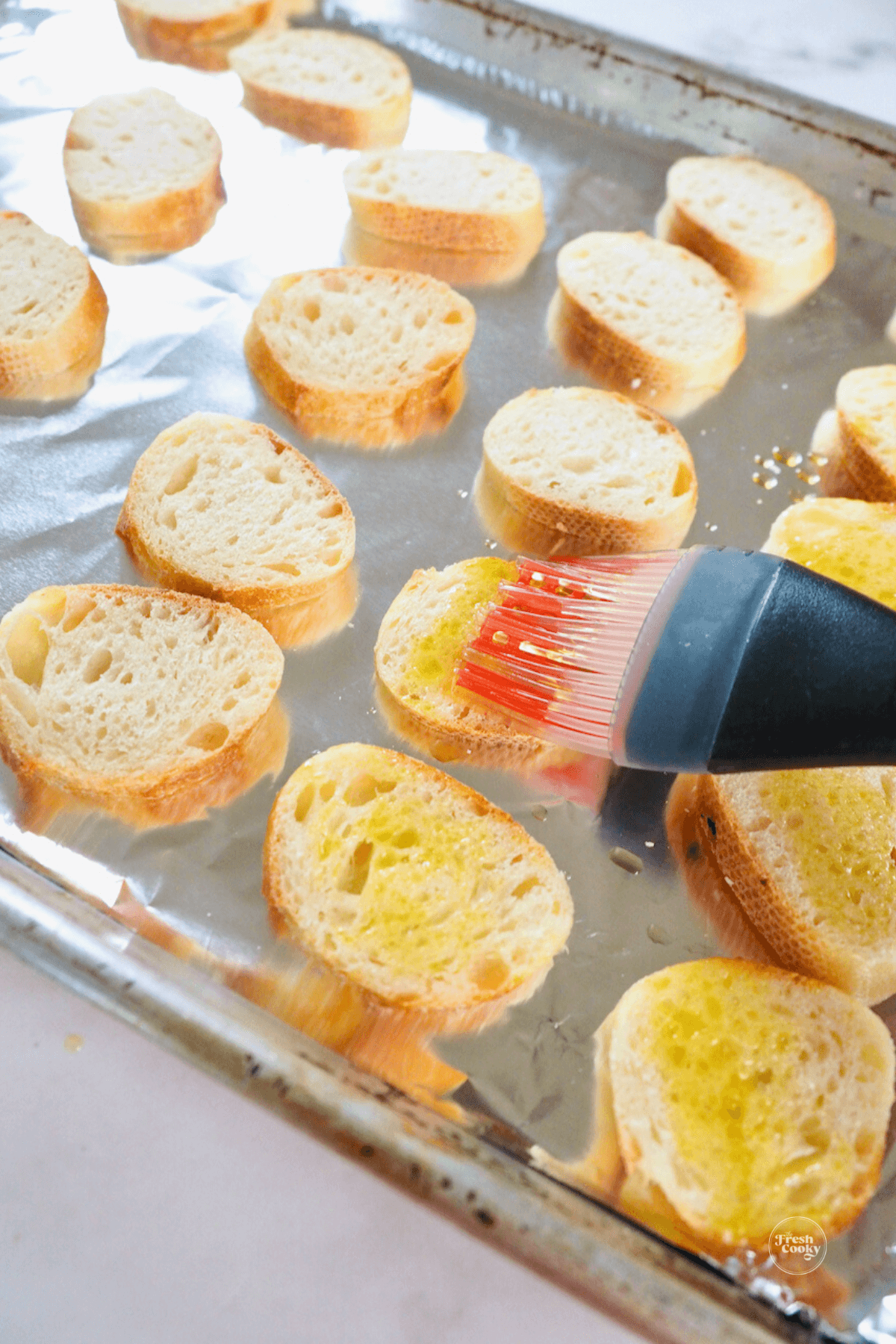 When they are perfectly crispy and golden, remove the pan from the oven and let the bread cool on a wire rack.
Store the cooled crostini in a zippered bag or an airtight container for up to 3 days.
How to Roast Cherry Tomatoes
Step 2 | Prepare the Tomatoes
Now it is time to make the roasted tomatoes. Turn the oven heat up to 450 degrees. While that temp is climbing, you'll wash and dry your tomatoes. Before slicing and placing them on your baking sheet in a single layer, the juices stay with the tomato halves, and they don't slip away!
Oh, and there is no need to grease your pan– though you may add a layer of foil or parchment paper for an easy clean-up.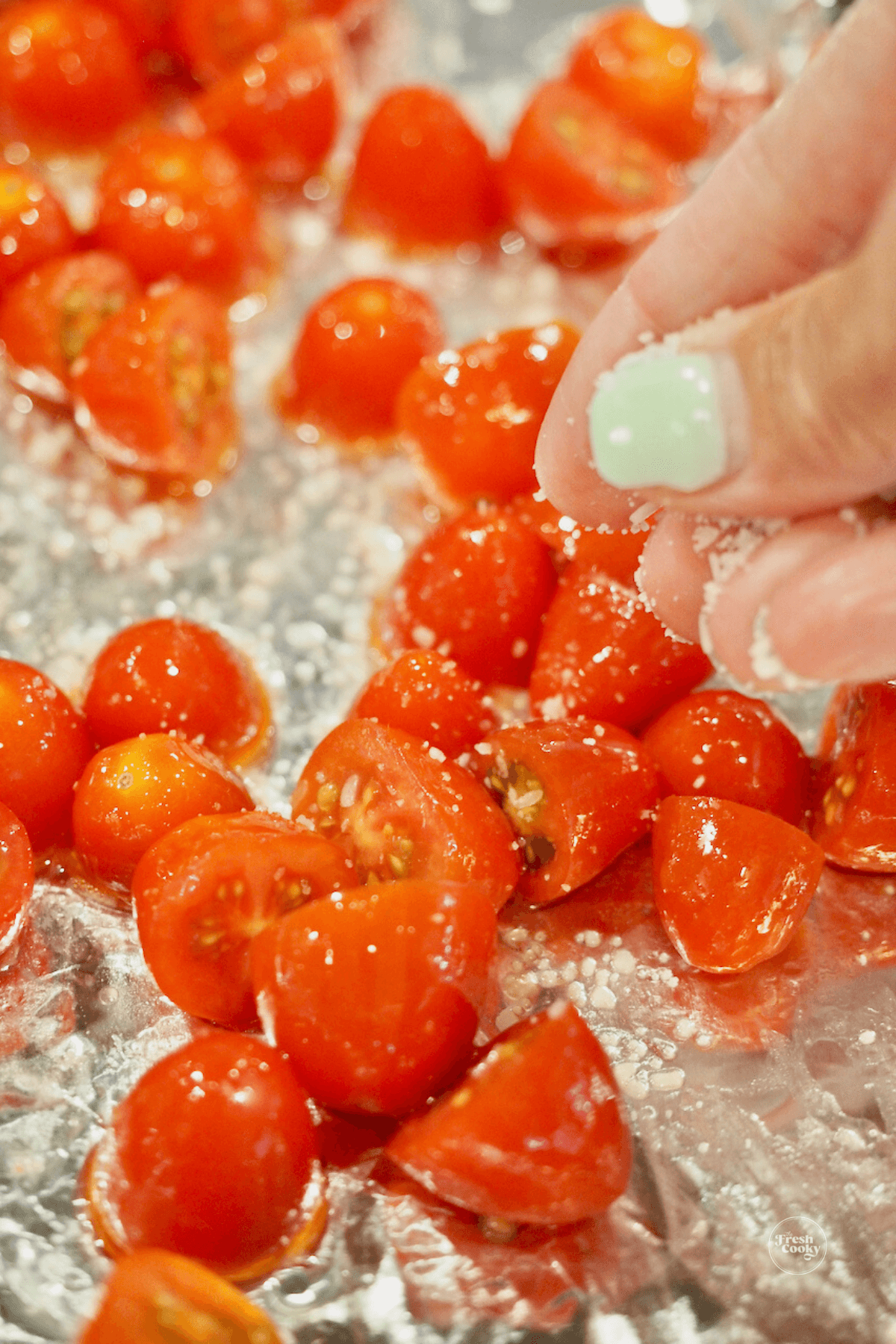 Season and Coat the Tomatoes
Pour olive oil on top of the cherry tomatoes, turning them with your hands, or use a spoon to coat them thoroughly. And it is time for the oven.
Roast the Tomatoes in the Oven
Pop the pan of tomatoes into the hot oven and bake as directed.
Set aside your baking sheet to cool while you prep the pesto burrata appetizer.
Fresh Pro Tips
If you like a more caramelized taste, you can allow the roasting tomatoes to bake longer, looking for darkness around the edges.
Suppose you want to make this appetizer ahead of time. In that case, the cooked tomatoes may be cooled completely and stored in an airtight container in the fridge for up to two days.
Step 3 | Assemble the Pesto Bruschetta Appetizers
First, remove the burrata ball from the water-filled container. Then pat the burrata cheese dry with paper towels. Arrange the cheese on a large, beautiful serving platter or a favorite rimmed bowl.
Slice the creamy burrata with a sharp knife to ensure you get through the various textures. Or you can use a spoon to cut each burrata into quarters, pulling them apart slightly.
Sprinkle on the roasted tomatoes, and finish it off with a drizzle of homemade pesto or jarred pesto and olive oil.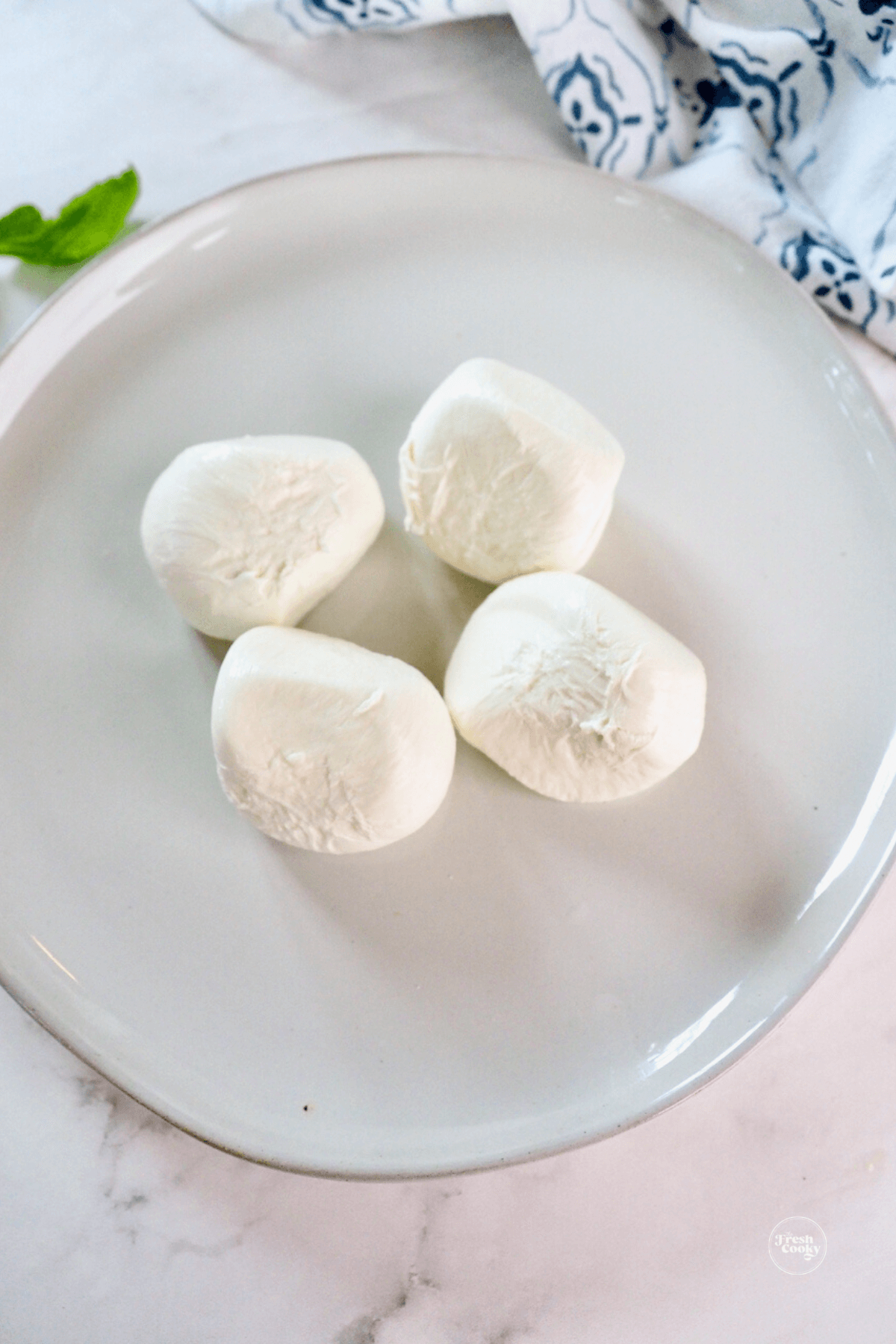 If desired, garnish the dish with freshly cut basil and toasted pine nuts and even if desired, a drizzle of balsamic vinegar or glaze.
Finally, sprinkle the servings with flaky sea salt and pepper to taste.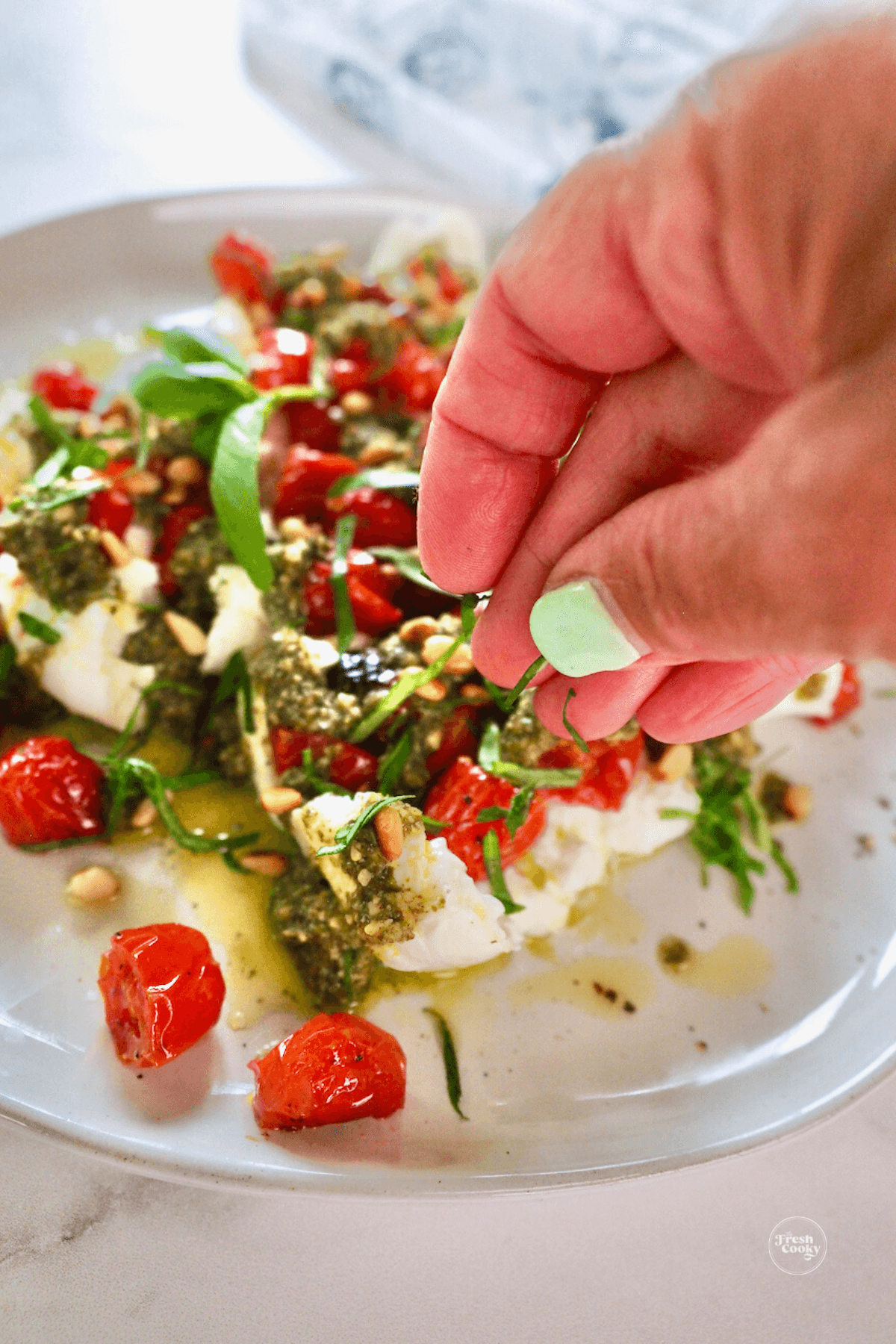 Take your Burrata crostini with pesto recipe to the next level! Sprinkle some shaved parmesan cheese. Then add a little balsamic glaze swirl for a stunning presentation. Brilliant!
Variations & Substitutions
Gluten-free Options | Instead of french bread, use a gluten-free bread, or used sliced carrot chips, cucumber slices or GF crackers. Or just give them a spoon! Wink-Wink!
Pesto | Feel free to add a layer of smashed garlic cloves right after you apply your olive oil, and then add the fresh pesto for an even bolder flavor. Instead of pesto, try using a tomato bruschetta.
Dairy-Free Burrata Appetizer | If you can't have dairy in this original recipe, there is a solution for you. Just substitute for dairy-free, vegan mozzarella shreds or goat cheese- depending on your allergy or preference.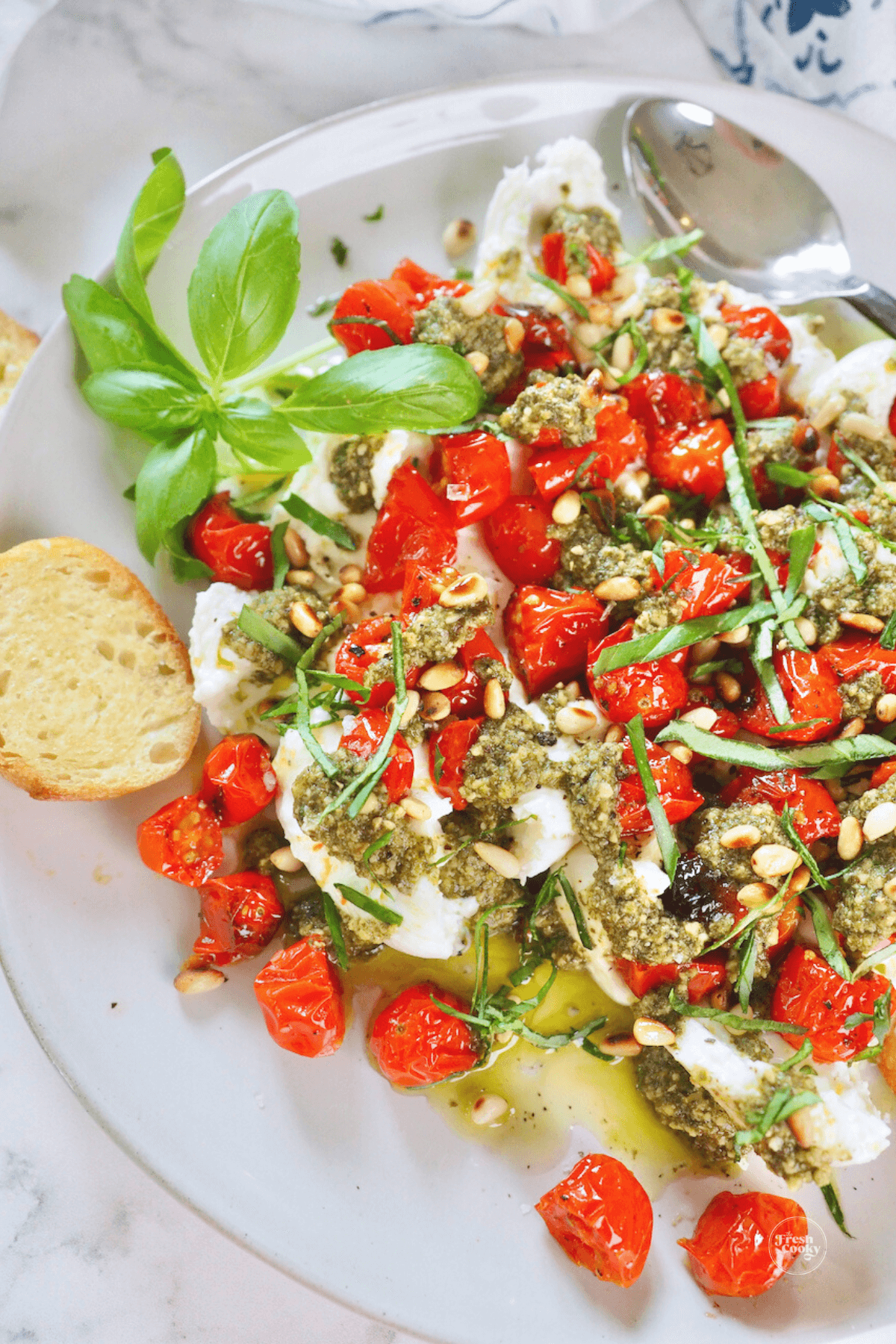 Frequently Asked Questions
What cheese is most like burrata?
You can use sliced mozzarella, cream cheese, or feta cheese if you are not a fan of the sweet cream added to the burrata or cannot find burrata in your store.
What is the difference of burrata and mozzarella?
While mozzarella is more elastic and stringy and a little more delicate in flavor, burrata is creamier and has much more flavor and is a super soft cheese great for topping pastas, using in appetizers and more.
What does burrata taste like?
Burrata cheese is a soft, creamy cheese with an amazing buttery flavor. It has a stringy mozzarella texture exterior or skin and is filled with creamy interior.
Can I use grape instead of cherry tomatoes?
You sure can. You can opt for grape tomatoes, plum, and if desired, forget about the roasting and use sun-dried tomatoes.
Storage Tips
To store this appetizer and retain its fresh flavors, or if you are making it ahead of time, you can place the individual components in an airtight container for up to two days! Or prep it all and place in fridge covered with plastic wrap for up to one hour before serving. Bring to room temp about 15 minutes before serving.
Keep the crostini at room temperature and refrigerate the remainder of the ingredients.
Make Ahead Tip
Make the roasted tomatoes ahead if warm tomatoes are not preferred. Toast the bread slices and store until ready to use. And make the pesto ahead or use a jar of your favorite, and so on!
Even More Easy Appetizer Recipes to Share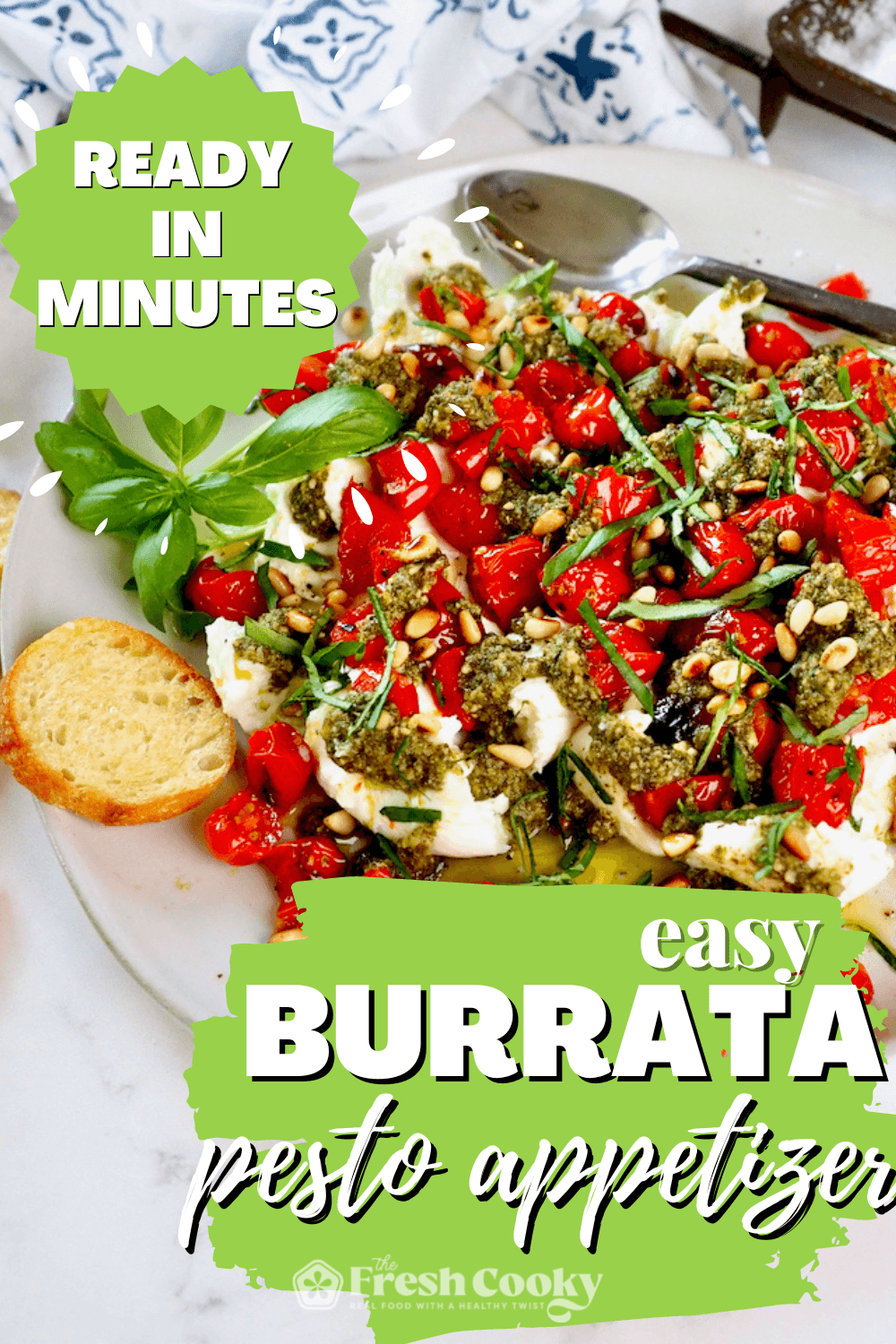 I hope you loved this pesto appetizer recipe — if you did, would you share your creation on Instagram, Facebook and Pinterest? And be sure to comment below!
Like this recipe?
Don't forget to give it a ⭐️⭐️⭐️⭐️⭐️ star rating and comment below the recipe!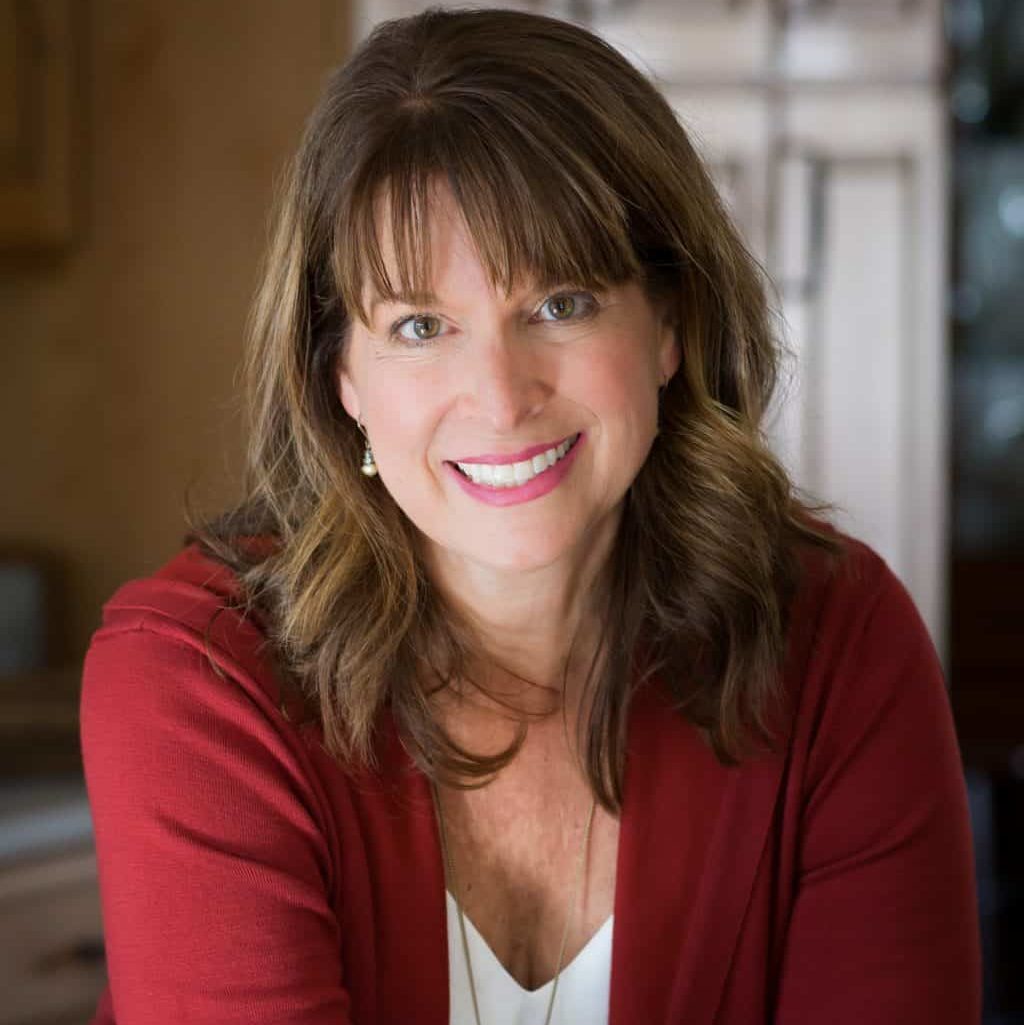 About Kathleen Pope
Recipe Innovator | Food Photographer | Food Writer
Hi, I'm Kathleen Pope. Here at The Fresh Cooky you will find easy, mostly from-scratch, trusted recipes for all occasions. From speedy dinners to tasty desserts, with easy step-by-step instructions. I am here to help teach you how to make mouthwatering recipes without spending hours in the kitchen. Read more about Kathleen here.