As an Amazon Associate, I earn from qualifying purchases. Please read my disclosure policy.
A full bodied Antipasto Dip incorporating all of the delicious ingredients from a classic antipasto board; like cheese, salami, olives, roasted red peppers, artichoke hearts, sun-dried tomatoes and more!
Simple Antipasto Dip
There is nothing like a creamy, cheesey dip, I love these copycat Cheese Dips or a creamy Queso dip. On the other hand, I love lighter dips like this easy Bruschetta or Mediterranean Layered Dip.
Whether you are looking for something different for the holidays, football party or to bring to a potluck, this delicious Antipasto Dip seeks to meet everyone's taste buds!
What IS Antipasto?
I admit, even coming from an Italian heritage I had to look this up! LOL!! Directly translated, Antipasto means literally "before the meal". Traditional Antipasto is an appetizer consisting of olives, peperoncini, mushrooms, anchovies, artichoke hearts, cheese and cured meats, most commonly in platter form. Like the Charcuterie boards that are all the rage — check this one out, from my talented and creative friend, Lynn!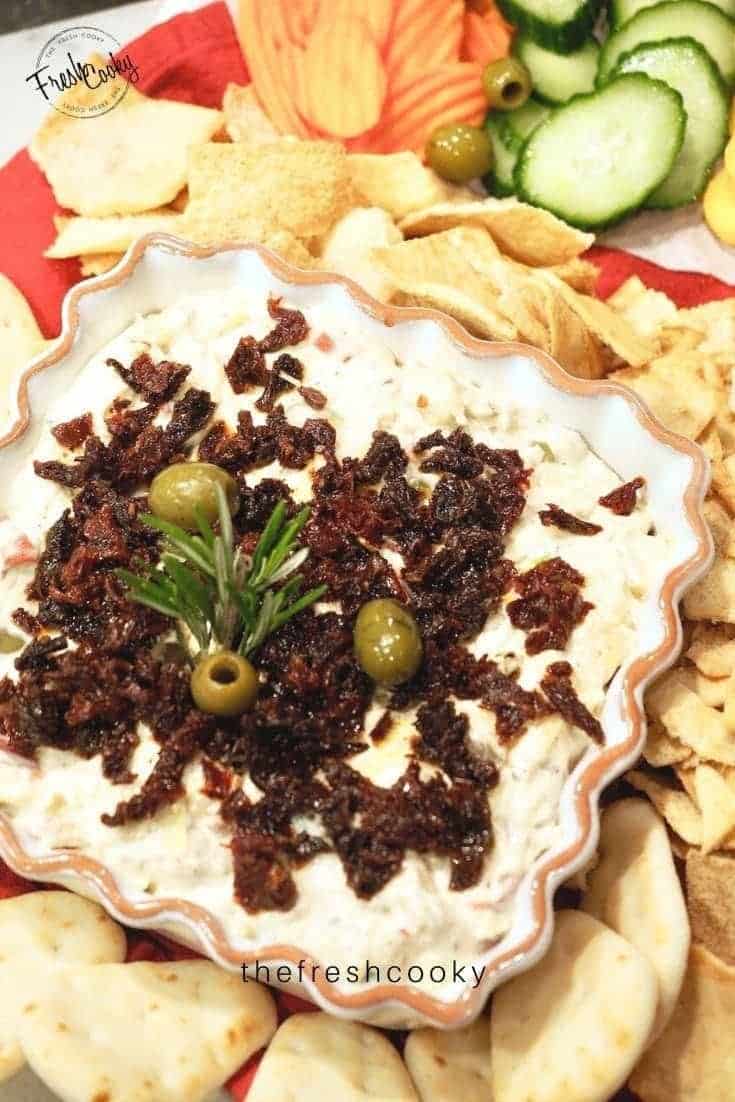 What's the Difference between Antipasto and Antipasti?
Simply put, Antipasti is the plural of Antipasto. Let's get to this dip!
As we roll through the holiday season — which for us means Christmas, New Year, Football playoffs, the Super Bowl, and Valentine's day — I am always seeking out new appetizers, I could honestly nosh on appetizers every night for dinner!
A Great Dip for Crudités
What is a Crudités? I am throwing all sorts of fancy words at you today. A Crudité is a French word for raw vegetables that are cut into small sticks, pieces or slices used with dips and appetizers.
After all of the heavy food of the holiday season and yet still wanting a "meaty" and substantial dip, I jumped into this delicious Antipasto Dip.
Ingredients for Antipasto Dip
2 (8 oz) package cream cheese, softened
⅓ cup sour cream (sub with Greek yogurt!)
1 teaspoon Italian Seasoning (may favorite, cause it has paprika in it)
Red Pepper Flakes
¼ teaspoon pepper
2 garlic cloves, minced
2 cups shredded cheddar cheese (I used 1 cup sharp white cheddar, 1 cup Italian blend)
½ cup roasted red peppers, finely chopped
½ cup artichoke hearts (marinated or brined), finely chopped
5-6 oz salami, finely chopped
½ cup green olives (any kind), finely chopped
3-4 green onions, chopped
⅓ cup sun dried tomatoes in oil, finely chopped
Fresh rosemary (garnish)
Fresh veggies, pita chips, fresh pita wedges, naan triangles, crackers
The list of ingredients looks daunting, but really it all comes together so quickly and is a hearty, feed-a-crowd kind of appetizer.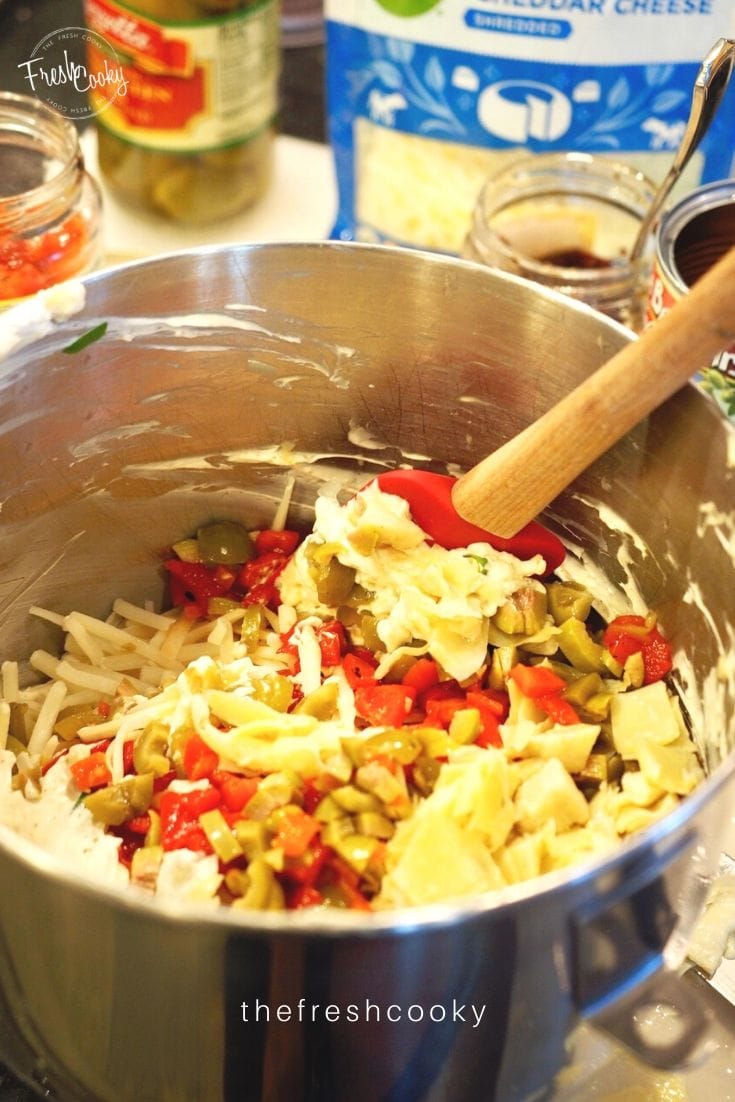 Serve Antipasto Dip Cold or Hot
Typically this dip is served cold, however, could you heat it up and serve warm? You bet, in fact it's amazing, all that flavor AND melty cheese!
Preheat oven to 350 degrees F. Assemble dip and mix in the sun-dried tomatoes, scoop into an oven safe baking dish baking for 20-25 minutes until golden and bubbly. Serve with crostini, veggies, crackers or pita.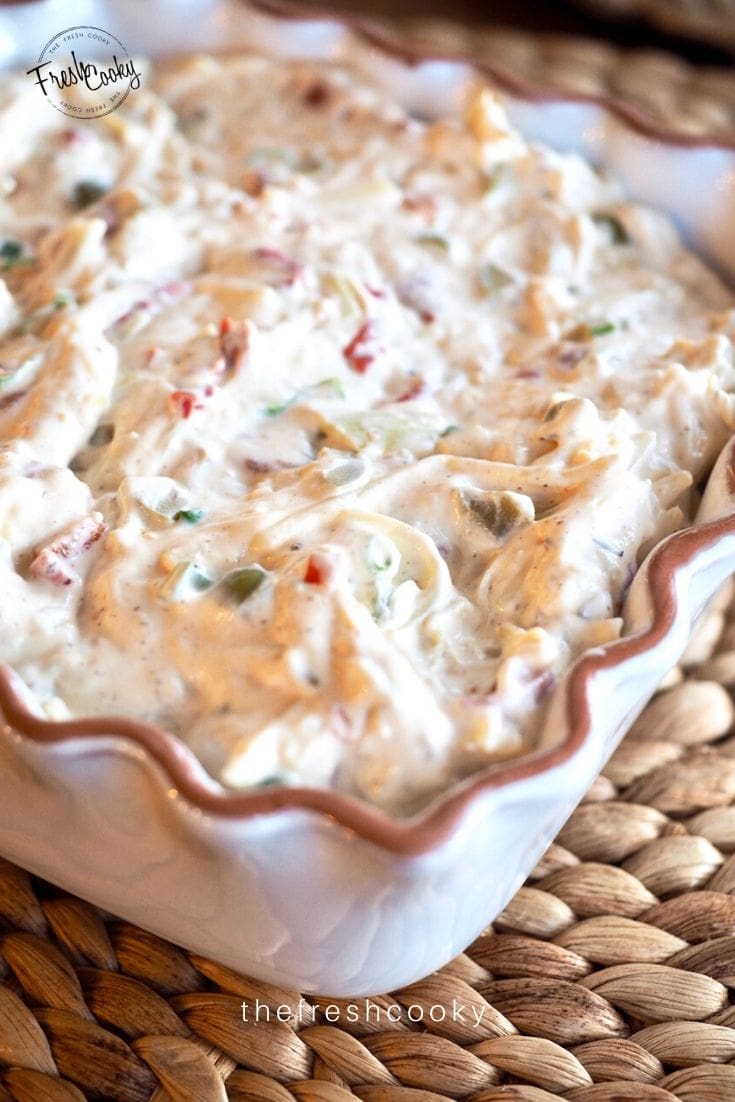 Antipasto Substitutions & Suggestions
Sub out neufatchel for cream cheese or Greek Yogurt
Try any cured meats or combinations; prosciutto, pepperoni, ham, hot salami
Use Kalamata olives, black olives, any olive you want (or mix and match)
Add marinated mushrooms
Use other Italian cheeses like provolone, parmesan, mozzarella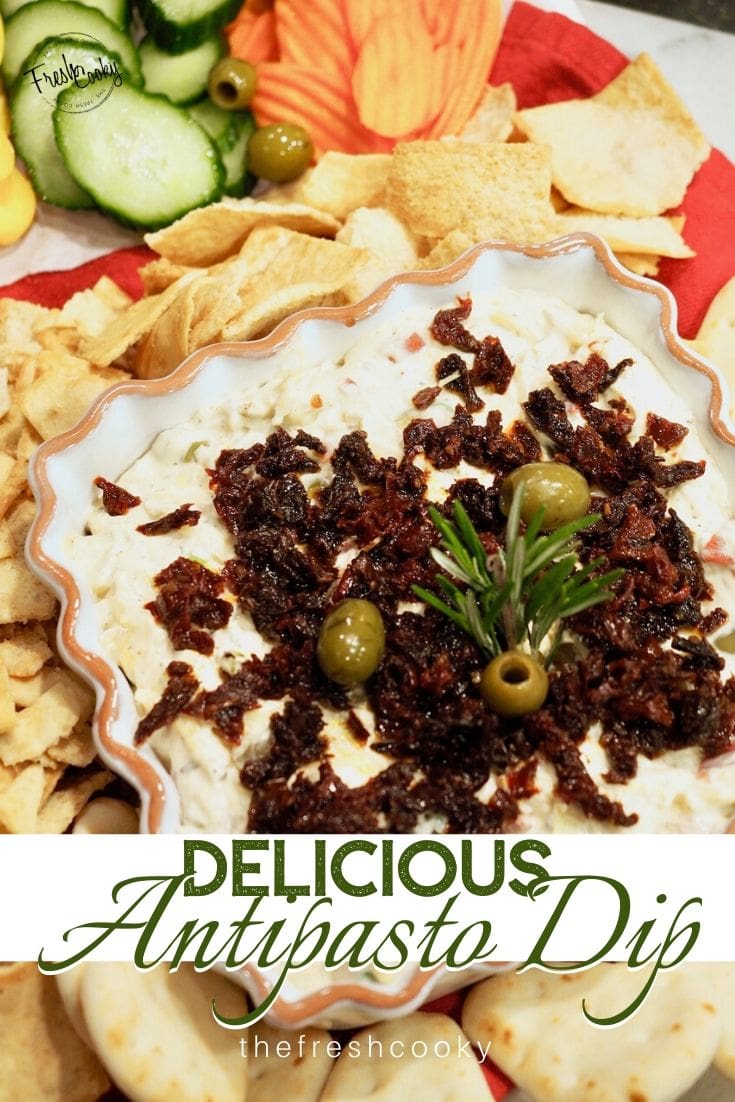 Check out these similar recipes!
Like this recipe?
Don't forget to give it a ⭐️⭐️⭐️⭐️⭐️ star rating and comment below the recipe!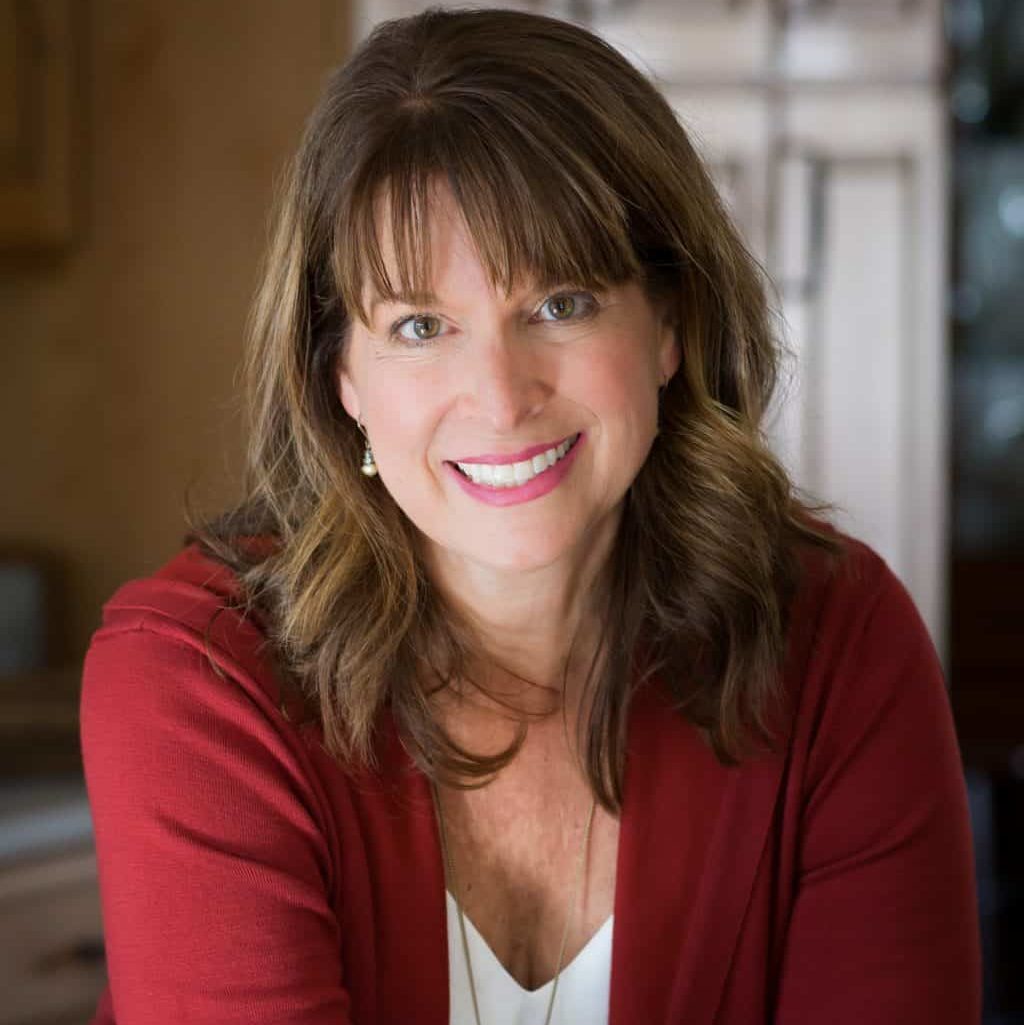 About Kathleen Pope
Recipe Innovator | Food Photographer | Food Writer
Hi, I'm Kathleen Pope. Here at The Fresh Cooky you will find easy, mostly from-scratch, trusted recipes for all occasions. From speedy dinners to tasty desserts, with easy step-by-step instructions. I am here to help teach you how to make mouthwatering recipes without spending hours in the kitchen. Read more about Kathleen here.