How to Bake Homemade Pizza
As an Amazon Associate, I earn from qualifying purchases. Please read my disclosure policy.

Howdy friend!
Only 12 days of summer left, wish the forecast would cooperate! Can you tell I'm more of a Fall, Winter, Spring kinda gal? How about you?
Today I am so excited to share with all of my expertise on how to bake homemade pizza! And coming soon is how to make Deep Dish Pizza, yeah, the Chicago deep dish pizza style! It's amazing!
Making homemade pizza is an almost weekly occurrence in our house. I love it because you control what goes onto your pizza, picky eaters can customize their own pizzas and it's a fairly quick, pretty easy and healthy meal!
So follow along and we'll take a sneak peek into this Italian momma's kitchen to make our own, crispy, chewy, rich and zesty delicious pizza!
Table of Contents | How to Bake Homemade Pizza
DIY Pizza Sauce
First you have to start with pizza sauce! A rich, thick, flavorful, zesty pizza sauce is in order here!
You will love this homemade pizza sauce recipe, I have been making and perfecting this sauce for the last year and it's so simple and far superior to what you can buy in a jar, but if that makes life easier, buy the jar!
Is Marinara the Same as Pizza Sauce?
Marinara sauce is not quite as thin as spaghetti sauce, but still thinner than pizza sauce, so it can be a good substitute for pizza sauce. However; a good thick, homemade pizza sauce still rocks and won't make your crust soggy!
So can you use pasta sauce for pizza sauce? You sure can, because this blog is all about making it your own! But if I can convince you to try making your own DIY pizza sauce, you will fall in love with this recipe!
It's all about the Dough | Homemade Pizza Dough
Even if you aren't Italian you can still make a delicious, Italian pizza dough. My no rise pizza dough takes 10 minutes of hands on time and will give you a fantastic thick or thin chewy crust.
I am in love with this dough, it is so easy to work with, you can make it ahead of time and let it hang out in the fridge until you are ready to use it, you can use it right away or you can even freeze it for another day. Even better for my gluten-free friends, this dough works well for GF pizza dough!
Or, you can purchase store bought dough and make your homemade pizza with that, because if you made it at home, technically it is homemade!
How to Bake Homemade Pizza
Whether you are using store bought or homemade pizza dough and sauce, let's get this started!
Step 1 | Rolling out the pizza dough
If the dough is cold, allow to sit on counter for 30 minutes (covered or in baggie) before rolling.
This is a great time to preheat your oven to the hottest setting, mine goes to 550 degrees, be sure to put your pizza stone or pizza steel in before preheating if you plan to use it.
Portion dough into personal pizza size portions (usually quarter a dough ball) or roll entire dough for a large pizza, a bench scraper comes in very handy for this!
Roll out to desired thickness on a well floured surface.
Step 2 | Assembling the pizza
Once your dough is rolled, place in pizza pan or on baking sheet, if using.
Spread with as much or little pizza sauce as you like (see the pizza sauce post for other options)
Next add your favorite toppings (see topping ideas below); we love Italian Sausage, pepperoni, roasted peppers, red onions, olives, and creamy mozzarella cheese.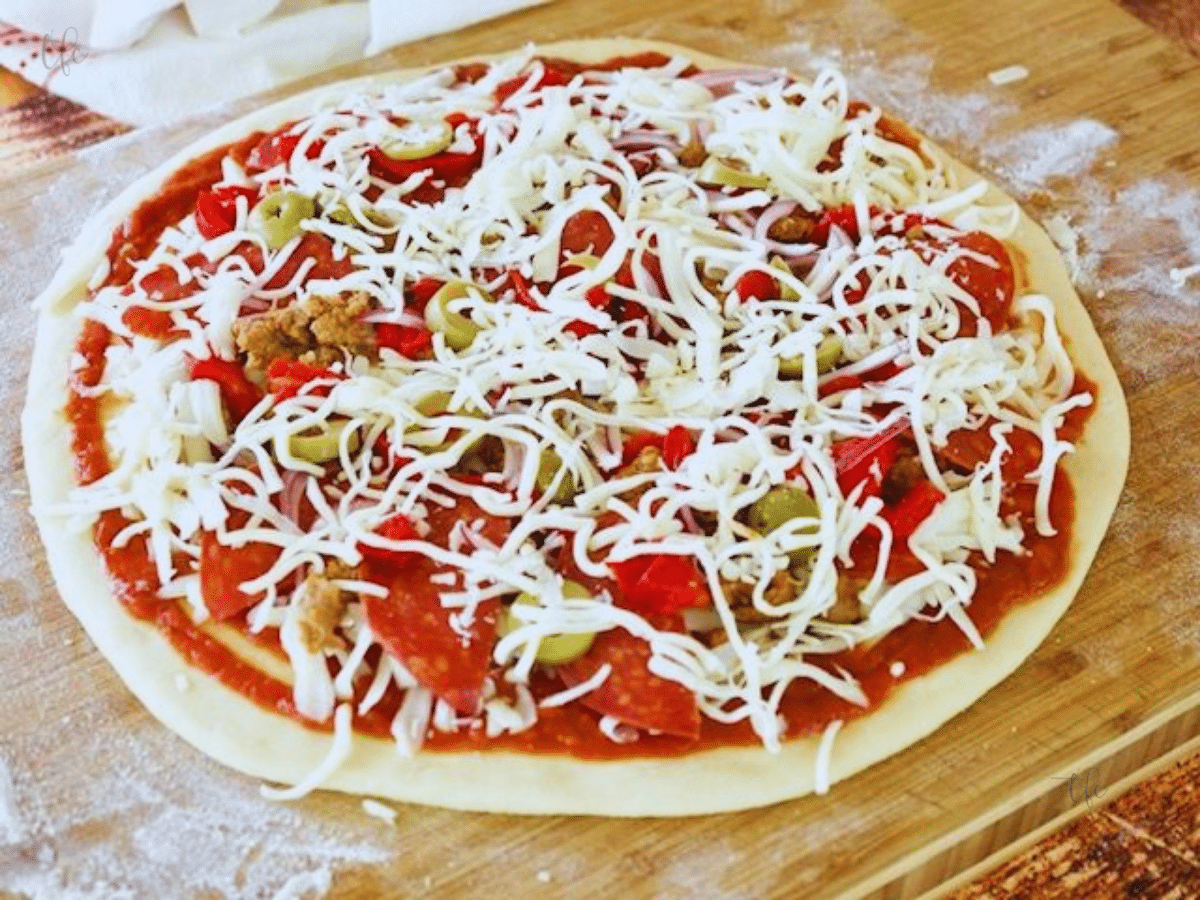 Step 3 | How to Bake Homemade Pizza
If using a pizza stone or pizza steel using a rimless cookie sheet or a pizza peel slide* the pizza onto the hot stone or steel.
Bake 8-10 minutes until crust is golden brown. Remove from oven and allow to cool for 8 minutes before slicing!
TFC PRO TIP | To allow the pizza to slide off easier from a pizza peel or sheet, sprinkle a little cornmeal on the bottom before placing the dough on top.
How to Cook Pizza on the Grill
This is one of my favorite ways to cook pizza in the summertime, since it won't heat up your house! For a brick-oven crispy pizza crust, you can get the same results right at home with grilled pizza.
Preheat grill to high heat.
Prepare all of your toppings, including sauce and place on cookie sheet to bring out to the barbecue.
Roll out dough to desired size, sprinkling both sides generously with flour.
Spray or rub grill grates with high heat oil, place pizza dough on a lightly floured rimless sheet pan, then slide the pizza dough directly onto the grill, close the top and grill for 2-3 minutes.
If the dough is nicely browned, using tongs carefully flip the dough back onto the floured sheet pan (or directly onto the grill — but it gets hot quickly), then quickly spread the dough with pizza sauce, or desired sauce, and toppings, slide the pizza back onto the grill.
Close the grill and cook for another 2-3 minutes, if the toppings are cooked and cheese is melted remove, let sit for 6 minutes or so and slice. If the toppings need more time, turn down the heat to medium-low and cook for additional 1-2 minutes.
Pizza Topping Variations
Margherita Pizza | Fresh Mozzarella, Red Pizza Sauce, sliced fresh tomatoes, Fresh basil, sprinkled with some parmesan cheese and red pepper flakes if desired.
Barbecue Chicken Pizza | Use a good Barbecue Sauce, chopped or shredded rotisserie chicken, mozzarella cheese, also try some smoked gouda cheese and thinly sliced red onions.
Hawaiian Pizza | Red pizza sauce, chopped Canadian bacon, fresh pineapple chunks (or canned), fresh mozzarella cheese, top with cooked bacon.
Veggie Lovers Pizza | Thinly slice your favorite veggies, mine would be red, yellow bell peppers, artichoke hearts, red onions, mushrooms, sun-dried tomatoes, minced garlic, tomato slices (grape would be great here), and olives. Use a red sauce or pesto sauce or just brush with garlic and olive oil, top with your favorite veggies and shredded mozzarella cheese.
I hope you loved this post as much as I had creating it! Here are a few recipes that will compliment your pizza!
For dessert — try this Traditional Tiramisu, so delicious and SOO EASY!
P.S. Did you know that clicking the links to the recipes on the blog is what ultimately provides the means for me to bring you fresh, new recipes each week! FREE TO YOU!
Don't forget to browse through my recipe index or simply type in an ingredient you are using into the search bar!
I hope you make up a big ol' delicious pizza and invite your family, friends, co-workers or neighbors over to enjoy together!
With gratitude,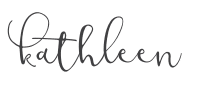 P.S. More great recipes and ideas on the last Fresh Fridays post!
Visit The Fresh Cooky's Amazon Shop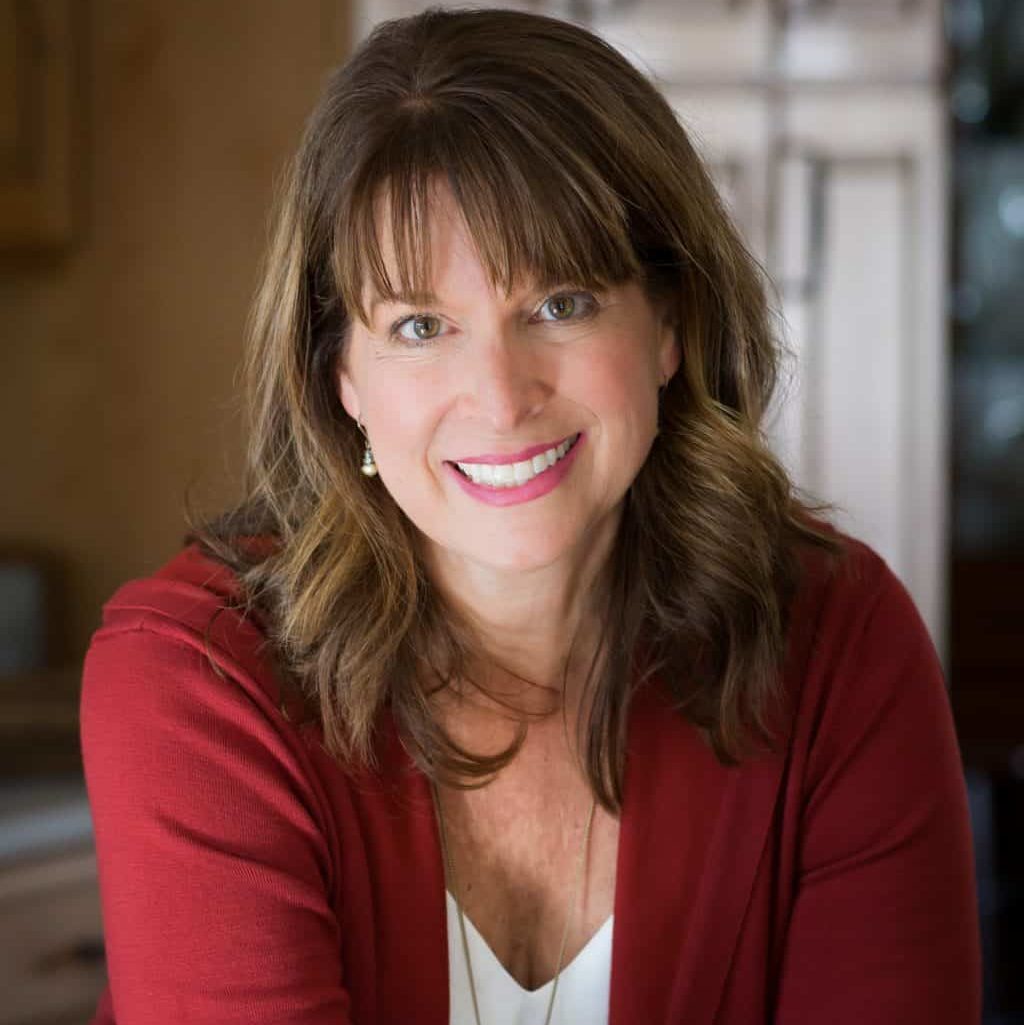 About Kathleen Pope
Recipe Innovator | Food Photographer | Food Writer
Hi, I'm Kathleen Pope. Here at The Fresh Cooky you will find easy, mostly from-scratch, trusted recipes for all occasions. From speedy dinners to tasty desserts, with easy step-by-step instructions. I am here to help teach you how to make mouthwatering recipes without spending hours in the kitchen. Read more about Kathleen here.