How to Host a Favorite Things Party
As an Amazon Associate, I earn from qualifying purchases. Please read my disclosure policy.
Have you ever hosted a Favorite Things Party?! Oh my goodness are YOU in for a treat, they are so much fun!
You know the song right? "Raindrops on roses, whiskers on kittens, bright copper kettles and warm woolen mittens….these are a few of my favorite things!"
HOW TO HOST A "FAVORITE THINGS" PARTY!
A few years ago, I hosted my first Favorite Things party in December which was so much fun it's become an annual tradition; in fact Erin (below) had so much fun she hosted a Summer Favorite Things party for our book club!
Most of us have known each other for at least 15+ years, some longer! We were all in the same MOPS group together back in the day! No our "babies" are all grown up!
It was a beautiful, warm Colorado evening and we laughed, guffawed and giggled! We each enjoyed playing "Vanna White" while we highlighted our favorite things! Here's our table with everything on display! Everyone was so creative!
UPDATE | This year's Summer Favorite Things Party was last week and I wanted to share with you the creativity of everyone! Hopefully it will inspire you to come up with your own great ideas!
Natalie made and brought her favorite salt shower scrub in a nice plastic (shower proof) container using Young Living Eucalyptus oil. Shower Scrub Recipe is at the end of the post!
EUCALYPTUS SHOWER SCRUB RECIPE
1 cup coarse Kosher salt
¼ cup sweet almond oil
15 drops eucalyptus oil
Place in container, stir to combine all ingredients, keep in shower stirring with finger just before use for silky soft skin!
And funny Kathleen, she said she feels like the "Bearded Lady" these days and brought this great set of tweezers and this hair puller outer thingy! And guess what, it works!!!
Mandy had just returned from Europe and fell in love with stroopwafels; this inspired her gift which was a box of yummy stroopwafels and a beautiful Rae Dunn Serving tray which she found at Home Goods.
My favorite thing are these Turkish Towels, they are big, work as a quick cover-up, lightweight, dry really quickly and pack so small! Plus my favorite Aloe Vera Gel — love this stuff (read below for more details)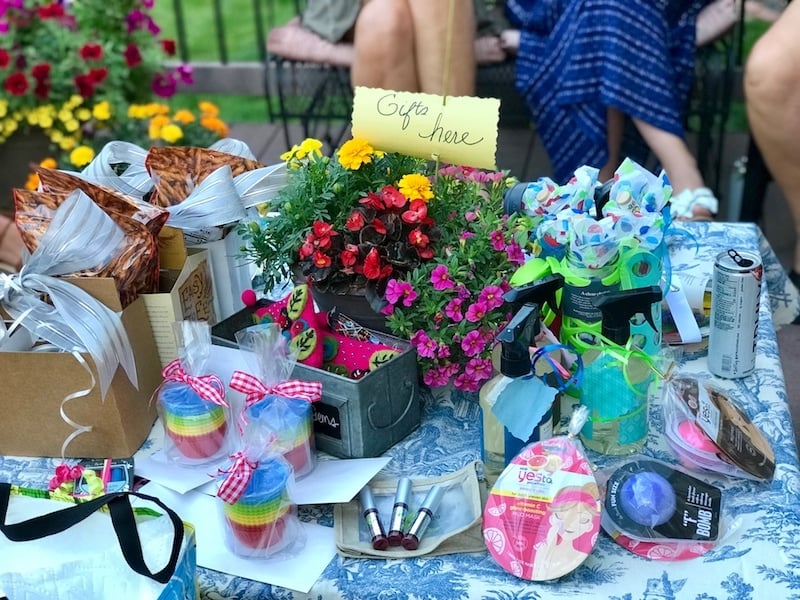 I should have had someone snap a pic of me with my favorite thing (which was the LifeFactory Water Bottle [top right in picture] and Sun Bum Lip Tint)…but someone did get one of me and my sweet friend, Kathie!
FAVORITE THINGS PARTY RULES
Simply invite your friends over for a party! If you do a smaller, more intimate party, have each person bring enough gifts for everyone attending, then everyone goes home with the same items.
If you do it larger (we had 12) it was easiest to do three items!
Establish a price limit per item (Go with your budget, usually between $7 – $15 per item)
Guests purchase 3 of the same item; their "Favorite Thing"
Instruct guests to "wrap" them so that they can be seen (ribbon, cello bag, etc.)
When guests arrive, have them write their name on 3 slips of paper, placing each one in a different basket; you should then have 3 baskets, with each persons name one time in each basket.
Display gifts in one location, have each guest, "Vanna White" or show off, talk up, why it's their favorite thing. Once everyone has shown off their item…
…pick one name out of basket #1; that person gets to go and "shop" from all of the gifts.
Repeat until all of the names have been picked from the 1st basket, then repeat with the 2nd basket on round two and then round 3.
NO stealing, no pressure just going home with three beautiful new items…um what's not to love about that idea!?!
You'll do three rounds of "shopping" as you repeat from the 2nd set of names, and so on and everyone will go home with 3 new favorite things.
*When I hosted my party, I waited until the very end and took the last three items, Erin chose her item at the end of each round, or throw your name in each basket and pick when your name is pulled!
MORE FAVORITE THINGS PARTY IDEAS
Ask someone to compile a list of each item with the following information:

Who brought each item
What they brought (including branding)
Where they purchased it and anything special about it.
Send the list to everyone after the party, and maybe even to those who weren't able to make it.
If they want to purchase an item, they will have all of the information

If someone is tight on finances, encourage them to bring what they can afford; then they place their name in the number of baskets correlating to the number of items brought.
Make it a potluck! We brought appetizers, desserts and our hostess supplied, wine, beer, drinks and water! YUMMERS!
Take pictures! Girls are funny, a little competitive, and so much fun, what fabulous memories!
Dedicate a table, hearth or counter to display the gifts in an area where you can all see and sit near.
INVITATION LIST IDEAS
Your invite list doesn't need to be from one specific group; the one I hosted with a friend last Christmas was with my scrapbooking group, book club friends, my co-hosts school friends and some church friends and neighbors; we had a blast!
Marnie and I have a special bond, we both started MOPS about the same time, both pregnant with our second and due within a few weeks of each other, only to discover we had the same OB!
I was due after her, but because of complications with my first pregnancy and a new hospital that recently opened (where she wanted to give birth), I was scheduled for an induction before her!
I hope she's forgiven me for that! Anyway our kids are just a day apart and only because the Dr. couldn't be two places at once!
Here is a list of gift ideas from our most recent party; some great, creative items on this list!! Host your own and email me letting me know how much fun you had!
I came home with three, but have to tell you I've since ordered most of the other items!!
My Favorite Things – Summer Edition!
Do you have products that you just adore? Here are a few of mine, I use most of them daily!
These Milkhouse Creamery Candles are my favorite candles! Made with soy wax infused with beeswax, paraffin free. They burn a long time and the scents are amazing, this Cup O' Joe is delicious! I haven't smelled any that haven't been pleasing.
I love these glass LifeFactory Glass Water Bottles, they BPA-free and phthalate-free, dishwasher safe, all important for me! Plus they are cute!
This fun and easy Messy Bun Scrunchie is the perfect answer to a bad hair day, which seems like every day for me in the summer. I wear my hair up most days and sometime you just want cuter hair, comes in all colors and shades.
My very favorite walking shoes! I've been wearing Salomon Trail Runners for about 6 years now and I love them. They are so very comfortable, secure and hold up so well. I wasn't born with great feet and these are one of the few shoes that I can be comfortable in for hours.
Recently, I discovered FarmHouse Fresh Goods, and their Honey Heel Glaze is amazing! This sweet, honey-based moisturizer is made just for your heels and toes, using all natural ingredients. This item is no longer available, but I love this brand as well!
Sunburn? Minor burns…this Alba Aloe Vera Gel is amazing and truly takes the sting out of a burn. A couple years ago I burnt the palm of my hand grabbing the handle of a very hot cast iron pan. YOUCH!
I thought I was going to have to go to the ER, when I remembered my Aloe Gel, I soaked some gauze with the gel and wrapped my hand in it; by morning the burn was gone!! Both the sting and the blister! Soothes minor burns, sun burns, irritations and dry skin, calms touchy, irritable skin.
LaVazza coffee beans, have you tried their beans? Mmmm good, delicious for a Cafe Crema! I mix a bag of regular with a bag of decaf, for a beautiful half-caf bean blend.
And lastly, I love this nourishing lip tint by IT Cosmetics.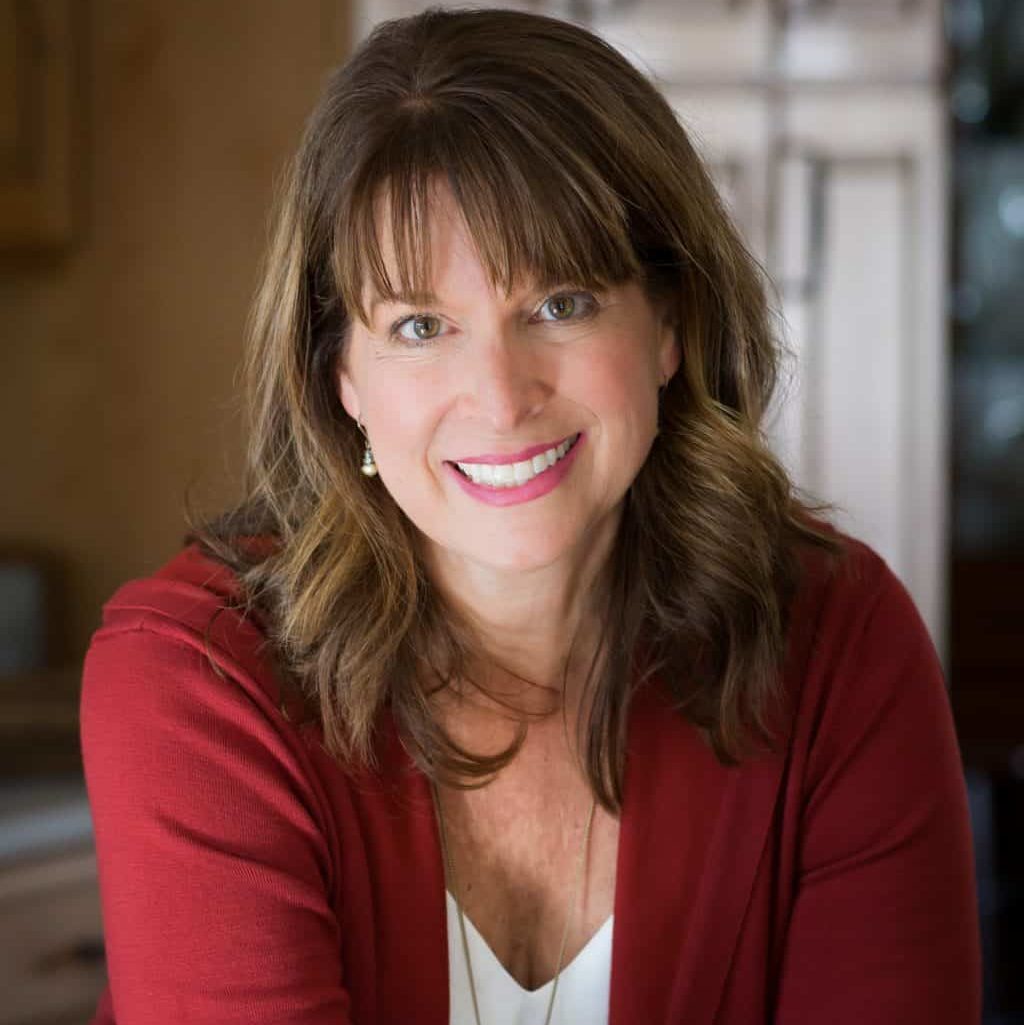 About Kathleen Pope
Recipe Innovator | Food Photographer | Food Writer
Hi, I'm Kathleen Pope. Here at The Fresh Cooky you will find easy, mostly from-scratch, trusted recipes for all occasions. From speedy dinners to tasty desserts, with easy step-by-step instructions. I am here to help teach you how to make mouthwatering recipes without spending hours in the kitchen. Read more about Kathleen here.