Buttermilk Ranch Dressing
As an Amazon Associate, I earn from qualifying purchases. Please read my disclosure policy.
There is nothing better than a good restaurant buttermilk ranch dressing, but with this recipe for homemade buttermilk ranch dressing you can make your own, better! This creamy dressing is loaded with fresh ingredients and is perfect for salads, dips, or even slathering on sandwiches and burgers.
Garden fresh buttermilk dressing loaded with fresh veggies and herbs, creamy and light with real buttermilk, Greek yogurt and quality mayo. It whips up in minutes and keeps fresh for days in the fridge.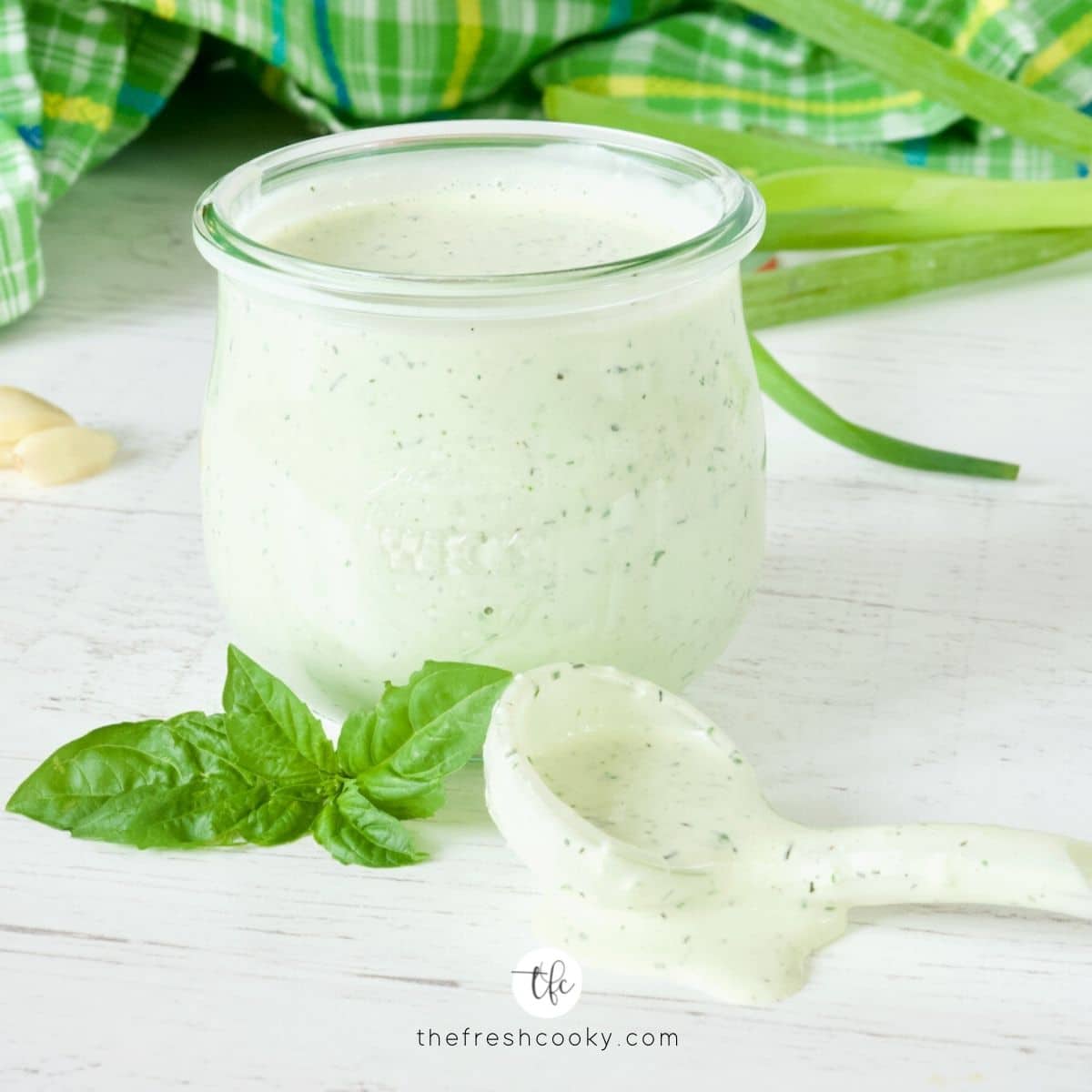 I used to make this ranch dressing all the time, not sure why I stopped (life probably), but I made it again the other day and was reminded why this homemade buttermilk ranch dressing outshines store bought ranch dressing.
I was making this Cobb Salad recipe for new parents (with twins) and they didn't like Blue Cheese. This restaurant ranch dressing recipe paired perfectly with the salad, you can use this on any salad, it is also fabulous as a ranch dip for vegetables, chips or dip these out of this world fresh zucchini corn fritters into, and slather on this Buffalo Chicken.
This recipe is originally from an old Ina Garten ranch dressing recipe, that I modified slightly, so run, don't walk and gather these simple ingredients.
Ingredients
Check out these garden fresh ingredients! The measurements and how to are in the recipe card at the bottom of the post.
Green Onions | Also called Scallions, use both the white and the green part for this recipe.
Basil Leaves | Adding fresh basil leaves provides a huge all natural flavor lift, mine are home grown which is why you see some holes in there, darn bugs!
Dill | Dill gives it the distinctive "ranch" dressing taste. Fresh dill is the best, but I couldn't find any, so dried works as well! This is my addition to Ina's recipe, ranch always tastes better with dill (in my opinion).
Lemon Juice | Fresh squeezed is always best, adding a natural preservative and brightness to the recipe.
Dijon Mustard | You won't find dijon in many recipes for buttermilk ranch dressing, but adds great depth to the recipe.
Olive Oil | Just a touch, helps in binding all of the ingredients together.
Garlic | fresh garlic is best here.
Kosher Salt and Black Pepper | staples of course
Mayonnaise | A good quality mayo please, I love using this Avocado Mayo, creamy, heart healthy and delicious. Do not use a whipped dressing, the sweetness will overpower the rest of the ingredients.
Plain Greek Yogurt | I like using whole fat, cause I'm just that way, but you may use whatever you like, just make sure it's nice and thick!
Buttermilk | For this recipe, real buttermilk is best, not homemade (see below), but it's better than nothing. I used whole fat buttermilk (see above), but you could certainly use low fat.
Instructions
Prep all of your ingredients ahead of time so that this ranch dressing recipe comes together quickly.
Place green onions, fresh basil, lemon juice, mustard, olive oil, garlic, dill, salt and pepper in a food processor (see below if you don't have a food processor), and puree until combined, scrape sides if needed. About 15-20 seconds.
No Food Processor? Add all ingredients to blender and blend until smooth, you may have to use a spatula to move things around.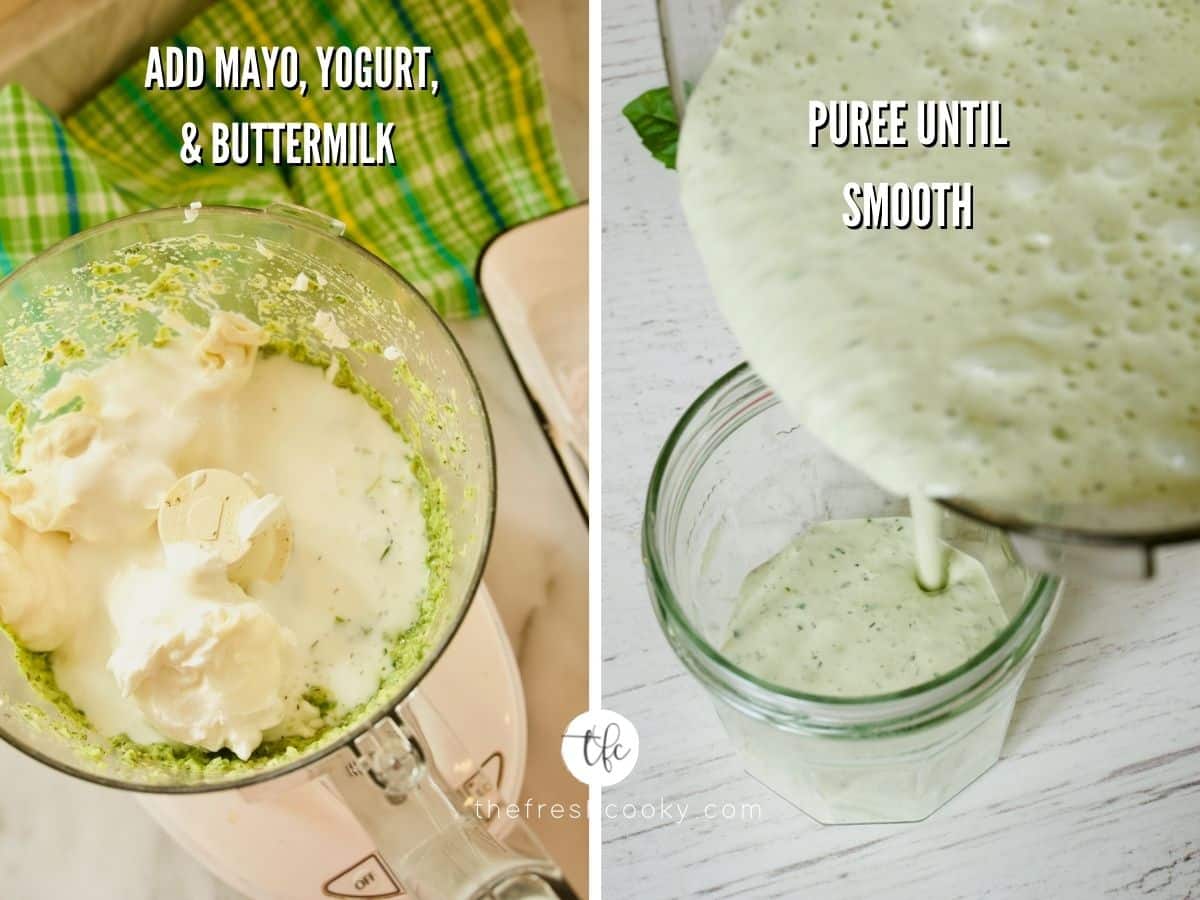 Now simply add the Greek yogurt, mayonnaise and buttermilk, whirring it until smooth and pureed, about 20-30 seconds. Pour into your favorite jar(s) or container.
Pour dressing into one or multiple containers, cover and refrigerate for at least one hour* before using.
*HINT | You can use this buttermilk ranch right away, but the flavors will be somewhat blah, after one hour is good, after several hours or a couple days is WOW!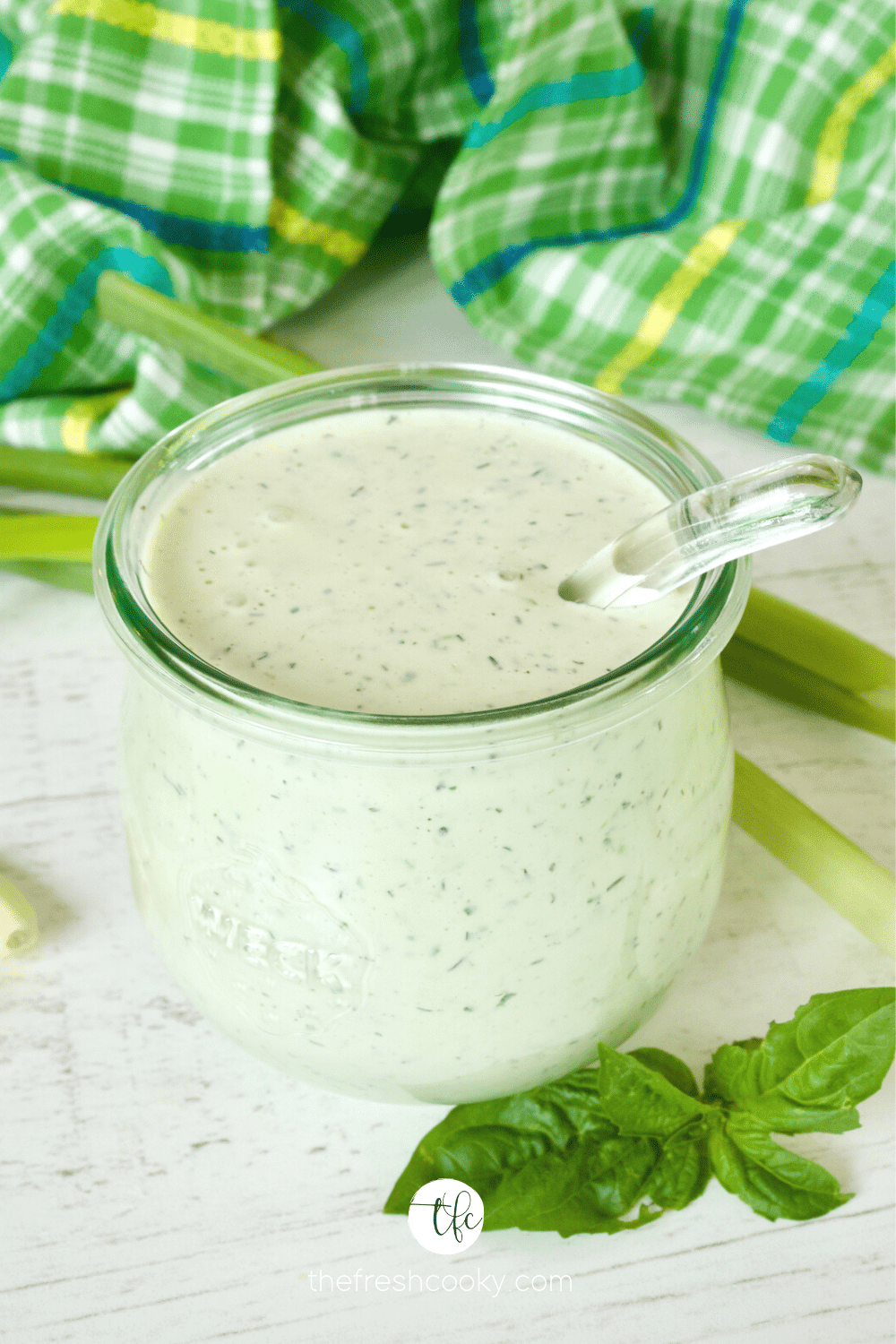 Substitutions
This recipe is naturally gluten free and low carb since it uses all natural full fat buttermilk, yogurt and mayo.
Dairy Free Vegan Ranch Dressing | Replace mayo with vegan mayo, replace buttermilk with any plant based milk, add 1 ½ teaspoons apple cider vinegar and if desired, replace Greek yogurt, with plant based yogurt.
Replacing Fresh Herbs | Fresh is best, but in a pinch replace with the following dried herbs:

Basil | replace with 1-2 teaspoons dried basil
Garlic | replace with 1 teaspoon garlic powder or 2 teaspoons of garlic granules
Dill | replace with 1 teaspoon dried dill or 2 teaspoons fresh dill
How many carbs in ranch dressing?
This dressing is so beautiful and perfect for keto and low carb diets, as it has 0 (zero) net carbs! You read that right! Enjoy this creamy, delicious ranch dressing with buttermilk today!
Variations
I have made this recipe so many different ways, some ideas below, let me know your favorite!
Chipotle Ranch Dressing | Add the following for a luscious spicy, chipotle ranch. 1-2 chipotle peppers in adobo sauce (NOT the entire can), 1 tablespoon fresh lime juice, puree with other ingredients.
BBQ Ranch Dressing | Add ¼ – ½ cup of your favorite barbeque sauce for a delicious, smoky ranch.
Buffalo Ranch Dressing | Add 2-3 TBL of Buffalo Wing Sauce, Mmmm, good!
Cilantro Ranch Dressing | ½ bunch of washed cilantro, 1 jalapeno diced, juice from 1 lime, mix in food processor until combined.
Balsamic Ranch Dressing | a personal favorite! 2-3 TBL Balsamic Vinegar!
Recommended Equipment
Storage
Store your homemade buttermilk ranch dressing in the fridge, in a sealed jar or container, best when used within 1-2 weeks, though I have kept it longer.
I do not recommend freezing this recipe, but you could certainly halve the recipe if it makes too much for your family, or share some with a neighbor, they will love you forever!
TFC Top Tip
Use fresh ingredients for this recipe, the flavor is superior to other dressings and tastes even better than any restaurant ranch dressing recipe, I promise it is easy and it will become your favorite too!

The Fresh Cooky
More Fresh Recipes
If you love a fresh, homemade dressing, you will love these dressings (and salads that go with them!)
Please follow me and share on Pinterest, Instagram, Facebook and Twitter!
Like this recipe?
Don't forget to give it a ⭐️⭐️⭐️⭐️⭐️ star rating and comment below the recipe!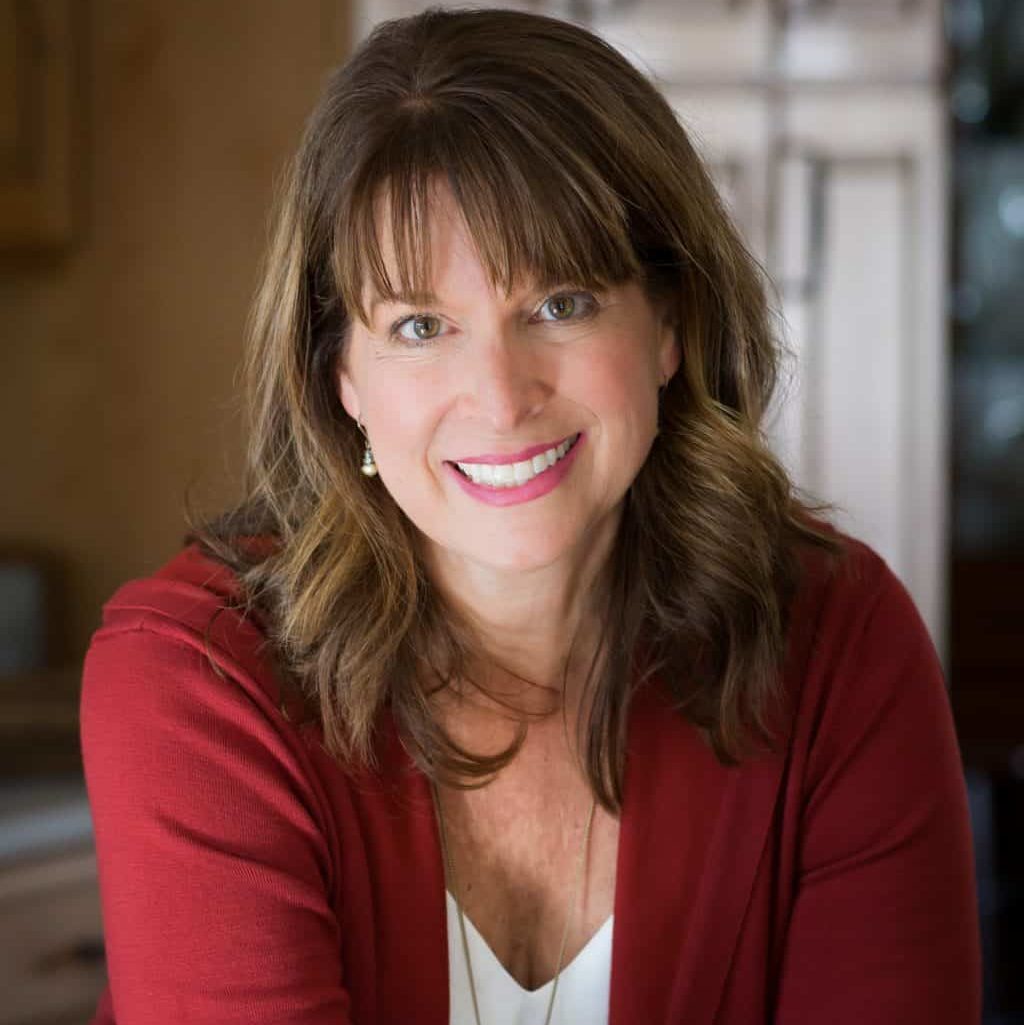 About Kathleen Pope
Recipe Innovator | Food Photographer | Food Writer
Hi, I'm Kathleen Pope. Here at The Fresh Cooky you will find easy, mostly from-scratch, trusted recipes for all occasions. From speedy dinners to tasty desserts, with easy step-by-step instructions. I am here to help teach you how to make mouthwatering recipes without spending hours in the kitchen. Read more about Kathleen here.