Toss out that store bought sweet and sour cocktail mixer; this flavorful recipe for a Maple Whiskey Sour is amazingly simple and delicious, with the sweet, earthy addition of maple syrup it adds a brilliant fall taste.
MAPLE WHISKEY SOUR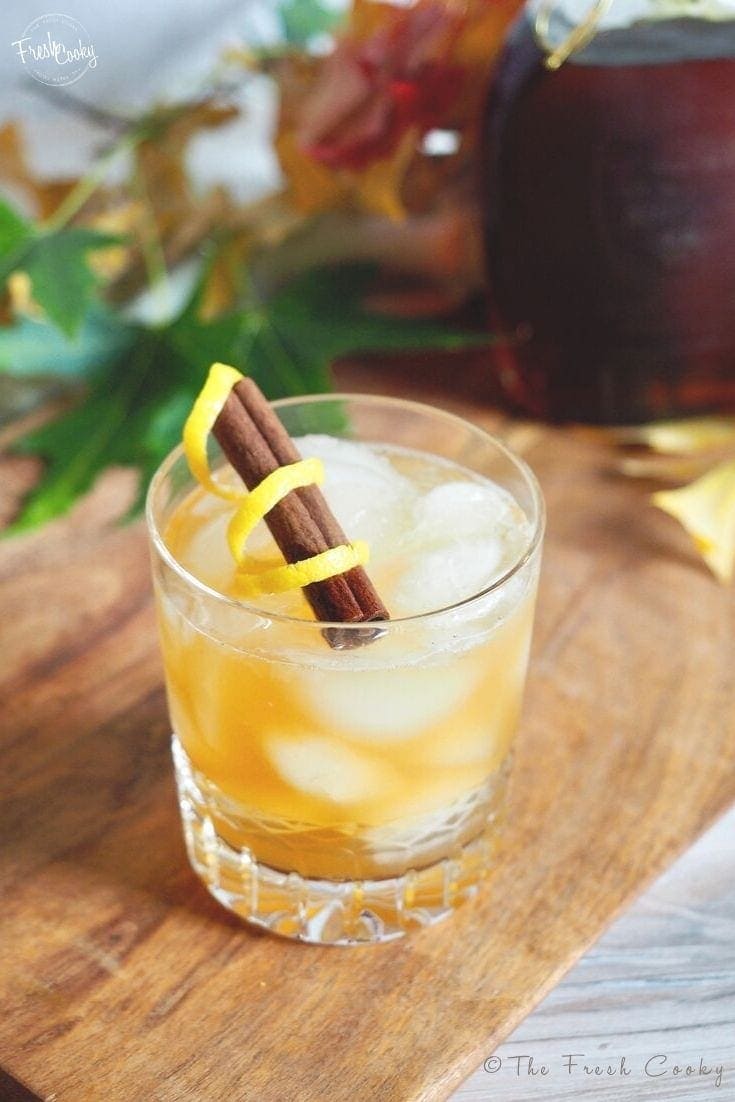 JOIN THE FRESH COOKY ON PINTEREST
My husband and I have found a new appreciation for whisky/bourbon/rye, I cannot tell you the differences, but I have to say, I kind of like the stuff, not neat (by itself), but in a cocktail. I cannot drink more than one…which is just fine, I don't need the headache nor calories for that matter!
The recipe makes just one and I think they are better individually made, that way you can customize them if someone likes it sweeter or more sour. However; if you think everyone would like it just like you do, by all means double, triple or quadruple the recipe! Just make sure you have a mason jar big enough.
This post is for 21+ adults ~ please drink responsibly.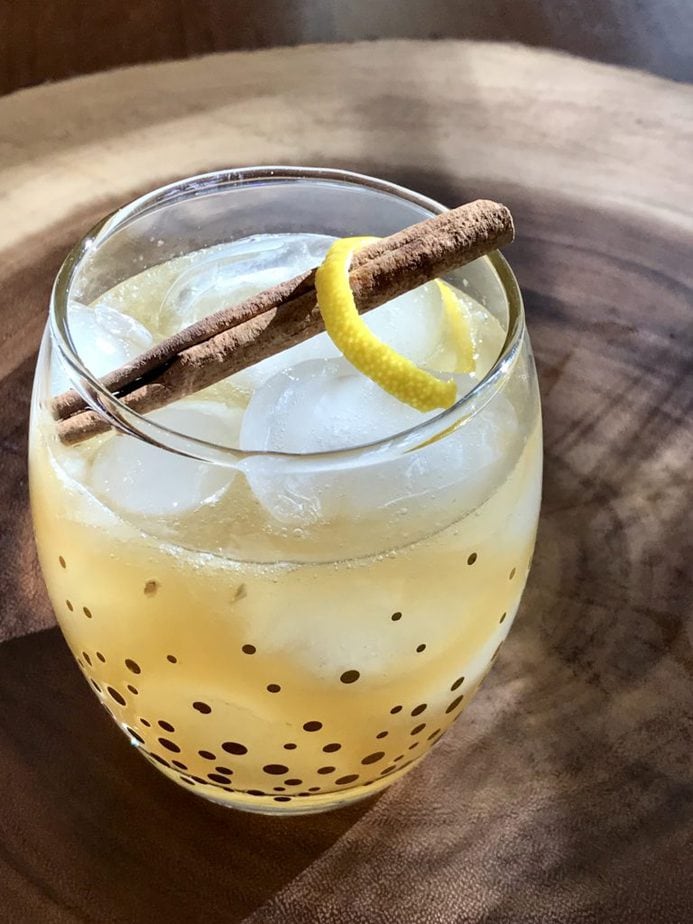 Start with a mason jar with a lid and fill it ⅔ full with ice. Or use a cocktail shaker, if you like, I gave mine away years ago, because once I would (finally) get the lid on, I usually couldn't get it off! And it's a little embarrassing drinking your drink through the strainer of a shaker, plus people don't want to drink after you. Hehe! Honestly, it's just as easy in a mason jar, if not easier, maybe it doesn't look as cool, but I don't really care.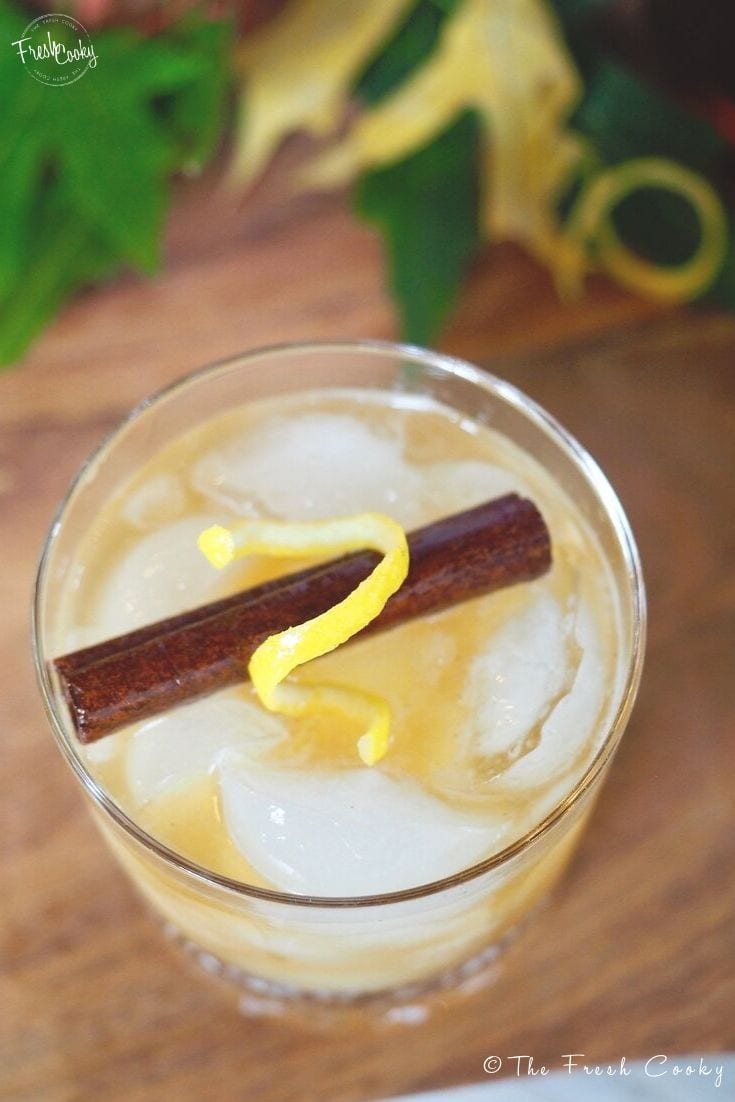 Gather the rest of your ingredients, whiskey, maple syrup, lemon juice, and the optional cinnamon, that's it.
While up in Vail this summer we went to the Sunday Farmer's Market and I splurged and bought this Burtons Maplewood Farm Bourbon Barrel Aged Maple Syrup, (try saying that 10 times fast). It wasn't cheap and doesn't have any alcohol in it, but aging it in the barrels they use to make the bourbon is, well, plain delicious and you can almost drink it straight. But instead I'll use it in drinks, glazed on carrots and maybe I'll even try it on salmon or a glaze on chicken.
GET FREE RECIPES

FROM THE FRESH COOKY DELIVERED RIGHT TO YOUR INBOX!
You do not need to use a specialty syrup, any pure maple syrup will work, however; Trader Joe's sometimes has a seasonal bourbon barrel aged maple syrup.
Start by pouring your bourbon or whiskey of choice into your ice filled mason shaker jar.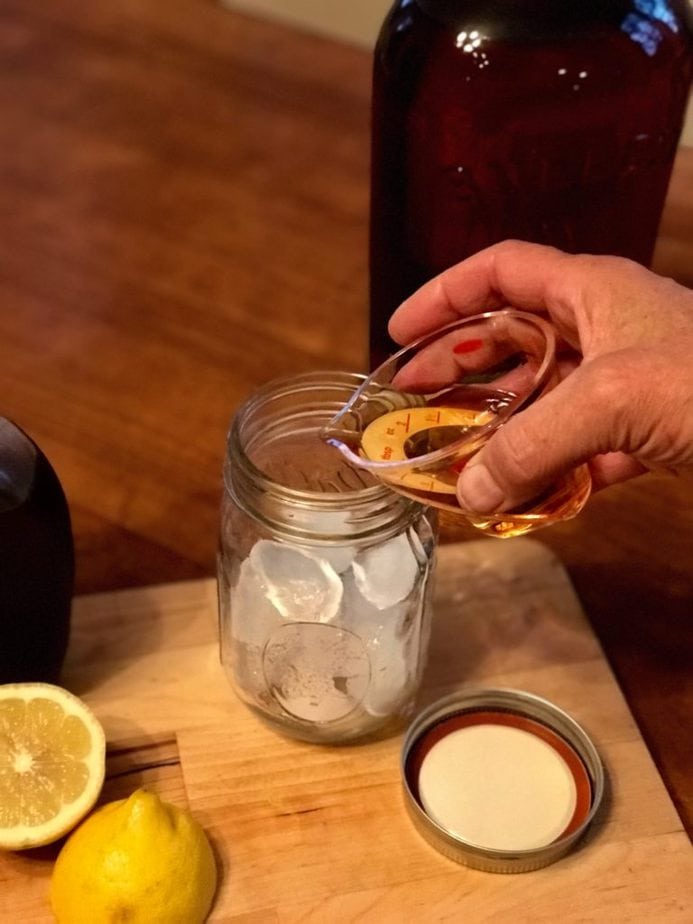 Next add your lemon juice (a little less if you don't like it too sour, but try it this way first), this lemon wasn't very juicy and so it took the whole small lemon to yield slightly over 2 tablespoons, so I just tossed it all in. By the way, I use this small measuring cup ALL the time!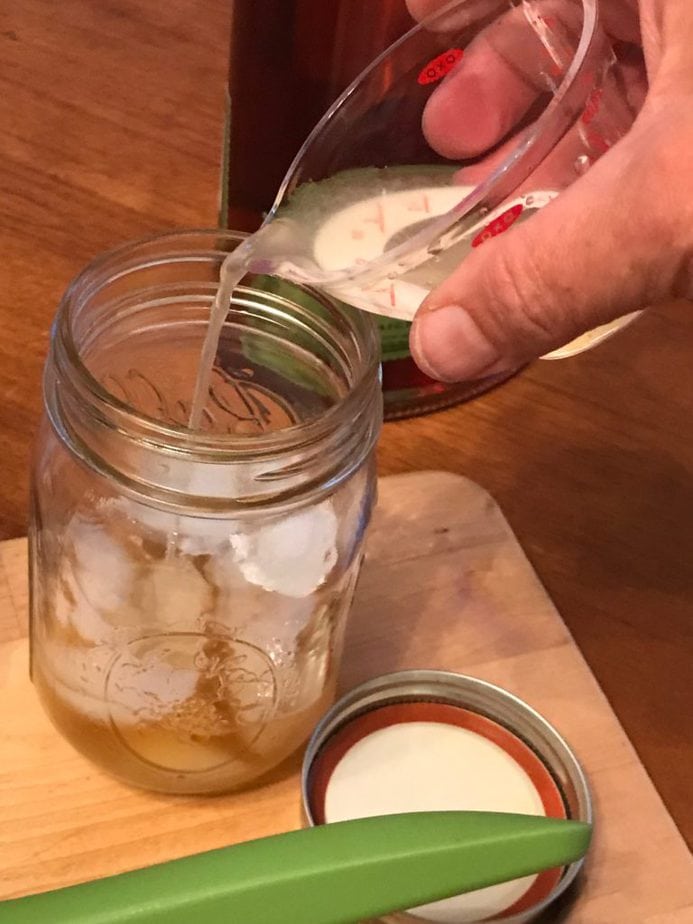 Then add your maple syrup, to taste, between 2-4 teaspoons. I like it at a little over 3 teaspoons.
If desired, add a small shake/pinch of cinnamon, totally optional though.
Now place the lid tightly on top and shake it for 30 seconds or so, I like to shake it a bit longer, as I like some of the ice to melt into the drink, both cooling and diluting it a bit more.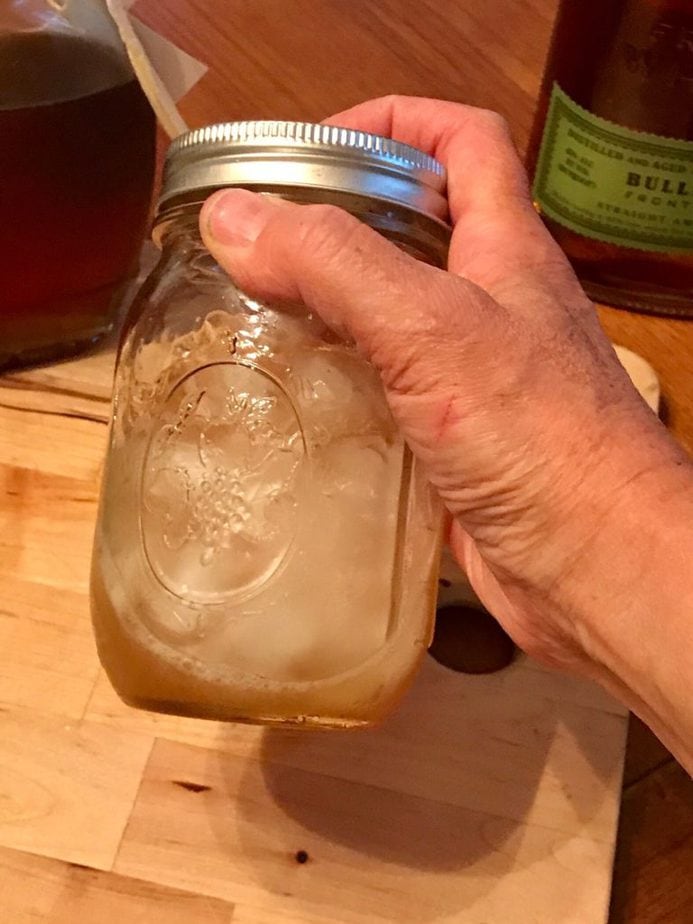 Remove the ring from the mason jar and use the flat top as a strainer and pour the Maple Whiskey Sour over fresh ice in a small glass.
Garnish with a cinnamon stick and lemon peel garnish, again totally optional. Sit in front of a fire, or on a porch swing on a cool fall evening, sip and enjoy this lovely drink!
This tool is how you get a cute little curly-Q of lemon peel, it's typically on a zester and is called a channel knife.
If you enjoy this cocktail, give these other homemade libations a try:
What's your favorite Fall Cocktail? Comment below!
JOIN THE FRESH COOKY ON PINTEREST
Enjoy this recipe for Maple Whiskey Sour? Please leave a comment and rate the recipe in the recipe card.
Hashtag any recipes you make from The Fresh Cooky #thefreshcooky or tag me @thefreshcooky on Instagram to be featured on our stories!
Yield: 1 cocktail
Maple Whisky Sour
Ditch your sweet and sour mix for this delightfully bright and easy to make seasonal Maple Whiskey Sour. Perfect for a crisp fall afternoon, game day and more!
Ingredients
1 - 1/2 ounces bourbon or whiskey of choice
1 ounce fresh lemon juice
2 -4 teaspoons maple syrup, pure (I used slightly more than 3 teaspoons but not quite 4)
Shake of ground cinnamon (optional)
Garnish with cinnamon stick and slice of lemon (optional)
If the drink is too strong or you'd like to extend it, splash in some club soda or your favorite mixer.
Instructions
Fill a mason jar with ice, about ⅔ full. Pour in the bourbon, lemon juice, maple syrup and pinch of ground cinnamon (optional).
Place lid and top securely on mason jar, shake for 30 seconds or so until well mixed.
Remove the ring from the mason jar and using the lid, strain out the ice and pour over fresh ice into small glass.
Garnish with a cinnamon stick and lemon peel if desired.
Nutrition Information:
Yield:
1
Serving Size:
1
Amount Per Serving:
Calories:

140
Trans Fat:

0g
The nutritional information is estimated and may not be entirely accurate, at times it pulls information for suggestions and options which may increase calories, etc.
LOVE WHOLESOME DELICIOUS RECIPES? COME FOLLOW ALONG!
Share a picture and tag it #TheFreshCooky so we can see it.
GET FREE RECIPES

FROM THE FRESH COOKY DELIVERED RIGHT TO YOUR INBOX!