Easy Fresh Peach Dump Cake Recipe
As an Amazon Associate, I earn from qualifying purchases. Please read my disclosure policy.
My Fresh Peach Dump Cake Recipe is just the right combination of fresh peach fruity flavor with that buttery, crunchy good streusel topping. I'll teach you how to make peach cobbler with cake mix making it a delicious dessert perfect for summertime.
Freshly peeled and sliced peaches are what sets my easy peach dump cake recipe apart from the rest. Most bakers use canned peaches in heavy syrup to make this recipe easier. And while the beauty of a dump cake is clearly all about being quick and easy, I must stay true to myself. I mean, after all, I am the FRESH COOKY!
If you have never heard of a dump cake, you are in for a real treat. Dump cakes are just that – grab a baking pan and dump it all in! Dump cakes are one of the easiest desserts. That is what makes this fresh peach cake perfect for a fall day or the busy holiday season (frozen peaches work great too!).
If you love summer fresh fruit, try my Peach Bundt Cake, Blueberry Pancake Bundt Cake, this fresh Iced Peach Green Tea Lemonade or this Old-Fashioned Rhubarb Cake.
Why You Will Love this Recipe
Dump Cake Easy | Fast and simple, the ingredients are straightforward for this tried-and-true method for baking.
Semi-Homemade | Using a box mix may seem like a shortcut. But really, the mix is only used to make a crunchy golden topping.
Fresh Fruit | Fresh fruit lends a texture and flavor to any recipe you simply do not get in canned fruit fillings.
I love a good crumble topping or streusel topping recipe- no matter what you call it. If you are nodding in agreement, try this breakfast recipe for Panera Pumpkin muffins, or perhaps try making your own Starbucks Copycat Coffee Cake.
Adding fresh fruit rather than peach pie filling allows the baker to control the amount of sugar in this peach crisp recipe, and let's face it, it's so much better!
Simple Ingredients
Ingredients, directions and nutritional information in the printable recipe card at the end of the post.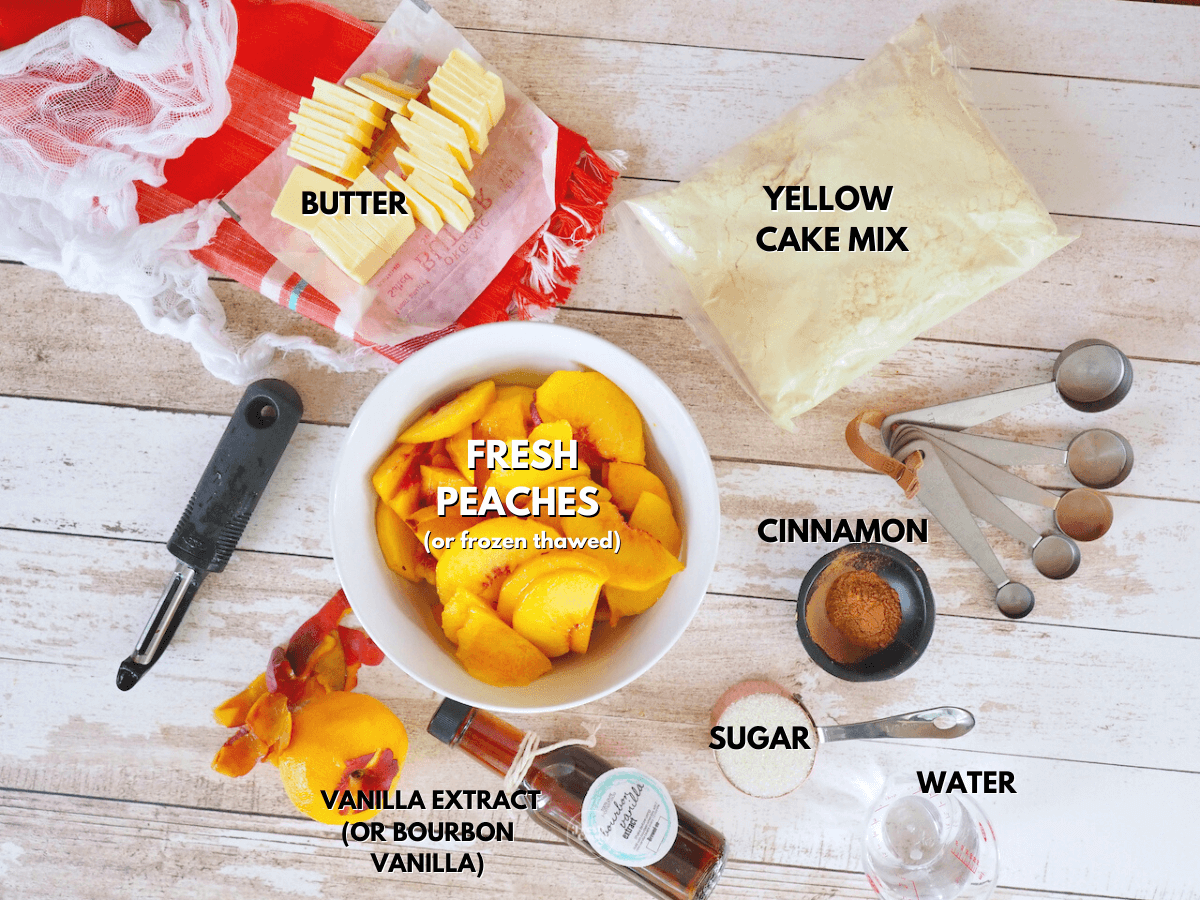 Ripe Peaches | Four peeled and sliced fresh peaches will fill this pie with a juicy fruit flavor, add even more for a juicier peach dump cake recipe.
Sugar | Regular granulated sugar macerates the juicy peaches a bit and brings out the flavor, you can also use half regular and a little brown sugar.
Vanilla Extract | Umm… Peach and bourbon… yes, please. You can use either vanilla extract or bourbon vanilla extract like I used.
Cinnamon | Cinnamon is an optional ingredient, but fall isn't complete in my book without a healthy dose of the warm spice!
Yellow Cake Mix | Use your favorite box of yellow cake mix from the grocery store. You can also use white cake mix or vanilla box cake mix on top of the peaches.
Butter | Thinly sliced butter placed on top of the cake mix is what makes the crunch in the golden streusel topping. I use salted butter, if you choose to use unsalted butter, stir in ¼ teaspoon of salt into the dry cake mix.
How to Garnish Peach Cobbler
Garnish your dump cake with fresh sliced peaches, a scoop of ice cream, homemade whipped cream, or a drizzle of rich caramel sauce and don't forget a little bit of fresh grated nutmeg!
Oh, and while you are at it, see my tip for how to make Maple Bourbon Whipped Cream (below and in recipe card). You will not regret it!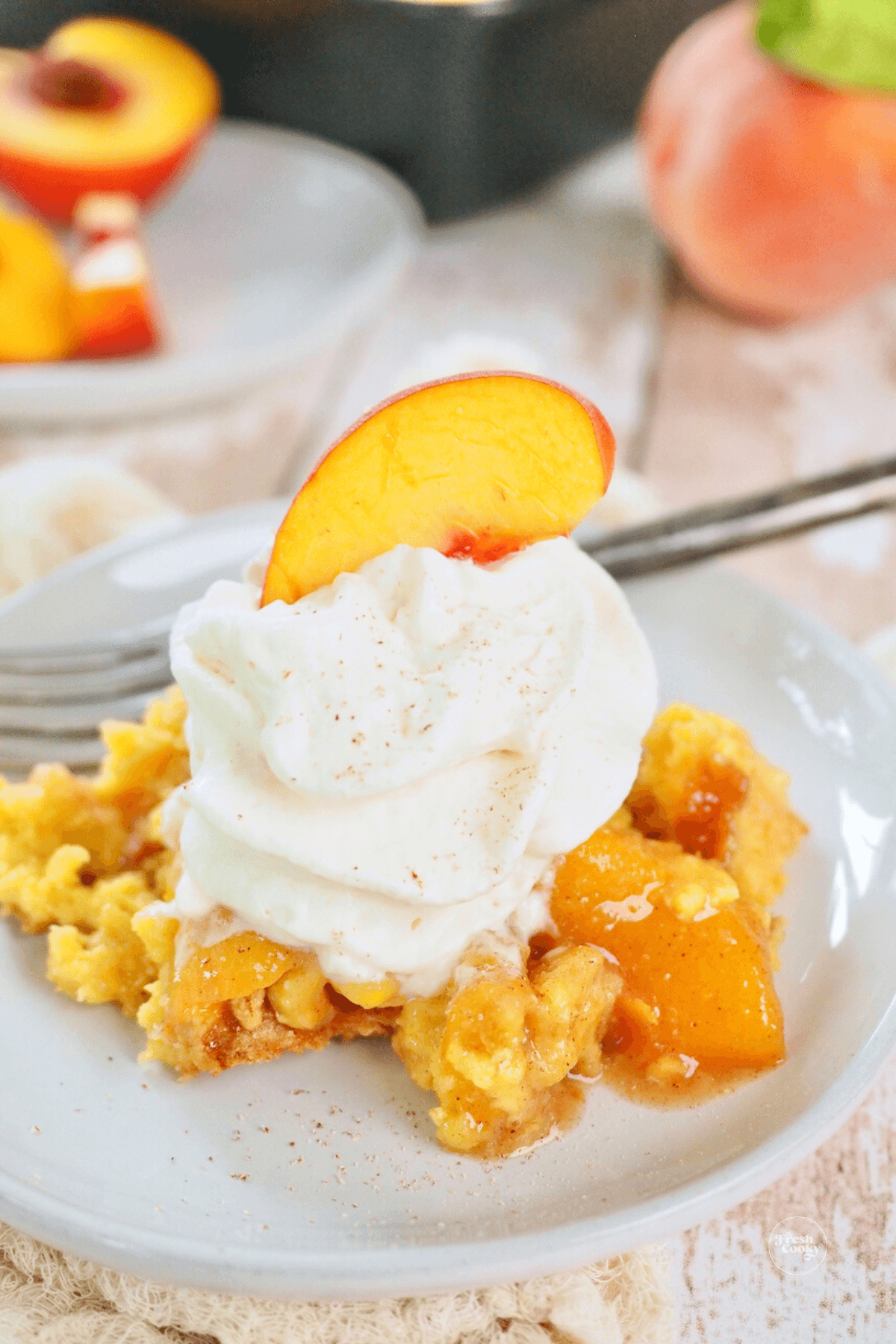 How to Make Peach Cobbler with Cake Mix
Get the oven started preheating and spray a baking dish or casserole dish with cooking spray or grease the pan. You can choose either a 2-quart baking pan or a 9×13 dish. The larger will yield a thinner cobbler, feeding a few more people.
Step 1 | Prep the Peaches
Take out a large mixing bowl and begin making the batter. Combine the peach slices, sugar, cinnamon, vanilla, and water, and toss them all together. Once the peaches are covered, allow them to sit for a couple of minutes as the liquid forms a slurry.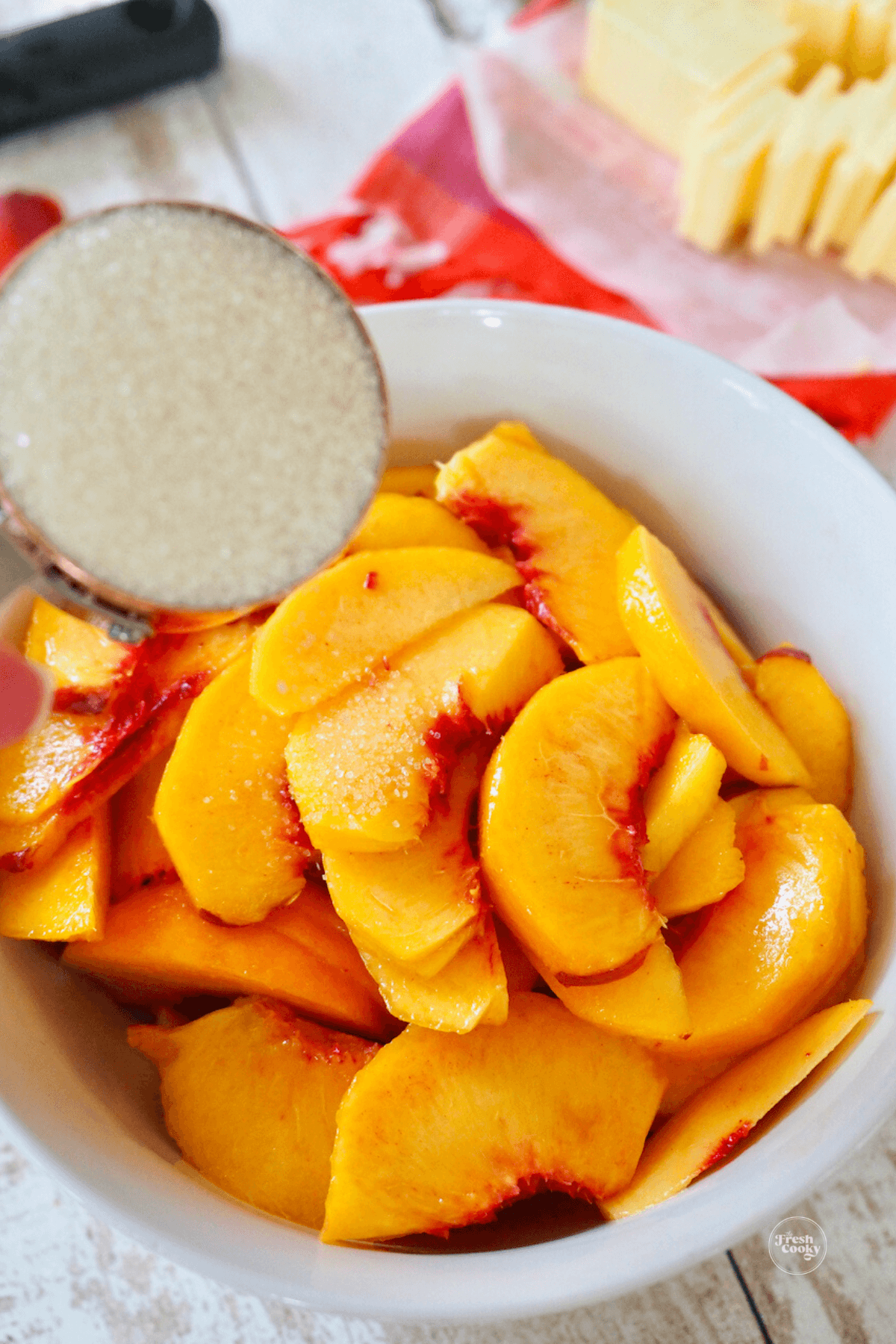 Then it is as easy as placing the peach filling in the prepared baking dish spoonful by spoonful.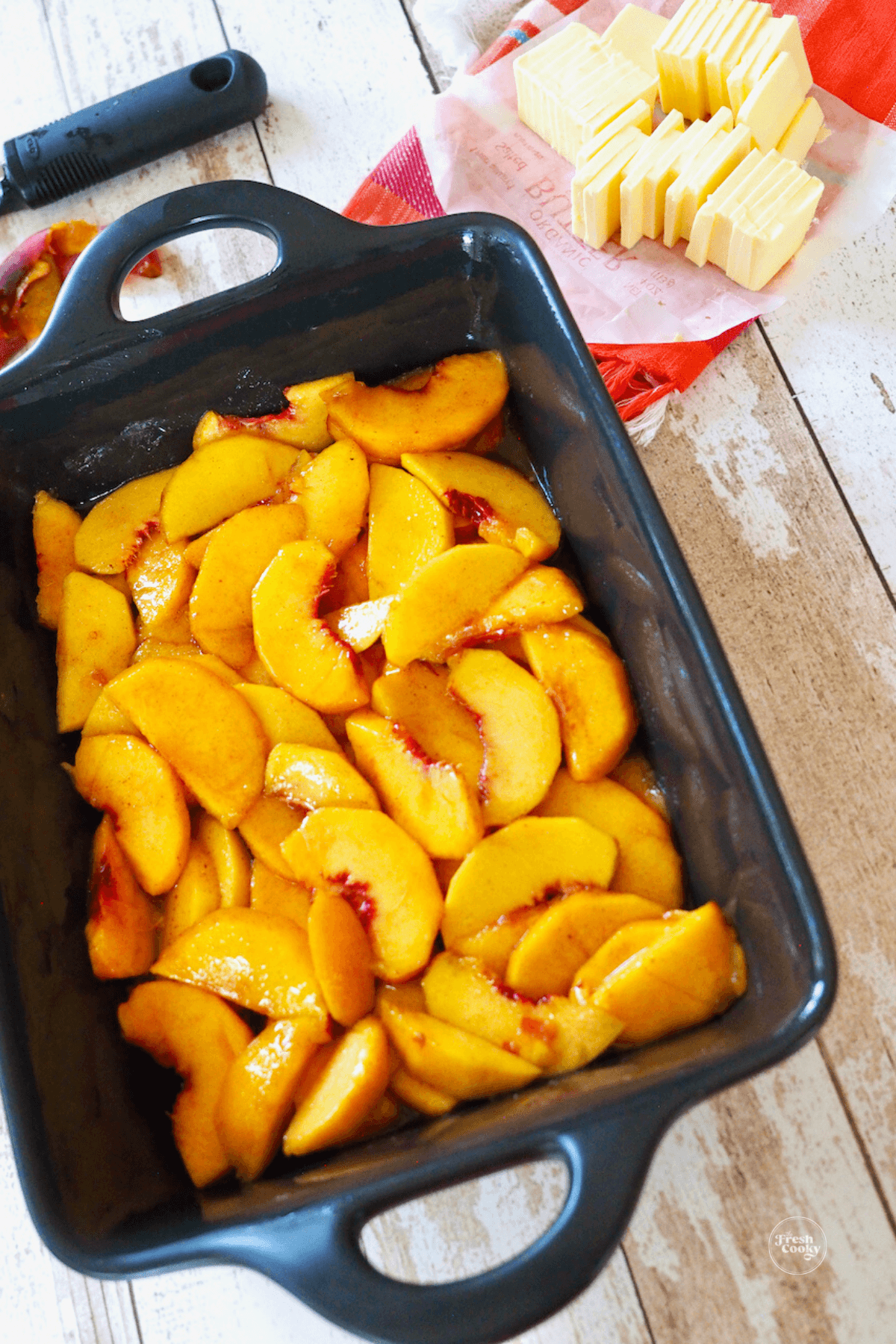 Step 2 | Make the Streusel Topping
Intimidated by the idea of "streusel"? Remember, this is an easy dump cake.
All you need to do is pour or sprinkle dry cake mix all over the top of the peach filling until all the peaches are covered.
Then use your fingers to even out the crumbles of cake mix and ensure no peaches can be seen.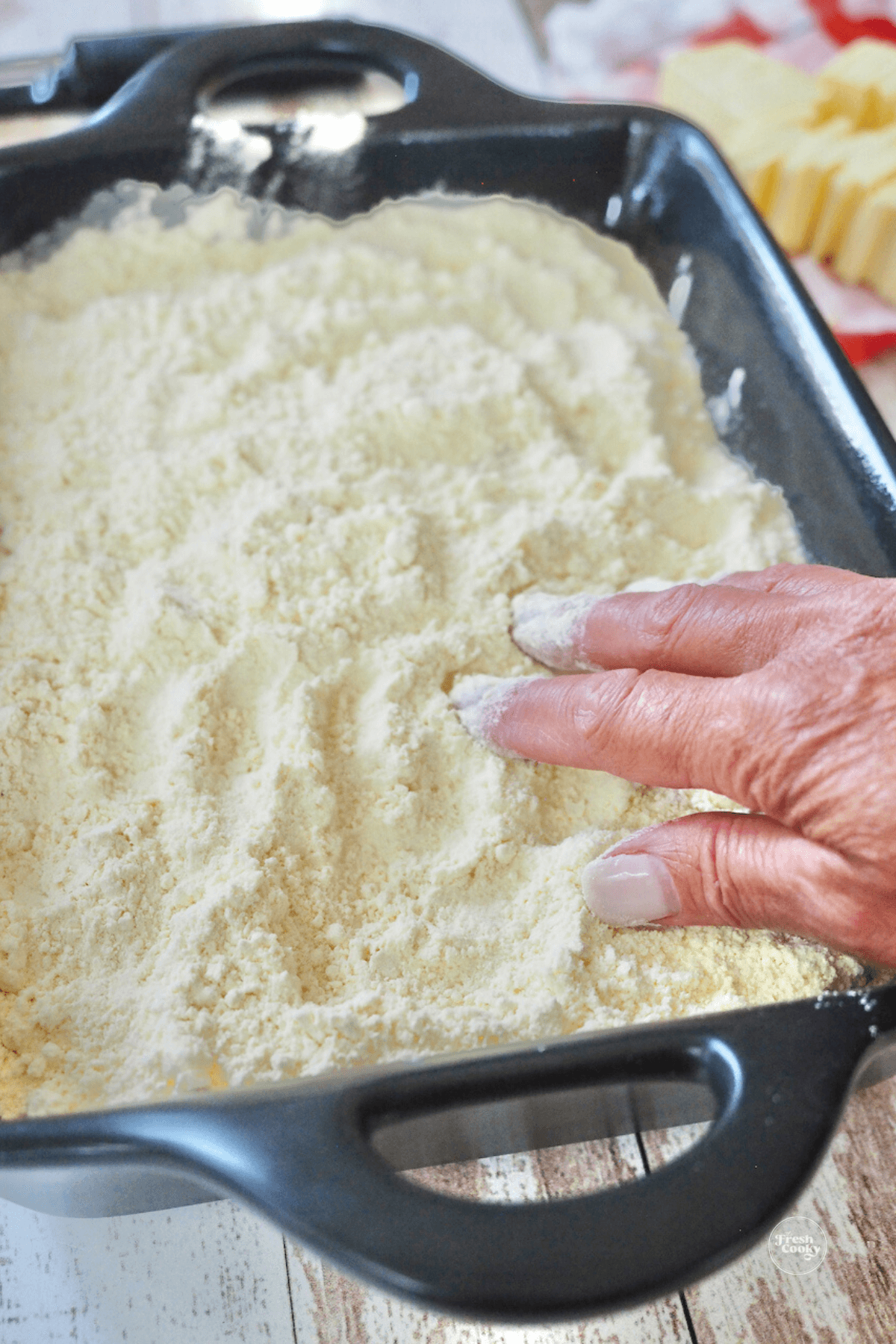 Step 3 | Layer on the Golden Butter
Set aside 2 of the sliced pats of butter for later. Then evenly place butter pats over the peachy cake mix. You can also use melted butter if you prefer, but I find for this dump cake it covers all the dry cake mix easier.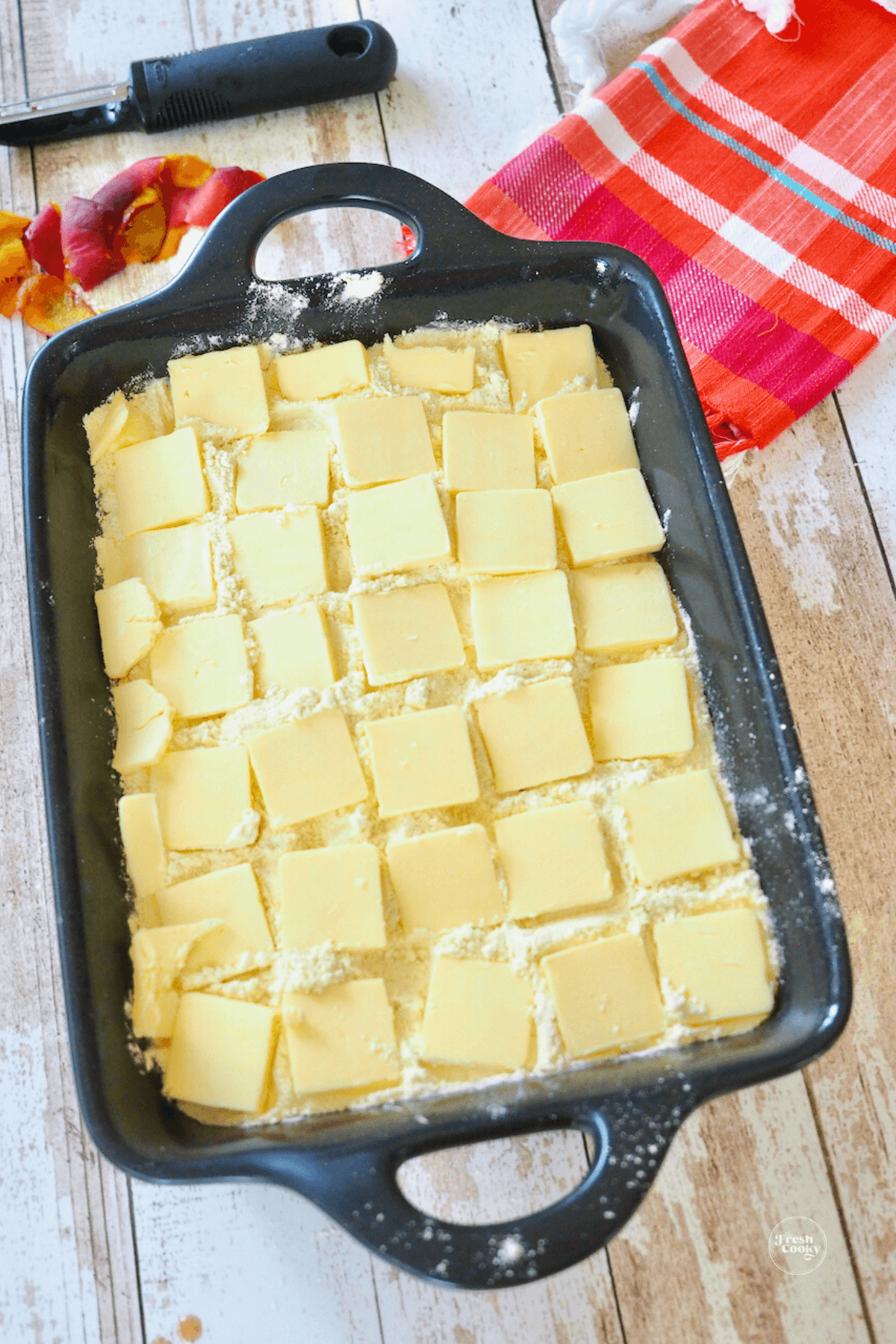 Then when the peach streusel is halfway done baking, take a look and see if there is any dry cake mix left. That is what those 2 pats reserved are for. You want all the cake mix buttery good and golden brown delicious.
Step 4 | Bake the Cake mix peach cobbler recipe
Now, into the oven, the cake goes until it is golden and bubbly, with peaks of peach juice coming up the sides of the dish. When it is finished baking, remove the pan and let it cool a little before serving, so it sets up nicely.
Oh my, is that not one gorgeous-looking peach streusel cake?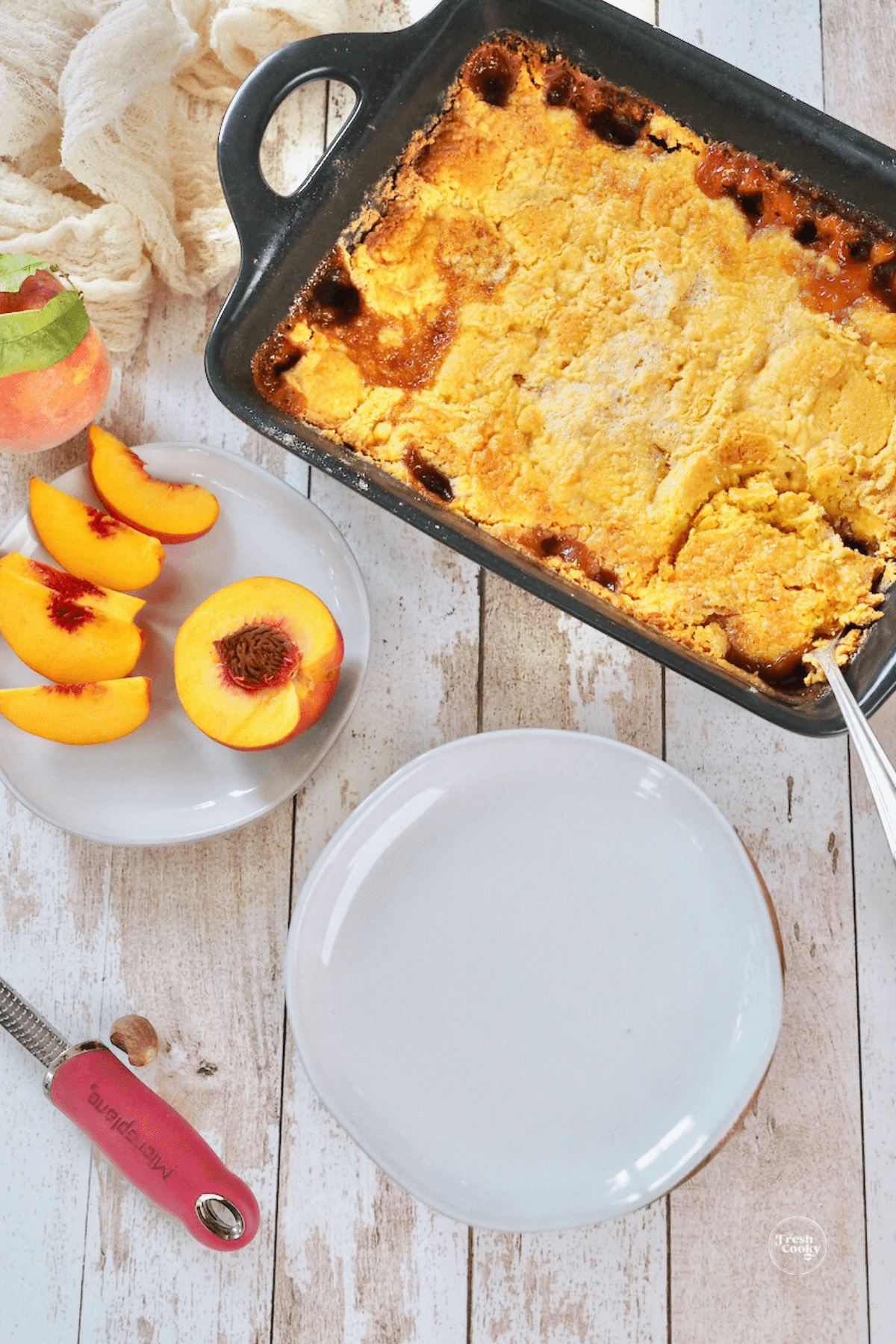 Fresh Tip
A few minutes before pulling out of the oven, do a quick check for the cake mix cobbler and if there are any dry spots, use the reserved butter pats to cover the dry spots on top of the cobbler, return to oven to finish baking.
Serving Suggestions
The easiest way to serve this easy dessert is to allow it to completely cool, as it will stay together when served. That said, we rarely make it there, because who doesn't want to dig into a warm peach dump cake recipe!
Try this recipe cobbler style and serve it warm with a big scoop of vanilla ice cream, grate a little fresh nutmeg on top, and a freshly cut slice of peach.
Or, if peaches and cream are your dream dessert, top the cake with a generous helping of whipped cream, a sprinkle of ground cinnamon or nutmeg, and the slightest drizzle of caramel sauce.
Wait… here is an idea… top either with my Salted Caramel Bourbon Vanilla Sauce!
Too much? I think not.
For Maple Bourbon Whipped Cream
Simply whip the cream until soft peaks form in a bowl or stand mixer. Reduce the speed to low-medium and add maple syrup and bourbon vanilla extract, increasing the speed to high. Then whip the mixture until stiff peaks form.
You're welcome! How will you enjoy this peach cobbler dump cake recipe?
Pro Tips
If you are using canned peaches, ensure they are well drained in a colander before you put them in the sugar slurry — you can probably easily omit or cut back the sugar.
Use frozen peaches! Simply allow peaches to quickly defrost by laying them on a baking tray, then pat lightly with a paper towel.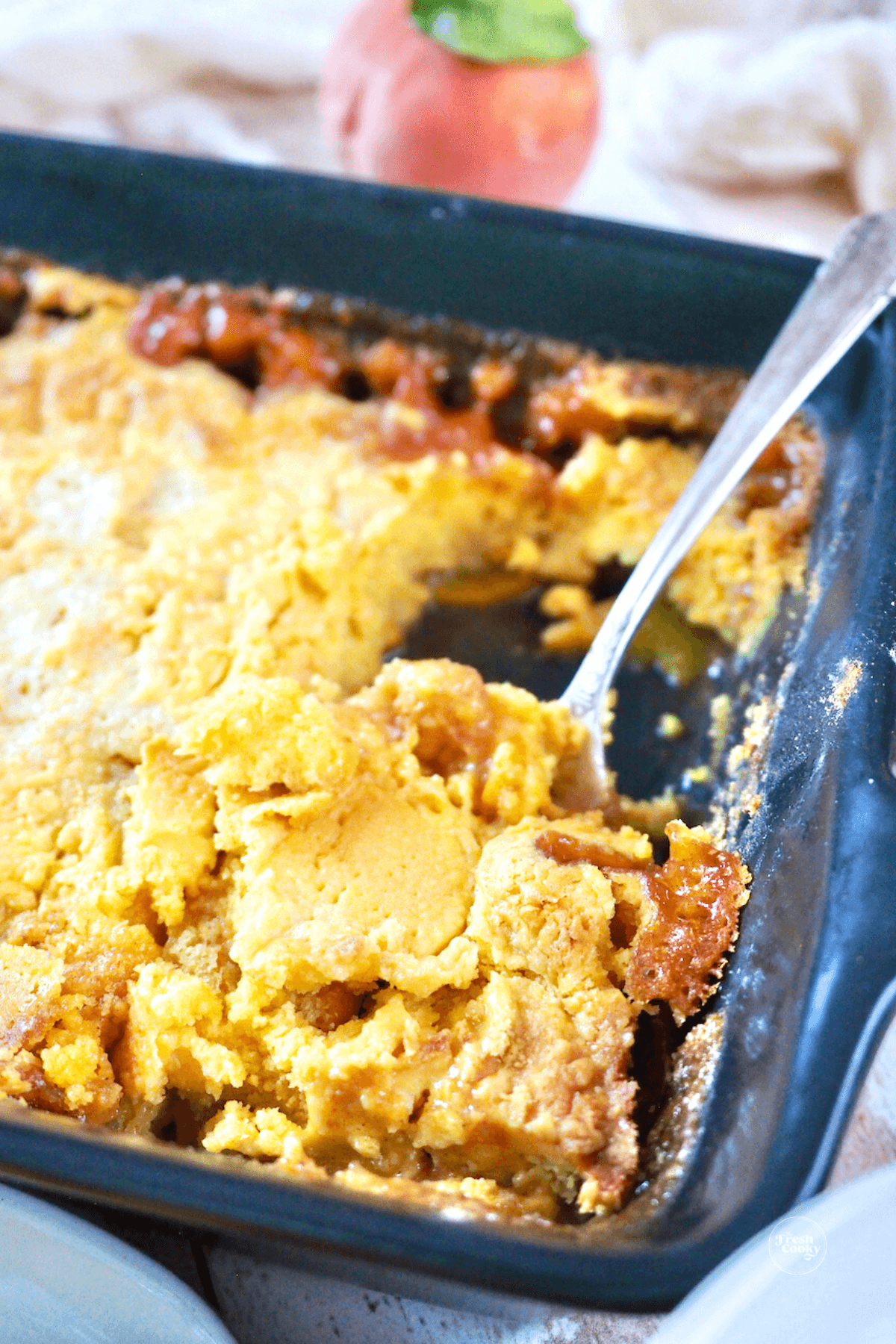 Variations & Substitutions
Nuts about Nuts | Slice almonds, chop pecans, or toast some coconut for more great ways to elevate this peach dessert.
Oat Streusel? Stir in 1/4 cup of oats to the cake mix before you place the butter on top and place it in the oven for a true cobbler topping option.
Not peach season? Try fresh blueberries, sliced or cubed apples, fresh blackberries, or sliced cherries to use the freshest fruits of any season for your fruit filling. Remember that nectarines, plums and apricots would also be delicious!
Really in a rush? Replace fresh peaches with frozen (details in recipe card), or a couple cans of peaches.
Change the Flavor | Use spice cake mix, white cake mix, pineapple cake mix, go crazy with your favorite!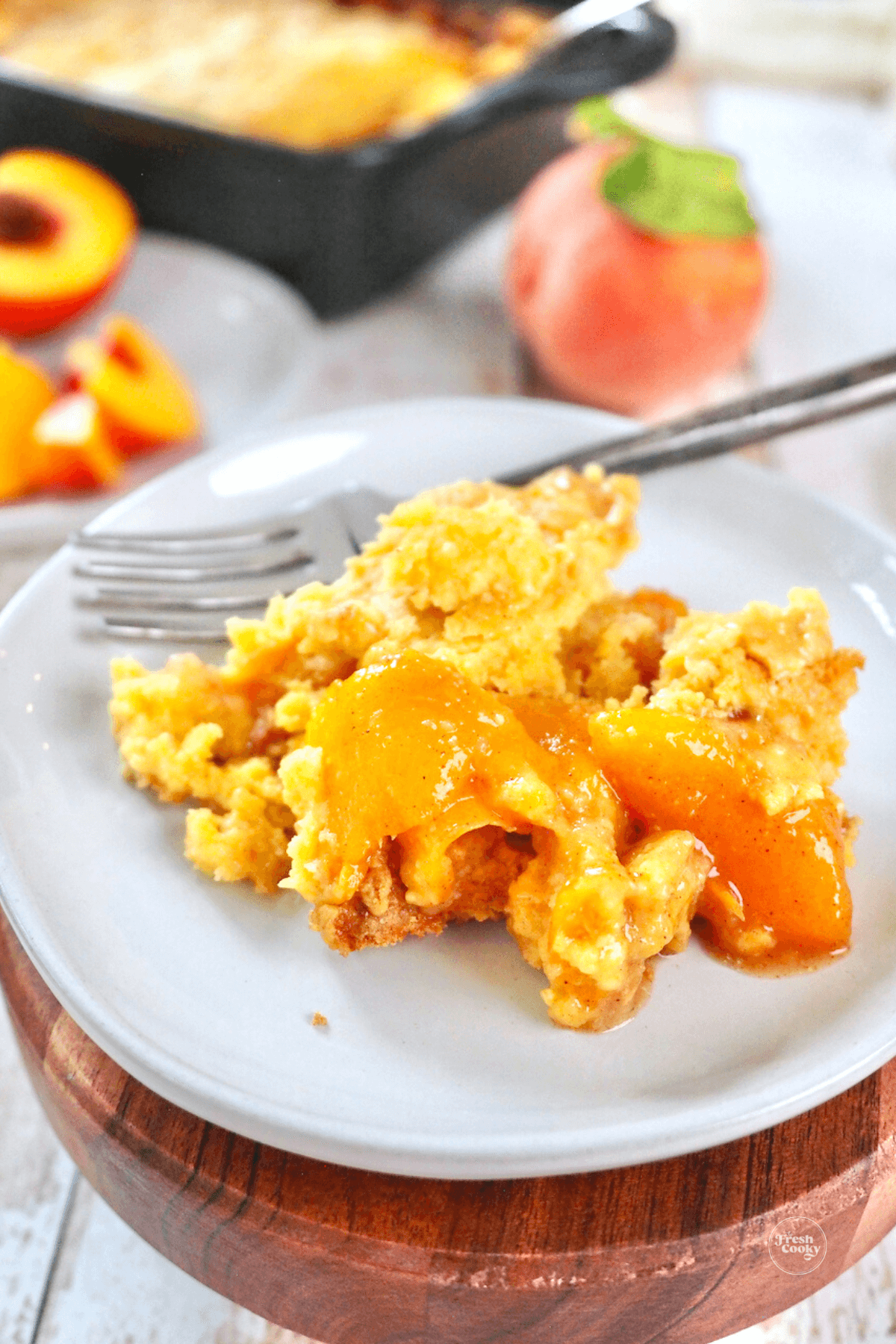 My first cake mix recipe I ever made was a Cherry dump cake, using cherry pie filling, delicious but I am not a fan of canned pie fillings — if I can avoid it, I use fresh or frozen.
Pro Peach Peeling Tip
If your peaches are ripe, then simply peel peaches using a peeler, they will slip off easily.
If peaches are a bit on the unripe side, then try this easy blanching method.
Storage Tips
Store any leftovers in an airtight container or covered tightly with aluminum foil or plastic wrap in the fridge for up to 7 days.
Freeze:
Need to freeze this great dessert for later? Cool it completely and cover it tightly. Then you can freeze it for up to 3 months.
Reheating:
To enjoy again and again, reheat the cake. First, thaw the dish overnight in the fridge and bring it to room temperature before serving.
Then you can remove and heat individual portions in the microwave in 20-second bursts until warm.
Or you can preheat it in the oven set to 325 degrees and reheat for 20 minutes or until warmed through. Just be sure to set a timer or watch, so it does not overcook.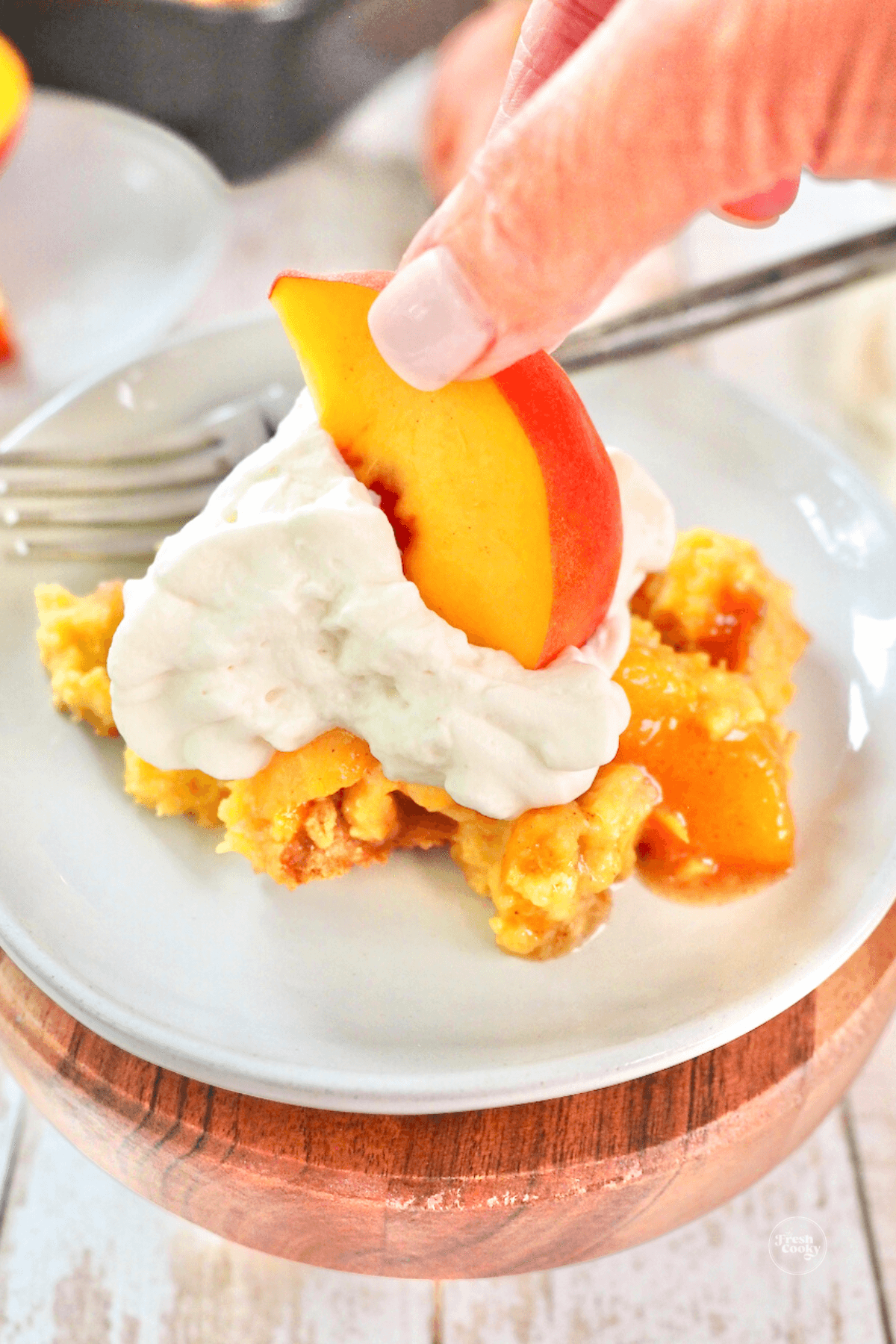 Frequently Asked Questions
Can you make dump cake ahead of time?
Sure! This recipe is all about easy preparation and scrumptious results. So if you want to make it ahead of the day you will be serving, store it in the fridge for two days, reheat and top!
Can I use peach pie filling for dump cake?
I like to think the beauty of my perfect dessert recipe is the fresh fruit. But if you want to use filling, you absolutely can. If a true pie filling vs. canned peaches, omit sugar and water, but still add cinnamon and vanilla, proceed with recipe.
How do you store peach dump cake?
Once it's cooled completely, cover with plastic wrap and store in fridge. When ready to rewarm, place single servings in microwave and reheat for 20-30 seconds and enjoy.
Is dump cake supposed to be mushy?
The top of the dump cake will form a nice crust, but underneath it will be soft or I suppose mushy if you will. But I can almost guarantee that you will count this among your top peach desserts.
More Easy Dump Cake Delicious Desserts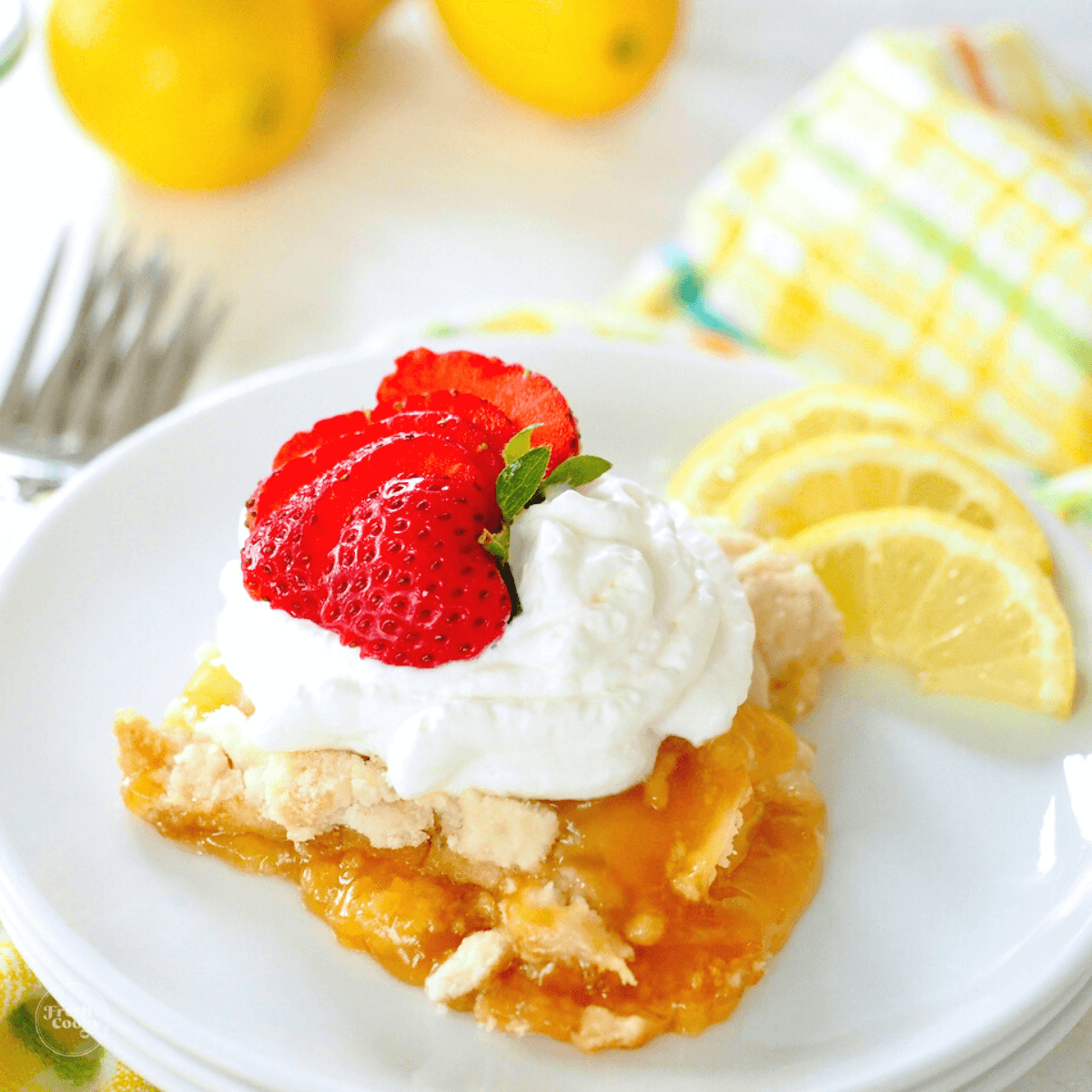 Simple Dessert Recipes for the Whole Family
Fresh peaches are the best for this easy peach cobbler recipe, but use what you can get your hands on, be it fresh, frozen or even a can of peaches!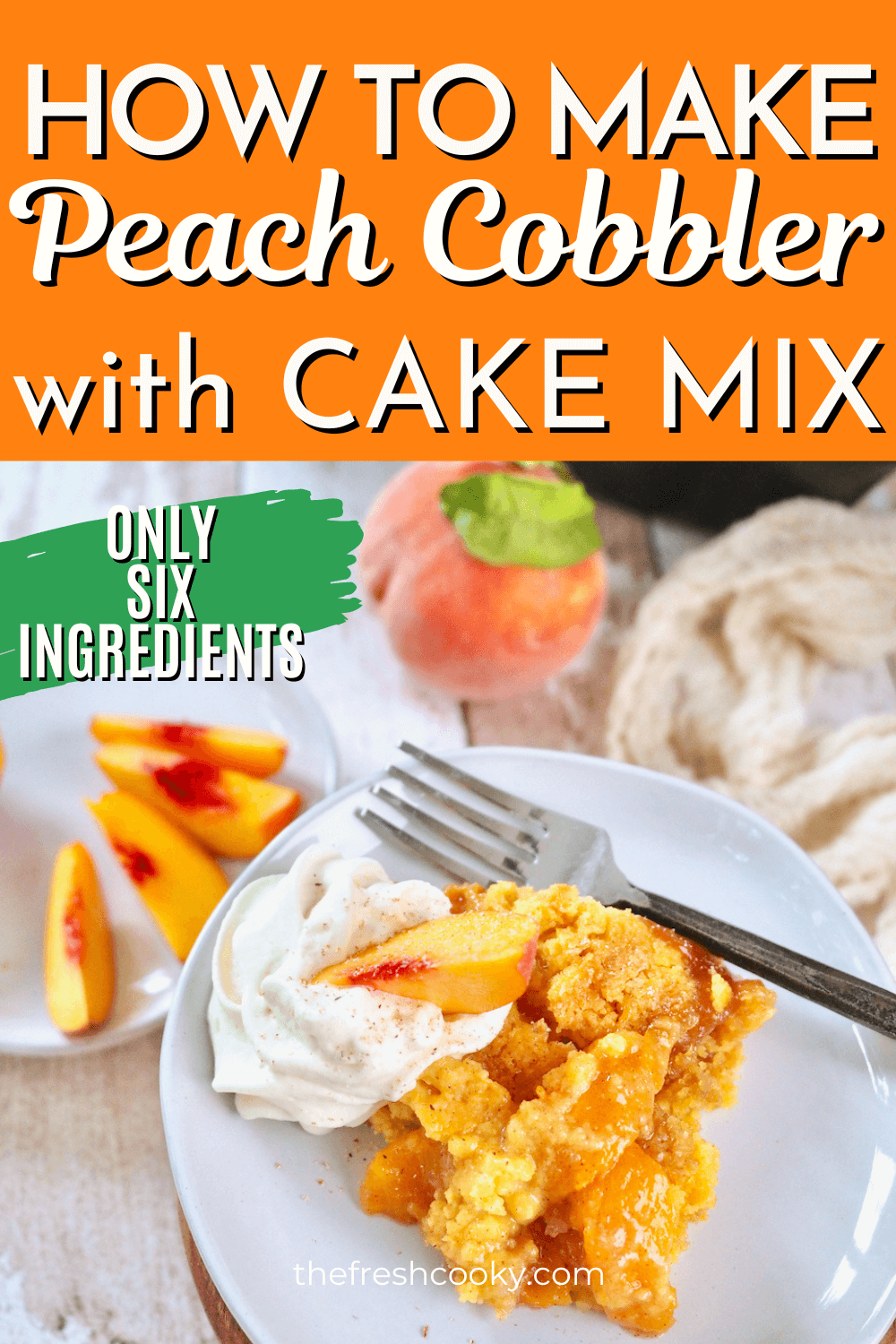 I hope you loved this Simple Peach Cobbler Recipe — if you did, would you share your creation on Instagram, Facebook and Pinterest? And be sure to comment below!
Like this recipe?
Don't forget to give it a ⭐️⭐️⭐️⭐️⭐️ star rating and comment below the recipe!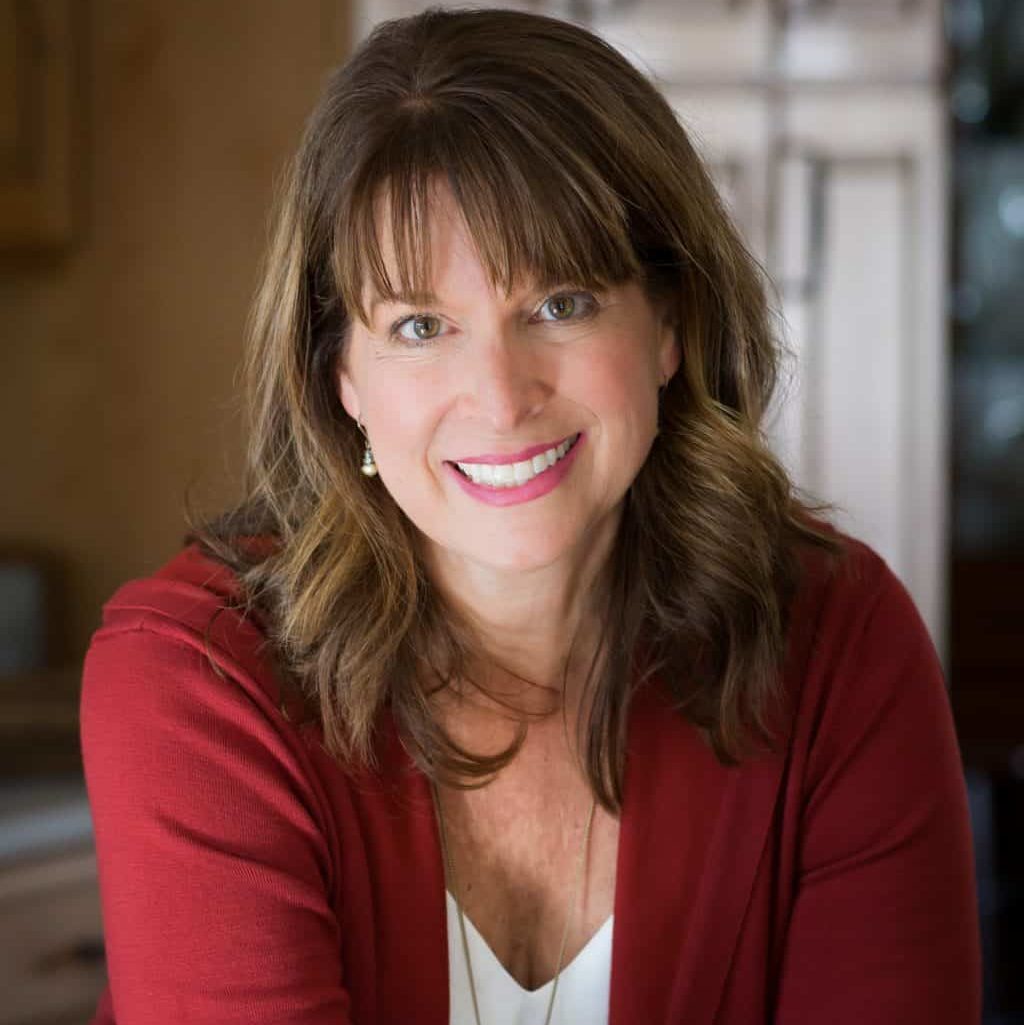 About Kathleen Pope
Recipe Innovator | Food Photographer | Food Writer
Hi, I'm Kathleen Pope. Here at The Fresh Cooky you will find easy, mostly from-scratch, trusted recipes for all occasions. From speedy dinners to tasty desserts, with easy step-by-step instructions. I am here to help teach you how to make mouthwatering recipes without spending hours in the kitchen. Read more about Kathleen here.