Easy Instant Pot Chicken & Sausage Jambalaya
As an Amazon Associate, I earn from qualifying purchases. Please read my disclosure policy.
Easy Chicken & Sausage Jambalaya – a quick, easy, healthier, not-so-spicy version. Easy Chicken & Sausage Jambalaya – a quick, easy, healthier, not-so-spicy version of instant pot jambalaya recipe. It has so much flavor, you are going to love it! Stove top instructions included too!
I wasn't sure how this meal would go over with my family, some like it hot and spicy and some (me!) not so much. WINNER, winner chicken and sausage jambalaya for dinner!
I you are like me and want to spend more time with your family and less time cooking, try these other favorite recipes:: Instant Pot Whole Roasted Chicken, Crockpot London Broil, Best Cheesesteak Sandwich Recipe, and Easy 30 minute Chicken Parmesan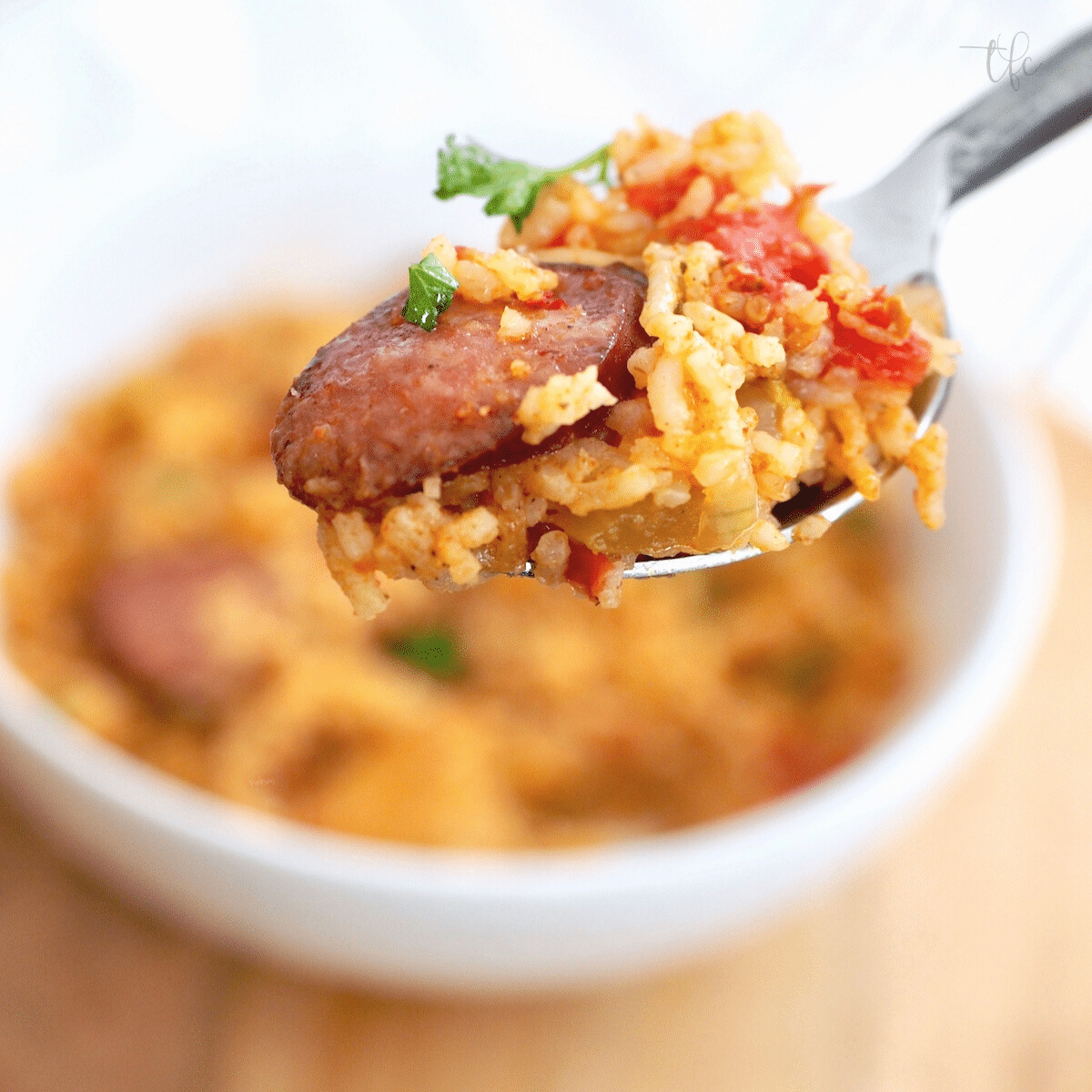 This easy instant pot jambalaya is such a great recipe – I have made it numerous times at the request of my kids, requesting seconds every time, but be warned, now I need to add extra chicken and especially sausage because everyone picks out the sausage!
The whole family loves it!
Perfect for Mardi Gras or anytime you are looking for a healthy, delicious meal! Someone even told me it was better than the famous Martha Stewart Firehouse Jambalaya and easier too! Let me know what you think!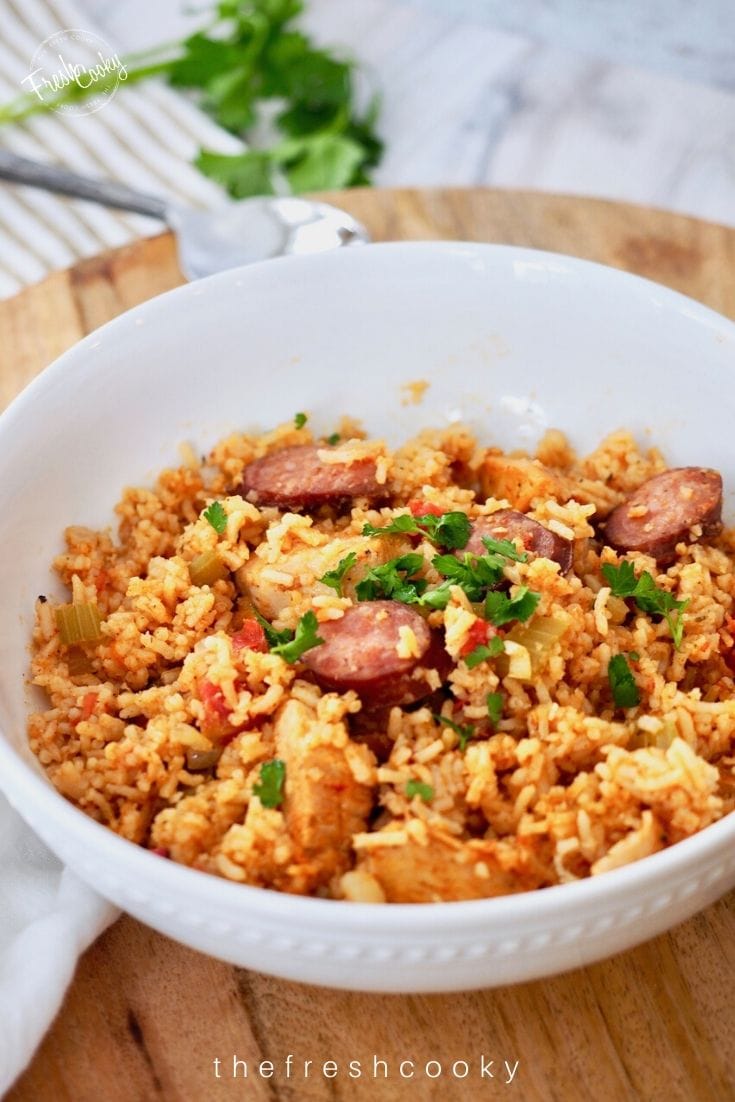 True confessions, I have never had jambalaya before, not the real deal at least; then I stumbled upon this recipe using chicken and sausage and played with the spices so it wasn't too spicy, but was chock-full of flavor!
What Is Jambalaya?
From what I have gleaned, jambalaya originates from the French Quarter in New Orleans, it was apparently an attempt by the Spanish to make paella in the New World, where saffron wasn't readily available and tomatoes became the substitute. But do not quote me!
Is Jambalaya Creole or Cajun?
Although every family has its own recipe for jambalaya, there are two main categories: Cajun and Creole.
The difference lies in the order in which the ingredients are cooked and the use of tomatoes. Creole jambalaya, which is also sometimes known as "red jambalaya," includes tomatoes. (Source) So, I suppose this version would be considered Creole.

But does it really matter when it nourishes your soul, is healthy, filling and packed with flavor? I don't think so!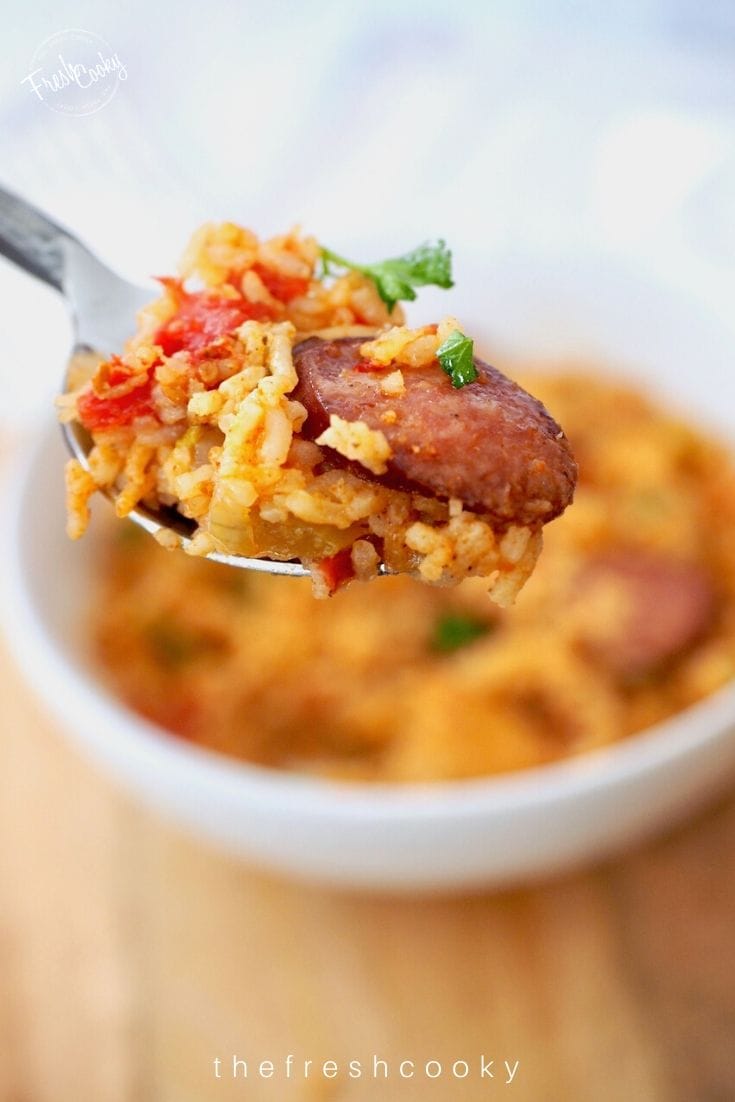 What kind of meat do you put in jambalaya?
In my research, it seems like with many regional recipes; there have been many adaptations throughout history.
I am not here to debate what is authentic or traditional, just what has been used in this famous dish.
Smoked sausage is typical; most commonly, andouille sausage, though I usually use kielbasa
Smoked ham
Shrimp
Chicken breast or chicken thighs
It is a "clean out your leftovers" kind of meal! So be creative! I have used andouille sausage, ham, chicken and kielbasa. I am allergic to shrimp (to my husband's dismay), but if you are not, toss some in at the very end!
What kind of sausage is best for jambalaya?
Smoked sausage is best with the flavors in this dish (like kielbasa, andouille or even chorizo), but hey, if all you have is polish sausage or quality beef hot dogs, try it!
How long does Jambalaya take to cook?
Pressure Cook less than 30 minutes!
STOVETOP about 45-60 minutes! Either way a great meal!
Ingredients and Substitutions for Instant Pot Jambalaya
Celery, Onion and Green Pepper (traditionally it would be green bell pepper, but I like red, orange or yellow). Substitute a jar of roasted red peppers, this is also delicious! This combination is traditionally called the "holy trinity".
Cayenne pepper for heat, from a sprinkle up to ½ a teaspoon.
Garlic, Creole or Cajun seasoning, Italian Seasoning. Substitutes | I have used all Italian Seasoning as well as Garam Masala seasoning in place of Cajun/Creole seasoning, all tasted great.
Chicken and Kielbasa Sausage | Choose your proteins! I have used kielbasa, andouille sausage, and chicken; substitute or add in ham chunks and/or shrimp*.
Chicken stock (stovetop method, may need more liquid) Substitute | Vegetarian Jambalaya omit meat and sub in vegetable stock.
Diced Fire Roasted Tomatoes. Substitute regular diced tomatoes.
Rice | Long grain is traditional, short grain white rice also works. I used jasmine rice.
Sea Salt and Black Pepper | Always taste before serving, adding additional seasonings if needed.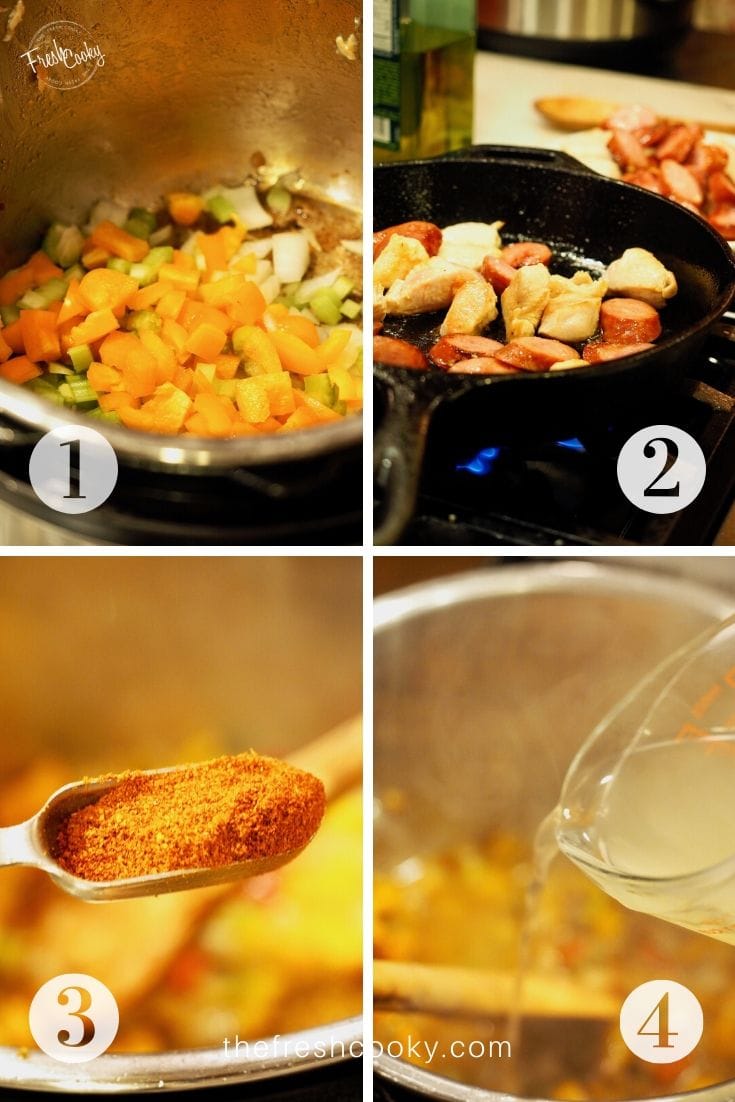 How to make chicken jambalaya
Press Saute function to preheat the Instant Pot Insert (this is the Instant Pot I love and recommend).
When "HOT" is displayed, add olive oil.
Saute onions, bell pepper, celery in HOT Instant Pot, stirring occasionally about 4-5 minutes until golden and translucent (add a small teaspoon of butter or dab of oil if needed)
While veggies are caramelizing, heat a separate skillet over medium-high heat, adding a couple teaspoons of olive oil.
Add sausage to skillet, using a wooden spoon to quickly brown both sides, 2 minutes per side, remove to plate
Brown chicken in skillet, about 2 minutes per side, remove to plate.
Add garlic, cajun/creole seasoning, sea salt and Italian seasoning, stirring until fragrant
Pour in chicken stock, scraping bottom of the pot to release any brown bits
Press CANCEL on panel to turn off IP
Add browned chicken and sausage back to Instant Pot
Pour uncooked white rice evenly over the top of the meat
Pour can of tomatoes over the top, pressing gently to cover the rice.
Secure lid, steam vent in locked position. Press PRESSURE COOK (Manual), adjust cooking time to 5-6 minutes (sea level) or 6-8 minutes (altitude), at high pressure.
Carefully, perform a quick release on pressure cooker jambalaya
Remove lid, stir gently, serve with chopped parsley if desired. If the rice isn't quite done, simply return the lid to the IP and place on warm for another 10 minutes while you set the table!
If adding shrimp | Add 12 oz medium cooked shrimp and immediately reseal the Instant Pot lid and allow the easy Jambalaya recipe to warm for 5 minutes in the residual heat (Alert: the Instant Pot is on Warm). Borrowed these instructions from Boulder Locavore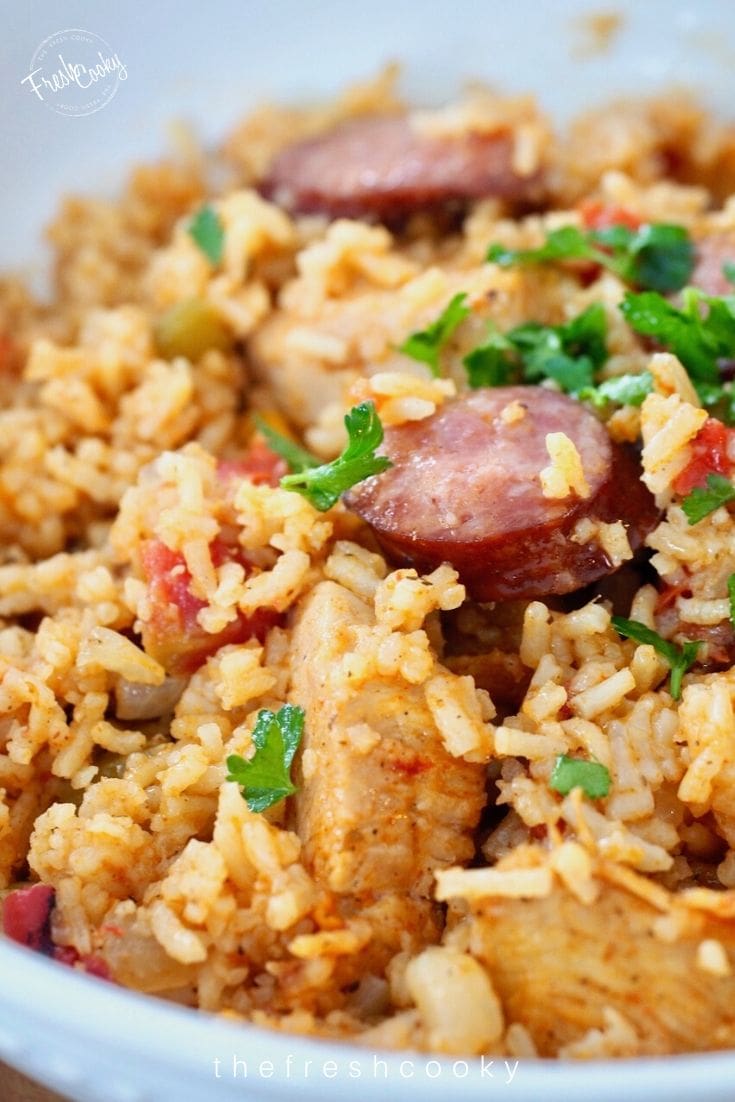 Storage
Tastes great leftover, refrigerate up to 1 week or freeze up to 3 months in an airtight container. Reheat on stovetop over low heat or in microwave.
Variations & Tips for Instant Pot Jambalaya
When browning or searing meat in the IP, I notice when it's a decent amount of meat it's better to do it in batches so the meat browns vs. boils. I prefer to brown my meat in a separate pan (my favorite pan) on the stovetop. Saves time since you brown the meat and saute your veggies at the same time, reducing your overall cook time.
The first few times I made this recipe, the rice stuck to the bottom of the pan, almost burning, but by adding the rice AFTER the meat, but BEFORE the tomatoes the problem was solved. Could very well be due to altitude.
Try adding a 1-2 bay leaves to the ingredients.
Replace white rice with brown rice, I've had several people successfully do this, you might need to add a few more minutes time, or let it sit a little longer.
Garnish with green onions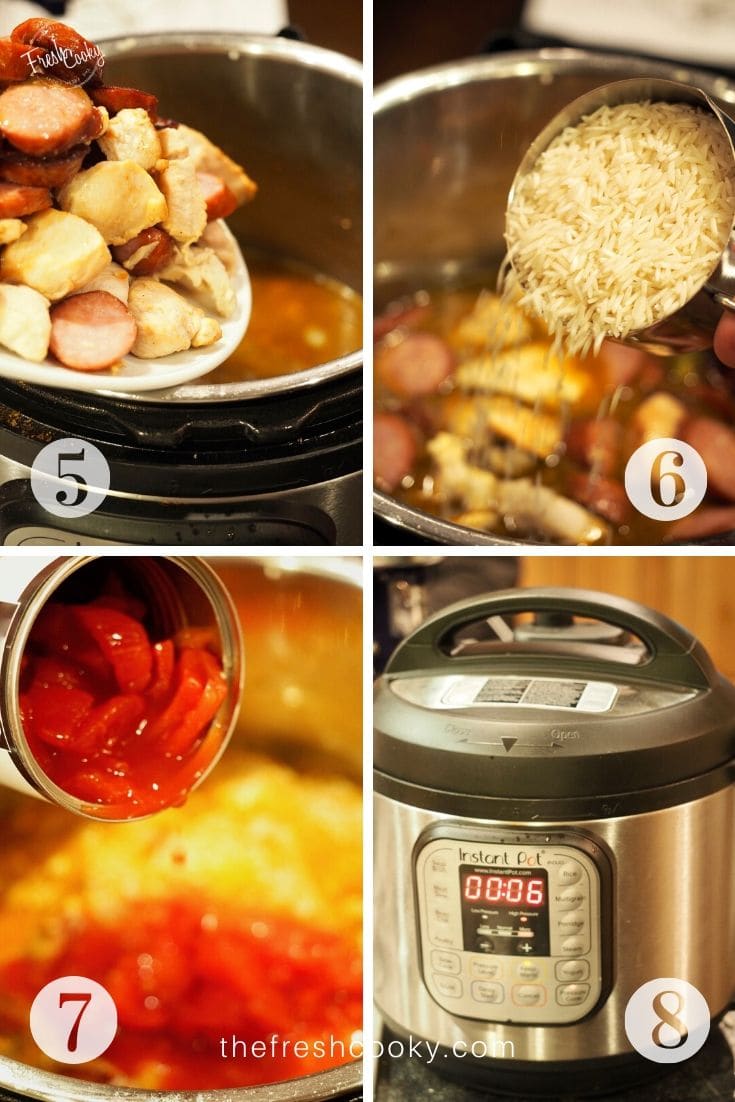 STOVETOP INSTRUCTIONS
Jambalaya for a Crowd
I made this on a ski trip and was feeding 10 people, which I knew it would not work in the Instant Pot, as I was doubling the recipe.
Heat a large skillet (or pot) over medium-high heat, adding a couple teaspoons of olive oil
Add sausage to skillet, stirring to quickly brown both sides, 2 minutes per side, remove to plate
Add chicken to skillet, browning on both sides, about 2 minutes per side, remove to plate.
Saute onions, bell pepper, celery, adding another teaspoon or two of oil or butter if needed. Stirring occasionally about 4-5 minutes until golden and translucent
Add garlic, cajun or creole seasoning, sea salt and Italian seasoning, stirring until fragrant.
Pour chicken stock, scraping bottom of pan to release any brown bits
Add chicken and sausage back to pan
Pour uncooked white rice evenly over the top of the meat
Pour tomatoes over the top, stirring to combine
Cover, reduce to simmer and cook for 25-30 minutes, being sure to stir the mixture every 5 minutes or so (to prevent burning) until the rice is tender, add a little more chicken broth if gets too dry.
Adding shrimp | Add 1 pound raw large shrimp, peeled and deveined during last 5 minutes or so of cooking, stirring occasionally until shrimp is cooked (opaque and pink).
There you have it, a quick and easy Chicken and Sausage Jambalaya recipe for your Instant Pot or Stovetop! This recipe easily doubles!
Gluten-Free Jambalaya
This recipe, since it does not use a roux of any kind, is naturally gluten-free, watch your sausage, but otherwise, enjoy this delicious, family friendly recipe for instant pot jambalaya.
Side dishes for Jambalaya
This recipe was adapted from The Big Book of Instant Pot Recipes by The Wicked Noodle
LOVE IT? PIN IT!
Like this recipe?
Don't forget to give it a ⭐️⭐️⭐️⭐️⭐️ star rating and comment below the recipe!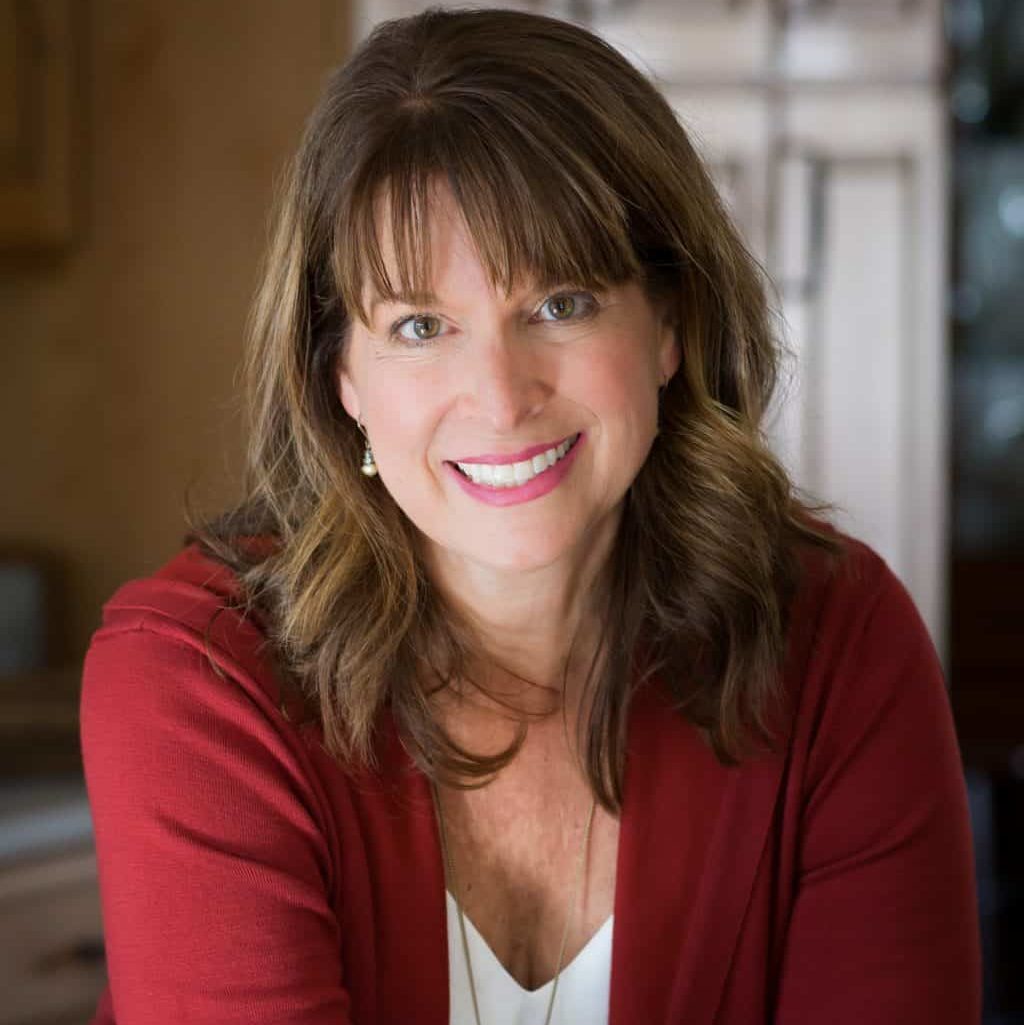 About Kathleen Pope
Recipe Innovator | Food Photographer | Food Writer
Hi, I'm Kathleen Pope. Here at The Fresh Cooky you will find easy, mostly from-scratch, trusted recipes for all occasions. From speedy dinners to tasty desserts, with easy step-by-step instructions. I am here to help teach you how to make mouthwatering recipes without spending hours in the kitchen. Read more about Kathleen here.