Chicken Fried Rice on the Blackstone Griddle
As an Amazon Associate, I earn from qualifying purchases. Please read my disclosure policy.
Love your favorite Hibachi style fried rice? Learn how to make Chicken Fried Rice on Blackstone Griddle! Great flavors, healthy, budget friendly and a 30 minute meal! No Blackstone griddle, no problem!
Add to that the versatility of this easy fried rice recipe by swapping ingredients to include your favorite veggies or flavors, now you've got yourself a Triple Crown winner – just like the local hibachi restaurant makes.
For all Asian food lovers, here's another recipe you will fall in madly love with: Healthier Mongolian Beef and this succulent Asian Marinated Grilled Pork Tenderloin.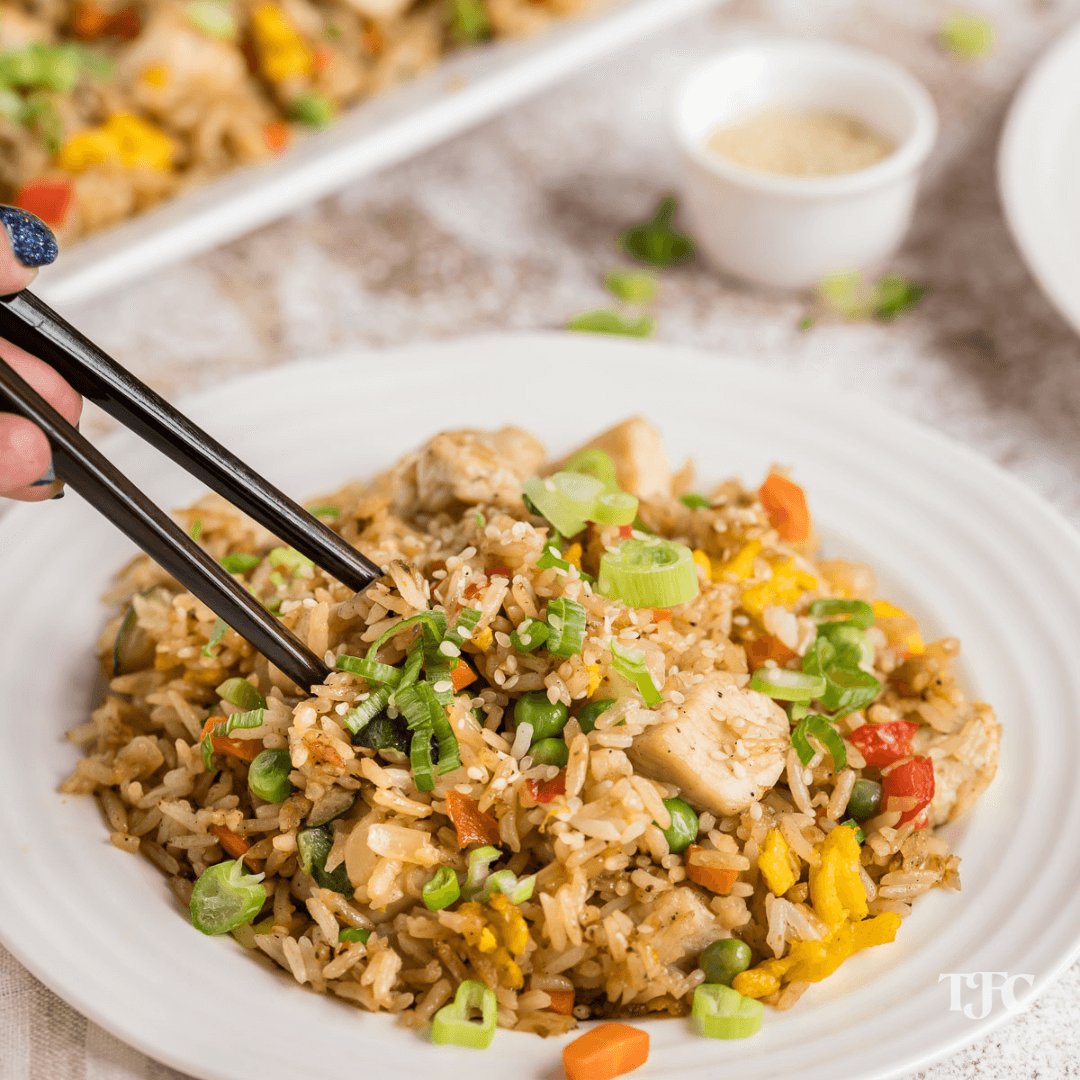 Why You Will Love This Recipe for Blackstone Fried Rice
30 Minute Meal | Easy recipes are the best! It blends flavors together and creates our favorite tastes and dishes.
It's also a fantastic gluten-free recipe with an easy substitution of GF soy sauce.
Clean out the fridge recipe! Use what you have! Have leftover or aging vegetables? Cut them up! Get creative!
Healthy Twist
Use as many organic and all-natural ingredients as possible.
Control the amount of sodium in Asian recipes by making them at home, and choosing a low-sodium soy sauce.
Using avocado oil provides healthy fats like oleic acid, an unsaturated fat. It contains vitamin E and helps to lower LDL cholesterol while increasing HDL cholesterol. I love good food that's good for my heart too!
Simple Ingredients
Full recipe with instructions in the printable recipe card at the end of the post.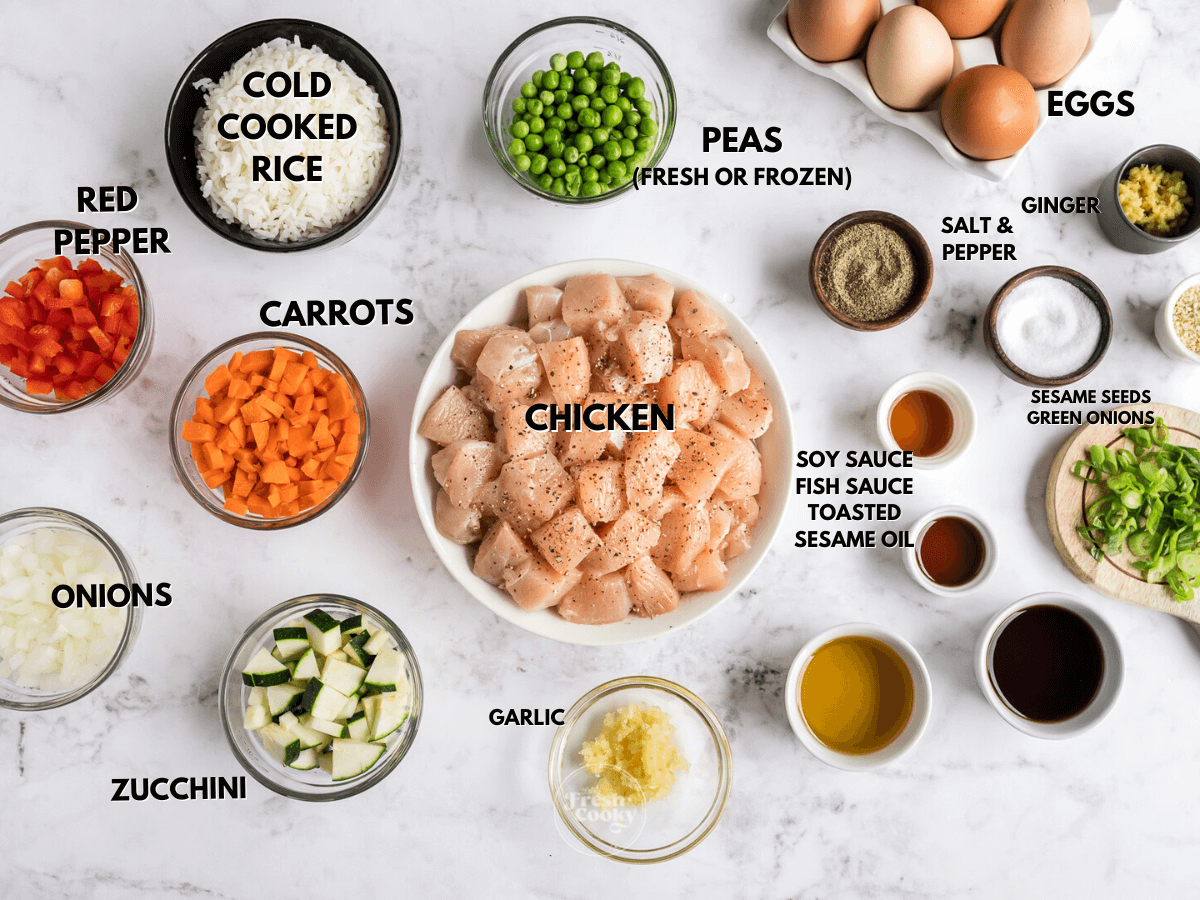 WHITE RICE | Use leftover rice. Make the sticky rice the day before or at least make sure it's completely cooled. I prefer short-grain like Jasmine rice… Brown rice is nice too.
AVOCADO OIL | Avocado oil has a high smoke point and it is nutritious too. Vegetable oil and canola oil work as well.
CHICKEN BREAST | If you prefer dark meat, use boneless skinless chicken thighs or both.
SWEET ONION | You'll want that sweet and milder flavor of using sweet onions- but a yellow onion will do.
VEGGIES | Make sure the carrots, zucchini, and bell pepper are diced into small pieces for quick cooking and to blend well with the rice mixture. Then throw in some peas, too.
GARLIC & GINGER | These aromatic flavors are game-changers and they are good for you. The recipe calls for both the fresh ginger and garlic to be minced.
SESAME OIL | Use regular or toasted, personally, I like toasted sesame oil for a rich nutty flavor.
SOY SAUCE | Use Tamari or Bragg's Liquid Aminos for gluten-free options.
OYSTER SAUCE OR FISH SAUCE | If you've never tried it, here's your chance. (See the FAQs about the difference.)
EGGS | Beaten eggs are scrambled in – just like the pros do.
SALT & PEPPER | Add according to taste and remember, soy sauce is a salt, so don't add too much.
GARNISH | Sliced green onions and toasted sesame seeds. Don't forget this all-important topping to give it a finished look and taste.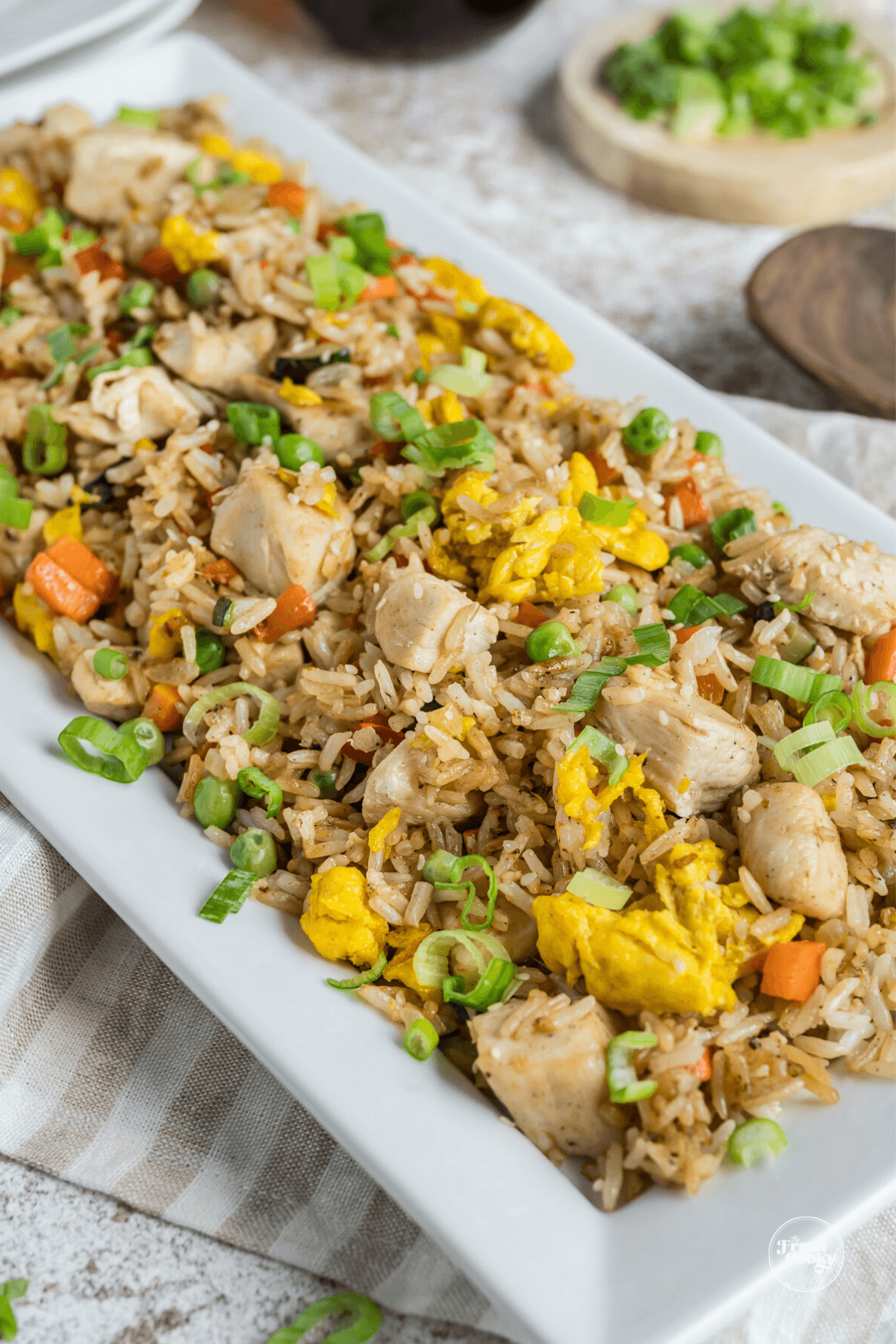 What is a Blackstone Griddle?
Blackstone Griddles are the latest barbecue equipment on the scene. Bring the heat and easy cleanup of a flat top grill into your home cooking with this easy piece of equipment. If you've been afraid of grilling you need to try this griddle.
Made of cold-rolled steel, this is the ideal material for even and controlled cooking across the entire surface. They are propane fueled making them great for camping, tailgating or just a backyard barbecue.
Plus with the large surface area you can cook an entire breakfast; pancakes, eggs and bacon — all at once! Or a dinner of burgers, toasted buns and caramelized onions!
How to Make Chicken Fried Rice Recipe on Blackstone Griddle
Step 1 | Prep the Ingredients
Let's make this Blackstone fried rice! Gather the ingredients and do all the prepping first to make it easier when adding to the dish.
Dice, measure, and chop everything out. If you are not using leftover rice and need to make new- you can use a rice cooker or your Instant Pot, but be sure to cool the rice completely.
Preheat the Blackstone Griddle to medium-high heat. Once it's hot, add a few tablespoons of oil.
Step 2 | Cook the meat
Sprinkle the chicken with a bit of salt and pepper, then place it on the griddle to cook. After the chicken is partially cooked, move it to the side to finish cooking it.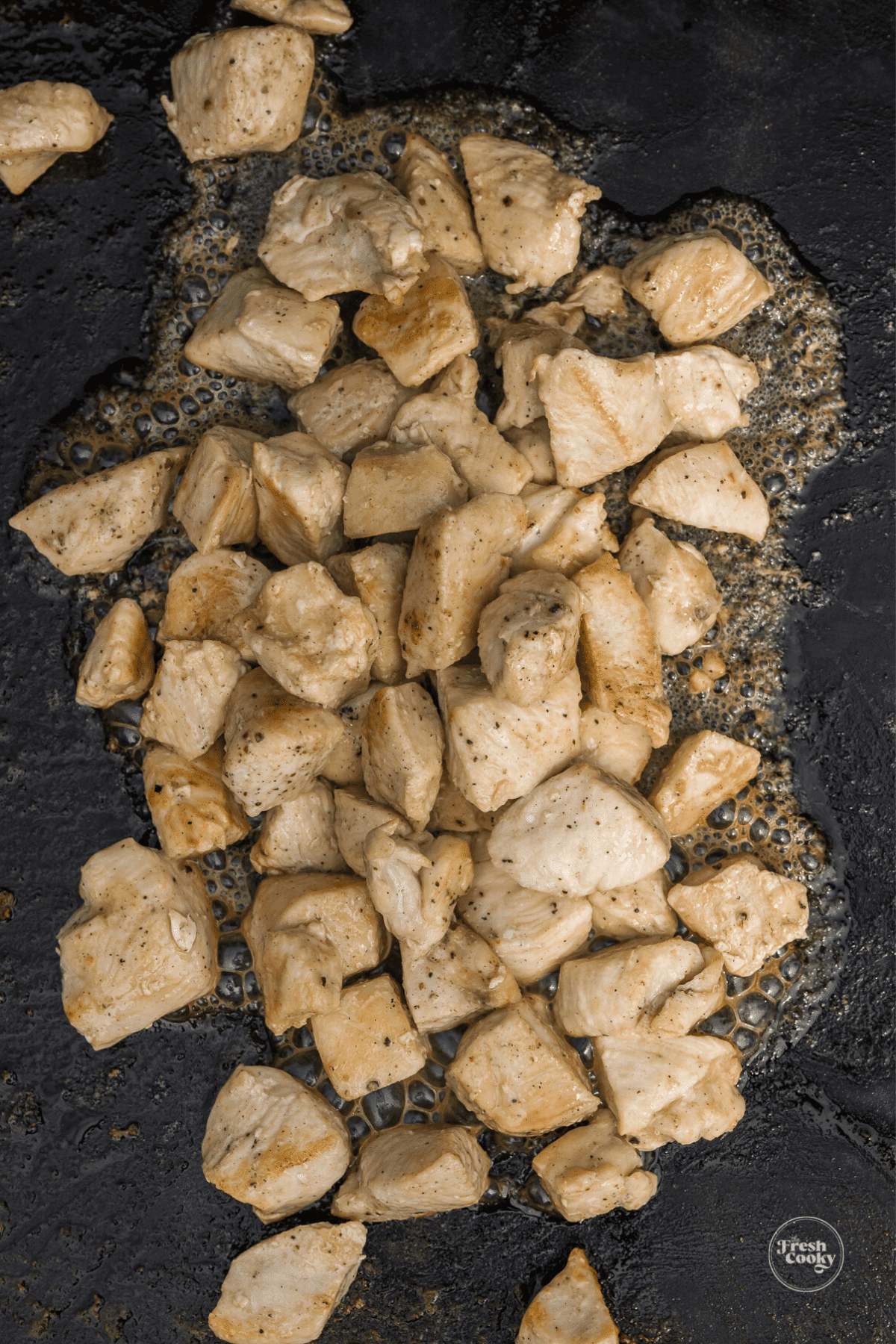 Step 3 | Add the Veggies
On the open side of the griddle, add a little more oil and let it heat for a minute. Add the onions, carrots, and red bell pepper and allow it to cook for 3-4 minutes or until it's tender. Add the zucchini, ginger, and garlic and cook for another minute.
Step 4 | Combine Rice and Mixture
Pour your cooled day-old rice over the vegetable mixture and mix it all together. Use a metal spatula to flip and turn the rice and veggie mixture until it's well blended. If your rice sticks to the griddle, add a little more oil.
If you're using fresh peas, go ahead and add now and stir it to mix well.
Step 5 | Oil and Fish Sauce
Add the sesame oil and fish sauce to the rice mixture. Keep stirring to ensure it's mixed well and to keep it from sticking.
If you're using frozen peas, add them now and continue to flip and turn the mixture on the Blackstone top.
Remember, if it starts sticking, adding a little more oil is okay.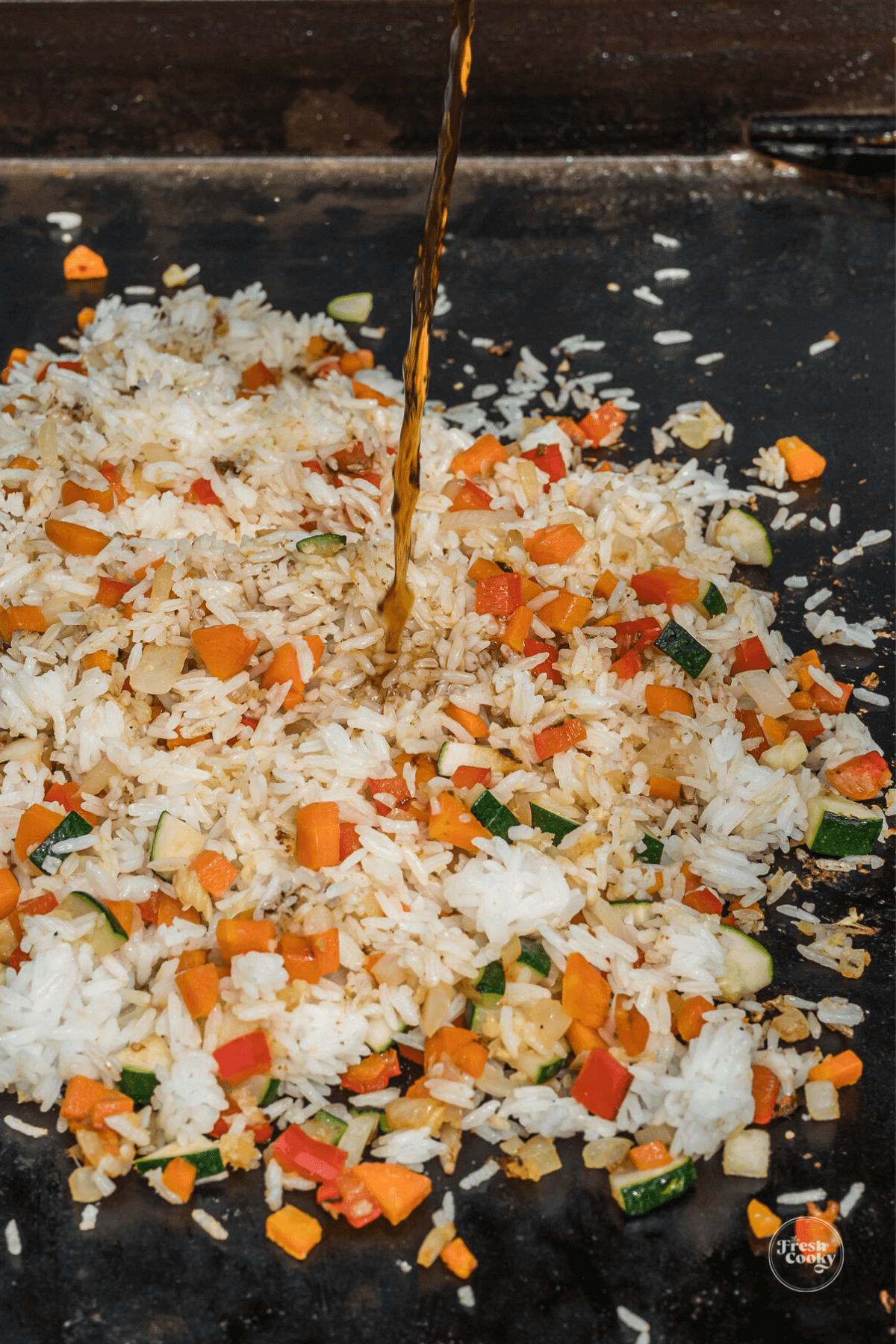 Step 6 | Scramble the Eggs
Pour on the soy sauce, and ensure it's mixed thoroughly. Push the cooked rice to the side slightly and add a little more oil, or a few teaspoons of butter will work fine too. Last step- quickly scramble the eggs and mix that into the fried rice mixture.
That's it! You have Chicken Fried Rice ready to be garnished with sesame seeds and green onions and served.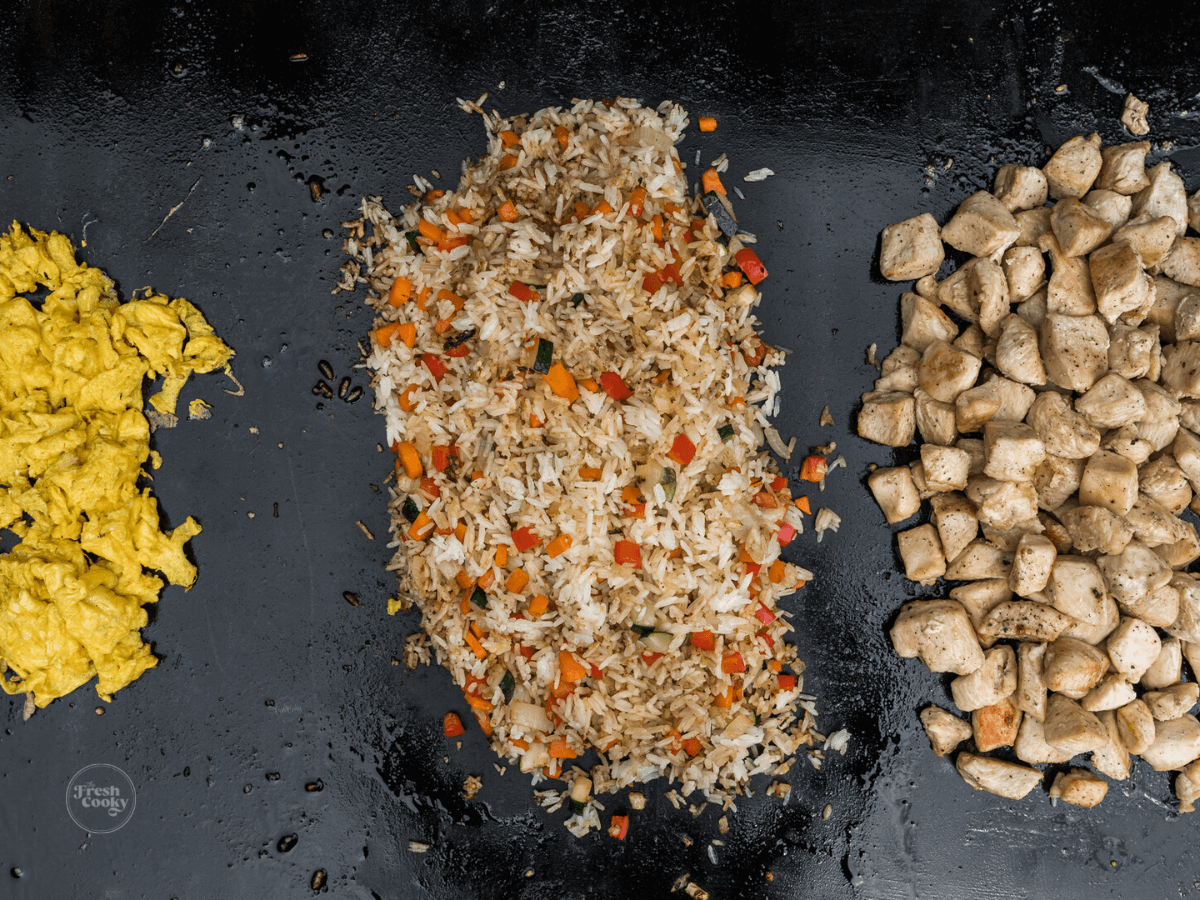 Fresh Pro Tips
Hey! Don't be afraid of fish sauce or oyster sauce. They pack so much flavor!!! And this is coming from a girl who can't stand "fishy," but trust me. There is nothing fishy about these sauces!
If the whole family likes eggs, scramble a little more into the fried rice. Or you can use less or serve it on the side for those who don't like eggs.
And that my friend, is how to make chicken fried rice on Blackstone!
Variations & Substitutions
Soy Sauce – If you or a family member is concerned about the sodium in the soy sauce, use low sodium soy sauce. I personally love using Bragg's liquid aminos for this dish or gluten-free Tamari. A word of caution: start slow. Take a little taste and then add a bit more. You'll notice the sauce evaporates quicker on the Blackstone than in a pan since the griddle gets much hotter.
Garlic Powder – Feel free to use garlic powder if you are out of fresh garlic.
Fresh or Frozen Peas – Feel free to substitute the peas and carrots with 1 ½ cups frozen, and there's no need to thaw.
Veggies – Use your favorite veggies! There aren't any rules here. Want to use mushrooms? Add them. Prefer green bell peppers? Use them instead. Don't have zucchini? Leave it out! This dish is what I like to call a clean-out-the-fridge meal. And red pepper adds fantastic color.
Nuts & Seeds – Peanuts are a common addition to stir fry, but whatever nuts or seeds you like can be added, like sesame seeds, almonds, or cashews, for a nice crunch.
Change your Meat – Use beef, pork, shrimp or scallops instead!
Recommended Equipment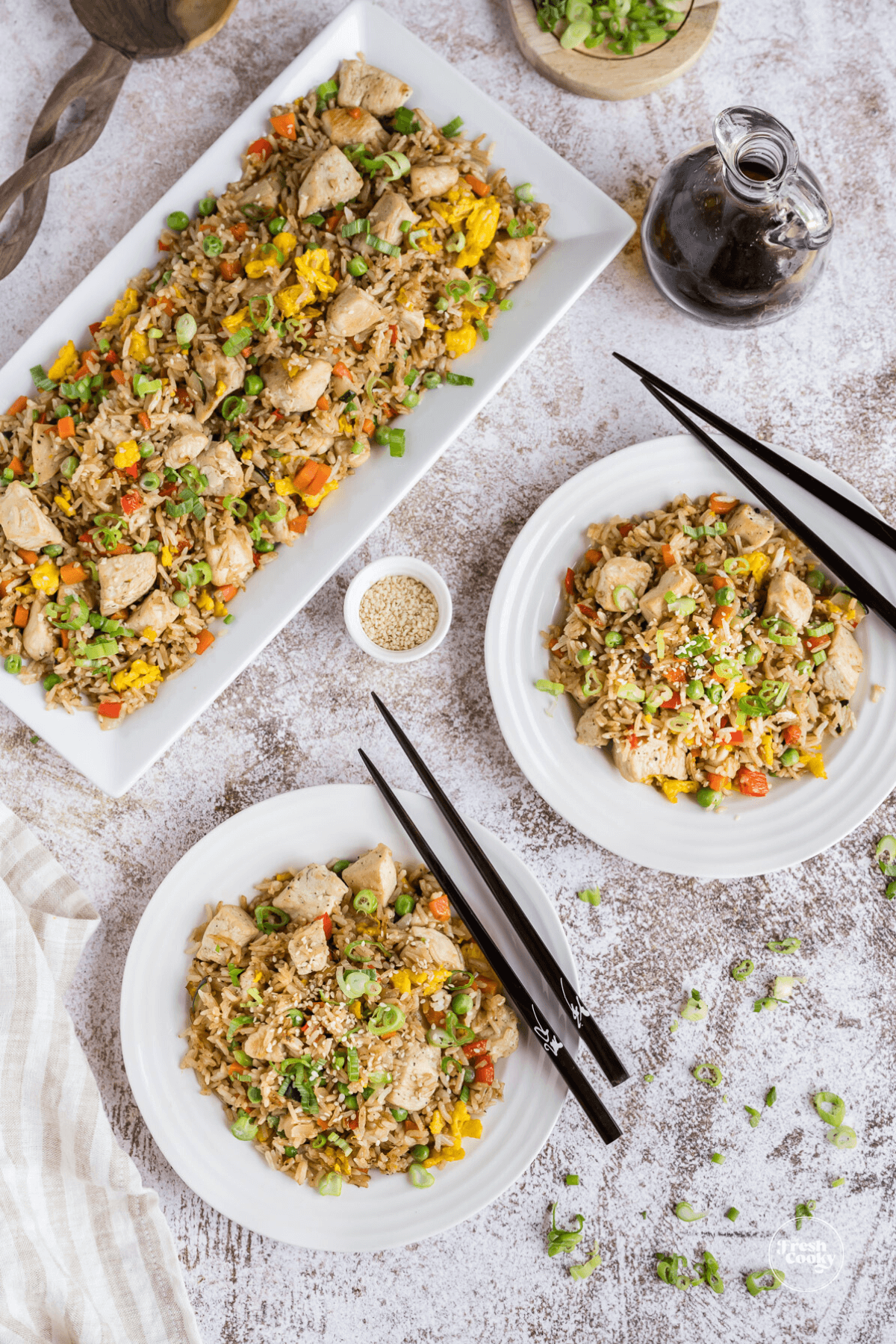 Storage Tips
You can store leftover fried rice in the refrigerator for 2-3 days in an airtight container or freeze them for up to two months.
Place leftovers in a freezer zippered bag, push all the air from the bag, then seal.
For a fast meal to grab-and-go, portion out your leftover Blackstone chicken fried rice in quart-sized plastic bags.
Frequently Asked Questions
Is there a difference between oyster sauce and fish sauce?
Oyster sauce offers a sweet and salty flavor, and the sauce is a little thicker. Fish sauce does have a more pungent smell, but the savory flavor and boldness mix well with meat marinades.
Why do you have to add the vegetables at different times?
Some fresh vegetables take longer to cook. Adding the longer-cooking veggies first allows extra time for them to cook, so they are ready at the same time as the shorter-cooking veggies.
What if I don't have a Blackstone Griddle? Can I use a wok instead with this recipe?
Most certainly! Follow the same instructions, except work in batches instead of cooking the meat at once. Cook the meat and remove it from the heat. Cook your veggies and add the protein back in at the end. Or alternately, use an electric griddle for a similar effect.
Do I need to use cold rice for Blackstone fried rice?
YES! If you use fresh, hot or even lukewarm rice, it will become a soggy, sticky mess when it hits the hot surface of the pan or griddle. So take the time, plan ahead, day old rice is best!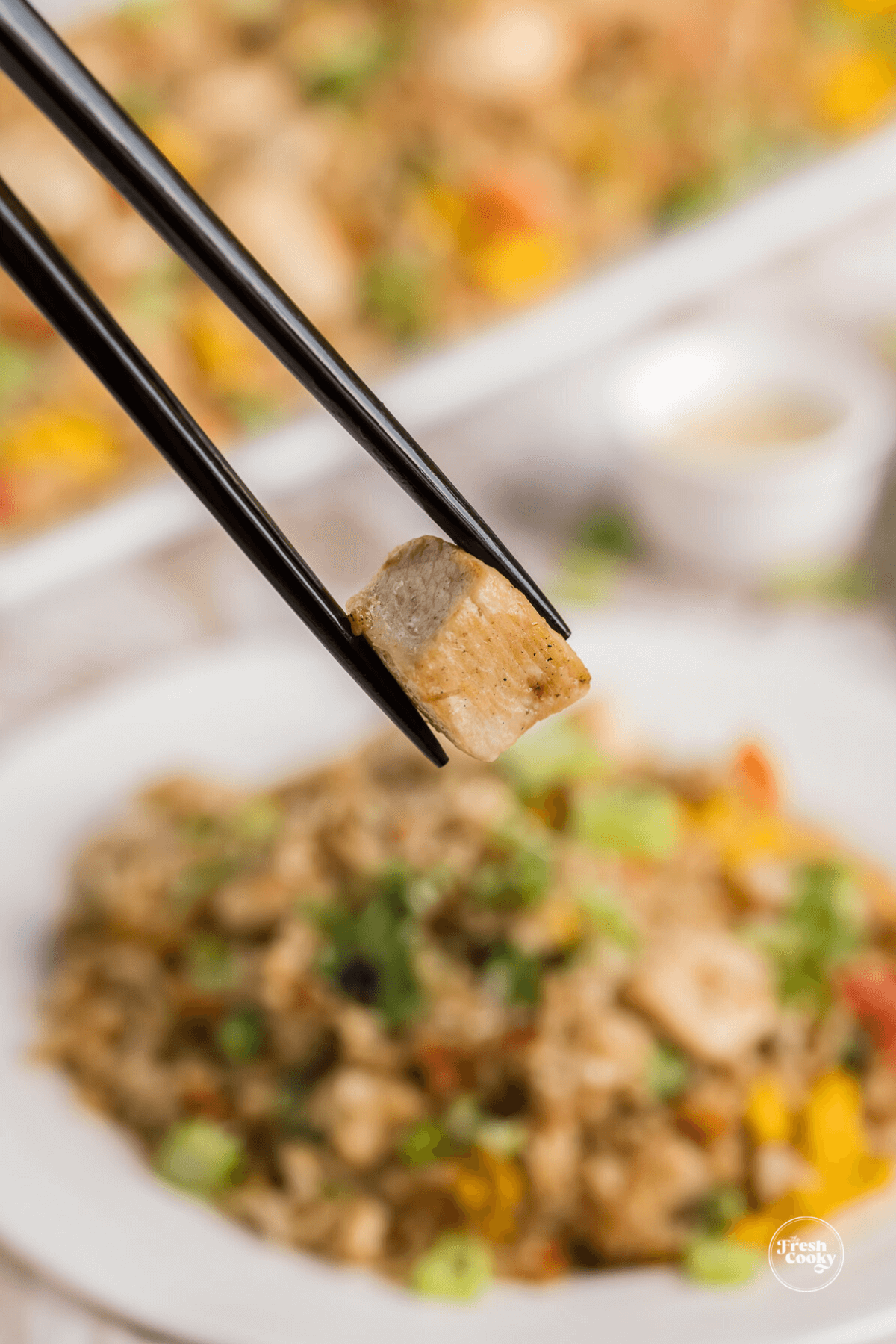 What to Serve with Blackstone Fried Rice
Treat your family or guests to this Artichoke Cheese Wonton as an appetizer before the entree or this Healthy Crunchy Ramen Noodle Salad.
And please don't forget the Homemade Yum Yum Sauce – I love the one my fellow food blogger and friend makes!
How to Season your Blackstone Griddle
If this is your first use, make sure to season your Blackstone Griddle before using.
Simply wash the griddle with some cold, soapy water.
Turn the burners on high for 10-15 minutes, it will darken during this time; turn the heat off.
Select an oil of your choice (flaxseed is recommended) and cover the cooktop with a thin layer of oil. Use tongs and grab some paper towels rubbing them over the surface, like you are trying to rub off the oil, it should be a really thin layer.
Be sure to let the oil smoke, this is much like seasoning a cast iron pan.
Turn the heat back up to full blast, you want it to be really smokin', this is the blackening phase that will give you a beautiful surface. It might take up to 30 minutes, so be patient, make yourself a margarita — once it stops smoking turn off the heat.
For the best surface; repeat the oil-smoke process above 2-3 times! Check out this tutorial for more information.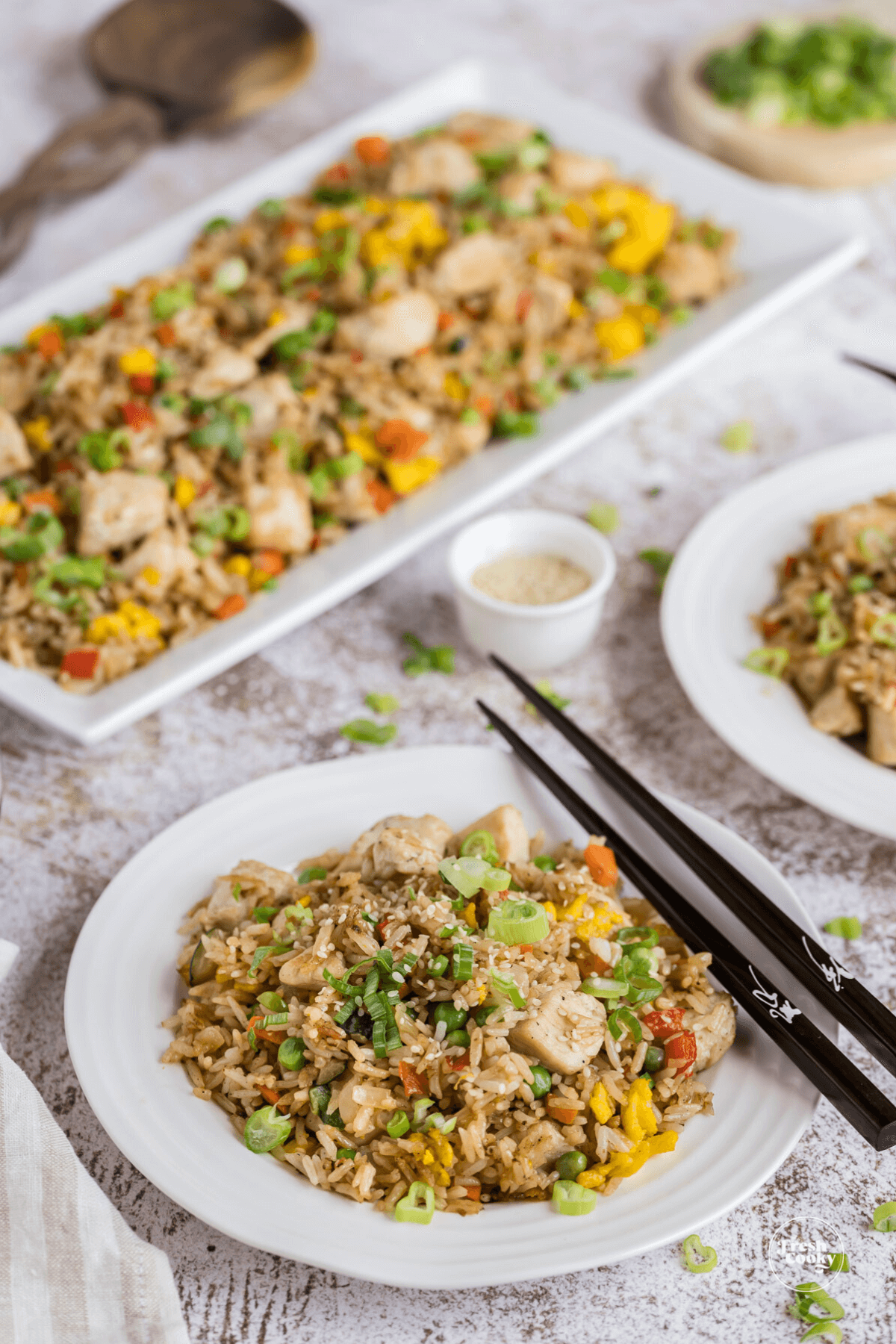 Top Tip
Be sure to use COLD RICE! Don't rush it or you will have a sticky, gooey, blobby mess! And make sure your griddle is well seasoned!
Let me know what you thought of this Blackstone Chicken Fried Rice! Comment below and be sure to give it a 5 star rating!
More Easy Family Friend Recipes
Love It? Pin It!
Like this recipe?
Don't forget to give it a ⭐️⭐️⭐️⭐️⭐️ star rating and comment below the recipe!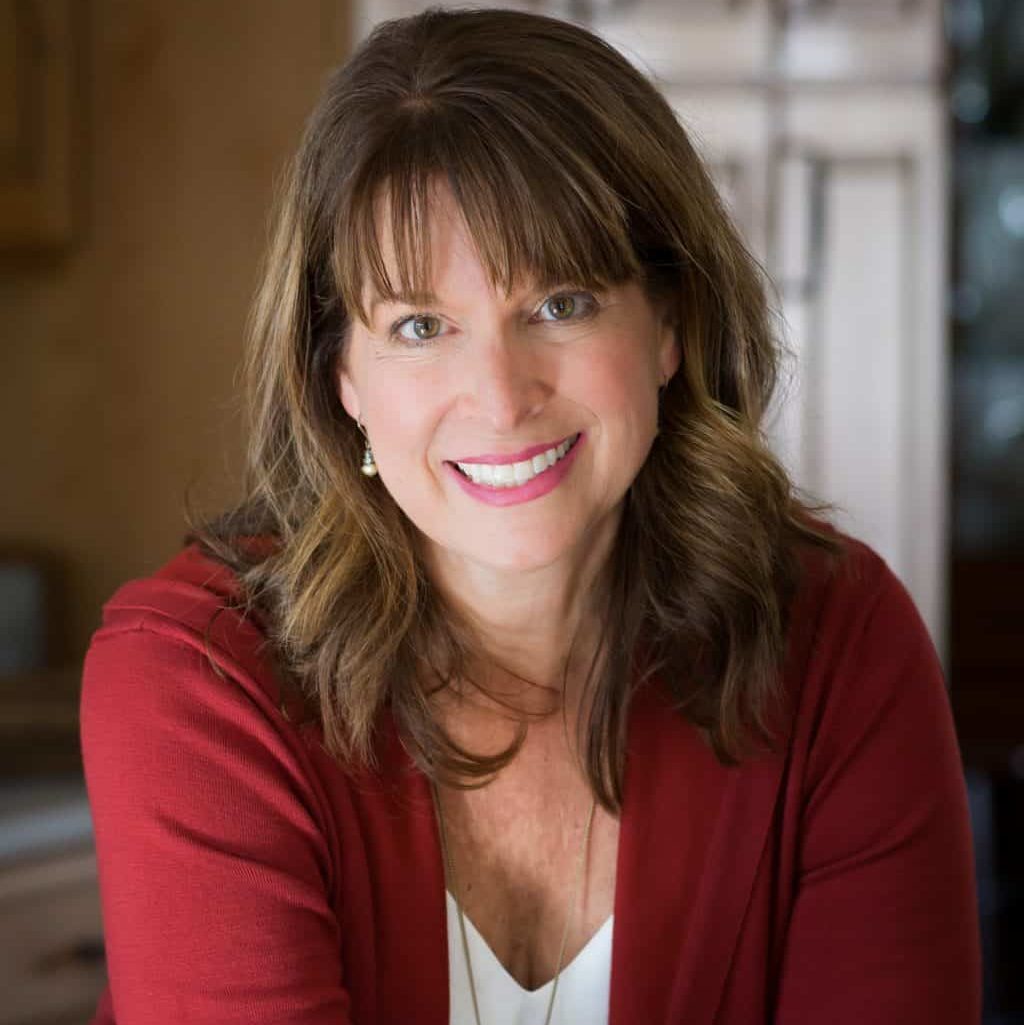 About Kathleen Pope
Recipe Innovator | Food Photographer | Food Writer
Hi, I'm Kathleen Pope. Here at The Fresh Cooky you will find easy, mostly from-scratch, trusted recipes for all occasions. From speedy dinners to tasty desserts, with easy step-by-step instructions. I am here to help teach you how to make mouthwatering recipes without spending hours in the kitchen. Read more about Kathleen here.