Got leftover ham? You might be asking, what can I make with leftover ham? Well we have a treat for you, more than 21 delicious, easy recipes using leftover ham!
I am forever in search of easy, but different recipes that use up leftovers, not being a leftover fan, I like new and unique ways to eat leftovers.
Got leftover turkey or chicken? You will enjoy these easy recipes Chicken and Wild Rice Supreme, Best Beef Minestrone Soup or this divine Turkey Divan.
22 Ideas for Leftover Ham
So I asked my blogging friends for some great ideas for using leftover ham.
While writing this, I am ready to run out and buy a big ol' ham JUST so I can make these amazing recipes.
Speaking of ham, if you need a simple and basic baked ham recipe, you might like this Cola, Dijon and Bourbon glazed ham, sounds complicated but it takes less than 5 minutes to put together.
Ideas for Leftover Ham
Seems like we mostly have leftover ham around Christmas or Easter, which is why I thought it would be great to compile a big list of recipes.
From breakfast waffles, omelets and casseroles to delicious slow cooked soups and delectable appetizers, pasta dishes and ideas for sandwiches.
The Best Leftover Ham Recipes
Inevtitably after Christmas or Easter we have leftover ham, sometimes it's just enough for an omelet, other times I can make several meals from the leftovers. I've collaborated with fellow bloggers to gather some of the most delicious recipes that use leftover ham!
How do I store ham?
Wrap in foil, in a freezer baggie or place in an airtight container. Cooked ham will keep in the fridge from 5-7 days.
Frequently Asked Questions
Can I freeze leftover ham?
Probably the easiest and best way to store leftover ham is by wrapping it well in foil, a freezer ziplock or an airtight container and freeze up to 6 months.
How do you moisten leftover ham?
If you just want to enjoy a repeat of your sliced cooked ham, simply place the desired number of slices in a shallow casserole dish, then follow below:
Pour about ½ cup of broth (ham, chicken, veggie or beef) over the ham and reheat in a 325 degree oven covered for about 20-25 minutes.
How can you tell if ham is spoiled?
Rely mostly on your senses, give it a good sniff. If it smells sour, is slimy or has turned a gray color it has most likely spoiled.
Tips
DON'T OVERCOOK | Ham comes precooked, overcooking is the most common way to dry it out. Reheat only until warmed.
FREEZE | When in doubt freeze leftover meat.
TOOLS | This is my favorite ham roaster. For casseroles casserole I am completely smitten with these easy to clean Staub bakers.
GOOD KNIFE |when it comes time to carving, dicing or slicing your ham, a good knife is so important as well as a carving fork.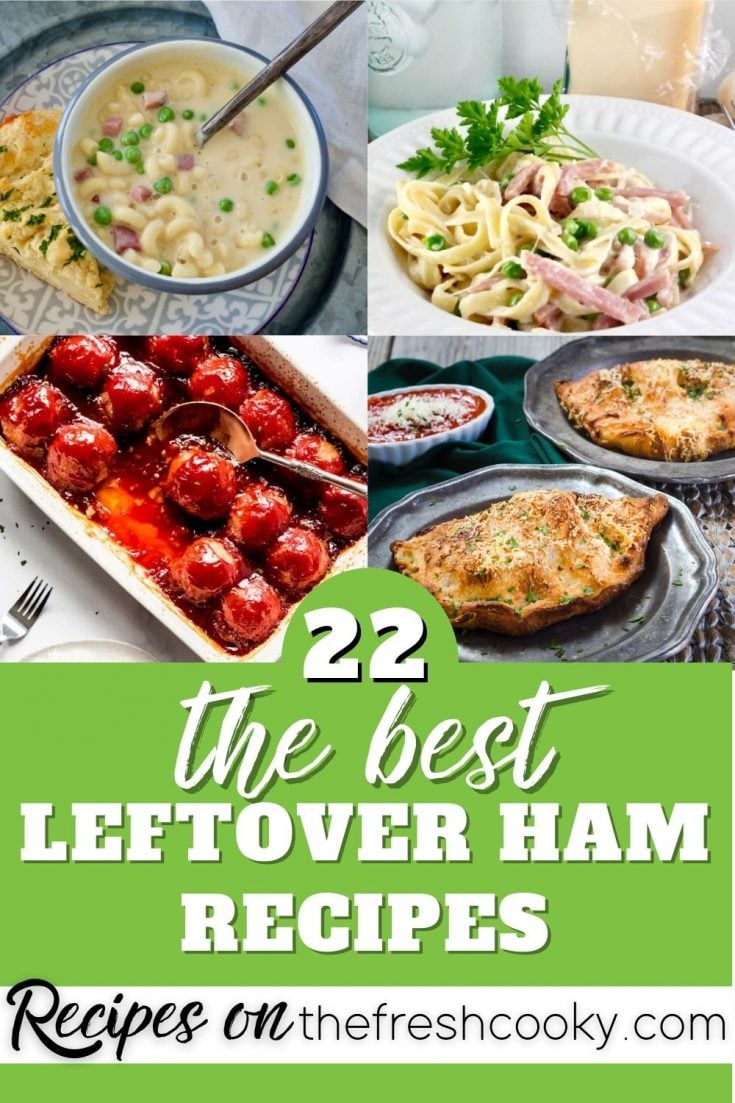 ABOUT KATHLEEN
I enjoy sharing easy recipes that are wholesome and delicious. I am fed by my faith, family, friends & food! Welcome to my kitchen! Read more...