Easy Air Fryer Halibut Recipe with Lemon Butter Sauce
As an Amazon Associate, I earn from qualifying purchases. Please read my disclosure policy.
Looking to use your new air fryer for a quick and healthy weeknight meal? Try this Air Fryer Halibut Recipe with Lemon Butter for a crisp and flaky fish with tangy golden lemon butter sauce. This recipe is an Air Fryer Halibut Recipe with No Breading made in just 30 minutes. Honestly, there are so many reasons to love this recipe!
If you just love a good and healthy fish recipe for dinner, check out my similar fresh fish recipes like Easy Panko Parmesan Baked Cod or this gorgeous Healthy 3-Ingredient Raspberry Glazed Salmon. For a smaller crowd, these are all excellent meals for 2 or three people.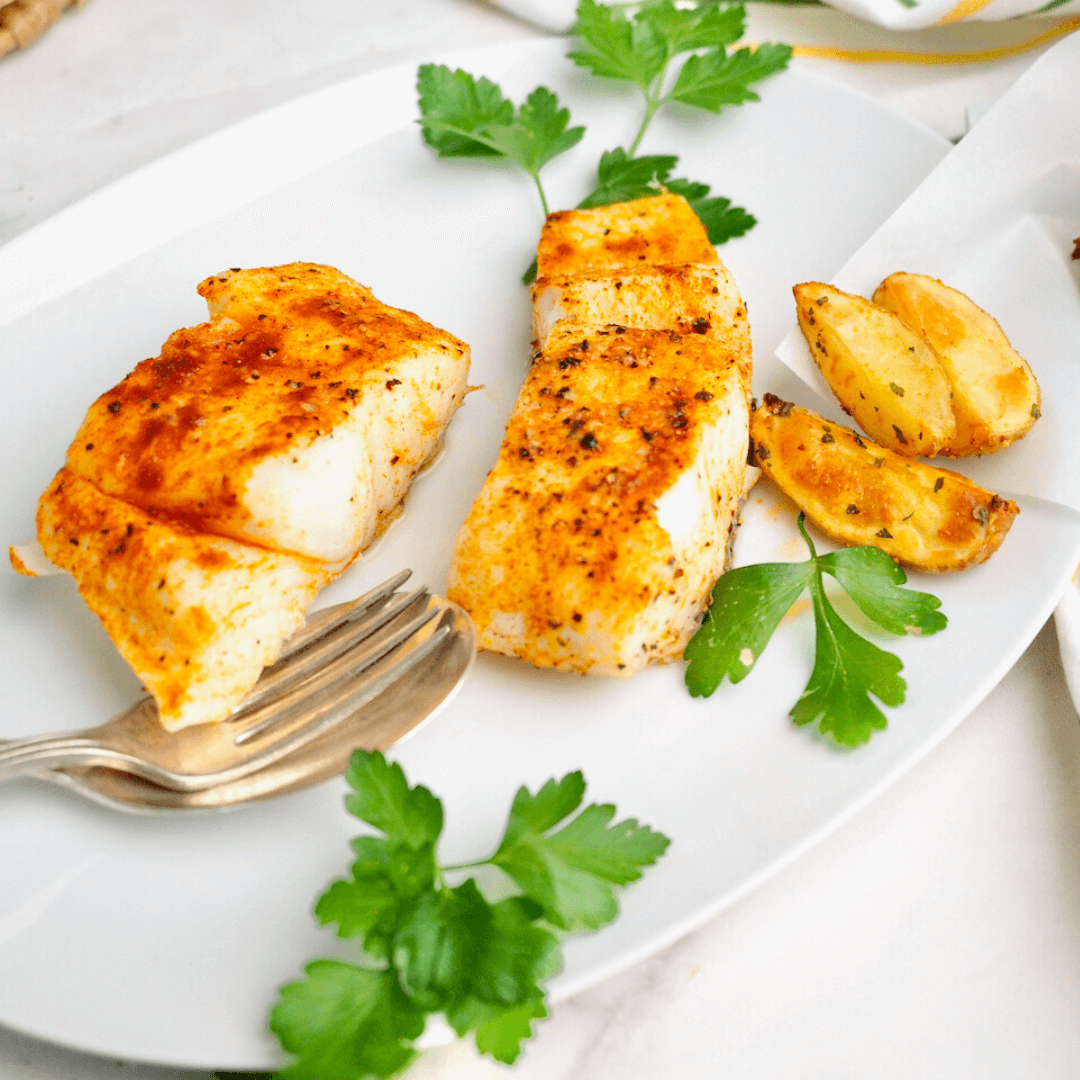 For those of you with kids in the house, I know you don't have much time to stay in the kitchen now that school is back in session! This air fryer recipe is an easy weeknight meal, taking only 5 minutes prep and 10 minutes cook time.
This recipe was designed for two in mind, quick and simple, but if you need to feed more, then it easily doubles or even triples!
Here's an idea… If your kids are picky eaters, make this meal fun for them by cutting the fish into vertical pieces and making it into sticks. I guarantee they'll be asking for a second helping.
Why You Will Love this Recipe
30-Minute Meals – The simple ingredients and fast-cooking time of an air fryer recipe make this a super quick recipe.
Easy Weeknight Dinner – No time, no problem! This meal takes very little prep and is easy to clean up after.
Great Meals for Two – An easy low-carb fish recipe with no breading and great health benefits too!
Simple Key Ingredients
For the measurements and instructions print the recipe card at the end of this post.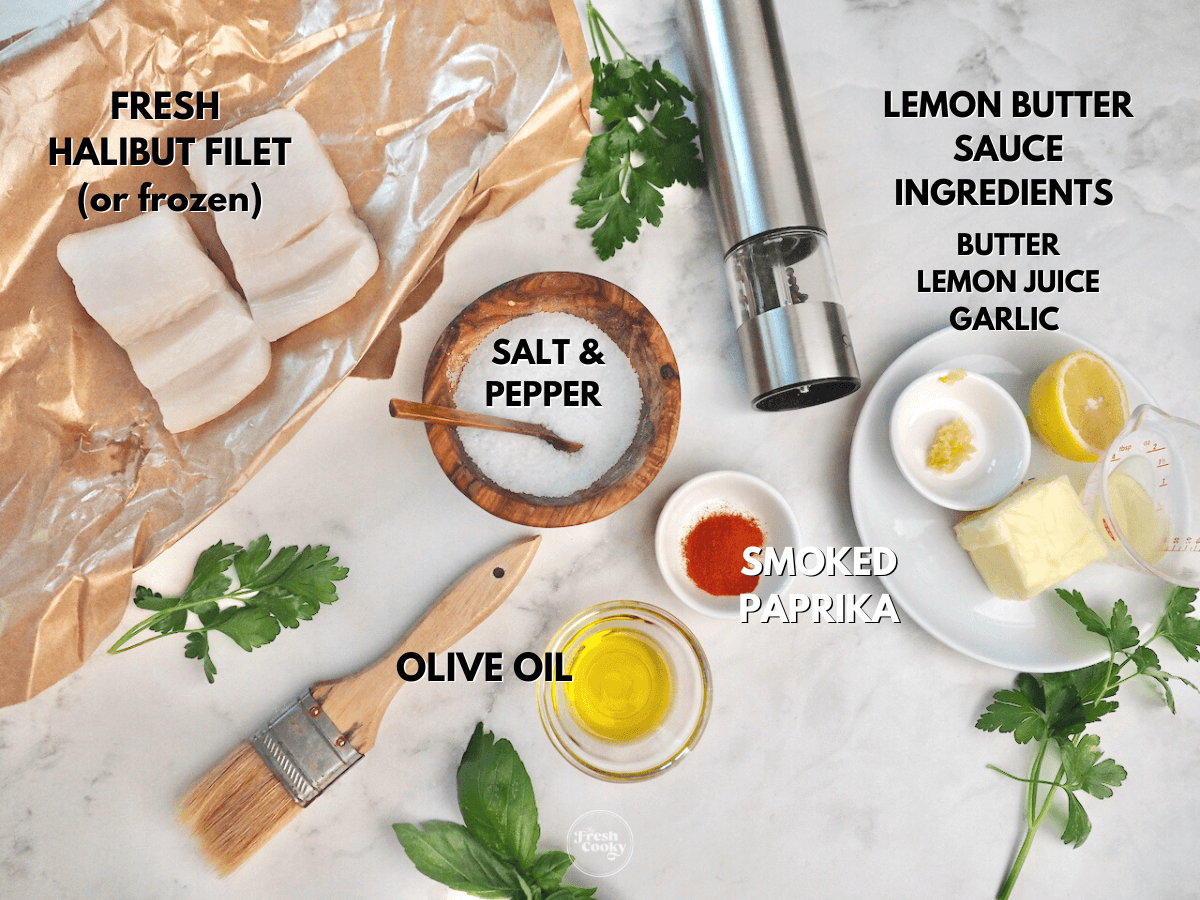 Ingredients for Air Fried Halibut
Halibut Filets | Halibut is a mild white fish with a gentle flavor. You will want to go to your local grocery store and ask for fresh halibut filets about ½ inch thick. If using frozen halibut fish fillet, see notes.
Salt | Salt boosts the flavor of any dish. Try using a salt without MSG.
Kosher Salt | Kosher salt is sprinkled nicely on top of the flaky good fish filets. And Kosher salt helps to avoid clumping and awakens the flavor.
Pepper | Fresh ground black pepper from a grinder or shaker will work.
Paprika | Use smoked paprika for added flavor if you like a little depth and spice.
Lemon Butter Sauce Ingredients
Butter | From a stick of butter, measure out ¼ cup to make the sauce creamy good.
Garlic | Mince a fresh garlic clove or replace fresh with garlic powder. Since garlic powder isn't very strong, you can also throw in some onion powder for even more flavor.
Lemon Juice | Add a little more oomph to your fish by zesting the lemon first and using it to sprinkle on top, then use the rest for the sauce and a few wedges to squeeze on the fish.
Healthy Twist
Air Fry vs. Oil Fry – Air frying is healthier than pan frying in oil. This way of frying cuts calories by 70% to 80% and still gets the meat golden and crispy on the outside.
It is Good for You – Using a white, flaky fish like Halibut is an excellent source of lean protein. And, Halibut contains magnesium, omega-three fatty acids, and niacin to help boost heart health.
How to Make Air Fryer Halibut with Lemon Butter Sauce
Step 1 | Prepping the Fresh Halibut
Start out by preheating your Air Fryer as directed in the recipe card. Remember, this recipe takes very little time, so you will want to have the rest of the meal prepared by this time.
Now, rinse the fresh Halibut and pat it dry with a paper towel – that way, you avoid soggy fish. Lightly brush or spray the fish with olive oil for the best crispy outside. You may choose to coat the tops and bottoms; I just did the tops, as my filets had skin on the bottom.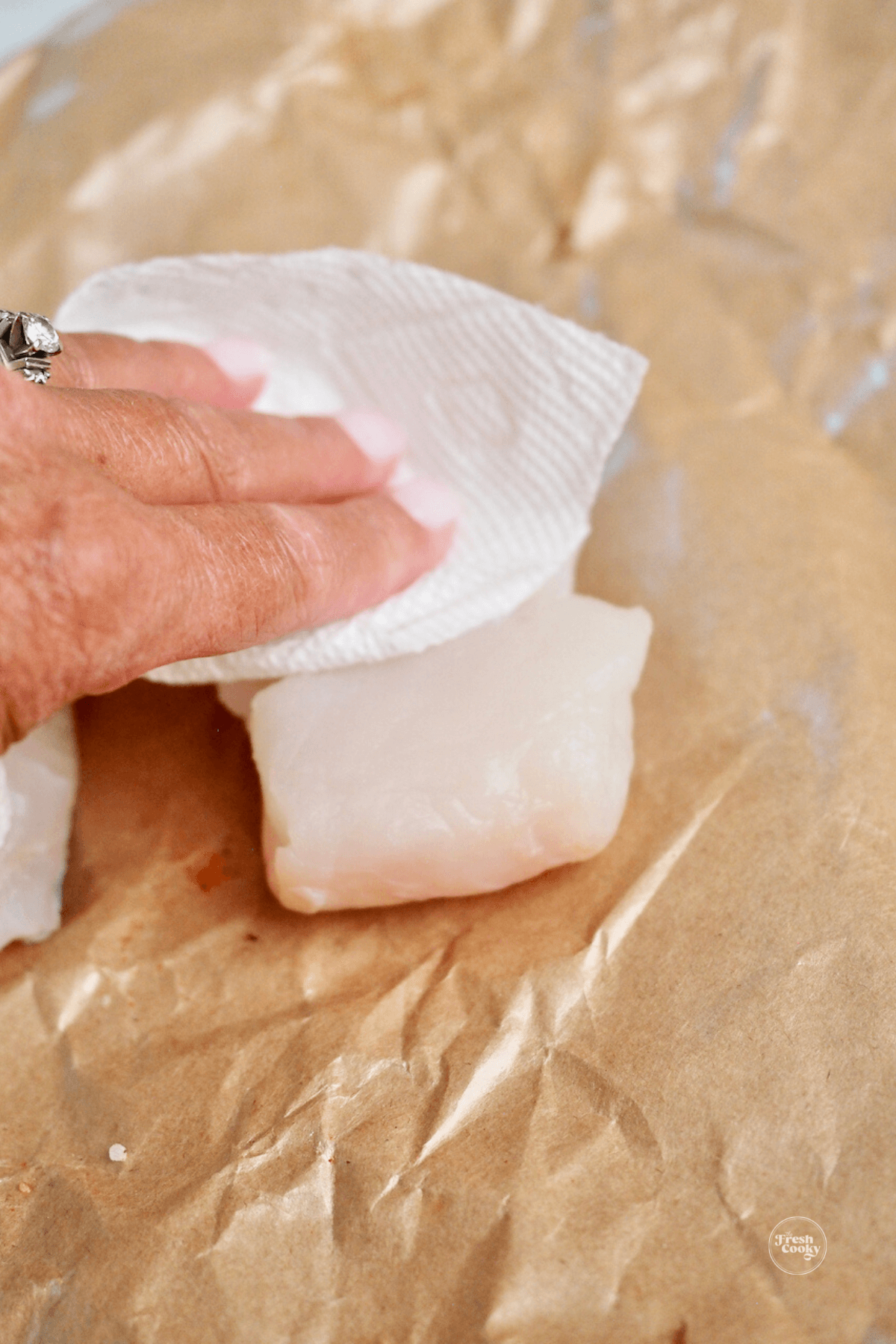 Step 2 | Adding Seasoning
Sprinkle on your dry seasonings of salt, pepper, and smoked paprika. I like to mix them together first so they go on evenly. Then use your hands or a bbq brush to gently rub in the spices.
Step 3 | Cooking the Halibut
Carefully place Halibut in the air fryer basket and air fry for the recommended amount of time according to the instructions for the thickness of the filet. Good news—Air fryers cook all around the food- so you won't even have to turn the fish.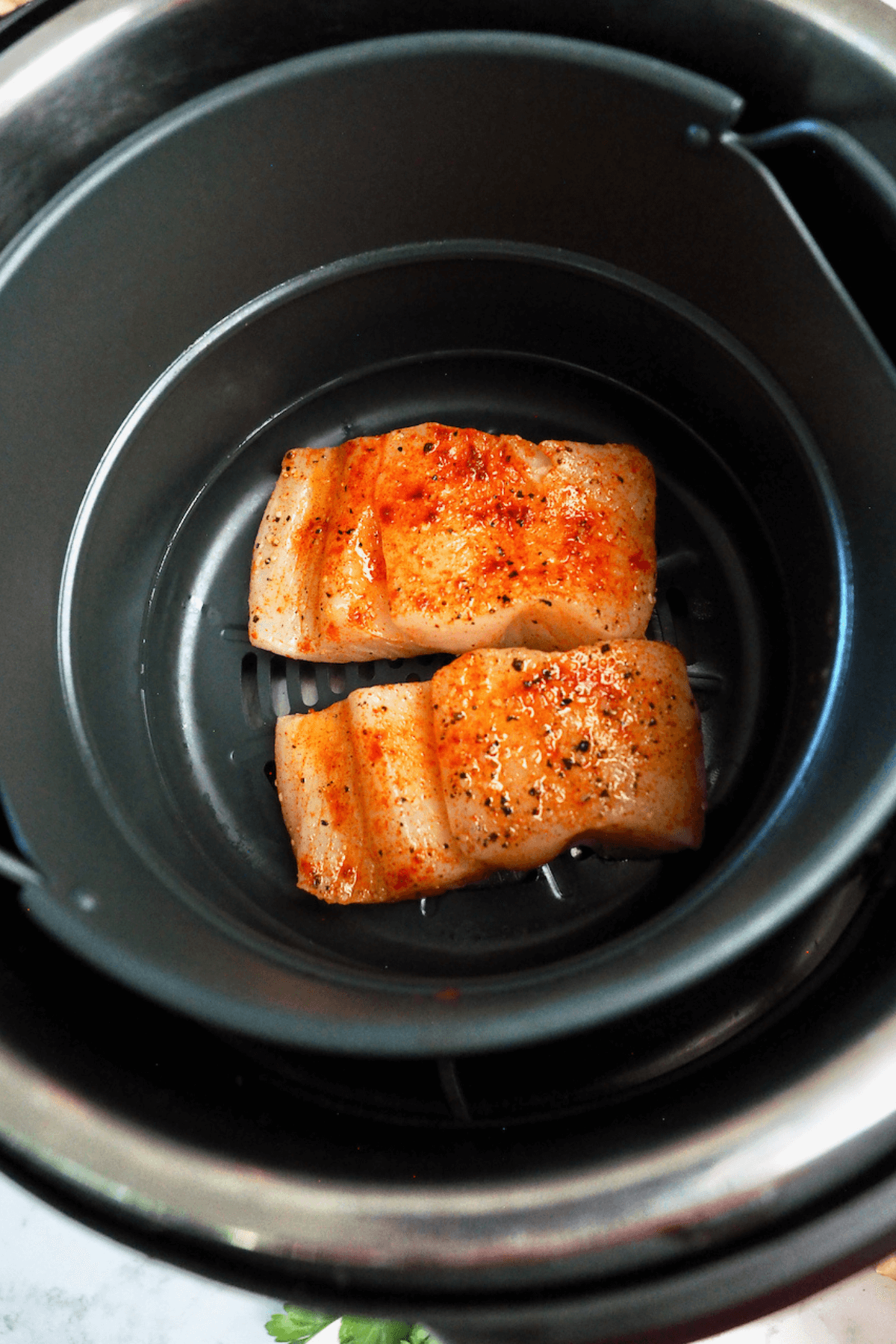 Step 4 | Make Brown Butter Lemon Sauce
Before you start the fish or while it is air frying, make your lemon butter sauce.
Heat butter over medium-low heat until it is fully melted and foamy.
If brown butter is what you are after, the best way is just to keep it on low and swirl the melted butter until brown and nutty, then add in the fresh garlic, stirring for one minute until the garlic flavor blooms.
If you don't have the minced garlic go ahead and add in a little garlic and onion powder.
Stir in lemon juice and serve the mix in a pretty glass serving pitcher or small gravy boat, or ladle it over the completed plates as you serve.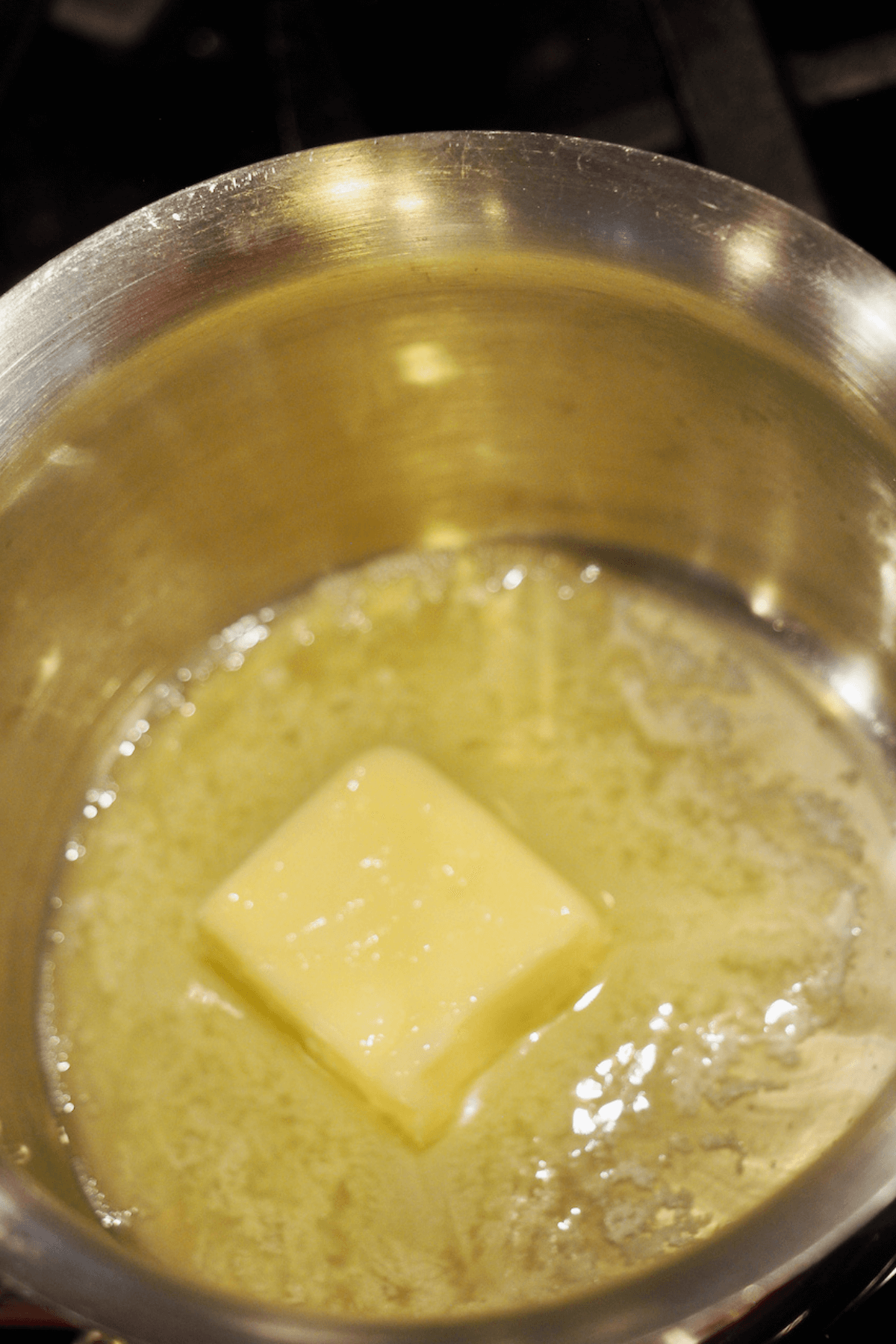 Step 5 | Checking the Progress
Want to know when the fish is done? The perfect filet flakes easily with a fork when done.
Remove and place the Halibut on a plate to serve with a drizzle of lemon butter sauce, add some lemon wedges to the plate with your favorite side dish.
Step 6 | How to tell if halibut is cooked
The fish should flake easily if it's done and the internal temperature reaches 130-135ºF. You can check this by using a meat thermometer.
Additional cook time may be needed as cooking times may vary depending on the thickness of fish, high altitude, and your air fryer.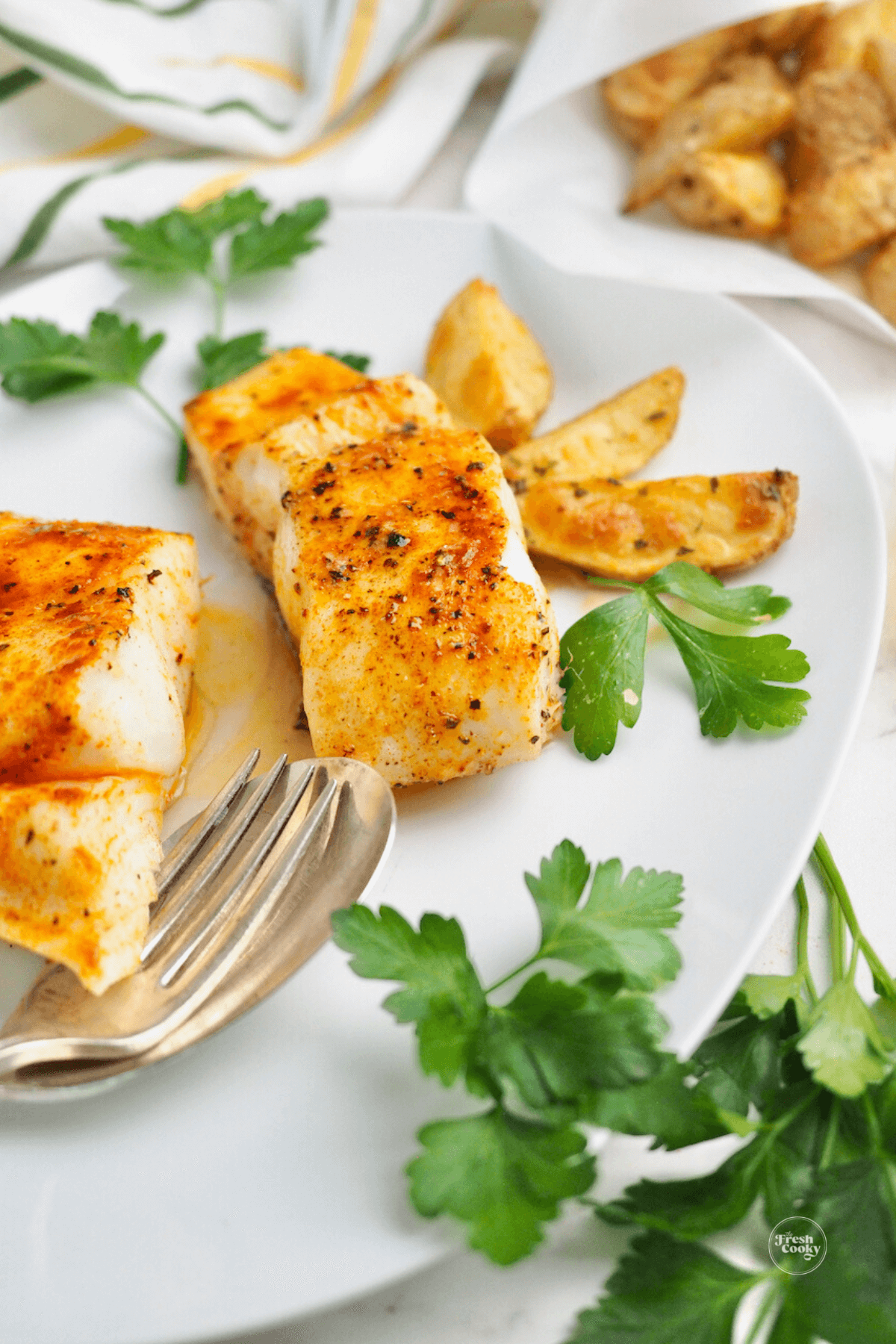 Air Frying at High Altitude
I am at high altitude in Denver, Colorado and this recipe worked just fine for my thick filets. I air fried them for about 6 minutes each. Start with the lower number and check, they can always go back under for a bit.
In general when air frying at high altitude you should be able to use the recipe as planned, but because foods dry out quicker at higher altitude you might want to decrease the temperature of 2-3 degrees F, per 1000 feet above sea level.
Serving Suggestions
Personally, I love to pair this easy recipe "Fish and Chips" style (really, fish and french fries) with some tartar sauce, a side of my Air Fryer Steak Fries, and a small salad on the side.
If you are not cutting carbs out of your diet, a nice bed of coconut rice is a great way to enjoy this delicate fish. Add a sprinkling of lime juice over the top, and you are in for a treat. And don't forget about that favorite, Cilantro Lime Rice from Chipotle. – yum!
My dieting friend likes to place this delicious air fryer fish over Palmini Rice from Amazon, my Air Fryer Asparagus, or a simple shredded cabbage.
Then for the kids, I recommend pairing it with tater tots and sliced cucumbers, carrots and tomatoes to keep the simplicity of the meal flowing.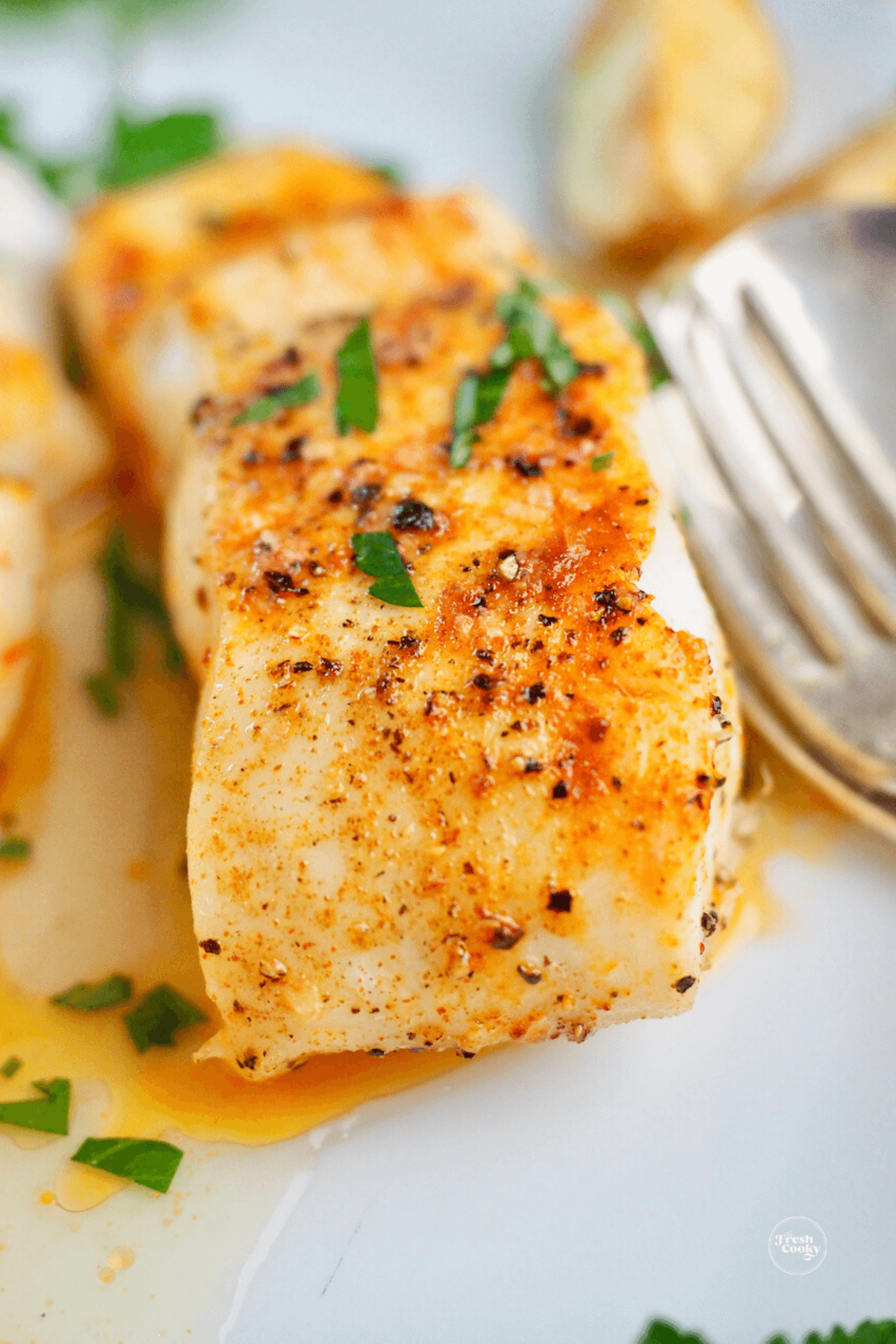 Variations and Substitutions
No Halibut? Try this recipe with other white fish like haddock, mahi-mahi, or tilapia.
Seasoning Substitutes | Use spice mixes instead of paprika but watch the salt content and adjust the salt in the recipe if necessary. Or, try Taco Seasoning, Chili Lime Seasoning, Creole Seasoning, or any other seasoning you are keen on.
Like a heartier meal? You can also use this recipe in fish tacos and add all the veggies and toppings!
Pro Tips
Altitude – High Altitudes might require an additional 1 minute of cooking, but you can always put it back in. Just double-check your internal temperature before consuming.
Large Crowd – This recipe easily doubles or triples, but make sure the fish has a little room around it in the air fryer, or do it in batches. Then you can keep the fish that is cooked in a baking dish on warm in the oven until all the pieces are done.
Freshness – Once you purchase fresh halibut filets, you will want to use them within a day or two to keep them at the peak of fresh flavor.
Never use Cooking Spray – Cooking sprays like Pam will damage the air fryer coating. Instead, use an olive oil spray or pump.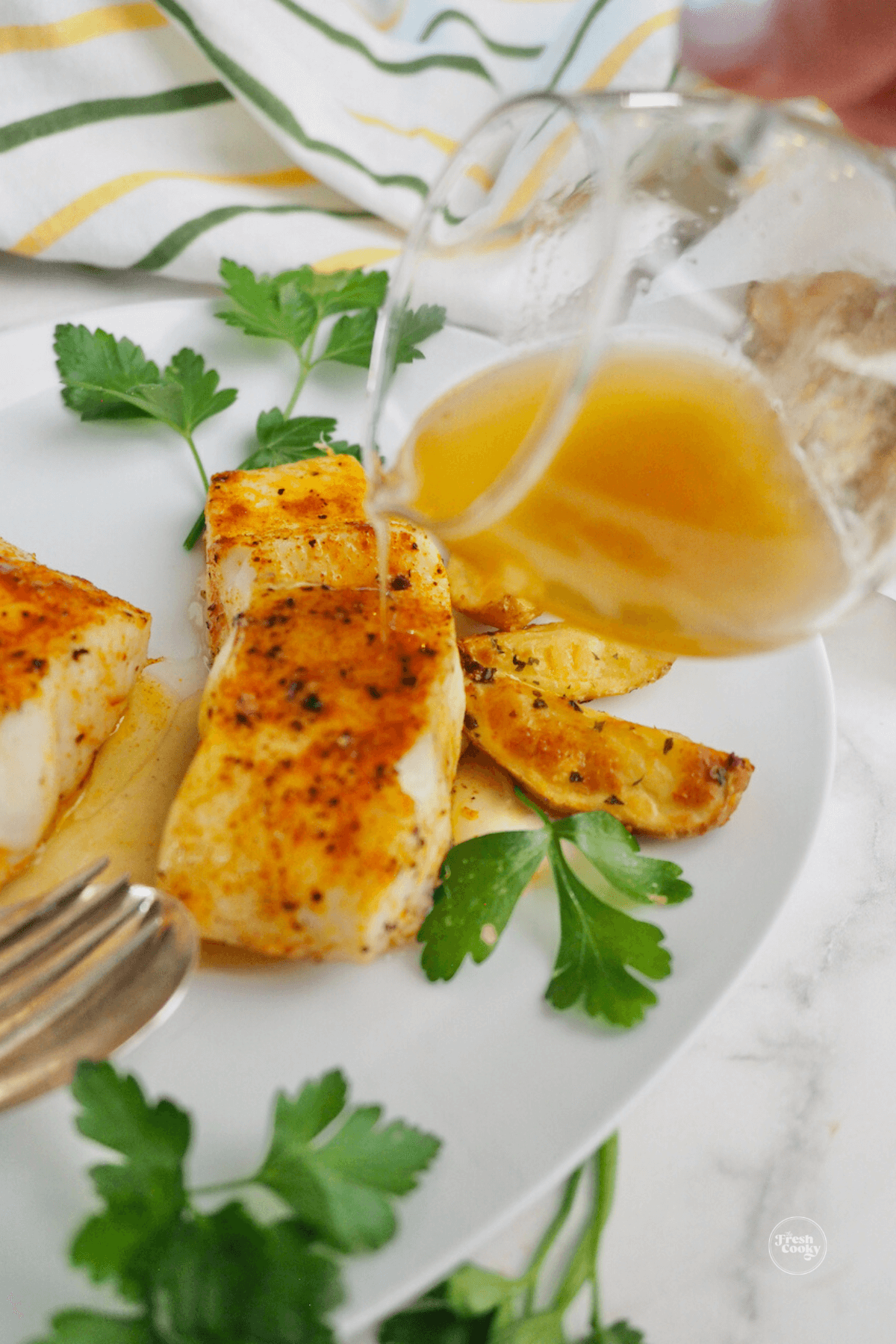 Storage
Leftover fish isn't easy; however, you may reheat leftover fish back in the air fryer, it will warm it and crisp it nicely.
Preheat the air fryer to 320F / 160C. Place fish filets in the air fryer basket or tray, leaving space between them, and reheat for 5-7 minutes.
Dice fish into chunks and sauté quickly in a bit of butter in a hot sauté pan. Then, if desired, sprinkle with your favorite seasoning and use in fish tacos or a salad.
Frequently Asked Questions
Can I cook frozen Halibut in an air fryer?
Yes! You can use frozen halibut in place of fresh fillets. Pat the frozen filet dry, add oil and spices and place the frozen fillets in the air fryer in a single layer. Then, set the temperature to 350 and fry for around 6-8 minutes. You will probably need to add a few additional minutes, somewhere between one to three additional minutes.
What if I don't have an air fryer?
If you don't have an Air Fryer but you have an Instant Pot, you can buy a handy lid attachment and have the ability to air fry the same way. I used the Instant Pot Air Fryer lid for this dish since it's small and simple.
Can I bake the halibut in the oven?
To bake in your oven vs. an air fryer, prepare fish as planned making sure to line a pan with foil and oil it lightly. Place in preheated 400 degree oven and bake for 12 to 13 minutes or until fish is opaque and no longer transparent. If a crispier outside is desired, place under broiler for last minute or two watching carefully.
What other spices work well with halibut?
That is totally up to you and your creativity. Feel free to toss in fresh herbs like oregano or basil. Or you can use dry spices like Italian Seasoning or lemon pepper for extra lemony fish filets. Not to mention, there are all the other spice blends I mentioned earlier. But also think asian and try this simple teriyaki glaze, Mexican or Spanish too!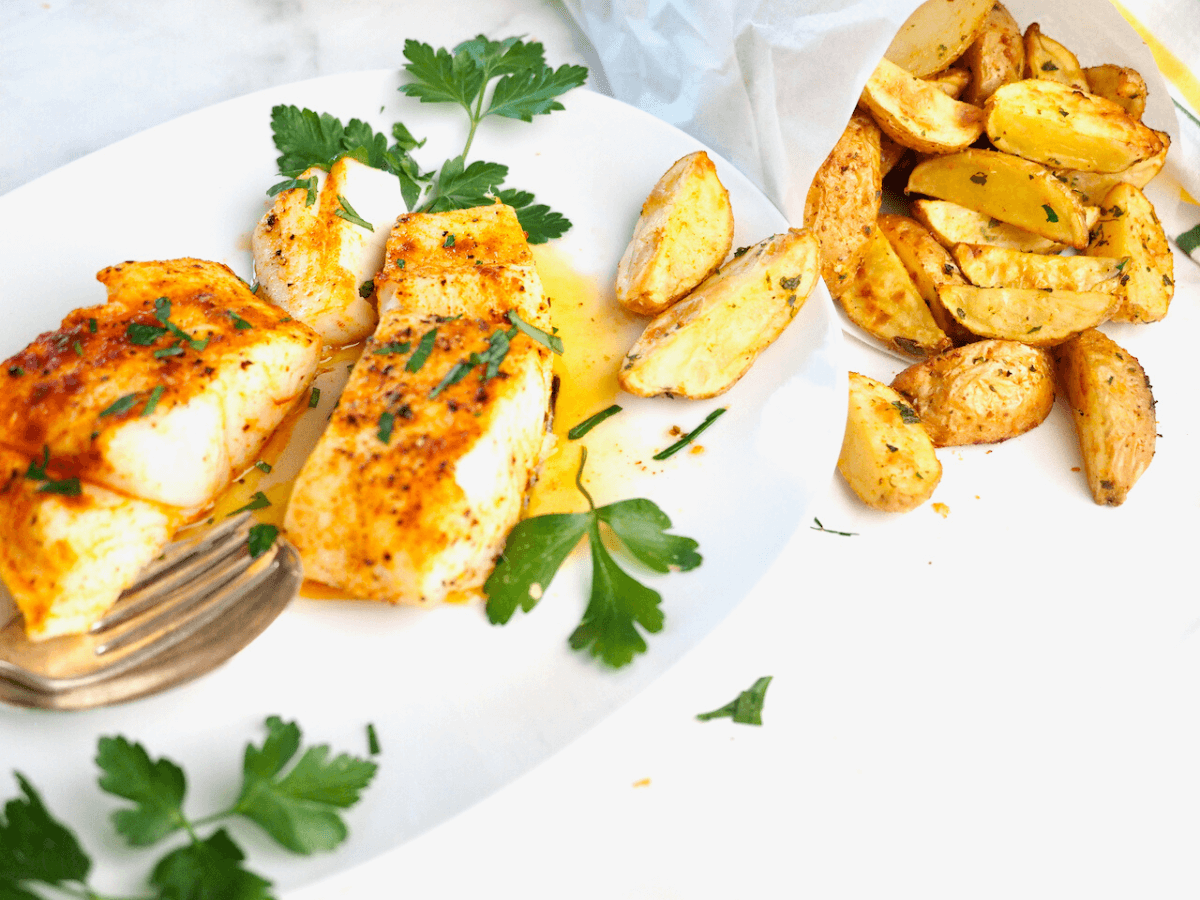 More Healthy Meal Options
If healthy, fast, and simple meals are what you go for, you might also enjoy these.
And there are plenty more Air Fryer Recipes on my blog as well. Check them all out.
I hope you loved this Air Fryer Halibut Recipe — if you did, would you share your creation on Instagram, Facebook and Pinterest? And be sure to comment below!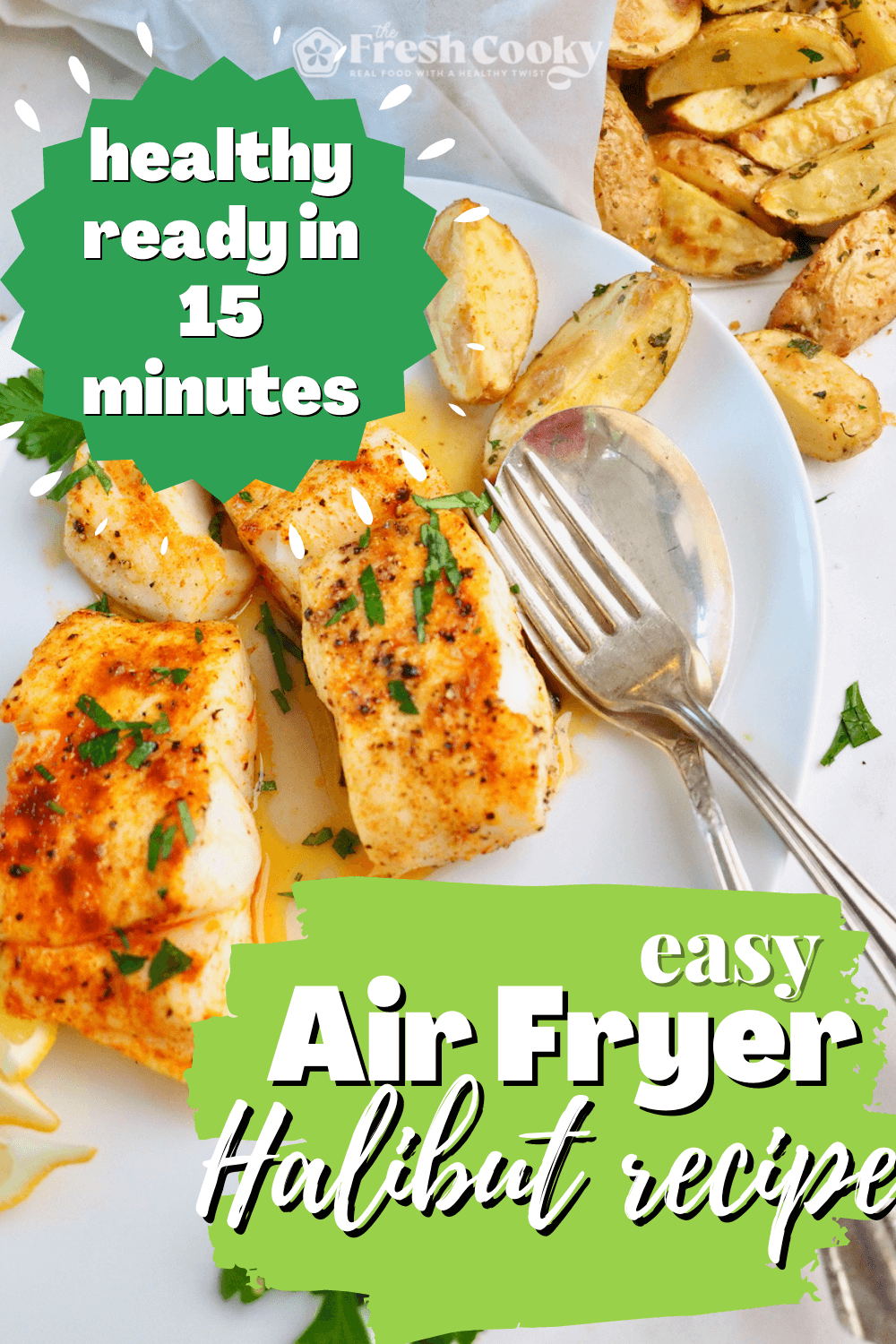 Like this recipe?
Don't forget to give it a ⭐️⭐️⭐️⭐️⭐️ star rating and comment below the recipe!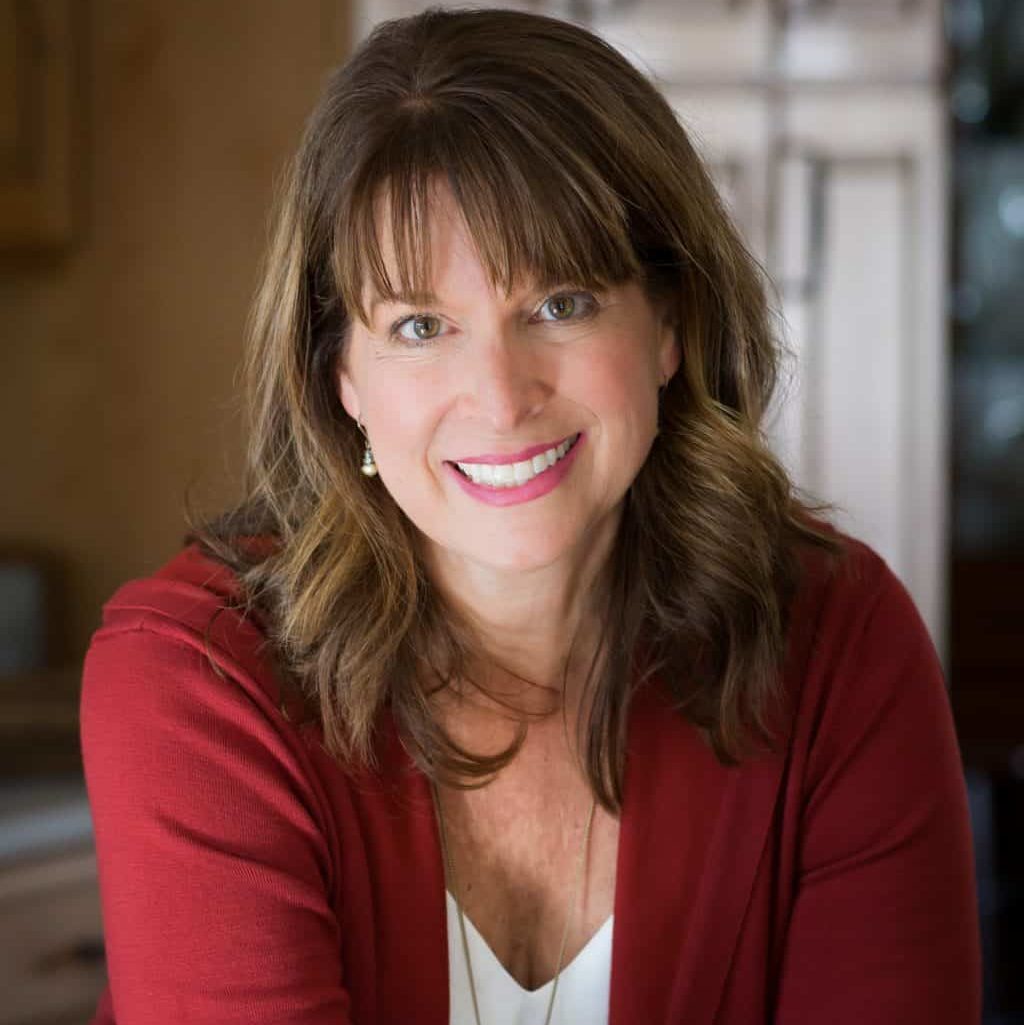 About Kathleen Pope
Recipe Innovator | Food Photographer | Food Writer
Hi, I'm Kathleen Pope. Here at The Fresh Cooky you will find easy, mostly from-scratch, trusted recipes for all occasions. From speedy dinners to tasty desserts, with easy step-by-step instructions. I am here to help teach you how to make mouthwatering recipes without spending hours in the kitchen. Read more about Kathleen here.