Maple Balsamic Chicken Breasts and Veggies
As an Amazon Associate, I earn from qualifying purchases. Please read my disclosure policy.
Balsamic is my secret ingredient! And I'm letting you in on it here. You're going to love it as much as I do when you try these balsamic chicken breasts. They're tender! They're delicious! And they're easy! This recipe is a one-pan chicken and veggies dish that your family will beg for again and again!
If you love this one pan recipe, you will love my French Onion Chicken Skillet, and these amazing Oven Roasted Sweet Potatoes and Broccoli.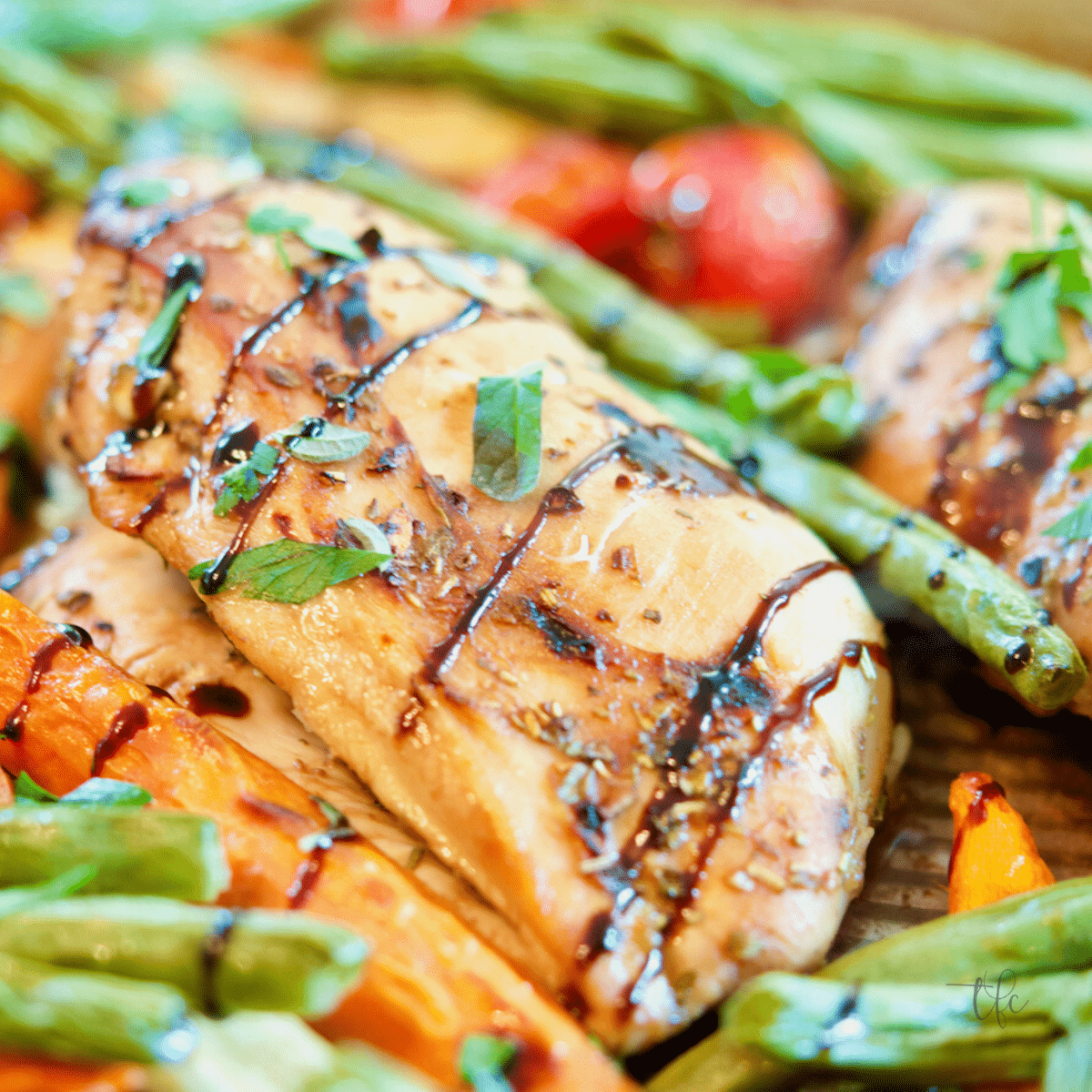 Everyone knows marinating meat gives it great flavor, but balsamic vinegar also tenderizes your meat. And the maple syrup (the good stuff, not the version made with corn syrup) makes it even better! The flavor is deep and rich, pairing well with chicken and veggies.
Who knew something so simple would make something so delicious?! This meal is great for any time of year, but if you have a farmer's market close by, you can use fresh garden carrots and herbs in the fall for amazing results! This baked chicken dish is going to make your mouth water!
Now that you're hooked on cooking with balsamic vinegar, give my Balsamic Flank Steak recipe a try—it goes great with potatoes. And when you want to give a nice punch to your veggies, try this Roasted Brussel Sprouts recipe for a delicious twist on dinner. If you need something new for a crowd, you won't go wrong with this Bacon Balsamic Macaroni Salad—people go nuts for bacon!
Primary Ingredients
Be sure to print out the recipe at the end of the post which has all of the measurements and detailed instructions.
Start at least 30 minutes ahead by marinating your chicken.
Balsamic Maple Chicken Marinade
Balsamic Vinegar | the essence and tenderizer of this marinade!
Dijon Mustard | Adds a bit of creaminess, and a tiny bite.
Maple Syrup | use the real stuff here, adds a touch of sweetness, you may replace with honey.
Spices & Herbs | My perfect herb combo for this recipe is oregano, basil, and rosemary, adding a woodsy, Italian flare!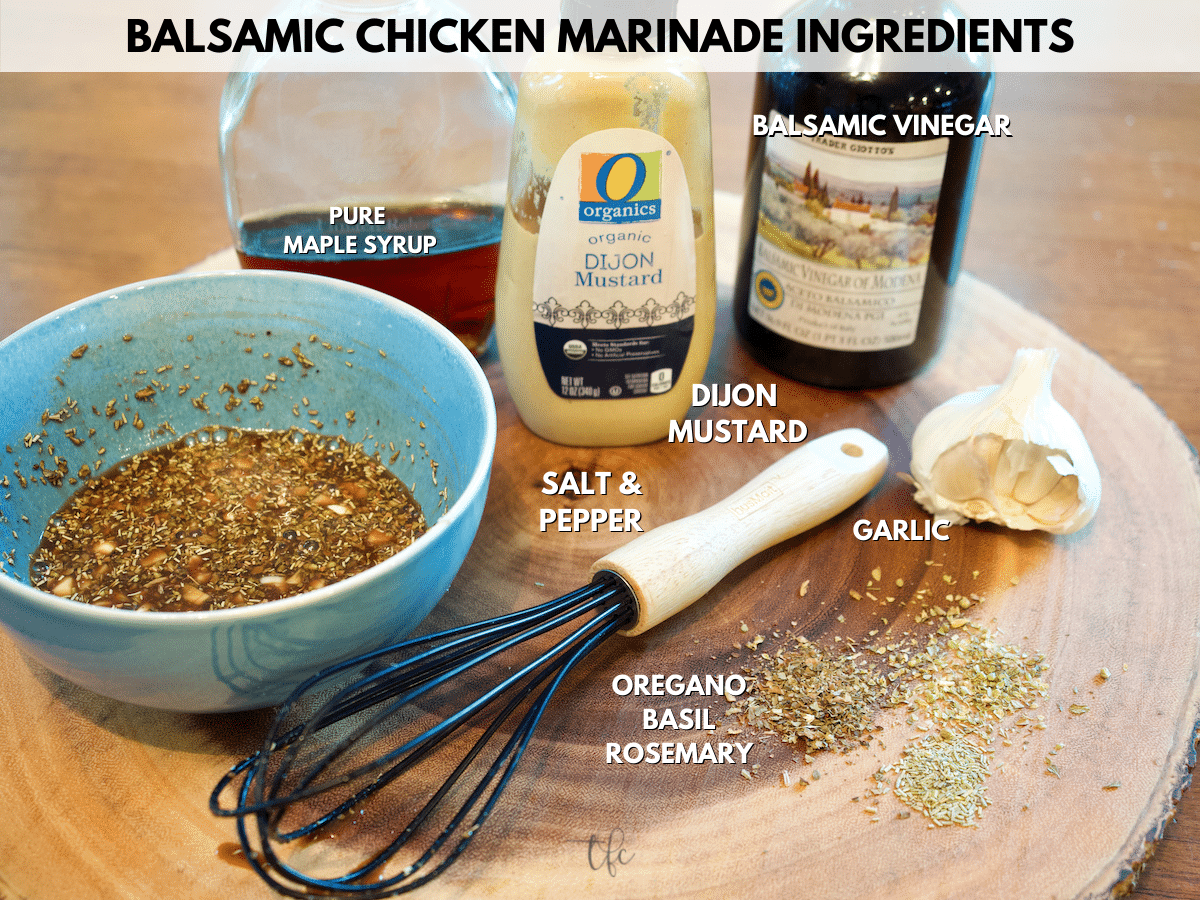 Maple Balsamic Chicken Sheet Pan Ingredients
Chicken | I use boneless, skinless chicken breasts, but if you're a fan of thighs, they'll work too!
Rainbow Carrots | I love the color variety of rainbow carrots, but regular carrots and/or quartered baby red potatoes are great substitutions.
Cherry or Grape Tomatoes | They're sweet and delicious. Of course, any tomato will work!
Green Beans | Freshly harvested beans are tender and sweet—and depending on the time of year, you can substitute asparagus.
Sun-Dried Tomatoes | Have you noticed how these capture and intensify the tomato flavor? When in doubt, add more sun-dried tomatoes!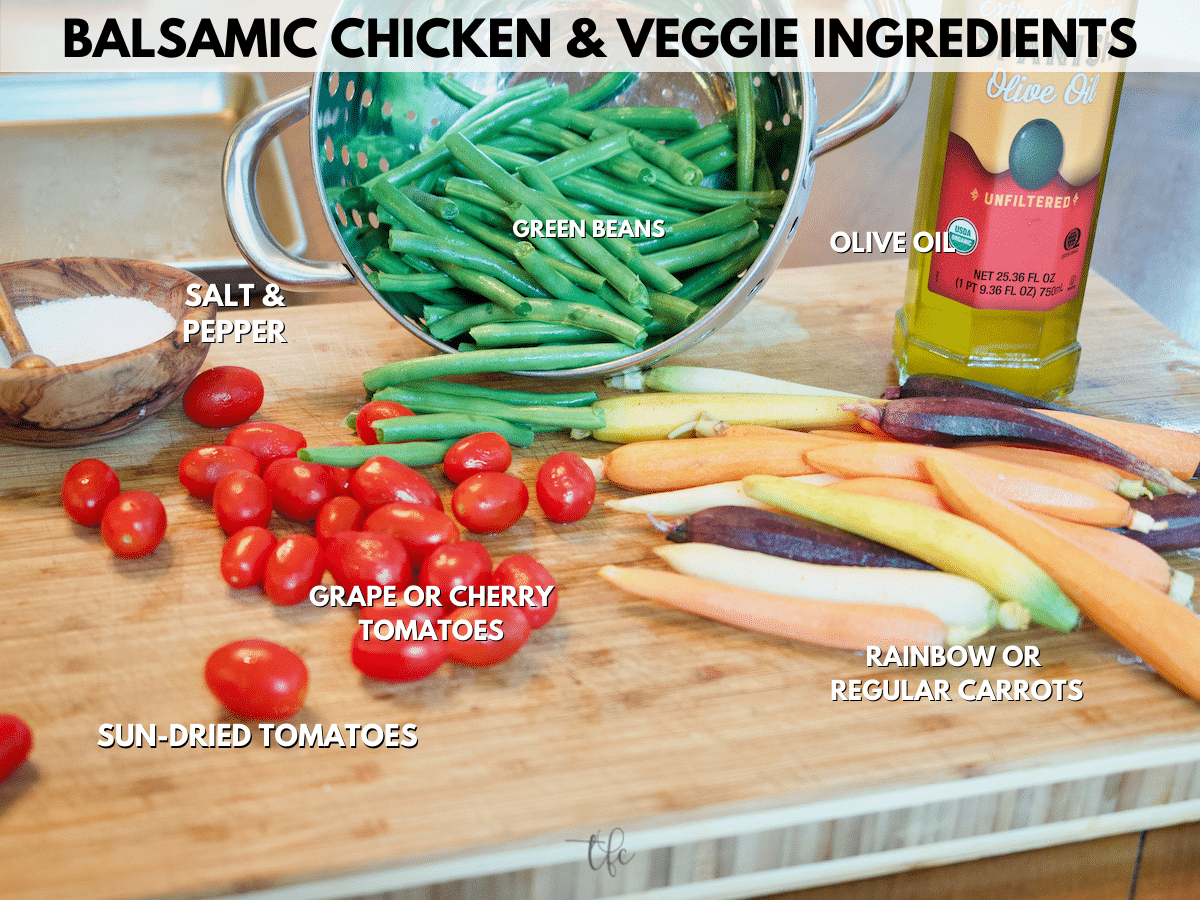 How to make Balsamic Chicken Breasts
A few quick steps for this simple baked chicken breast at 400 degrees! A fast, healthy and easy dinner.
First, prepare the Maple Balsamic marinade. Whisk together the vinegar, maple syrup, mustard, garlic, and herbs.
Marinate the chicken in a covered container or plastic baggie inside the fridge. It's best if you let it marinate overnight, but even 30 minutes is enough for delicious results.
Next, preheat the oven to 400 degrees while you get everything ready to pop in for this one pan chicken and veggies meal.
Use a baking sheet coated with nonstick spray or parchment paper. Drizzle olive oil over all your vegetables, including the sun-dried tomatoes if you're using them.
After tossing, spread the veggies out on the baking sheet.
Lastly, add the balsamic chicken breasts between the veggies.
Bake chicken breast at 400 degrees for about half an hour, adding the green beans the last 10-15 minutes if you desire crisper green beans.
It's ready to serve! Top with a little balsamic glaze.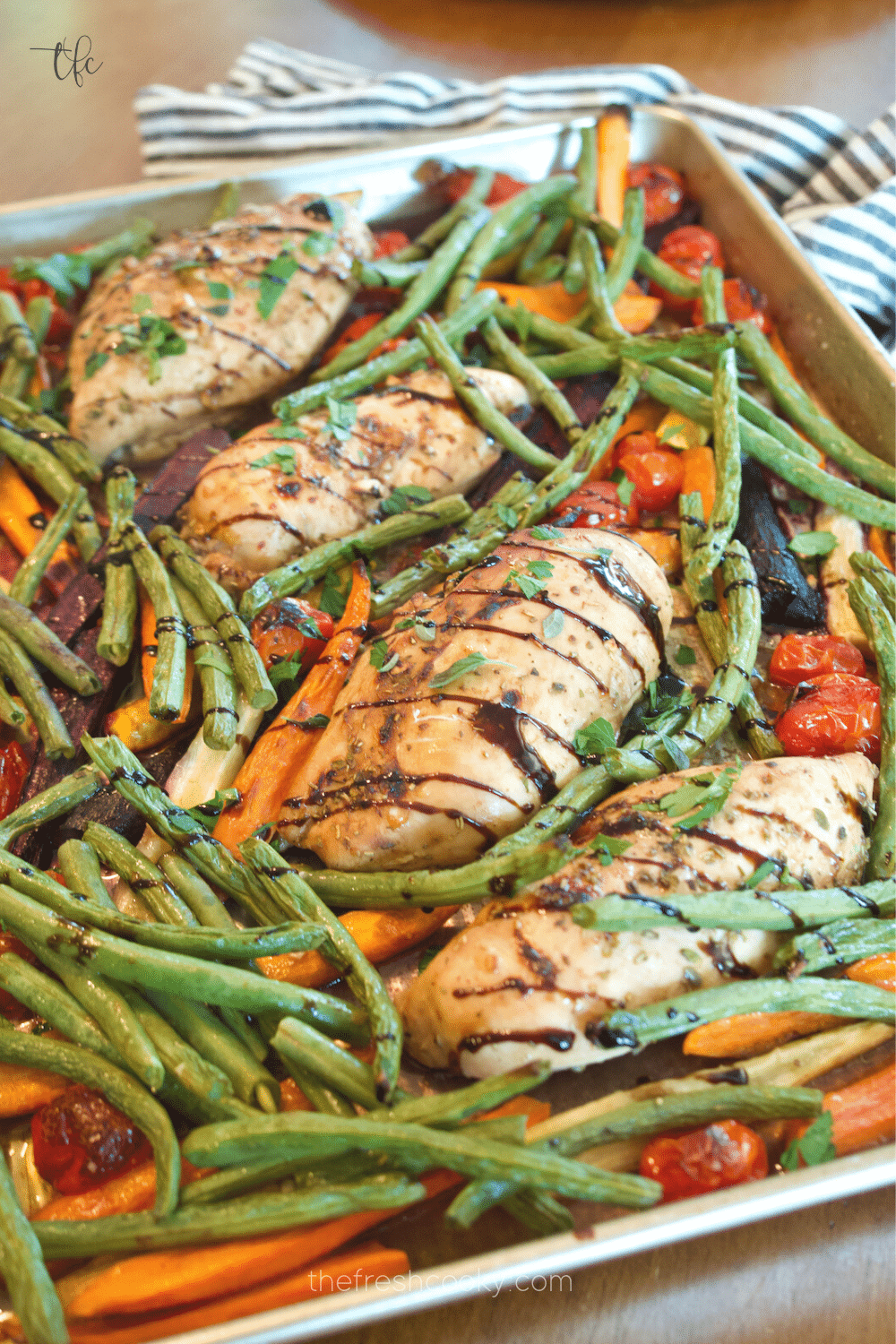 Variations
For crisp green beans, toss them separately with olive oil, and add them for the last 10-15 minutes of baking.
I had originally intended to add baby potatoes for a delicious baked chicken and potatoes and carrots meal. Nothing warms me more than a hearty, warm, baked chicken sheet pan dinner!
For some added flavor consider adding other root vegetables like sweet potatoes, turnips, and beets. For a fancy twist, you can even add fennel!
In addition to substituting asparagus for your beans, try adding artichoke hearts.
TFC Pro Tips
Pro Tip 1 | Marinating time is the key to having tender chicken. Overnight is ideal! But even 30 minutes will make a difference!
Pro Tip 2 | Picking the right vinegar is key to having the best dish possible. You want to find one that has aged for at least 3 years for the best results.
Pro Tip 3 | If you're in a hurry, thinly slicing your chicken and veggies will decrease the cooking time!
Frequently Asked Questions
How long can I keep marinated chicken in the fridge?
Only keep your uncooked balsamic chicken breasts in the fridge for 1-2 days. After that, throw it out. You can freeze your marinated chicken for up to a year.
How do I know when the chicken is done cooking?
Use a thermometer to check the internal temperature. It needs to reach 165 degrees before eating.
Should my veggies get brown?
Yes! A little browning is perfect! Veggies brown because the natural sugar in them caramelizes from the oven's heat, bringing out their natural sweetness.
Storing leftovers
Place any leftovers in an airtight container, will last 3-5 days in the fridge. I love these containers as I can reheat right in the container. To reheat place in oven safe dish or pan into 350 degree oven for 20 minutes.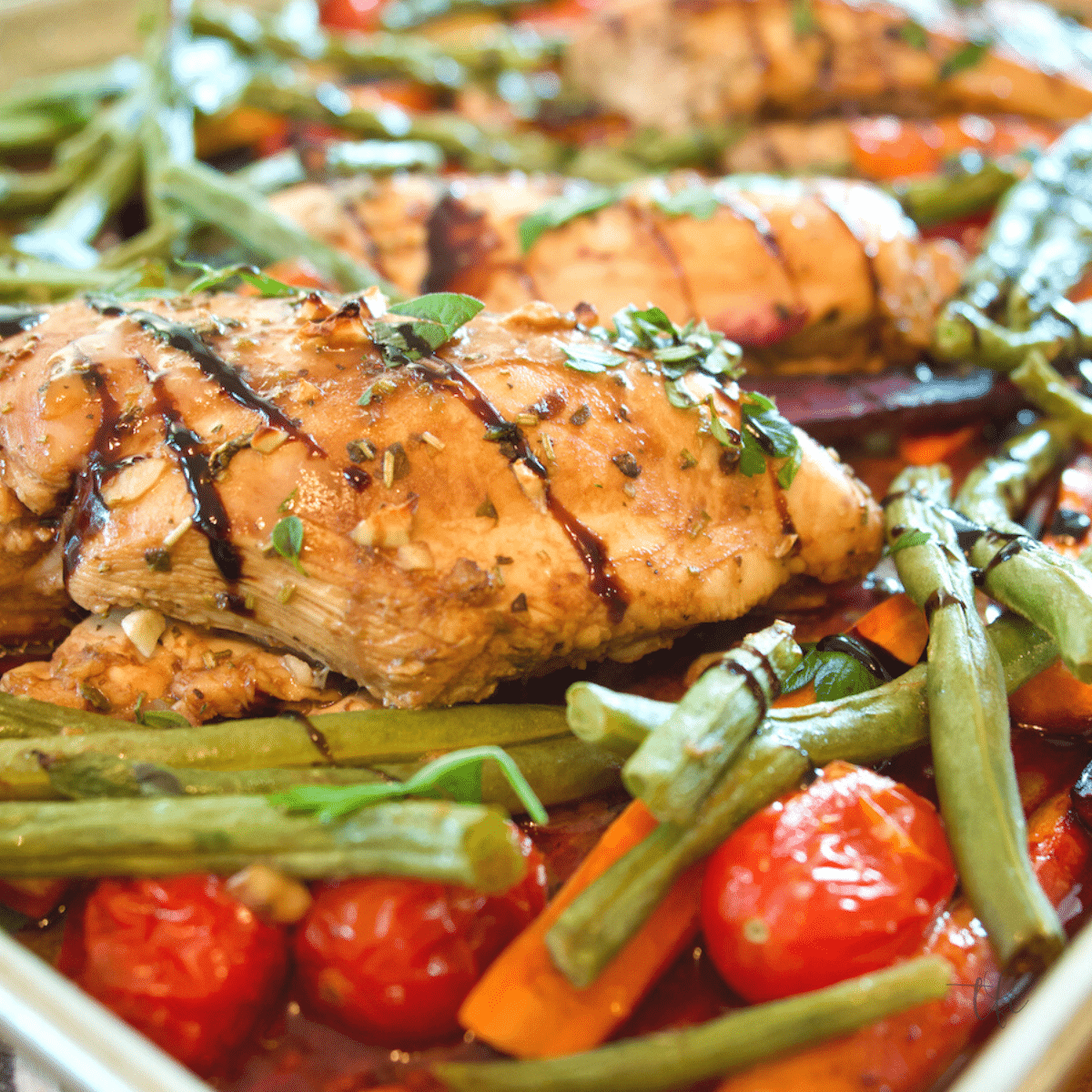 Recommended Equipment
Other than having something to marinate your chicken in, which can be as simple as a gallon sized baggie. You just need one main tool!
I hope you love this one pan chicken and veggie meal! If you do, be sure to leave a comment below the printable recipe card.
Serving Suggestions for Baked Balsamic Chicken
Sure, this is a one pan meal, contained all on a sheet pan, but sometimes you still want to serve something alongside; here are some suggestions:
Like this recipe?
Don't forget to give it a ⭐️⭐️⭐️⭐️⭐️ star rating and comment below the recipe!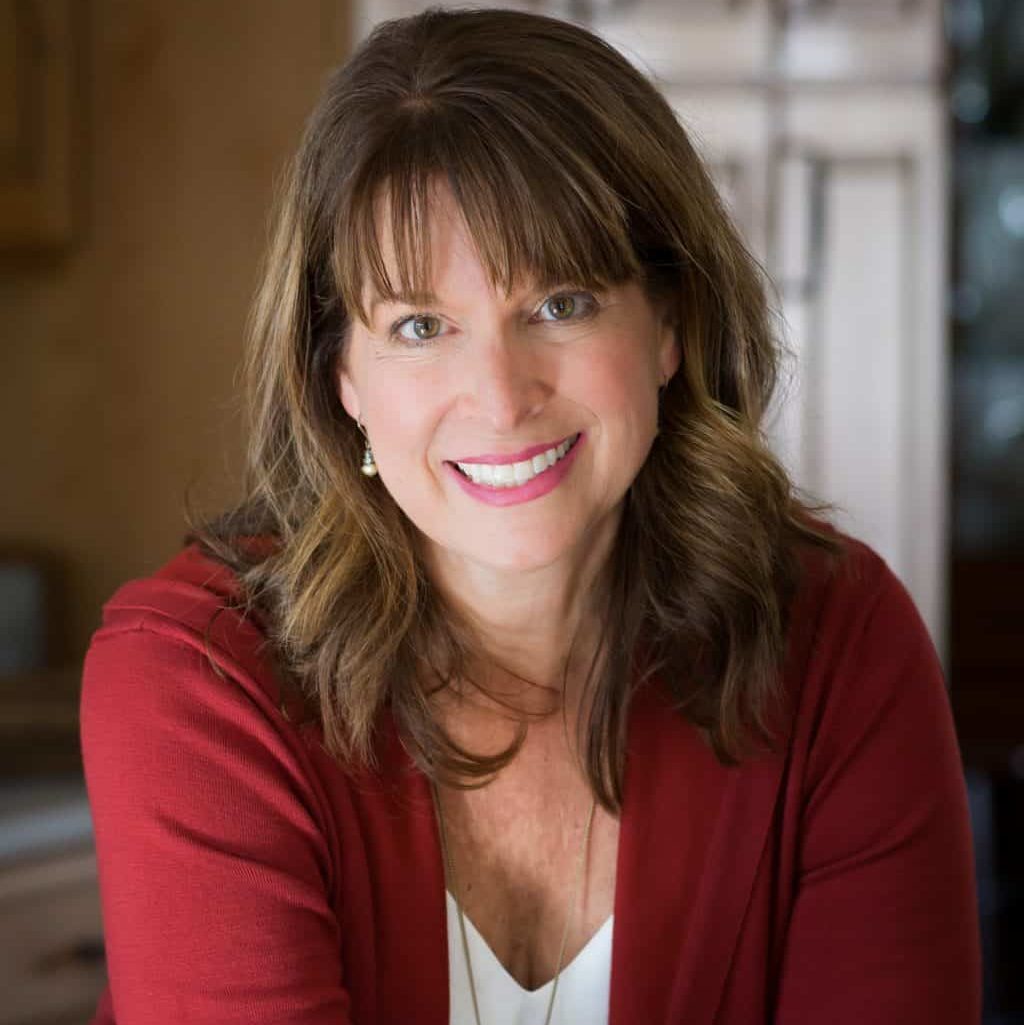 About Kathleen Pope
Recipe Innovator | Food Photographer | Food Writer
Hi, I'm Kathleen Pope. Here at The Fresh Cooky you will find easy, mostly from-scratch, trusted recipes for all occasions. From speedy dinners to tasty desserts, with easy step-by-step instructions. I am here to help teach you how to make mouthwatering recipes without spending hours in the kitchen. Read more about Kathleen here.