As an Amazon Associate, I earn commissions from qualifying purchases (
disclosure policy
).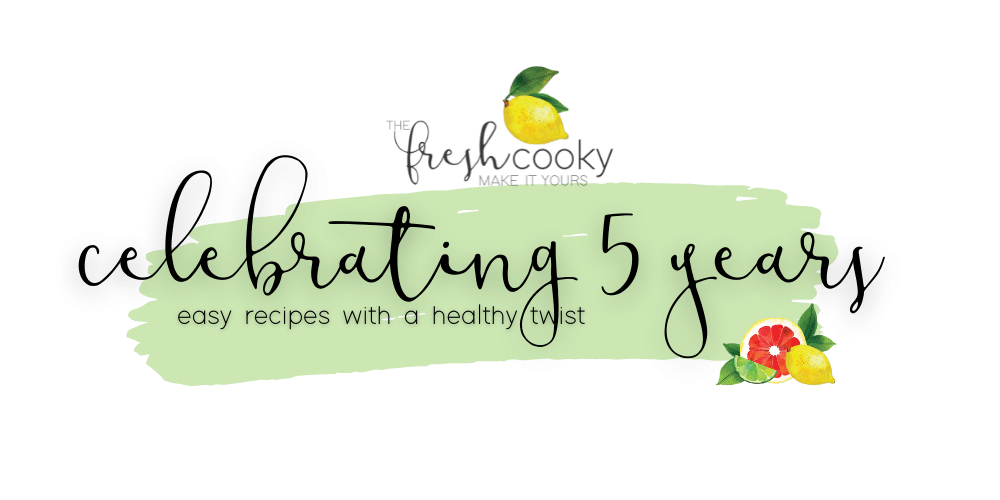 ---
What a fabulous and fun week is has been, I so enjoyed reading all of your comments about your favorite foods from your states! More on that below!
Congratulations to Barb from Kentucky our week 2 giveaway winner!! You won the 6 qt Instant Pot!! Reach out to me if you did not receive my email. P.S. Her favorite food is Kentucky Derby Pie with a splash of bourbon!
Read below for all of the great information about our Week #3 giveaway!
I am writing this on March 17th, which is my actual blog anniversary, the date that with nervousness and excitement I hit publish for the first time! My husband, parents and close friends were my first subscribers, my kids mostly willing recipe testers!
It's been a rollercoaster ride, I had no idea what I was doing back then but with the help of my friend, neighbor and fellow blogger, Eliza (check out her blog!) I began to learn. Eliza and I still blog together at our local library almost every Monday. How grateful I am for ALL of my Fresh Cooky family of readers!
And I wouldn't be where I am today without being pushed, taught, challenged and encouraged by the women in my mastermind group. A huge shout out to each one of these amazing and beautiful women! Check out their blogs too!
It was so much fun to read everyone's comments about their favorite state foods. Here are some of the highlights! Browse through last weeks comments, they are a fun and informative read.
North Carolina and South Carolina Barbecue! A variety of cuts of meat, definitely different sauces, I could spend a year just enjoying all of the different barbecue varieties! Oh and Livermush, I was told to not knock it before I try it. I always say, I'll try (almost) anything once – I put my foot down at anything that is still moving.
Ohio Buckeyes! Even though I was raised in California, my grandmother, a native of Colorado made Buckeyes every Christmas, it's a treasured memory I have making those with her. I have a similar recipe on the blog, Browned Butter Buckeye Bars, so yummy!
From Colorado we have Pork Green Chile and Rocky Mountain Oysters (if you don't know what they are, check out this post). Better known for our produce; juicy Palisade peaches, Rocky Ford Cantaloupe, and Olathe Sweet Corn. These Zucchini Corn Fritters used Olathe sweet corn.
Pennsylvania came in with Philly Cheesesteaks, and of course Utz pretzels and chips, ShooFly Pie, Whoopie Pies and the creators of Peeps! Pennsylvania Dutch Ham Pot Pies (a stew and not a pie).
Marionberries from Oregon, along with the creators of the Tator Tot (did you know that Ore-Ida comes from the combo of Oregon and Idaho? Thank you Cheryl!) Utah boasts green Jello-O salad and fry dipping sauce.
Chislic and Kuchen's from South Dakota and California came in with Sour Dough, Mexican food and avocado's of course!
Missouri is famous for Kansas City BBQ, along with St. Louis's Toasted Raviolis, they also invented the ice cream cone and the Cherry Mash Candy Bar.
Mississippi Mud Pie (drool!) and fried catfish with hushpuppies; Louisiana Gumbo and Texas with its TexMex, Texas Caviar aka Cowboy Caviar.
Virginia is proud of their Smoked Country Ham, Virginia Peanuts and Brunswick Stew.
---
What's New in the Kitchen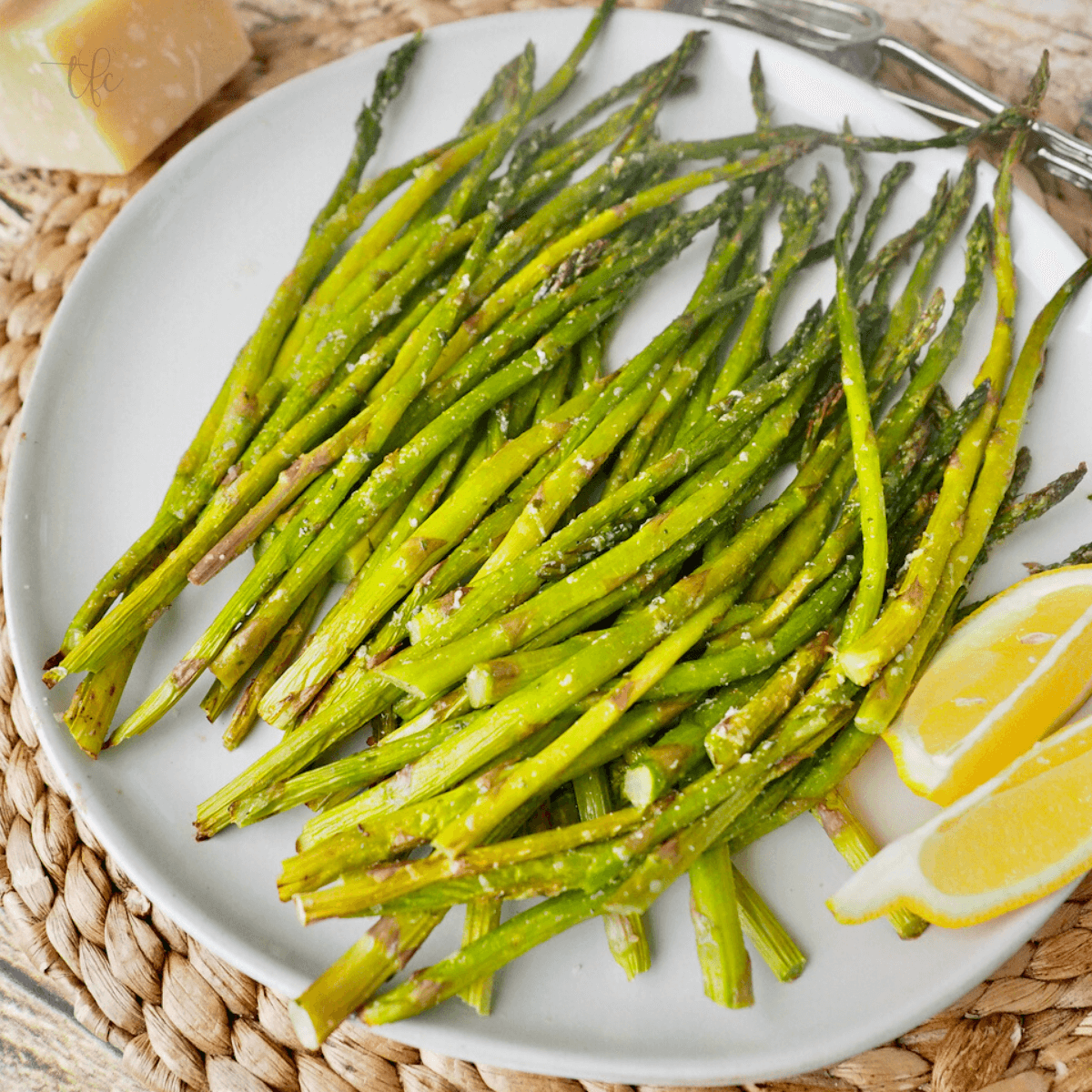 Brand new recipe, crispy, but tender, roasted Asparagus ready in about 10 minutes in your air fryer! This healthy and quick vegetable side dish goes great with Ground Beef Stroganoff and Oven Baked Barbecue Beef Brisket.
---
Who knew Corned Beef & Cabbage would be a hit!
Last week I featured my brand new recipe for Baked Corned Beef and Cabbage and wow, you all loved it! Grab some today, it might be on sale at your grocery store! Don't forget the Irish Soda bread!
Recipes for Lent
Whether or not you give up something for lent, I've got a few meatless recipes for you to enjoy!
I gave up refined sugar for Lent except for Saturday's, so I can still recipe test for Easter! You might enjoy these refined sugar free recipes.
5 Year Anniversary Giveaway Week #3
For those of you who are just joining us, we are in the middle of my 5 year blog anniversary celebration, where I am giving away something fun to one blessed winner each week! Want to read more about it, check out the first Fresh Friday's post.
On to the giveaway!
Week #3 | One winner will receive a 6qt Dutch Oven + my favorite Wooden Spoon!
Have you made a rustic bread in a Dutch Oven? If not, you have got to try this No Knead Overnight Cranberry Walnut Bread (use any dried fruit or nut combination you choose!), or maybe you want a comforting pot of stew or this juicy Bread & Butter pot roast!
How to Enter the Giveaway
Comment at the bottom of the post, answering this question:
What is your favorite cuisine (country) and favorite dish of that cuisine?
This giveaway is just for you, my readers; as a huge thank you for 5 years and growing! Did you know one of the biggest ways I grow is by word of mouth! Share with a friend!
One winner per week, giveaway #3 will be open until Wednesday, March 23 at 12 pm MDT. Winner will be chosen using a random name picker and will be notified via email and announced next Friday.
Song of the week
This song and video just made me sing, clap my hands and stomp my feet, smile and sing! Zach Williams "Old Church Choir". I hope you sang along with everyone, especially the kids! 🙂
Sur la Table Warehouse Sale
There are some fantastic deals in this warehouse sale from Sur la Table! Check them out! My personal favorite is the Staub Rectangular Bakers, I have the two smaller ones, but would love this trio!
Shop Sur la Table's 50% Warehouse Sale, click the link or the image below.
**As an affiliate of Sur la Table I earn a small commission costing you nothing if you purchase from this link.
I love your kind comments, encouragement and questions! Pop down below or reply to the email.
With joy and hope,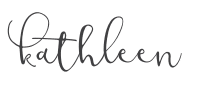 P.S. Be sure to browse through last weeks Fresh Fridays for more great recipes!
Visit The Fresh Cooky's Amazon Shop