Easy Buckeye Bars Recipe (Gluten-Free)
As an Amazon Associate, I earn from qualifying purchases. Please read my disclosure policy.
Soft, creamy, and oh so peanut butter-y with a thick layer of chocolate ganache on top, these no-bake buckeye bars recipe made with nutty brown butter are over-the-top easy! And they are gluten-free!
If you enjoy this recipe, you will also enjoy these make ahead holiday treats; Mint Fudge Brownies, Easy Chewy Blondies, or this Peppermint Chocolate Mud Pie!
And be sure to make up a batch of my popular Traditional Shortbread and these Crumbl Chocolate Chip Cookies — while you are at it, try these Easy Peanut Butter Cookies.
I love buckeye balls, they remind me of my grandmother, she and I would make these together during the holidays.
There are so many recipes out there, I decided to brown the butter and take the long process of rolling and dipping in chocolate out of the equation; these still remind me of my Grandma though!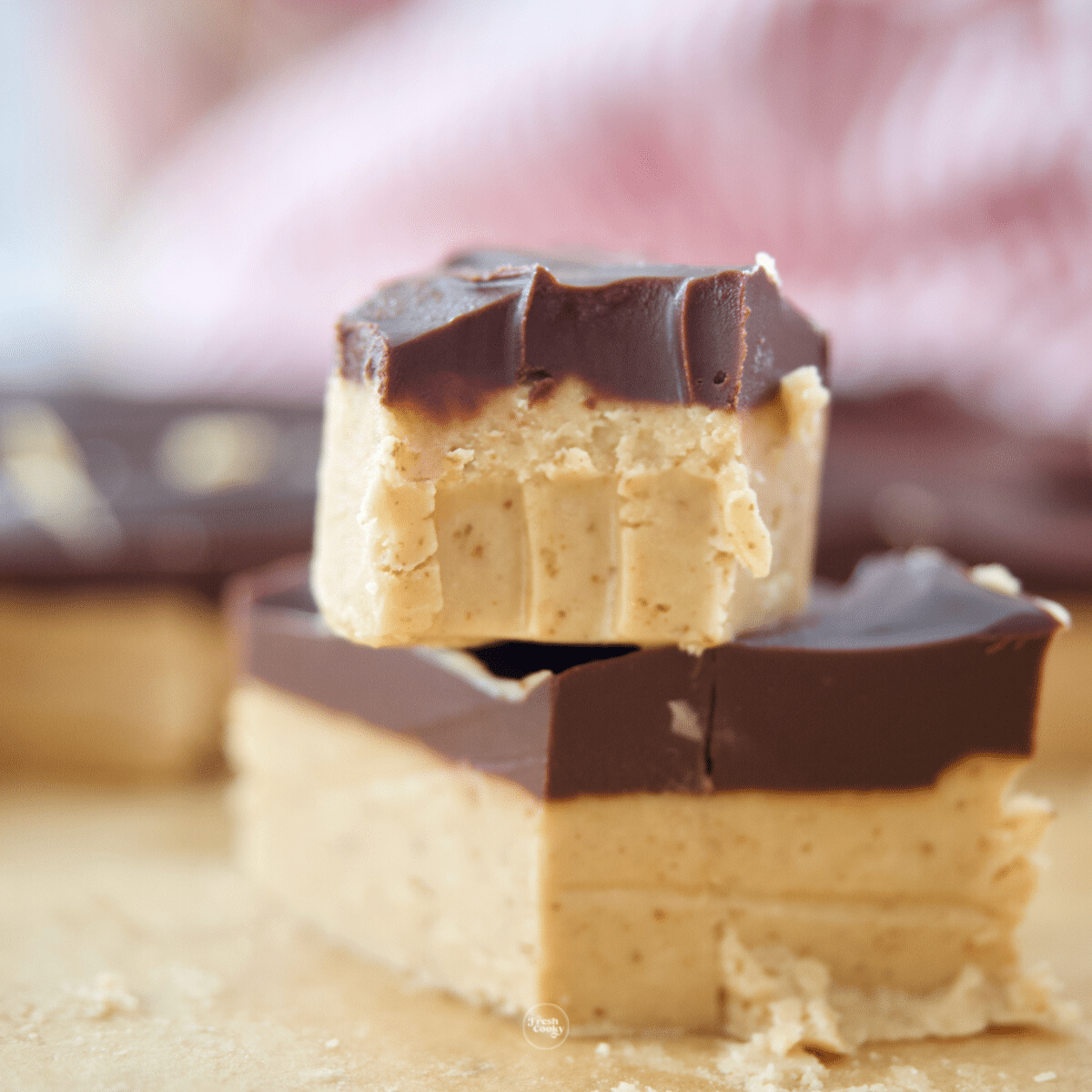 How do you brown butter?
Brown butter adds incredible depth, a luxurious nutty richness to all baked goods, like these brown butter rice Krispie treats or this brown butter glaze.
Browning butter is not as hard as you might think, you just can't walk away from it.
Over medium heat, melt butter, it will shizzle, snap, crackle and pop.
then it will get quiet and foam up — this is where you really need to keep an eye on it.
You will start to see the browned butter swirling through, swirl the pan and remove from heat, once it's tan and brown with little flecks of goodness. It will have a lovely nutty smell.
Buckeye Bars Simple Ingredients
Salted butter | unsalted may be used, but I typically only have salted butter around
Brown sugar | light brown here
Creamy Peanut Butter | most peanut butter recipes need non-natural peanut butter, this recipe you may use either, just make sure your oils are well mixed
Vanilla extract | have you ever tried making your own vanilla? Amazing!
Powdered sugar | sifted is best in this recipe
Semi-sweet chocolate chips | the best you can afford
How to Make the best Buckeye Bars
Line an 8×8 or 7×11 brownie pan with parchment paper or foil, be sure to leave a little hanging over the sides for easy removal and cutting.
Over medium heat, melt butter, it will shizzle, snap, crackle and pop.
Then it will get quiet and foam up — this is where you really need to keep an eye on it.
You will start to see the browned butter swirling through, swirl the pan and remove from heat, once it's tan and brown with little flecks of goodness and will start smelling nutty.
Remove from heat and stir in the brown sugar until smooth. Whisk or stir in peanut butter and vanilla until smooth.
Stir in sifted powdered sugar, a half of a cup at a time, stirring until smooth. Pour mixture into prepared pan and smooth. Place in freezer until firm, about 30 minutes.
How to Make Chocolate Ganache Topping
Slice butter into 1 tablespoon hunks and place chocolate chips and butter in a microwave safe bowl. Heat in microwave for 30-45 seconds to start, stir well, return and microwave at 30 second intervals, stirring in between until melted and smooth.
Note that the chocolate continues melting even after removing from the microwave.
If chocolate becomes too thick or burns from overheating in microwave, simply stir in 1-2 teaspoons of vegetable oil until smooth and shiny. To fix broken, grainy, gloopy ganache, check out my Chocolate Ganache post.
Spread chocolate evenly (I like using an offset spatula for this type of thing) over the top of the chilled peanut butter mixture and refrigerate until firm, about an hour.
Cutting & Storing Brown Butter Buckeye Bark
Run a sharp knife under warm or hot water, wipe dry with paper towel. Use excess parchment paper to lift buckeye bark onto cutting board. Slice in 1 inch pieces.
Or place a large hunk on cutting board, with a knife for others to customize their bite!
Store buckeye bark or bars in airtight container on counter up to 5 days, may be refrigerated up to 7 days and frozen* up to 3 months.
*If freezing buckeye bars, the chocolate may develop a white "powder" on top. It is harmless!
What is the White Powder on my Chocolate and can I still eat it?
I am glad you asked! The short answer is yes it is perfectly harmless; the white powder is simply a chemical reaction in the chocolate and is safe to consume.
There are two types of "bloomed" chocolate:
A sugar bloom (typically caused by moisture exposure in the chocolate and what you would find when freezing), Sugar bloom is typically a storage issue, though; if you keep chocolate in a damp room, condensation can form on its surface.
This can also happen at the grocery store or in your own fridge, so stash your chocolate in a cool, dry place if you want to avoid sugar bloom.
A fat bloom is the second type of white powdery bloom. Improper storage can also cause fat bloom.
If it's just warm enough, the cocoa butter in the chocolate will separate a bit and settle on the surface of the chocolate, forming greasy streaks. Fluctuating temperatures can also be to blame. (Source)
How to Package Buckeye Bark for Gift Giving
This is a wonderful treat for gift giving, at Christmas or anytime!
I cut my bark up into 1 inch pieces and carefully stacked them in these cute storage containers I found at Home Goods, but you can find these on Amazon as well.
Chinese takeout containers would be really cute too!
And don't forget to print some fun Gift Tags!
More Great Christmas Cookie Gift Ideas
If you love these peanut butter buckeye bars, you will love these other recipes!
I hope you loved these easy buckeye bars recipe — if you did, would you share your creation on Instagram, Facebook and Pinterest? And be sure to comment below!
Like this recipe?
Don't forget to give it a ⭐️⭐️⭐️⭐️⭐️ star rating and comment below the recipe!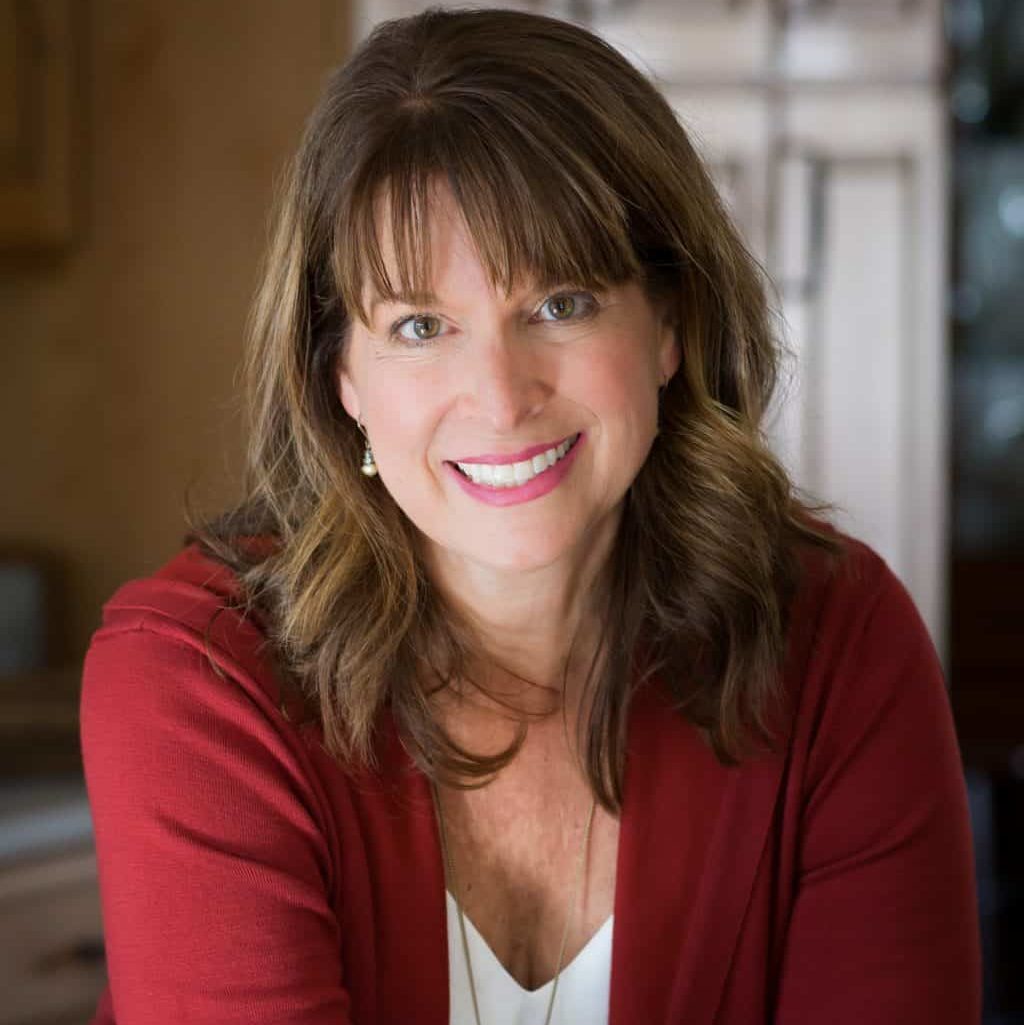 About Kathleen Pope
Recipe Innovator | Food Photographer | Food Writer
Hi, I'm Kathleen Pope. Here at The Fresh Cooky you will find easy, mostly from-scratch, trusted recipes for all occasions. From speedy dinners to tasty desserts, with easy step-by-step instructions. I am here to help teach you how to make mouthwatering recipes without spending hours in the kitchen. Read more about Kathleen here.