The Best Baked Corned Beef and Cabbage Recipe
As an Amazon Associate, I earn from qualifying purchases. Please read my disclosure policy.
Enjoy traditional Baked Corned Beef and Cabbage this St. Patrick's Day! By slowly roasting salty and sour corned beef with a head of cabbage and some earthy leeks, potatoes and carrots, all of their flavors meld and balance in perfect harmony creating fork tender baked corned beef recipe. A sweet, smoky bourbon glaze ties everything together with a delicate sweetness.
Check out my favorite Traditional St. Patrick's Day Food — just in time for St. Paddy's Day! Enjoy some dark, decadent Guinness Chocolate Cake with Irish Buttercream for dessert, or some comforting Skillet Shepherd's Pie that'll warm you up from the inside out.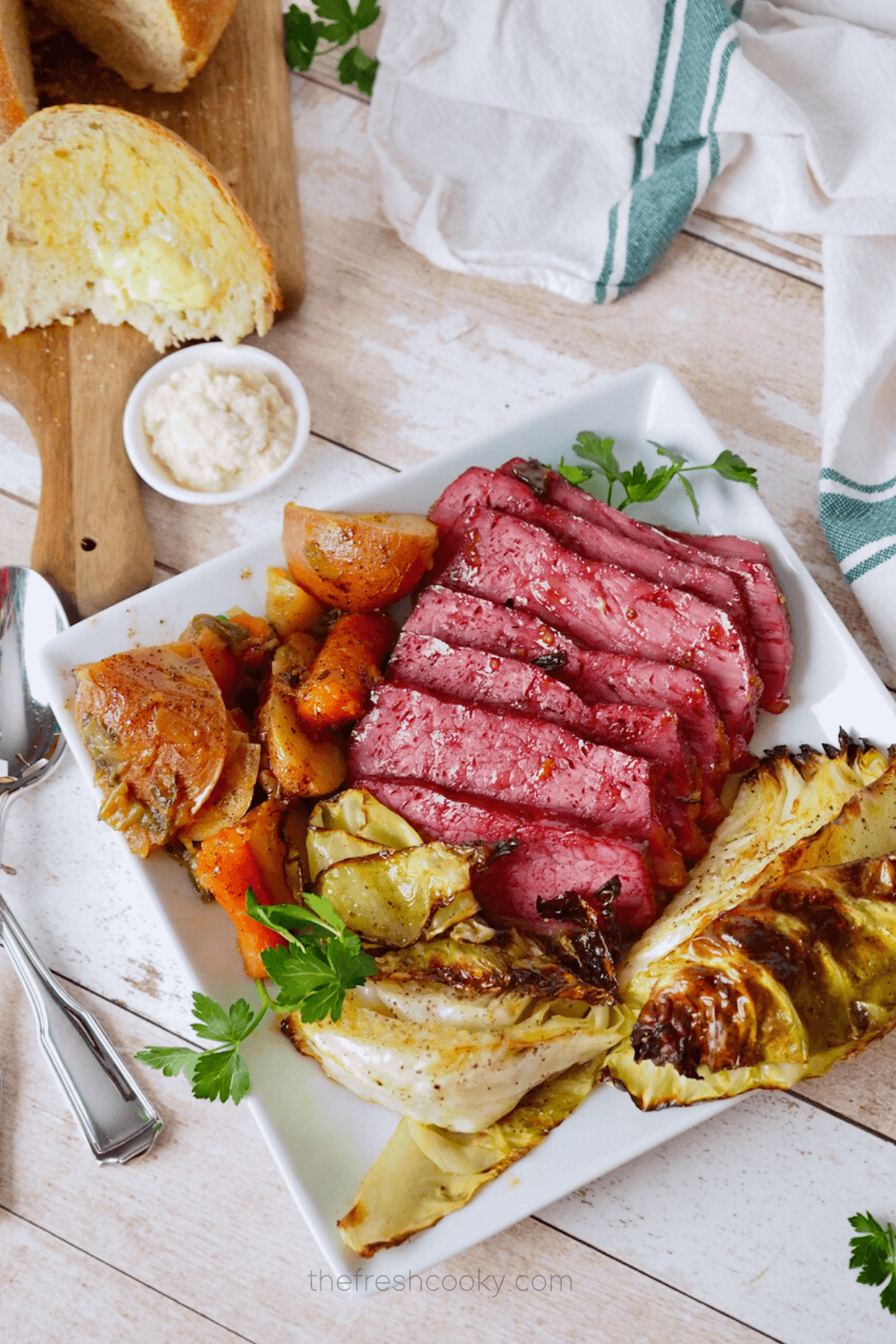 Traditional Irish Meal
This St. Patrick's day, blow everyone away with some tender, oven roasted corned beef and cabbage.
My recipe is inspired by an old James Beard Irish corned beef and cabbage recipe, with a few key changes: a slow simmer in a large Dutch oven at a low temperature in stout beer and I've reduced the sugar and bourbon in this gorgeous brown sugar and bourbon glaze.
On its own, this meat is briny and sour. By slowly roasting with a delicious stout beer all of the deep, rich flavors of the meat are brought to the surface. It's served with soft, sweet vegetables and coated in my rich, warm bourbon glaze. Yum!
Why You Will Love Baked Corned Beef and Cabbage!
Traditional Irish flavors: A classic meal is just the way to celebrate with family and friends. The bourbon and beer make this dish particularly holiday appropriate!
The perfect balance of sweet, salty, and savory: Mild cabbage and briny meat is toned down with a few earthy veggies to balance the flavor scales perfectly.
A bold bourbon glaze: I can't hype up this glaze enough! The sweet cider, bourbon, and brown sugar is offset by the tangy mustard and sharp garlic. It's bold, aromatic, and beyond scrumptious.
Ingredients
As always, the printed recipe with full measurements and instructions is in the recipe card at the end of the post.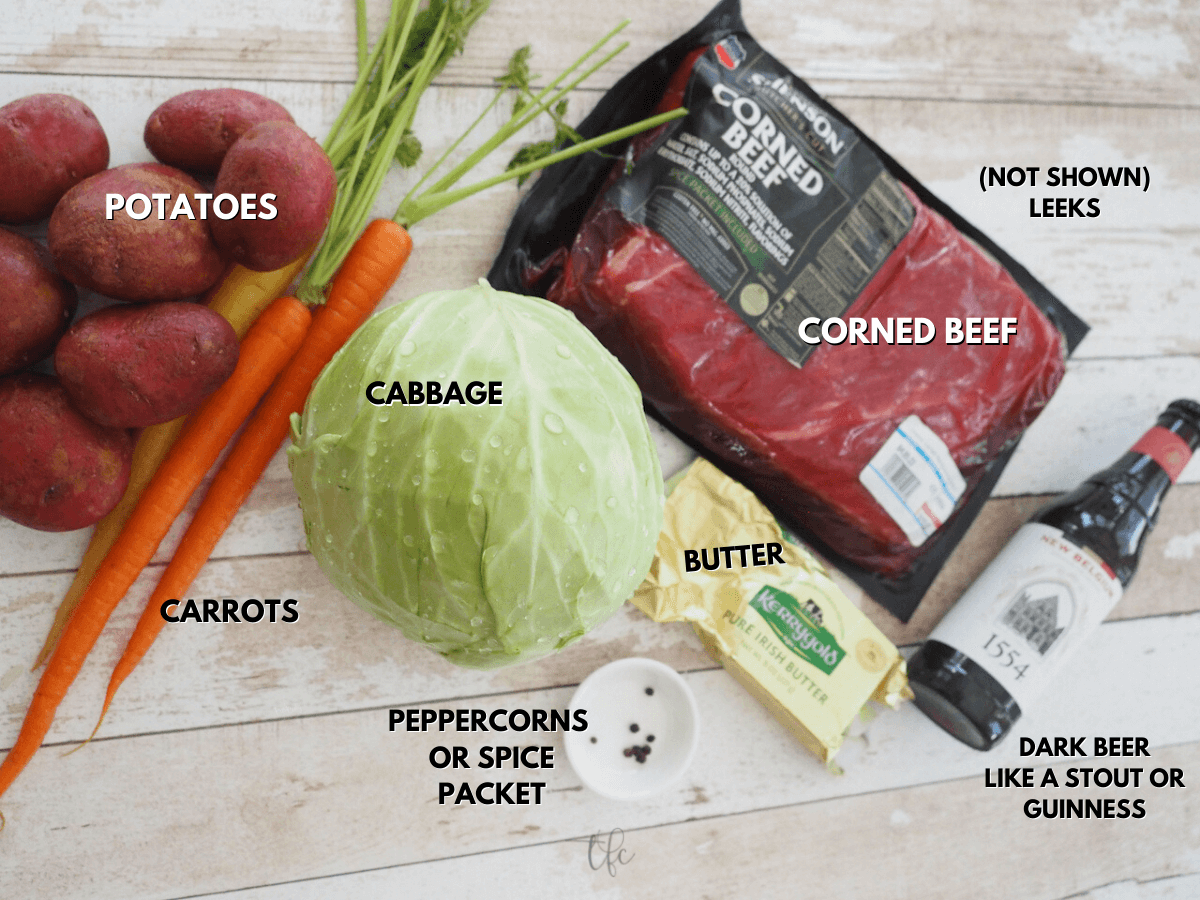 Corned brisket of beef | The crowned jewel of baked corned beef recipe, if you can find one purchase without nitrates or nitrites
Peppercorns | this will replace the spice packet, but you can add the flavor packet in place of the peppercorns if you wish.
Guinness Beer | Or other dark stout beer
Carrots, Leeks and Potatoes | Use Yukon gold, new potatoes or red potatoes.
Cabbage | You can choose to slow roast the cabbage in the beer or oven roast it, either way is delicious
Bourbon Glaze Ingredients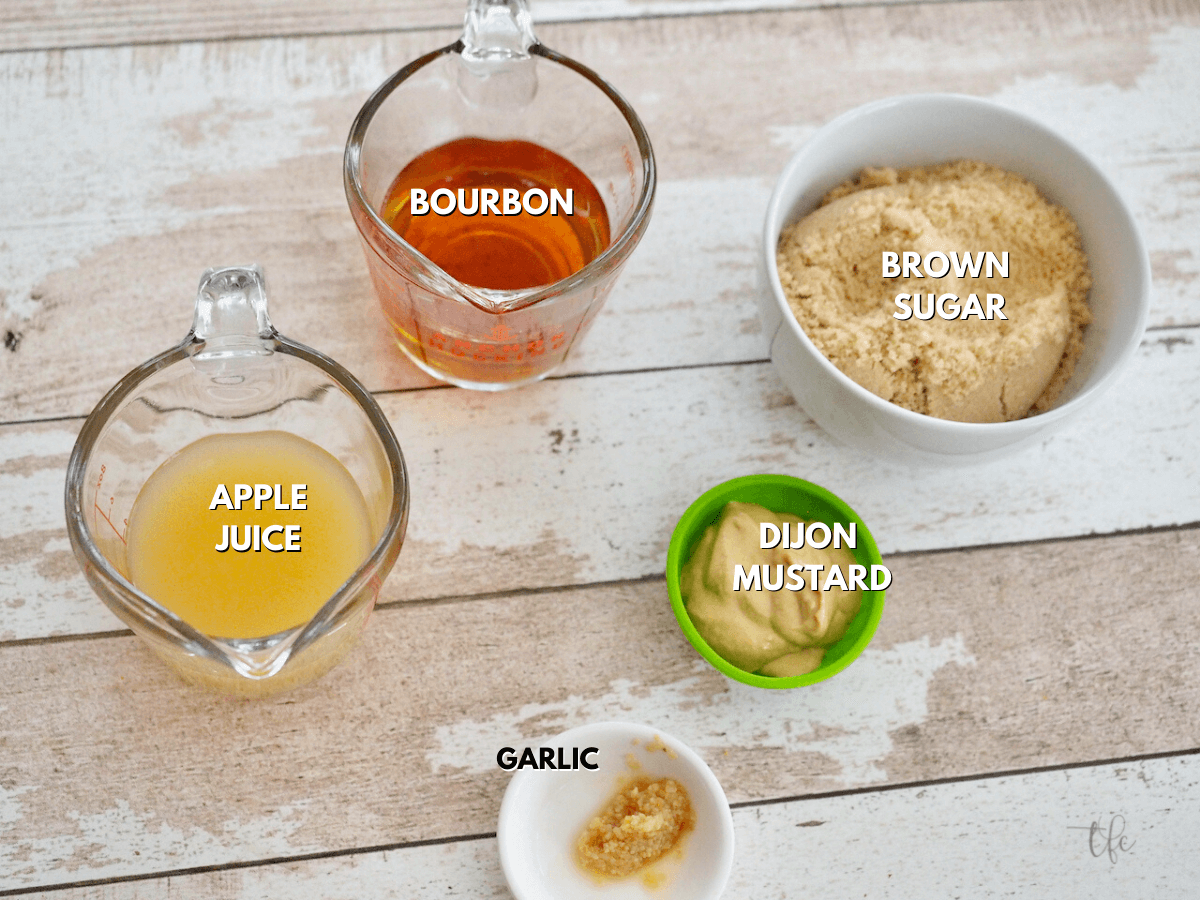 Brown Sugar
Apple Juice or Cider
Mustard | I used Dijon, but you can use your favorite mustard
Bourbon | Replace this with additional apple cider if you choose.
Garlic | Just a few garlic cloves add a little more depth to the glaze.
Instructions
Preheat your oven to 350 degrees F.
Step 1
Rinse the meat and pat dry with paper towels. Do not worry about rinsing away the flavor, the meat is fully infused with flavor by this point and this way you rinse some of the extra salt.
Place fat side up in the covered pot you'll use for baking, 5-8 quarts in size — I use my Dutch Oven for thorough, even heating. You can also use an oven safe pot with a lid.
Step 2
First crack open the Guinness, or your choice of stout, and pour over the top of the corned beef adding cold water until it is covered two-thirds of the way.
Second, add the black pepper peppercorns or seasoning packet to the pot. If baking with leeks or carrots, add them now if you don't mind super soft carrots, or wait and add them with the potatoes. You will not need excess salt for the meat or the veggies, it is salty enough.
And finally, cover the pot, cooking for 4 hours. Remove the meat and place in a baking dish.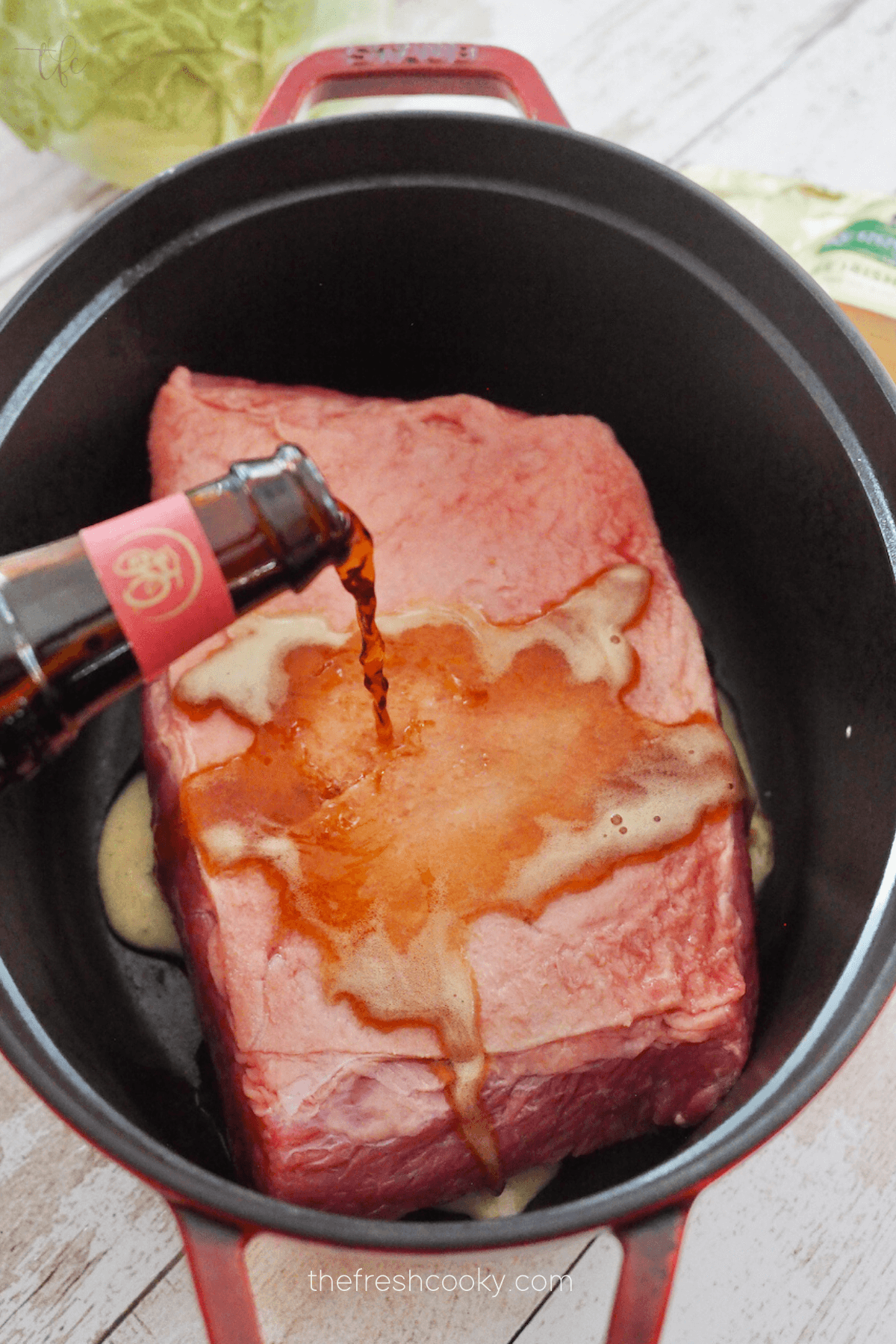 Step 3
Third add the carrots and potatoes to the beer mixture, cover, and bake for another 45 minutes. After the veggies have softened, add the cabbage*. You can also roast the greens separately in the oven or in a covered pot on the stovetop.
FRESH TIP | I highly recommend roasting the cabbage, it doesn't get quite as soggy as boiling, is a bit crisper in nature and roasting adds great flavor to each individual cabbage wedge. Be sure to brush with some browned butter.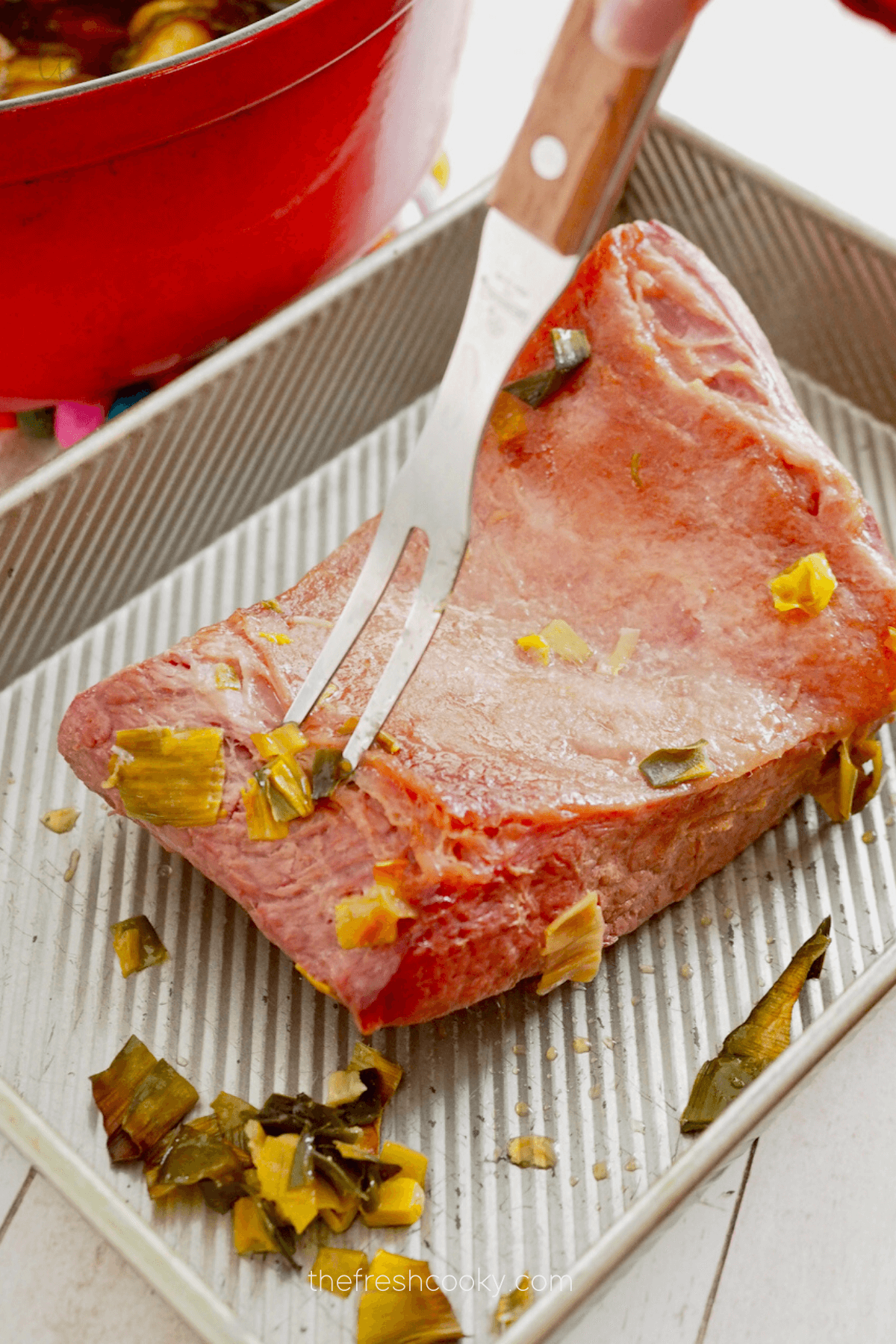 Increase the oven temperature to 400 degrees F while you prepare the bourbon glaze.
Step 4 | How to Make Bourbon Brown Sugar Glaze
Add all of the glaze ingredients to a saucepan and whisk together. Heat the mixture on low and slowly simmer, stirring regularly until it has reduced to a thicker, glossy glaze.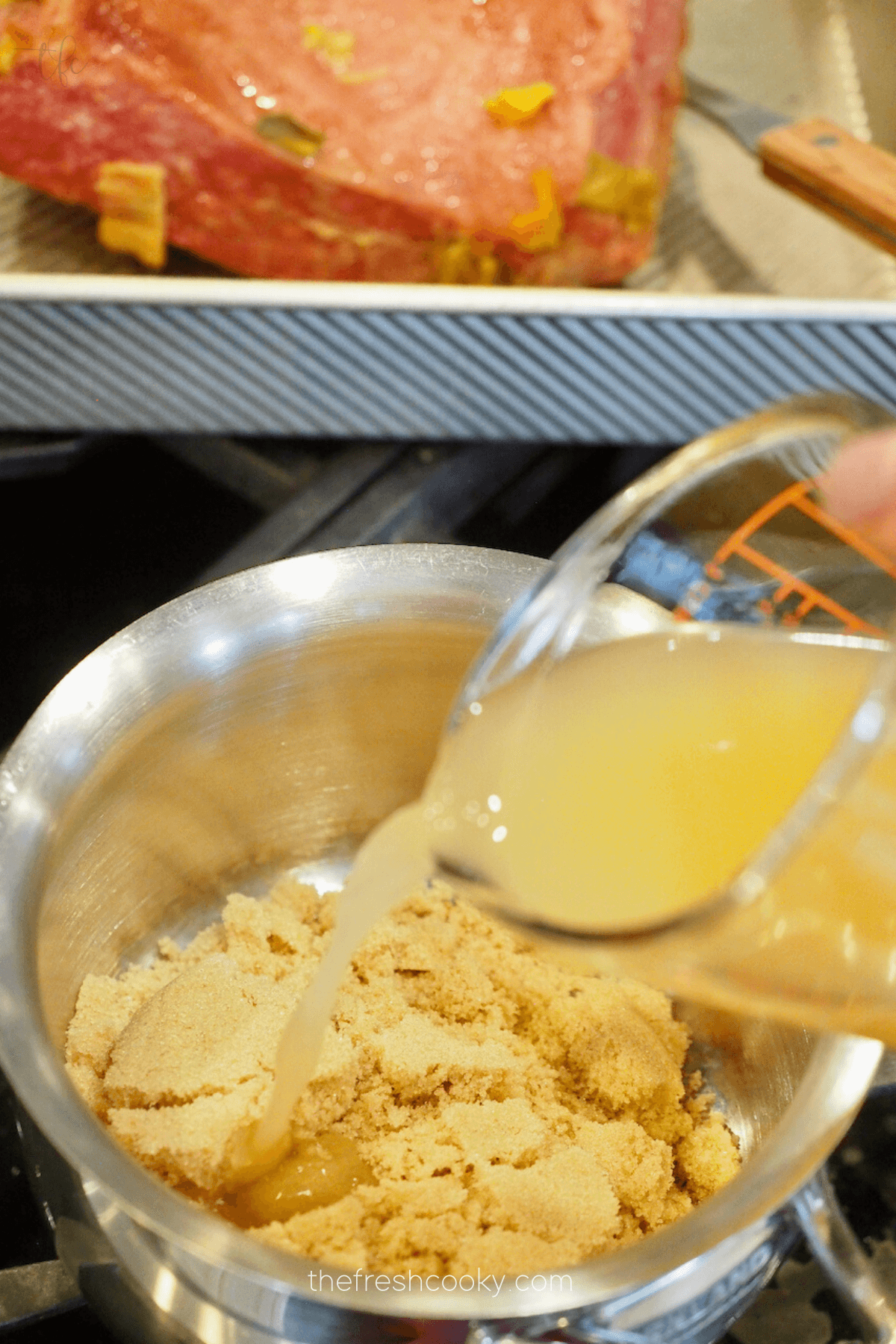 Lastly, pour and brush the glaze over the meat, coating it thoroughly. Bake once more for about 30 minutes, basting or spooning the sauce over the meat every 10 minutes.
Finally, remove the meat from oven and tent with aluminum foil on a cutting board allowing it to rest. After 10-15 minutes, slice into half inch slices, nice thick slices, cutting against the grain of the meat and transfer to a serving dish, nestle the carrots, potatoes and cabbage around the beef.
Pour remaining glaze overtop and serve the baked corned beef with cabbage and roasted veggies. The veggies are especially delicious when brushed with a little melted browned butter just before serving.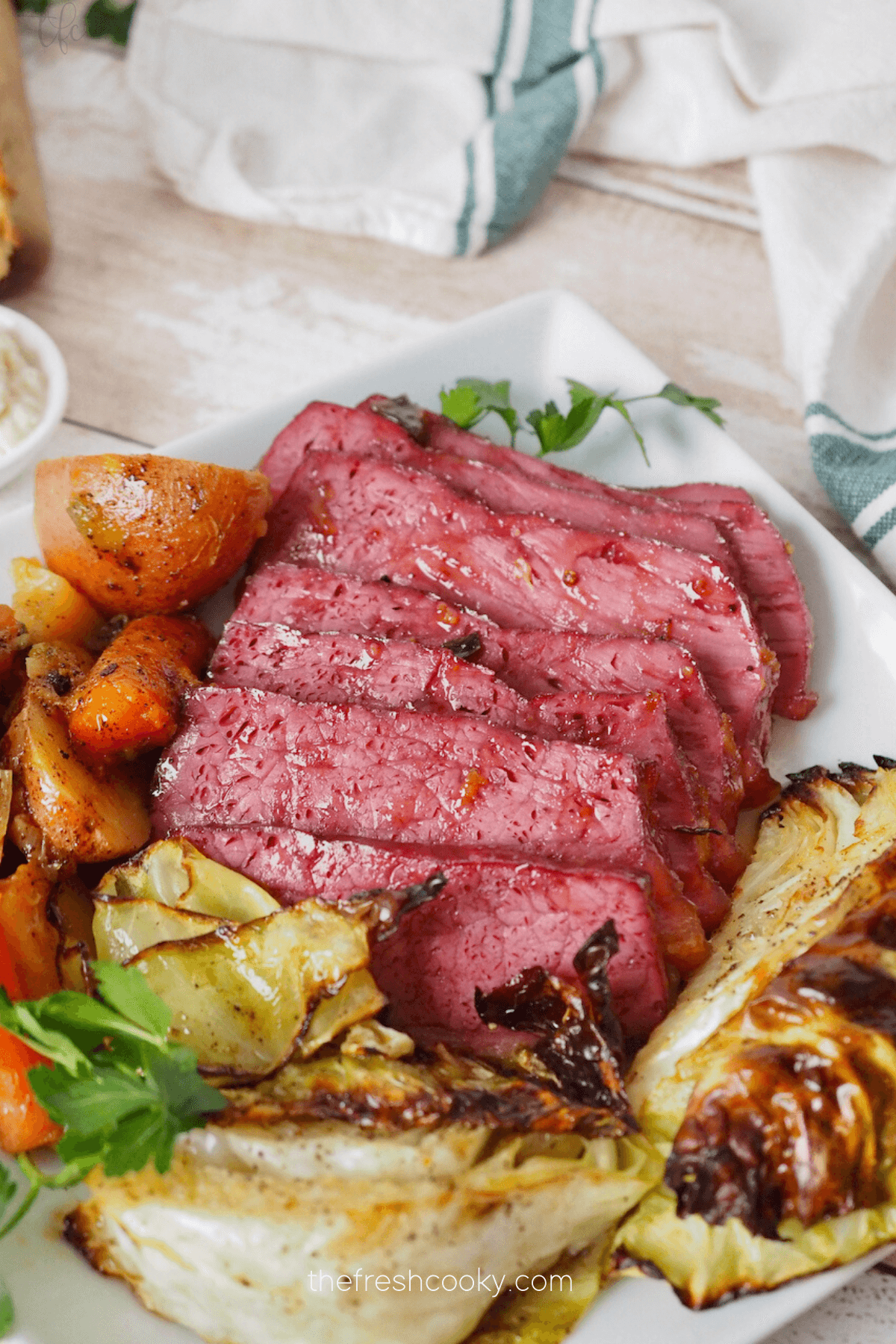 Variations
Want to skip the alcohol? Substitute the stout with mushroom, chicken, or beef broth. The complex flavor of bourbon is harder to replicate, but you could use ginger beer or additional apple cider if preferred.
You can replace the peppercorns in this recipe with the seasoning mix that comes with the meat.
There are plenty of other vegetables that would be delicious with oven roasted corned beef and cabbage — turnips, onions, green beans, and brussels sprouts are great choices!
Fresh Tips
In the original James Beard baked corned beef recipe, the carrots, cabbage and potatoes are served with a coating of butter as well. I browned the butter, adding more flavor! Try it!
If you find the salty flavor of the meat too overpowering, you can boil the corned beef before baking to remove some of the salt. Cover with water and bring to a boil. Then, discard the water and pat the meat dry.
Oven roasted corned beef and cabbage goes so well with Irish Soda Bread. With just 4 ingredients needed, don't hesitate to go the extra mile and make this savory bread right at home.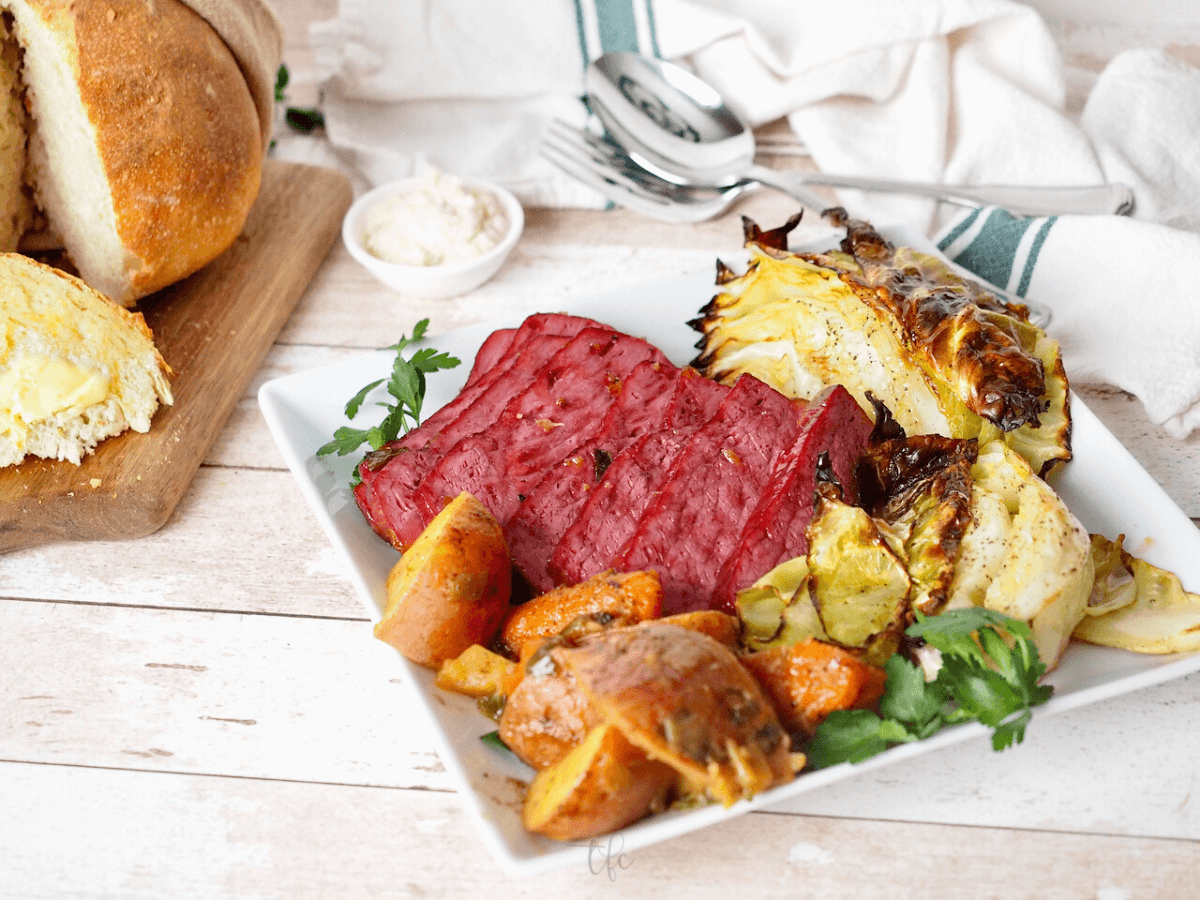 Frequently Asked Questions
What is the best way to roast cabbage?
Roast cabbage at 450 degrees F on a baking sheet lined with foil. Slice into wedges, coat with either browned butter or olive oil, and season lightly with salt and pepper.

Once it begins to brown, after 10 minutes or so, turn and roast the other side so that it bakes through completely.
How do I know if corned beef is cooked?
The safe internal temperature of beef is 145 degrees F. Once cooked, this cut should be fork tender. If in doubt use a meat thermometer, corned beef brisket looks bright pinkish red.
What is in the spice packet for corned beef?
The seasoning packet is a blend of pickling spices made up mostly of peppercorns, bay leaf, coriander seeds and mustard seeds.
What is Corned beef?
And why is it called corned beef? This article from The Smithsonian is fascinating with the history and origin of corned beef, which in fact was first started in England.
However; the Cattle Acts of 1663 and 1667 prohibiting the export of live beef from Ireland to England. The British actually came up with the term corned beef or salted beef describing the size of the salt crystals used to cure the beef — they were corn kernel sized; corn beef or corned beef was formed, this was in the 17th century.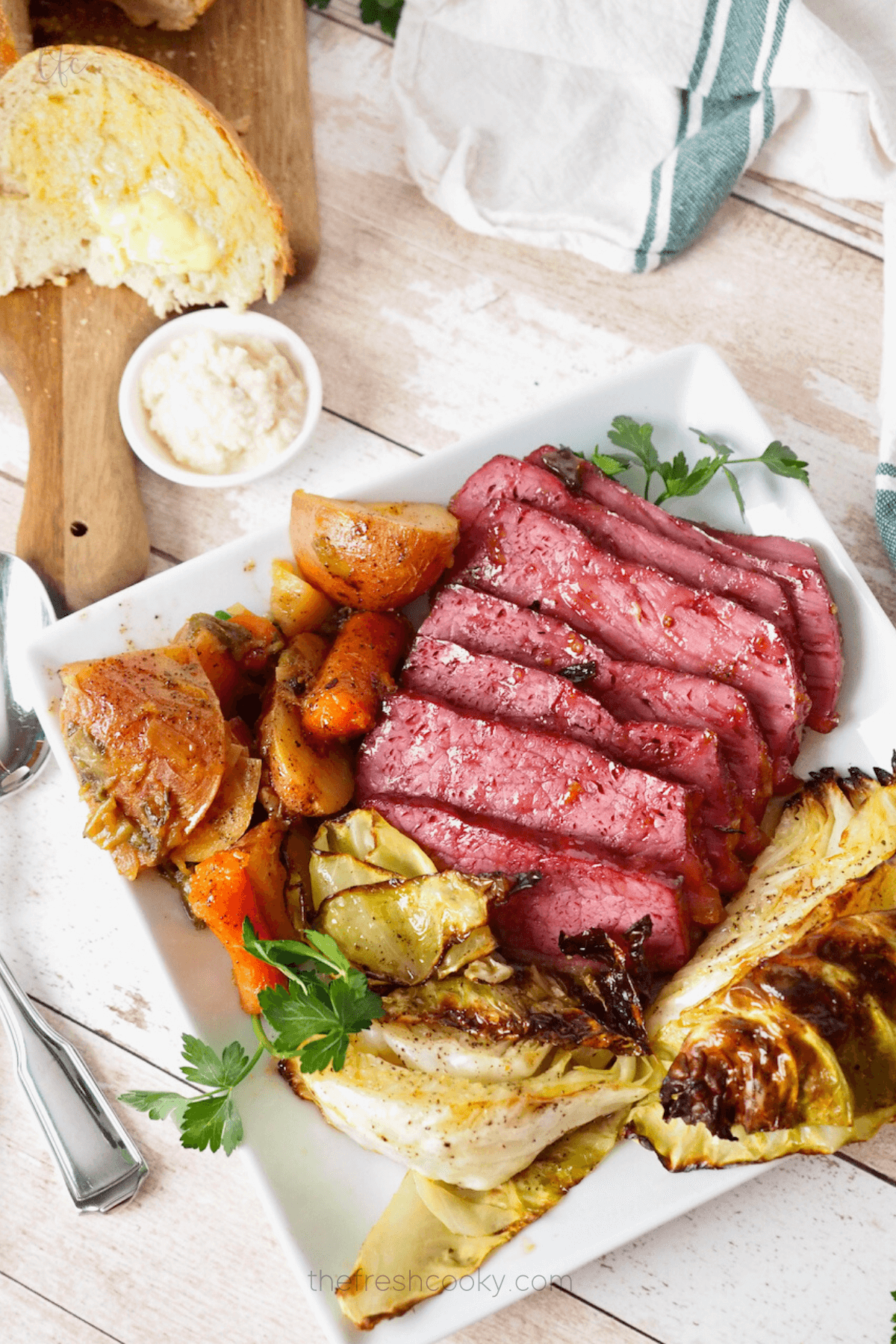 History of Irish Corned Beef
"With the large quantities of cattle and high quality of salt, Irish corned beef was the best on the market. It didn't take long for Ireland to be supplying Europe and the Americas with its wares. However; this was much different than the corned beef we enjoy today.
The Irish immigrants almost solely bought their meat from kosher butchers. And what we think of today as Irish corned beef is actually Jewish corned beef thrown into a pot with cabbage and potatoes. The Jewish population in New York City at the time were relatively new immigrants from Eastern and Central Europe.
The corned beef they made was from brisket, a kosher cut of meat from the front of the cow. Since brisket is a tougher cut, the salting and cooking processes transformed the meat into the extremely tender, flavorful corned beef we know of today." Smithsonian
This is one of the many reasons I love food blogging and I love history, the history behind traditional dishes is fascinating to me. I encourage you to read the entire article as it chronicles much of the history behind this famous St. Patrick's day dish.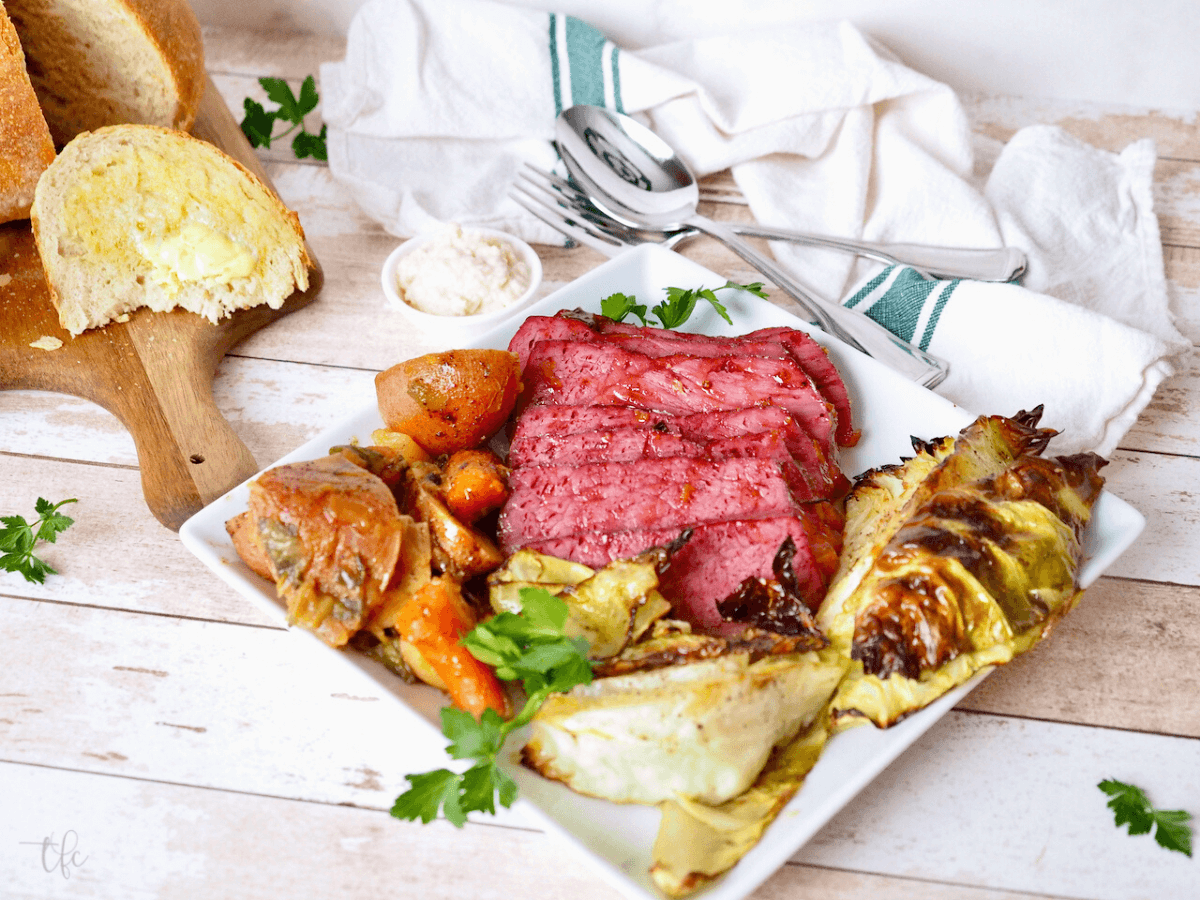 Storage
Store leftover corned beef in an airtight container refrigerated for up to one week or frozen for up to 3 months. To rewarm, you can quickly fry slices of corned beef in a large skillet over medium-high heat.
Use leftovers to make a reuben sandwich, give these fun variations from fellow bloggers a try, like this Rachel Sandwich (use leftover corned beef in place of the turkey) so scrumptious on toasted rye bread.
Try this classic Reuben sandwich or this delicious Cream of Reuben Soup using leftover corned beef!
Baked Corn Beef Recipe
This is the best corned beef recipe that the whole family will enjoy, serve with horseradish, hot sweet honey mustard, Dijon mustard or regular whole grain mustard.
Don't just save this scrumptious recipe for St. Patty's day either, fill the whole house with the tempting flavors, corned beef and cabbage dinner.
How long to bake corned beef?
The general rule of thumb when slow cooking corned beef in the oven, is about an hour per pound of corned beef brisket, however; use a meat thermometer and once it hits 145 degrees F it's done! But let it rest!
1 pound, 1 hour
1 ½ pounds 1. 5 hours
2 pounds, 2 hours
You get the idea!
LOVE IT? PIN IT!
More recipes you will love:
Like this recipe?
Don't forget to give it a ⭐️⭐️⭐️⭐️⭐️ star rating and comment below the recipe!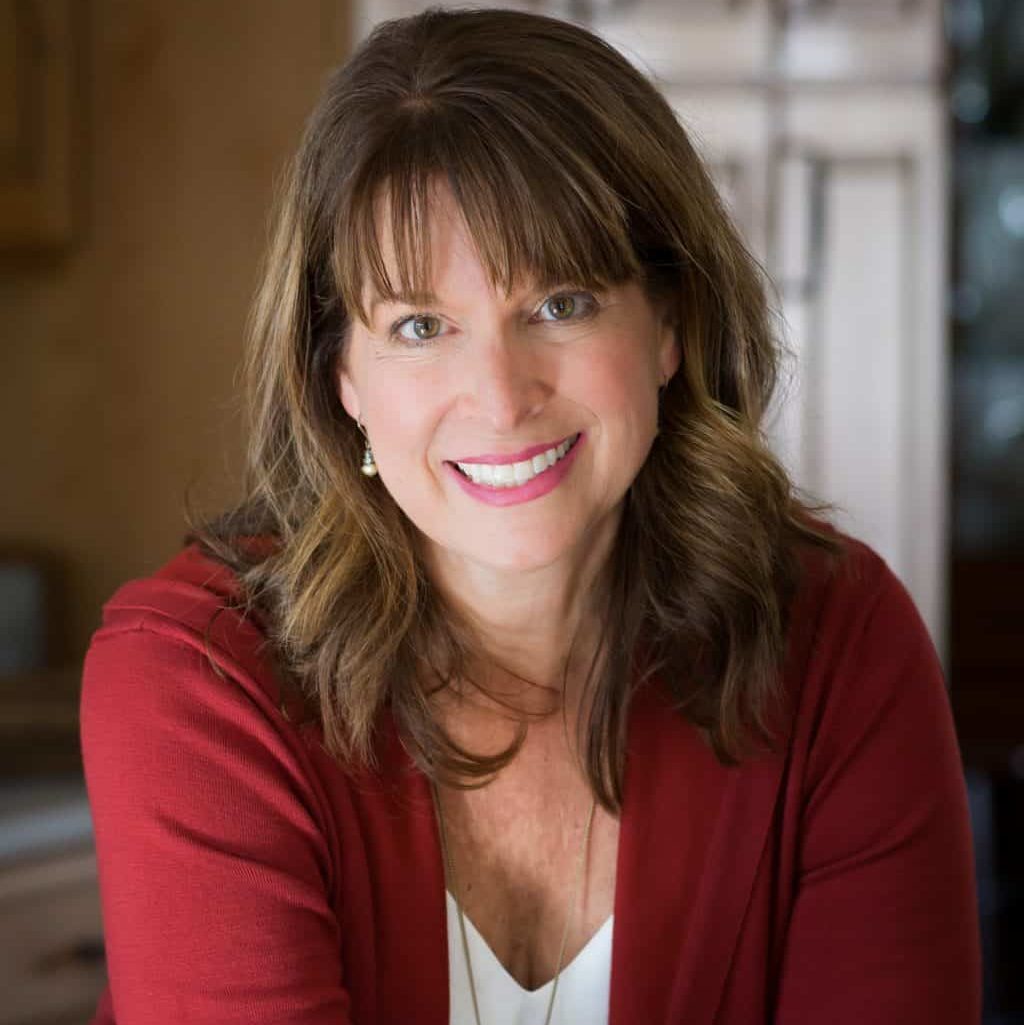 About Kathleen Pope
Recipe Innovator | Food Photographer | Food Writer
Hi, I'm Kathleen Pope. Here at The Fresh Cooky you will find easy, mostly from-scratch, trusted recipes for all occasions. From speedy dinners to tasty desserts, with easy step-by-step instructions. I am here to help teach you how to make mouthwatering recipes without spending hours in the kitchen. Read more about Kathleen here.