As an Amazon Associate, I earn from qualifying purchases. Please read my disclosure policy.
Have you gotten on the hot honey trend? This sweet and smoky hot honey recipe takes minutes to make with just a few ingredients and you determine the heat! Use hot honey anywhere you would normally use honey, on biscuits, fritters, pizza, waffles, chicken, even in tea!
Spicy is the new umami, or so I am told. I am getting braver in my heat tolerance, this hot honey is all about flavor with a kick; this hot honey sauce would be delicious on Zucchini Corn Fritters, Buttermilk Cornbread, Cheddar Bay Biscuits, or a teaspoon in this Golden Milk.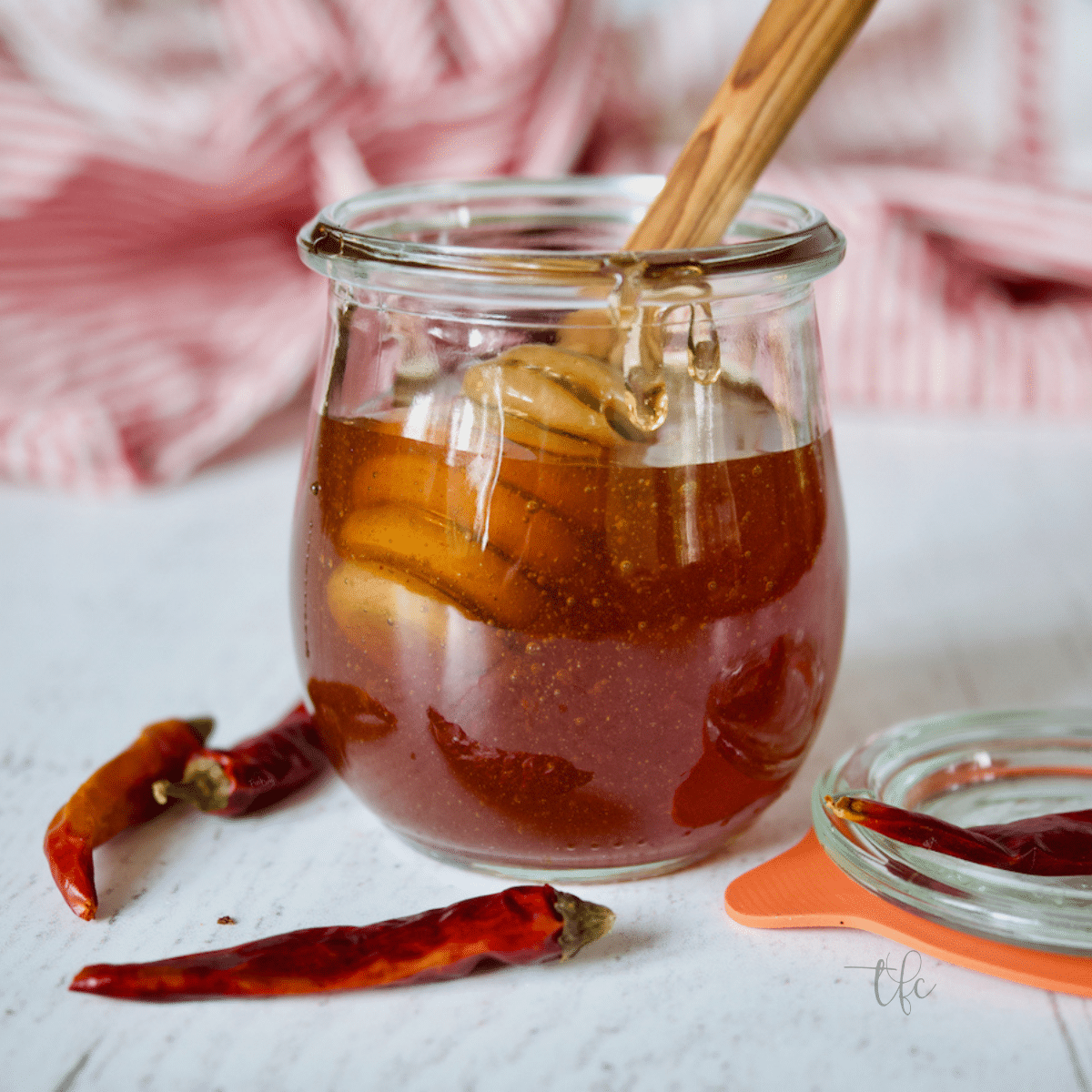 My family loves spicy heat, so when I discovered Mike's Hot Honey I knew I had to try and replicate this recipe to save a little honey money! My first attempt was okay-ish, they used it, I used fresh jalapenos and serrano peppers, but it tasted very jalapeno forward, a little too much, I knew I could do better.
This time I visited the Asian and Latin sections of our grocery store and combined Szechuan Red Dried Chilis with dried Guajillo peppers for our hot honey recipe experiment. And boy did it work out great. Sweet and smoky with the heat coming as you swallow, not overwhelming though!
Ingredients
With just 3 or 4 ingredients you will have this hot honey sauce in not time, all measurements and instructions are in the recipe card at the end of the post.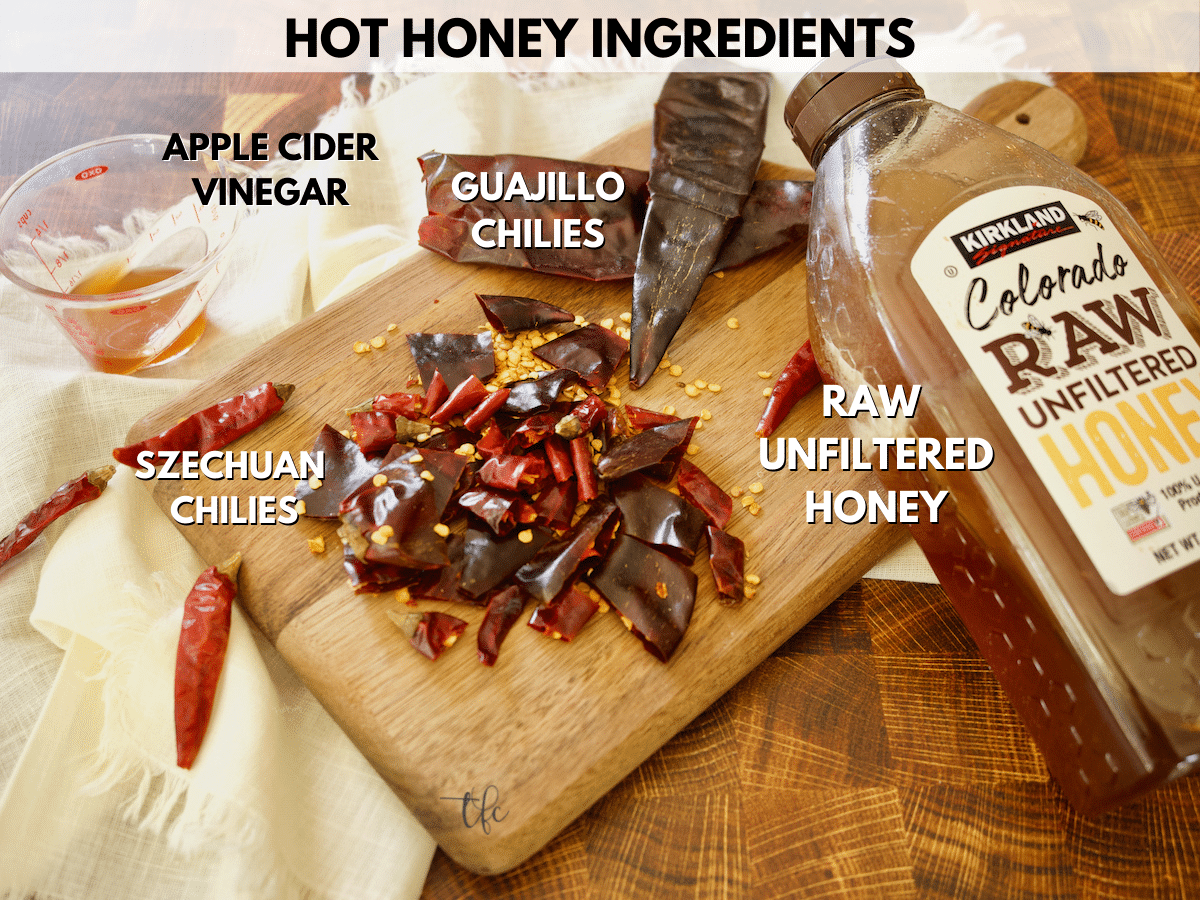 Local Raw Honey | Why local and raw? When you buy local honey, you get the added benefits of unfiltered honey that helps with seasonal allergies. And raw, because it has not been refined!
Guajillo Peppers | a dried chile peppers used in authentic Mexican recipes, described as a sweet, fruity, tangy, smoky flavor profile with notes of berries and tea. Similar to Ancho chile peppers.
Szechuan Red Dried Chilis | A medium hot chile pepper used in Sichuan cuisine, pairs beautifully with Guajillo peppers.
Apple Cider Vinegar | I noticed on the bottle of Mike's Hot Honey that the honey is infused with chile peppers and there is a touch of vinegar. Apple cider vinegar (ACV) provides a nice balance to the sweet.
HINT | Check out your local Costco or Trader Joe's for local honey in bulk. Also many farmers markets also sell honey from local bee keepers as well as local garden nurseries.
How to Make Hot Honey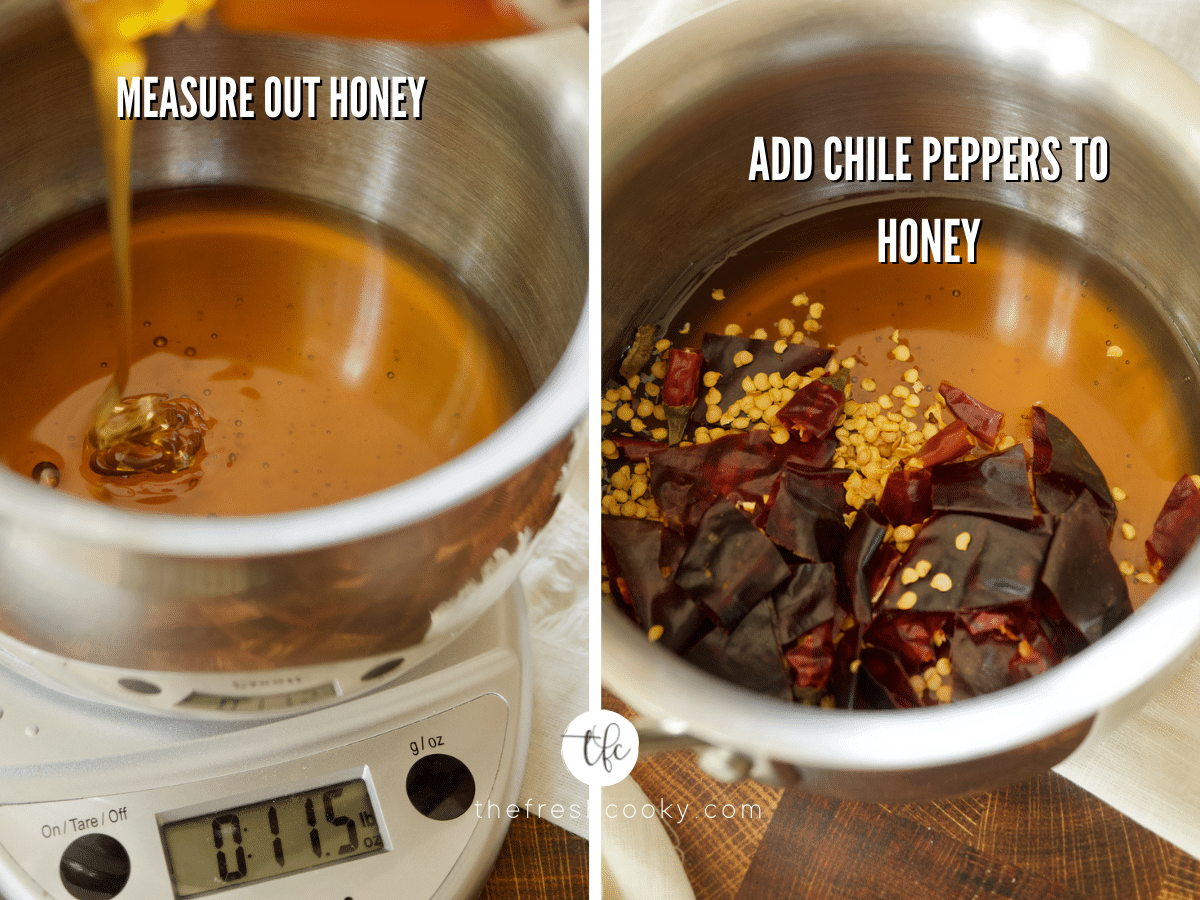 Measure or weigh the honey, this can be approximate, a little more or less isn't going to change the recipe. TIP | place saucepan on a food scale and using the tare function weigh your honey directly into the pan.
Rough chop the chile peppers and place inside of small pan with honey, heat honey, chile peppers and vinegar over medium-low heat. Remove seeds or leave them in, they will be strained out in the end.
TFC TIP | Err on the side of more honey, as simmering will reduce naturally, along with sticking to things.
Simmer honey for 5 minutes over low heat, this will infuse the honey with the flavor and spice of the chile peppers. (Note that the honey will foam up quickly, so stick around).
Remove pot from heat and cool until room temperature to the touch of the pan.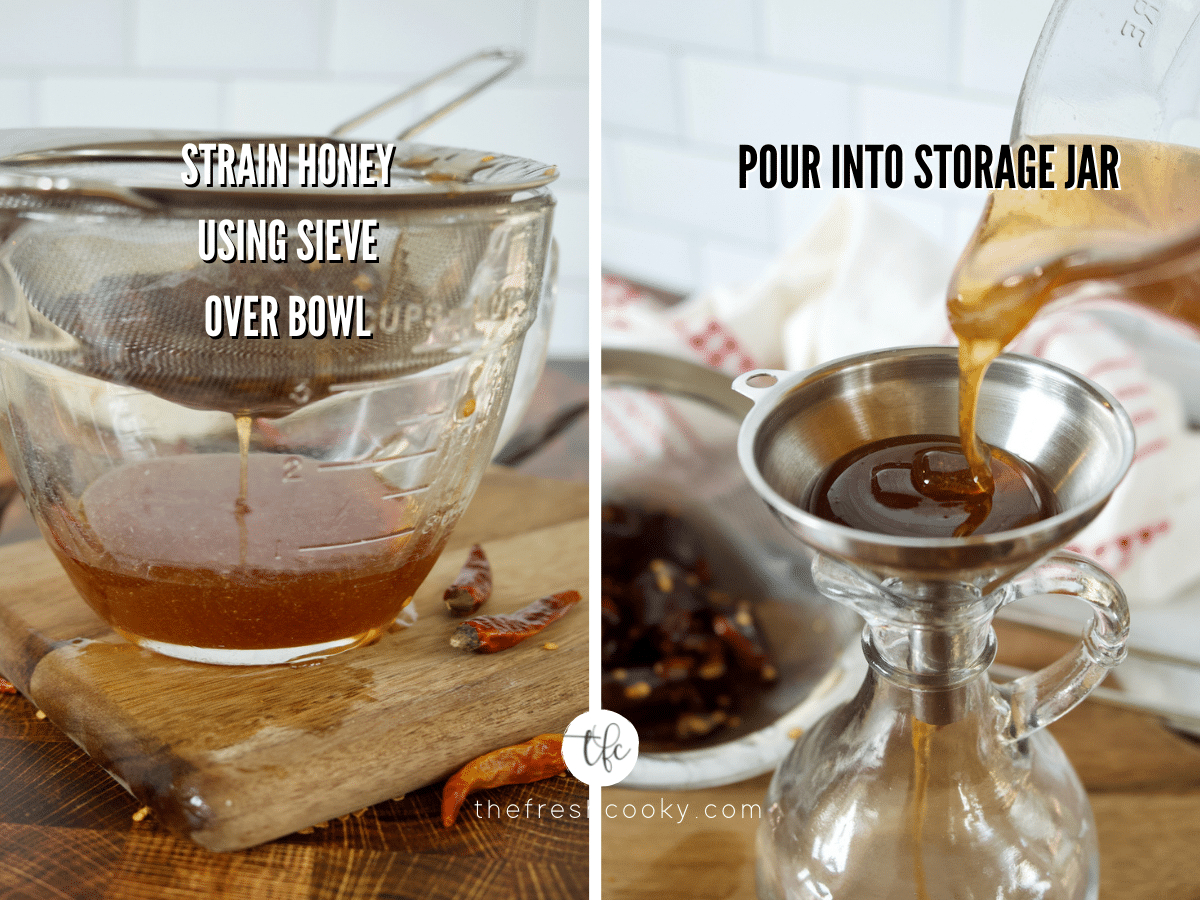 Place a fine mesh strainer over a bowl, once hot honey recipe is cooled, pour through mesh sieve and allow to drain completely.
Toss out the peppers and pour honey into airtight, clean and dry glass jar or container.
Substitutions
Feel free to substitute with your favorite spicy pepper, you can certainly add more or less peppers to your hot honey sauce too! That's our motto, "Make It Yours!"
Variations
Spice it up! Make it hotter, add more chile's or hotter chile peppers (try Hawaiian Hots, Fresno, Holland, or Thai or even just a tablespoon of red pepper flakes). You could also try this Honey Sriracha sauce recipe using hot sauce.
Equipment
The equipment needed in this recipe is certainly minimal! And you probably already have these items on hand.
Storage Tips
Store in a clean and dry jar with a tight fitting lid, in a cool, dry place for up to 3-4 months. If you refrigerate it will harden some, so take out of fridge 20-30 minutes before using the hot honey sauce!
There are all sorts of storage tips out there, but in my personal experience (meaning what we did) we kept ours in a jar with a tight fitting lid, and it is still going strong at 3 months.
Frequently Asked Questions
What is good with hot honey?
Try it on yogurt, biscuits, cornbread, eggs, waffles, chicken, with soft cheeses (like brie or goat cheese), definitely with pizza (how we use it most), most any meat (think ribs, chicken, pork and beef). Add to marinades and salad dressings too!
Does hot honey need to be refrigerated?
No, hot honey sauce is best served at room temperature and as long as stored in an airtight container, it will last 3-4 months.
Can I microwave hot honey sauce?
If your hot honey gets too hard, do not microwave it, it actually kills the beneficial properties in honey and will ruin it. Simply bring a small pot with a few inches of water to a simmer, open the top of the honey (so it doesn't explode) and set honey in hot pot simmering until fluid again.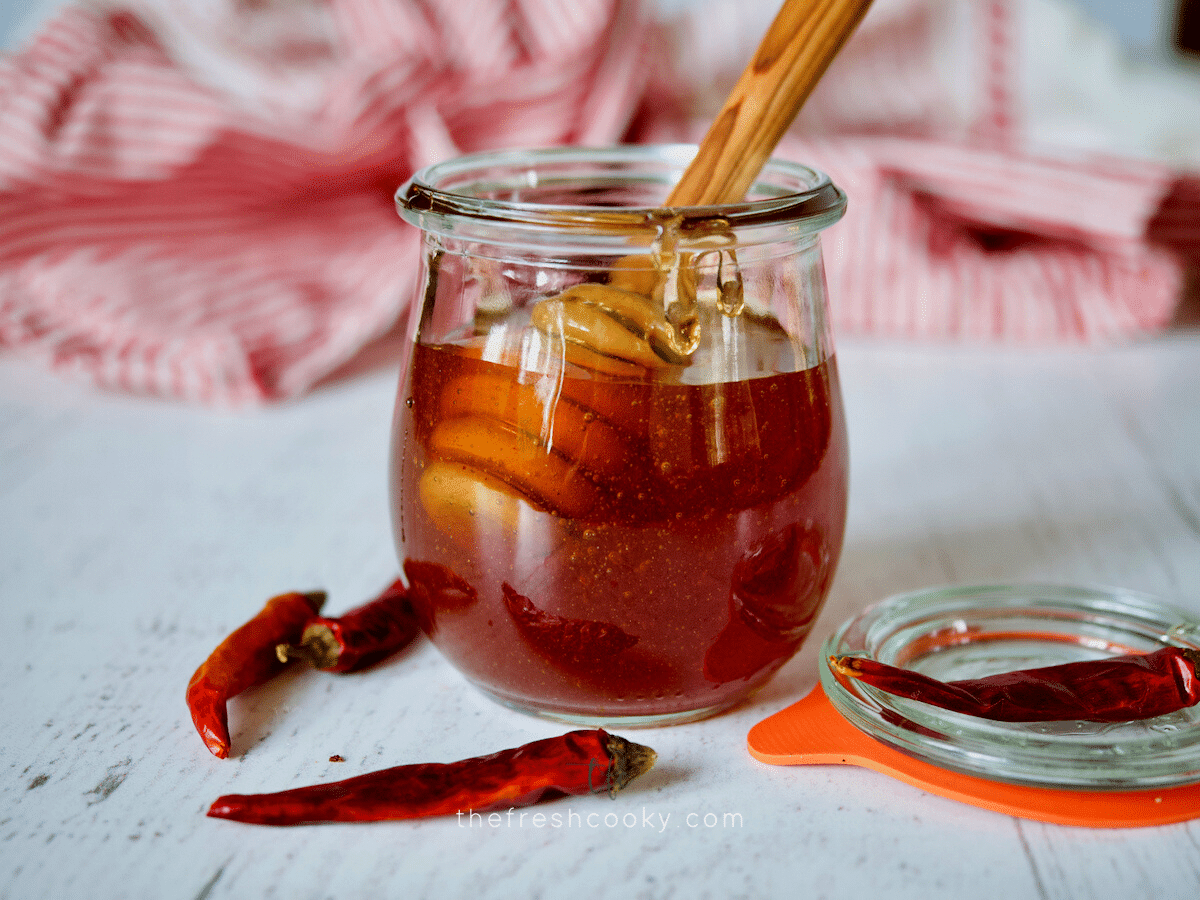 Does honey go bad?
You might find your honey crystallizing, becoming harder and more opaque, don't throw it out, honey technically does not spoil, in fact it's the only food that doesn't spoil without a little help.
By help I mean when it crystalizes it can create some condensation which can cause fermentation. To decrystallize your honey, simply bring a small pot with a few inches of water to a simmer, open the top of the honey (so it doesn't explode) and set honey in hot pot simmering until fluid again. DO NOT MICROWAVE.
Ways to Use Hot Honey
TOP TIP
Use your favorite flavor of chile peppers, if you cannot find the peppers I recommend, browse through the Asian and Latin sections of your grocery store and pick what sounds good to you!
Like this recipe?
Don't forget to give it a ⭐️⭐️⭐️⭐️⭐️ star rating and comment below the recipe!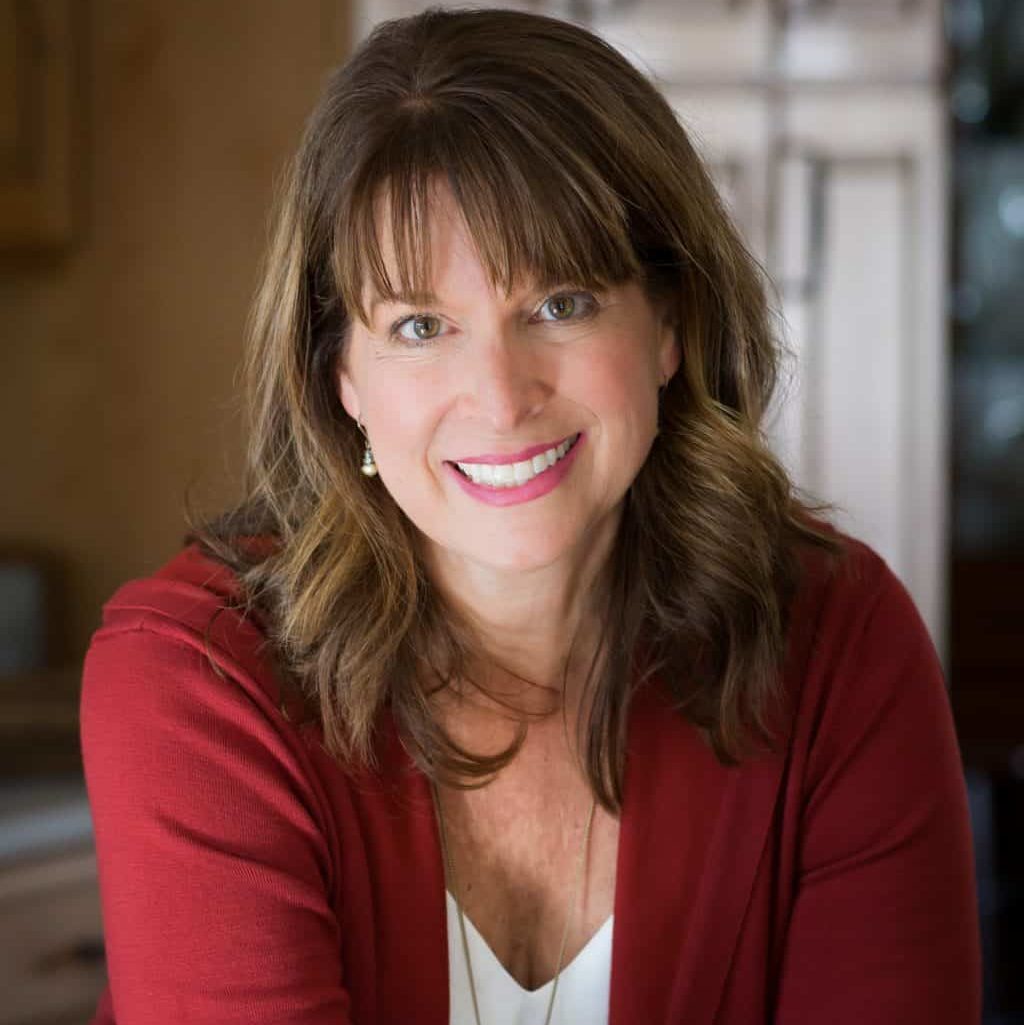 About Kathleen Pope
Recipe Innovator | Food Photographer | Food Writer
Hi, I'm Kathleen Pope. Here at The Fresh Cooky you will find easy, mostly from-scratch, trusted recipes for all occasions. From speedy dinners to tasty desserts, with easy step-by-step instructions. I am here to help teach you how to make mouthwatering recipes without spending hours in the kitchen. Read more about Kathleen here.